Easy Blueberry Bread is a quick bread made with fresh blueberries that is the perfect way to start your day or enjoy it as a snack. Try my Blueberry Coffee Cake for another breakfast treat loaded with blueberries.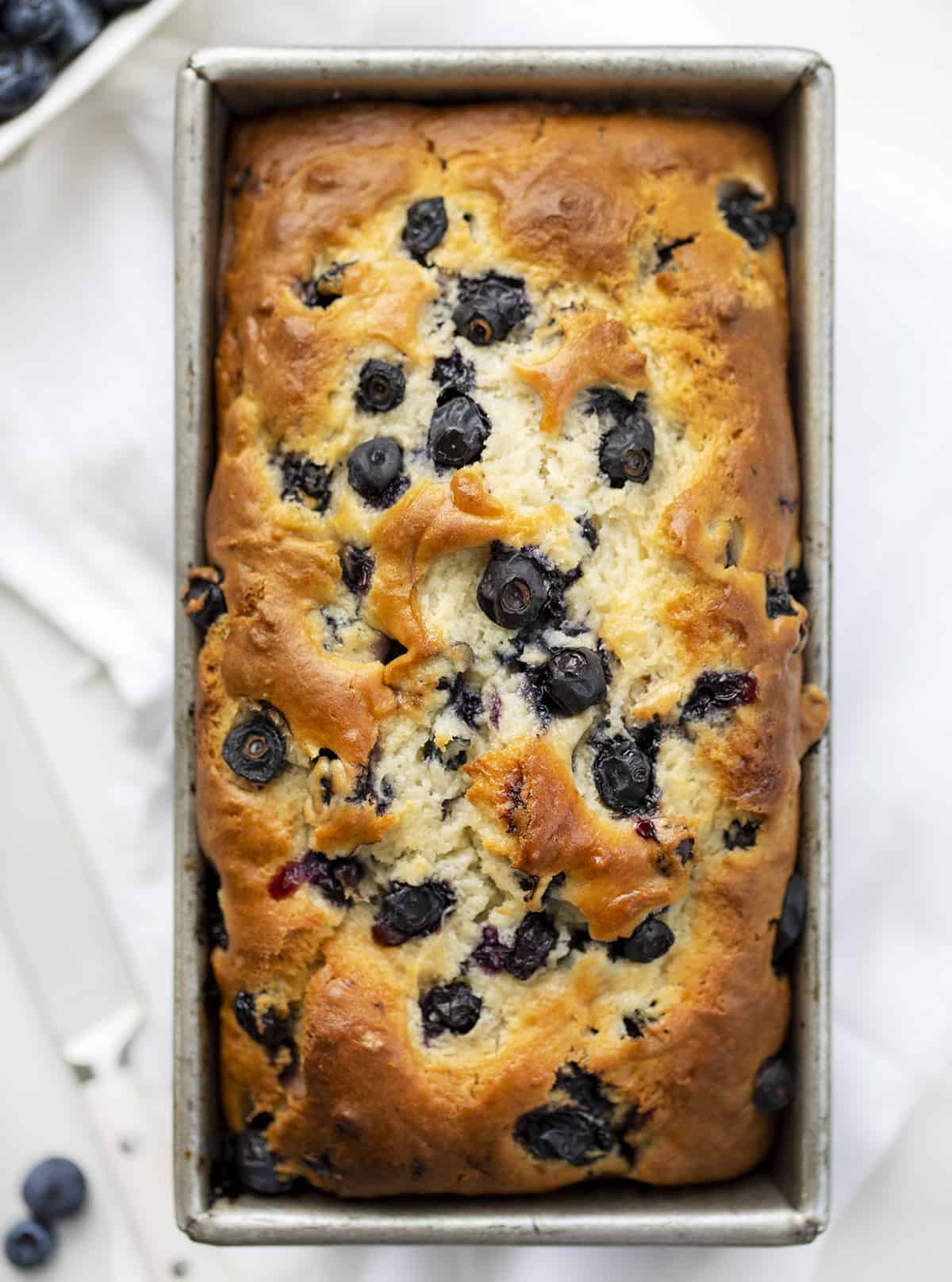 Blueberry Bread
This blueberry bread is a quick bread, meaning it is made without any yeast. The ingredients are easily mixed together and ready to bake immediately. The baking time is not the quickest (80 minutes), but the prep time is super quick. A slice of this bread would be delicious with a cup of coffee in the morning, or even as a snack.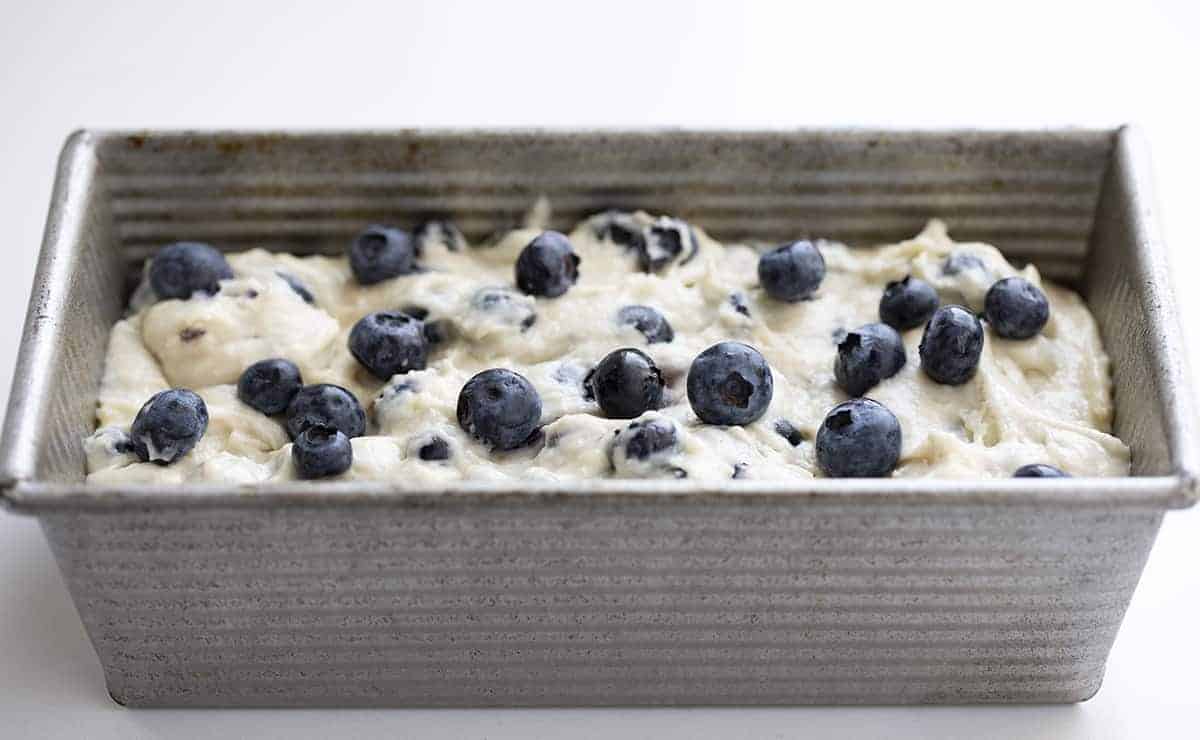 Blueberry Bread Ingredients
Room Temperature Ingredients: Room temperature ingredients are important here to prevent lumps. It takes 15-30 minutes for the butter to get to room temperature.
If you forgot to take out the butter, slice the butter into smaller pieces. Then, let it sit out for a couple of minutes. Or, place the stick of butter in a zipped plastic bag and flatten it out a bit with a rolling pin. This will allow the butter to come to room temperature in 1-2 minutes.
Butter: I wanted to use the best quality butter, so I opted for unsalted Challenge Butter. Challenge butter is made the old-fashioned way, churned fresh daily from the freshest milk and cream from happy cows at family-owned dairies since 1911.
Blueberries: Fresh blueberries are best in this recipe. Reserve about 1/4 cup to use as the topping before baking the bread.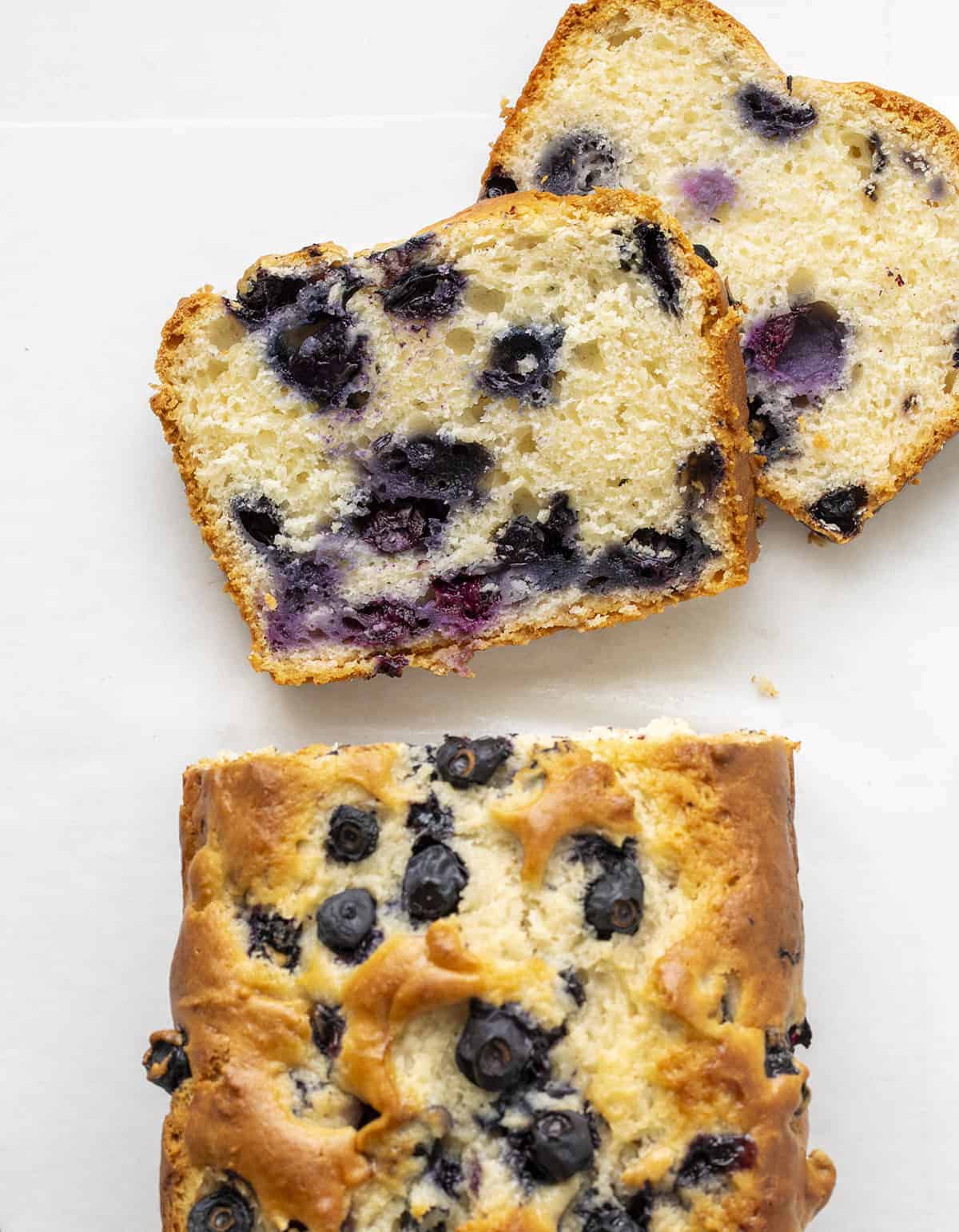 Can I Use Frozen Blueberries?
Yes. Although I prefer using fresh blueberries, you can use frozen berries. If using frozen blueberries, toss them with a little bit of all-purpose flour before folding them into the batter.
How Do You Get Fruit to Not Sink in Quick Bread?
While I did recommend coating frozen berries in flour above, the truth is that is more of a hopeful method than a scientifically proven one. The real determining factor in whether or not your blueberries will sink is the bread batter. This batter holds the blueberries beautifully and they will not sink.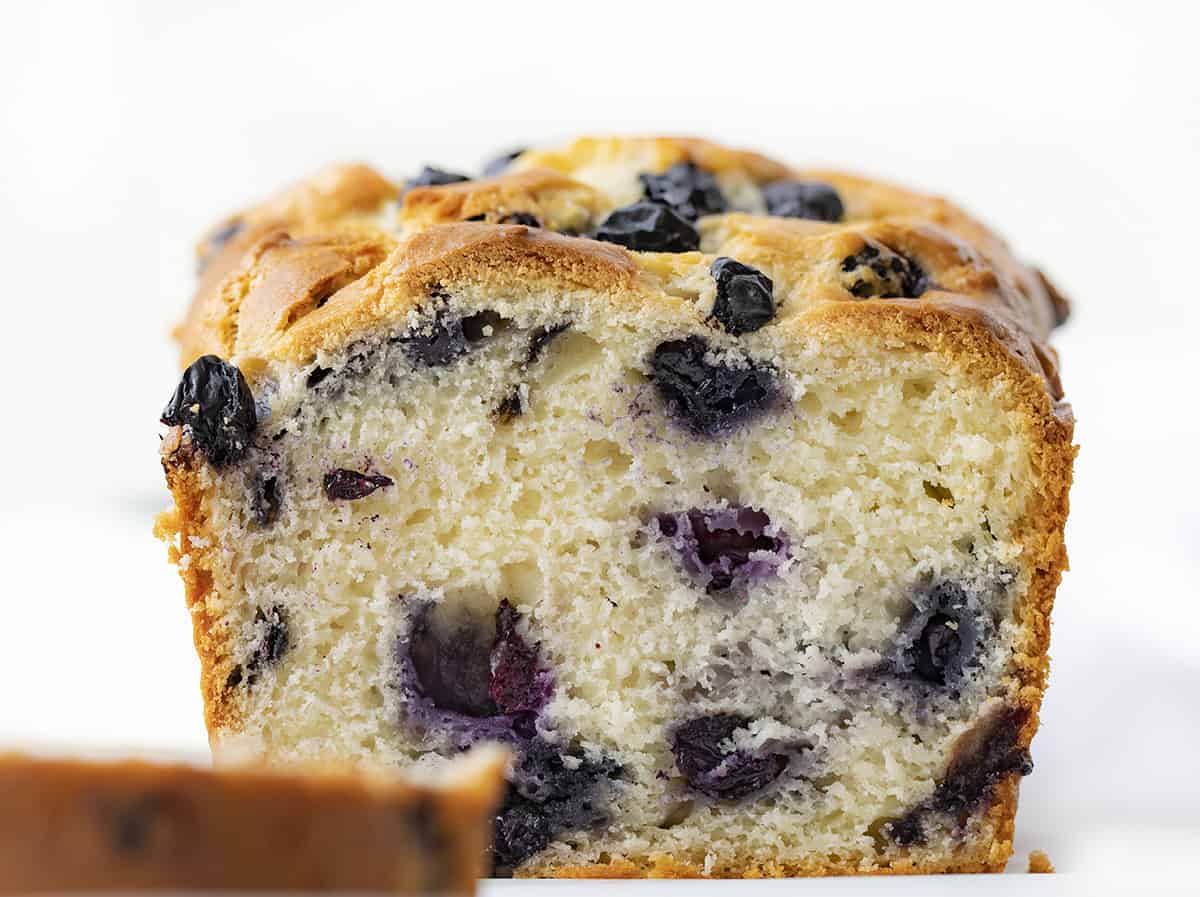 What does Blueberry Bread Taste Like?
Blueberry bread is slightly dense with a soft crumb. It reminds me of a blueberry muffin. I enjoyed a slice slathered in butter, but others enjoyed it as-is with no topping. If it has been sitting for a day or two, pop it in the microwave to soften it up.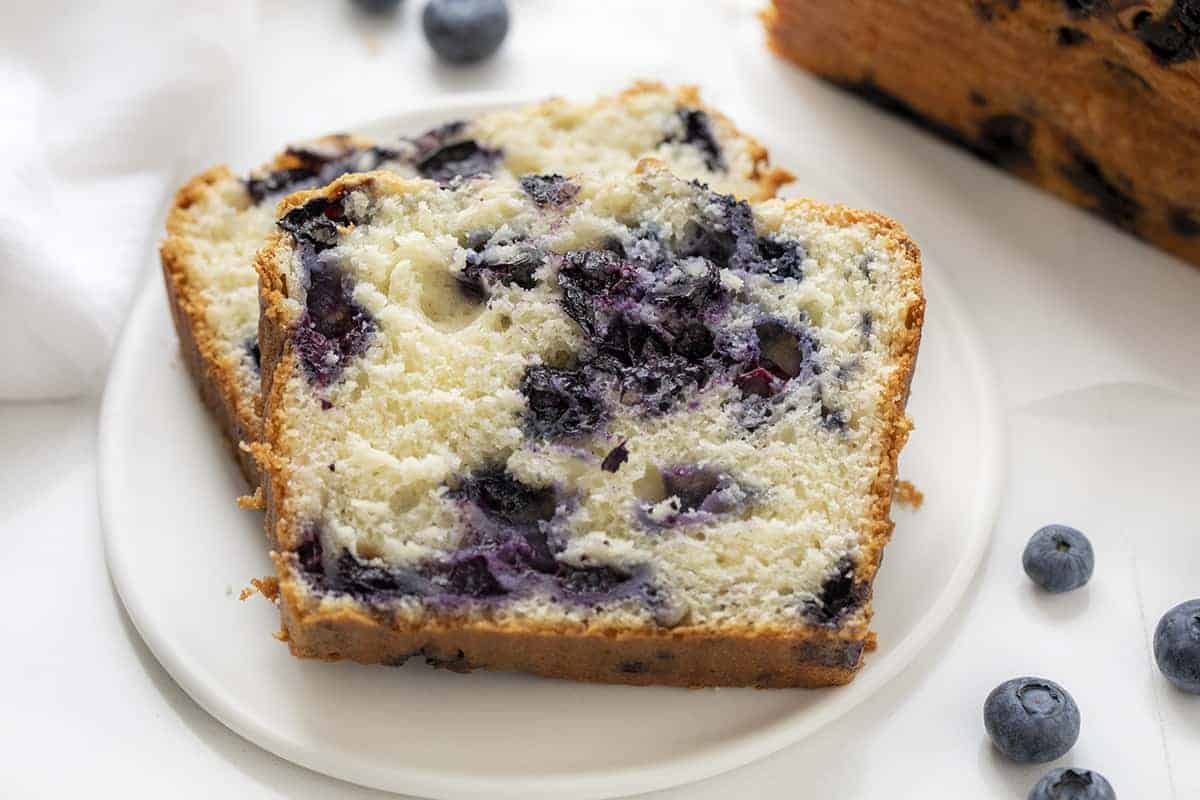 How do I Store Blueberry Bread?
Easy Blueberry Bread can be stored at room temperature, in the refrigerator, or even frozen. At room temperature, wrap the bread in plastic wrap for up to five days. If storing in the refrigerator, use an airtight container for up to a week.
To freeze the bread, you will want to make sure you allow it to cool completely. Just wrap the blueberry bready tightly with aluminum foil or plastic freezer wrap and place it in a heavy-duty freezer bag. If you prefer not to use foil directly on your bread, wrap tightly with parchment paper, then place that into a sealable plastic bag.
Be sure to label it with the date. Bread is typically good for two to three months in the freezer, but it will still be safe to eat beyond that point. To thaw bread, take it out of the freezer and set it on the counter. Allow it to reach room temperature before you take it out of its packaging; it will re-absorb some of its moisture this way.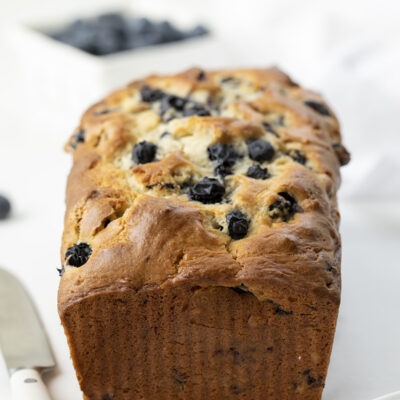 Easy Blueberry Bread
Easy Blueberry Bread is a quick bread made with fresh blueberries that is the perfect way to start your day or enjoy it as a snack.
Ingredients
¾

cup

(150 g) granulated sugar

¼

cup

(½ stick, 57 g) butter,

room temperature

½

cup

sour cream,

room temperature

1

large

egg,

room temperature

1½

cups

(187.5 g) all-purpose flour

2

teaspoons

baking powder

½

teaspoon

kosher salt

½

cup

whole milk

2

cups

fresh blueberries,

divided
Instructions
Preheat oven to 375°F and grease an 8½ x 4½-inch loaf pan.

In the bowl of a stand mixer with a paddle attachment, add the sugar, butter, sour cream, and egg. Beat until creamy. (You could also use a handheld mixer.)

In a separate bowl, whisk together flour, baking powder, and salt.

With the mixer on low, alternate between adding the flour mixture and the milk, beginning and ending with the flour mixture.

Gently fold in about 1 ¾ cups of blueberries, reserving ¼ cup for the topping.

Pour the batter into the prepared loaf pan and top with the reserved blueberries.

Bake for 80 minutes*. (See notes) The bread is done when an inserted toothpick comes out clean with a few crumbs, but no wet batter.
Notes
Every oven is different so I recommend starting to check at 60 minutes. You can check by (carefully) shaking the pan gently and observe if the middle jiggles. You do not want it to jiggle. You can also test by inserting a skewer or toothpick into the center. If it is removed with any wet batter, it is not done baking. 
Did you make this recipe?
Thank you for making my recipe! You took pictures, right? Well go ahead and post them on Instagram! Be sure to mention me @iambaker and use the hashtag #YouAreBaker.