Two Ingredient White Chocolate Mousse is a rich and decadent white chocolate dessert topped with whipped cream and white chocolate curls. This smooth and creamy dessert is made with just two ingredients and is as pretty as it is delicious to eat! For another white chocolate treat, try my White Chocolate Cranberry Fudge.
Two Ingredient White Chocolate Mousse
As soon as I made my Two Ingredient Chocolate Mousse, I knew I had to make a white chocolate version, still sticking to just two ingredients. The final result is again, a light and whipped texture that makes you want to savor every bite! It is such an elegant dessert, I felt like I should eat it daintily and slowly. But, nope! No one was here to judge me, anyway.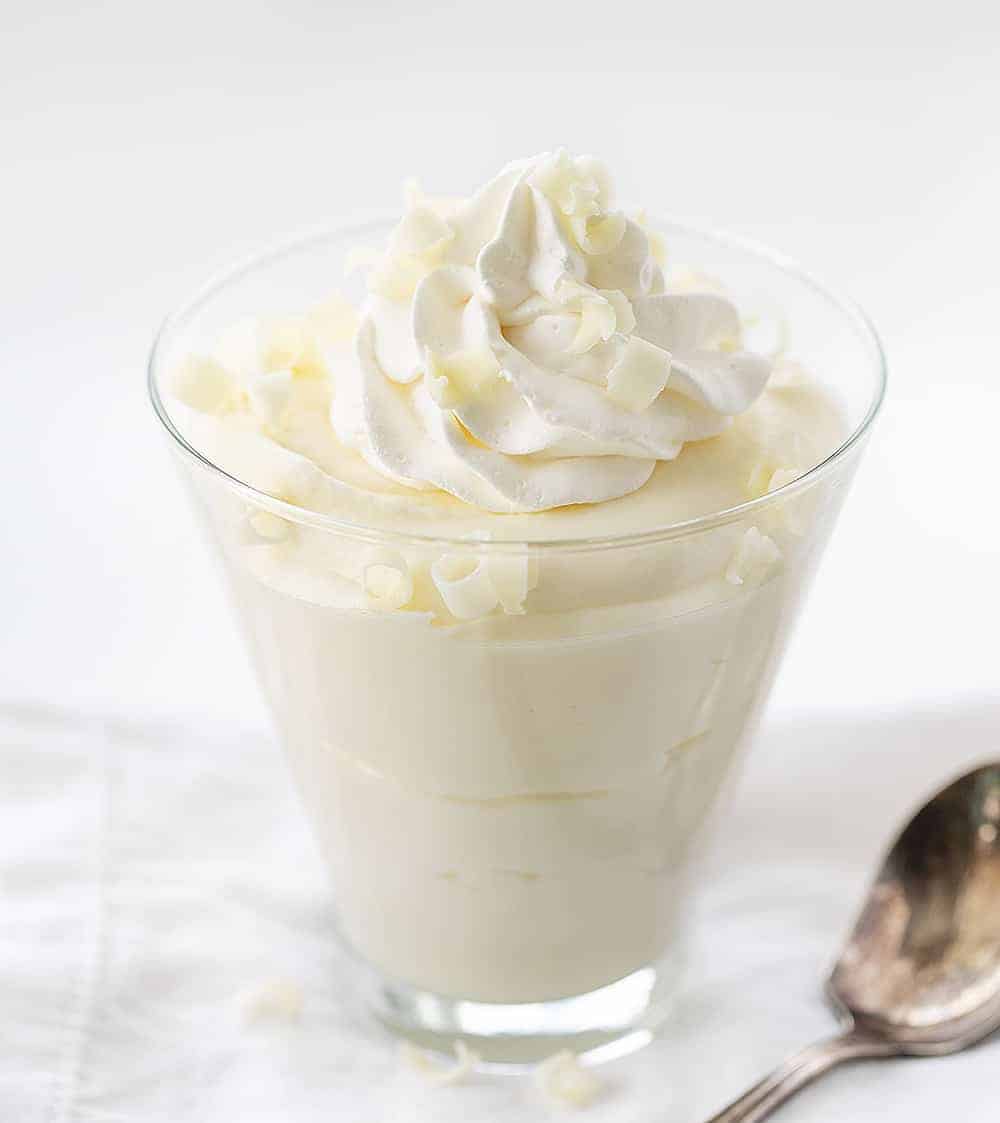 Two Ingredient White Chocolate Mousse Recipe
Don't be fooled by how deliciously sweet this dessert is…it is only two ingredients, but it tastes like it took hours to prepare!
I used white chocolate morsels in this recipe, but there are other options when it comes to white chocolate. White chocolate contains only cocoa butter, and no cocoa solids, which gives it a light color. But, there is no doubt that it adds sweetness to any dessert.
To be considered white chocolate, it must contain at least 20% cocoa butter. If you see labels like white morsels, white baking wafers, or white chips, those do not have the 20% cocoa butter, so they can't be called white chocolate. Confusing, I know!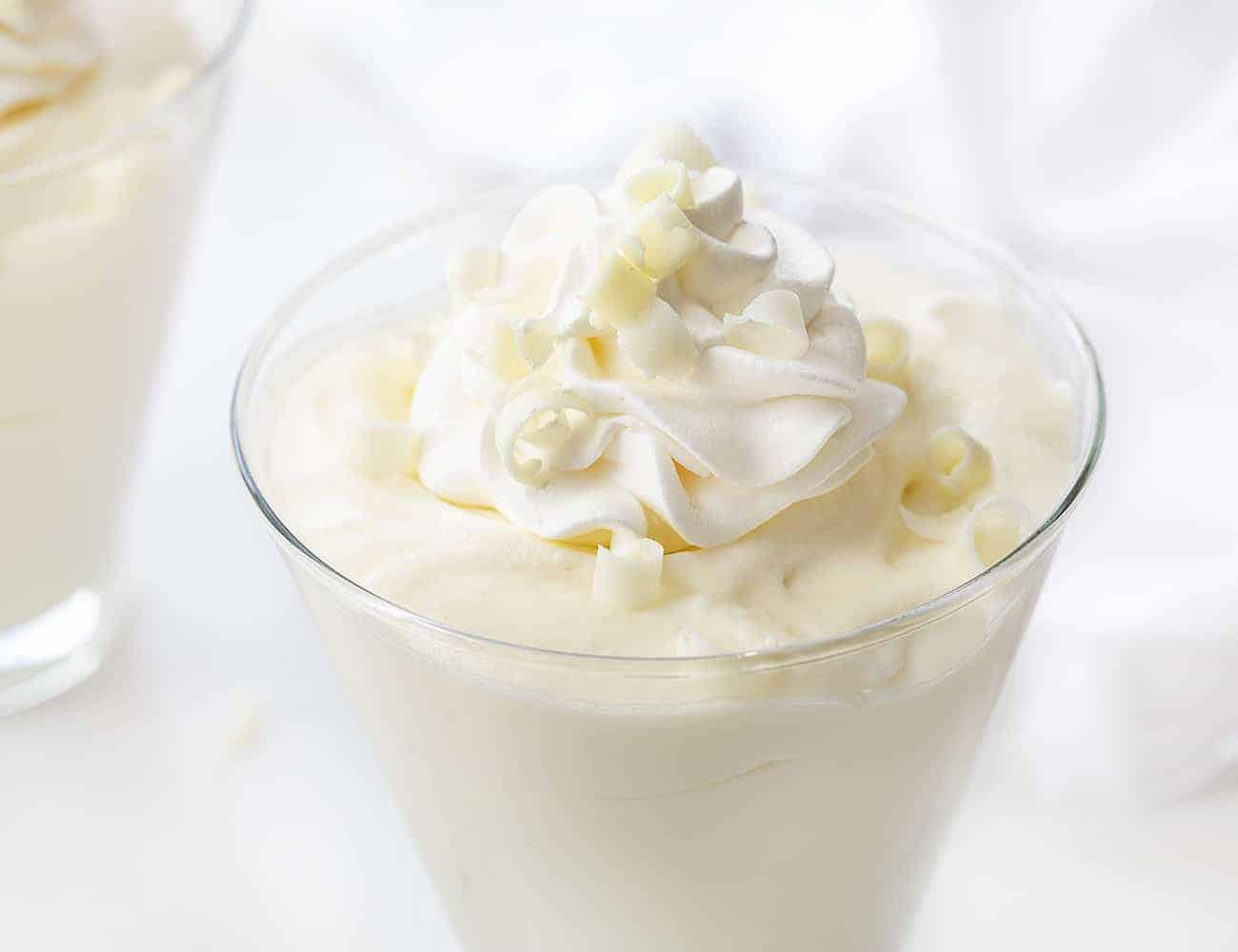 How to Make Two-Ingredient White Chocolate Mousse
The first step in making Two-Ingredient White Chocolate Mousse is to melt the white chocolate pieces.
To melt them, heat up 1/2 cup of the cream in the microwave. I heated it up for about 50 seconds, but you may need to heat it up for a bit longer, depending on the power of your microwave. Add the white chips to the warm cream and stir until the white chocolate is melted. This can take up to two minutes, so be patient. Set that aside while you beat the remaining cream. 
In a medium bowl, pour in the remaining cup of cold cream. Using a hand-held or stand mixer, beat the cream until soft peaks form. When a recipe calls for the cream to form 'soft peaks', it means that the cream is beaten just enough for little peaks to form, but will fall over as soon as the beater is removed.
Once the soft peaks have formed, take half of the beaten cream and store it in the refrigerator to use as your whipped topping later! Continue beating the rest of the cream until you have 'stiff peaks'. Stiff peaks are sharp peaks that can stand on their own even after the beater has been removed. (If a recipe ever asks for 'medium peaks', that means that the peaks will stand pretty much on their own, but with a slight curl at the top.)
Once your whipped cream has peaked, add half to the white chocolate mixture, gently folding it in. Then, add in the rest of the cream to the mixture.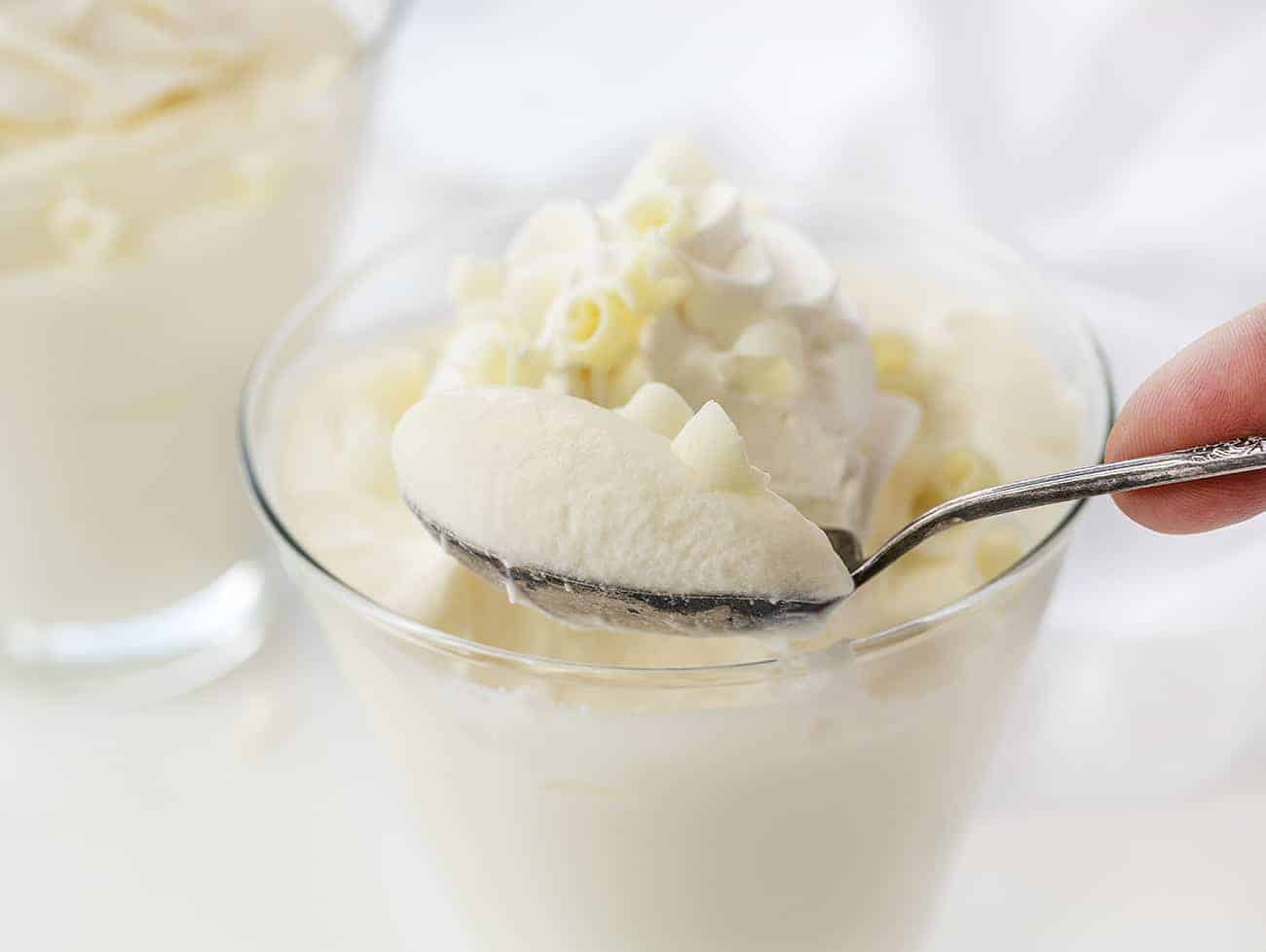 How to Serve White Chocolate Mousse
Once you have everything whipped and mixed together, divide the mousse into four serving glasses. I used lowball glasses, but ramekins, espresso cups, martini glasses, or any cute small bowls work just as well. Let the mousse chill for at least an hour (or even overnight) before serving. Top the chilled mousse with whipped cream or any toppings of your choice.
To get that pretty swirl of whipped cream, add the whipped cream to a piping bag with a 1M tip and build up your swirl. I made some white chocolate curls to add to my mousse just for that added flare😀. If you don't want to make your own curls, you can find white chocolate curls on Amazon.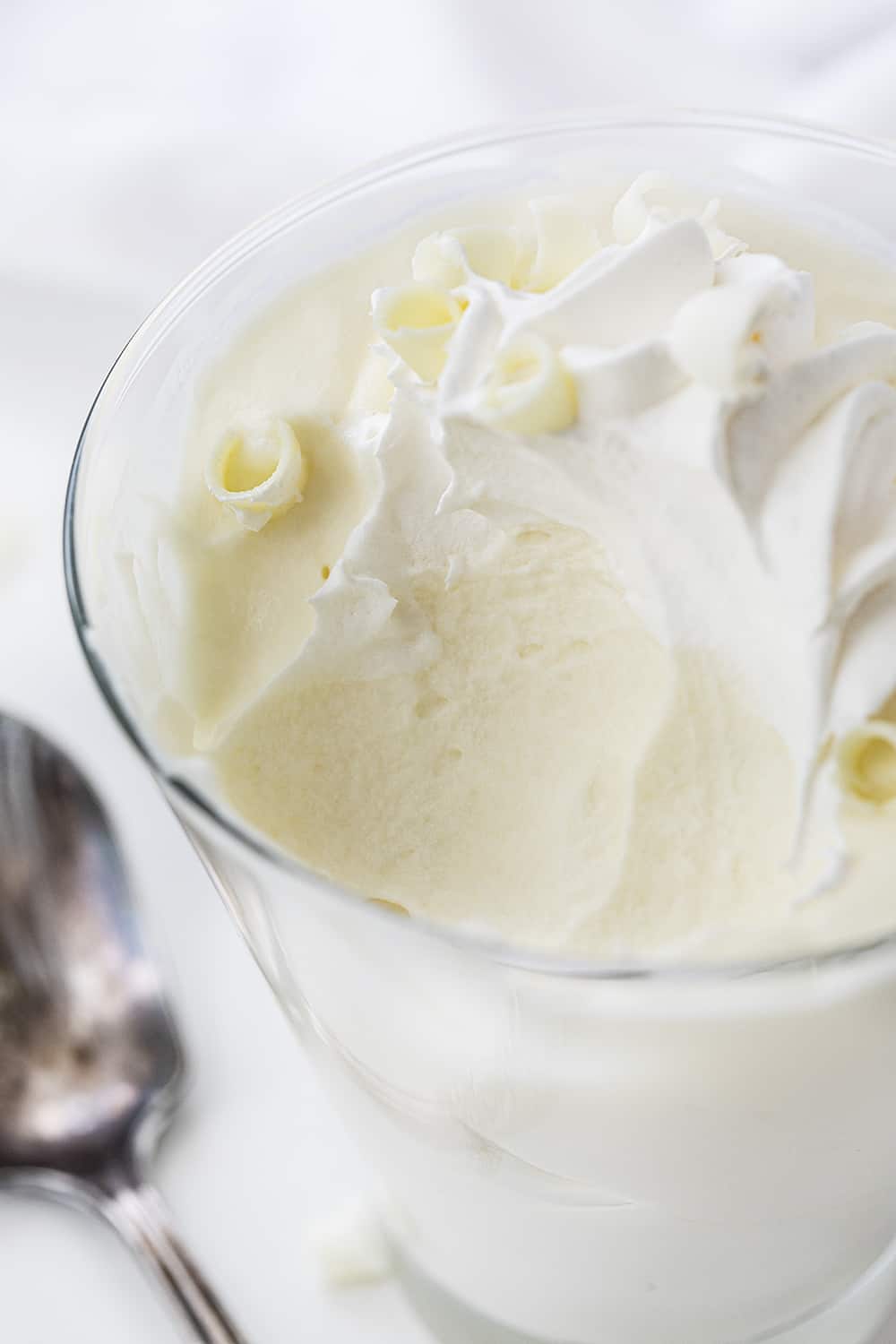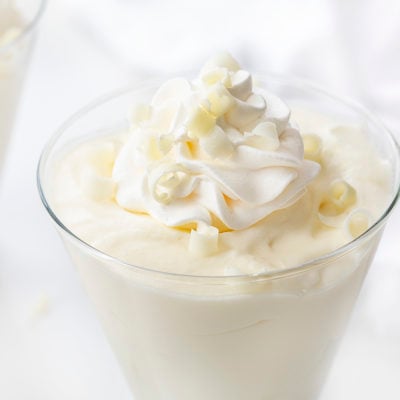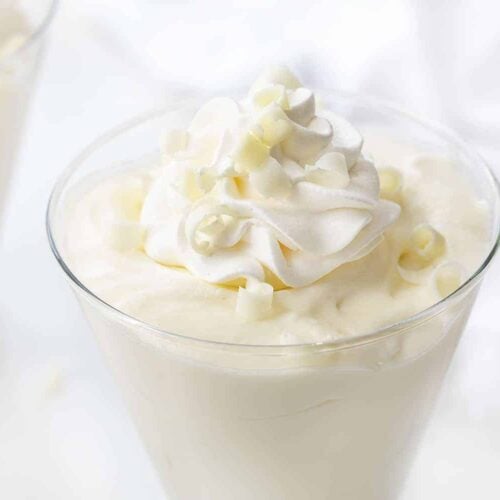 Two Ingredient White Chocolate Mousse
Whip up this smooth, creamy, and decadent dessert in a few minutes with just two ingredients!
Ingredients
1½

cups

heavy cream,

cold and divided

1

cup

white chocolate chips
Instructions
In a microwave-safe bowl, heat 1/2 cup of the heavy cream for 50 seconds (depending on microwave strength).

Add the white chocolate chips to the cream and stir until the chips have melted. This will take 1-2 minutes. Set aside to cool.

Pour the remaining 1 cup of heavy cream into a medium bowl. Using a hand-held or stand mixer, beat until soft peaks form. (Optional: Store half the soft whipped cream into a small bowl and refrigerate it to use as a topping for the mousse.) Continue whipping the cream until stiff peaks form.

Slowly fold in half the whipped cream into the white chocolate mixture with a large spatula. Gently fold in the rest of the whipped cream.

Divide the mixture between 4 ramekins or cocktail glasses (I used lowball glasses). Refrigerate for at least one hour, (up to overnight), before serving. Top with the reserved whip cream or cool whip and white chocolate shavings.
Did you make this recipe?
Thank you for making my recipe! You took pictures, right? Well go ahead and post them on Instagram! Be sure to mention me @iambaker and use the hashtag #YouAreBaker.