Creating a giant buttercream rose for a cake is as easy as piping a small one. I show will show you in a few easy steps!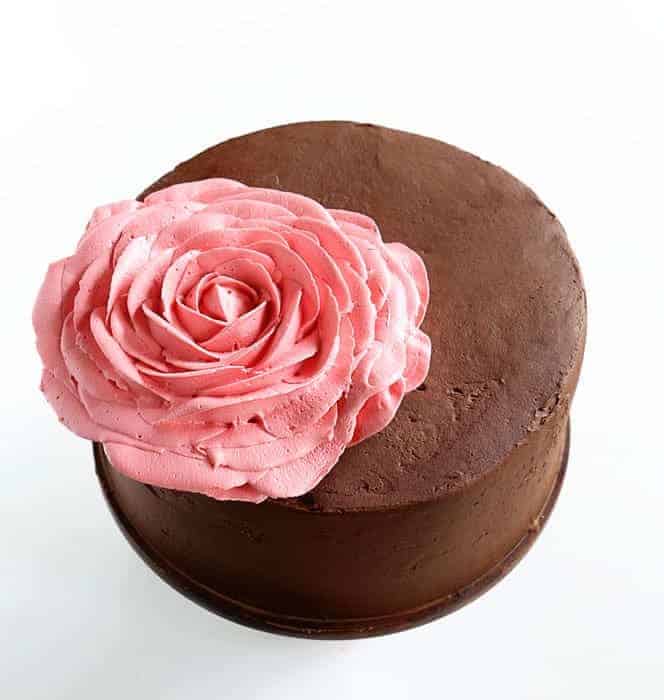 To make this flower you will need:
basic whipped vanilla buttercream
pastry bags
#127 tip (#126 or #128 will also work- see how I store my tips here)
parchment paper (wax paper would also work)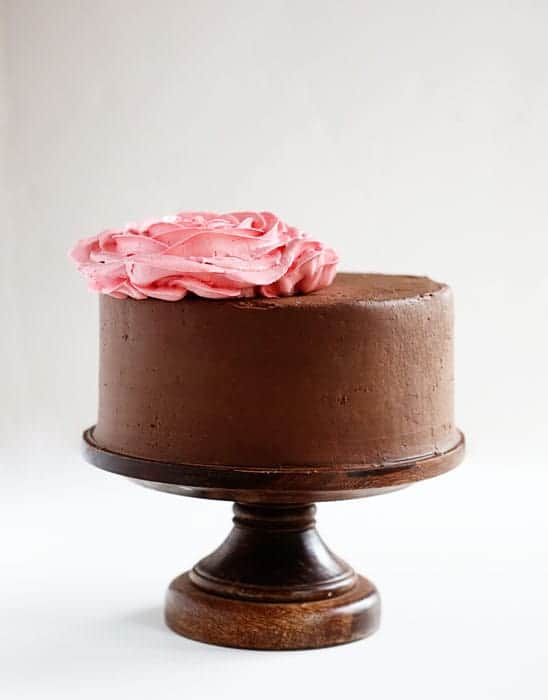 As you can see my flower is on a chocolate cake. You can use any flavor you prefer!
My cake is a 2-layer cake and I happen to think this size flower works well on this size cake. I also made this giant rose on a 3-tiered cake. (that is where the inspiration came from!)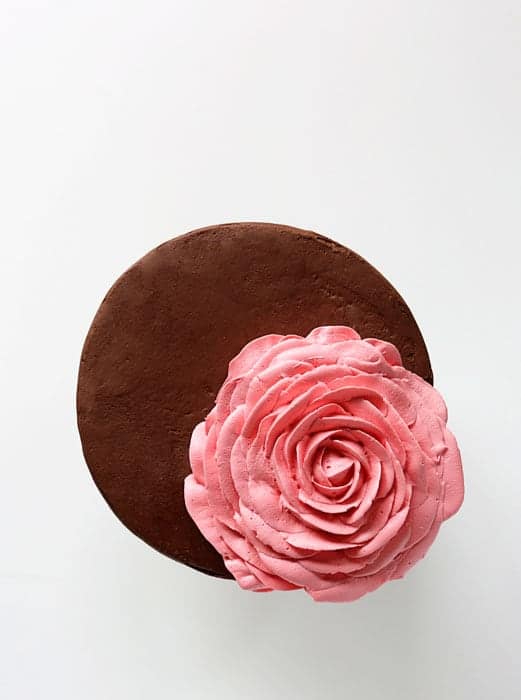 Prepare buttercream and tint it pink. Place frosting in disposable pastry bags. (You should be able to fill 4 12-inch pastry bags, this recipe should use at least 2 bags so you will have some left over.)
Place your decorator's tip into an empty bag and then cut the tip off of a bag with frosting in it. Drop the frosting bag into the bag with the tip. (See why I double bag my frosting here)
Begin by placing a dollop on the rotating cake stand. Place a piece of parchment paper on top. Now start by making a dollop in the center of the cake stand. Hold your bag so that the smallest part of the tip (it is the shape of a teardrop) is facing up. Place tip at the base of the dollop, apply pressure and move the bag around the side of the dollop. Release pressure.
Continue this a few thousand times. 🙂 Kidding. But you will simply repeat this motion around and around, building up the flower.
HERE IS A VIDEO on how I do this technique!!
When you are done piping, place the buttercream flower into the freezer for at least 15 minutes.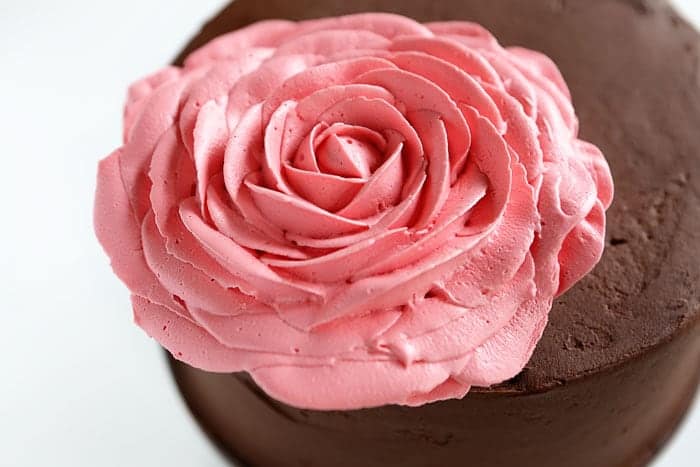 When you are ready to place on cake remove the buttercream flower from the freezer. It should be VERY firm. (think frozen butter)
Pipe a mound of frosting onto the cake where you want the flower to go. If you want the flower to be angled, be sure to add more frosting to one side of the mound.
Gently remove the parchment from the flower and set it on the mound of frosting. My flower had been out of the freezer for about 5 minutes when I finally moved it to the cake and had started to thaw. Be sure yours is completely firm!
Pick up the piping bag again and pipe more petals around the base of the flower.
Keep chilled until ready to serve.
I can't help but think this would be an amazing wedding or bridal shower cake!!