I know that this recipe has been around forever, but I had not tried it until my beautiful friend Kristine brought it over. After my first bite, the word 'crack' came to mind. As in, this is the food world version of a drug. It's impossible to stop eating! And, you are in luck! I also have a New Year's Eve Crack recipe to bring in the new year!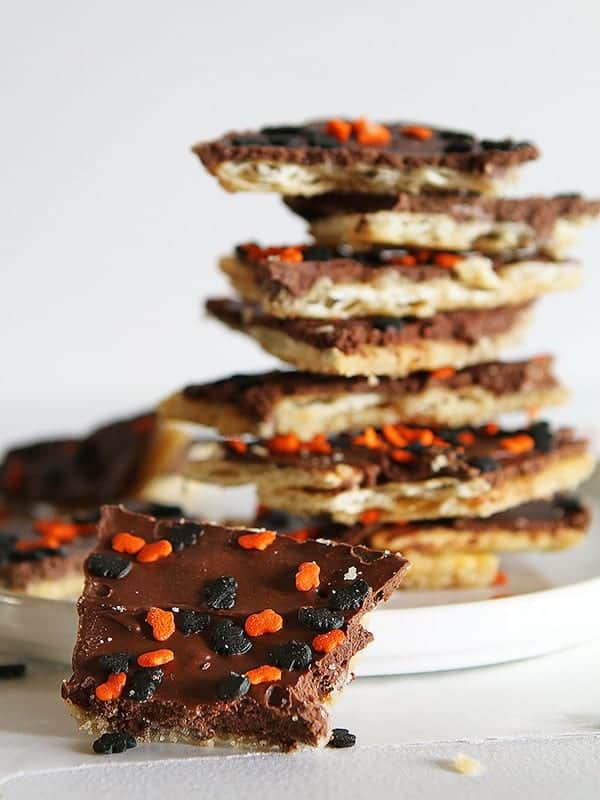 Halloween Saltine Toffee
This is my third tray of Halloween Saltine Toffee. I may have just thrown some orange and black ghosts on top so that I could pretend that I had to make them for Halloween😊 But really, I just couldn't stop. The addiction to this toffee is no trick–it's real!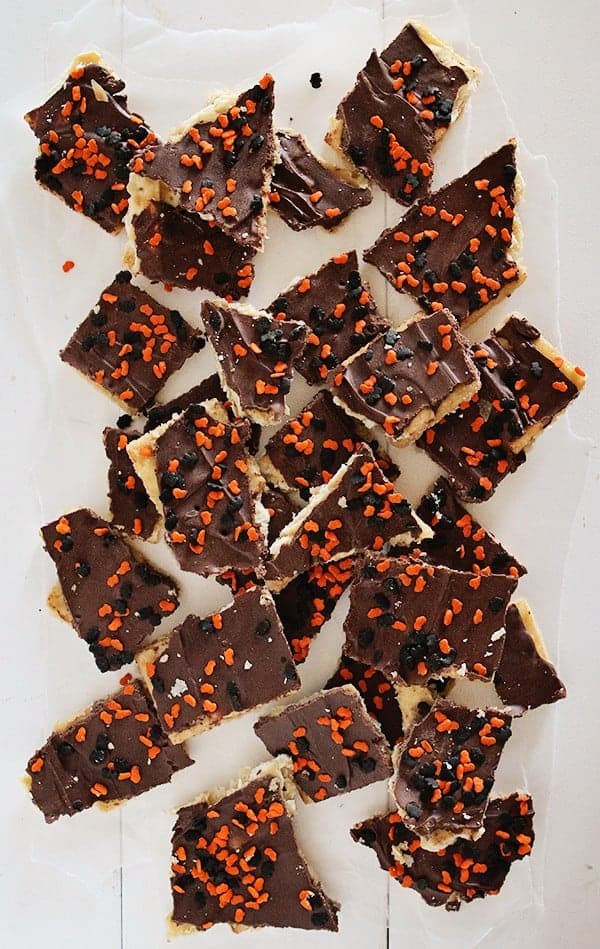 Halloween Saltine Toffee Recipe
I can tell you with certainty that I will be making these for every holiday. I may even make up holidays just so I can make these. Have you heard that saying, "Nothing tastes as good as skinny feels?" THESE TASTE BETTER. You may want to stock up on the ingredients since I will bet you make these again for whatever holiday you come up with!
Ingredients
Saltine crackers
Butter
Brown sugar
Chocolate chips
Halloween themed sprinkles
To make the Halloween Saltine Toffee, preheat the oven to 425°F. Use aluminum foil to line a baking sheet, spraying the foil with nonstick spray. Lay the crackers, salt down, on the baking sheet. After preparing the brown sugar/butter mixture, pour that over the top of the crackers. Bake for 3-5 minutes until the toffee topping is bubbling all over! Remove the pan from the oven and immediately sprinkle the chocolate chips over the toffee to let them melt. Use an offset spatula to spread out the chocolate and add your Halloween sprinkles on top of it all! Freeze the pan for about 30 minutes. After the 30 minutes, break the crackers apart and enjoy! I don't know if I have to mention that these will last for up to a week in an airtight container, but just in case you have more self-control than me, I am letting you know!
In the meantime, I have hidden the scale in a closet and am getting comfortable in my exercise pants that I never actually use for exercise. (They have an elastic waist, thank goodness.) That is my warning to you. I want to tell you to enjoy in moderation, but since I was totally and completely unsuccessful in doing that it would be hypocritical of me.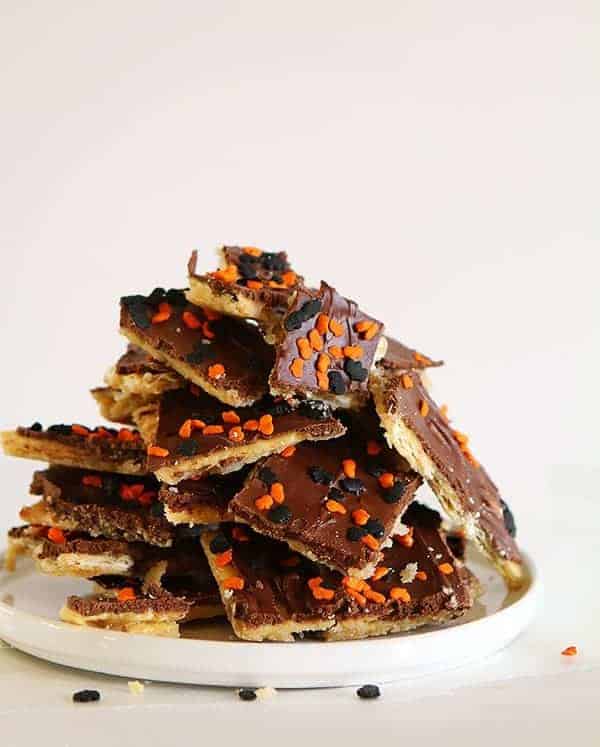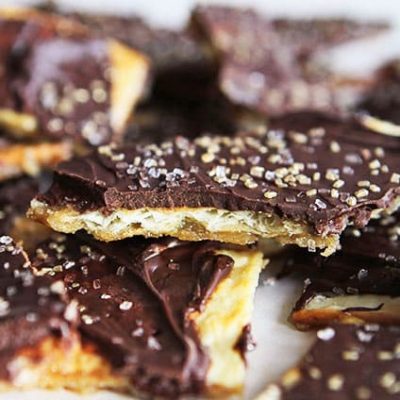 Halloween Saltine Toffee
Halloween Saltine Toffee is so addicting, you will want to make up your own holidays for an excuse to make it again!
Ingredients
1 1/2

sleeves of saltine crackers,

approximately

2

cups

butter

1

cup

packed brown sugar

1 1/2

cups

chocolate chips

1/4

cups

of Halloween themed sprinkles
Instructions
Heat the oven to 425 degrees. Prepare a baking sheet by lining it with aluminum foil and spraying the foil with nonstick cooking spray.

Arrange the crackers salt side down in a single layer on the baking sheet.

Place the butter and brown sugar in a small saucepan over medium-high heat. Stir while the butter melts, and bring the mixture to a rolling boil. (about 3-5 minutes) Remove from heat and carefully pour the sugar-butter mixture over the crackers on the baking sheet.

Bake the toffee crackers at 425 degrees for 3-5 minutes, until the toffee is bubbling all over. Carefully remove the pan from the oven.

Immediately sprinkle the chocolate chips on top of the hot toffee, and allow them to sit for one minute to soften and melt. Once softened, use an offset spatula to spread the melted chocolate over the entire surface of the toffee as evenly as possible.

Cover with Halloween themed sprinkles.

Freeze the pan for about 30 minutes. Once set, break into small uneven pieces by hand. Store uneaten saltine toffee in an airtight container for up to a week.
Did you make this recipe?
Thank you for making my recipe! You took pictures, right? Well go ahead and post them on Instagram! Be sure to mention me @iambaker and use the hashtag #YouAreBaker.
Looking for More Halloween Treats?
Halloween Candy Overload Cookies
Pumpkin Buttercream Cupcakes with Chocolate Halloween Toppers