With Halloween right around the corner, it's time to come up with some treats that fit the occasion. Well, spiders seem to be a popular Halloween decoration, either hanging from the ceiling, set somewhere to scare me, or as decoration! Well, my favorite is designing them on this Spider Cake! Another favorite Halloween treat that keeps spiders in focus is my Spider Chocolate Chip Cookies!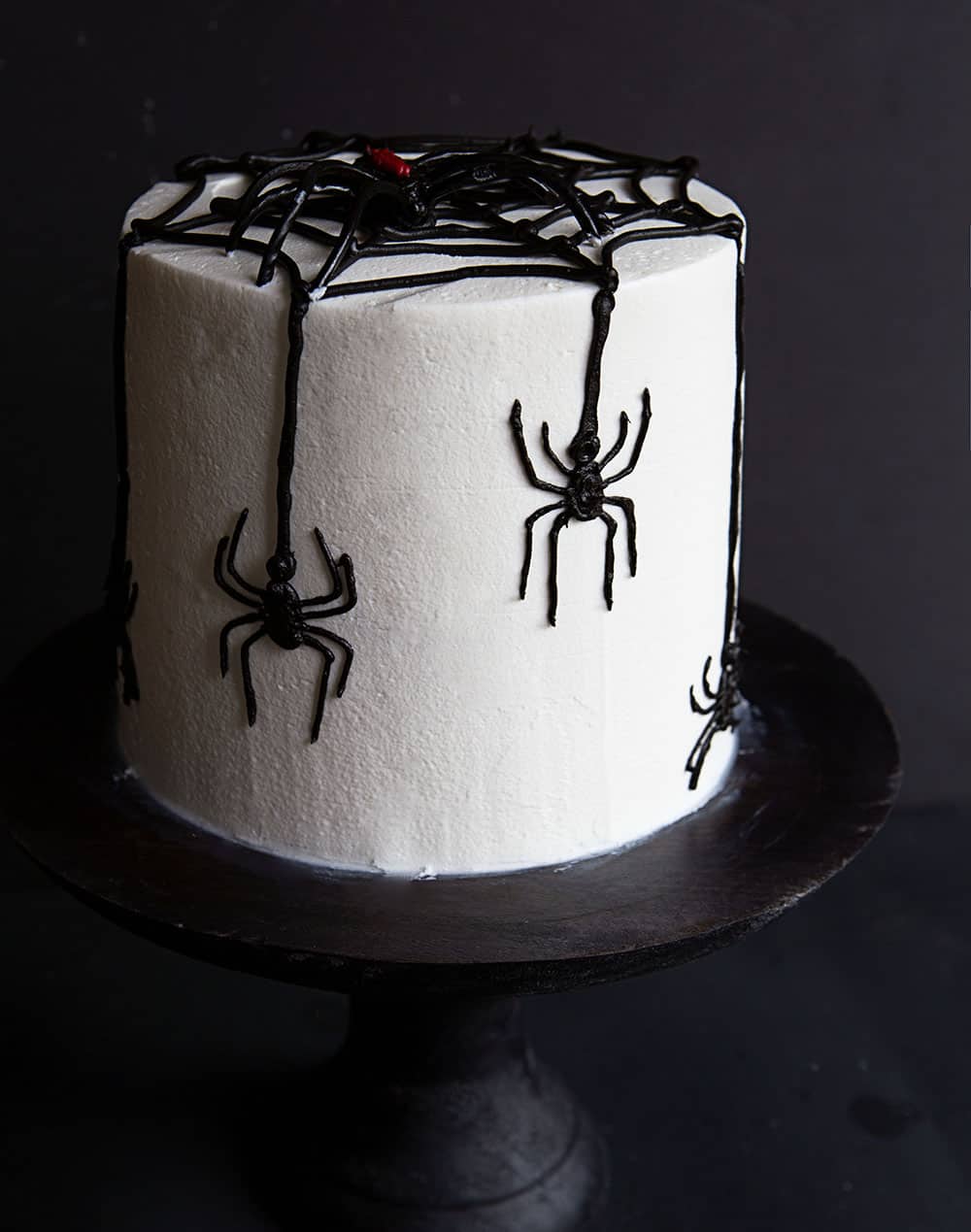 Spider Cake
I am not sure why spiders get such a bad rap since they are free pest control! I may or may not have screamed at the sight of a spider, but for the most part, I leave them alone and they leave me alone. Anyway, when it comes to Halloween, spiders are everywhere! Plus, there are a lot of superstitions around spiders on Halloween. They first became associated with the holiday back in medieval times when they were associated with witches. However, they have had their accolades as well. However you feel about spiders, this Spider Cake fits perfectly with the Halloween and spider relationship. Plus, not only is it decorative, it tastes amazing!!!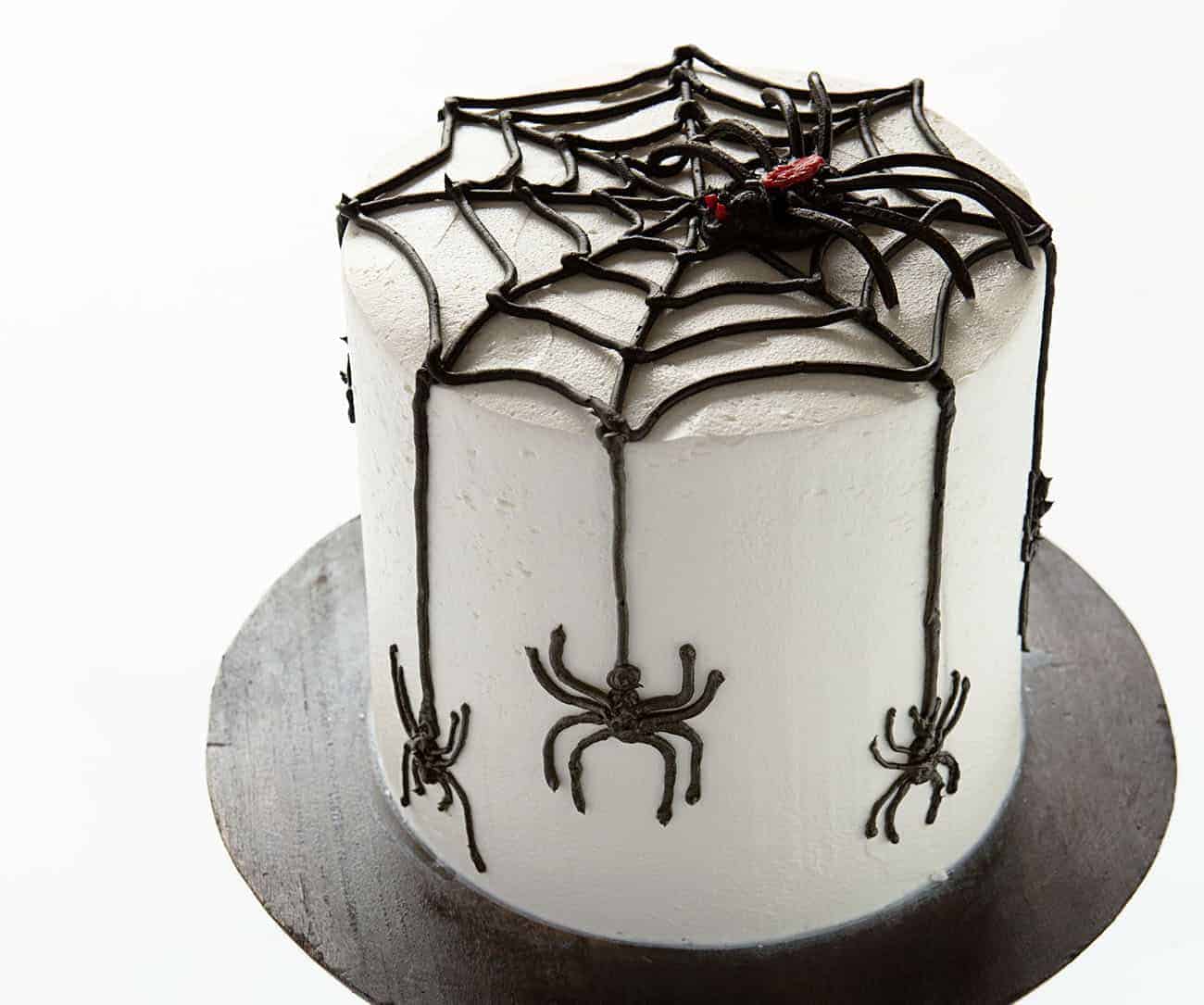 Spider Cake Recipe
This cake may look complicated, but don't be afraid (get it???) to make it! It's simply a matter of making my favorite Chocolate Cake recipe and preparing the Whipped Vanilla and Chocolate Buttercream!
Chocolate Cake Ingredients
Flour
Vanilla extract
Eggs–Room temperature eggs are best for baking.
Vegetable oil
Buttermilk–Make your own homemade buttermilk for this and other recipes!
Salt
Baking powder
Baking soda
Cocoa powder
Sugar
Hot coffee–It is fine if you use decaf, that is what I use!
Whipped Vanilla/Chocolate Buttercream Ingredients
Butter
Vanilla extract
Almond extract
Confectioners sugar–You can definitely reduce the sugar by as much as half if you want less sugar.
Whole milk
Salt–just a pinch!
Dark cocoa (for the chocolate buttercream)
Black food coloring (for the chocolate buttercream)
When you prepare the chocolate buttercream, you can easily halve the recipe above as you will not be using all of it for piping out the web and spiders. I use Dark cocoa powder to ensure it was as deep brown as possible. I do this because I want to use black food color sparingly.
Take 1 cup of the chocolate buttercream and add 1/2 tsp. of black food color. (You can use less… do a couple of drops at a time and stir… remember that the color will darken as it sits.) Place black buttercream into a pastry bag.
Spider Leg Ingredients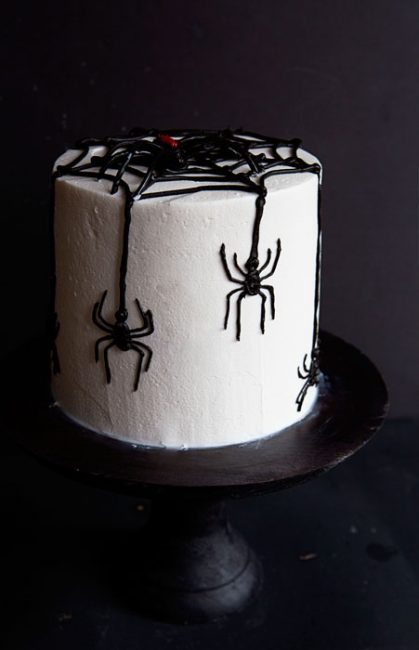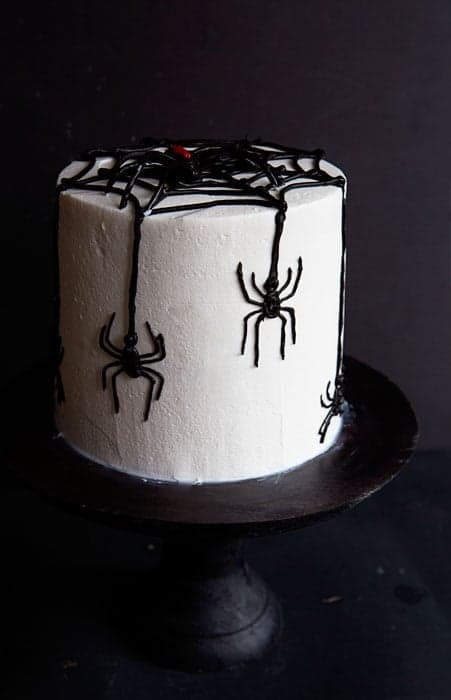 How to Make Spider Cake
Start by baking your chocolate cake. You will use one recipe and equally divide it between three 6-inch round cake pans. Allow the cakes to cool. Level and then stack and chill until ready to assemble the cake.
PRO TIP: When chilling cake layers, place a layer of parchment between each layer to ensure they do not stick to each other. If you are chilling for longer than a few hours, wrap each layer in plastic wrap and place each cake in an airtight plastic bag.
Prepare whipped vanilla buttercream. (I love using a WHITE buttercream for this recipe, so consider using my super-secret awesome tips on how to get white icing!! Scroll to the end to watch the secret video) Set aside and prepare the chocolate buttercream.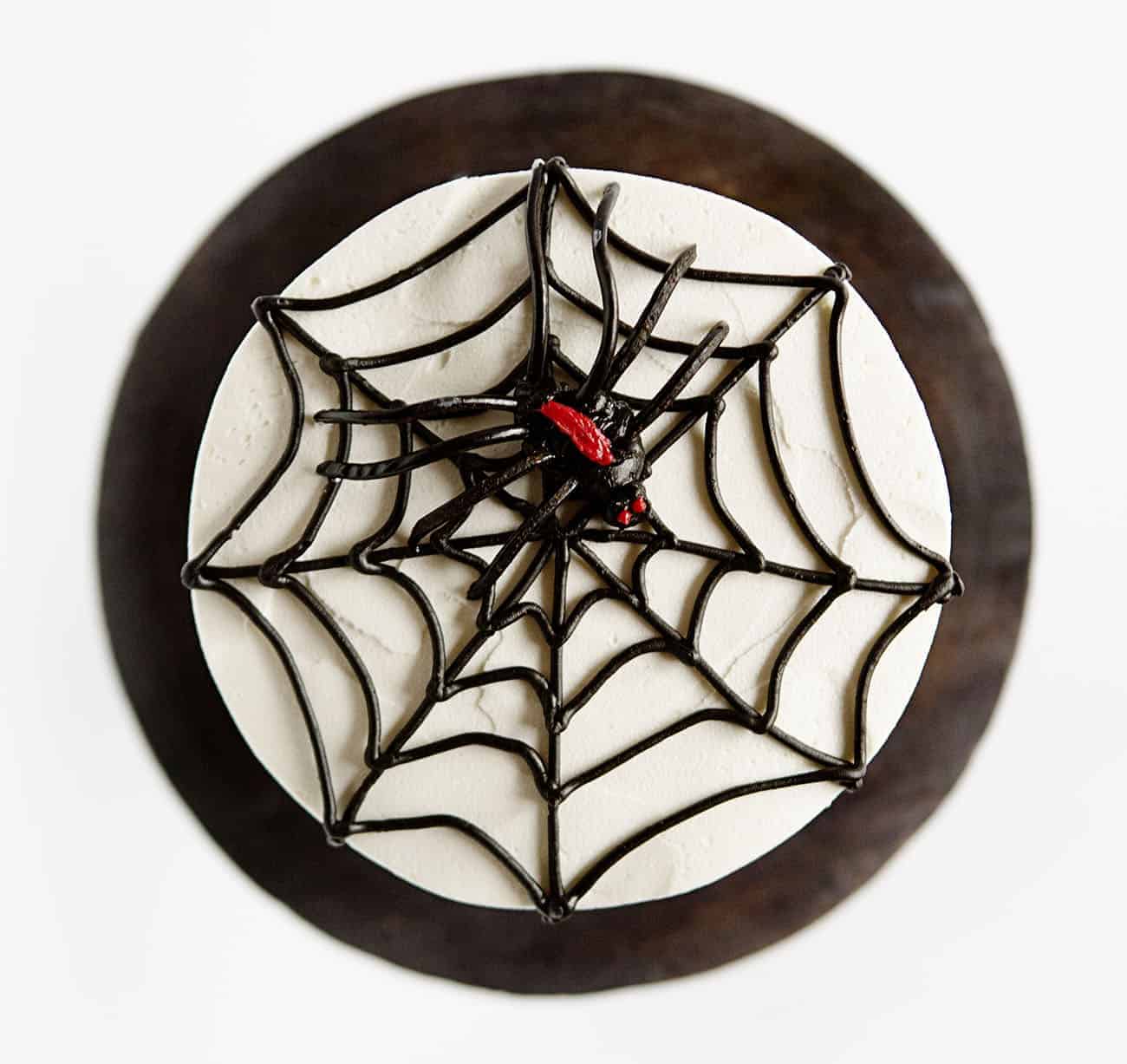 Assembling the Spider Cake
When you are ready to assemble the Spider Cake, place the first layer of chocolate on the cake stand. (Not to brag, but have you seen my collection of cake stands???) Anyway, set your cake stand directly on a rotating cake stand. (I place shelf liner on my rotating cake stand so that the cake does not slip). Spread about 1/2 cup of white buttercream onto the cake. Add the next layer of chocolate cake. Add another 1/2 cup of buttercream. Then, place the final layer of chocolate cake on top. Cover the entire cake with a thin crumb coat. Chill (both you and the cake😉) for about 30 minutes.
After cake has been chilled, add a final coat of white buttercream. Smooth out the buttercream as smooth as you can. I use an offset spatula to get frosting in place and then a bench scraper to get it as smooth as possible. But hey, it doesn't have to be perfect, so use what you have and go with it!
Next, get a pastry bag fitted with a #4 tip and drop in pastry bag filled with black buttercream. (See why I double bag my frosting here). If you have a lot of decorator's tips and need some tips on storing them so they are easy to find when you need them (not that I lose anything around here), check out this How to Store Decorator's Tips link.
Starting at the center of the cake, apply pressure to the pastry bag and pipe a line of black frosting out to the edge of the cake. Repeat this around the cake leaving about 2-inches between each line.
You will now start creating the web. Here is a video on how I did that!

The video also details how I did the spiders down the side. It's basically piping a line (some long, some short) and then piping a body. From there you just add eight legs!
For the big spider on top, I used the #10 open rough tip and just applied pressure to the pastry bag, allowing frosting to pool a bit. The legs are black rope licorice! I cut out eight 2-inch sections and then froze them until I was ready to decorate the cake. Oh, and I also went back in and added a bit of red detail… with eyes and a spot on the spiders back. But I did not include that in my video so I left it out here as well!
See? So easy! I hope you will try this super easy Spider Cake for your Halloween celebration! And, if you need some more cake recipes, I have plenty to share!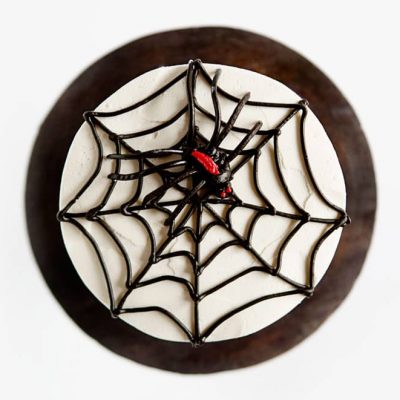 Spider Cake
This Spider Cake is both an easy and delicious decorative cake perfect for Halloween!
Ingredients
Chocolate Cake
1 3/4

cup

(210g) all-purpose flour

2

tsp.

McCormick pure vanilla extract

2

extra-large eggs,

room temperature

1/2

cup

(112g) vegetable oil

1

cup

(240g) buttermilk,

room temperature

1

tsp.

kosher salt

1

tsp.

baking powder

2

tsp.

baking soda

3/4

cup

(90g) unsweetened cocoa powder

2

cups

(400g) granulated sugar

1

cup

(237g) freshly brewed hot coffee,

decaf
WHIPPED VANILLA BUTTERCREAM
1

cup

2 sticks butter,

softened

2

teaspoons

McCormick® Pure Vanilla Extract

1

teaspoon

McCormick® Pure Almond Extract

32

oz

confectioners sugar,

sifted*

2

tablespoons

whole milk,

you can use up to 1/2 cup if you need a loose, creamy consistency

pinch

salt

*You can use as little as 16 ounces if you want to decrease sugar
Instructions
CHOCOLATE CAKE
Sift the flour, sugar, cocoa, baking soda, baking powder, and salt into the bowl and mix until combined.

In another bowl, combine the buttermilk, oil, eggs, and vanilla.

With the mixer on low speed, slowly add the wet ingredients to the dry. With mixer still on low, add the

coffee and stir just to combine, scraping the bottom of the bowl with a rubber spatula. Pour the batter into

two 8-inch round prepared pans and bake for 30 to 40 minutes at 350°F, until a cake tester or toothpick comes out mostly clean (not wet).

Cool in the pans for 30 minutes, then turn them out onto a cooling rack and cool completely
WHIPPED VANILLA BUTTERCREAM
Beat butter in the bowl of a stand mixer with the whisk attachment on medium-high speed until light and fluffy. (about 3 minutes)

Add vanilla and almond extract.

With the mixer on low, slowly add in confectioners sugar, milk, and salt; frequently scraping sides and bottom of the bowl.

Once incorporated, whip frosting for at least 3 minutes on medium-high to high. (My mixer went for 7 minutes.)

If frosting is too thick to spread, gradually beat in additional milk.

Store in refrigerator for up to 2 weeks. Rewhip before using.
Did you make this recipe?
Thank you for making my recipe! You took pictures, right? Well go ahead and post them on Instagram! Be sure to mention me @iambaker and use the hashtag #YouAreBaker.
More Decorative Cake Recipes