Fun and easy designs for Halloween that any level baker can do!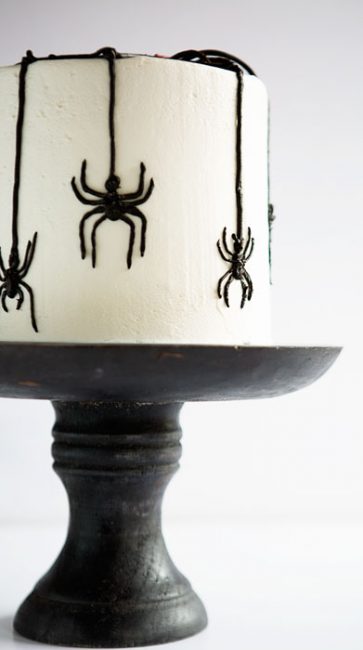 To make this cake you will need:
Chocolate cake – I use my favorite chocolate cake recipe
6-inch round cake pans – three of them (I use Fat Daddio and love them)
chocolate buttercream (be sure to use dark cocoa powder)
cake stand (see my collection here)
rotating cake stand (optional, but makes it easier, I like a sturdy rotating cake stand like this one)
small offset spatula
bench scraper (optional, this is how I smooth out frosting)
black food color
pastry bags
#4, #10 decorator's tips (see how to store tips here)
black rope licorice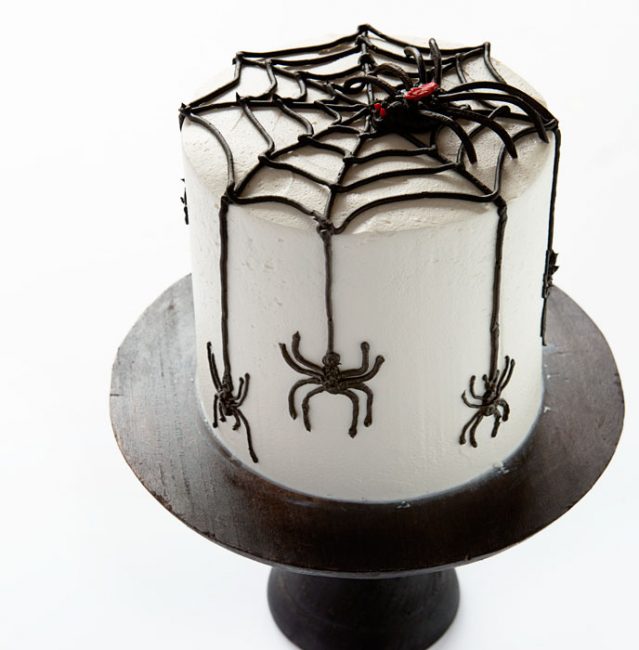 Start by baking your chocolate cake. You will use one recipe and equally divide it between three 6-inch round cake pans.
Allow cakes to cook. Level and then stack and chill until ready to assemble cake.
PRO TIP: When chilling cake layers, place a layer of parchment between each layer to ensure they do not stick to each other. If you are chilling for longer than a few hours, wrap each layer in plastic wrap and place each cake in an airtight plastic bag.
Prepare whipped vanilla buttercream. (I love using a WHITE buttercream for this recipe, so consider using my super secret awesome tips on how to get white icing!! Scroll to the end to watch the secret video) Set aside.
Prepare chocolate buttercream. You can easily halve the recipe above as you will not be using all of it for piping out the  web and spiders. I use Dark cocoa powder to ensure it was as deep brown as possible. I do this because I want to use black food color sparingly.
Take 1 cup of the chocolate buttercream and add 1/2 tsp. of black food color. (You can use less… do a couple drops at a time and stir… remember that the color will darken as it sits.) Place black buttercream into a pastry bag.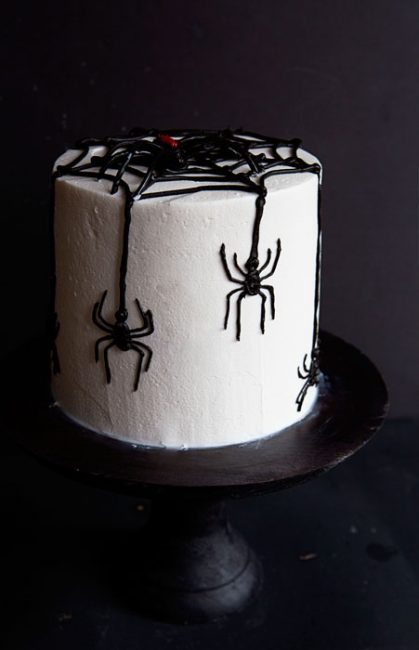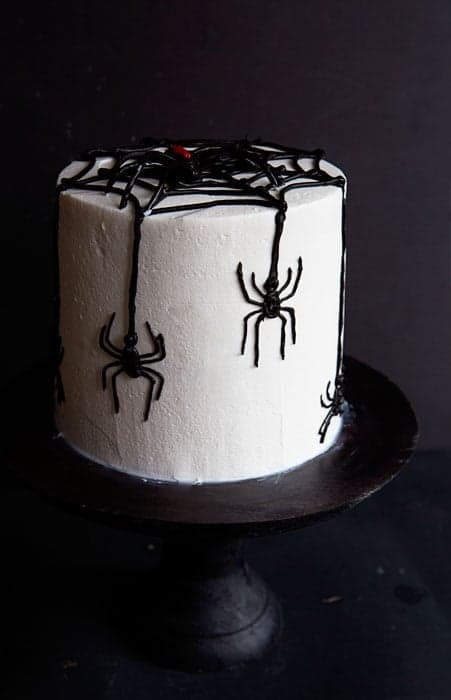 When you are ready to assemble cake:
Place first layer of chocolate on the cake stand. Set your cake stand directly on a rotating cake stand. (I place shelf liner on my rotating cake stand so that the cake does not slip)
Spread about 1/2 cup of white buttercream.
Add next layer of chocolate cake. Add another 1/2 cup of buttercream.
Place the final layer of chocolate cake on top. Cover entire cake with a thin crumb coat. Chill for about 30 minutes.
After cake has been chilled, add a final coat of white buttercream. Smooth out buttercream as smooth as you can. I use an offset spatula to get frosting in place and then a bench scraper to get it as smooth as possible.
Get a pastry bag fitted with a #4 tip and drop in pastry bag filled with black buttercream. (See why I double bag my frosting here)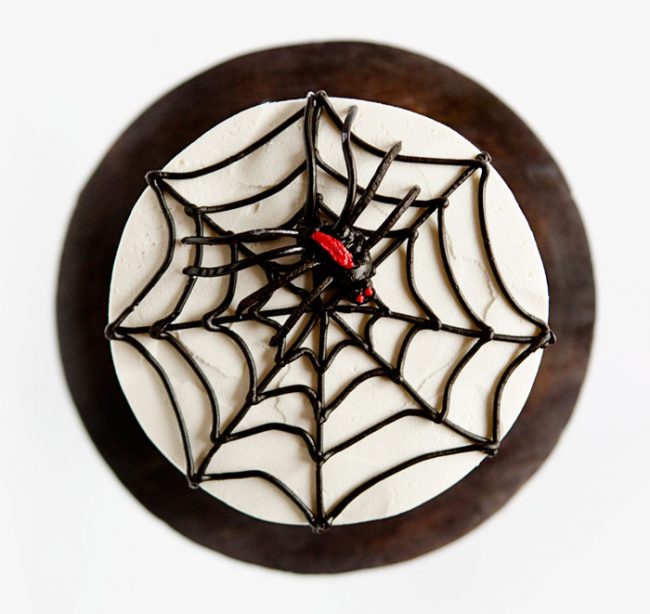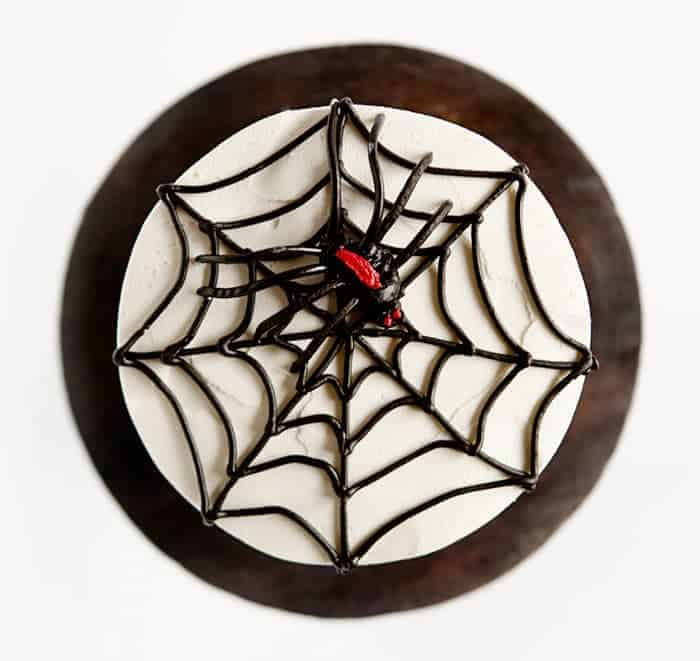 Starting at the center of the cake, apply pressure to the pastry bag and pipe a line of black frosting out to the edge of the cake. Repeat this around the cake leaving about 2-inches between each line.
You will now start creating the web. Here is a video on how I did that!

The video also details how I did the spiders down the side. It's basically piping a line (some long, some short) and then piping a body. From there you just add eight legs!
For the big spider on top, I used the #10 open rough tip and just applied pressure to the pastry bag, allowing frosting to pool a bit. The legs are black rope licorice! I cut out eight 2-inch sections and then froze them until I was ready to decorate the cake.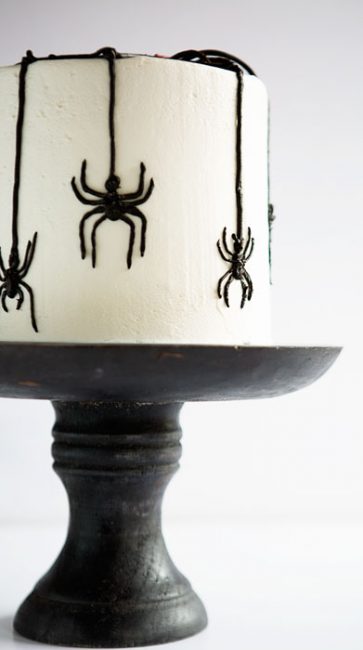 Oh, and I also went back in and added a bit of red detail… with eyes and a spot on the spiders back. But I did not include that in my video so I left it out here as well!
So easy! I hope you will try this super easy Spider Cake for your Halloween celebration!