Butterscotch Sauce is a creamy homemade dessert topping with sweet and salty flavors and a rich buttery flavor. It is perfect for drizzling over ice cream, cakes, pies, or other desserts, adding a decadent touch to your favorite treats! I also have homemade Caramel Sauce you will want to have on hand, too! Once you taste the difference in homemade sauces, you will never buy the jarred varieties again!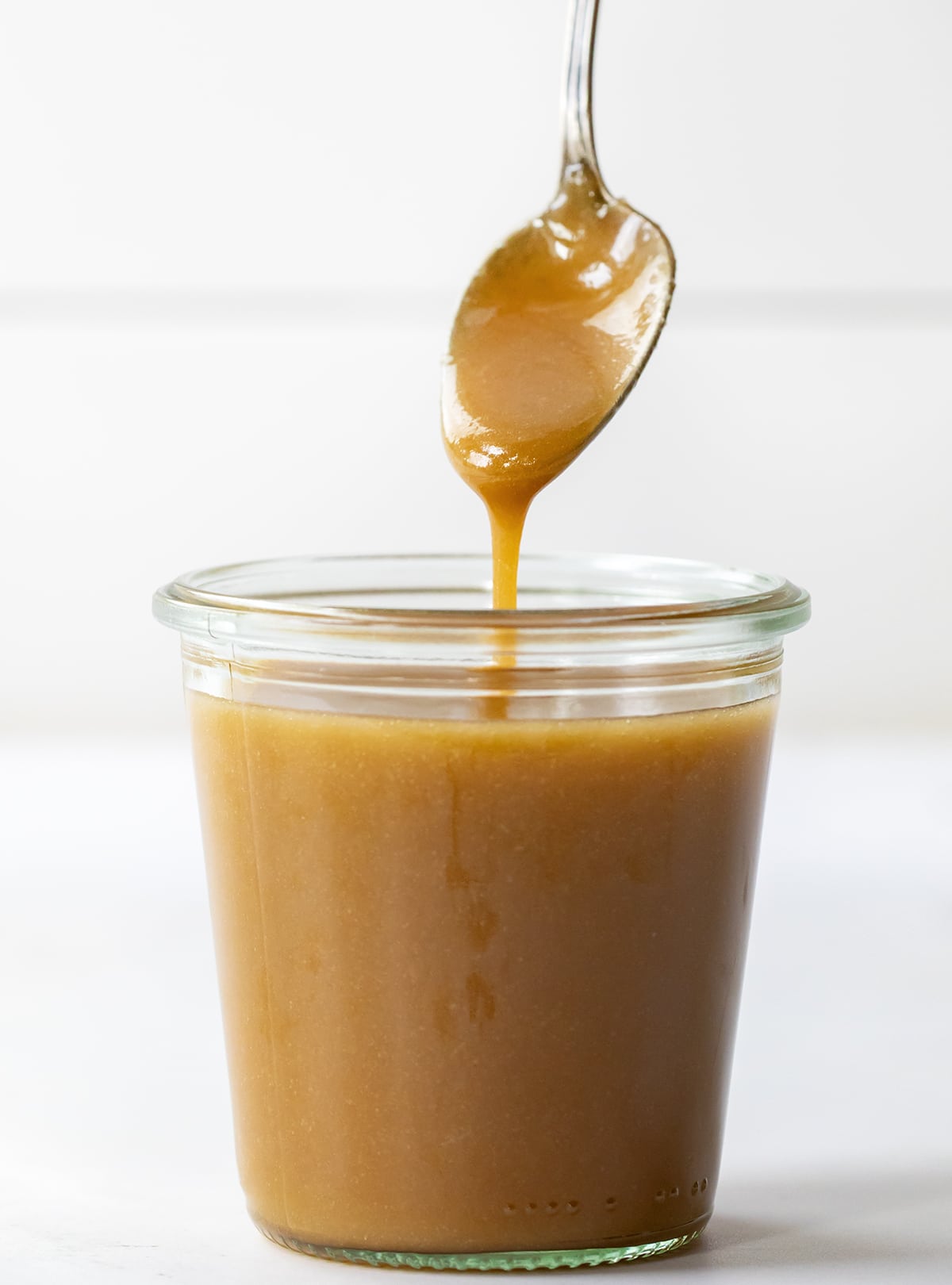 Ingredients & Substitutions
Brown Sugar: The main purpose of brown sugar in this recipe is to provide sweetness and flavor. Brown sugar contains molasses, which gives the sauce its distinctive butterscotch flavor. The packed brown sugar also adds moisture to the sauce, contributing to its thick and syrupy consistency.
Butter: Butter adds a rich and creamy texture to the sauce, making it smooth and velvety. The salted butter also imparts a slightly salty note, which balances the sweetness of the sugar and enhances the overall flavor profile. Additionally, butter contributes to the sauce's glossy appearance. If using unsalted butter, you may want to increase the salt in the recipe.
Heavy Cream: Heavy cream, also known as heavy whipping cream, gives the sauce a creamy texture. You could substitute half-and-half if that is what you have on hand.
Corn Syrup: Light corn syrup plays a crucial role in preventing the sugar from crystallizing during the cooking process.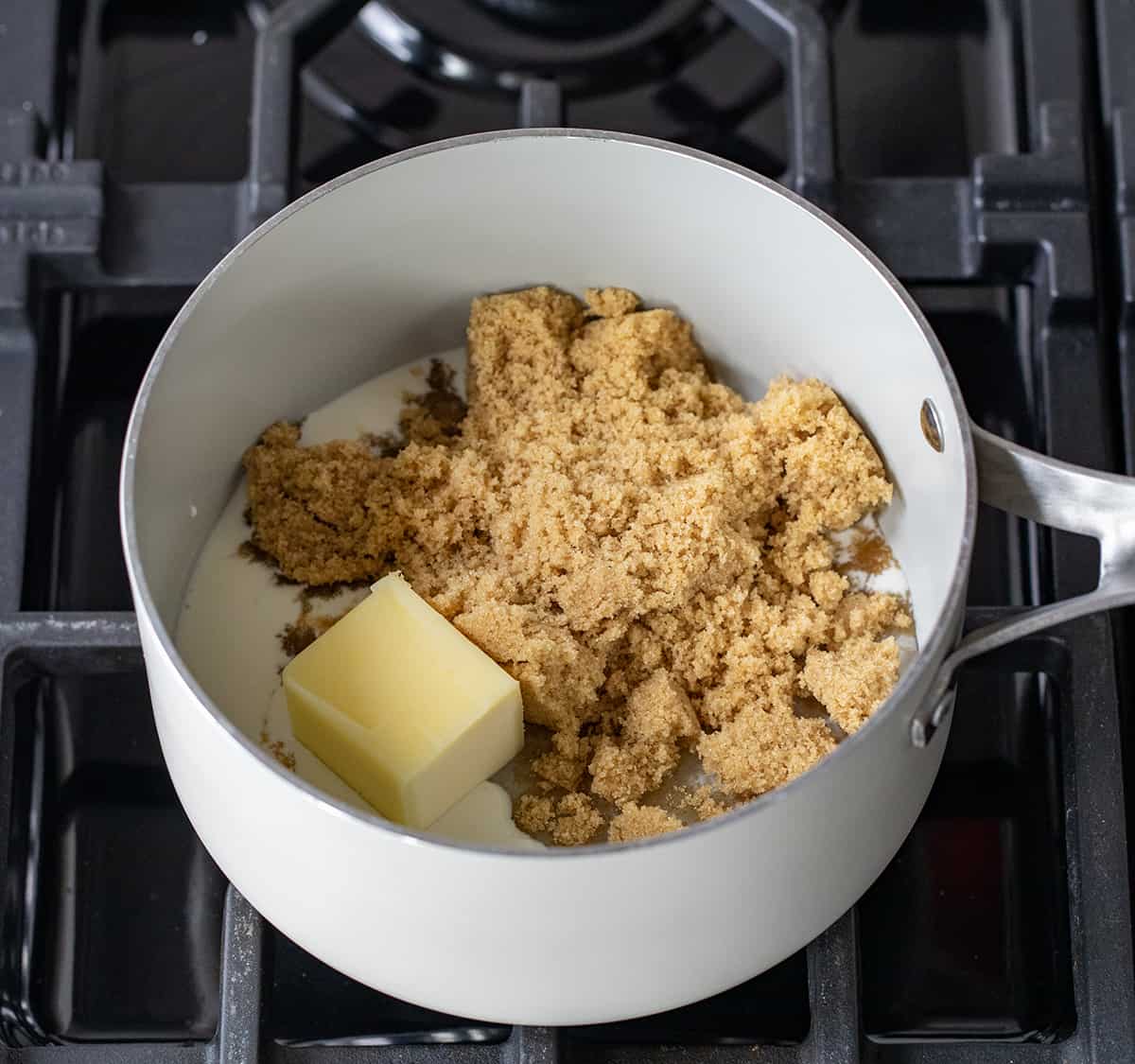 How To Use Butterscotch Sauce
Butterscotch sauce is a versatile and delicious topping that can be used in a variety of ways to enhance the flavor of desserts and sweet treats. Here are some popular ways to use butterscotch sauce:
Ice Cream Topping: Drizzle warm or room-temperature butterscotch sauce over vanilla, chocolate, or caramel ice cream.
Cake or Brownie Filling: Use the sauce as a filling between cake layers or as a swirl in brownie batter before baking.
Pancake or Waffle Topping: Pour butterscotch sauce over your pancakes or waffles for a sweet and decadent breakfast treat. It's an excellent alternative to maple syrup.
Apple or Pear Dessert: Drizzle butterscotch sauce over baked or sautéed apples or pears. This combination of warm fruit and sweet sauce is delightful, especially when served with a scoop of vanilla ice cream.
Bread Pudding or Rice Pudding: Use butterscotch sauce as a drizzle or a warm topping for bread pudding or rice pudding. It adds a comforting sweetness and richness to these desserts.
Cheesecake Topping: Top your cheesecake with butterscotch sauce for a unique twist on a classic dessert.
Coffee or Hot Cocoa: Stir a spoonful of butterscotch sauce into your coffee or hot cocoa for a sweet and flavorful upgrade. It's a cozy way to enjoy the sauce.
Banana Split: Create a classic banana split by splitting a banana lengthwise, adding scoops of ice cream, and drizzling butterscotch sauce over everything. Top with whipped cream, chopped nuts, and a cherry. Or, add it to a plate of banana split nachos!
Dip for Fresh Fruit: Serve butterscotch sauce as a dip for fresh fruit like apple slices, banana chunks, or strawberries. It makes for a delightful dessert or snack.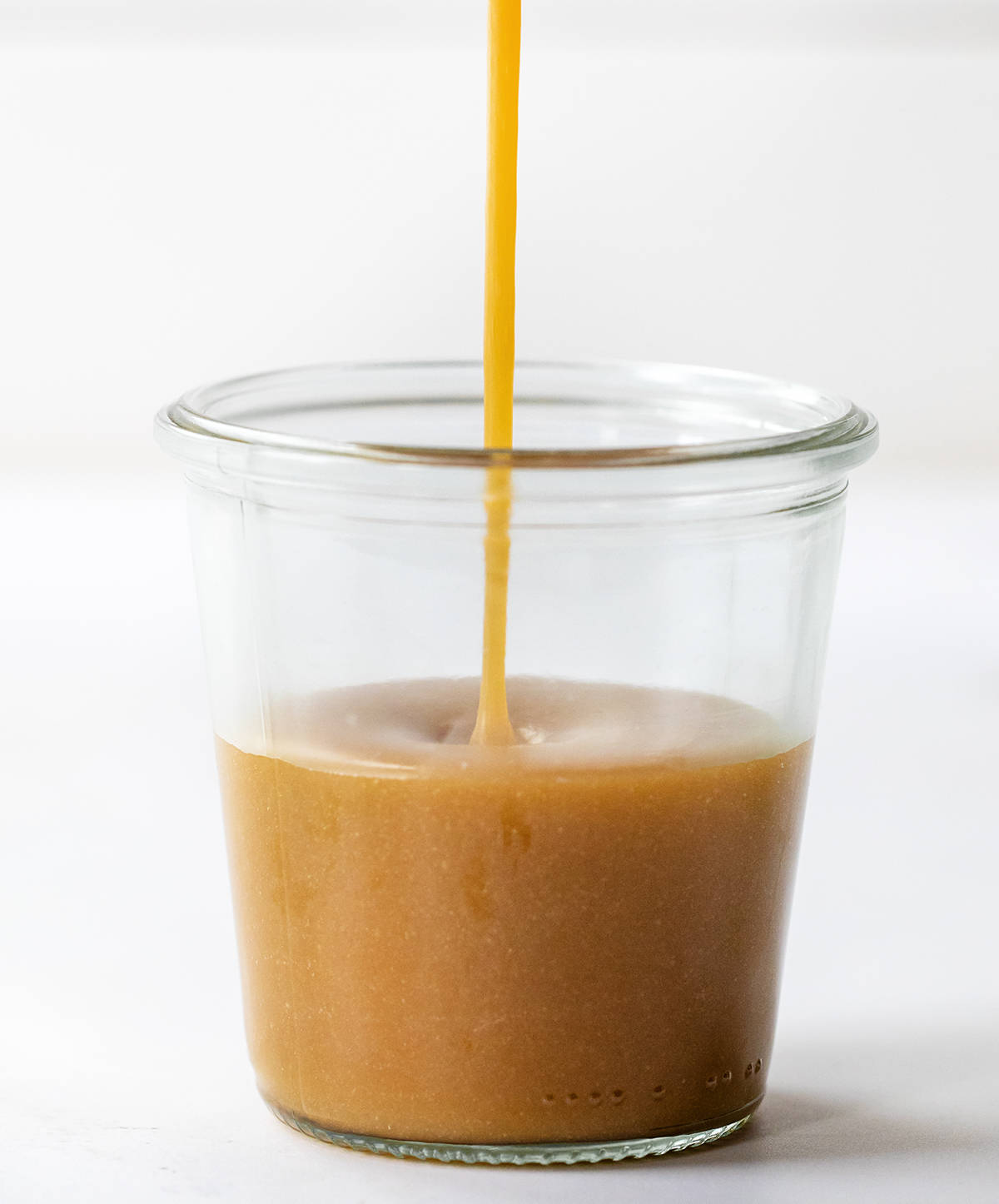 Troubleshooting Butterscotch Sauce
Here are some common troubleshooting topics to cover when making butterscotch sauce:
Grainy Texture: If your sauce has a grainy texture, it may be due to the crystallization of the sugar. To prevent this, make sure there are no sugar crystals on the sides of the pan before starting. In addition, avoid stirring the mixture once it begins to boil.
Thickness: If the sauce is too thick or too thin, it's easy to fix. Adjust the thickness by adding more cream to thin it out or continuing to cook it longer to thicken it. Remember that the sauce will thicken further as it cools.
Overcooking/Burning: Pay close attention while cooking, as the butterscotch sauce can go from caramelized to burnt quickly. Use low to medium heat and remove the sauce from the heat source as soon as it reaches your desired color and thickness. If you accidentally burn it, you'll need to start over.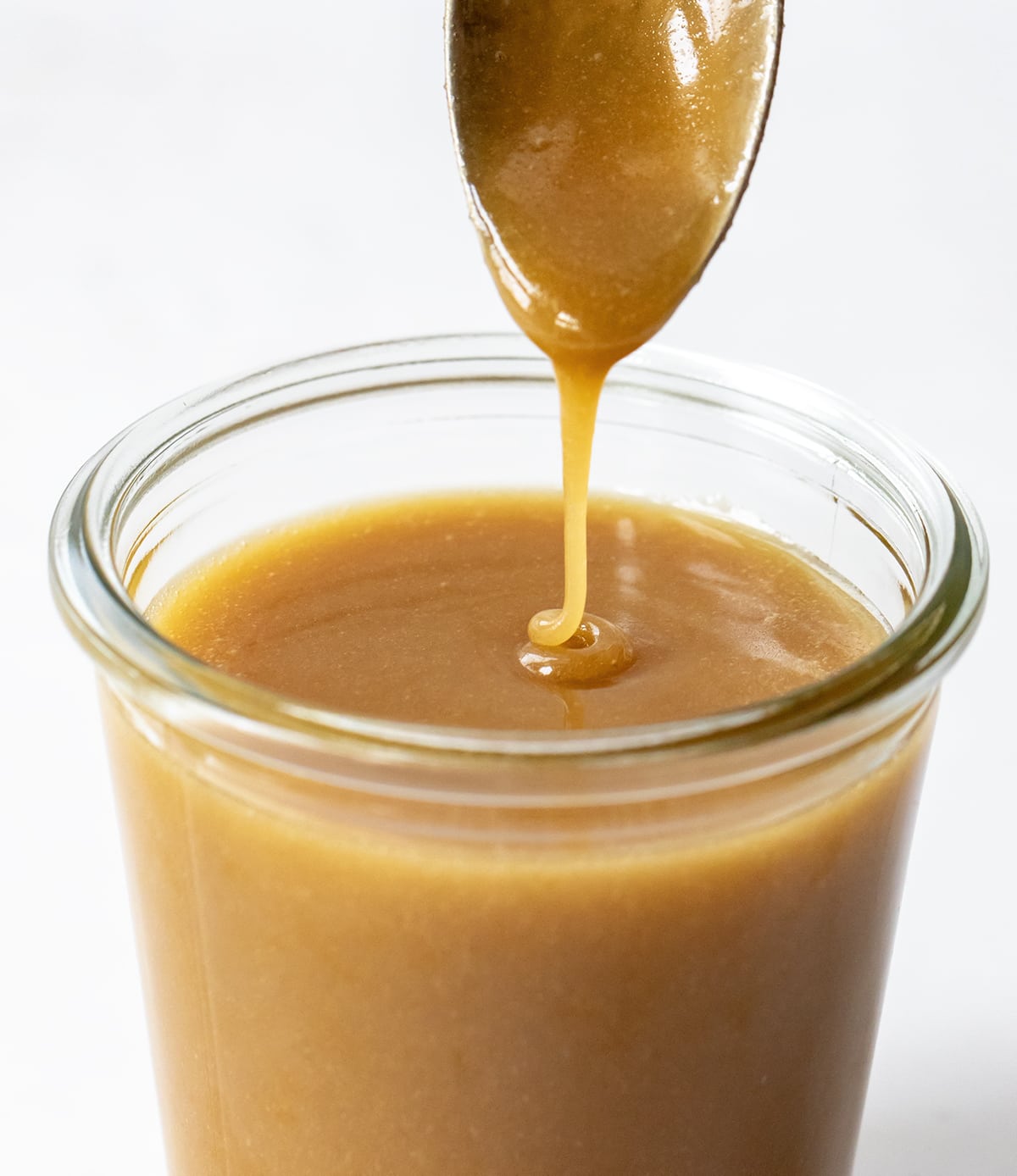 What is the Difference Between Butterscotch and Caramel Sauce?
Butterscotch Sauce is made with brown sugar and butter as the primary ingredients. It is rich, sweet, and slightly buttery in flavor. It tends to be lighter in color, a golden brown.
Caramel Sauce is made with granulated sugar and melts into a deep amber liquid. It has a deeper, more intense caramelized sugar flavor and is known for its rich, complex taste.
Both butterscotch and caramel sauces are sweet, indulgent toppings, the key distinction lies in their ingredients and resulting flavors. The choice between them can depend on personal preference and the specific dessert or dish you're preparing.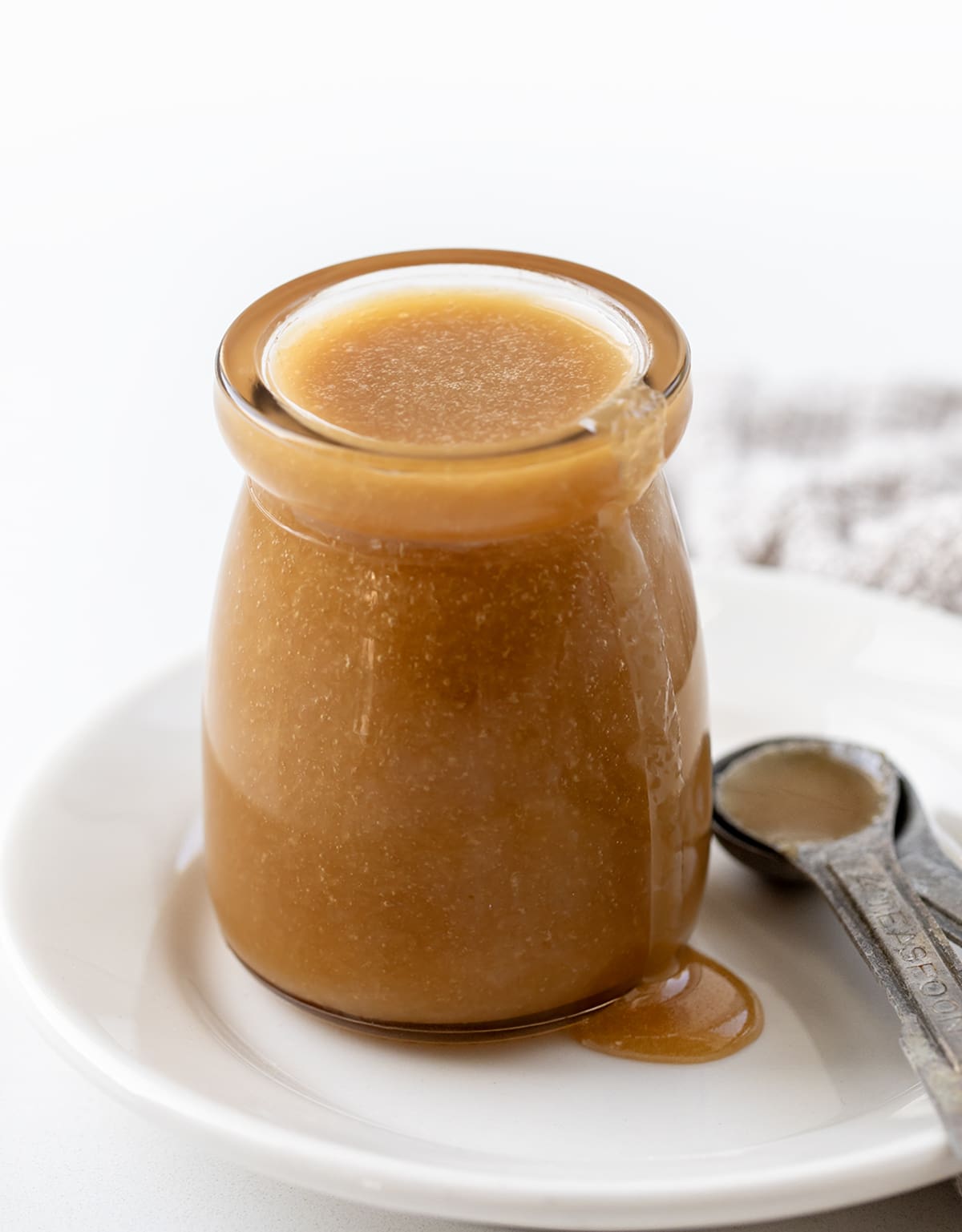 How To Store Butterscotch Sauce
To store butterscotch sauce, first, let it cool to room temperature. Next, store it in a heat-safe container that has a lid. The sauce will last up to 2 weeks in the refrigerator. When you're ready to use the sauce, gently reheat it over low heat on the stovetop or in the microwave. Stir constantly to ensure it becomes smooth and pourable again.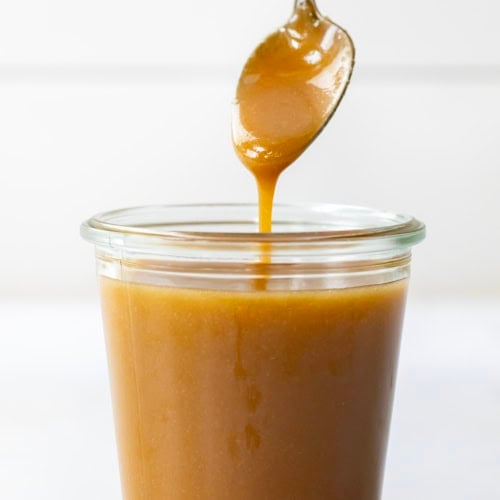 Butterscotch Sauce
Butterscotch Sauce is a creamy homemade dessert topping with sweet and salty flavors and a rich buttery flavor. It is perfect for drizzling over ice cream, cakes, pies, or other desserts, adding a decadent touch to your favorite treats!
Ingredients
1

cup

(200 g) light brown sugar,

packed

¼

cup

(½ stick / 57 g) salted butter

¼

cup

(59.5 g) heavy cream

2

tablespoons

light corn syrup

½

teaspoon

vanilla extract

¼

teaspoon

kosher salt
Instructions
In a medium saucepan over medium-low heat, combine the brown sugar, butter, heavy cream, and corn syrup. Stir gently until the butter is completely melted and the sugar has dissolved (about 8-9 minutes).

Once melted, continue cooking for 3-4 more minutes, stirring frequently to allow the mixture to thicken slightly.

Remove from heat and stir in vanilla and salt.

Let the butterscotch sauce cool for a few minutes in the saucepan. It will continue to thicken as it cools.

Pour the butterscotch sauce into a heatproof container or jar, and allow it to cool to room temperature. Store it in the refrigerator for up to two weeks.

Serve over ice cream, pancakes, waffles, brownies, or as a dip for apple slices. Enjoy!
Did you make this recipe?
Thank you for making my recipe! You took pictures, right? Well go ahead and post them on Instagram! Be sure to mention me @iambaker and use the hashtag #YouAreBaker.
This recipe was adapted from Allrecipes.
What the Test Kitchen had to say about this recipe: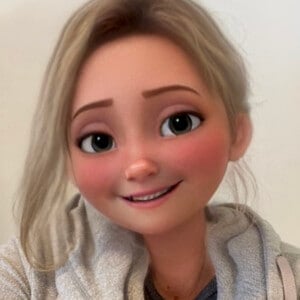 Autumn
This is one of those sauces that you can use in so many different ways. I would pour it over ice cream, or even dunk some apples in it.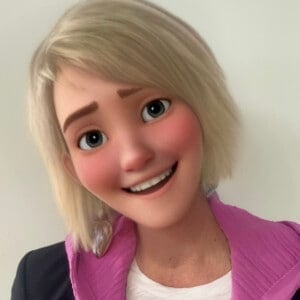 Elizabeth
It tastes like butterscotch…what more could you ask for?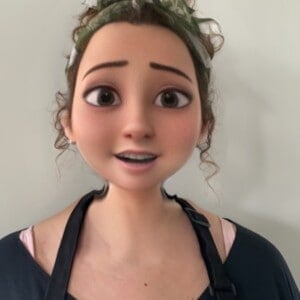 Rachael
Butterscotch sauce can't go wrong. Put this over a pie, over cheesecake, over ice cream. I love brown sugar and the flavors it brings to everything.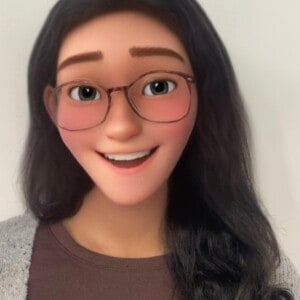 Bella
This is such a versatile sauce! This works very well with desserts. You can even dip some fruit in this such as apples or bananas!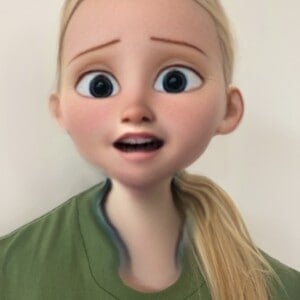 Annabelle
Perfect butterscotch flavor, great for ice cream, pie, or any dessert you want really!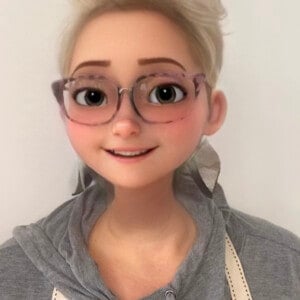 Selena
Super easy to come together and has a lovely deep flavor of butterscotch. It's nice to know that it's so easy to make!