Homemade English Toffee is a sweet and addicting treat made with a hard candy layer topped with chocolate and chopped pecans for a nutty crunch. Plus, it is a no-bake dessert, so there is no need to turn on the oven.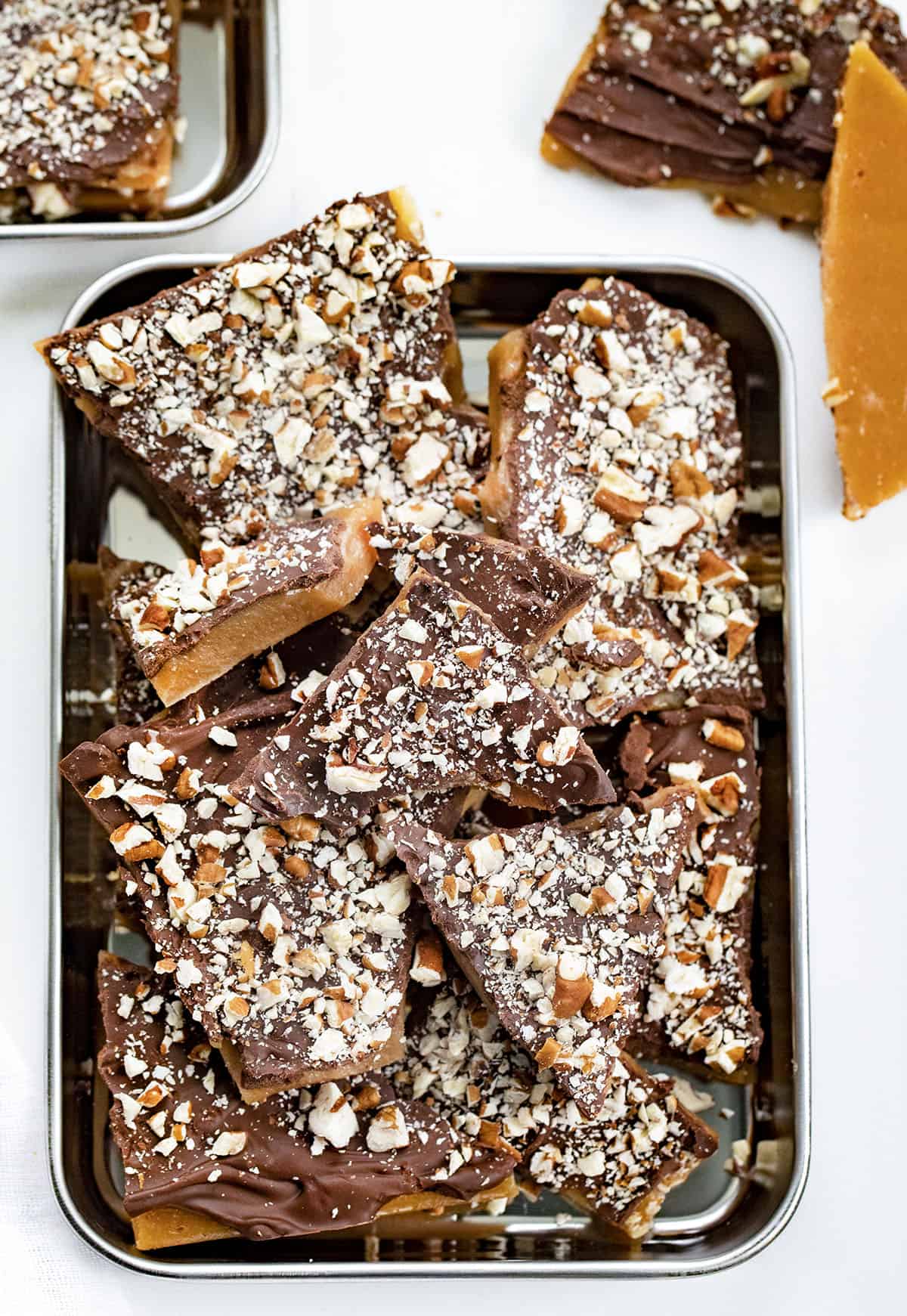 Homemade English Toffee
Toffee is made with just a couple of ingredients that give you sweetness from sugar with added butter for richness. In fact, if you want to get technical about it, toffee is just butterscotch that hardens when cooked to a higher temperature (as opposed to softer butterscotch that is heated to a lower, more pourable consistency). When toffee is topped with chocolate and nuts, it is often referred to as English Toffee. I love a few pieces on my no-churn ice cream!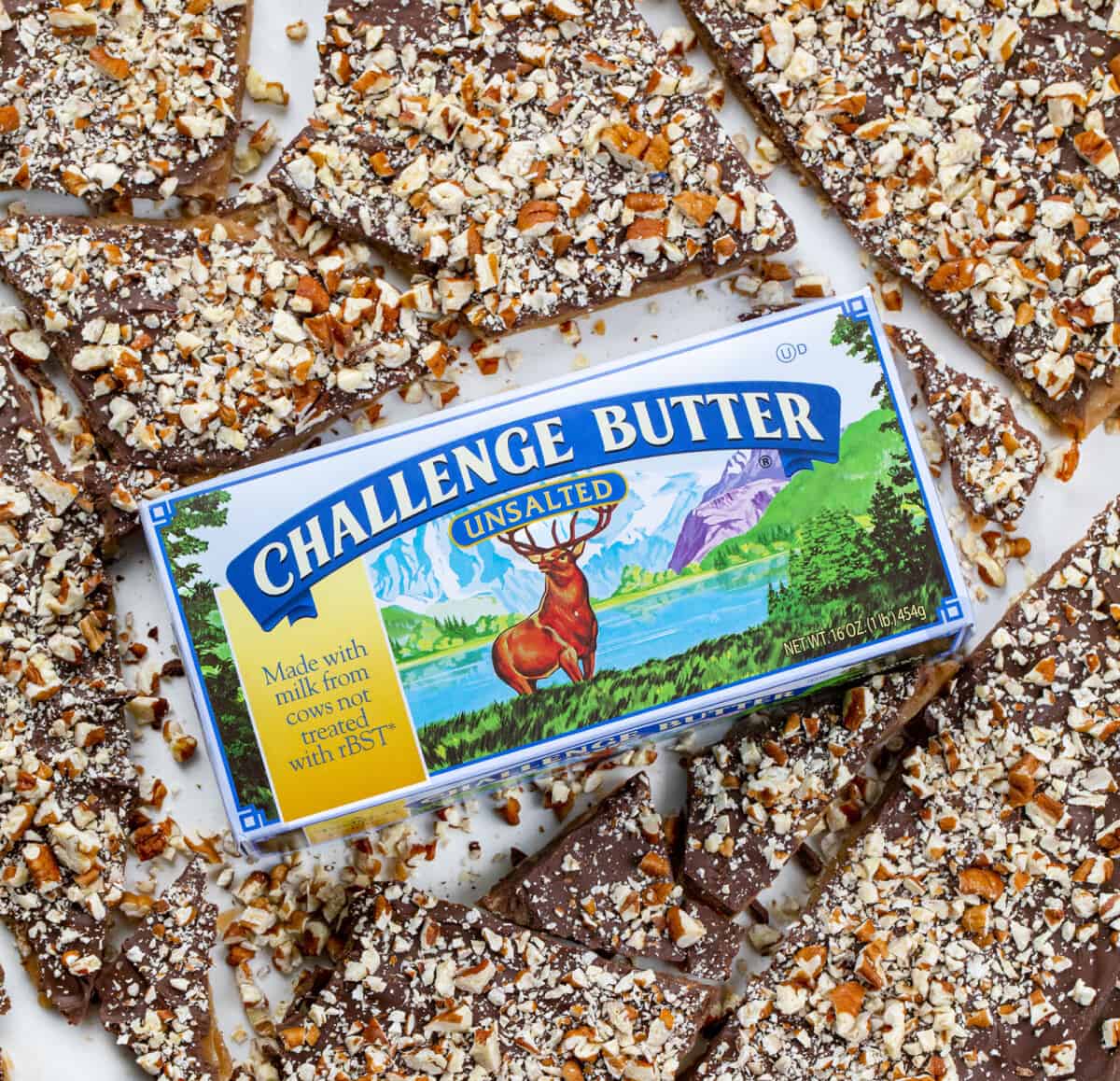 Ingredients & Substitutions
Butter: With butter as one of the main ingredients in toffee, make sure it's the highest quality butter you can find. I use Challenge butter.  Challenge Butter is made the old-fashioned way, churned fresh daily from the freshest milk and cream from happy cows at family-owned dairies since 1911.
Sugar: The granulated sugar caramelizes in this recipe, turning a golden brown color.
Chocolate: I used 2 cups of semi-sweet chocolate chips that melted over the top of the toffee. You could also use milk chocolate.
Nuts: Pecans were my choice for nuts in this English toffee recipe. However, almonds and walnuts would also be delicious options. Of course, you could always leave them off altogether.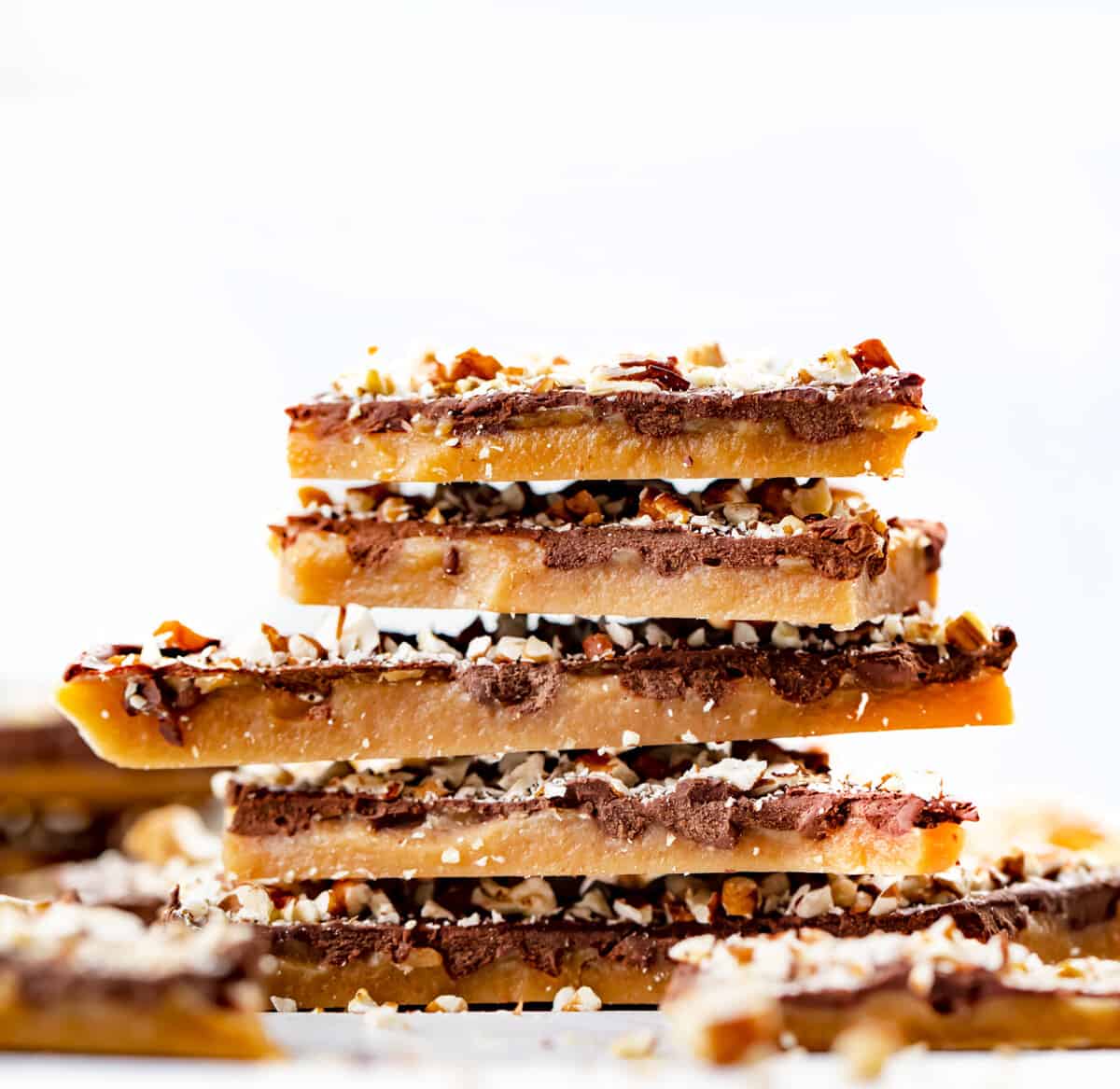 What Temperature does Toffee Need to Be?
When it comes to making toffee, it's a matter of reaching the proper temperature when heating up the butter and sugar. So, I highly recommend using a candy thermometer to get the best results. Toffee (as opposed to butterscotch) should reach about 285°F. This ended up being the perfect temperature for the toffee to harden after being poured onto the baking sheet.
Can I Make Toffee Without a Candy Thermometer?
Sure! Making toffee is all about the temperature, but you can still make this sweet treat without a thermometer. One way to check for the correct temperature for toffee is to first place a bowl of cold water next to the saucepan that holds the butter and sugar. Let the sugar heat up enough to turn a darker brown color. Then, use a clean spoon to take a little bit of the mixture and drop it into the cold water. If the mixture hardens immediately, it is at the proper stage for toffee.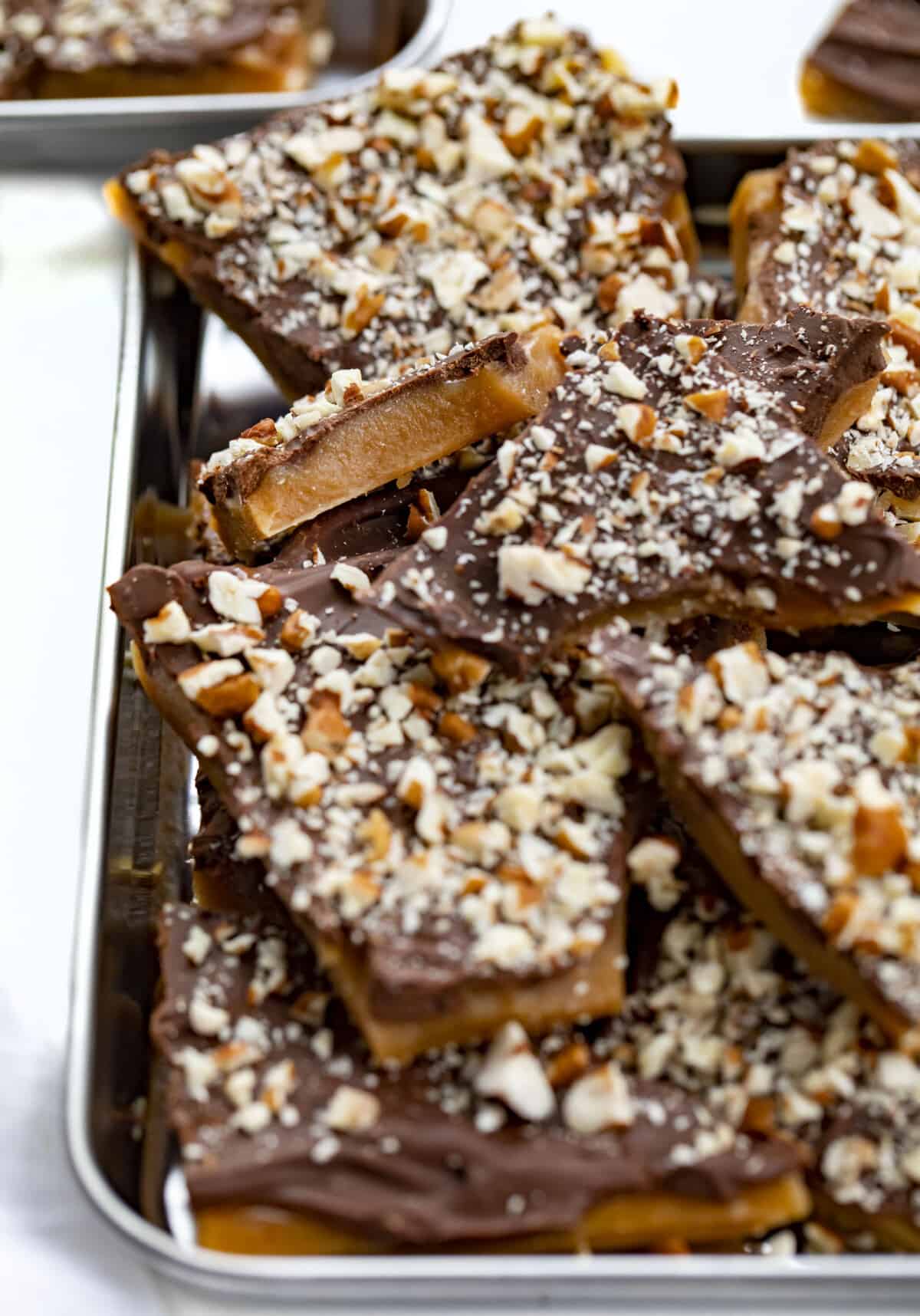 What Caused the Butter to Separate?
It's frustrating when you are making candy like toffee and something goes wrong. In addition, this recipe is oftentimes made during holidays, so you want to show off your skills a bit! One of the most common complaints when it comes to making toffee is that the butter separates. Here are some things to consider to prevent that from happening.
Make sure the temperature is consistent throughout the heating process. The goal is to have the butter and sugar cooking together, at the same rate. Don't rush it!
Use a candy thermometer that is accurate. One way to test your thermometer is to bring a pot of water to a boil. Then, insert the thermometer into the boiling water for about 5 minutes; it should give you a reading of 212°F (100°C).
Use a wooden spoon. If you use a neutral-temperature spoon, there will not be any chance to shock the mixture with something too hot or cold. This can also happen if you mess with the temperature on the stove.
Are you using a heavy-bottom saucepan? The quality of the saucepan makes a difference when it comes to melting sugar. They distribute heat more evenly when compared to a thin saucepan.
Check the butter you are using. I always use Challenge butter, so I know exactly what I am getting. If you are using a different brand of butter than you have in the past, it could affect the toffee. Different brands have different water-to-oil ratios. In addition, salted vs unsalted butter can make a difference, too.
Take it easy when stirring. Stirring too quickly can also cause separation.
Pour the toffee into a thin layer. When the toffee is poured into a thicker layer, the more time it will take to cool, which, in turn, can cause separation.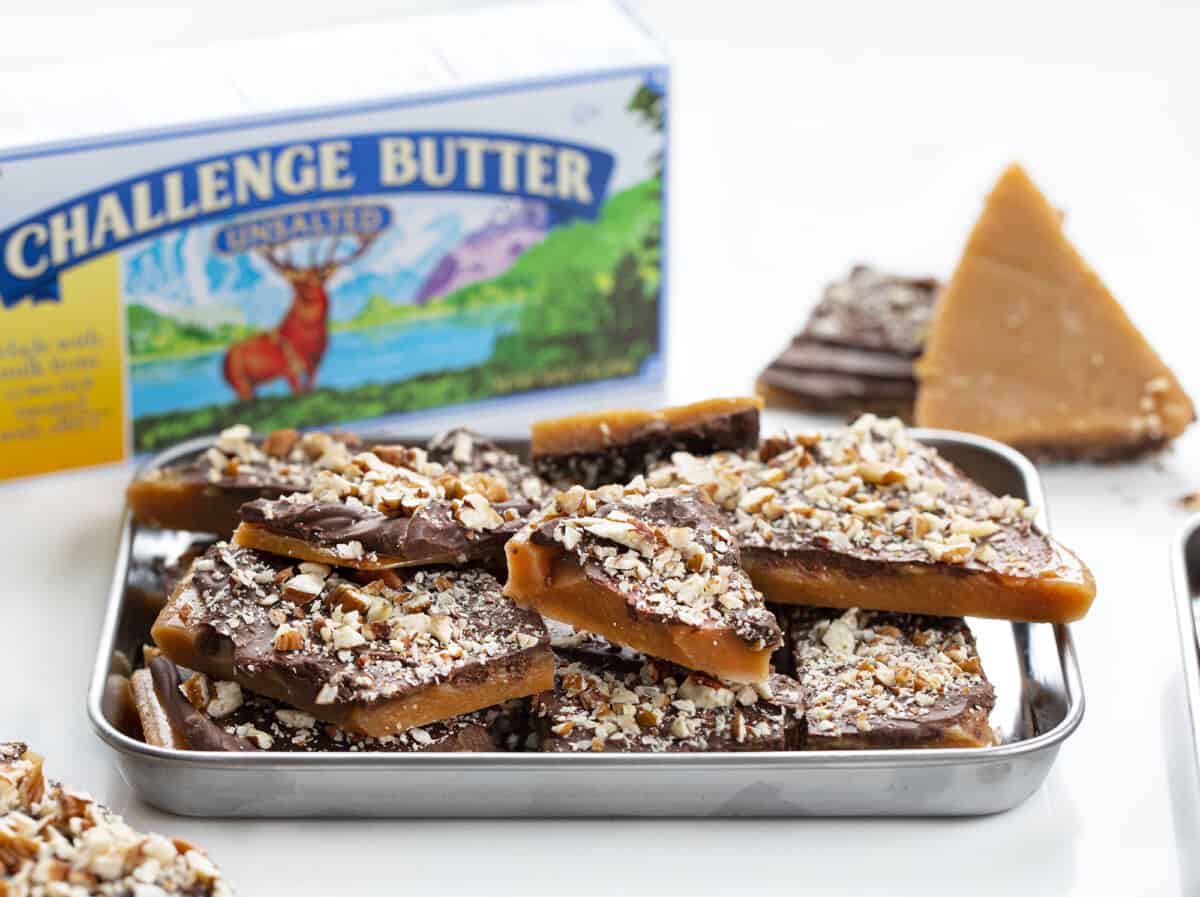 How to Store Toffee
Store the homemade English Toffee in an airtight container at room temperature for up to a week. Or, store it in the refrigerator for up to a few weeks. You can also freeze toffee for a few months.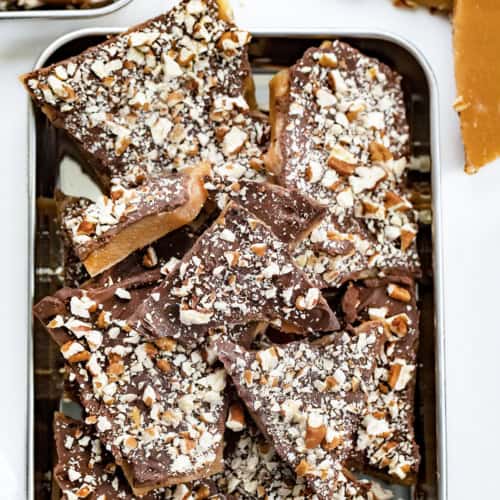 Homemade Toffee
Homemade English Toffee is a sweet and addicting treat made with a hard candy layer topped with chocolate and chopped pecans for a nutty crunch.
Ingredients
2

cups

(400 g) granulated sugar

2

cups

(336 g) semisweet chocolate chips

1

cup

(109 g) pecans,

finely chopped
Instructions
Line a large rimmed baking sheet with parchment paper.

To a medium, heavy-bottom saucepan over medium heat, add butter and sugar. Cook, stirring only occasionally with a wooden spoon until the candy reaches 285°F on a candy thermometer. (It should be a dark amber color.) This will take between 35-45 minutes; don't rush it. If your temperature is rising too quickly, turn the heat down slightly.

Pour the candy mixture onto an 11×15 lined baking sheet. While still hot, top with chocolate chips in an even layer. Let it rest for 1-2 minutes to allow the chocolate time to soften and melt. Carefully spread the chocolate into an even layer.

Sprinkle with pecans and gently press them into the melted chocolate.

Let it sit for about 1 hour, or until set.

To serve, break into pieces.

To store, place pieces in an airtight container at room temperature for up to a week.
Did you make this recipe?
Thank you for making my recipe! You took pictures, right? Well go ahead and post them on Instagram! Be sure to mention me @iambaker and use the hashtag #YouAreBaker.