Piping out a carnation with buttercream frosting is not only easy, but it is fun!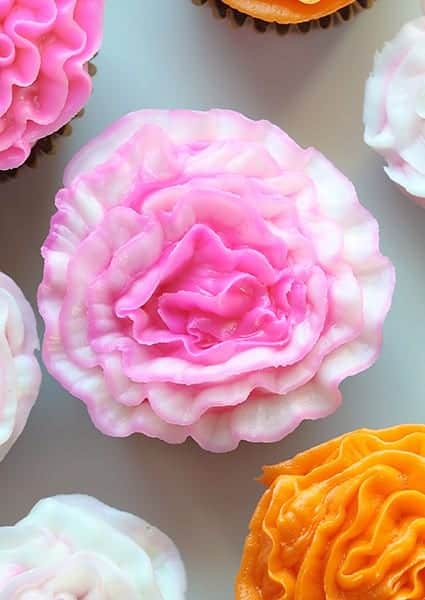 I kinda stumbled on this technique as I was playing around today. I did it, then sat back and thought, "What flower is that?" A carnation immediately came to mind. Upon looking up pictures of carnations, I realized that I had inadvertently created the easiest (and of course, delicious) buttercream carnation ever. (I am not claiming I invented this technique, just that I stumbled upon it while playing around with buttercream. I am sure many others have done it before me, and probably did it much better!!)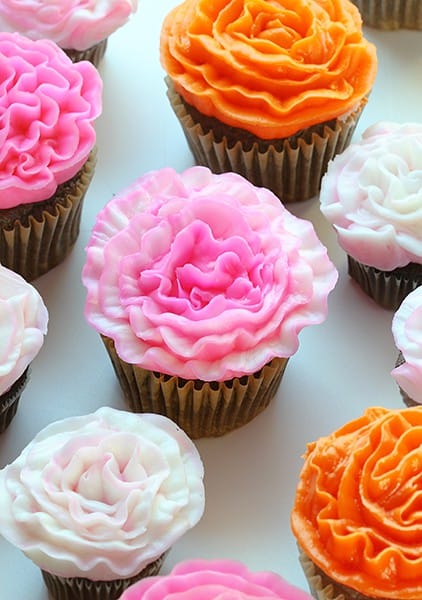 Once I got started I just couldn't stop. It was so fun and quite possibly the easiest of all the flowers to execute.
Here is a little video:

Thank you so much for your patience with these videos. I do everything by myself… from decorating to pushing the 'record' button to editing (gah, editing is not easy!) and a lot of my videos are not as clean and bright as I would like. So I really appreciate your patience and understanding and willingness to still come along on the journey with me!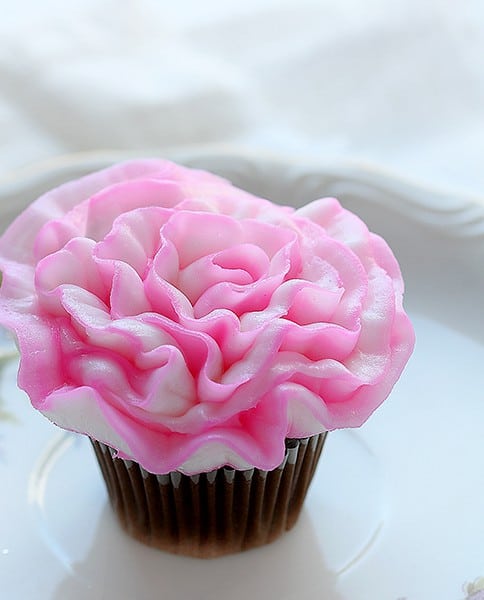 I used a #104 tip for all the carnations.
If you want to achieve a multi-toned effect (pink and white for instance), simply add a bit of pink to your pastry bag fitted with #104 tip. Try to get the pink frosting to stay along one side. Fill remainder of bag with white frosting.
You can pipe this directly onto cupcakes (or cookies!) or you can pipe the flowers on a the pastry nail. Gently remove from nail and then freeze. When all flowers are chilled they can be added to a cake! (Like this Spring Flower Cake)
I used this whipped buttercream recipe, but you can use almost any frosting that can hold it's shape.
This technique is quite forgiving. You can start and stop as often as you need to. It is almost impossible to mess up!
Check out my other buttercream video tutorials:
How to Pipe a Tall Fluffy Buttercream Flower
How to Pipe a Buttercream Daisy