One of the perks of living in MN is Twin Cities Live.  It is a local show that is nationally recognized for the talent and quality of programming.  I am slightly biased because I happen to adore one of the hosts (well both actually!!) , Elizabeth Ries.  But even if I didn't know her, I would still be a huge fan of the show!
Not only am I a #bigfan of the show, but occasionally I get to be a guest!  My most recent appearance was all about Naked Cakes.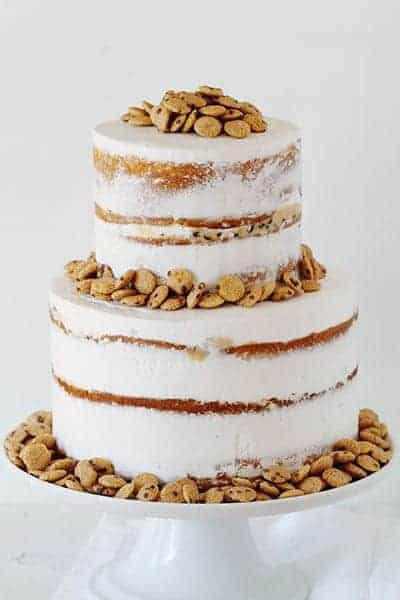 This bottom of this cake is three layers of yellow cake prepared in 9-inch round cakes pans.  I used two yellow cake recipes and divided it between three pans.
The top tier is one yellow cake recipe equally divided between two 6-inch round cake pans.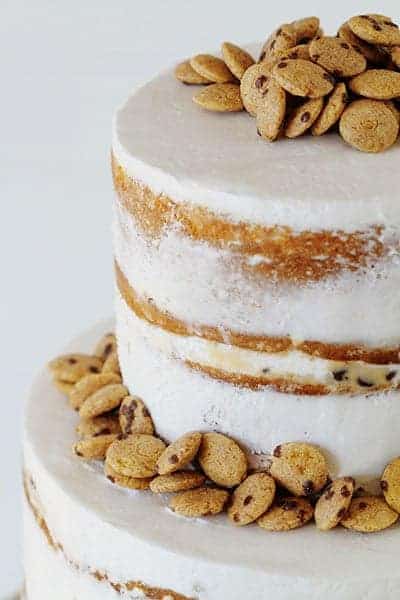 Peaking out just a little bit is the frosting that I used between the layers… cookie dough frosting!  This is a really subtle way to create a cookie dough flavored naked cake.  You could also make the layers themselves with chocolate chips and yellow or white cake.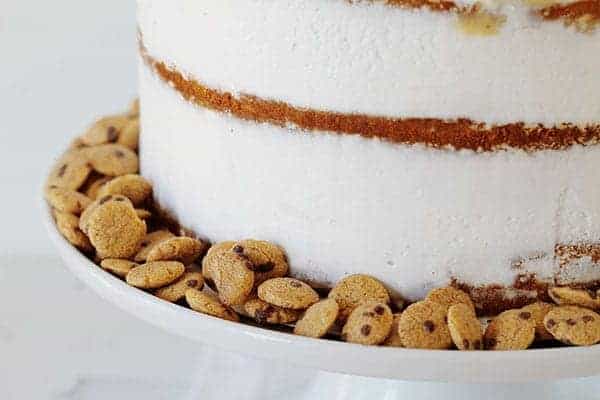 For the embellishment around the cake I used Cookie Crisp cereal!  Talk about a flash from the past.  You knew it was a special occasion if you got this for breakfast!
You could also make mini chocolate chip cookies if you prefer.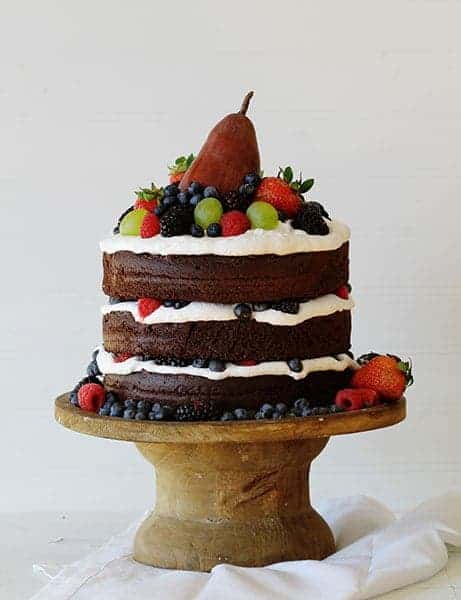 I also prepared a Chocolate Naked Fruit Cake.  This is two recipes of chocolate cake divided between four 8-inch round cake pans.  For the sake of travel and TV, I chose to only use three of the four layers.  It just got to be too high with four.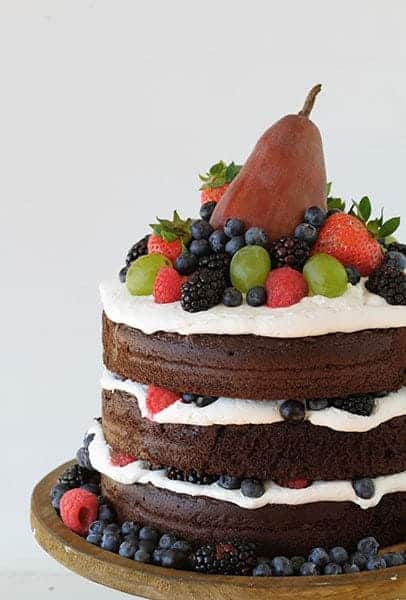 I used white buttercream in between the layers and added grapes, raspberries, blueberries, blackberries, strawberries and a beautiful pear on top.
I sprinkled the cake with powdered sugar right before the segment.  And of course, using a rustic cake stand helps to create a rustic feel!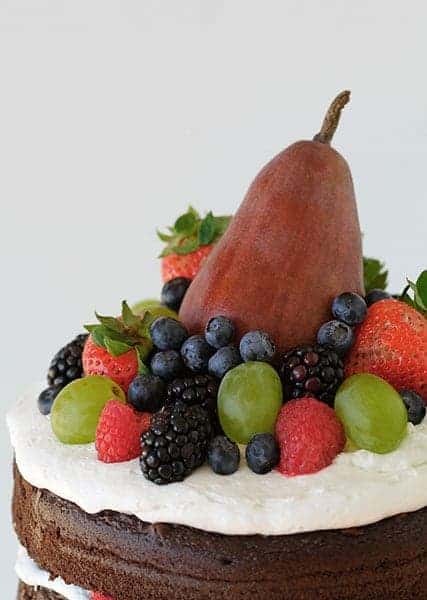 To serve you may want to have a cut up pear on hand (as well as more of the other fruit) so that you can leave the decorative pear on the cake as long as possible.
Also, I love the idea of drizzling a fruit syrup over the cake right before serving.  Since fruit is a living thing, it will move and squish and leak wonderful fruit juices over the cake.  (which I love) If you want to incorporate that into the design the fruit syrup drizzle will help!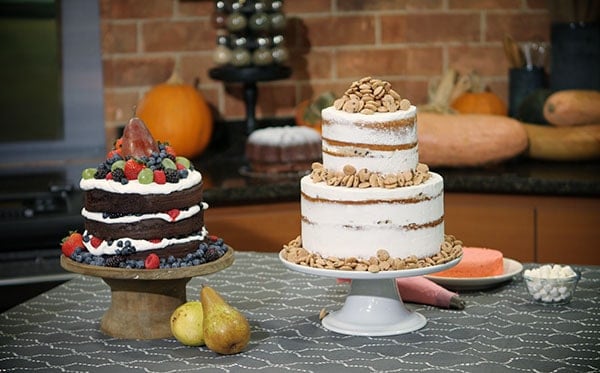 This is how the cakes looked a few minutes before the segment.  I ended up making it through the hour long drive with minimal damage, but you can see the frosting really seeped out of the bottom layer of the fruit cake.  I added a bit more fruit around that spot to try and cover up the mishap.
As I mentioned, RIGHT before I added the powdered sugar.  (which you can see in the actual segment)
See that pretty pink pastry bag in the back?  That is from Bakerella's new line of products!!  I am super excited about her new line and have been so impressed with the quality if everything I have used so far.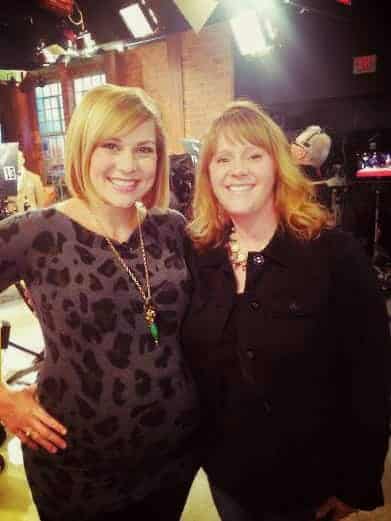 Miss Elizabeth is going to have her first baby in just a few weeks! Such an exciting time.
If you want to check out my segment here it is!  Also… I cannot be held responsible for rogue cake decorating.  #justsayin #lookingatyouSteve
Are you local to Minnesota and have an idea that would be perfect for Twin Cities Live?  Just contact them here and let them know!