Orange Creamsicle Fudge is a sweet fudge made with just the right amount of orange flavor and white chocolate chips for a soft and smooth treat. Try my Orange Creamsicle Cupcakes for another citrusy summertime dessert!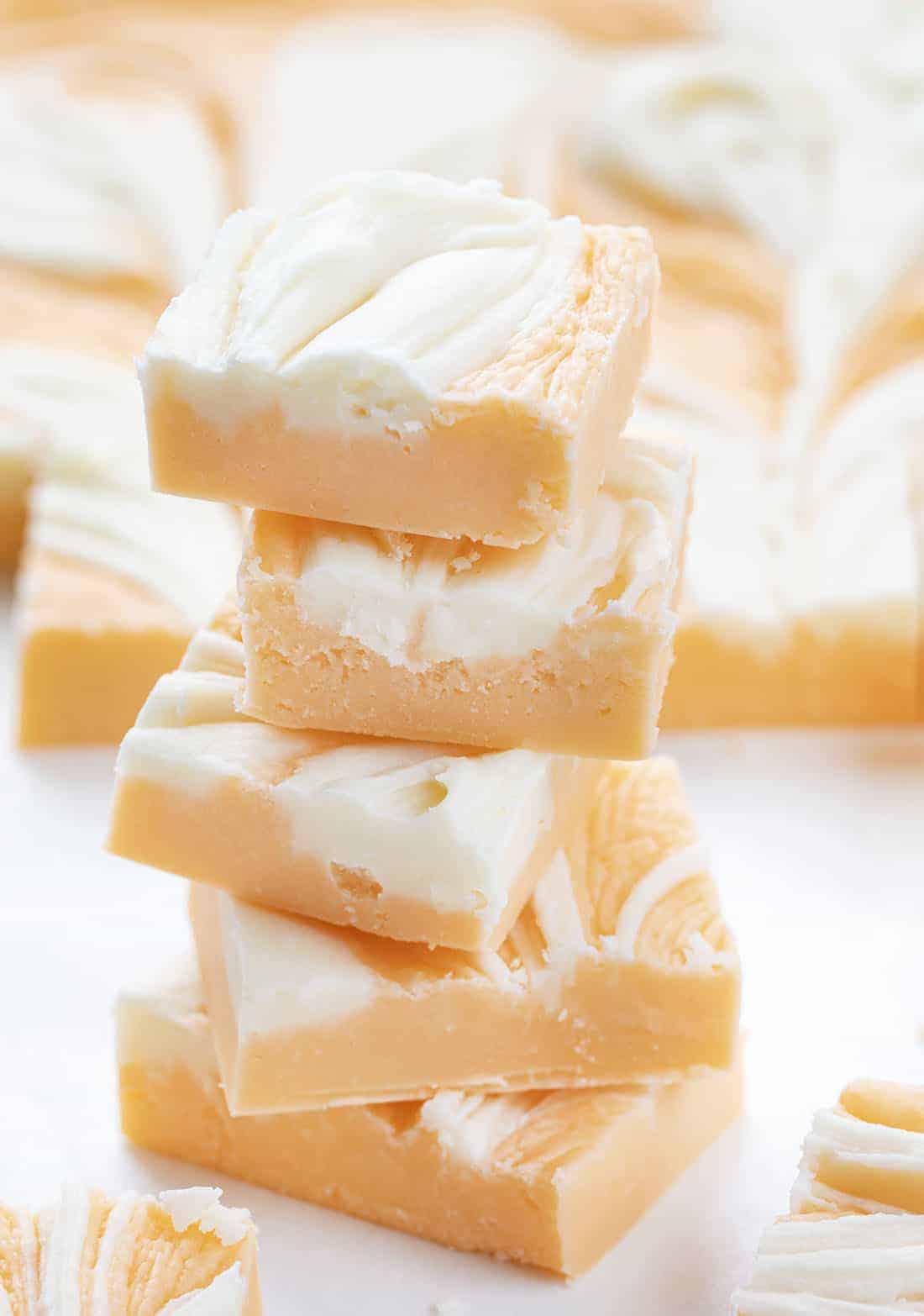 Orange Creamsicle Fudge
There is no need to worry about this orange creamsicle fudge melting on you as you enjoy the classic creamsicle flavors. The flavors in an orange creamsicle are found in lots of treats beyond ice cream. In fact, I have Orange Creamsicle Milk, Mousse, Cookies, and Puppy Chow, just to name a few. You will be all set for summer with these treats!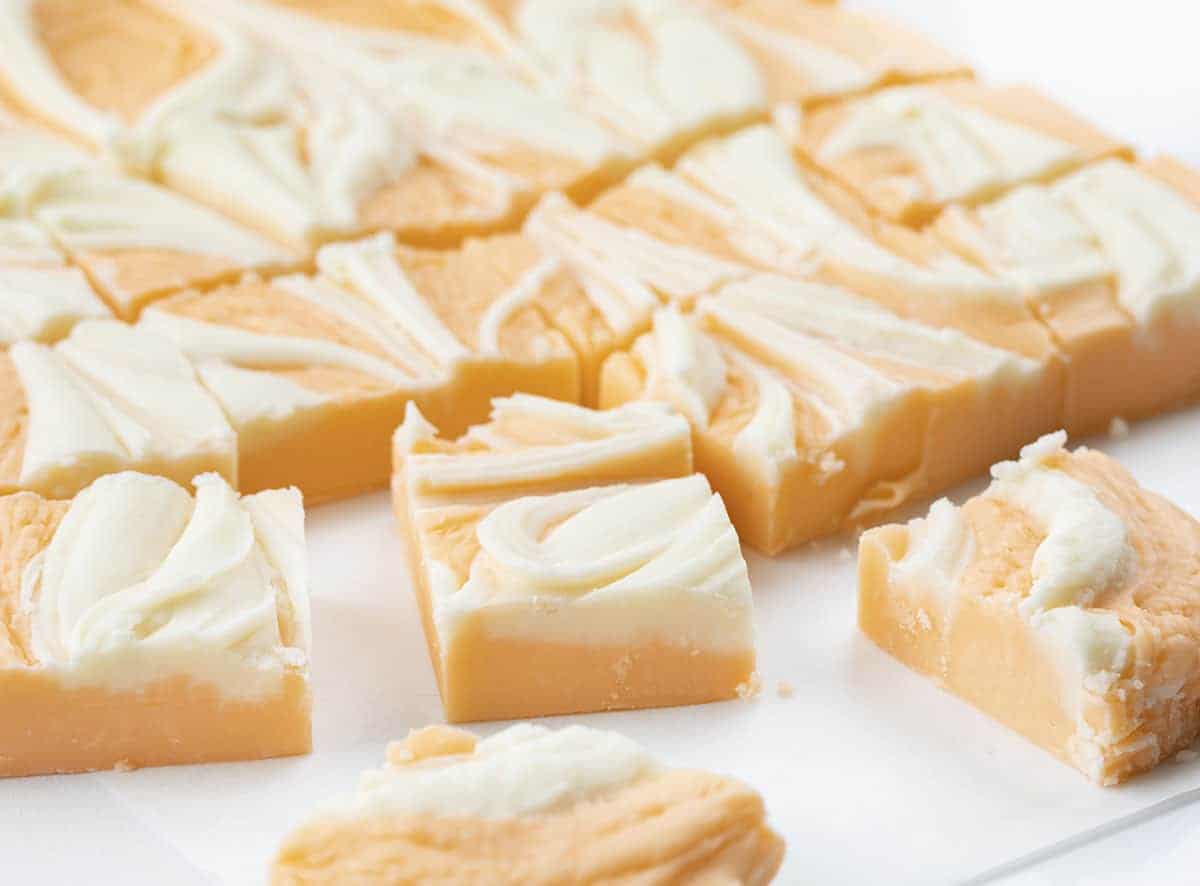 Orange Creamsicle Fudge Ingredients
Don't be afraid to make this orange creamsicle fudge treat just because it is fudge. I will give you some helpful tips and tricks you need to make it a successful and yummy batch! First, get out the ingredients you need. I will highlight a few; jump to the recipe below to get the full recipe and ingredients.
Evaporated Milk: Evaporated milk is milk that has had 60% of the water removed. It can be called 'unsweetened condensed milk' (as opposed to sweetened condensed milk, which has added sugar). It is perfect for fudge recipes because it withstands the heat without curdling. You could also use heavy cream as a substitution.
White Chocolate Chips: When it comes to white chocolate, you could use 'real' white chocolate (at least 20% cocoa butter) or white chips, or morsels.
Orange Extract: The orange extract gives a burst of orange flavor you would expect from orange creamsicle fudge. But, if you don't have orange extract on hand, you could substitute a teaspoon of orange zest for every 1/2 teaspoon orange extract in a recipe. I would not recommend substituting orange juice for extract in this recipe.
Food Coloring: I added about 3 drops of orange gel food coloring. Gel food coloring is much more concentrated in color than liquid food coloring. If you use liquid, you will need to add more. However, you don't have to add any food coloring at all; it does not affect the flavor, just the color.
What does Orange Creamsicle Fudge Taste Like?
This addicting treat is definitely sweet. It is soft enough to easily bite into, but not too soft or crumbly that it falls apart. In each bite, you get a sugary, subtle orange taste. Then, the white chocolate blends perfectly with the orange flavor for a dessert that all ages will enjoy!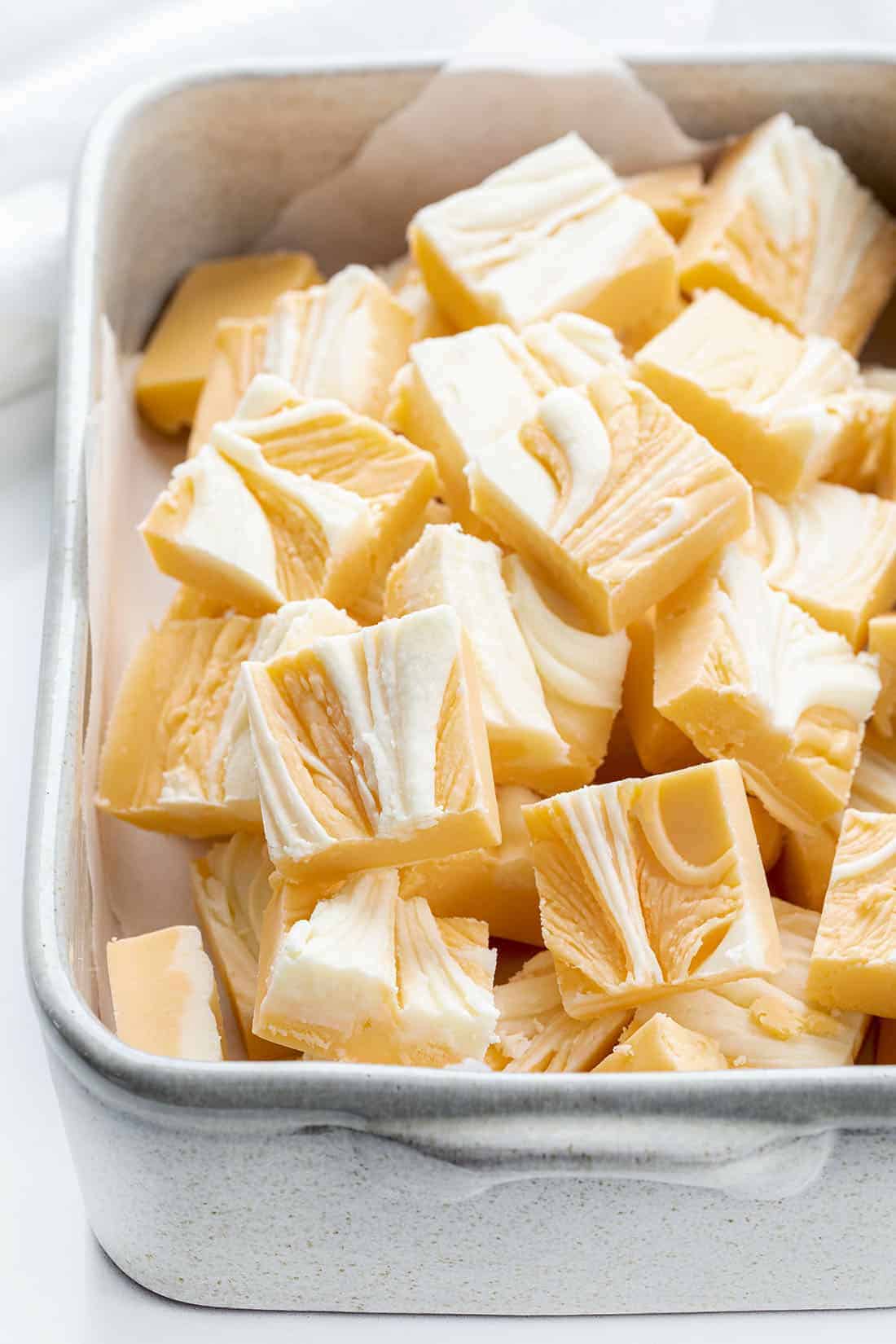 Can I Make Fudge without a Candy Thermometer?
Don't let not have a candy thermometer deter you from making orange creamsicle fudge (or any fudge). However, without a thermometer, it can be frustrating making fudge. But, here are a few tips that will help if you want to give it a try:
Heat the mixture as directed. While it's coming to a boil, set a medium-sized bowl of ice water and a small metal spoon (your everyday silverware spoon) next to the stove. When the mixture has been bubbling for a few minutes, do your first test.
Dip the spoon into the mixture and coat the tip. With one hand, dip the coated spoon immediately into the ice water and then grab the cooling sugar mixture with your other hand. Remove from the water and roll it around between your fingers and thumb and see what it feels like. If you're looking for the "soft-ball" stage, it should form a ball that holds together but still feels a little squishy and can be flattened when you press on it (like a gooey caramel).
This process will take a few tries at least, but you can see (and feel!) it moving through the stages to give you an indicator of how close you are. This is just a really fun science experiment in your kitchen!
How to Set Fudge
Allowing fudge to come to room temperature will solidify it and make it easy to handle. You can also pop it into the refrigerator for a couple of hours or even the freezer for about 30 minutes. Fudge is best consumed at room temperature though, so be sure to take it out a few minutes before you want to eat it.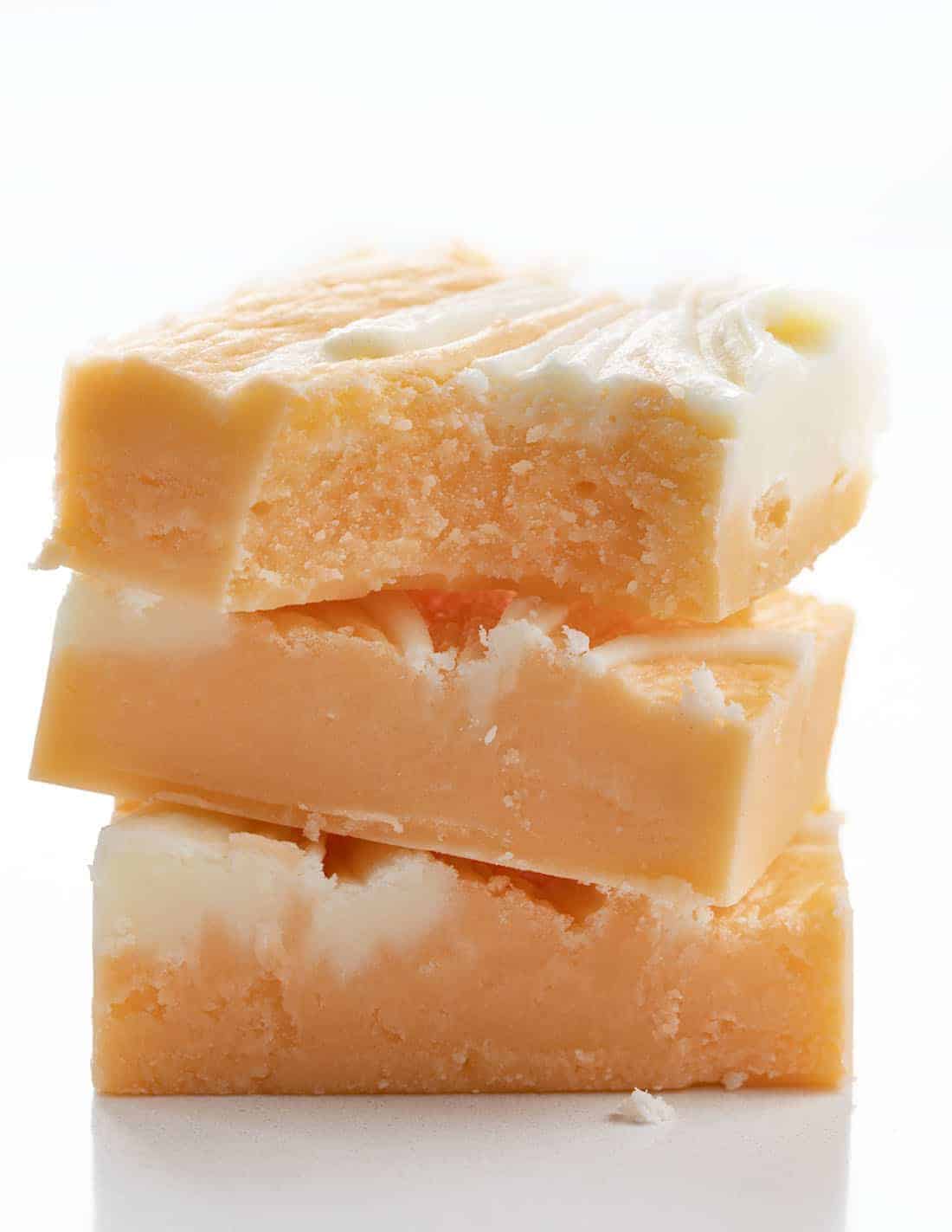 Tips for Perfect Fudge
Make sure your candy thermometer is working properly. You can do this by boiling water and making sure the thermometer reaches 212°F.
Consider stirring less or not stirring at all while the fudge is bubbling and heating.
Take your time! Fudge can be super easy or test your patience. 🙂 If it seems to be taking forever to heat to the appropriate temperature don't give up. It will get there!
How to Store Fudge
If you are planning on eating it within 2 weeks, you can store the fudge in an airtight container. I like to cut it into pieces and separate the pieces with parchment or wax paper. You can also store fudge in the refrigerator for a few weeks. Again, an airtight container with individual pieces is best.
If you need longer storage, like months, the freezer is the best option. I like to tightly wrap the fudge with plastic wrap and then place it in an airtight container or freezer-safe plastic bag. Be sure to write the date on it!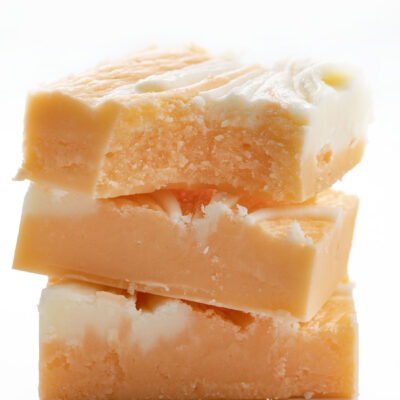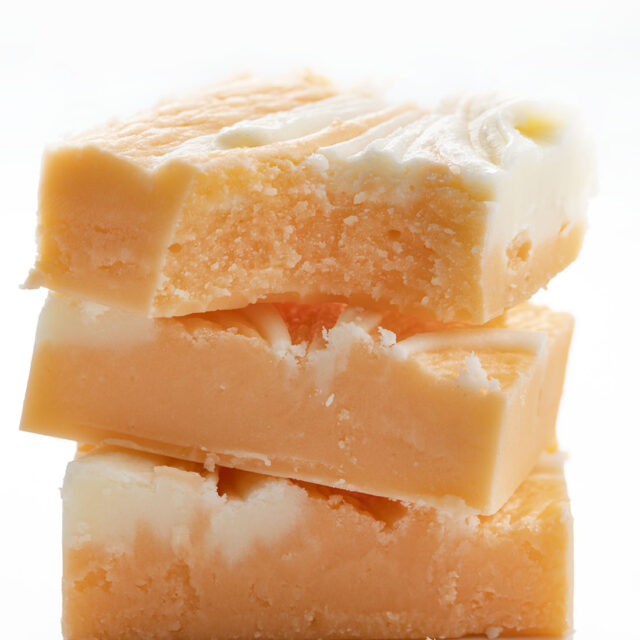 Orange Creamsicle Fudge
Orange Creamsicle Fudge is a sweet fudge made with just the right amount of orange flavor and white chocolate chips for a soft and smooth treat.
Ingredients
3

cups

(600 g) granulated sugar

¾

cup

(170 g) butter

⅔

cup

(168 g) evaporated milk

1

package

(12 ounces) white chocolate chips

3

teaspoons

orange extract

3

drops

orange gel food coloring,

or more if using liquid food coloring
Instructions
Line a 9×13-inch baking dish with parchment paper.

In a large saucepan, over medium heat, mix sugar, butter, and evaporated milk.

Bring mixture to a boil and leave on heat until the mixture registers 234°F on a candy thermometer (about 5 minutes), stirring constantly.

Remove from heat and stir in white chocolate chips until melted and thoroughly combined.

Beat in marshmallow fluff. Then, reserve 1 cup of the mixture and set aside.

Add in the orange extract and food coloring and pour into the prepared pan.

Working quickly, dollop the reserved mixture over the top and swirl with the back of a knife.

Allow fudge to cool and set for about 2 hours before cutting.
Did you make this recipe?
Thank you for making my recipe! You took pictures, right? Well go ahead and post them on Instagram! Be sure to mention me @iambaker and use the hashtag #YouAreBaker.