This colossal cake is perfect for serving a big crowd, or just anyone who really loves pumpkin pie!
Pumpkin Pie Cake
We often try to bring dishes to Grandma's house for Thanksgiving, as making dinner for a big group can be tough for one person! And you know I volunteer to bring dessert. This year I was asked to bring "a few" pumpkin pies. I got a little stressed out thinking about how much I would need to spend in ingredients alone, but it really wasn't that bad! This cake is a giant version of a pumpkin pie with 3 glorious layers of pumpkin pie topped with whipped cream, caramel, and pecans. It's a show-stopper!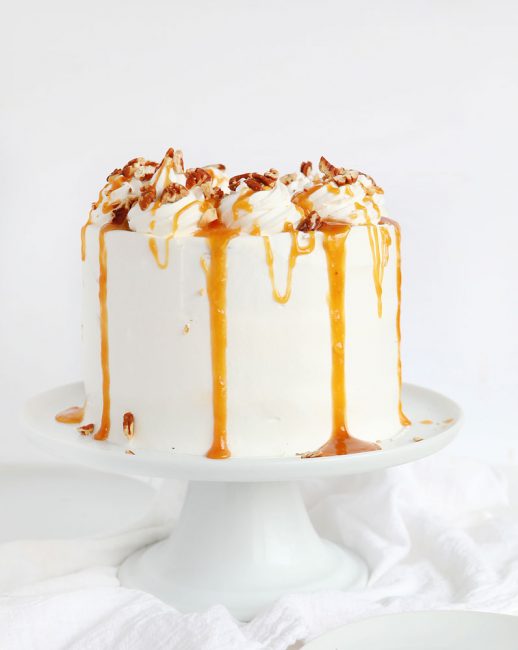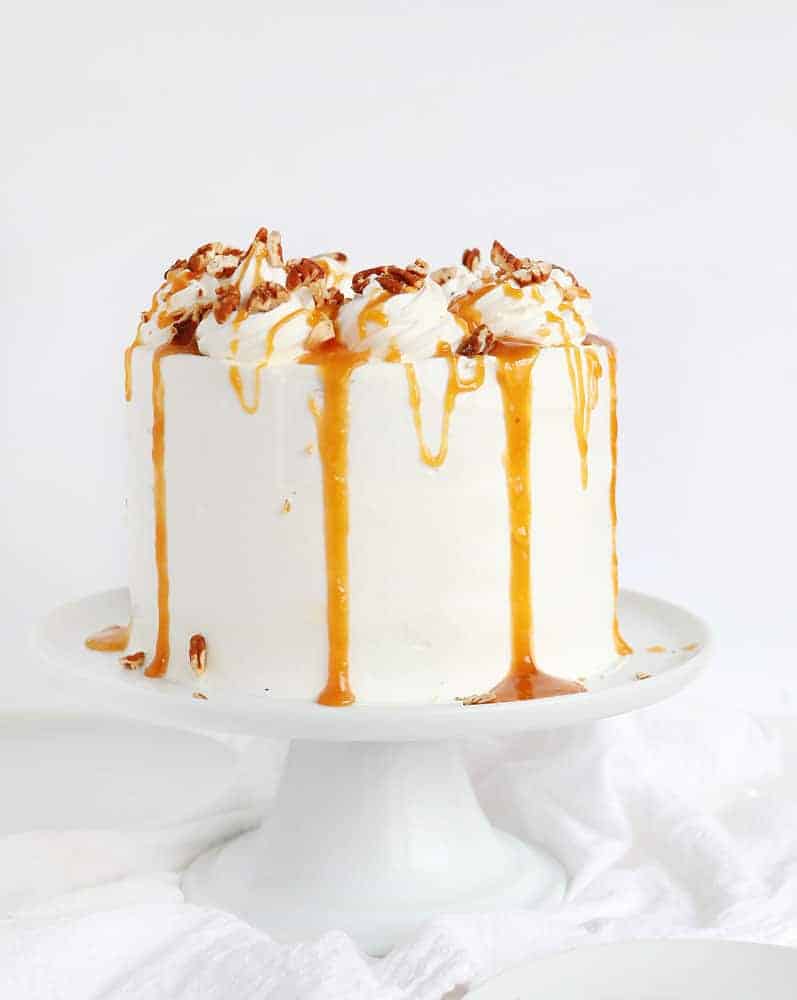 Giant Pumpkin Pie Cake
Not only was I able to get all the ingredients I needed to make a giant and spectacular Pumpkin Pie Cake, but I happened to see that pecans were on sale so I added them to my cake. It really was the perfect finishing touch!
I have to tell you, it is my new favorite way to eat pumpkin pie.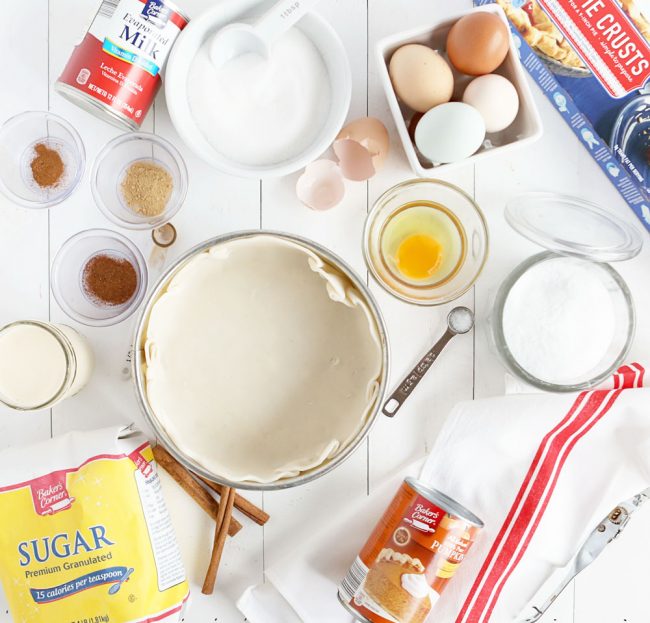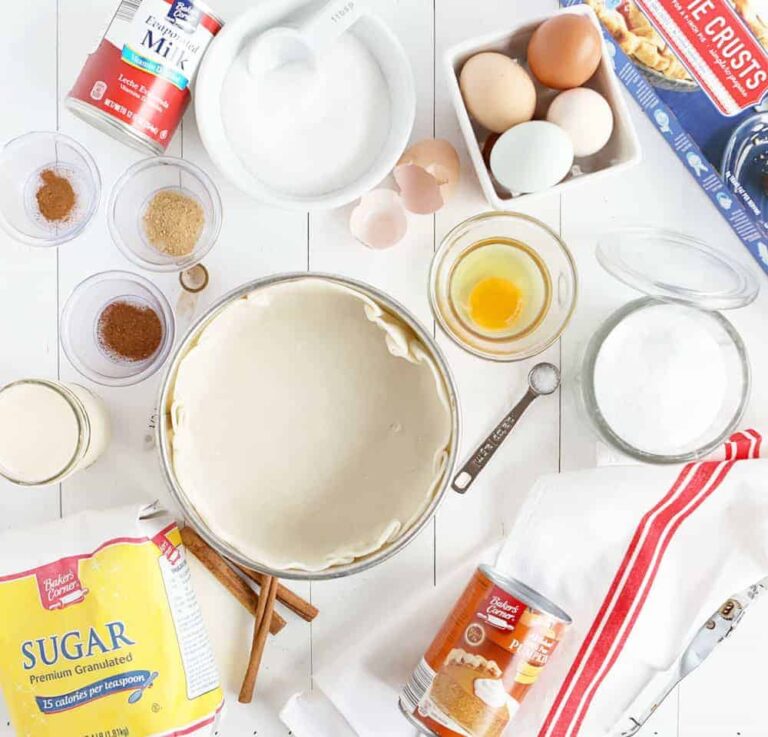 Tools and Recipes Needed to Make Pumpkin Pie Cake:
pumpkin pie recipe (below)
whipped cream recipe (below)
three 7-inch round springform pans
caramel
chopped pecans
small offset spatula
rotating cake stand
cake stand (or serving platter)
pastry bag with large open star tip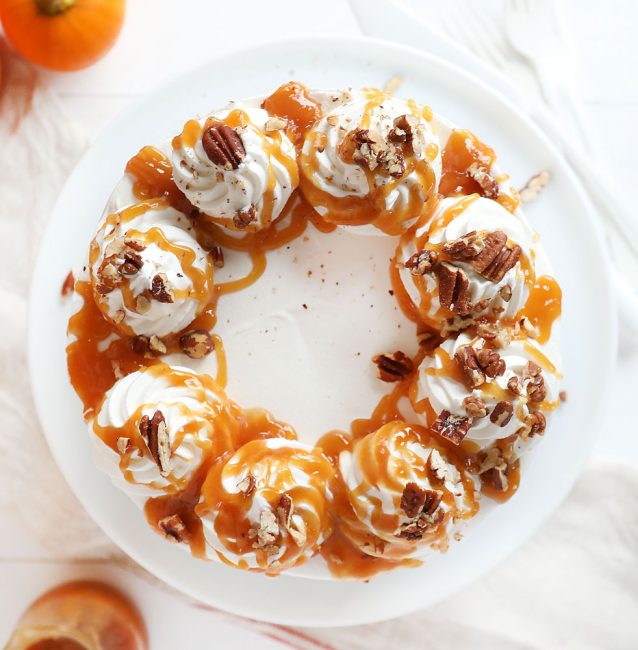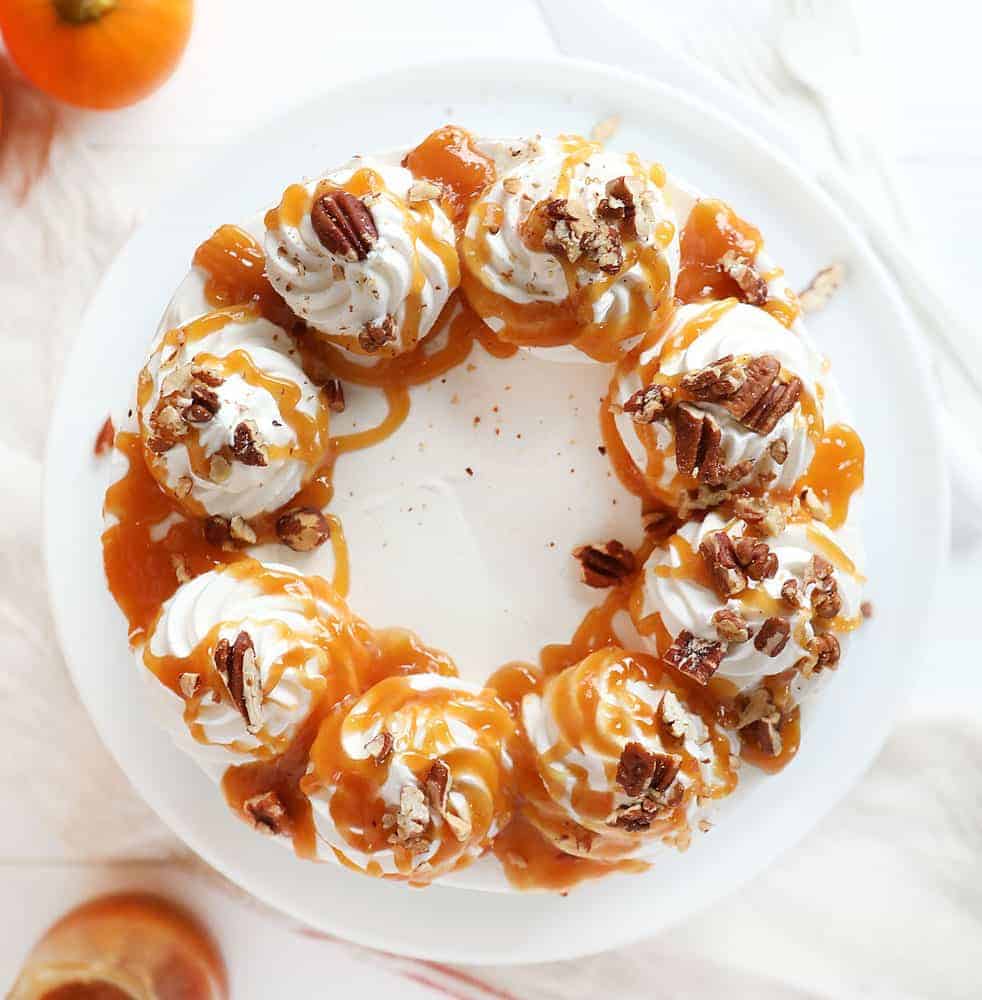 Pumpkin Pie Recipe
Can I tell you a secret about my recipe? It's the one on the can. It's perfect. Truly! And we all know there is no need to mess with perfection. Except, of course, on how we present that perfection! Sometimes I will use my Homemade Pumpkin Pie Spice in place of the individual spices, but other than that this is my go-to recipe.
Begin by making the pumpkin pies. I have tripled the classic recipe so that we can make our 3 layers of this cake. You should have about 12 cups of pumpkin filling, so be sure to use a big bowl when putting it together! 🙂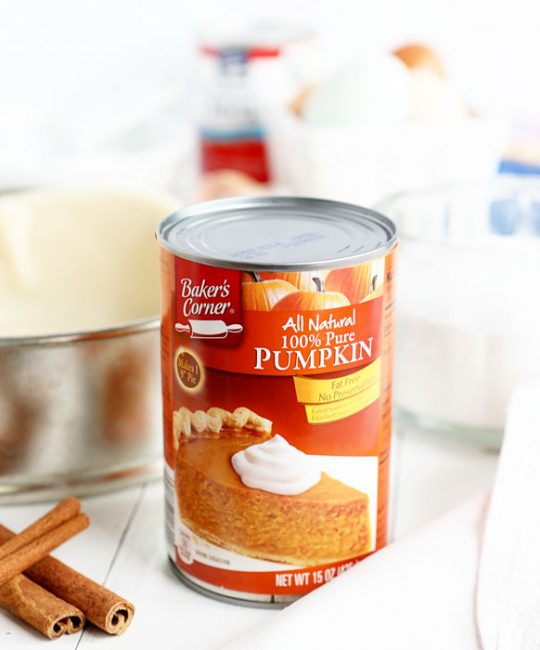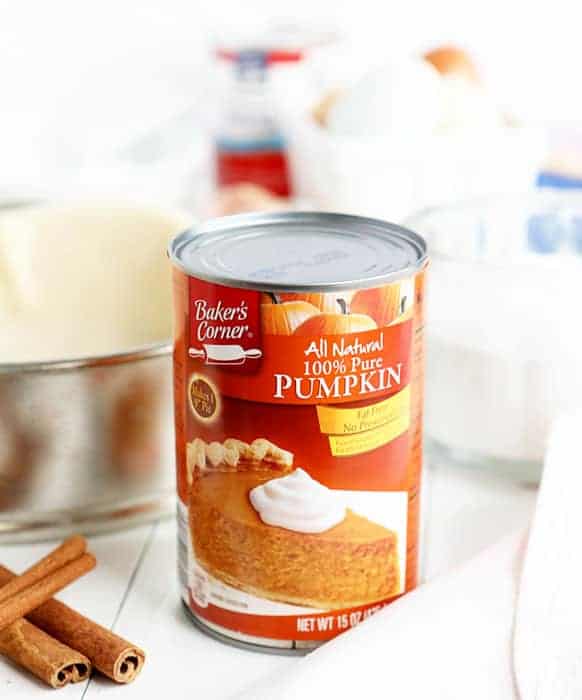 Once you have assembled the filling, simply pour about 4 cups into each prepared pan. To prepare the springform pan I simply sprayed it with non-stick spray then nestled the pie crust into the pan, making sure to press against the bottom and sides. Easy peasy.
Bake pies and let set according to the recipe below.
Prepare whipped topping. I recommend covering the cake with whipped cream before serving.
Place one layer of cake on a cake stand. Then place the cake stand on a rotating cake stand. (The rotating cake stand is not essential, but it makes it easier to smooth out the sides of the cake.) Now set the other 2 layers directly on top. You should now have 3 layers of pie stacked on top of each other.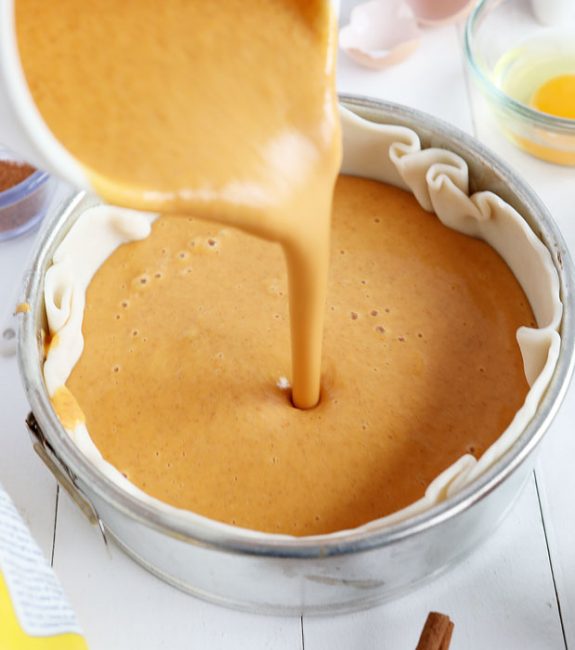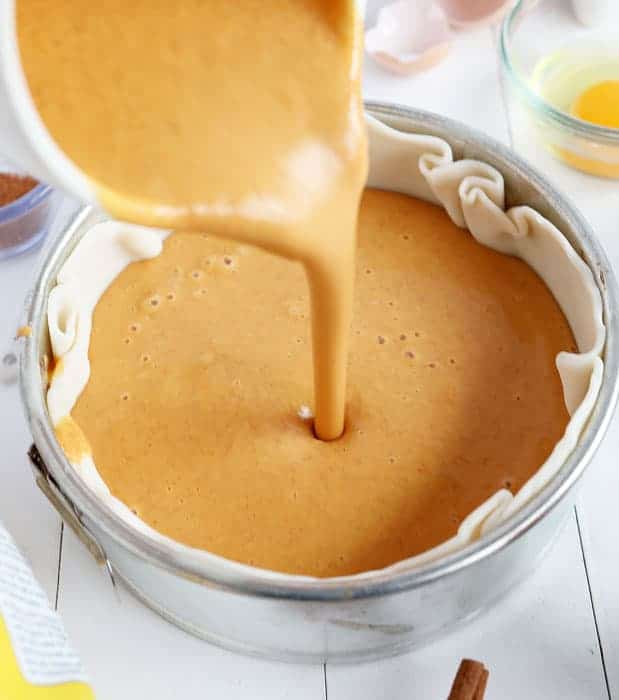 Spread a generous layer of whipped cream over the top and sides of the pie cake and smooth out with an offset spatula.
Place remaining whipped cream in a pastry bag and pipe out big dollops of whipped cream around the outer top edge of cake. Drizzle with caramel sauce and then sprinkle the chopped pecans over top.
Serve immediately. Any remaining cake can be chilled.
Ready for the big reveal???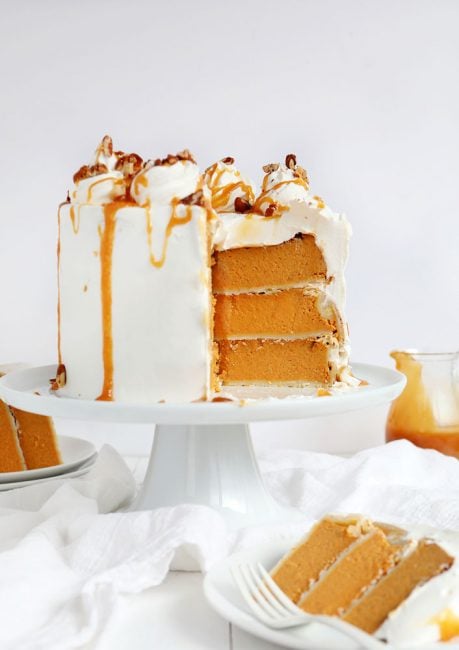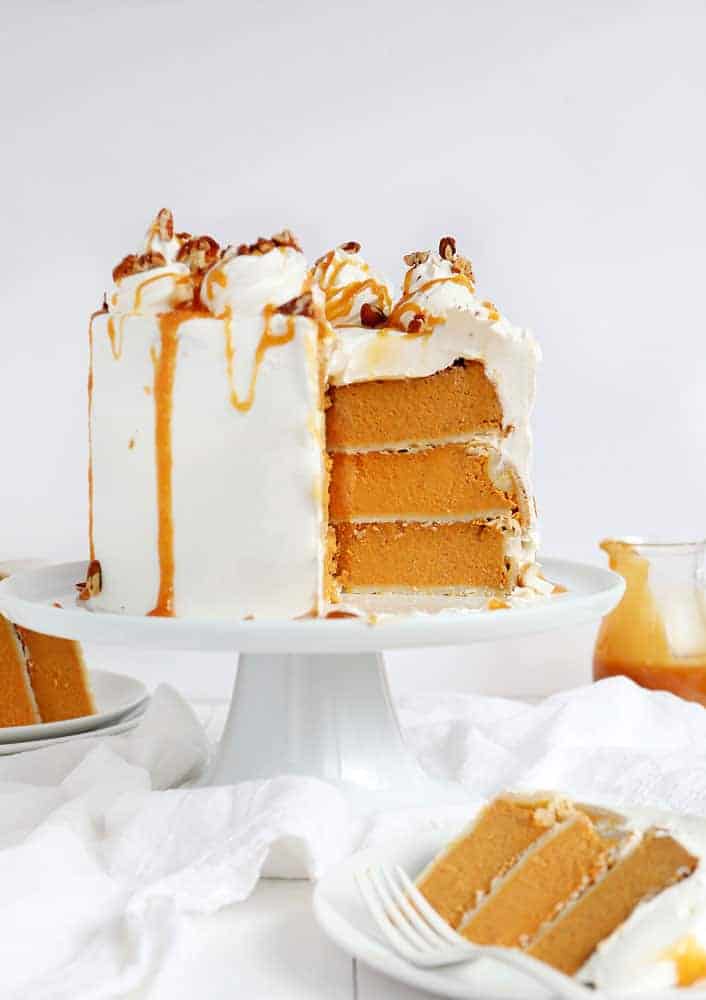 Just look at those layers!!!! Three beautiful layers of delicious homemade pumpkin pie under a beautiful covering of whipped cream. It's a pumpkin pie lover's dream come true!
My only recommendation? Cut those slices thin! lol It's a lot of pie in there. 🙂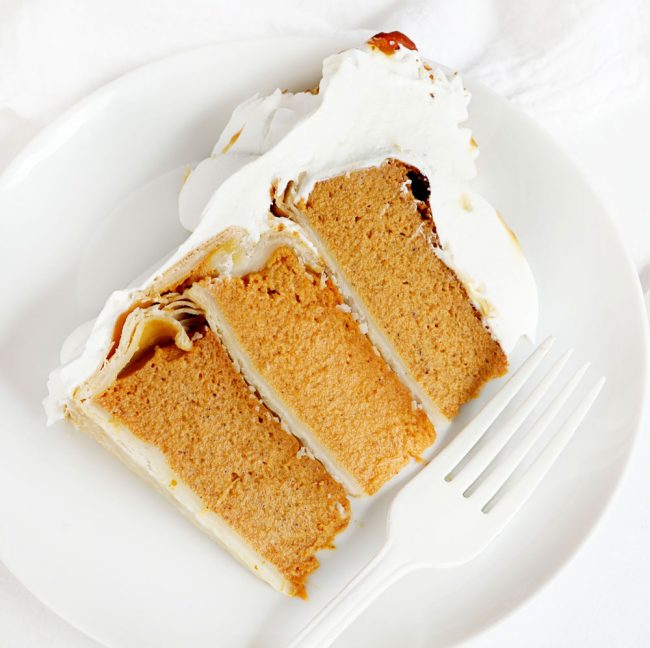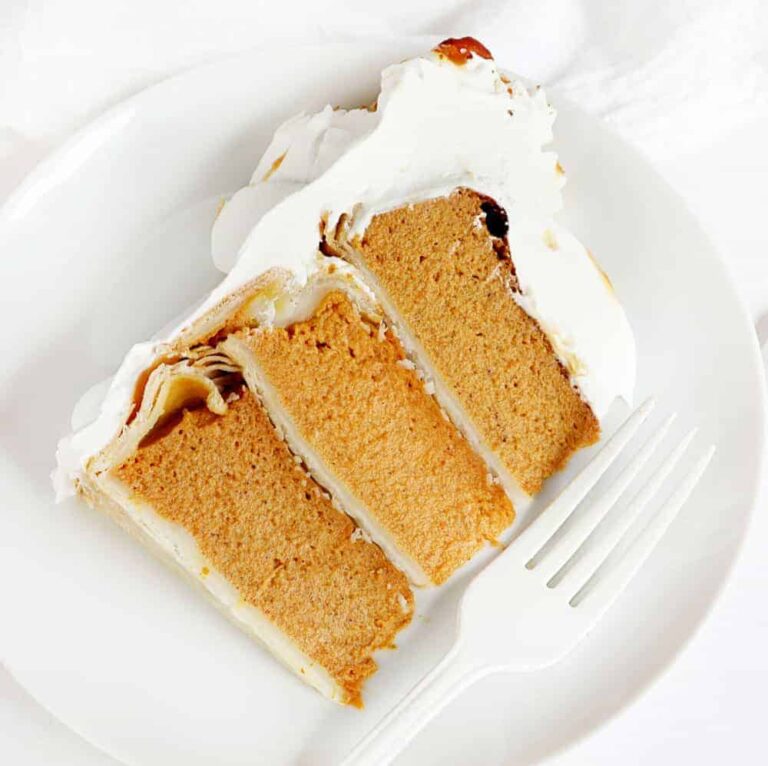 Love Pumpkin Desserts? Check these out:
Ooey Gooey Pumpkin Cake (a crowd pleaser!)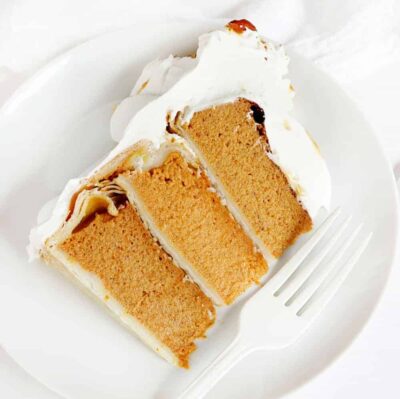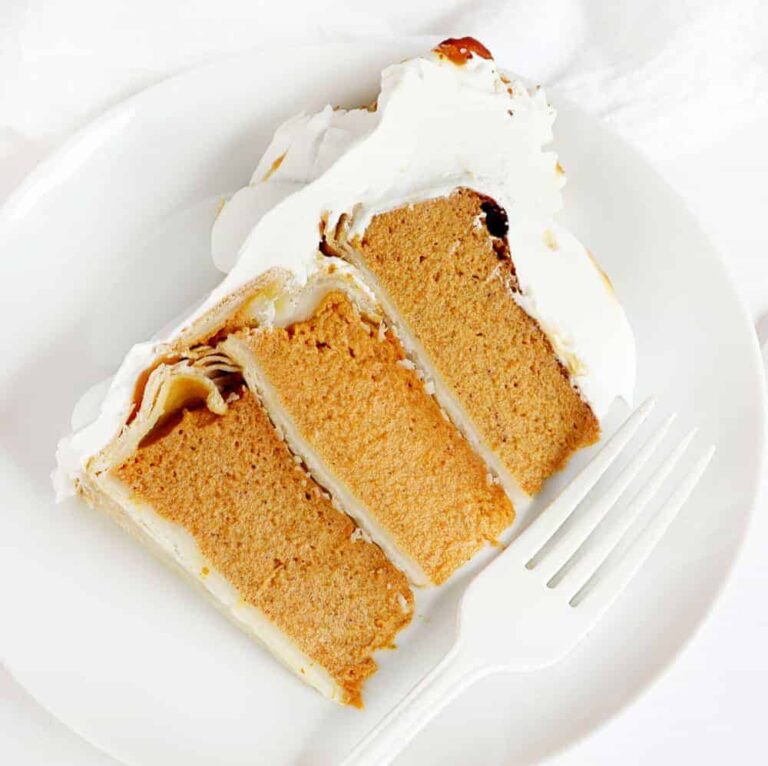 Pumpkin Pie Cake
This Pumpkin Pie Cake is perfect for serving a big crowd, or just anyone who really loves pumpkin pi
Ingredients
Pumpkin Pie
3

(15 ounce) cans pure pumpkin puree

3

teaspoons

cinnamon

1½

teaspoons

kosher salt

1½

teaspoons

ginger

1½

teaspoons

nutmeg

6

large

eggs,

room temperature

3

cans

(12 ounces each) evaporated milk

2¼

cups

granulated sugar

3

pre-made pie crusts
Whipped Cream
2

cups

whipping cream

2

tablespoons

confectioners' sugar

2

teaspoons

vanilla

½

cup

chopped pecans,

for garnish

¼

cup

caramel,

for drizzling over cake
Instructions
Pumpkin Pie
Preheat oven to 425°F.

Mix sugar, cinnamon, salt, ginger, and nutmeg in large bowl.

Add in eggs and whisk until fully combined.

Add in pumpkin and then evaporated milk. Mixture is ready when smooth and silky in appearance. (You should have

Pour 4 cups of mixture into a pie crust in a 7-inch round springform pan. Repeat with 2 remaining pie crusts.

Bake at 375°F for 15 minutes then reduce heat to 350°F for 40-50 more minutes. Pumpkin pie is done when a knife inserted in the center is removed clean.

Cool on wire rack for 2 hours then refrigerate until ready to assemble cake.
Whipped Cream
In a large bowl, whip cream until all the ingredients come together.

Beat in vanilla and sugar until peaks form. Make sure not to over-beat. Chill until ready to assemble cake.
Did you make this recipe?
Thank you for making my recipe! You took pictures, right? Well go ahead and post them on Instagram! Be sure to mention me @iambaker and use the hashtag #YouAreBaker.