This simple Thanksgiving Menu is one that we have been serving for 15+ years. (With a few variations of course!) These basics are a must for our Midwest family.
Thanksgiving Menu
Now, things have changed over the years including how much we make (being a family a 7!) and if we are hosting or not. A few family members have dietary restrictions (such as no sugar, vegan, or gluten-free) and we always try to accommodate them as best possible. Thanksgiving is a time where we want everyone to be together and no one to be worrying about whether or not they can eat certain things, so it is important to me that everyone feels accepted and loved! I think you will find something for everyone in the recipes below!
Thanksgiving Main Course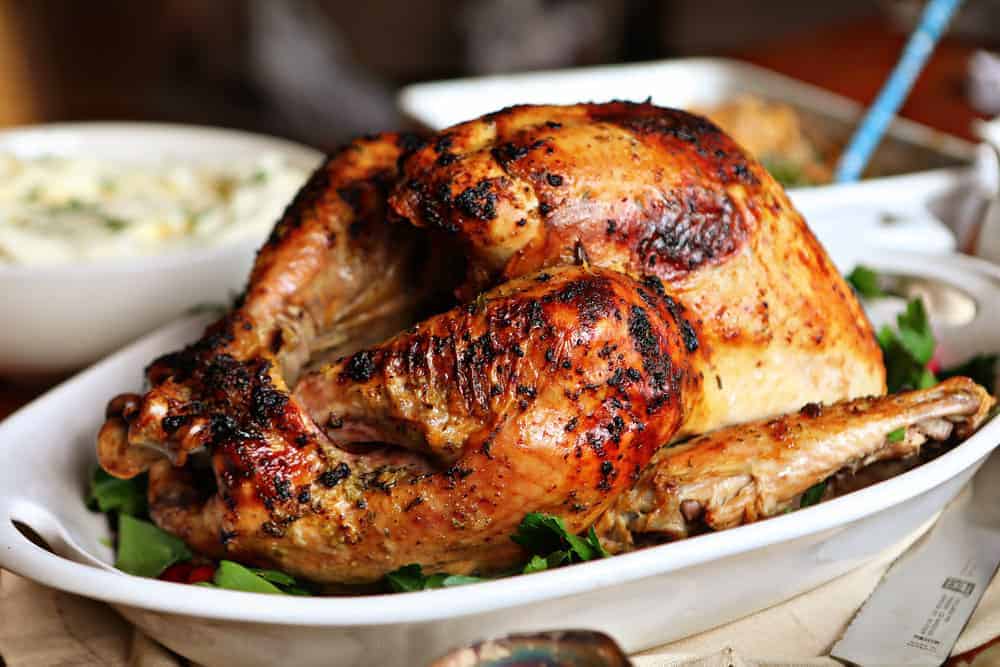 Don't be intimated by preparing Turkey for your Thanksgiving feast, this recipe is actually pretty darn easy! In under 3 hours, you will have a delicious roasted turkey that will be the center of attention at your Thanksgiving feast. It's all about the herbed butter that you will be spreading under and over the skin. Be ready for your guests to rave about the 'juiciest bird ever'!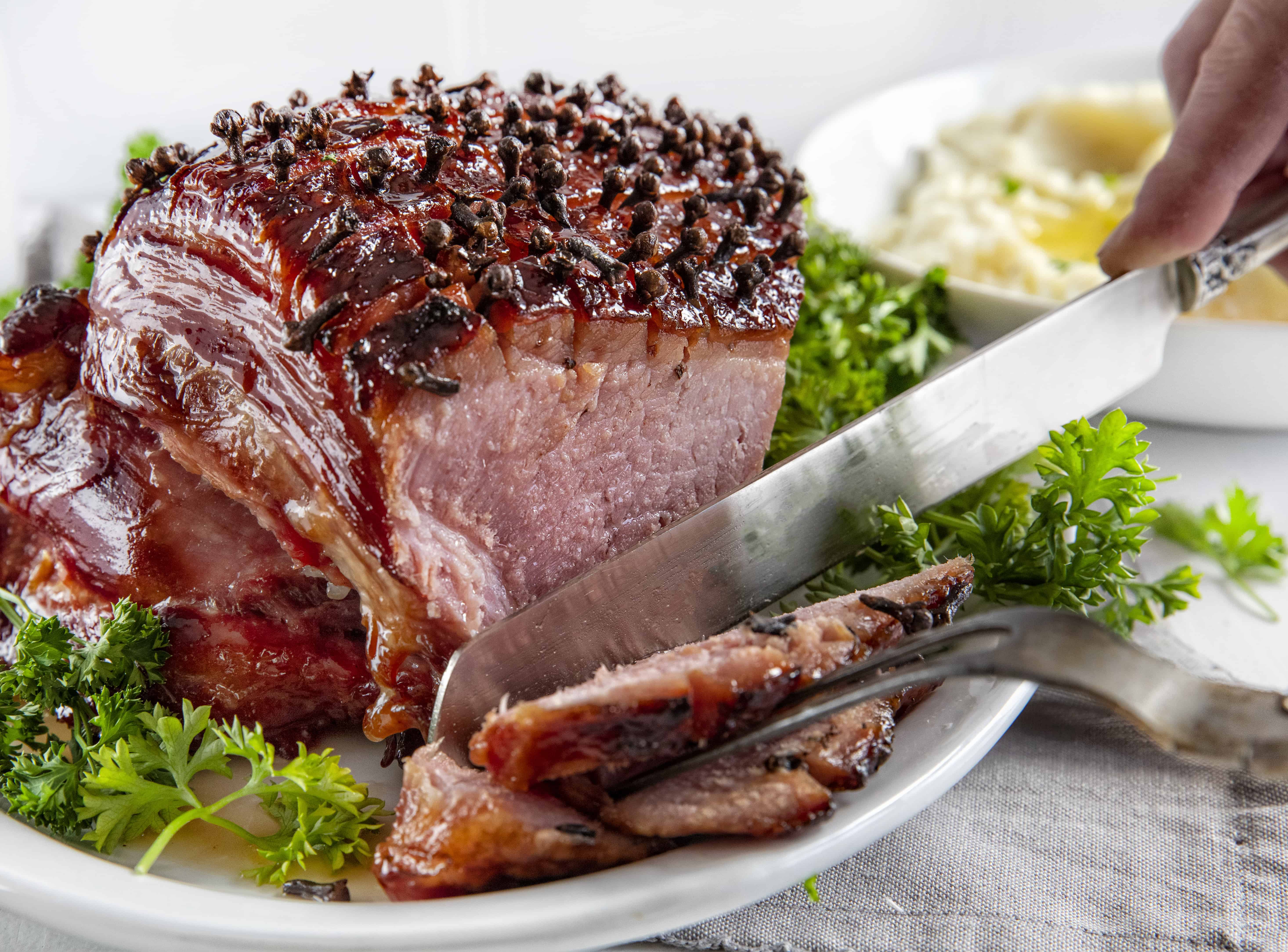 There are few things more beautiful than a perfectly prepared Honey Baked Ham sitting on a dinner table. With the addition of whole cloves, this ham is elevated to a new, elegant level, that will leave family and friends in awe! If you happen to want a simpler version, try my Crock Pot Ham.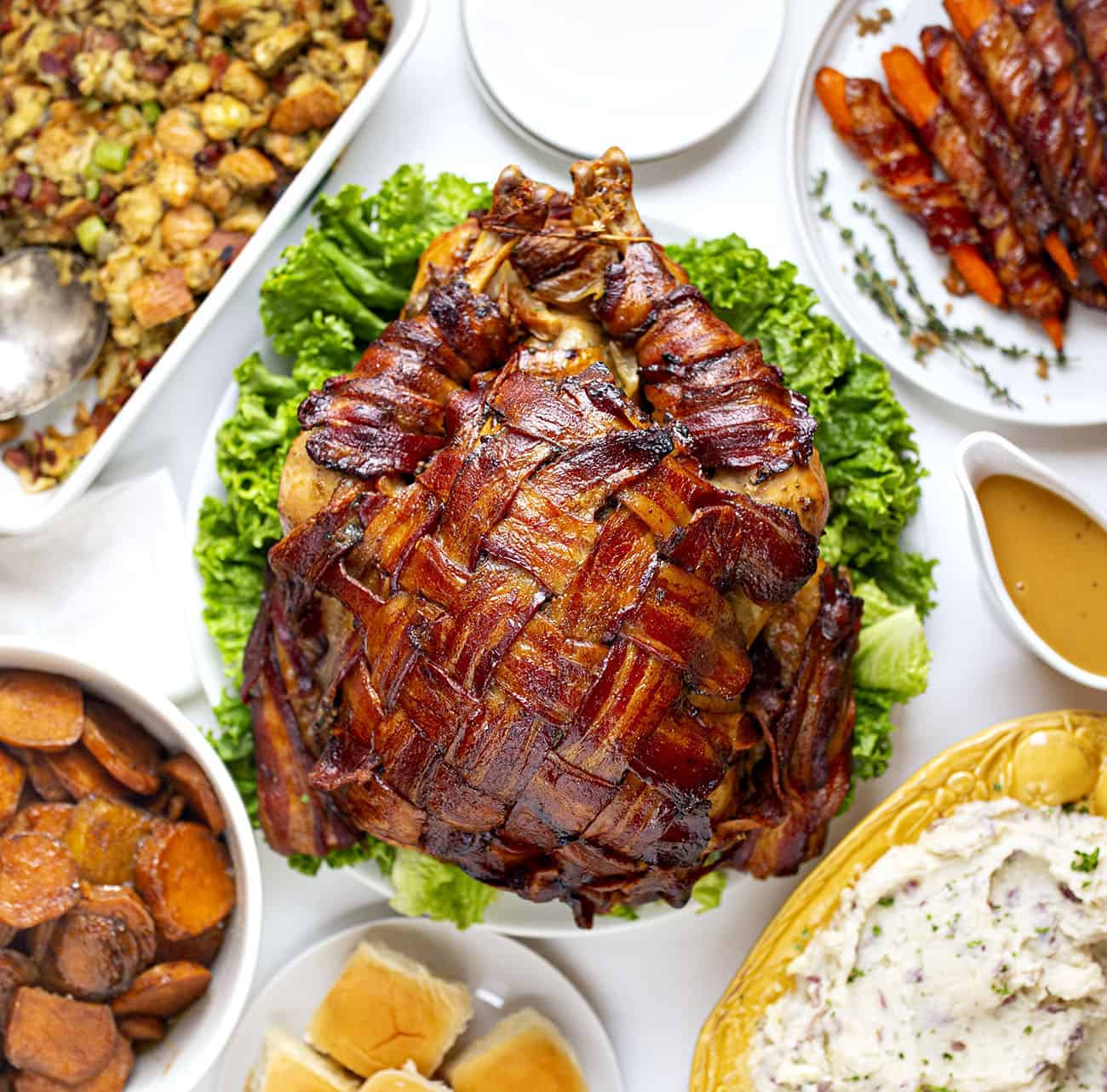 Turkey for Thanksgiving, of course! That is to be expected. But, a turkey wrapped in bacon for Thanksgiving?!?! Yes, please! If you really want to impress your friends and family this Thanksgiving, walk out with a turkey that is covered in crispy bacon. You really need everyone to see this beautiful display before you cut into it. And, I am happy to say that Bacon Wrapped Turkey tastes as great as it looks!
Thanksgiving Side Dishes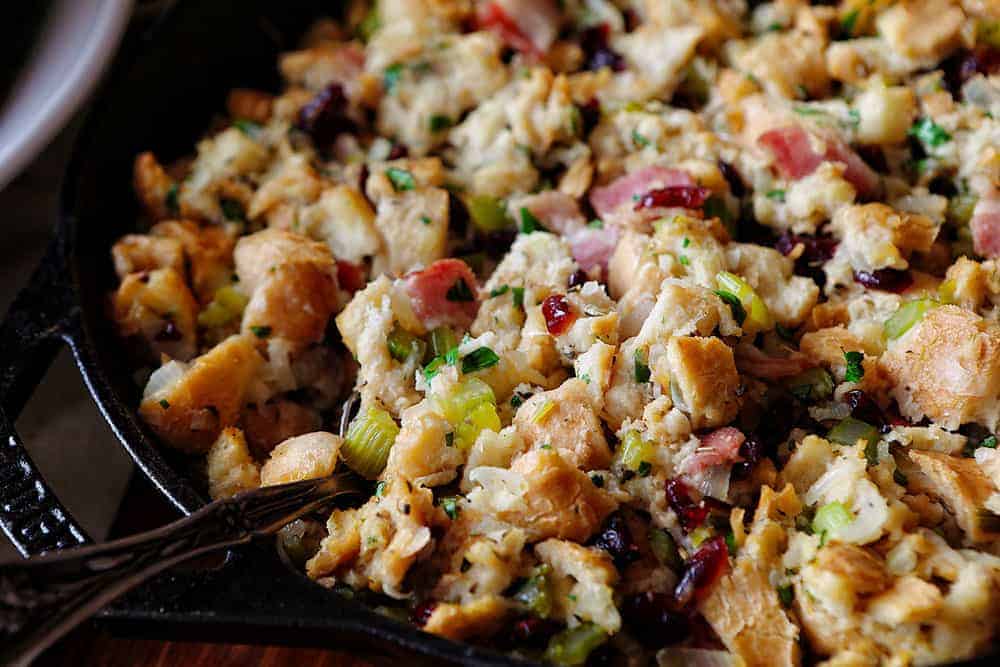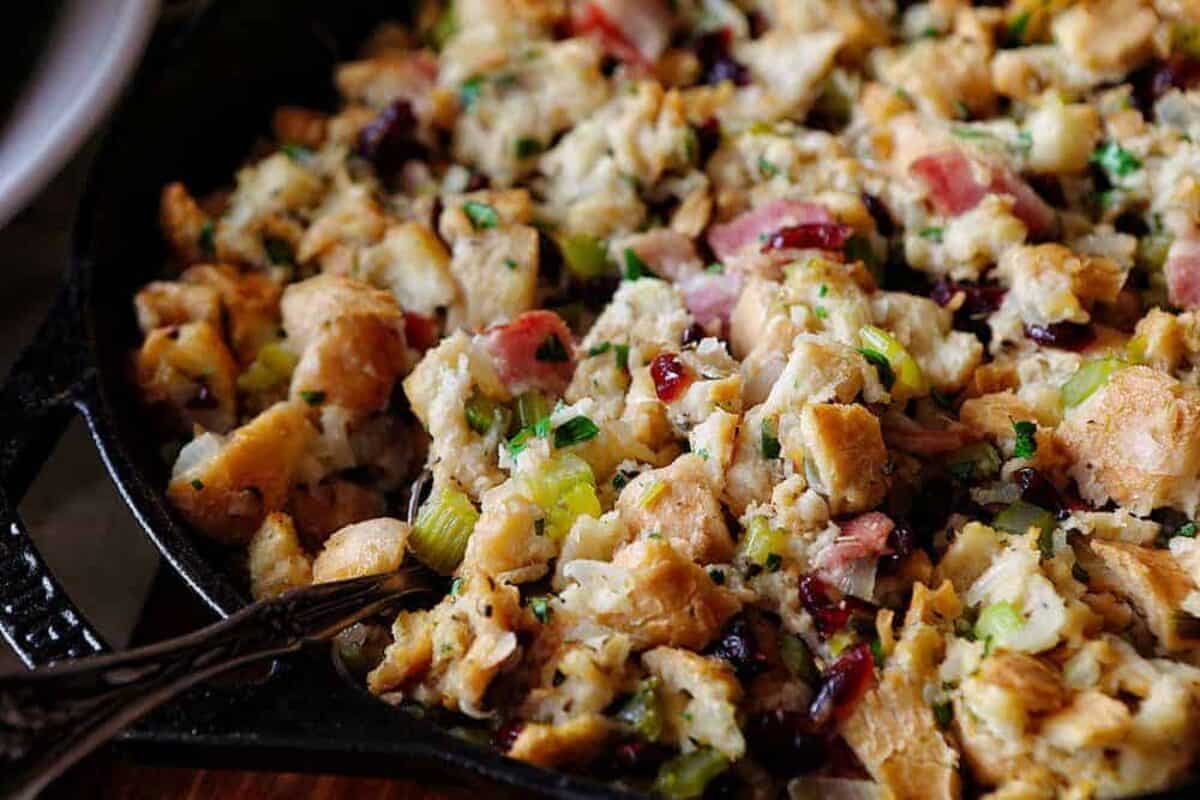 Looking for a homemade Stuffing Recipe that is moist, packed with flavor, and beautiful on your holiday table? Then you have to make the World's Worst Stuffing! My favorite thing about this recipe is how moist it is. I have had (and made!!) dry stuffing and there is nothing worse than crunching down on bread that lacks flavor. You will not have that problem with this recipe. Another thing of note, this is a big recipe. Stuffing is the favorite side dish of 3 of my 5 children so I always make enough for leftovers!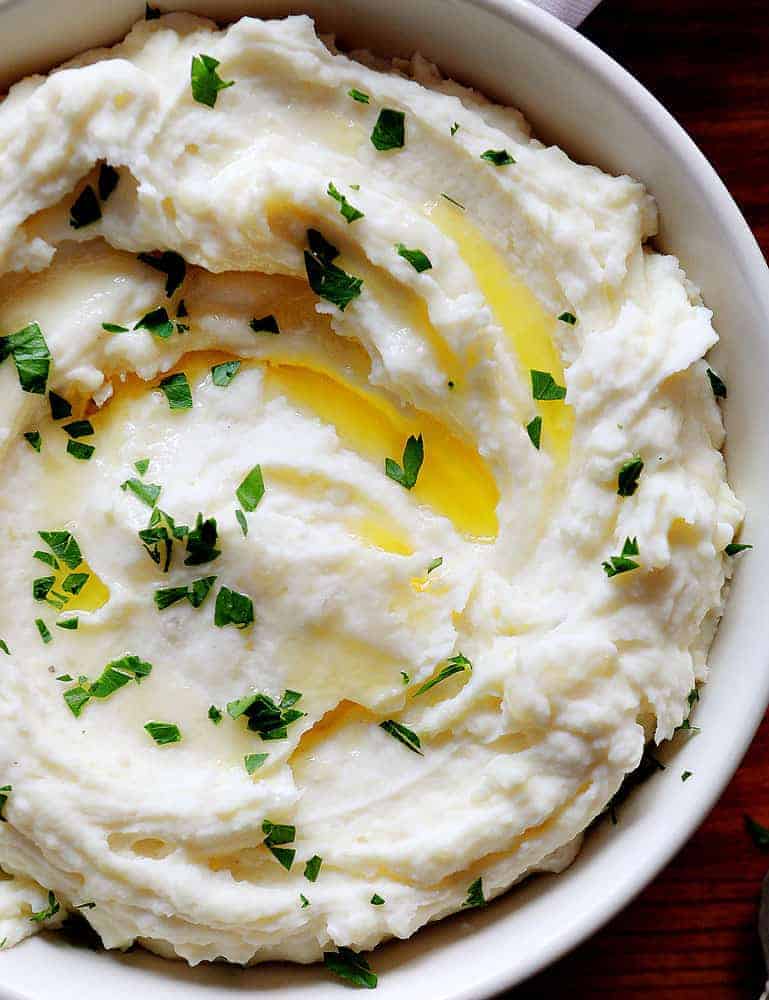 This Mashed Potatoes Recipe is the creamiest you will ever try. They remind me of velvet… silky and smooth and so decadent you feel like you are at a 5⭐️ restaurant! There are very few ingredients and that makes me happy when I am trying to put together a Thanksgiving feast and have 47 things to do.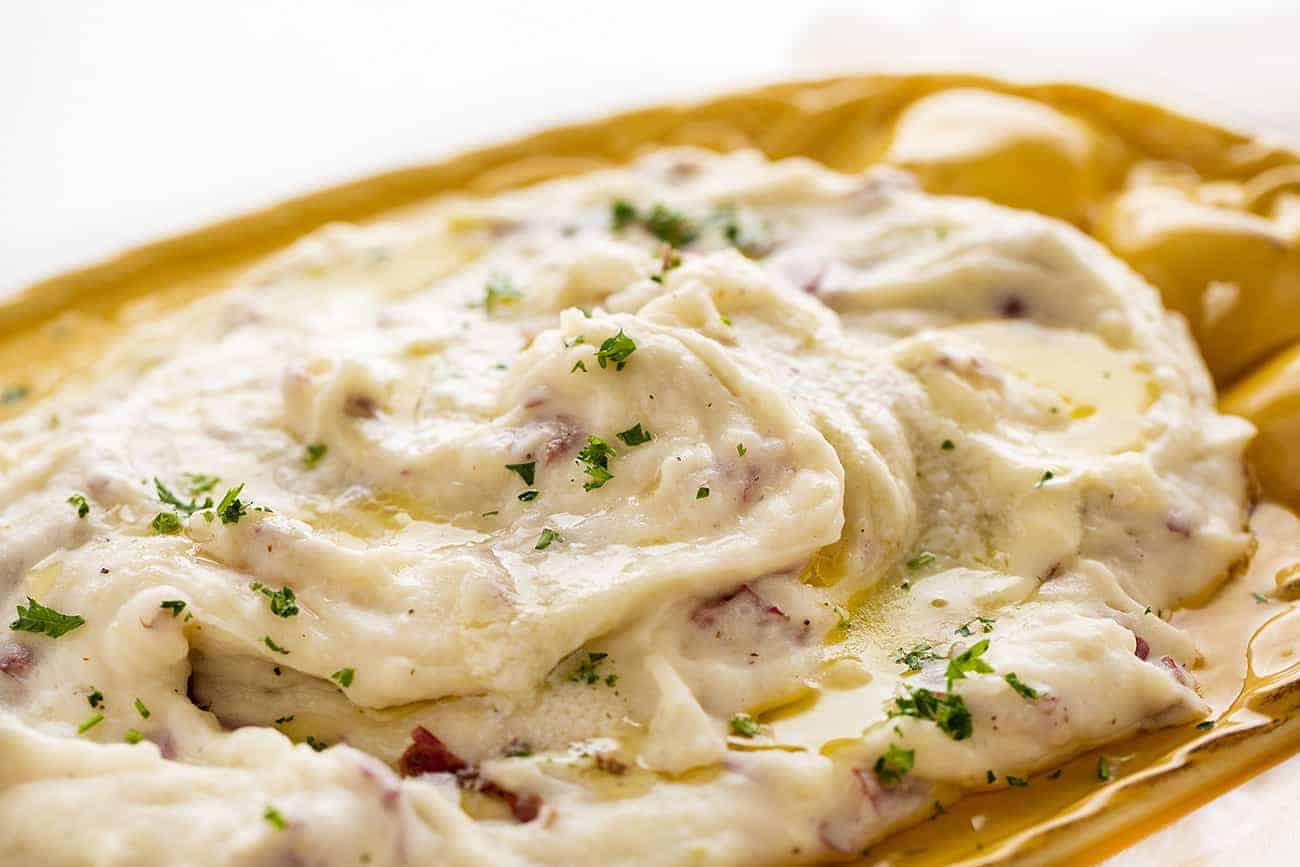 Save a huge amount of time by making these creamy delicious potatoes that are NOT peeled! With just the right amount of texture and creaminess, Skins on Mashed Potatoes will be a favorite on your next dinner menu, especially your Thanksgiving menu! Yes, I said texture. With the skins left on the potatoes, the mashed potatoes will be more rustic looking and vibrant. These mashed potatoes actually have some nutritional value–well!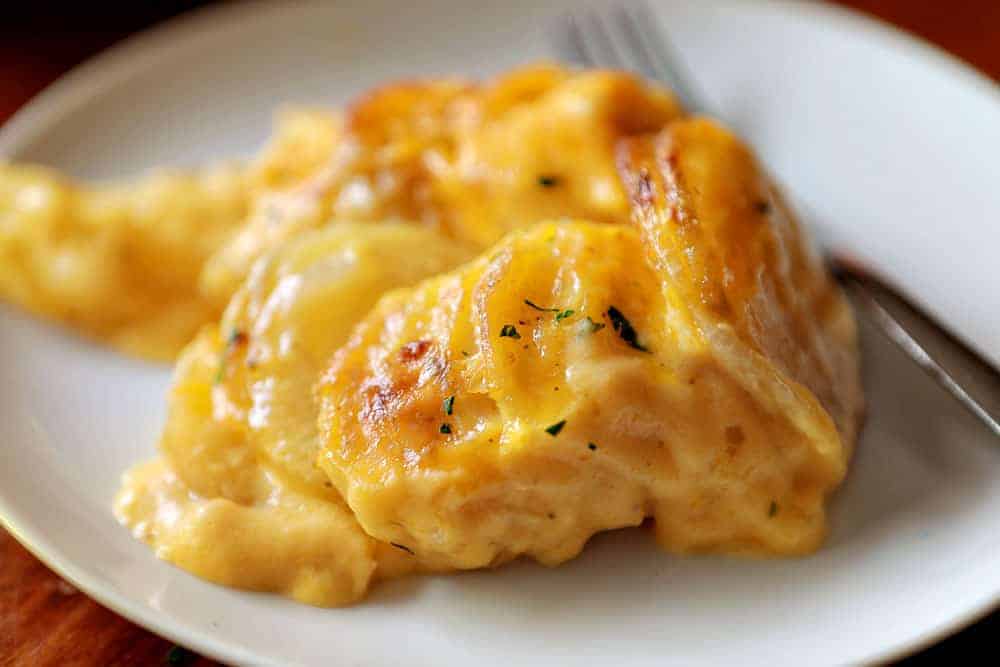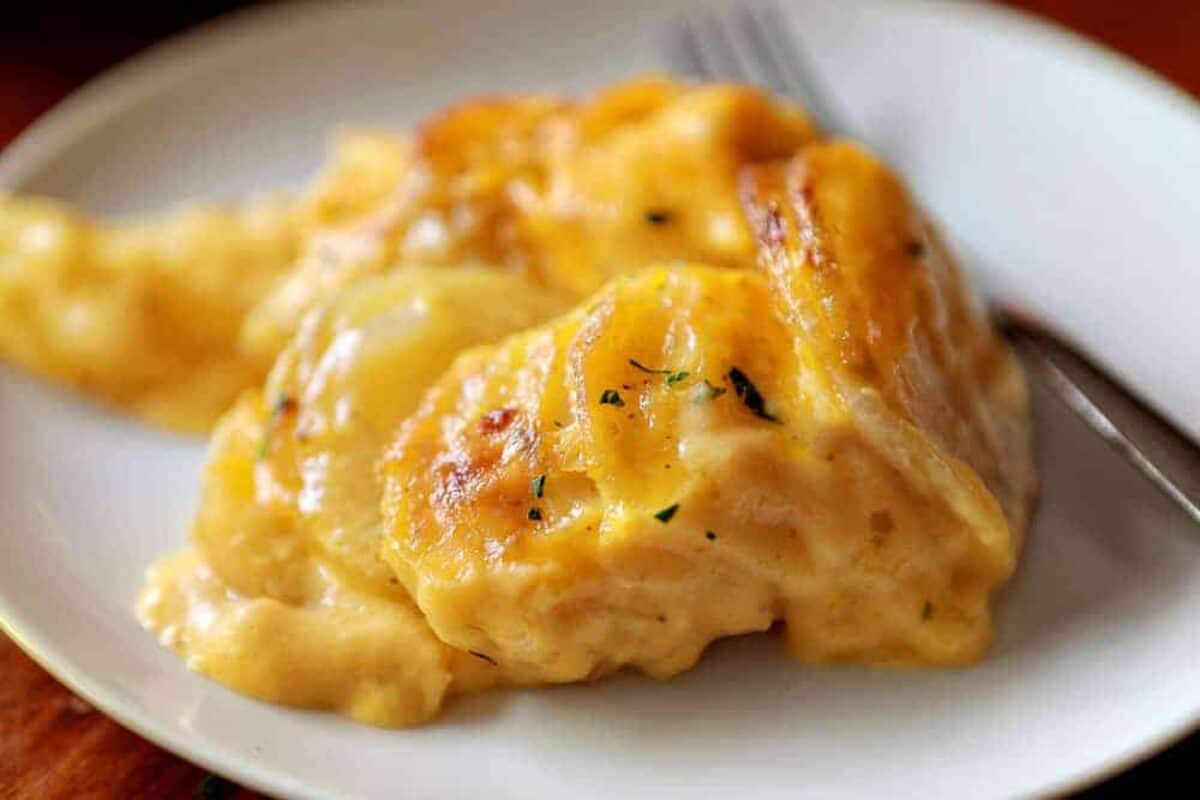 Cheesy Scalloped Potatoes combine the best parts of both scalloped and au gratin potatoes. Ooey gooey cheese covers every single nook and cranny of your scalloped potatoes. If you happen to want an easy Crock-Pot Scalloped Potato, I've got ya covered.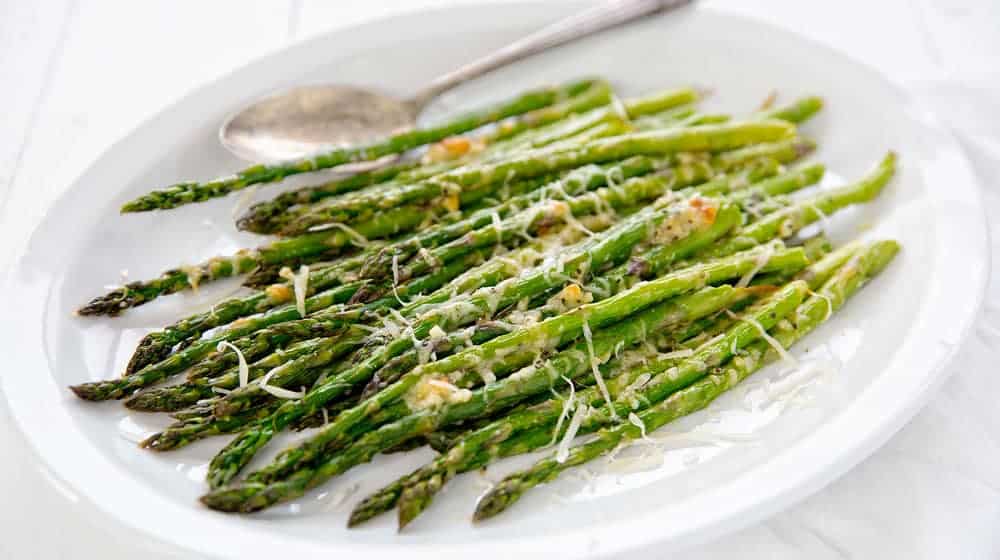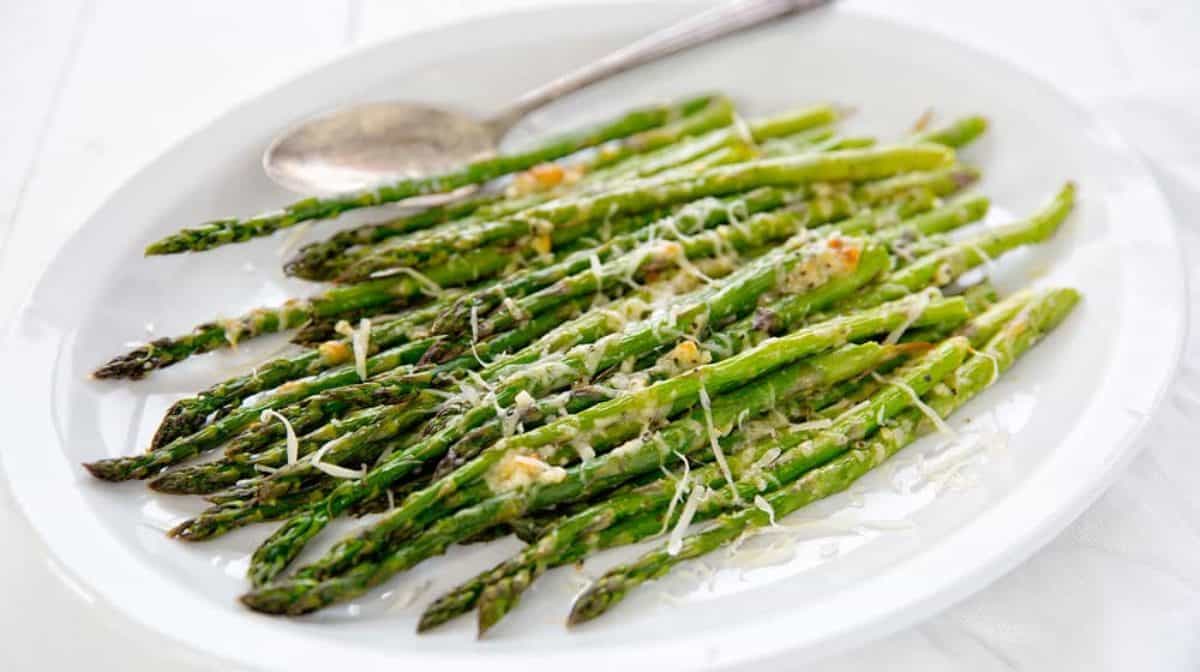 In the world of side dishes, asparagus is at the top for me. It is low in calories, low in fat and high in all sorts of nutrients. Roasting asparagus is a great way to add this delicious veggie into your regular meal rotation. If you love asparagus-like me, make sure to try asparagus stuffed chicken. It is so perfectly simple, looks really impressive and has a flavor to match!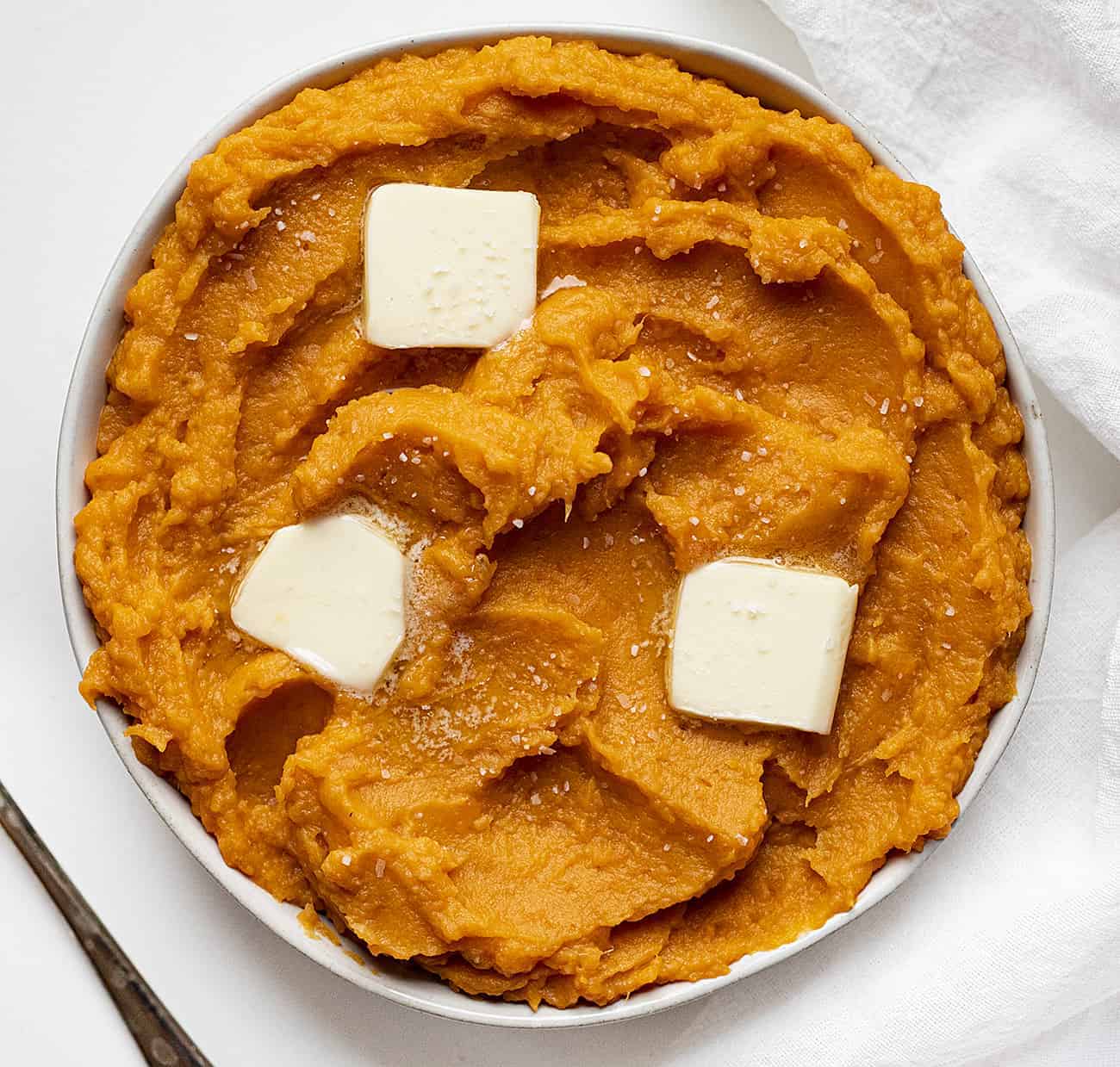 Looking for something new and exciting to add to your dinner table? Time to give mashed sweet potatoes a try. Outside of being packed with an amazing savory and sweet flavor, these little vegetables are packed with all sorts of nutritional benefits. Loads of fiber, iron, and calcium, as well as vitamins B and C. In addition, they are a great source of beta-carotene, which is a powerful antioxidant. There are multiple ways to cook up sweet potatoes too, make sure to check out my sweet potato casserole too!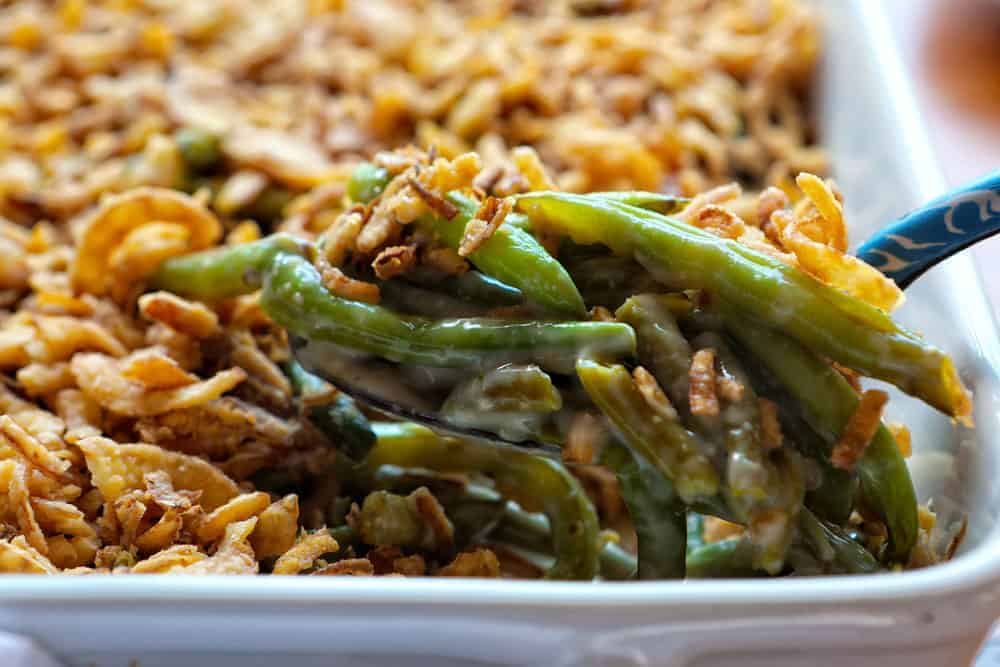 My family's coveted Green Bean Casserole recipe is SO easy, some may doubt how good it is! But trust me, a few simple ingredients is all you need to make this Thanksgiving staple. We have been eating it this way in Minnesota for as long as I can remember!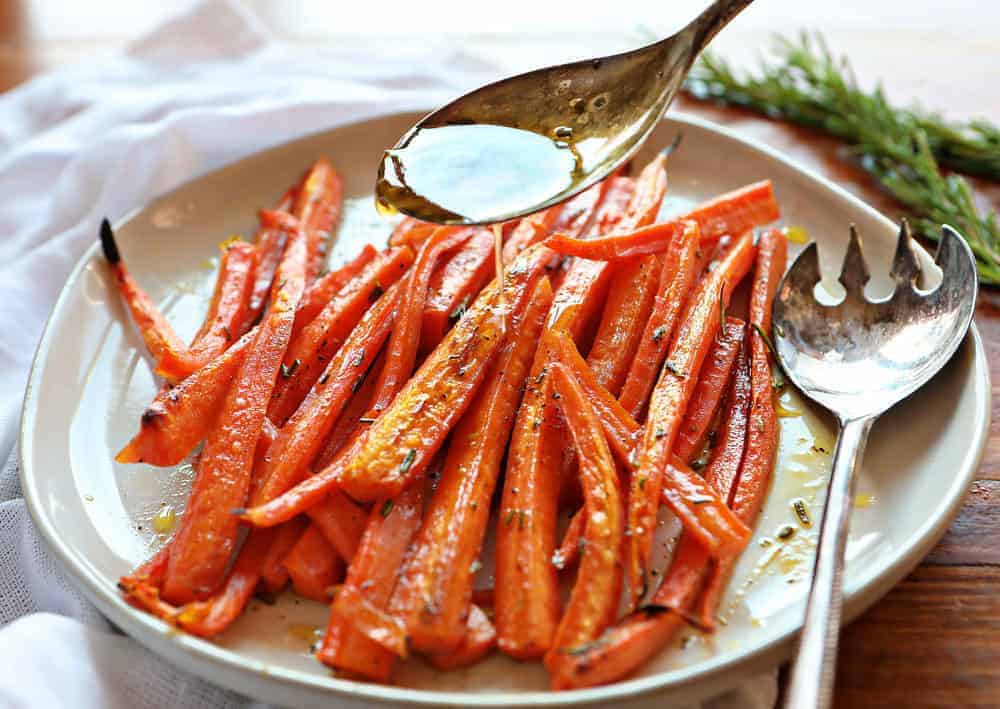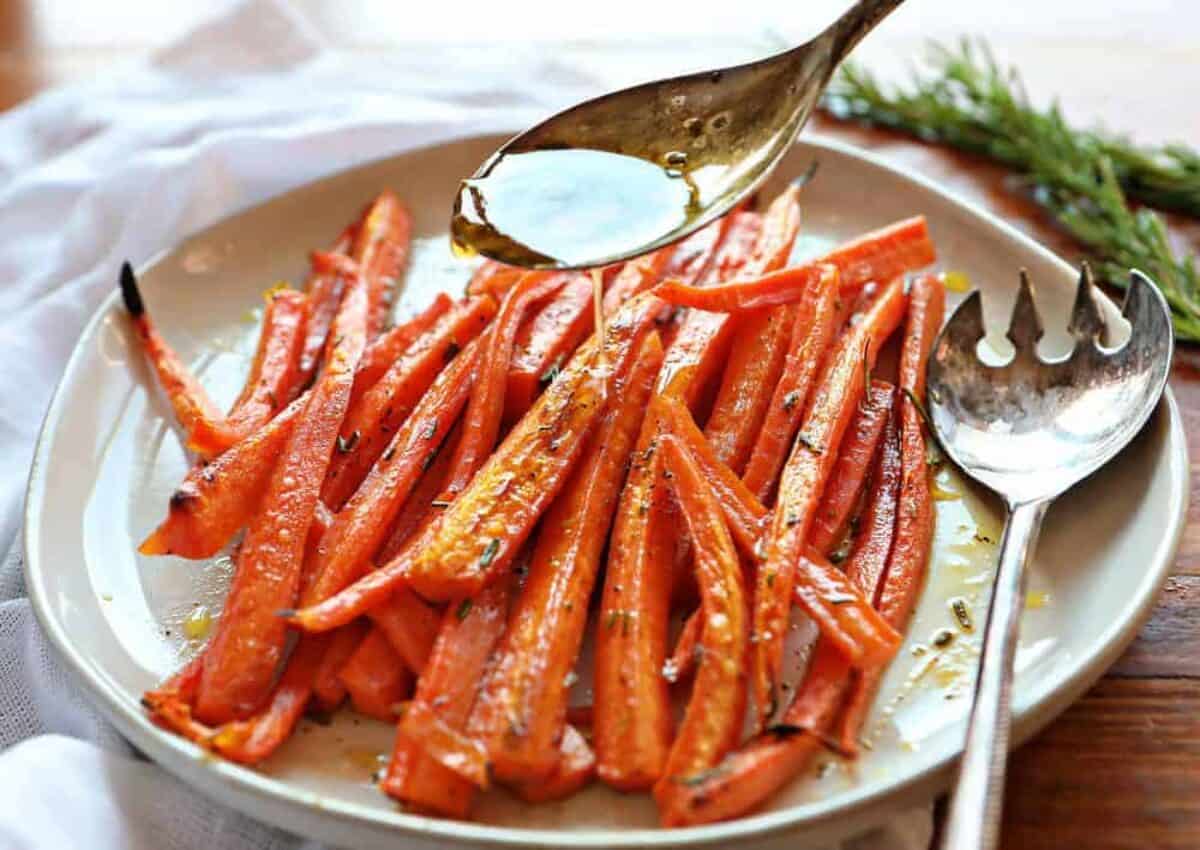 This roasted carrots recipe is one of our favorites because the roasting process brings out the natural sweetness of the carrots. Five minutes is all the prep time you will need for this amazingly sweet side dish. Peel and slice the carrots. Combine brown sugar, water, olive oil, rosemary, salt, and pepper and toss. Perfection is easy!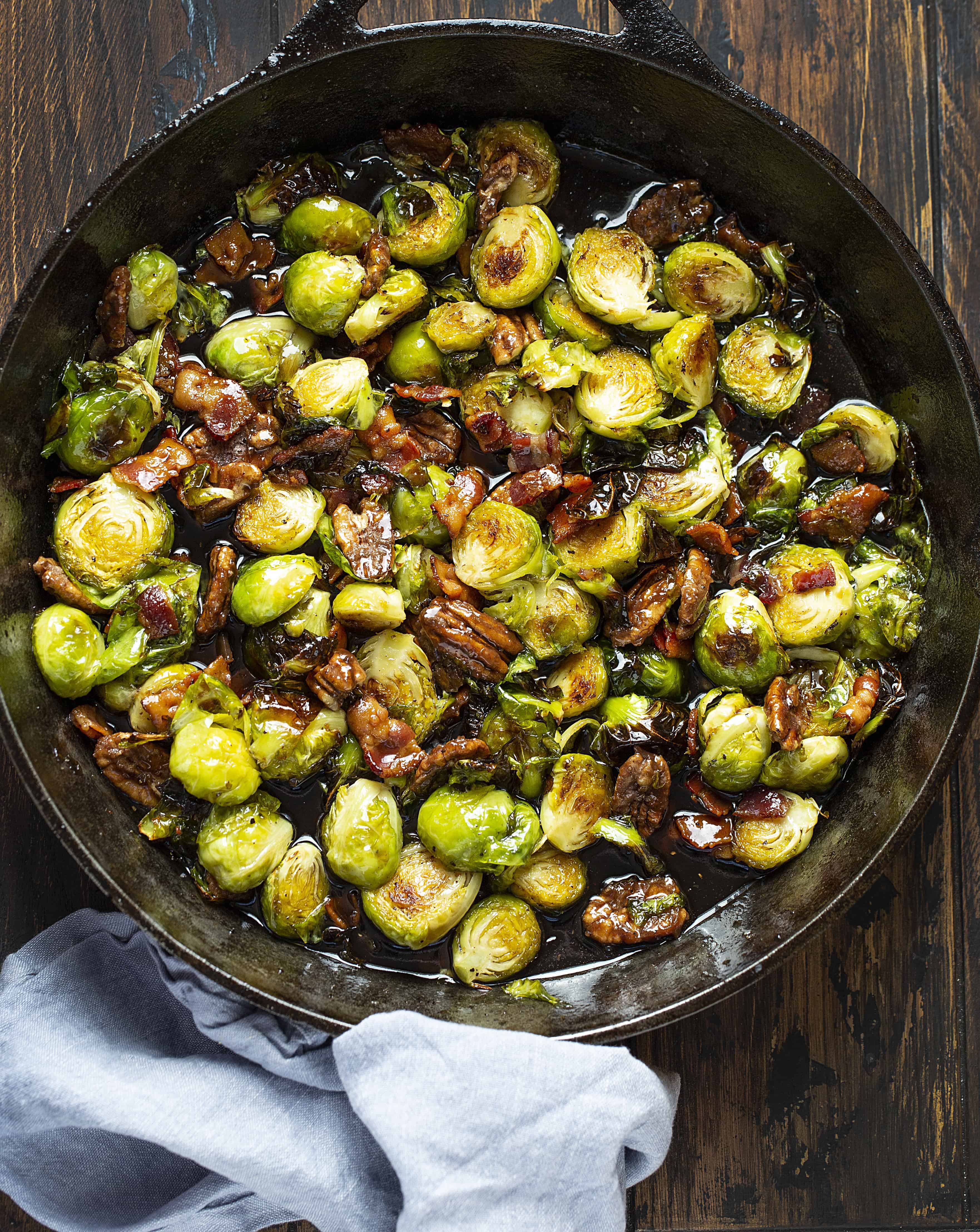 These Brussel Sprouts in Maple Bourbon Sauce are packed with a glorious combination of bacon and pecans! Amazing enough to be served on their own yet perfect with a big hearty dinner, such as Thanksgiving. There is something magical about the combination of Brussel sprouts, bacon, pecans, maple syrup, and bourbon. You will be making these more than once a year!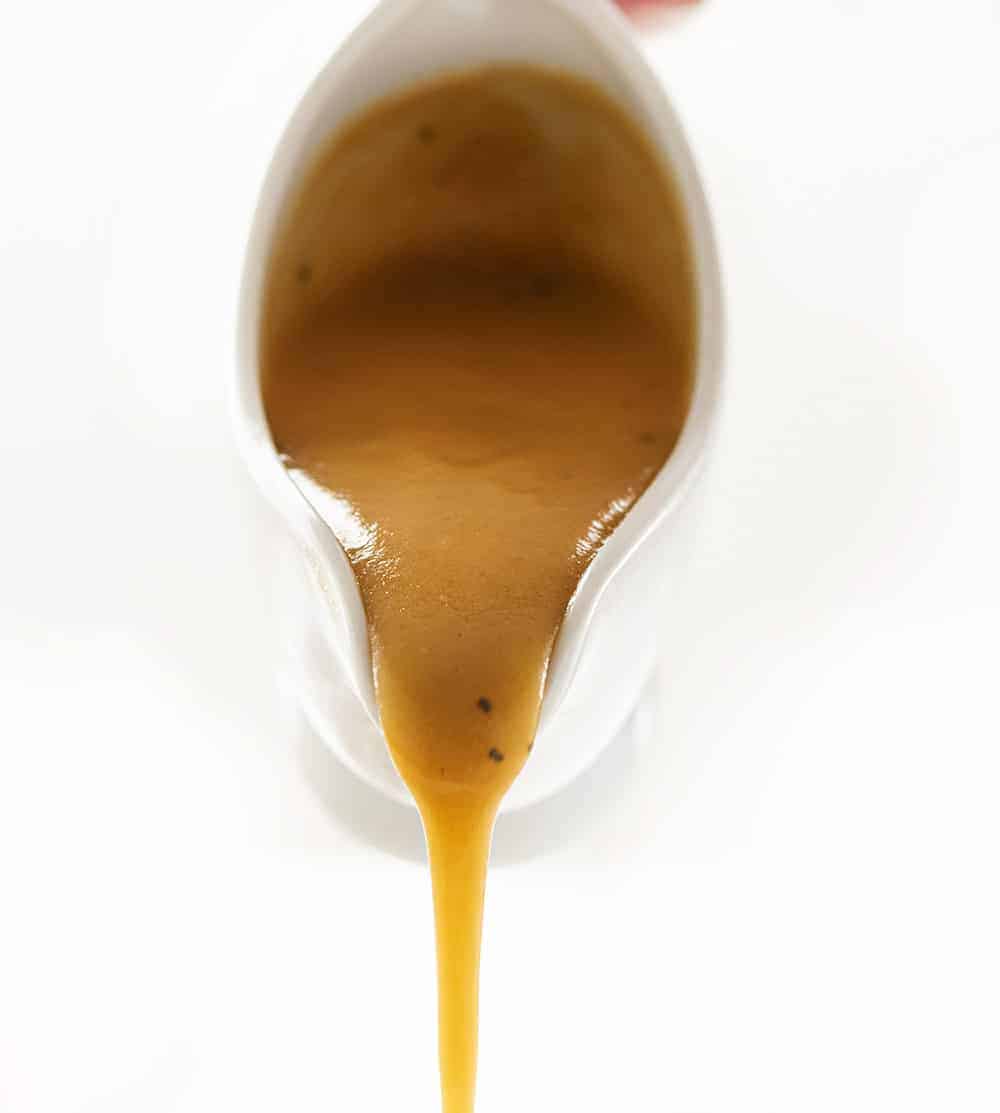 To make bacon turkey gravy you would prepare a turkey with a bacon lattice over top and then roasting the turkey as you normally would. (Full recipe here) What happens while that turkey is roasting is a magical thing. Not only do all the beautiful turkey juices find their way to the bottom of the pan, but the bacon juices do too! The combination of bacon fat + turkey fat is one of the most amazing things that has ever happened to gravy. One friend tried this recipe at a Friendsgiving and proclaimed that it was the only way she would ever make turkey again! (I also share how to make this gravy WITHOUT the bacon lattice top… the easy peasy version!)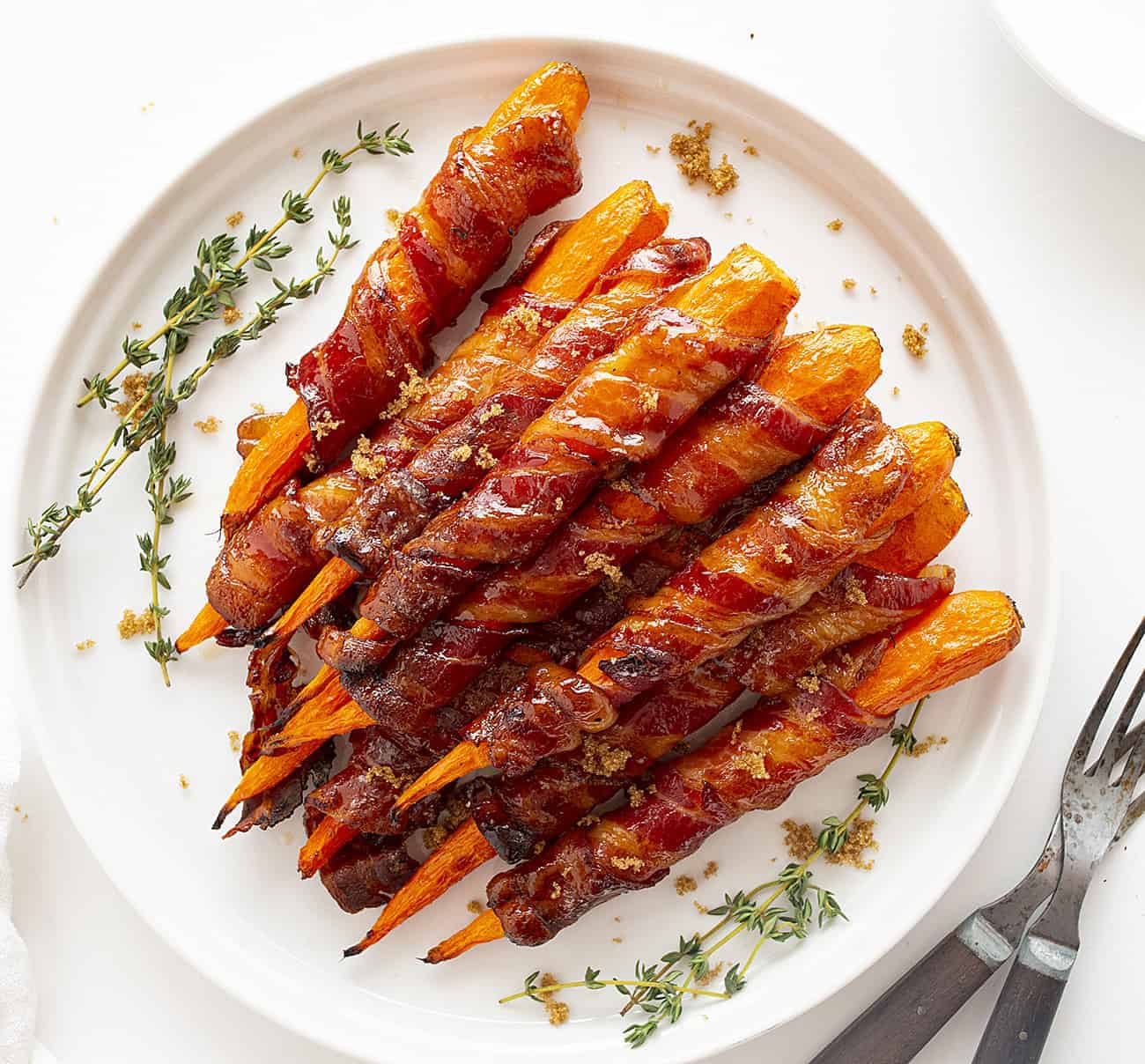 I know, once you wrap bacon around anything, it's bound (get it) to be tastier, but these really take the carrot! The sweetness of the maple syrup glazed over the saltiness of the bacon works beautifully with the cooked carrot. These would be a fantastic appetizer to share because they are so easy to make and they are a little different than your standard appetizers. I use bacon a lot with vegetables like my Bacon Wrapped Brussels Sprouts and my Bacon Stuffed Mushrooms. Bacon makes everything better!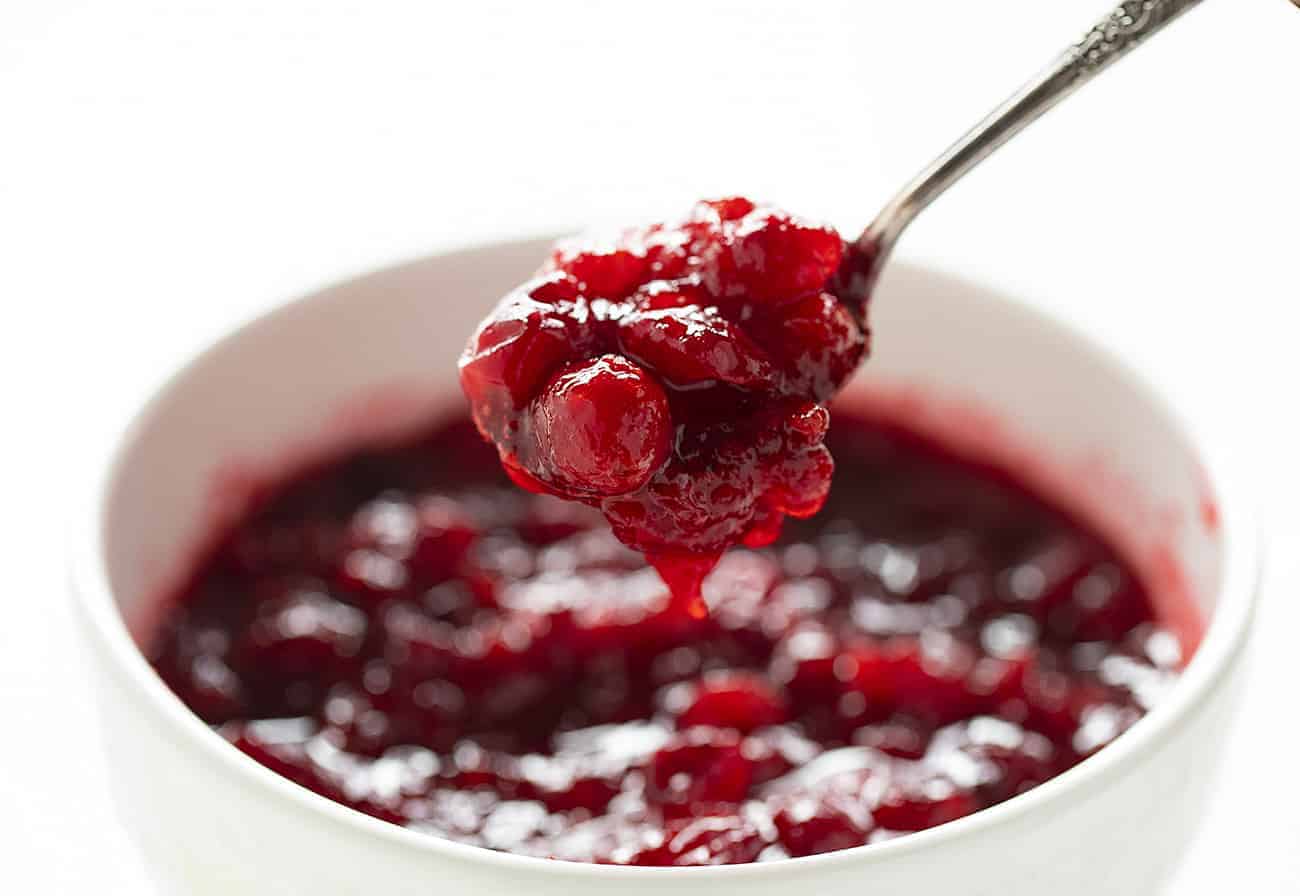 Who remembers that cylindrical glob of cranberries slowly oozing out of the can for Thanksgiving??? I sure do, and I also remember that not much of it was gone at the end of the dinner. In fact, I think we could have slid it right back in the can for next year if we wanted to! Needless to say, it was not a popular dish at my Thanksgiving feasts, so I had to try something a little different. I am certainly glad I did because the homemade Cranberry Sauce will not last this year because it is so great! Trust me on this one–even a friend who doesn't really like cranberries thought they were good!
Thanksgiving Breads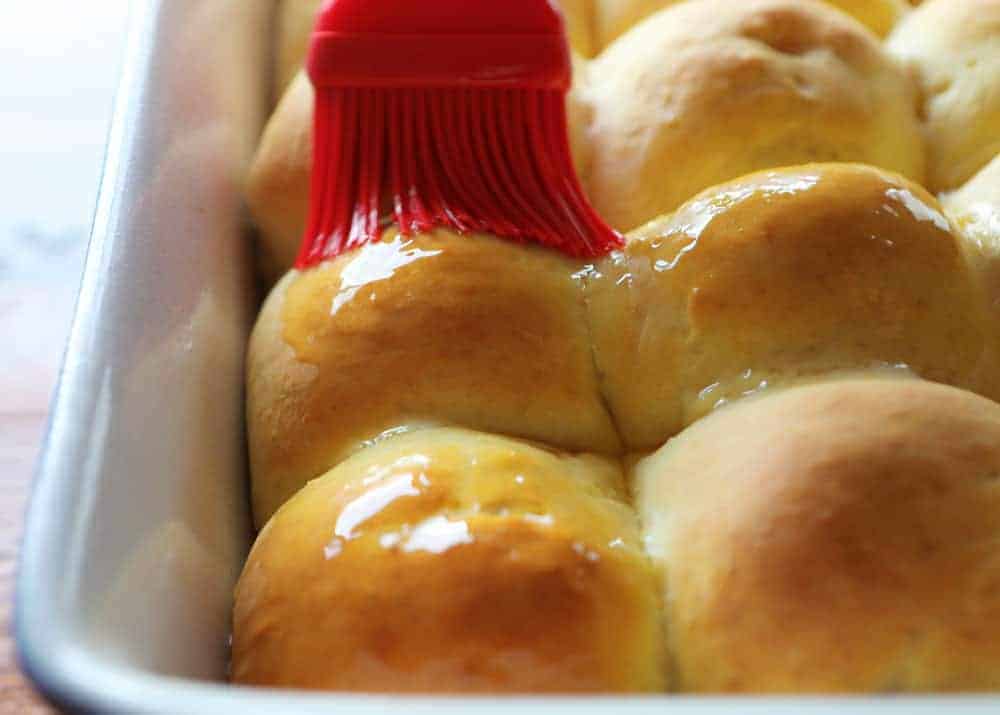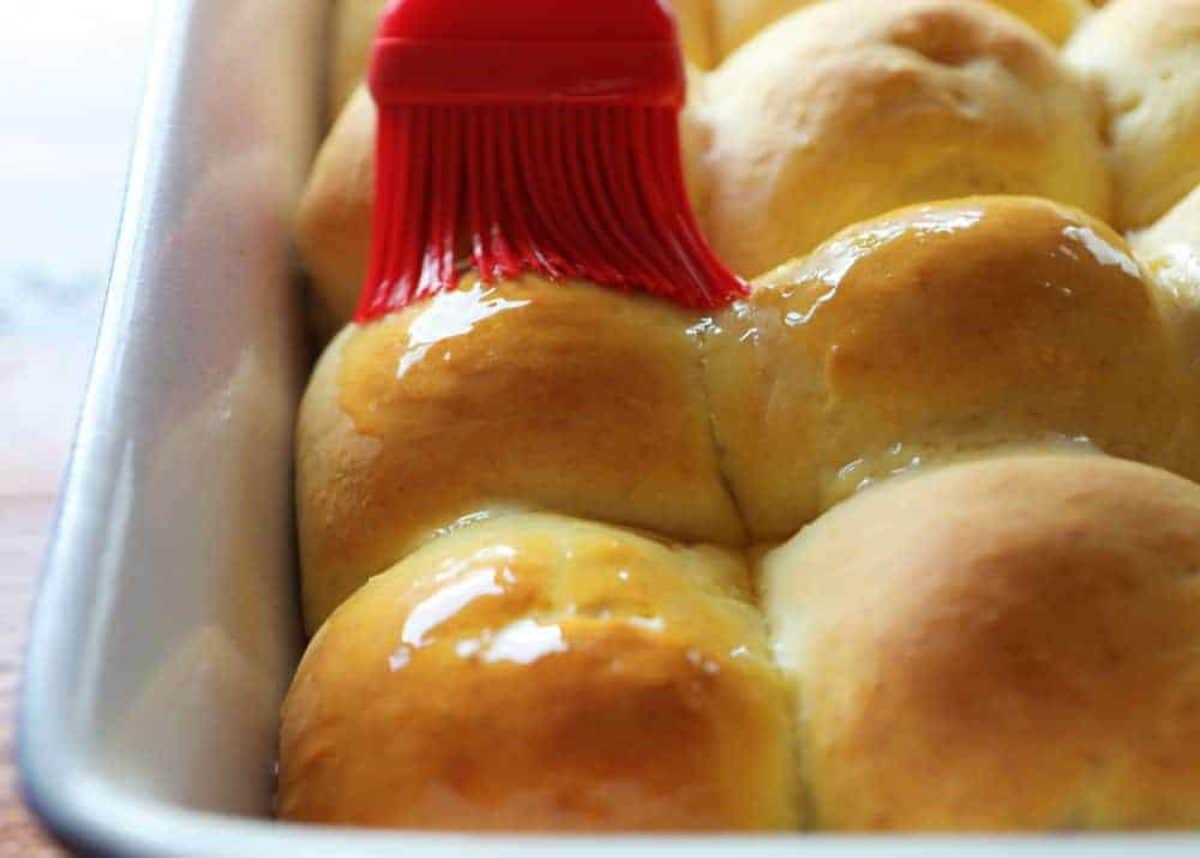 This Easy Dinner Rolls Recipe is one that has been handed down for generations. I can still remember traveling to my aunt's house and seeing trays and trays and trays of these rolls, glistening and buttered to perfection. They are a perfect companion to your Thanksgiving meal.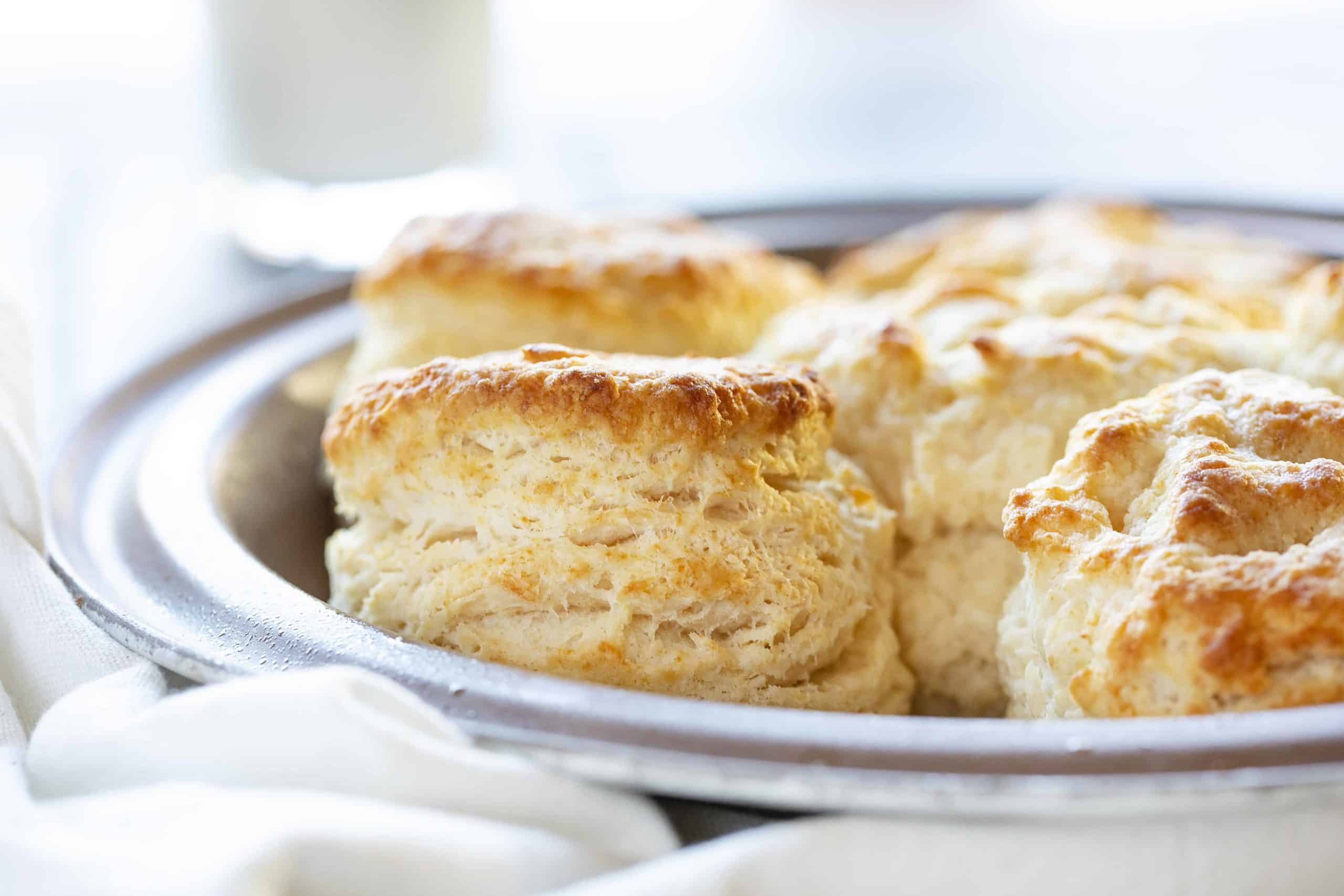 These Buttermilk Biscuits are a staple in many homes and for good reason! They are fast, they are delicious, and they are practically no-fail! They are a perfect addition to your Thanksgiving spread.
Thanksgiving Desserts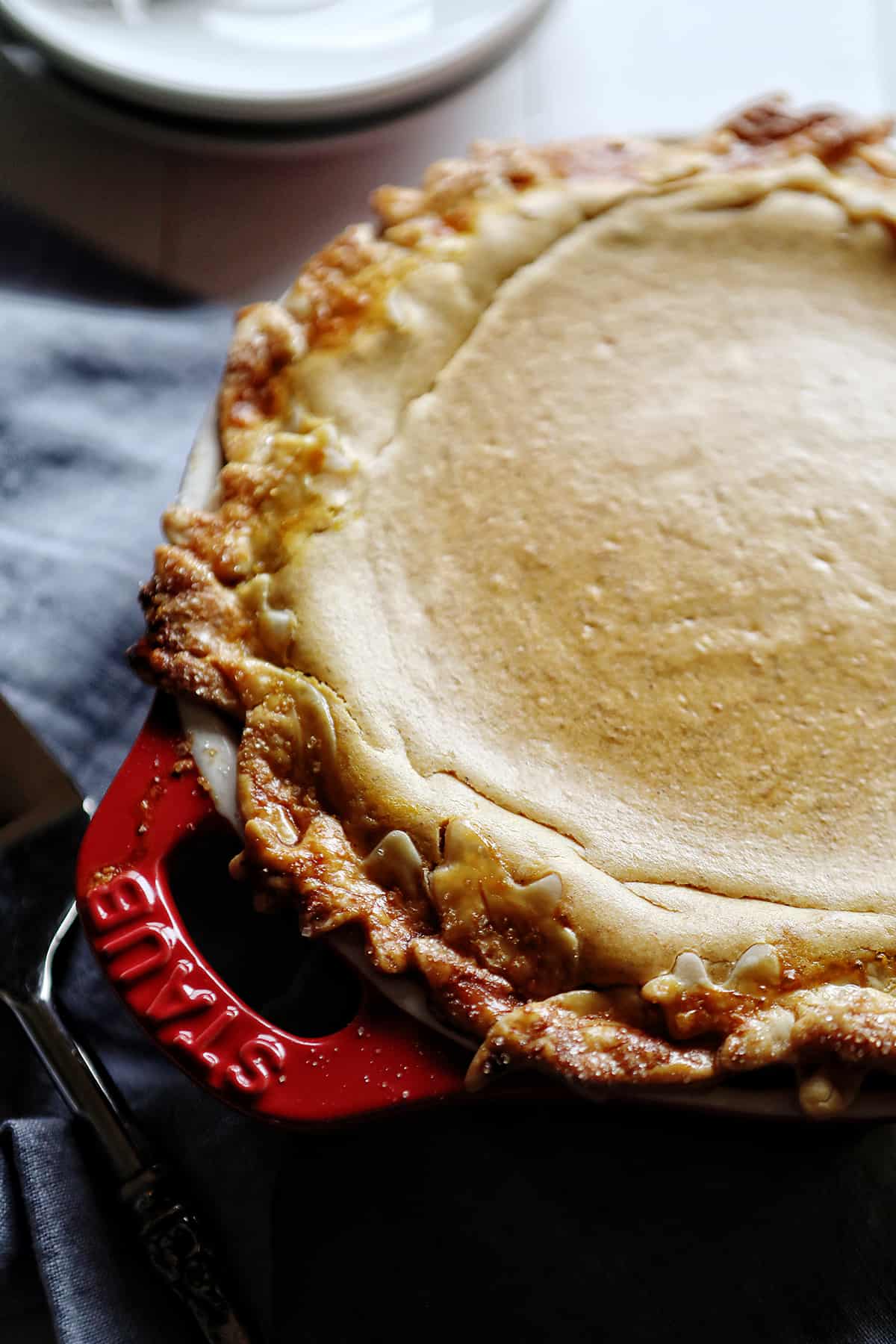 Since the 18th century, pumpkin pie has been a staple on tables at Thanksgiving. Why not give your guests something a little different with this glorious pumpkin-flavored cheesecake in a pie crust? Embellished with leaf cutouts, this is the perfect way to celebrate at your next Thanksgiving dinner!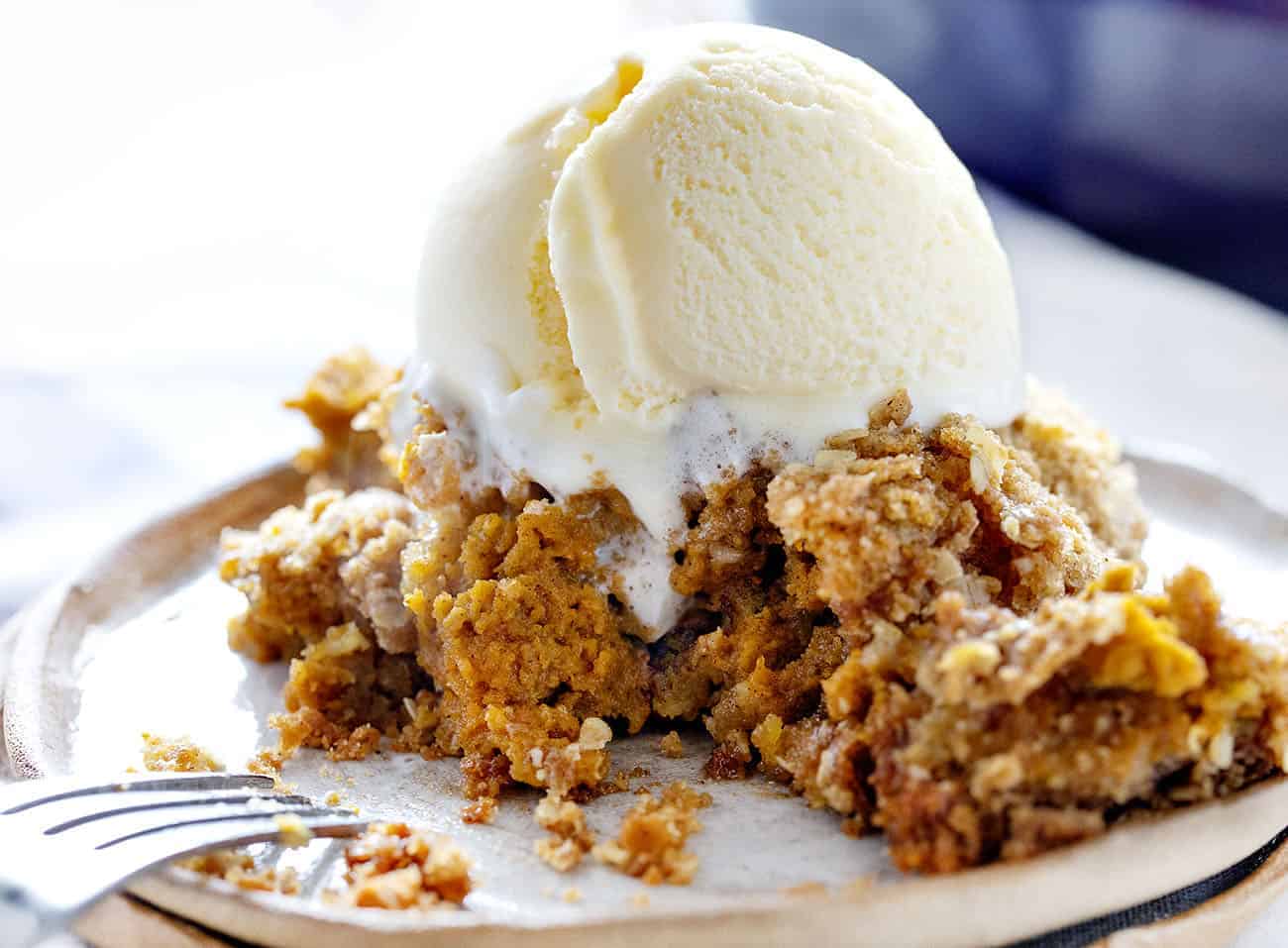 I used my secret double crisp from my Apple Crisp recipe to solidify the greatness of this recipe. This could possibly replace your Thanksgiving pumpkin pie, so be prepared for that! I can't wait to share this pumpkin dessert with others that I know are not a huge fan of the traditional pumpkin pie. It is really that good.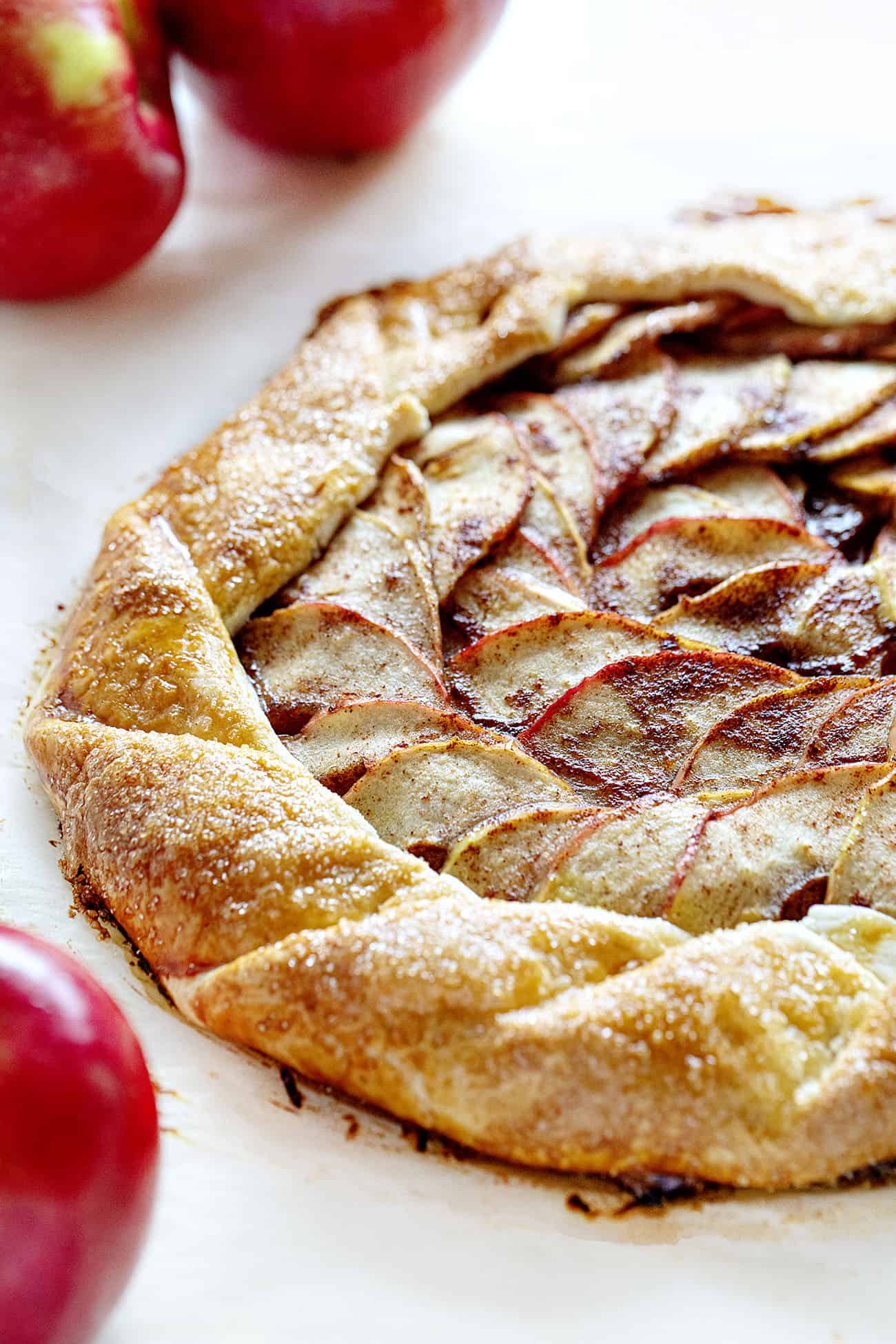 To be honest, not everyone loves pumpkin pie, so it's nice to have another dessert option. Apple Galette gives you all the comfort and flavor of an apple pie without a lot of the hassle of making an apple pie. Galettes are a French pastry and similar to a pie or tart. They are free form and rustic in design. You don't need any special tools or pans to make a galette and it truly is one of those desserts that anyone can make! Get some extra hands in the kitchen to help add this to your Thanksgiving menu.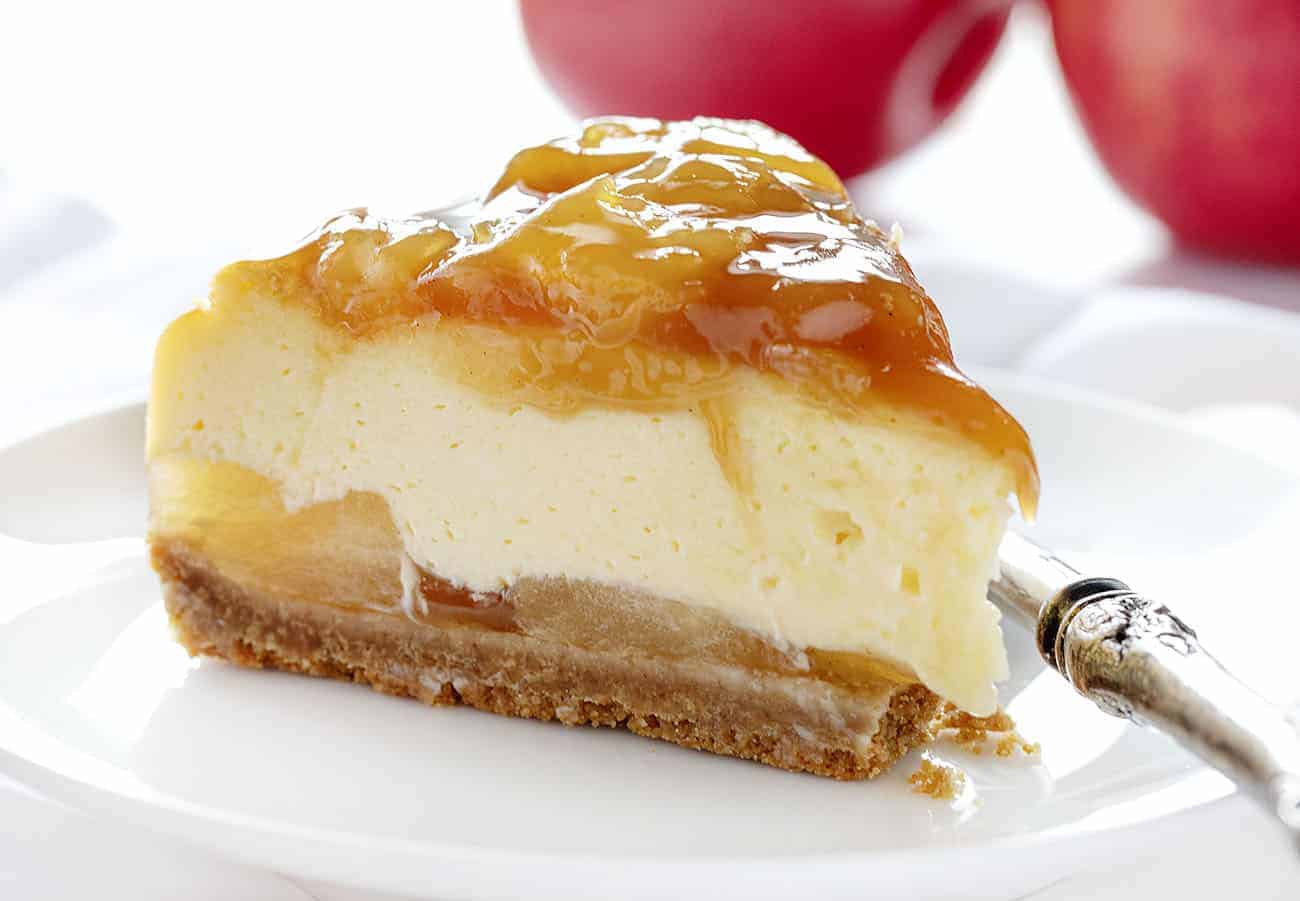 Caramel Apple Cheesecake gives you the taste of a freshly dipped caramel apple without the mess! Guests will devour this sweet and delicious cheesecake. I also have a traditional Cheesecake Recipe you may enjoy.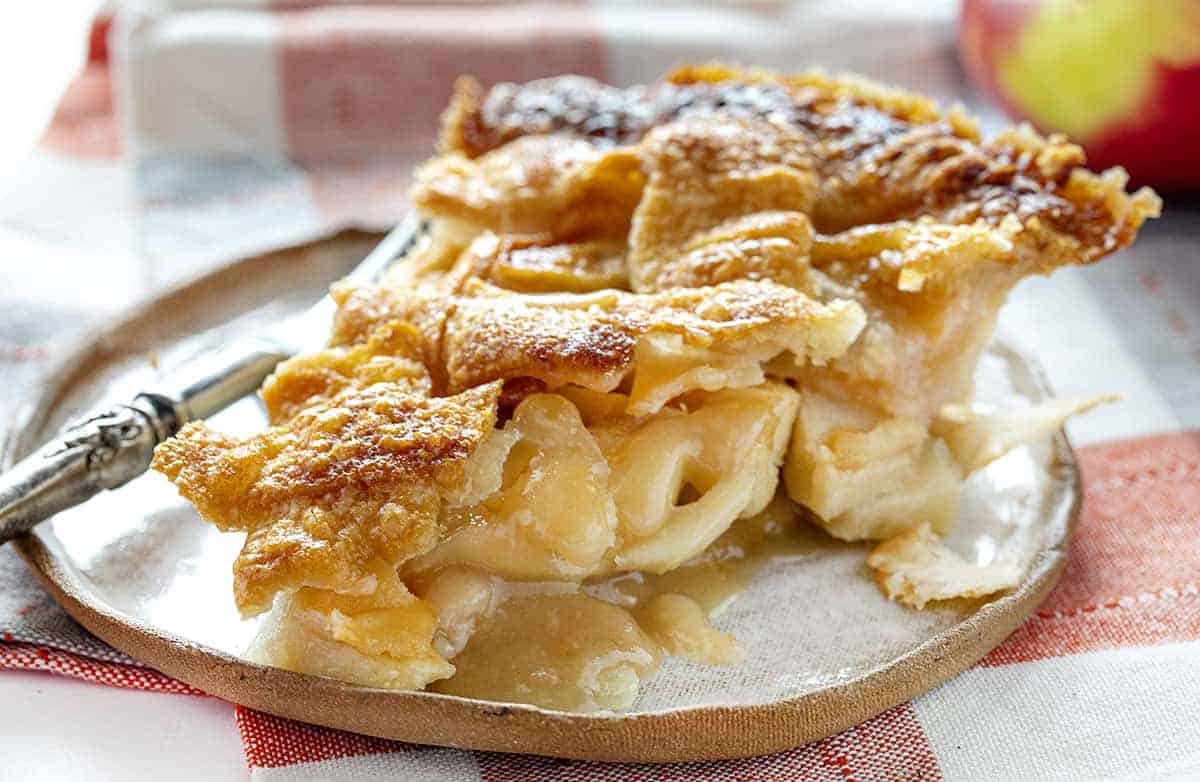 Life isn't complete without an amazing recipe for Apple Pie. Even better if it has been handed down from generation to generation. This Homemade Apple Pie is filled to the brim with fresh apples and then coated with a from-scratch caramel sauce that will have everyone licking the plate and asking for a second slice.
Thanksgiving Day (or Day After) Breakfast
With such a huge feast on Thanksgiving, you may forget about breakfast. However, breakfast is the most important meal of the day, and it can be a long wait before the main course is served for the day. These breakfast options are also great to serve your guests who may be staying overnight.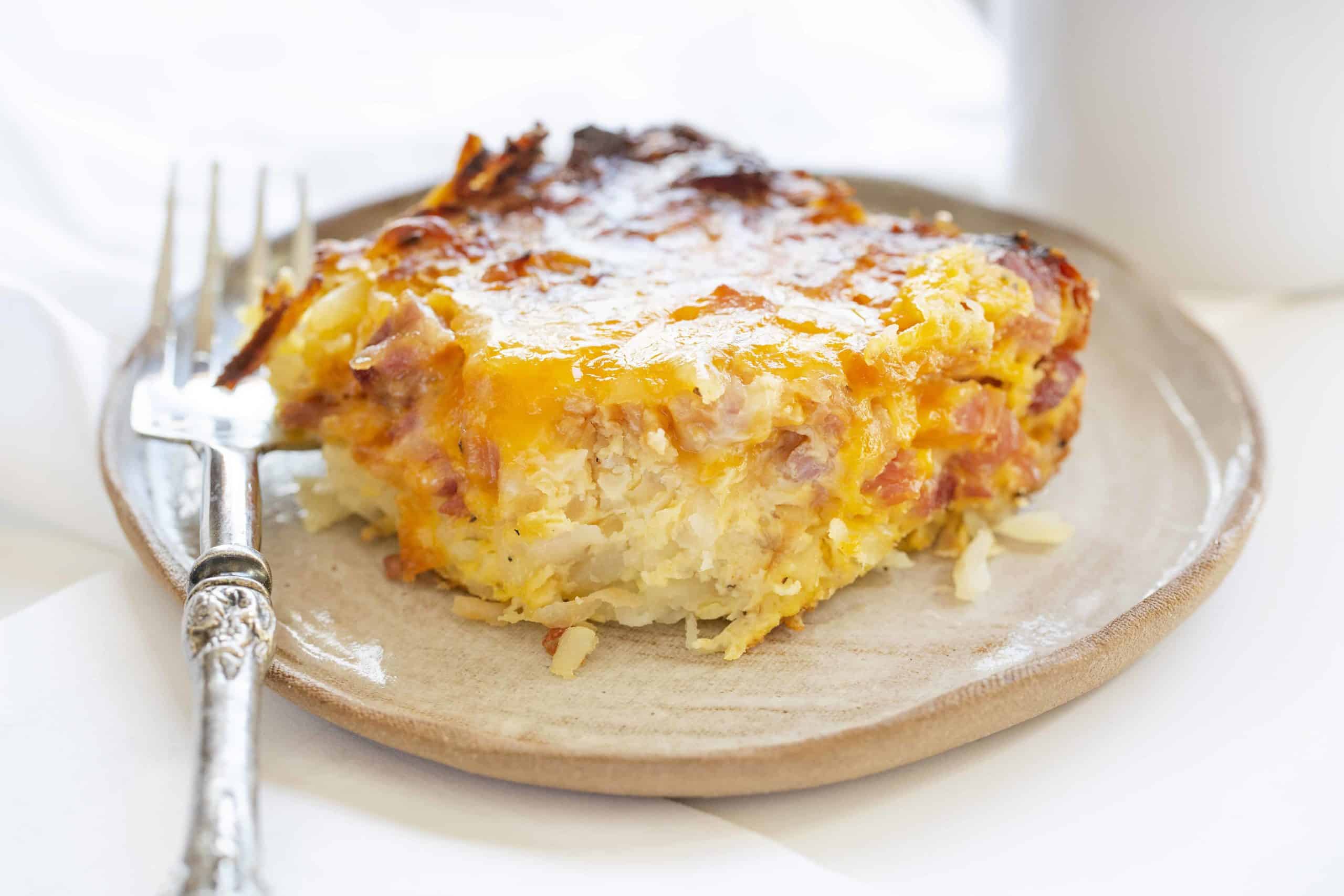 Ham and Cheese Breakfast Casserole is an easy and delicious combination of ham, cheese, hashbrowns, and eggs. Easily prepared in advance or thrown together in the morning. We have used leftover Honey Baked Ham and Crockpot Honey Ham for this recipe, but you can use a store-bought version as well.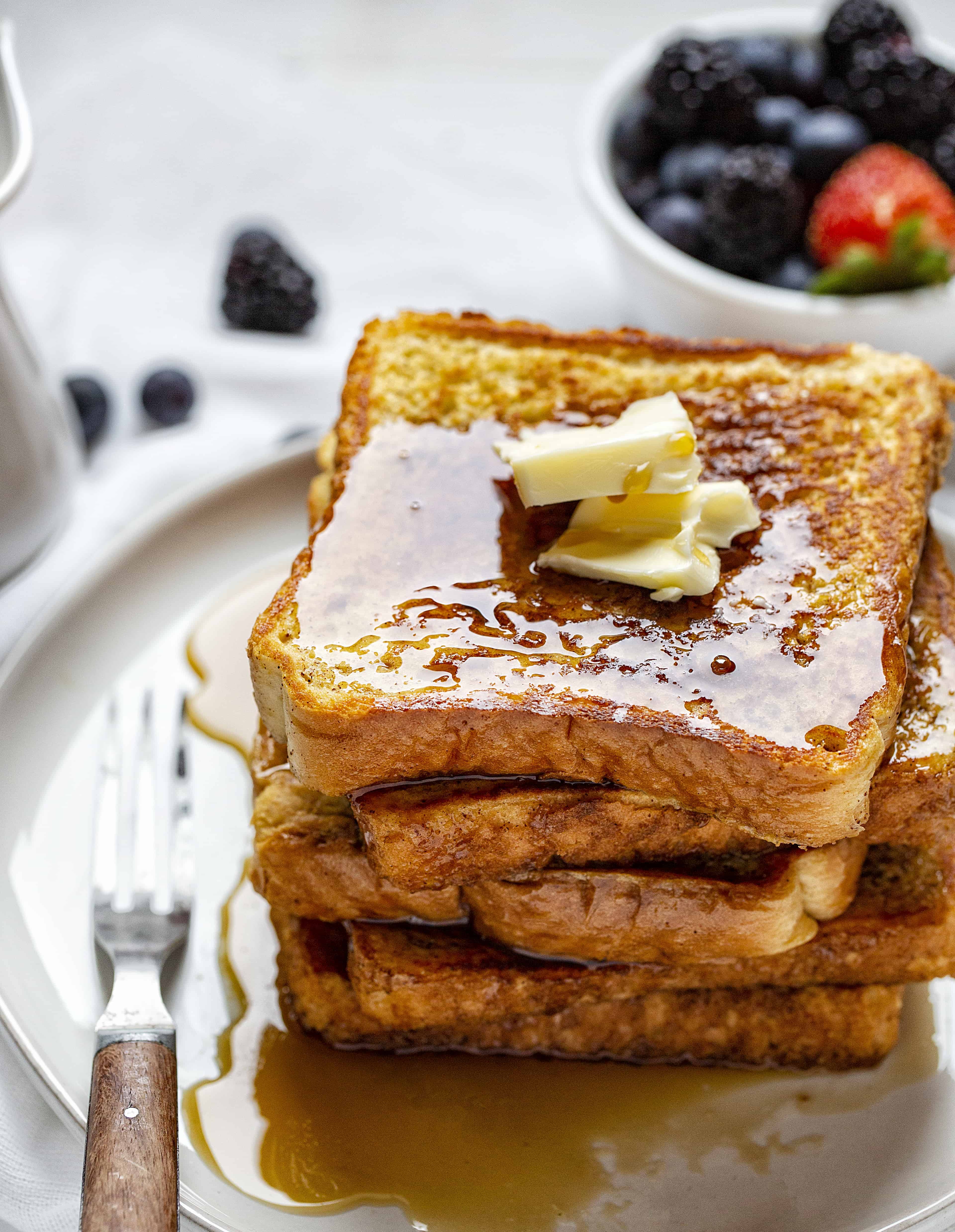 Making French Toast for your family is an easy and fantastic way to start the day! Follow my easy tips and tricks to make sure your French Toast is perfect, every time! Topped with organic maple syrup (this is a must in our house) and you have the perfect breakfast!

These Cake Donuts are covered in a sweet glaze and fried to perfection! You may never need to venture out for bakery donuts again after trying this fantastic homemade recipe! If you prefer a "lighter" donut 😂 feel free to check out this Glazed Donuts recipe!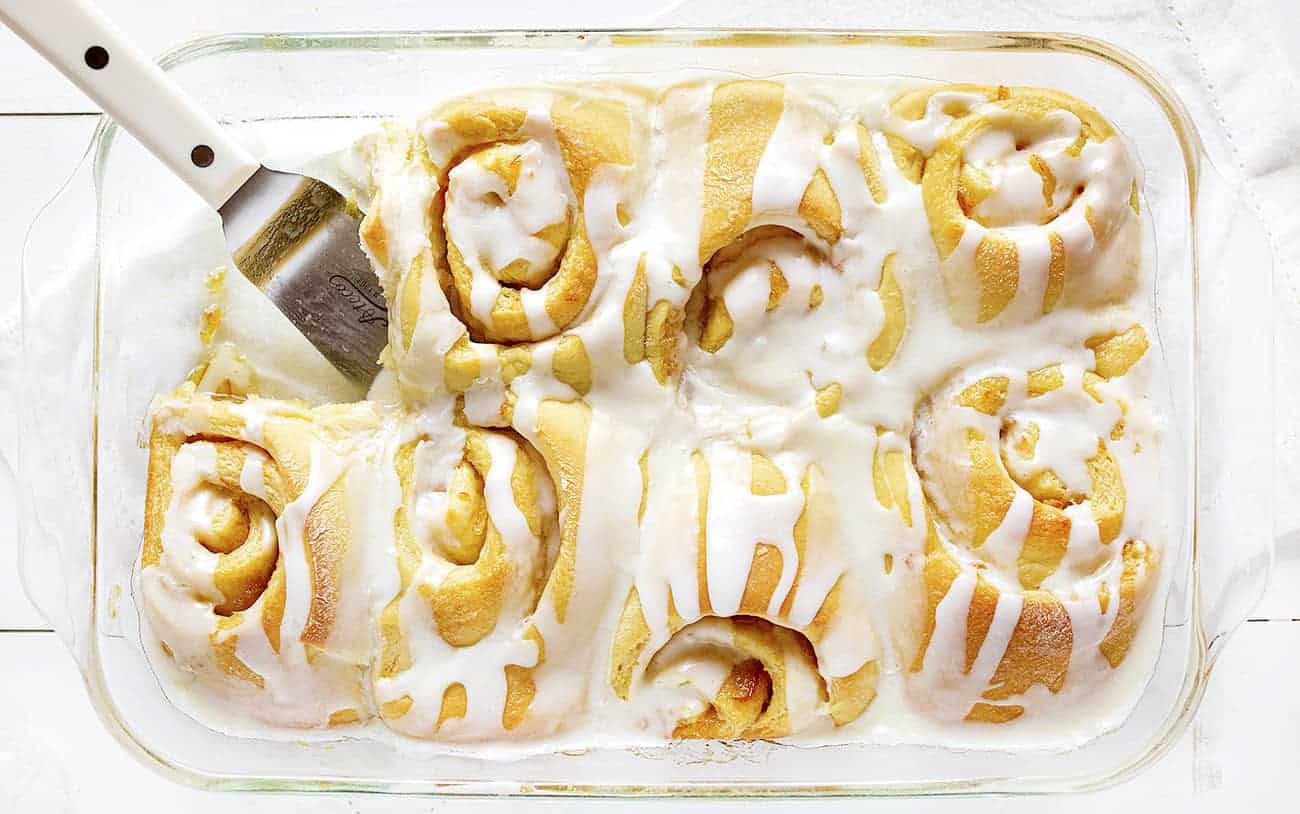 Light and fluffy Orange Rolls will be your new breakfast go-to recipe. These rolls are the "melt in your mouth" kind of good, the "stuff that dreams are made of" kind of good. They are buttery soft and every crevice is filled with a delicious sweet orange filling.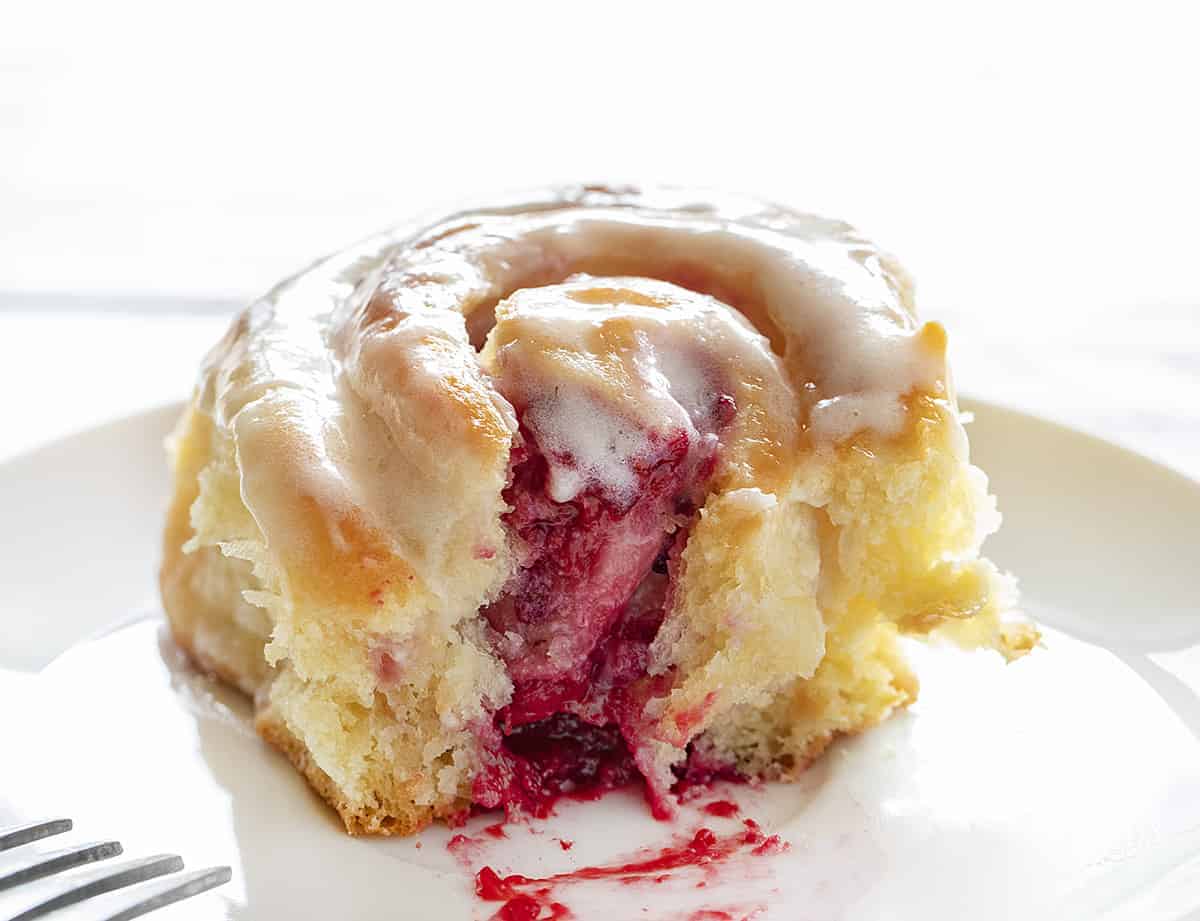 I have always loved the idea of combining two things I love to make something totally different. That was the case with this amazing Raspberry Cream Cheese Sweet Rolls recipes. I combined a sweet bread dough (traditionally used for breakfast rolls) and raspberries. Let me tell you, cinnamon rolls have met their match with this combo.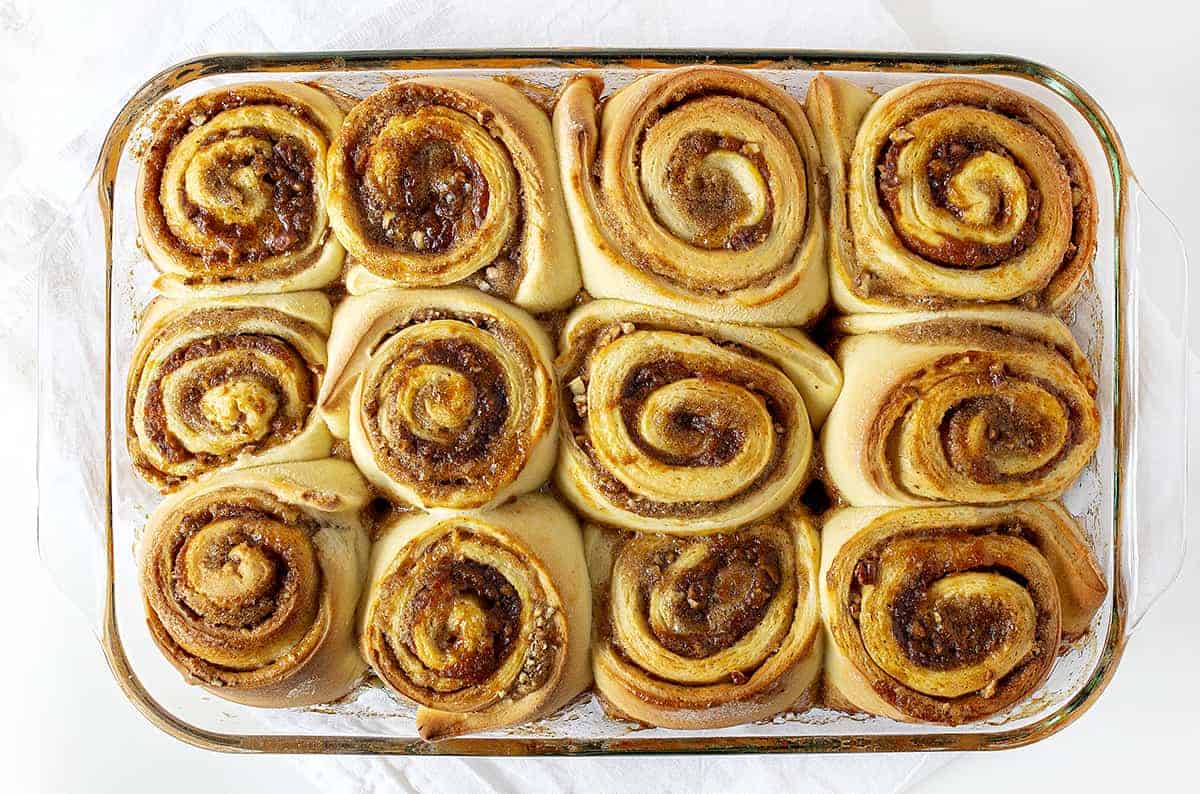 Is there really anything better than when friends show up with sweet rolls? Well, I can finally answer that question with a resounding YES. The thing that would be better is friends or family showing up with Pumpkin Sweet Rolls! I am not exaggerating when I say that these are the PERFECT sweet roll, with the PERFECT amount of pumpkin spice to get that Fall feeling. Have I mentioned these are perfect?!?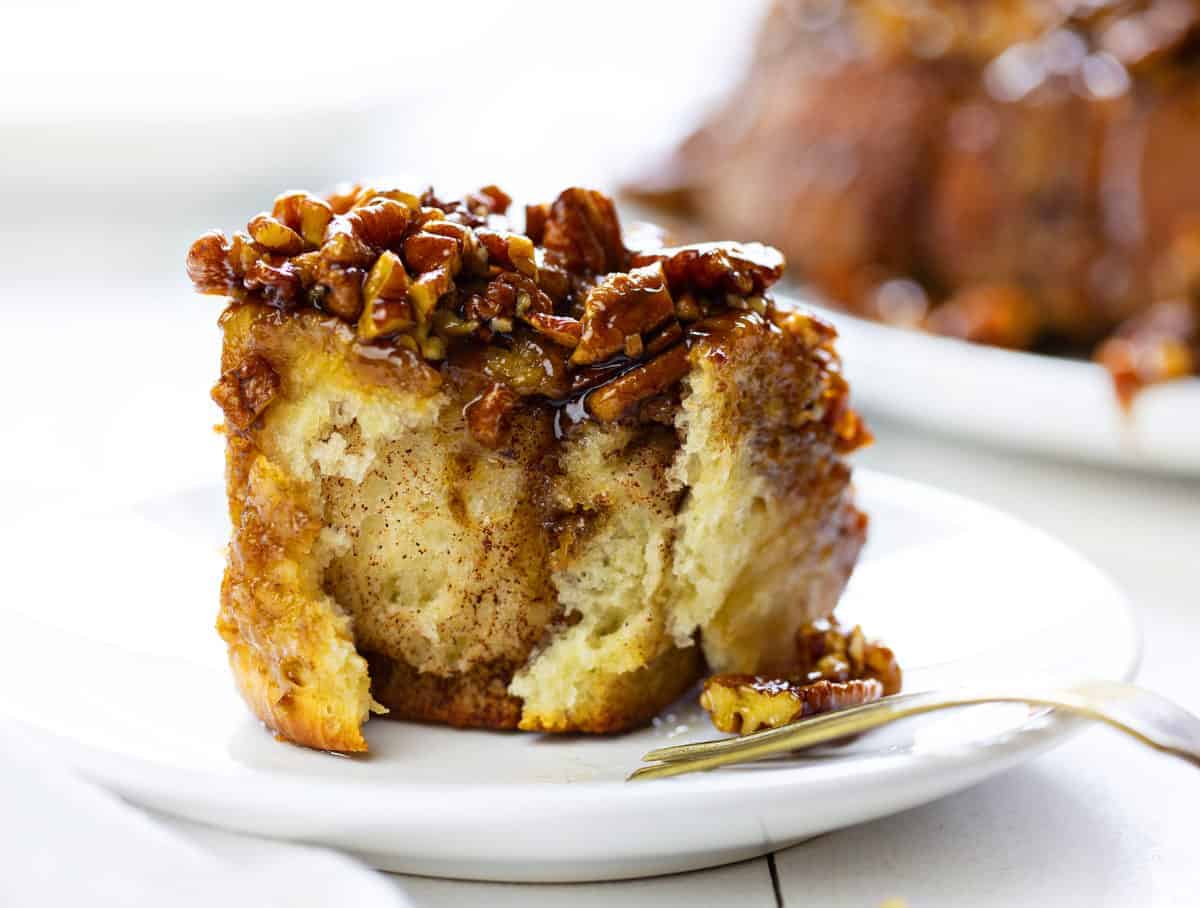 These heavenly Pecan Sticky Buns are going to be your new favorite recipe! We loved the caramelized pecan topping and perfectly cooked rolls. These sticky buns are BEYOND delicious and loaded with texture and sweetness.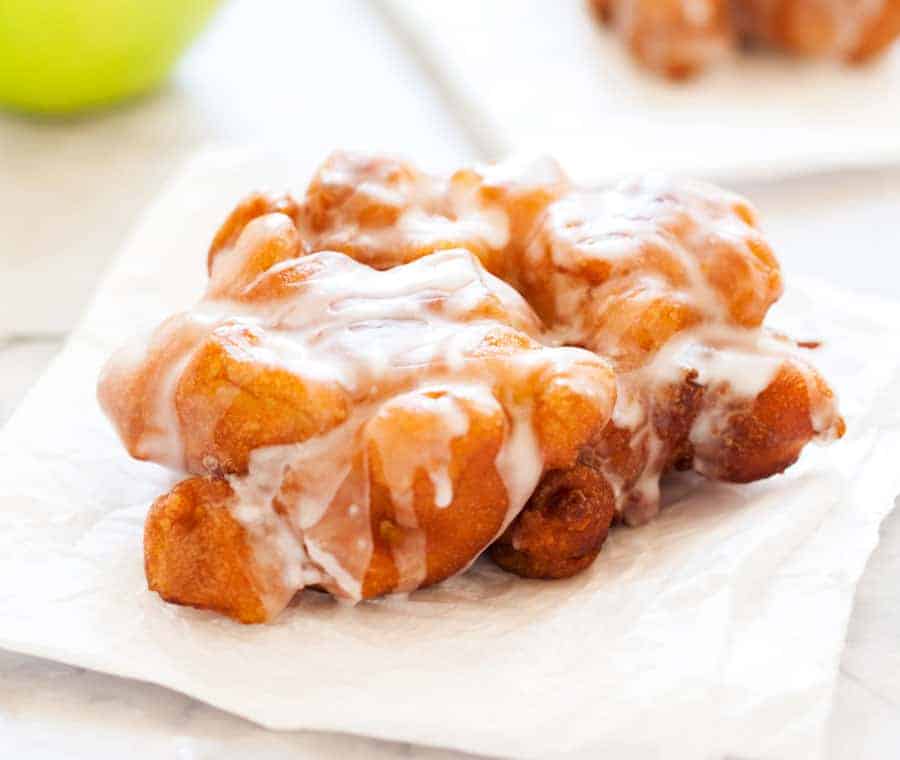 Apple Fritters made with a cakey batter incorporated with juicy apples are the ultimate homemade treat! The sweet glaze sends these fritters over the top and may even remind you of a stuffed funnel cake. But better of course! My favorite part? You can have this fabulous Apple Fritter in front of you in 30 minutes!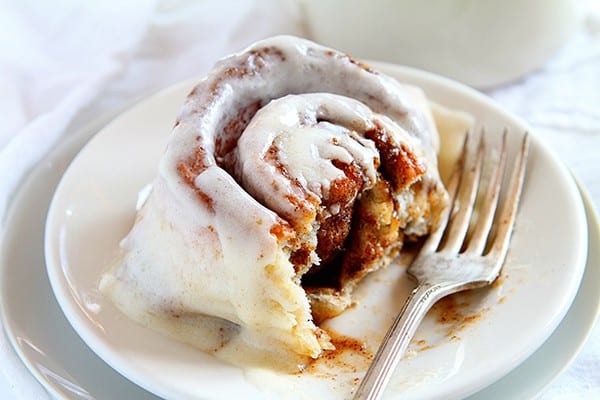 I am ALWAYS craving cinnamon rolls but too lazy to make up a batch and wait for hours or heaven forbid, overnight. I set to make it happen! Making Cinnamon Rolls has never been easier nor more delicious with this recipe! Paired with my Copycat Cinnabon Icing and breakfast will be a little bit of heaven.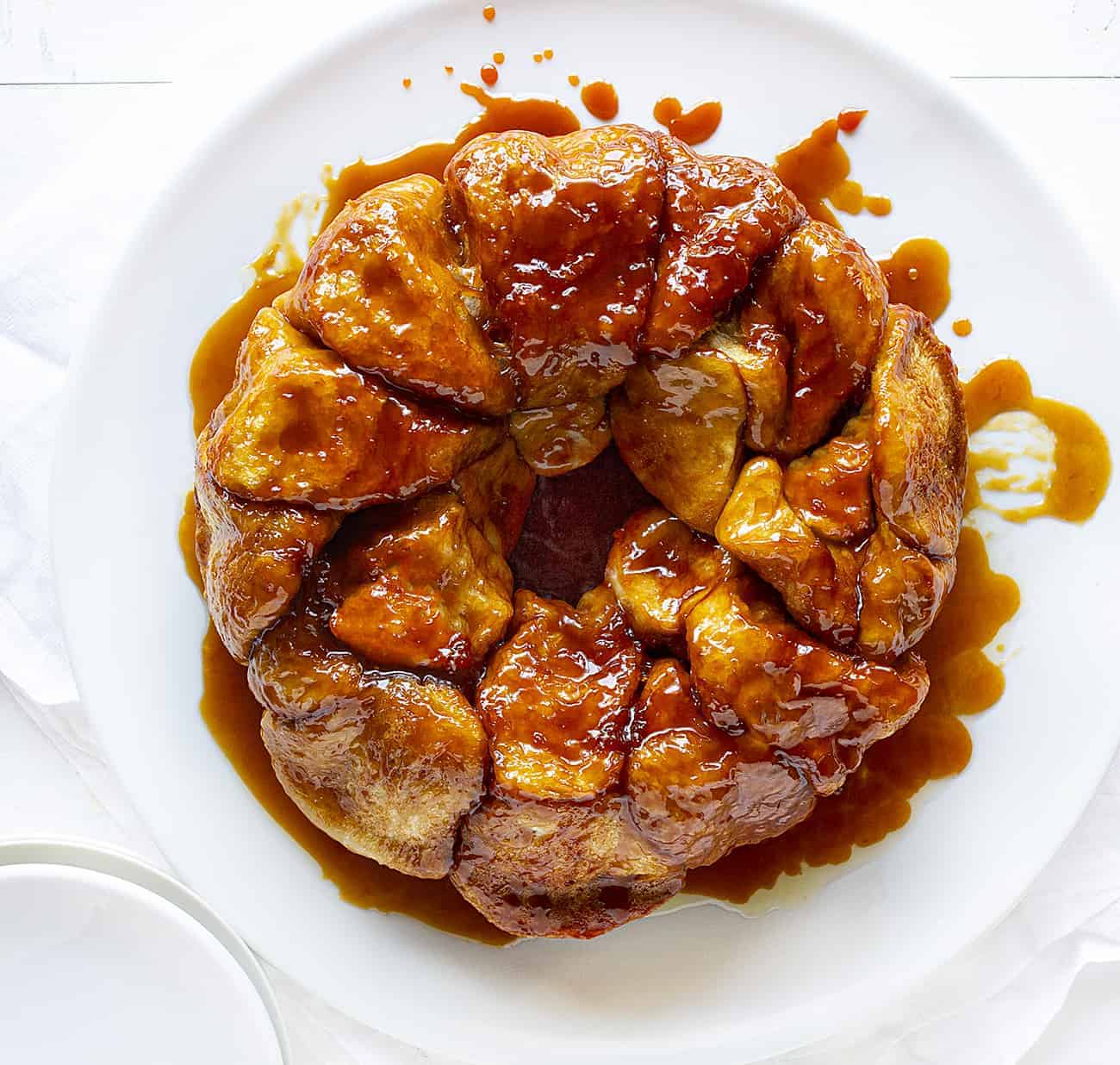 This homemade monkey bread is a classic pull-apart bread! It's made with homemade sweet dough and coated with a healthy dose of cinnamon sugar! The bottom of the bundt pan is filled with a melted butter brown sugar mixture that makes the top pieces of the monkey bread the best part of the whole thing! Looking for a quick 5-ingredient Monkey Bread? I've got you covered.