Pumpkin bread gets a twist with this Pumpkin Spice Bread Twist. Use pumpkin filling for more than just pumpkin pie! Blended with my Homemade Pumpkin Pie Spice, this will be a new fall favorite! For more pumpkin treats, try my Puff Pastry with Pumpkin Filling!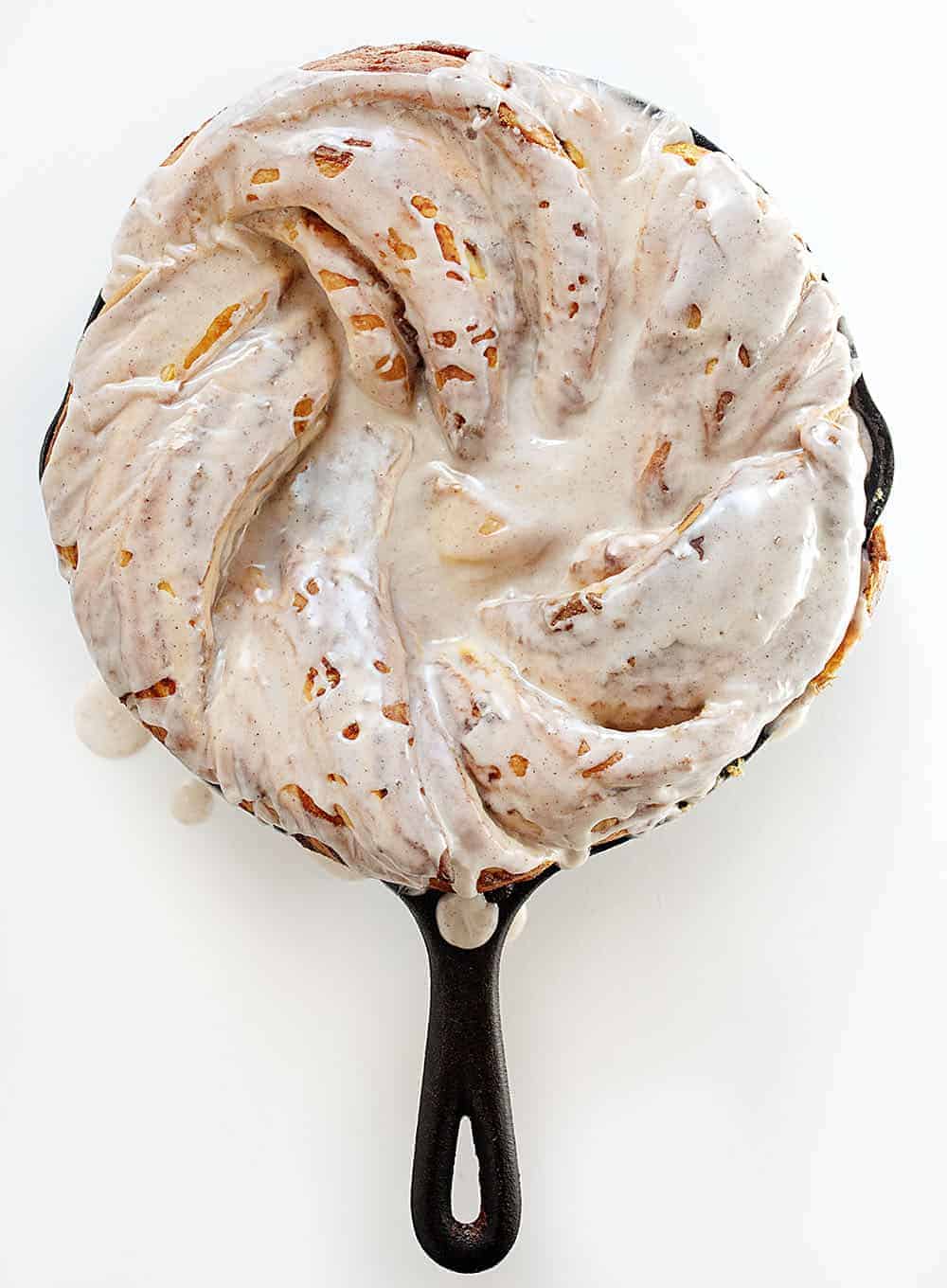 Pumpkin Spice Twist Bread
'Come on baby let's do the twist!' Okay, Hank Ballard, I can follow those lyrics! After my Orange Cardamom Breakfast Bread Twist was such a hit, I knew I had to try it with pumpkin spice! Pumpkin spice has its own season around here, and you can find the spice in everything from Pumpkin Soup to Pumpkin Spice Chocolate Chip Cookies! I even made my own Homemade Pumpkin Spice to have on hand for all the pumpkin recipes.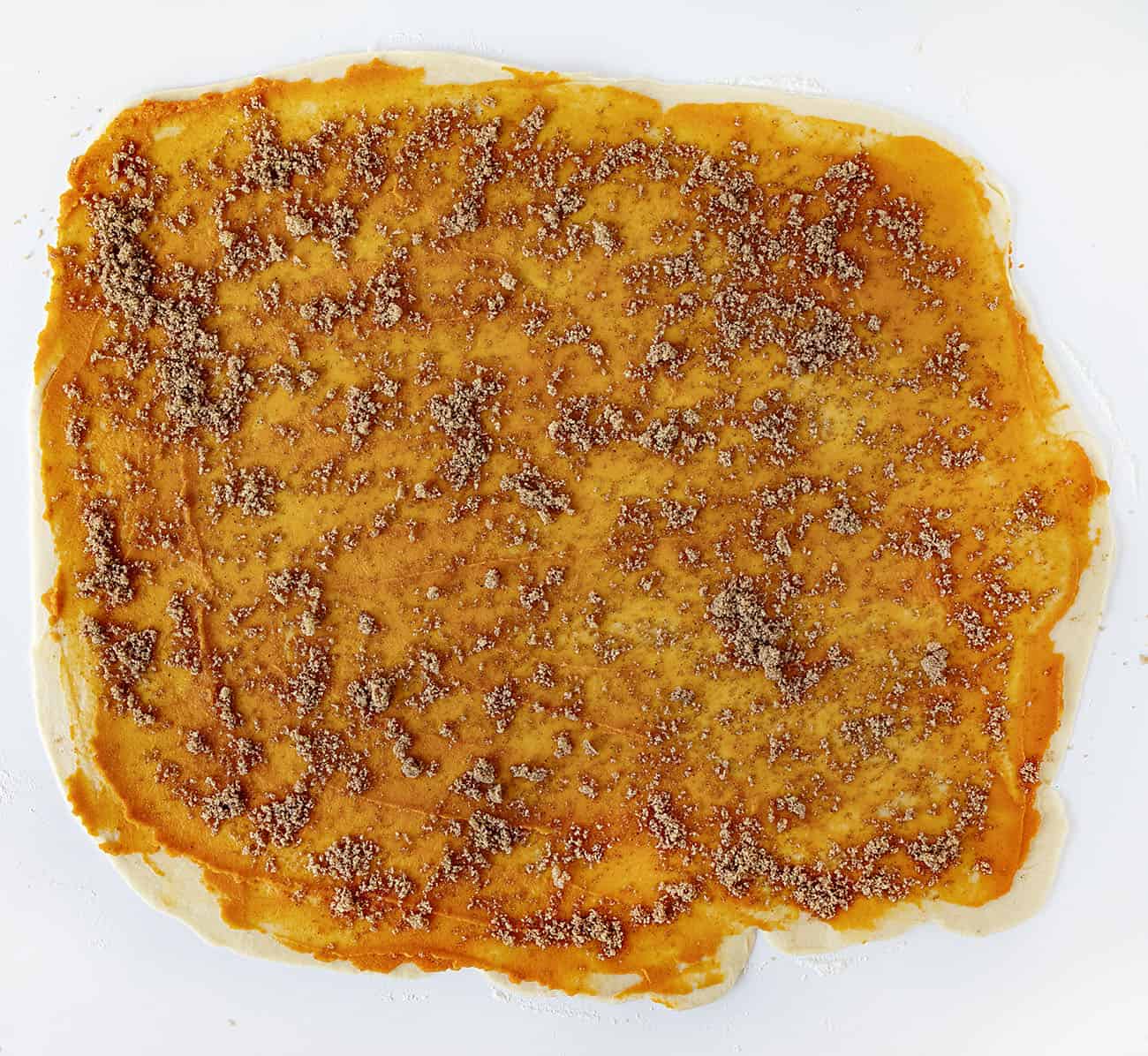 Pumpkin Spice Twist Bread Recipe
This amazing pumpkin spice twist bread starts with the perfect dough. The nice thing about this dough is that there are only two 1-hour resting times, so you can pull this entire dish together in just a few hours.
Dough Ingredients
Milk – I prefer whole milk here, but you can use 2% in a pinch. The milk will also be warmed so that the yeast can bloom.
Active Dry Yeast – Although I shouldn't say this, I have used both active dry yeast and rapid rise yeast and they both work in this recipe. You just want to make sure that the yeast has started to bubble before moving on to the next step. (If it doesn't, you may need to get new yeast.)
Egg – room temperature (Out of eggs? No problem! Try one of my Egg Substitutes for this recipe!)
Sugar – just enough to make the recipe sweet!
Salt – I prefer kosher salt in baking. If you are using table salt, you will want to use less.
Flour – all-purpose all the way.
Butter – here is the fun part. I use cold grated butter! I know that seems silly, but I love how the layers of this bread fluff up and are almost flakey when the butter is added cold. You can use salted are unsalted, but I do prefer unsalted as I like to control the salt in my recipes.
Once the dough has risen the first time, you are going to roll it out. I do a rough rectangle, not getting too concerned with perfect edges. Spread the pumpkin filling and pumpkin spice mixture out with your hands (or a pastry brush) making sure to get all the way to the edges. Sprinkle the brown sugar over the pumpkin filling mixture. Starting on the longest side, start to tightly roll the dough. (Just like you would a cinnamon roll.) Pinch the edges. You should have a long dough roll. Leaving 1-2 inches at the top, use a sharp knife to cut down the center of the roll. It will fall open a bit and reveal the layers inside. That's great!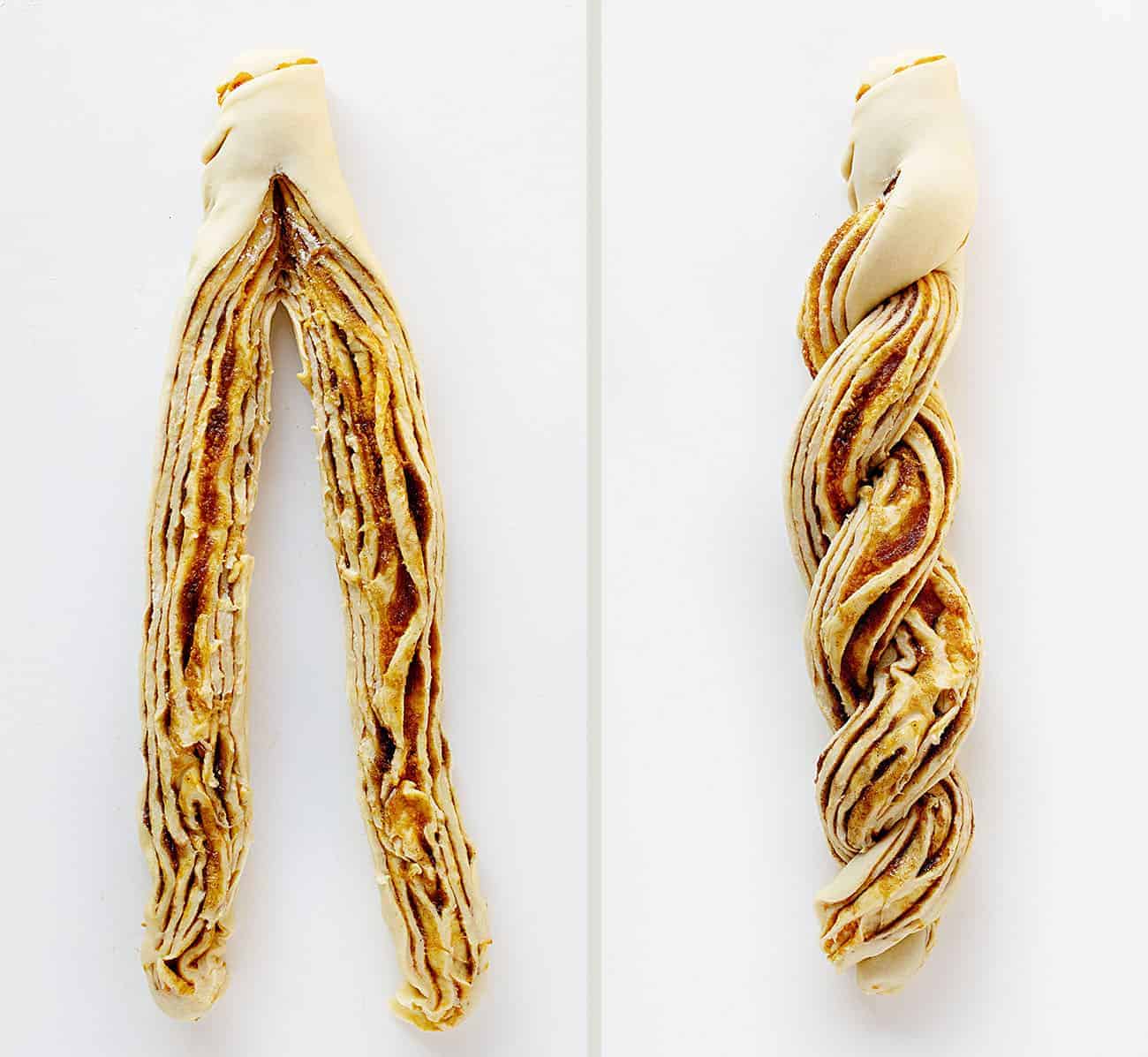 Let's Do the Twist!
Don't be afraid of the twist design–it looks more complicated than it is! Carefully twist the pieces 3-4 times, making sure the exposed layers are facing up. Holding the uncut end, start to spiral the bread around itself. It will be a nice round dough with lots of exposed layers peeking through. Carefully set that in the prepared skillet and let rise for 1 hour in a warm place.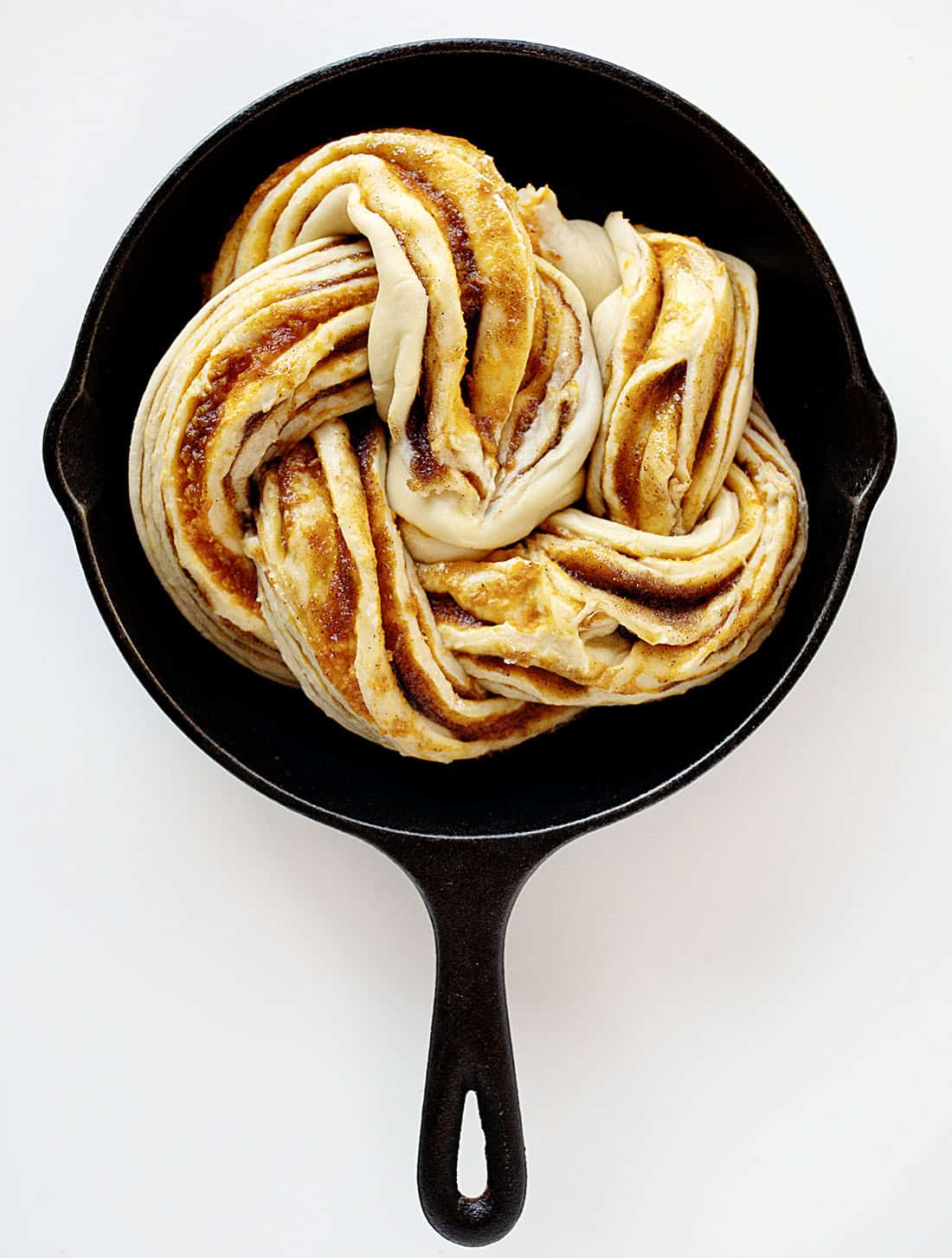 How to Make Pumpkin Spice Bread Twist
When you are ready to bake, pop it into a 350°F oven for 25 minutes, then cover with foil (you don't want the bread to burn or get to hard, but you do want the inside to be cooked completely) and bake for another 10 minutes.
Remove from oven, allow to rest while you make the glaze, then pour the glaze over the warm twist bread. Then dig in! We definitely like to enjoy this bread when warm, but admittedly, it is excellent when cooled too.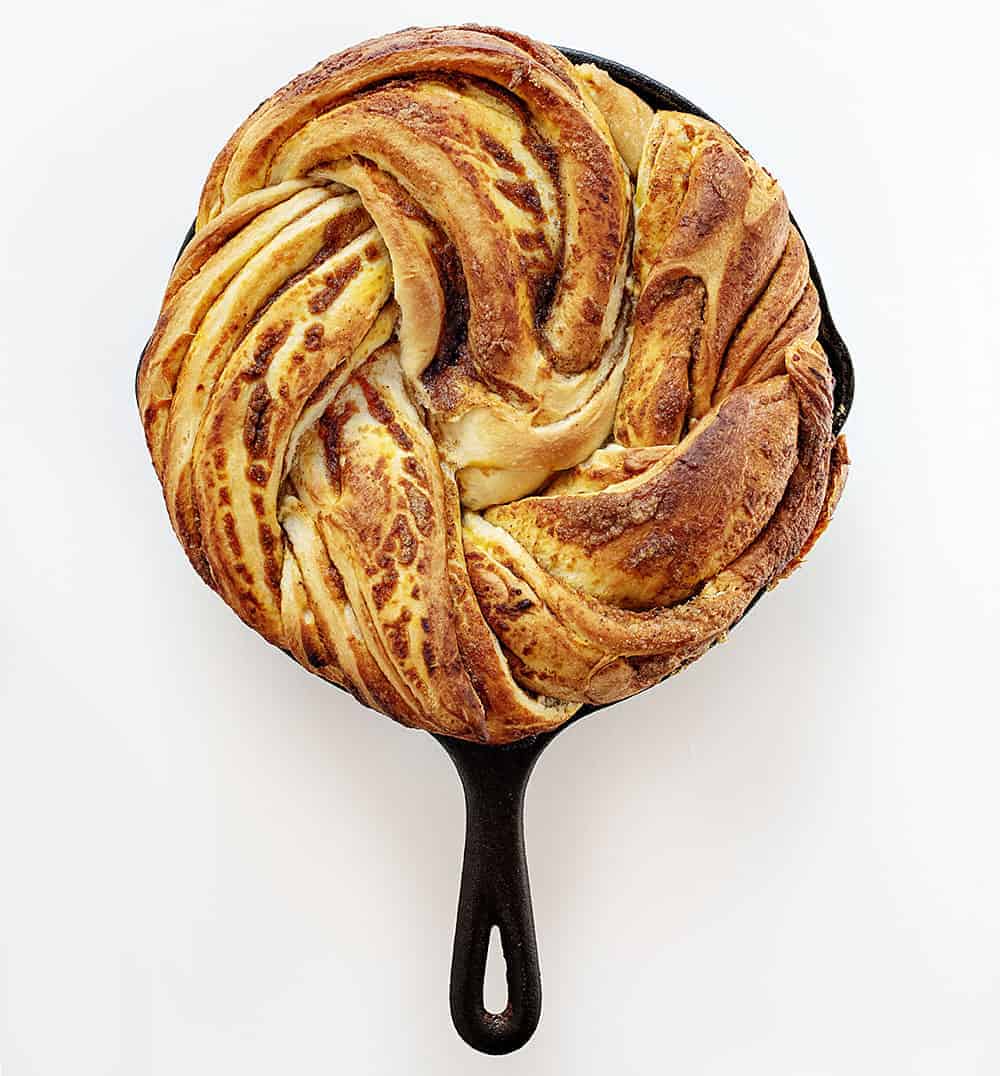 Is a Skillet Necessary for This Recipe?
I love baking with skillets and highly recommend it. They are fairly inexpensive, this skillet is less than $15 AND comes preseasoned. I often only use one skillet for baking and the rest for savory recipes. I also recommend using a 9-inch skillet for this recipe, but that is not the standard size. If you do not have a 9-inch skillet, you can make this in a 9-inch pie dish or (worst case scenario) on a baking sheet or 9×13 baking dish.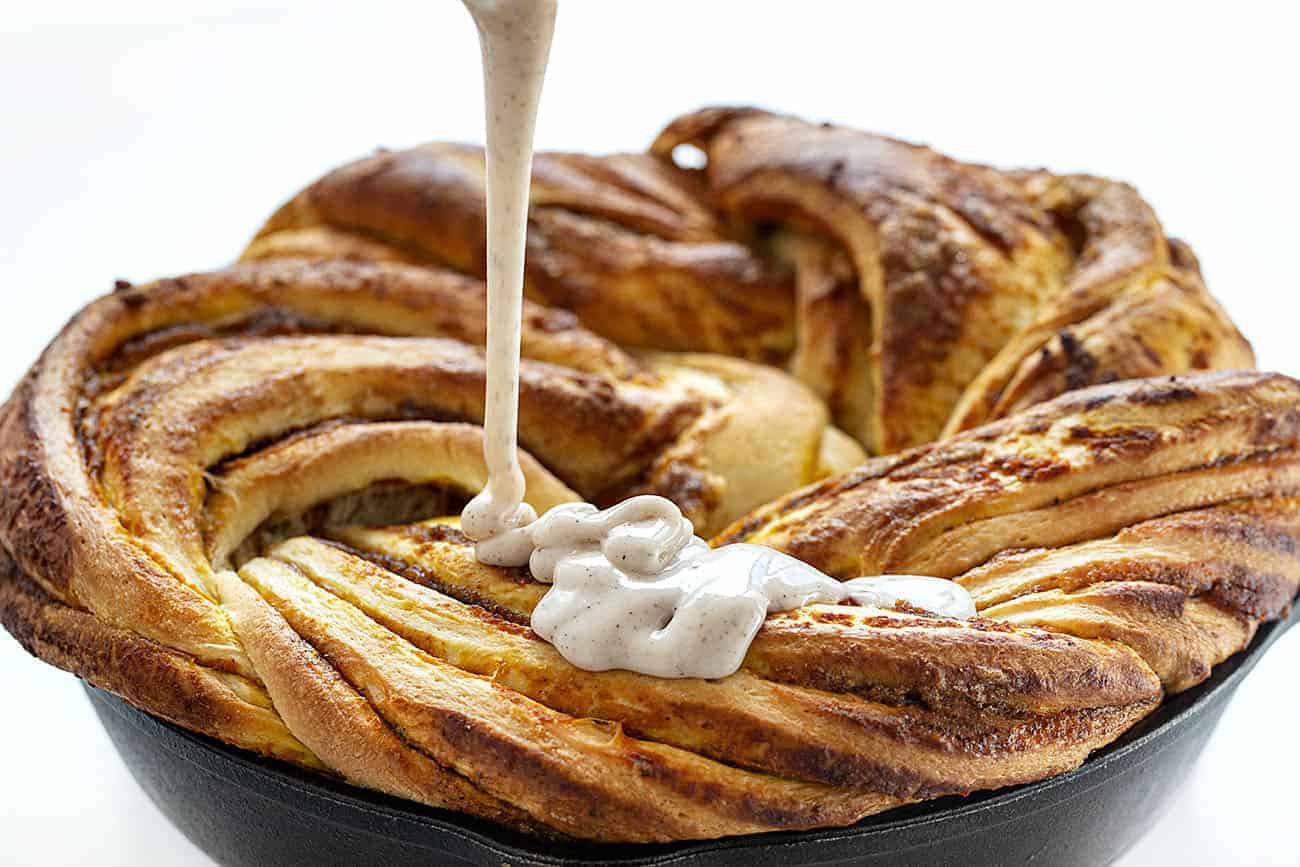 The Glaze Recipe
With pumpkin spice in the Pumpkin Spice Bread Twist name, you know we have to add a little more of that flavor! Well, I certainly did when I made the glaze.
Ingredients
Powdered sugar
Pumpkin Pie Spice
Milk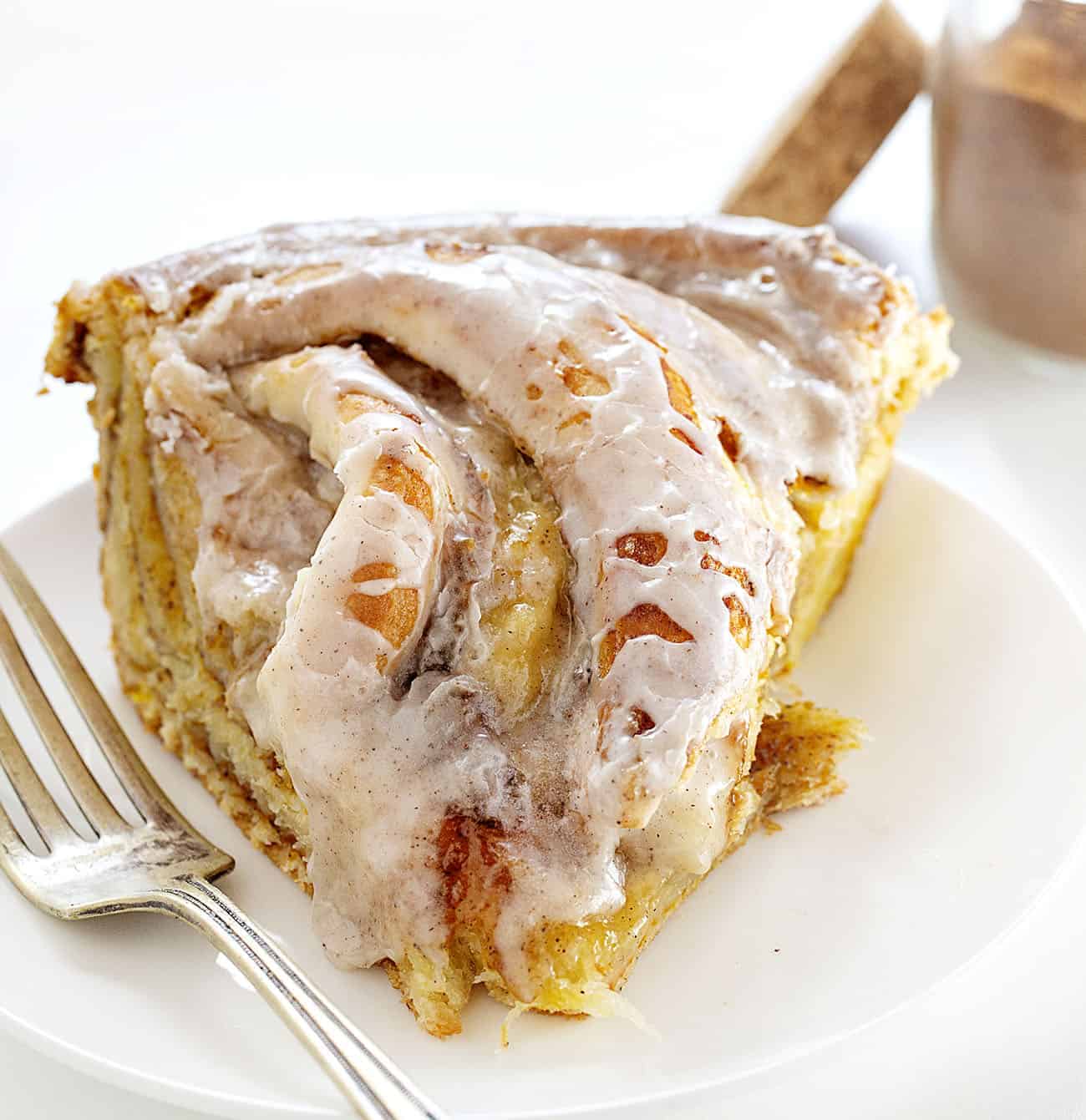 How to Make the Pumpkin Spice Bread Twist Glaze
To top off your Pumpkin Spice Bread Twist, simply mix all the glaze ingredients together. Just remember, homemade spices are stronger in flavor than spices bought from the store. Use twice the spice amount if you have pumpkin pie spice from the store. Drizzle the glaze over the baked bread twist and watch everyone's eyes glaze over, just thinking about taking a bite of this chewy, flavorful bread twist!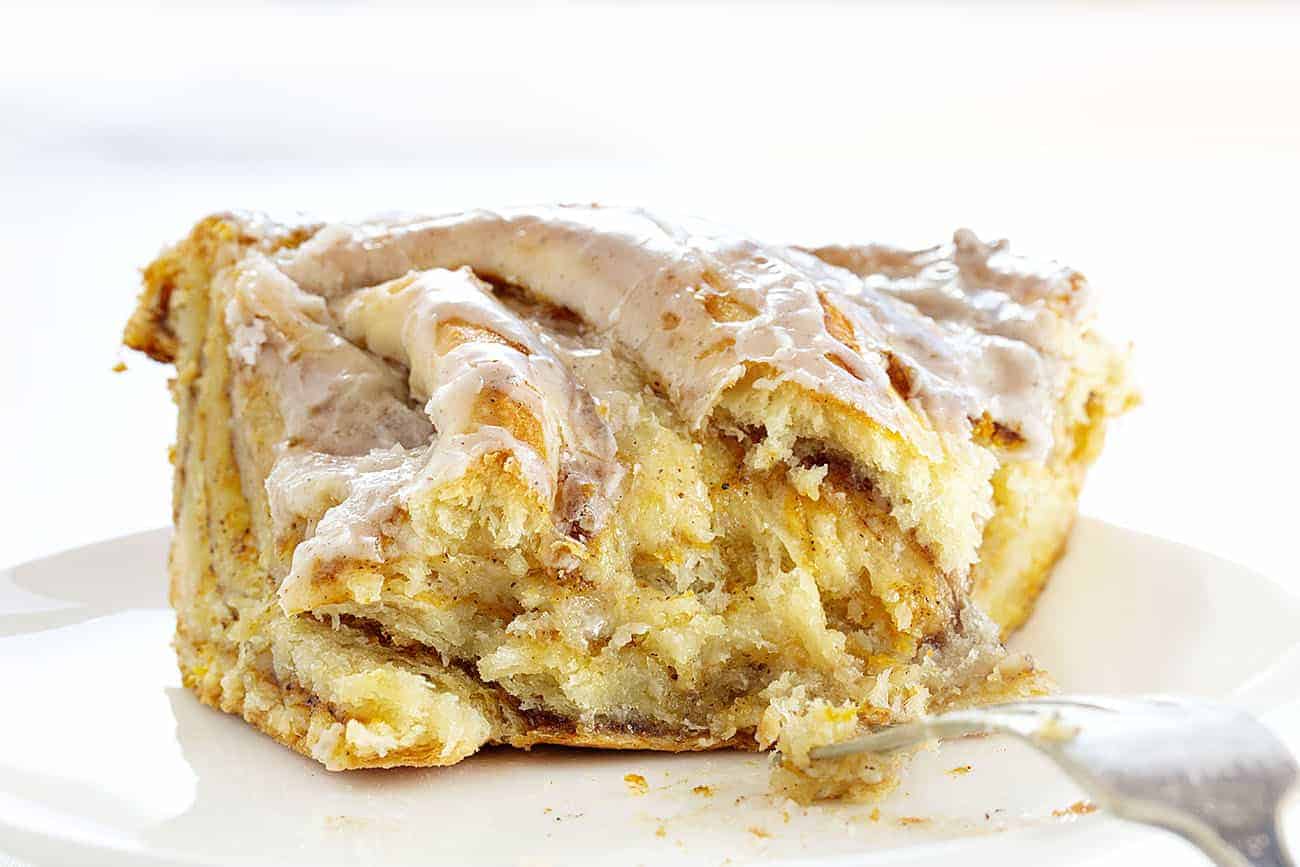 Looking for More Sweet Breakfasts?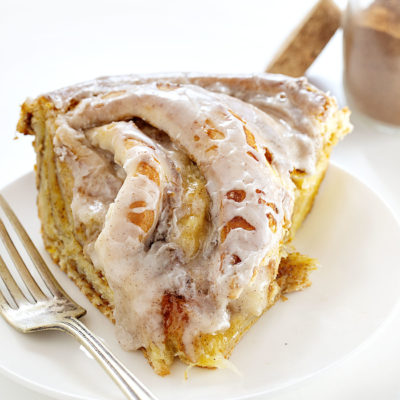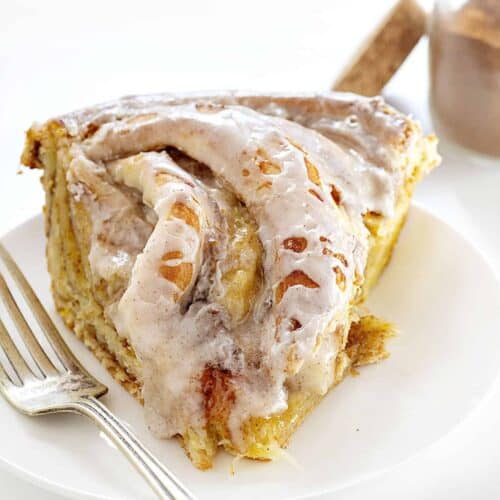 Pumpkin Spice Twist Bread
Filled with pumpkin filling and flavor, Pumpkin Spice Twist Bread will be your new fall favorite breakfast or dessert!
Ingredients
DOUGH
3/4

cup

(184g) milk,

warmed to about 110°F (about 40 seconds in the microwave)

2 1/4

teaspoons

active dry yeast

1

large egg,

room temperature

1/4

cup

(50g) granulated sugar

1

teaspoon

kosher salt,

if using table salt add 1/2 teaspoon

3

cups

(375) all-purpose flour

1

cup

(226g) or 2 sticks unsalted butter, cold
FILLING
1/2

cup

(123g) pumpkin puree

1

teaspoon

pumpkin spice

1/2

cup

(100g) packed brown sugar

pinch

kosher salt
GLAZE
2

cups

(250g) powdered sugar

1/2

teaspoon

homemade pumpkin pie spice,

or 1 teaspoon if store-bought spice

2-4

teaspoons

milk
Instructions
DOUGH
Add 3/4 cup milk to a measuring cup. Heat in microwave for about 45 seconds. Add the yeast and allow it to bloom for about 5 minutes.

In a large bowl, add the bubbling milk & yeast mixture, egg, sugar, and salt. Set aside.

Using a grater, grate the cold butter onto a cutting board or plate. Add the butter to the bowl, then add the flour.

Using your hands, combine the ingredients until just incorporated. You can either continue kneading by hand or now add the ingredients to the bowl of your stand mixer fitted with the dough hook attachment.

When the dough comes together to form a ball, cover the bowl and set aside for one hour.

After an hour, remove the dough and place on a clean, solid surface (such as a countertop) that has been sprinkled with flour.

With a rolling pin, roll out the dough into a 1/2 thickness. It should be roughly in a rectangle.
FILLING
Combine the pumpkin filling and pumpkin pie spice in a small bowl.

Spread the pumpkin filling and spice over the dough, going all the way to the edges.

Sprinkle the brown sugar mixture over the pumpkin filling.

Starting with the longer side, roll the dough into a log and then pinch to seal the seam. Roll the log over so that the seam side is down.

Using a sharp knife, cut in half lengthwise, stopping about 1 inch from the end.

Starting near the top that is not cut, gently lift one of the cut halves over top of the other cut halve. (a twist) Continue to twist 2-3 more times.

Hold one end and then start twisting the dough around it, creating a circle of dough. Try to get the cut, exposed layers of the dough, facing upwards.

Place the dough ring in an 8-inch or 9-inch prepared skillet (I used butter) and let rise for one hour, covered.
BAKING
After the dough has rested for one hour, heat the oven to 350°F. Uncover the dough and place the skillet in the oven for 25 minutes. Remove and cover with foil (the dough should be golden brown) and bake for an additional 10 minutes. (35 minutes total) Remove from oven and allow to cool while preparing the glaze.
GLAZE
In a medium bowl, whisk together the powdered sugar, homemade pumpkin pie spice, and milk. It should be runny. After the bread twist has rested for about 10 minutes outside of the oven, pour glaze over and allow to soak into every nook and cranny.

Can be served immediately (warm) or at room temperature.
Did you make this recipe?
Thank you for making my recipe! You took pictures, right? Well go ahead and post them on Instagram! Be sure to mention me @iambaker and use the hashtag #YouAreBaker.