This Orange Cardamom Breakfast Twist is a recipe I will be making again and again. It is a bit shocking how such simple ingredients come together to create such a flavor-filled and delicious treat! If you love citrus flavor, don't miss my Orange Rolls! (I used this twist method on Pumpkin Spice Twist Bread and it was fantastic!) If apple is more your style, try my Apple Fritter Bread!
Working with Yeast (Don't be afraid!)
Yeast is a living organism. When working with yeast, you have to be a little more sensitive to the needs of those little cells quietly working away in your bread dough. Any recipe that has yeast as an ingredient should give you the directions you need to make sure the recipe is successful. For instance, in this recipe, I use milk as the activator. Most bread gurus will tell you that dairy kills yeast, but I'm here to tell you that it just slows the growth slightly, which is perfect this recipe. Just make sure the milk is a little warm. This is a really fun recipe to practice working with yeast on… not to mention it is SO delicious!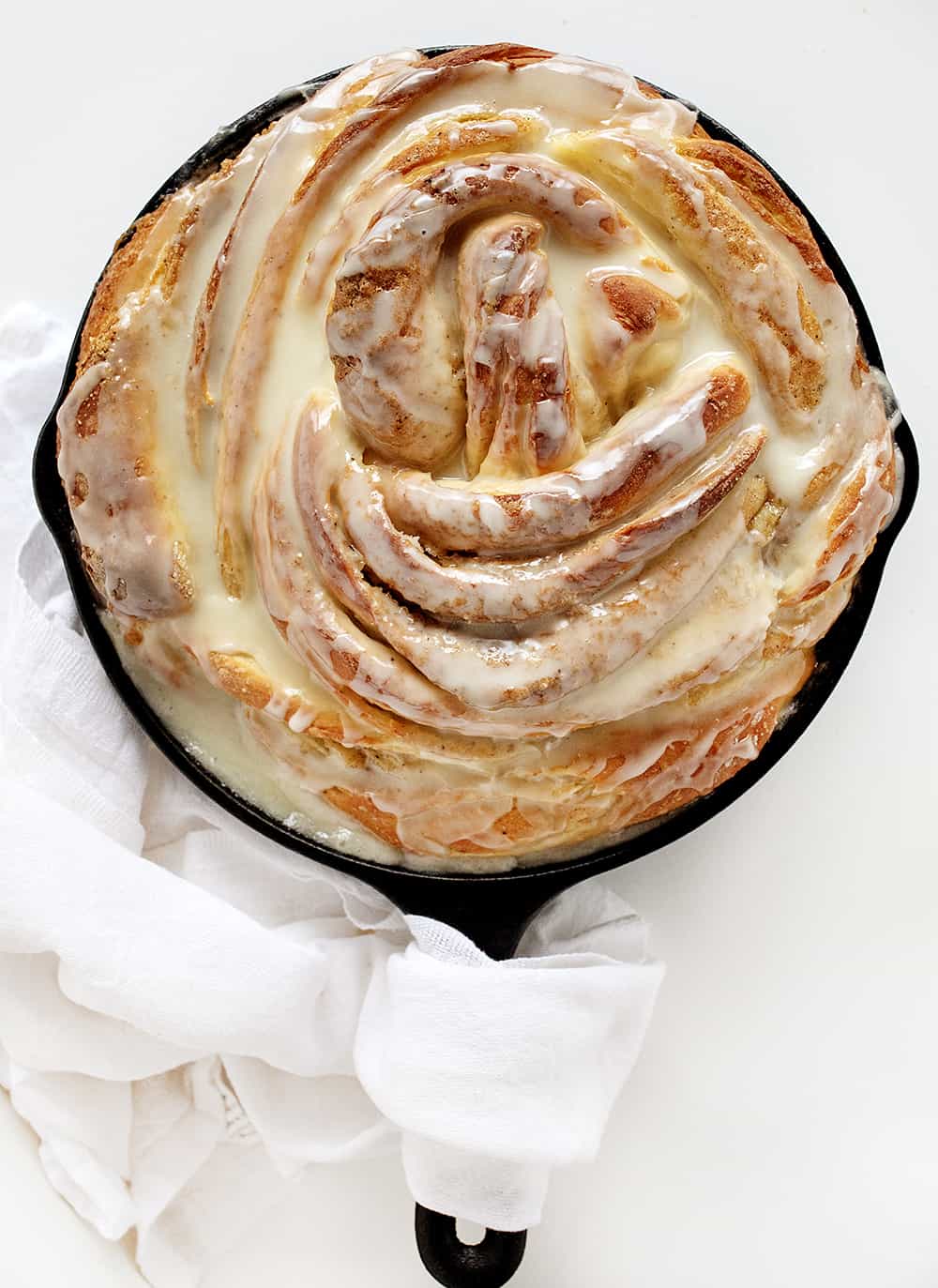 Orange Cardamom Breakfast Twist
Don't let the name scare you, I know it sounds fancy. But it actually comes together easily and tastes like a fancy bread you would get at a world-class bakery! When I first saw this recipe the directions said to use "hot roll mix". So I went to the store and grabbed some, not even sure what I was buying. Turns out that hot roll mix is basically the ingredients for a sweet dough! So I grabbed my favorite sweet dough recipe and made some tweaks to the amount of cardamom (less is more!) and voila, a beautiful and seriously delicious recipe was born.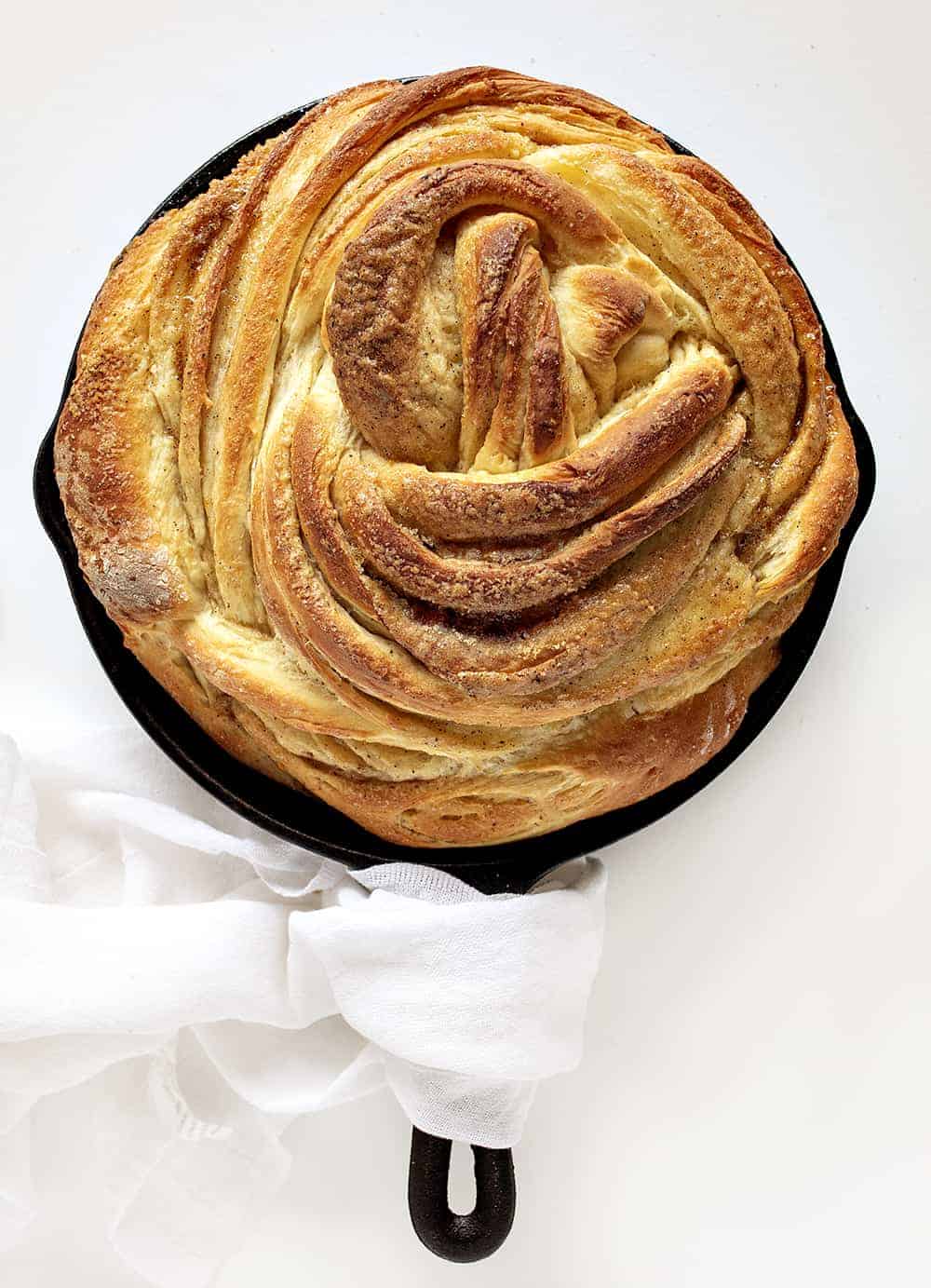 How to Make Orange Bread
This amazing orange cardamom bread starts with the perfect dough. The nice thing about this dough is that there are only two 1-hour resting times, so you can pull this entire dish together in just a few hours.
Milk – I prefer whole milk here, but you can use 2% in a pinch. The milk will also be warmed so that the yeast can bloom.
Active Dry Yeast – Although I shouldn't say this, I have used both active dry yeast and rapid rise yeast and they both work in this recipe. You just want to make sure that the yeast has started to bubble before moving on to the next step. (If it doesn't, you may need to get new yeast.)
Egg – room temperature
Sugar – just enough to make the recipe sweet!
Salt – I prefer kosher salt in baking. If you are using table salt, you will want to use less.
Butter – here is the fun part. I use cold grated butter! I know that seems silly, but I love how the layers of this bread fluff up and are almost flakey when the butter is added cold. You can use salted are unsalted, but I do prefer unsalted as I like to control the salt in my recipes.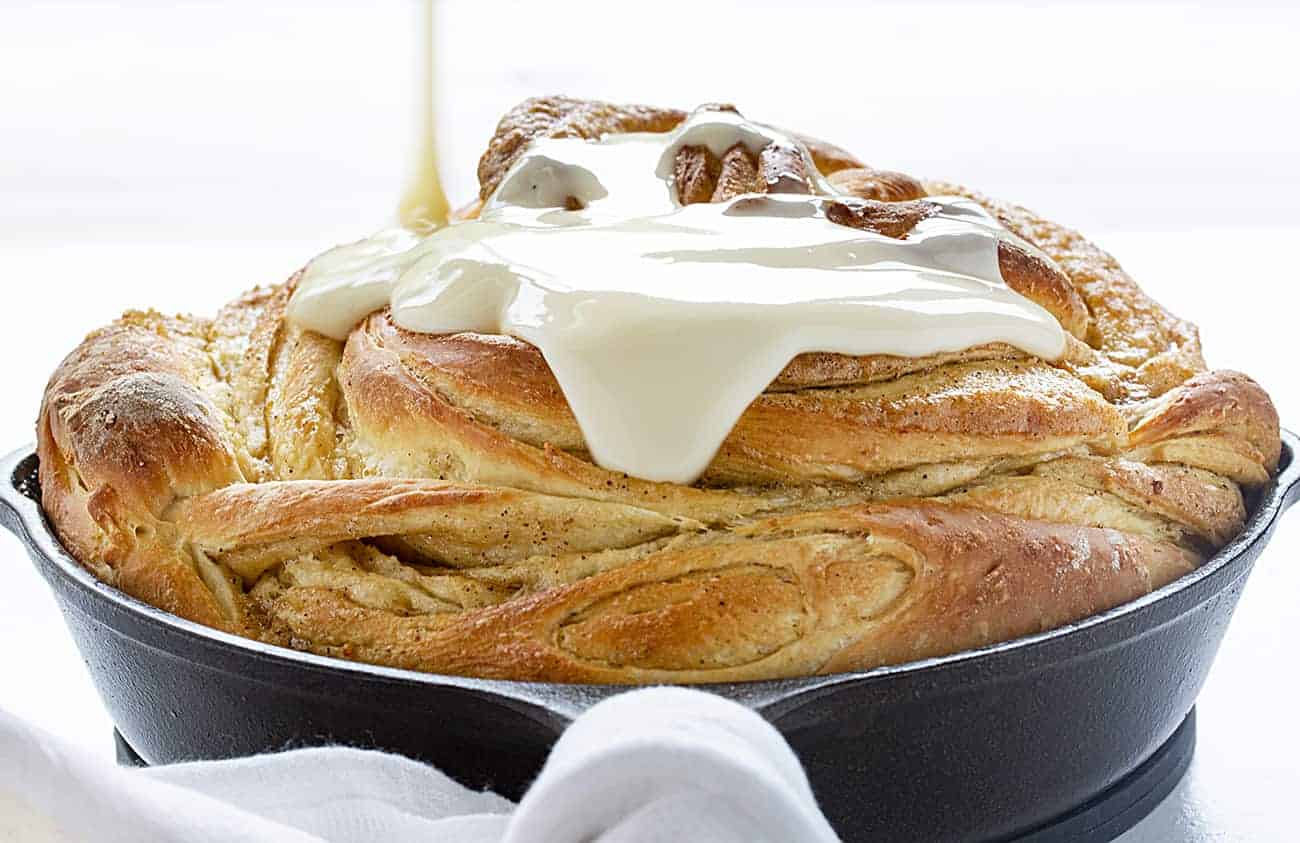 Orange Glaze
This glaze couldn't be easier but is quite possibly the most perfect complement to this bread! It is confectioners sugar and orange juice. Gotta be honest here, I tried to kick it up a notch and use fresh-squeezed orange juice. Then I tried it with store-bought orange juice… and I could not tell the difference. So if you happen to have a little orange juice in your fridge, it will work perfectly!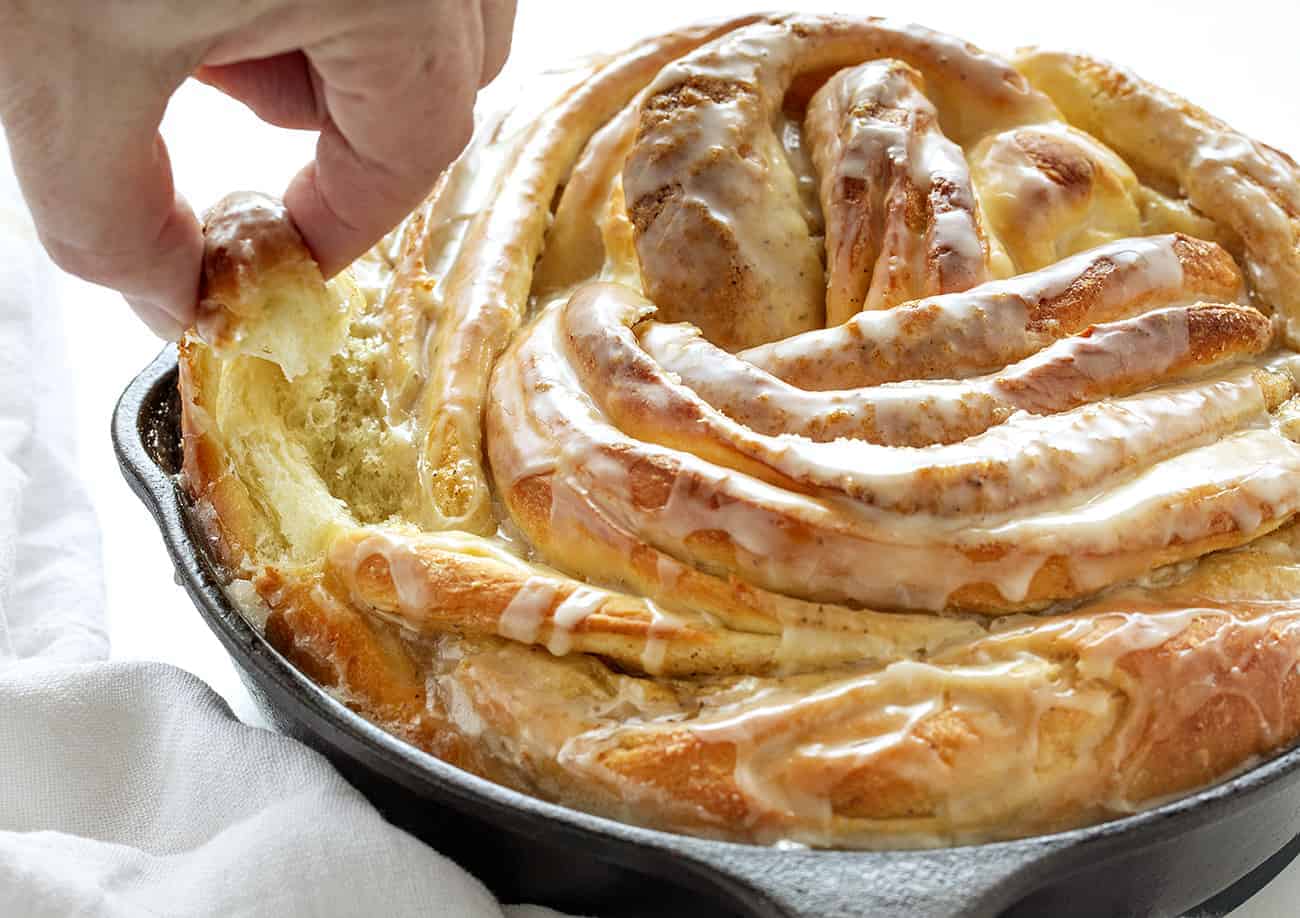 Don't Let That Twist Scare You!
Ok, once the dough has risen the first time, you are going to roll it out. I do a rough rectangle, not getting too concerned with perfect edges.
Spread the softened butter out with your hands (or a pastry brush) making sure to get all the way to the edges.
Sprinkle the brown sugar and cardamom mixture over the butter.
Starting on the longest side, start to tightly roll the dough. (Just like you would a cinnamon roll.) Pinch the edges. You should have a long dough roll.
Leaving 1-2 inches at the top, use a sharp knife to cut down the center of the roll. It will fall open a bit and reveal the layers inside. That's great!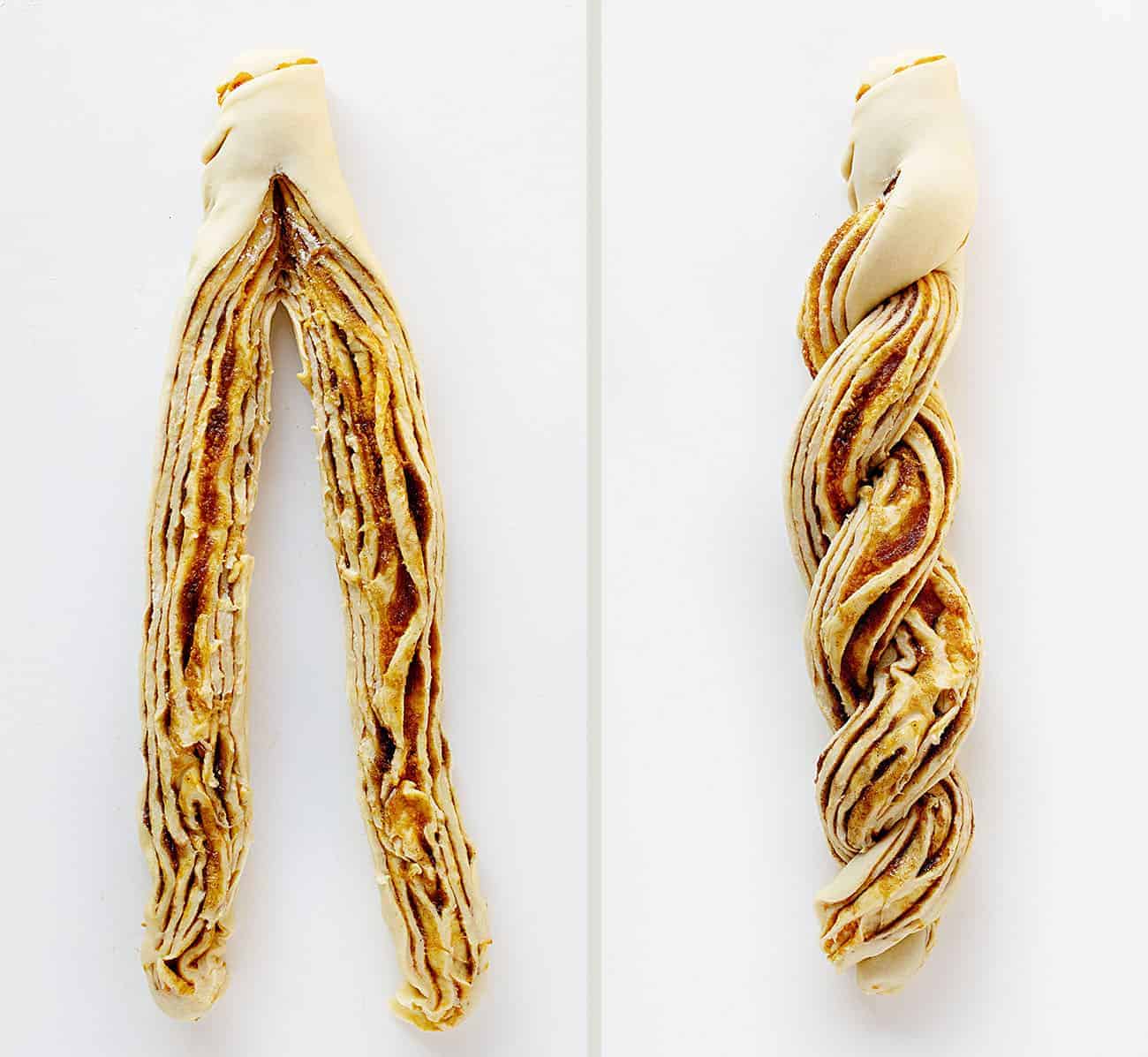 Image from my Pumpkin Spice Twist Bread
Now carefully twist the pieces 3-4 times, making sure the exposed layers are facing up. Holding the uncut end, start to spiral the bread around itself. It will be a nice round dough with lots of exposed layers peeking through.
Carefully set that in the prepared skillet and let rise for 1 hour in a warm place.
When you are ready to bake, place it into a 350°F oven for 25 minutes. After 25 minutes, carefully cover with foil (you don't want the bread to burn or get to hard, but you do want the inside to be cooked completely) and bake for another 10 minutes.
Remove from the oven, allow to rest while you make the glaze, then pour the glaze over the warm twist bread. Then dig in! We definitely like to enjoy this bread when warm, but admittedly, it is great when cooled too. 🙂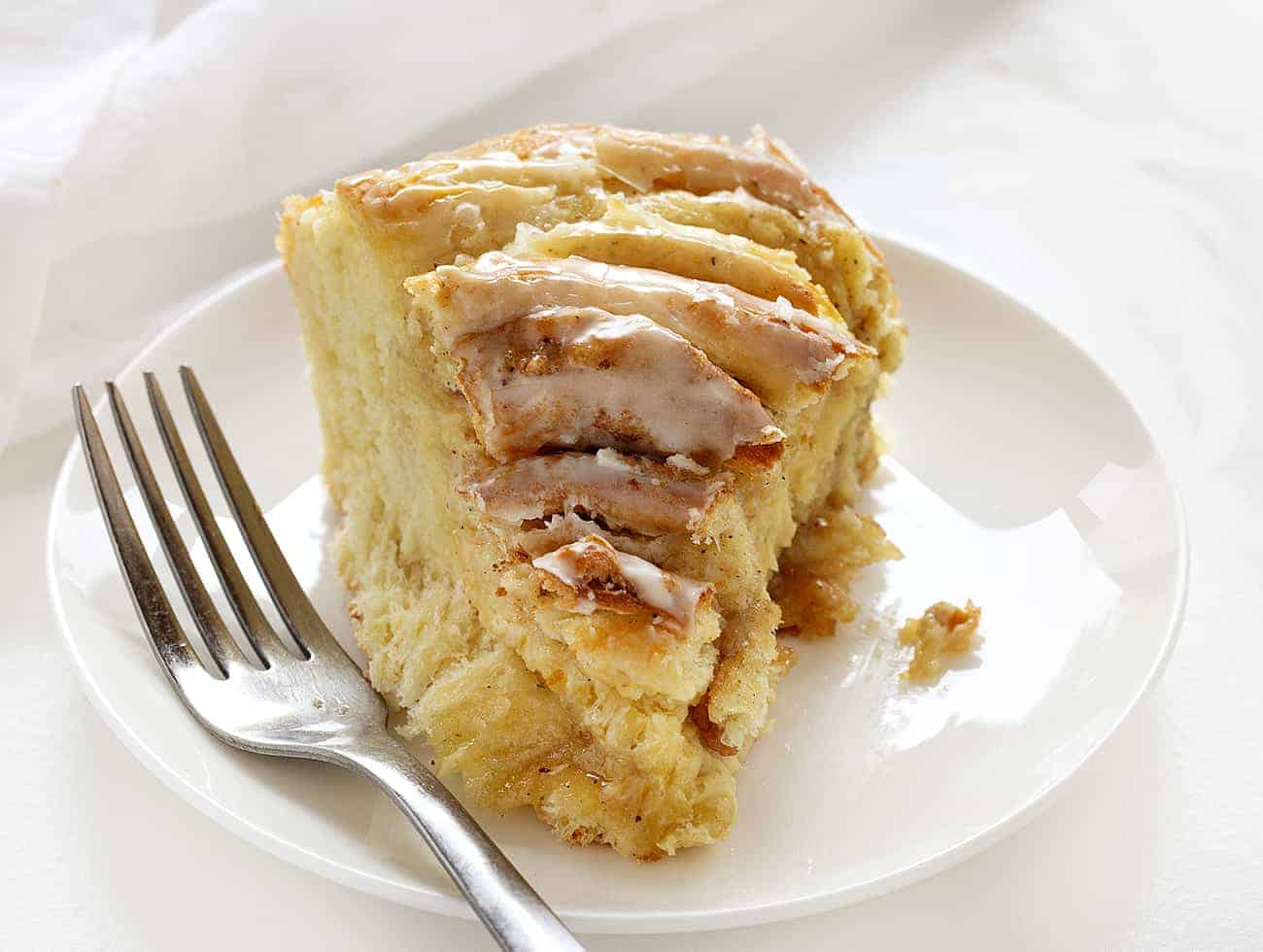 Is a Skillet Necessary for This Recipe?
I love baking with skillets and highly recommend it. They are fairly inexpensive, this skillet is less than $20 AND comes preseasoned. I often only use one skillet for baking and the rest for savory recipes. I also recommend using a 9-inch skillet for this recipe, but that is not the standard size. If you do not have a 9-inch skillet, you can make this in a 9-inch pie dish or (worst case scenario) on a baking sheet or 9×13 baking dish.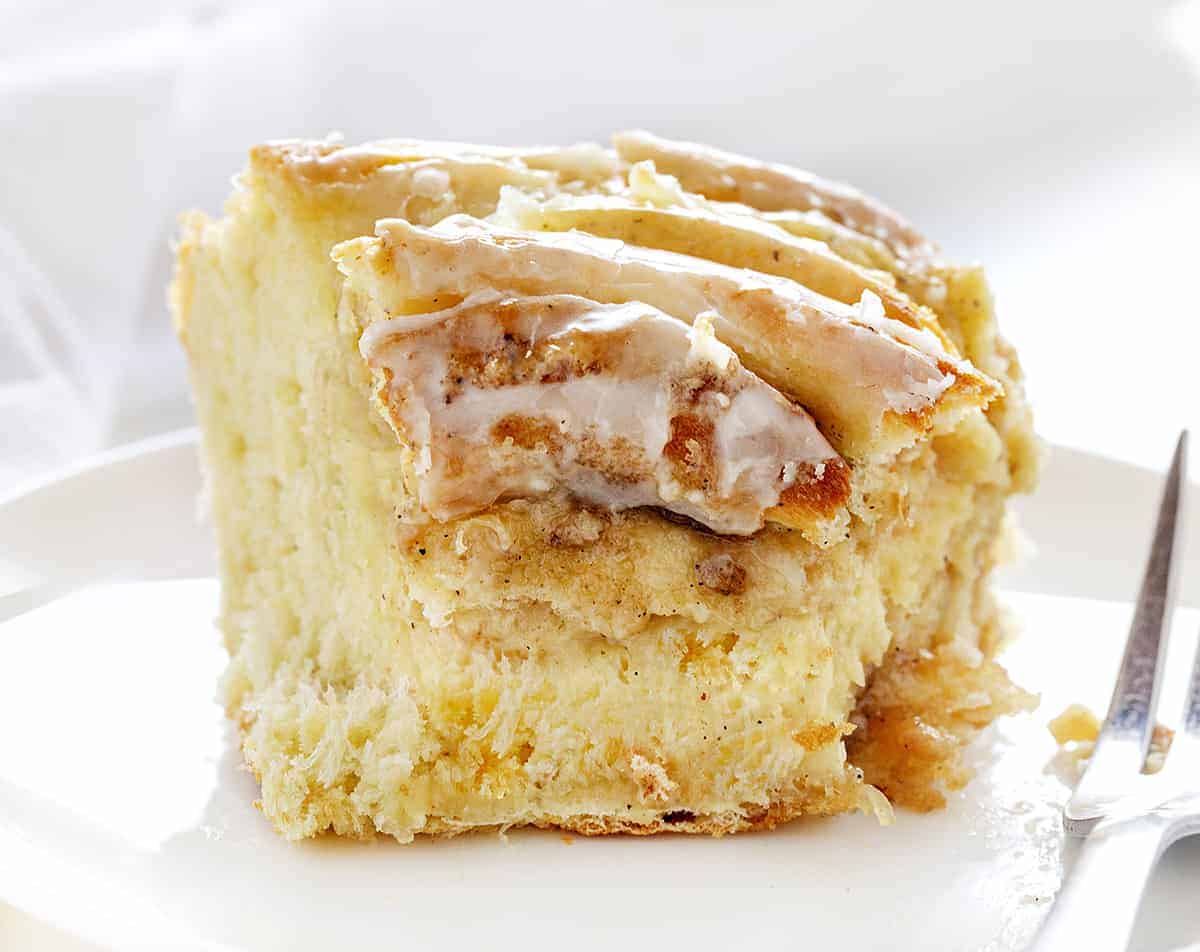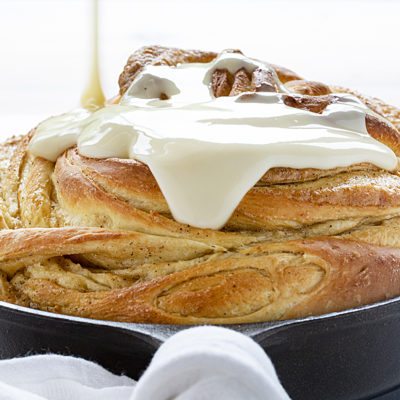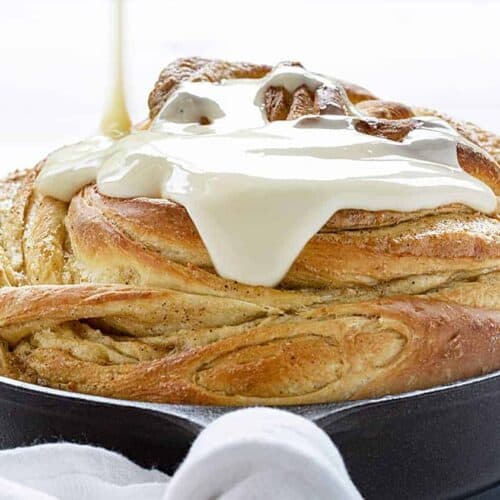 Orange Cardamom Breakfast Bread Twist
Fantastic flavor in this easy and delicious homemade twist bread!
Ingredients
Dough
¾

cup

milk,

warmed to about 110°F (about 40 seconds in the microwave)

2 ¼

teaspoons

active dry yeast

1

large egg,

room temperature

¼

cup

(50 g) granulated sugar

1

teaspoon

kosher salt,

if using table salt add 1/2 teaspoon

3

cups

(375 g) all-purpose flour

1

cup

(226g/2 sticks) unsalted butter,

cold
Filling
4

tablespoons

butter,

room temperature

½

cup

(100 g) packed brown sugar

2

tablespoons

all-purpose flour

1

teaspoon

orange zest

1

teaspoon

cardamom

pinch

kosher salt
Glaze
2

cups

confectioner's sugar

¼

cup

orange juice

(or the juice from one orange)
Instructions
Dough
Add ¾ cup milk to a measuring cup. Heat in microwave for about 45 seconds. Add the yeast and allow it to bloom for about 5 minutes.

In a large bowl, add the bubbling milk & yeast mixture, egg, sugar, and salt. Set aside.

Using a grater, grate the cold butter onto a cutting board or plate. Add the butter to the bowl, then add the flour.

Using your hands, combine the ingredients until just incorporated. You can either continue kneading by hand or now add the ingredients to the bowl of your stand mixer fitted with the dough hook attachment.

When the dough comes together to form a ball, cover the bowl and set aside for one hour.

After an hour, remove the dough and place on a clean, solid surface (such as a countertop) that has been sprinkled with flour.

With a rolling pin, roll out the dough into a 1/2 thickness. It should be roughly in a rectangle.
Filling
Spread the butter evenly over the dough, going all the way to the edges.

In a small bowl, combine the brown sugar, flour, zest, cardamom, and salt.

Sprinkle the brown sugar mixture over the butter.

Starting with the longer side, roll the dough into a log and then pinch to seal the seam. Roll the log over so that the seam side is down.

Using a sharp knife, cut in half lengthwise, stopping about 1 inch from the end.

Starting near the top that is not cut, gently lift one of the cut halves over top of the other cut halve. (a twist) Continue to twist 2-3 more times.

Hold one end and then start twisting the dough around it, creating a circle of dough. Try to get the cut, exposed layers of the dough, facing upwards.

Place the dough ring in an 8-inch or 9-inch prepared skillet (I used butter) and let rise for one hour, covered.
Baking
After the dough has rested for one hour, heat the oven to 350°F. Uncover the dough and place the skillet in the oven for 25 minutes. Remove and cover with foil (the dough should be golden brown) and bake for an additional 10 minutes. Remove from oven and allow to cool while preparing the glaze.
Glaze
In a medium bowl, whisk together the confectioner's sugar and orange juice. It should be runny. After the bread twist has rested for about 10 minutes outside of the oven, pour glaze over and allow to soak into every nook and cranny.

Can be served immediately (warm) or at room temperature.
Did you make this recipe?
Thank you for making my recipe! You took pictures, right? Well go ahead and post them on Instagram! Be sure to mention me @iambaker and use the hashtag #YouAreBaker.
Love Sweet Breakfast Treats? Try these!
Puff Pastry with Pumpkin Filling