Real Strawberry Cheesecake is a dessert for folks with a sophisticated palate. You can detect subtle strawberry undertones with none of the artificial strawberry flavorings. It's a wonderful dessert for cheesecake purists! Don't miss my Perfect Cheesecake and No-Bake Cheesecake recipes!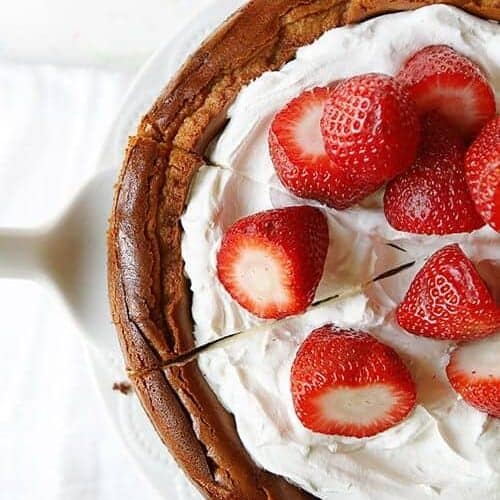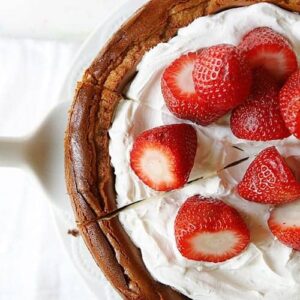 Strawberry Cheesecake
A cheesecake using real strawberries and a dark chocolate cookie crust!
Keyword:
strawberry cheesecake
Ingredients
10

ounces

frozen unsweetened strawberries

about 1 cup

3

packages

(8 ounce each) cream cheese,

room temperature

1

cup

(200g) granulated sugar

2

tablespoons

all-purpose flour

3

large eggs,

room temperature

1

tablespoon

fresh lemon juice

1

teaspoon

vanilla extract

1/2

teaspoon

almond extract
Instructions
Puree thawed strawberries and juices in blender until smooth. You should have about 1 cup of pureed strawberry sauce.

Add cream cheese and sugar to stand mixer and blend until smooth.

With the mixer on low, add in flour and eggs, one at a time.

Mix until smooth, scraping down sides of bowl occasionally. Add strawberry puree, lemon juice, vanilla extract, and almond extract; mix until well blended. Transfer filling to prepared crust.

Bake cheesecake at 350 until center is softly set and edges begin to color, puff, and crack about 1 hour 15 minutes. Refrigerate uncovered on a rack until cold, at least 4 hours. (Can be made 2 days ahead. Cover and keep refrigerated.)
Strawberry Cheesecake
Pureed strawberries are added to the creamy cheesecake batter for this strawberry cheesecake recipe. The ingredients are simple, but important to get right!
strawberries
cream cheese
sugar
flour
eggs
lemon
vanilla extract
almond extract
Make sure your cream cheese is at room temperature as well as your eggs. This will help to ensure lump-free cheesecake batter! And while some folks have asked if they can leave out the almond extract I have to insist you leave it in, at least once. It adds a wonderfully light and freshing flavor to this decadent dessert!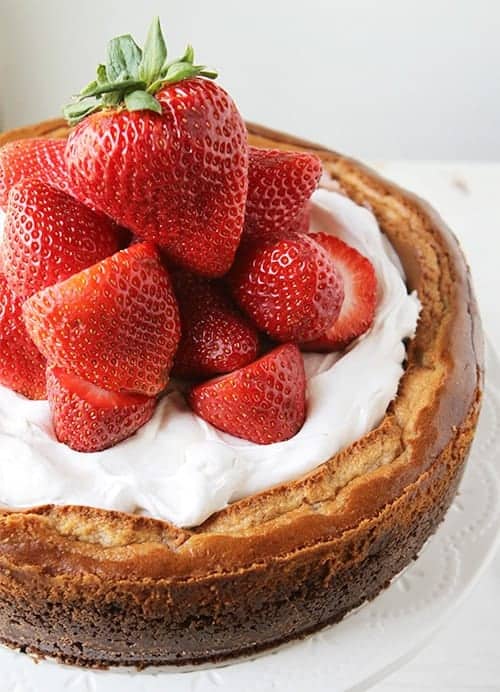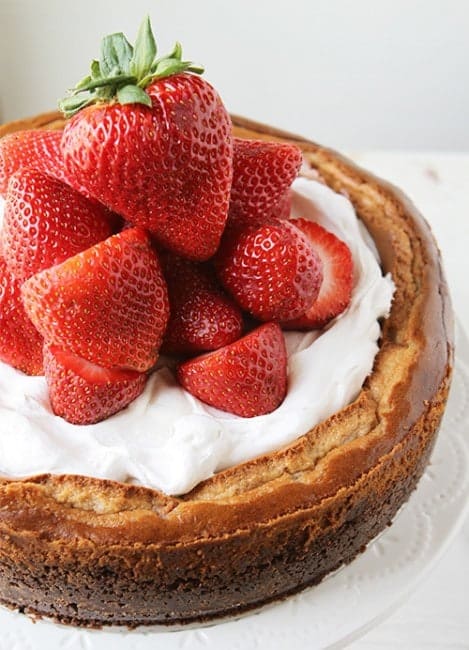 I recently posted a No-Bake Strawberry Cheesecake that we love to make, but many of you asked for a version that used real strawberries.  This is the first time I am sharing my "real" strawberry cheesecake.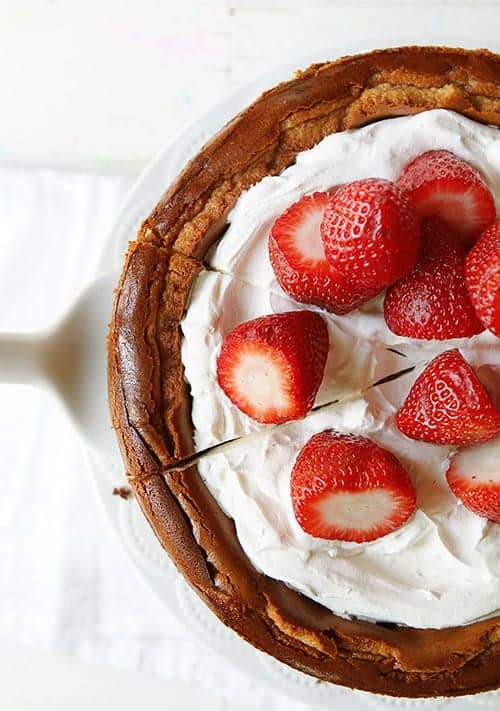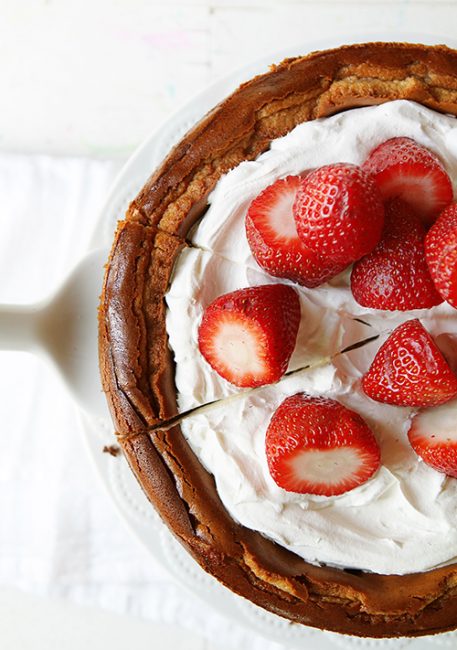 And honestly, anything smothered in whipped cream and fresh strawberries and chocolate sauce… wait, did I mention the chocolate sauce yet?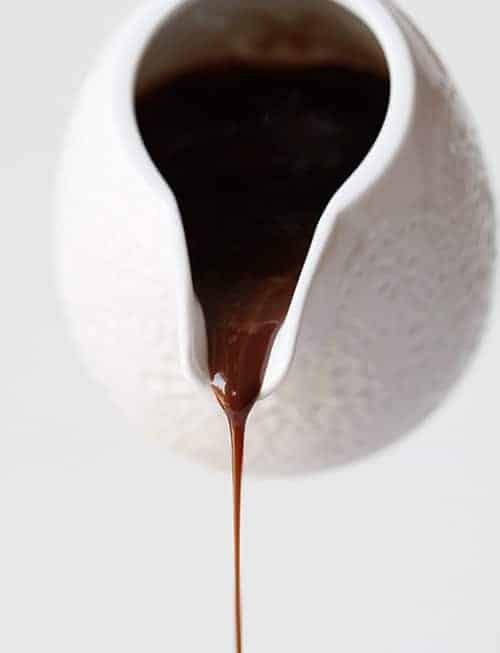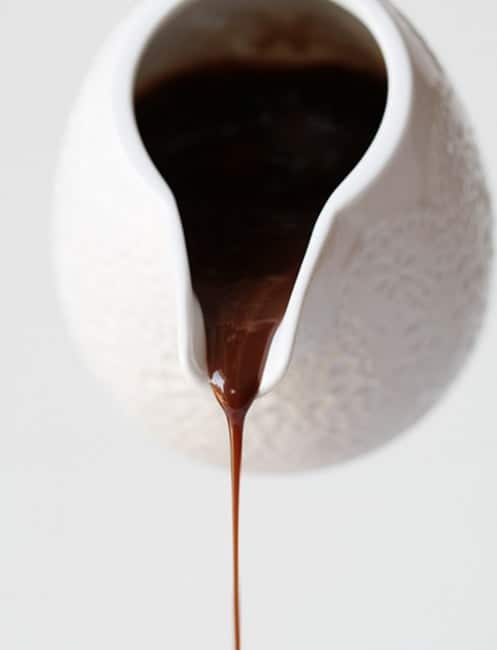 I used this chocolate ganache recipe to add a rich layer of luscious silky chocolatey charm to the cheesecake. Oh, and I also used a chocolate cookie crust in place of the graham cracker crust!
(That I just purchased at the grocery store: I used 2 6-ounce packages and added 4 tablespoons of melted butter.  Then pressed into the bottom of a prepared 9-inch round springform pan.)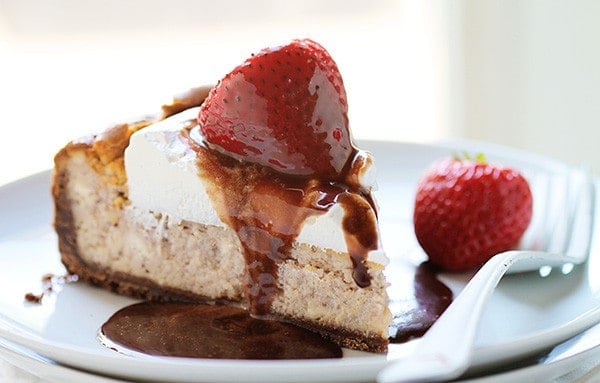 With all my adaptations, I inadvertently made the chocolate crust and topping the star of the show.  And while that is normally not a problem, when one goes to the trouble of making a real strawberry cheesecake, one wouldn't want to distract from the strawberry flavor! Luckily the fresh strawberries in it and top were still distinguishable. And Yummy.
Next time, I think I will try this recipe with a graham cracker crust.
UPDATE: I made this with a graham cracker crust as well as a shortbread crust and the winner was graham cracker!
How to Make Cheesecake Filling with No Lumps
One of the most important steps for lump-less cheesecake is making sure you have is room temperature ingredients. If you have to heat your cream cheese in a microwave be sure to whisk it smooth before using not only to ensure there aren't lumps but that there are no "hot spots" throughout. I prefer to let my cream cheese come to room temperature for about 4 hours before using.
Do not overbeat the cheesecake filling otherwise, it may change the texture of your cheesecake.