The Red Velvet Strawberry Shortcake cake is an Original cake design that I originally shared in 2011. It adds a fantastic rich chocolate component to the traditional Strawberry Shortcake dessert and people always ask for the recipe!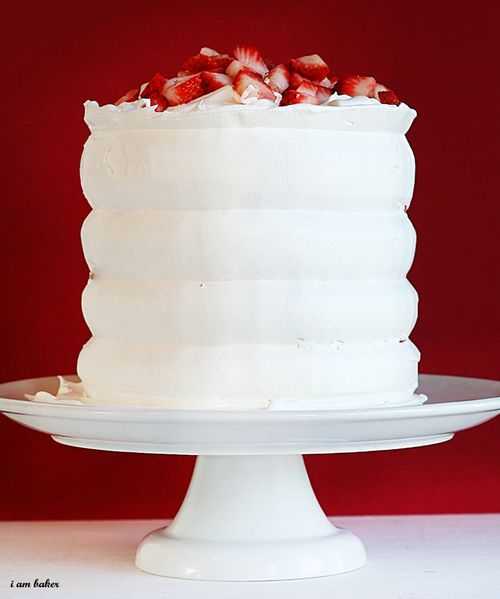 Red Velvet Strawberry Shortcake Cake
Life has been good.
We are adjusting to many changes…like having grandma's and grandpa's and cousins and dear friends over to visit the new baby.
Eddie is wonderful by the way. Much loved and adored!

But there is only one new baby, and with lots of people visiting it is always good to have something for the rest of the folks to do.
Like…. eat. I like stuffing my guests with as much food as possible. Forces them to not look at the layers of dust on my cupboards or the crayon scribbles masterpieces on my once white walls.
Hence, I decided to make a quick and easy dessert for everyone to enjoy. And since we happened to have about five pounds of strawberries on hand, a strawberry shortcake seemed like the perfect choice.
With a twist of course!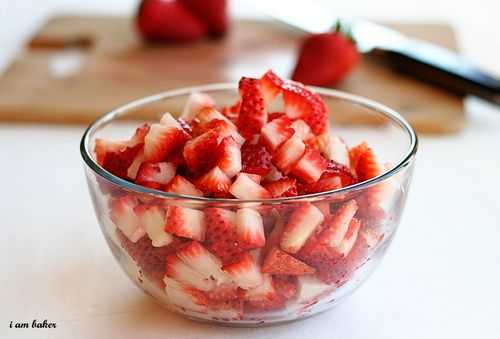 (This frosting technique is so easy to do… tutorial here!)
To Make this Cake You Will Need
Ingredients:
Box white cake. (if you want a from scratch recipe, here is my Perfect White Cake)
Box red velvet cake. (Try my Perfect Red Velvet Cake if you want to bake from scratch)
Whipped cream from the grocery store. (You can also make your own; Use 2 cups heavy whipping cream, whip until soft peaks, then add 2 tablespoons of confectioners sugar and whip until reach desired consistency.)
Fresh strawberries.
I still had to chop strawberries. That counts as slaving away in the kitchen right???
As much as I love the look of whole, ripe, plump juicy strawberries on a shortcake, I just have found it easier to cut them up.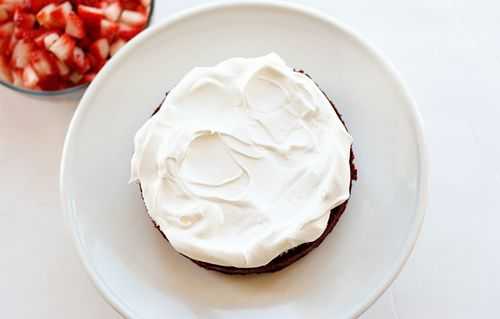 It's easier to assemble and easier to cut into and easier to eat.
Did I mention I was going with an easy concept on this dessert???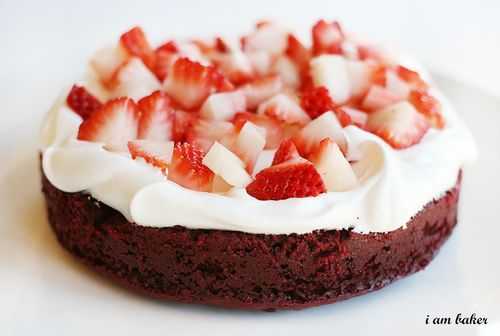 I made a four-layer cake. Two layers of red velvet and two layers of white cake. I started with the red velvet, added a fluffy layer of whipped cream, then a bunch of diced strawberries.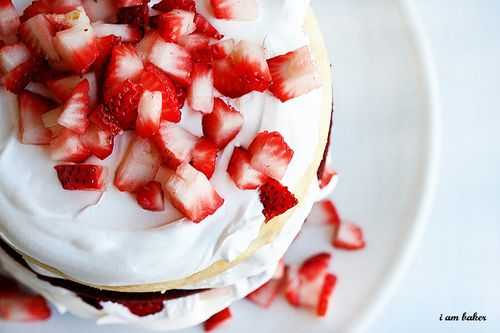 Repeat. Except with the white cake. Then the red velvet. Then the white. Then accidentally shove a huge spoonful of whipped cream in your mouth and call it a day.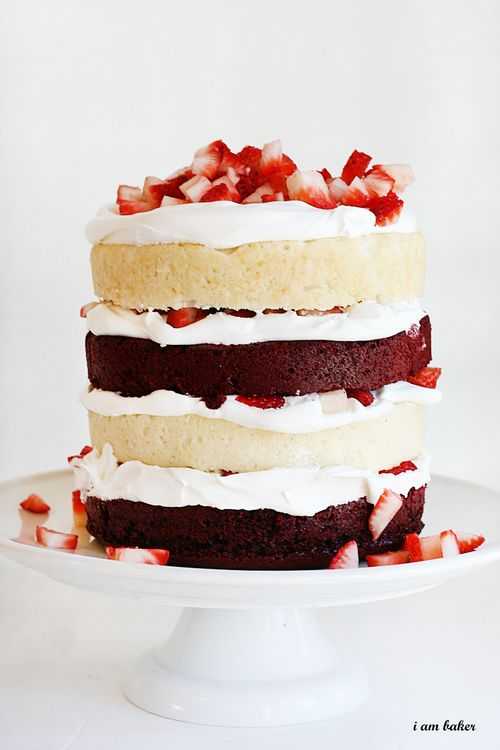 As you can tell by the first picture, I just wasn't satisfied with this, so I added whipped cream to the outside too.
Then I cut into it.
And tried to take a picture. Except people kept making these irrational demands and actually requesting to eat a piece.
So this is all I have left.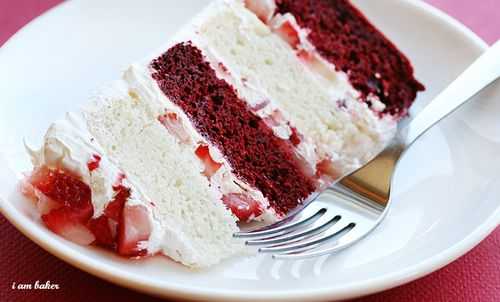 Or should I say, had left.
Gotta tell ya, this is one delicious cake. I loved the dense rich and chocolaty taste of the red velvet paired with the light whipped cream, the airy white cake, and fresh berries.
I loved the ease of decorating a cake with whipped cream.
I loved everything about it.
I have made it three times in the last week. And I can imagine I will be making it lots more this summer!
Here is a video on how this cake comes together!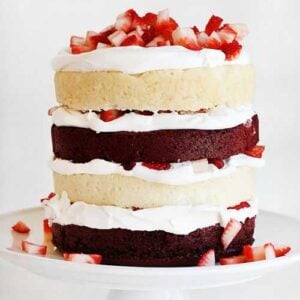 Red Velvet Strawberry Shortcake Cake
Ingredients
2

layers of white cake

(6-inch round)

2

layers of red velvet cake

(6-inch round)

16-

ounce

container whipped topping

or about 5 cups

2

cups

of diced strawberries
Instructions
Prepare cakes. Start by making red velvet cake in three 6-inch round cake pans. (You can also use two 8-inch rounds.) This will leave you with one extra layer of cake and you can just freeze this or snack on it.

Repeat with the white cake.

Allow layers too cool and level if necessary. To assemble this cake you want 2 layers of white cake and 2 layers of red velvet cake.

Place one layer of red velvet cake on cake stand. Cover with about 1 cup of whipped topping. Now add 1/2 cup of diced strawberries.

Add a layer of white cake. Add more whipped topping and then more diced strawberries.

Repeat until you have 4 layers of cake. Top with whipped topping and diced strawberries.

OPTIONAL: Cover outside of the cake with remaining whipped topping and add more strawberries on top.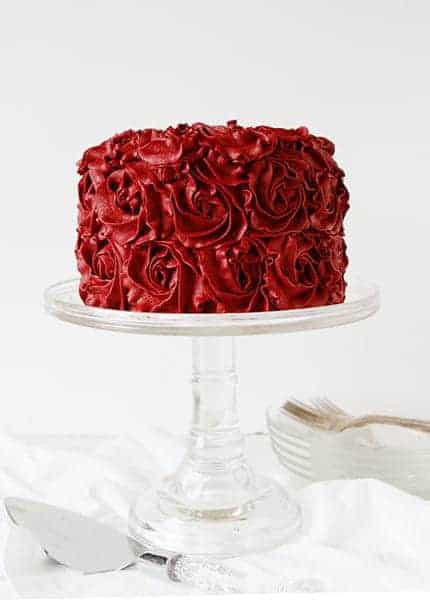 Be sure to check out my Red Velvet Buttercream Rose Cake!