Rhubarb Streusel Muffins are made with cream cheese in the batter for a super moist muffin, with added rhubarb and a streusel topping. If you love rhubarb, be sure to check out my Rhubarb Cake and Rhubarb Crisp!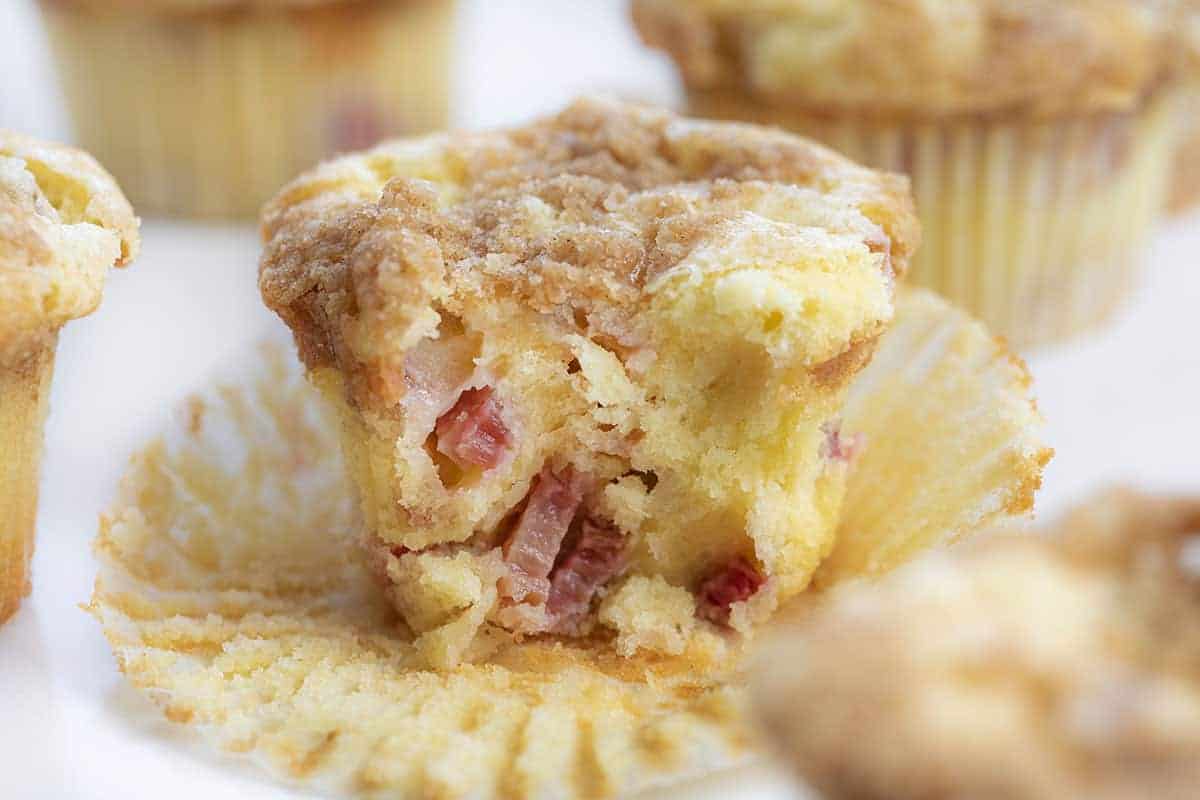 Rhubarb Streusel Muffins
It's summertime here in the midwest, which means the rhubarb is growing in abundance! So, it makes sense to use it up in as many recipes as possible, like this one and my Rhubarb Strawberry Cheesecake! These Rhubarb Streusel Muffins start with my cream cheese muffins with diced rhubarb folded into the mix.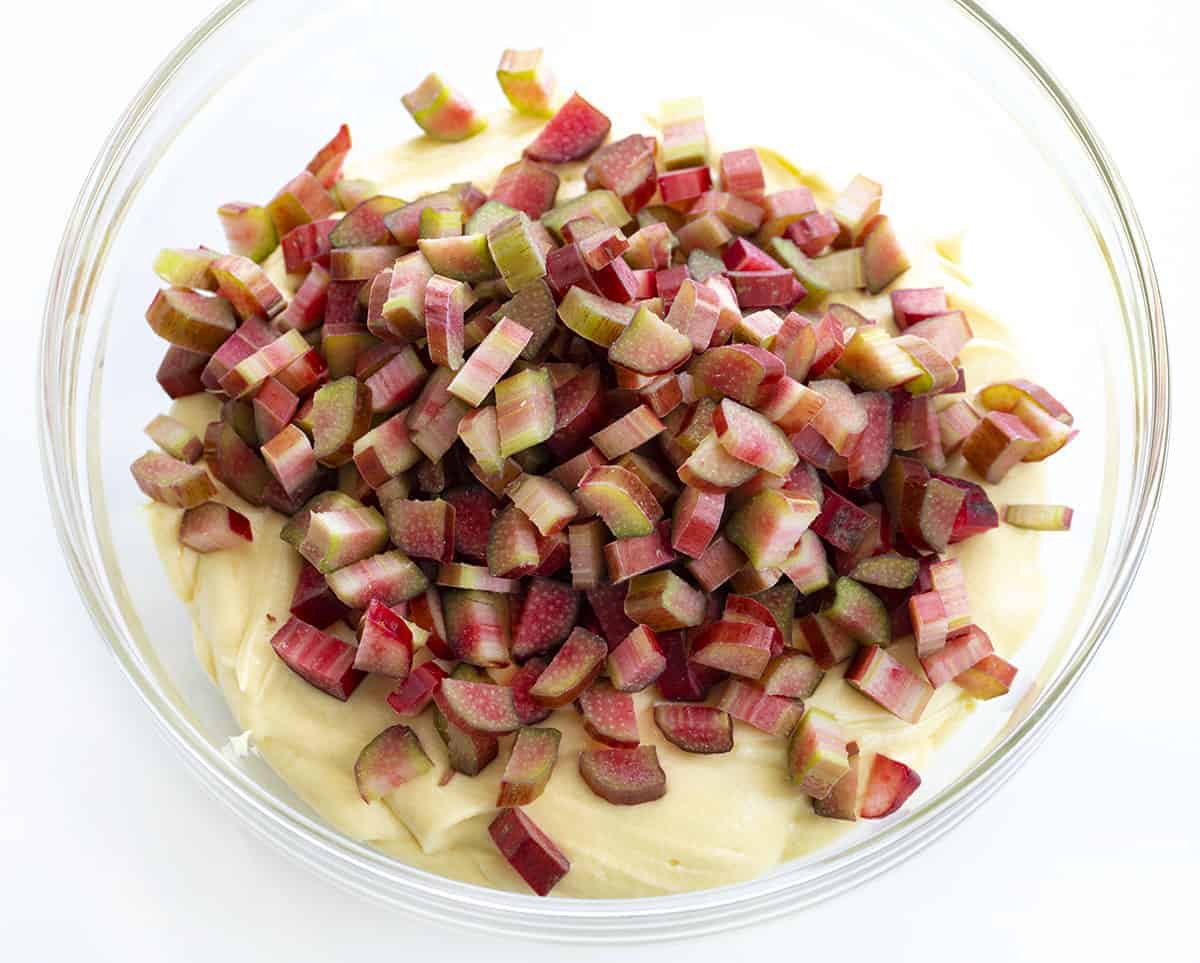 Rhubarb Streusel Muffins Ingredients
There are two delicious parts to this recipe–the cream cheese muffins and streusel topping.
Room Temperature Ingredients: It's important to use room temperature cream cheese, butter, eggs, and buttermilk in this muffin recipe. It does matter for the best results.
Cake Flour: If you don't have cake flour, don't give up on the recipe! For every cup of cake flour, take your measuring cup and put 2 tablespoons of corn starch on the bottom, filling the rest with all-purpose flour. This recipe calls for 1 1/2 cups of cake flour.
My suggestion is to take a 1 cup and a 1/2 cup measuring cup. Put 2 tablespoons of corn starch in the 1 cup and fill the rest of the space up with all-purpose flour. Put 1 tablespoon of corn starch in the 1/2 cup, filling the remaining space with all-purpose flour. That will be your 'cake flour' for this recipe.
Rhubarb: You will need 2 cups of diced rhubarb for the muffins. This is equivalent to about 1/2 pound to 3/4 pound of rhubarb.
Topping: The topping is a crumbly streusel topping made with brown sugar (I used light brown sugar), flour, cinnamon, and butter.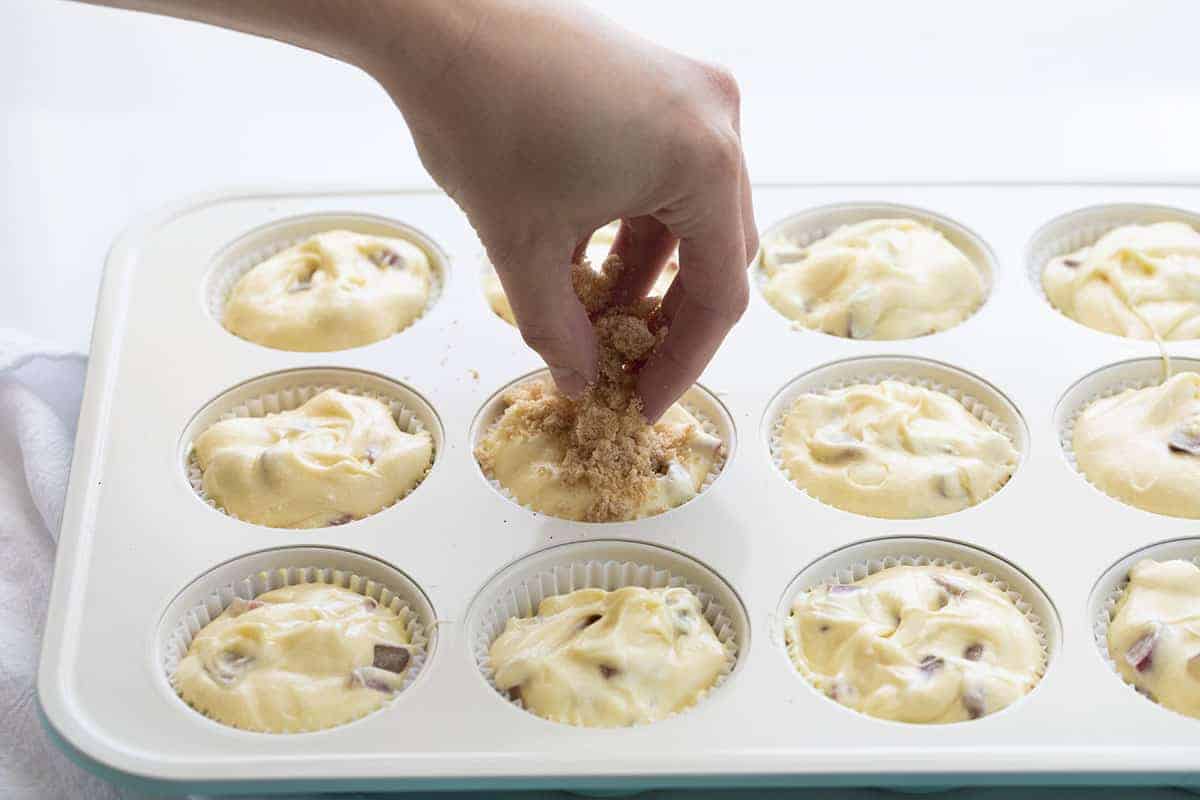 Let's Talk Rhubarb
The experts will recommend "choose stalks that are fresh looking, crisp and blemish free…look for smaller leaves, which is also an indication of a younger stalk. Avoid limp stalks and stalks with split ends." That's fine and dandy if you are aiming to be the next Martha Stewart, but not how we do it.
I don't look for perfection, I don't mind a few blemishes, and there is nothing wrong with a large leaf or a split end. You cut those off anyway! I've used big huge stalks and small stalks. They all add something amazing to whatever dessert you are preparing. All rhubarb is good rhubarb in these parts.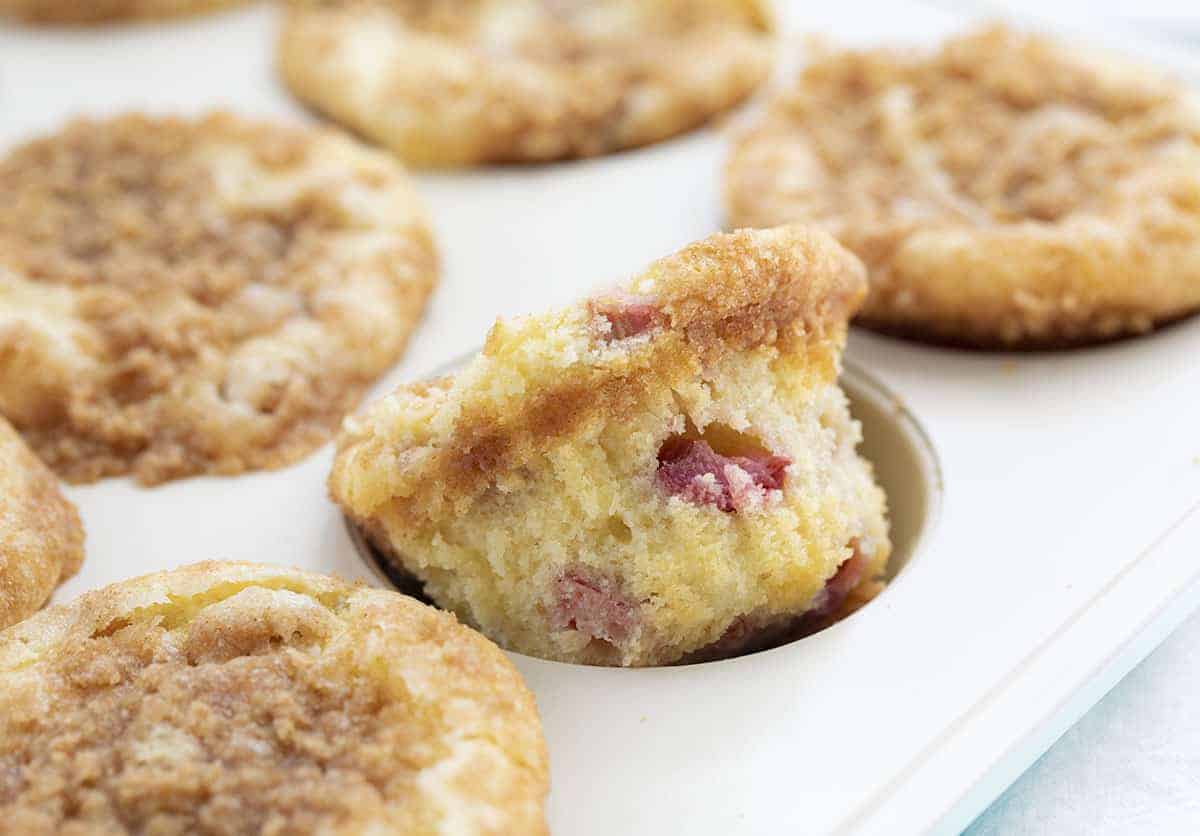 How to Store Muffins
There are a few ways to properly store muffins.
Room Temperature: Because they are best enjoyed at room temperature, this is usually the recommended way to storing. I use a larger sealable plastic bag or an airtight container to store the muffins in a single layer. Some folks recommend adding a piece of paper towel to the bottom so that it will soak up any condensation. If your muffins are properly cooled before storing, this may not be necessary. However, if I am using an airtight container, I will often add a piece of bread to the container, torn in half, and fit in between the muffins. The bread will soak up moisture as well. Best enjoyed within 2-3 days.
Refrigerator: These muffins have cream cheese in them so folks will naturally want to refrigerate, which is the right thing to do in this case. (Refrigeration, in general, dries out baked goods faster so a typical muffin recipe shouldn't be refrigerated.) Place in a sealable plastic bag or airtight container and then place into the refrigerator. They should keep for up to 5 days. To reheat, remove from refrigerator pop into the microwave for 10 seconds or just allow muffin to come to room temperature naturally, about 15 minutes.
Freezer: Place cooled muffins into a freezer-safe sealable plastic bag or a freezer-safe airtight container and pack as closely as possible without crushing. Remove as much air as possible. Label with date and recipe name.
How to Reheat Frozen Muffins
Remove muffin from the freezer and allow to come to room temperature overnight in the refrigerator or on the counter for a couple of hours.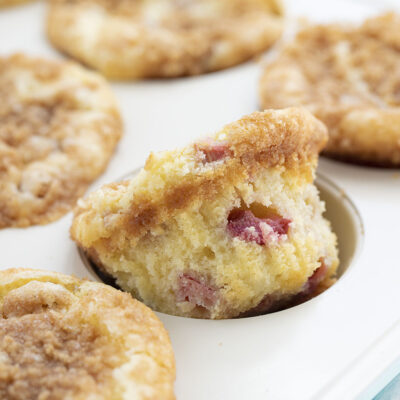 Rhubarb Streusel Muffins
Rhubarb Streusel Muffins are made with cream cheese in the batter for a super moist muffin, with added rhubarb and a streusel topping.
Ingredients
Muffins
½

package

(4 ounces) cream cheese,

room temperature

¾

cup

(142 g or 1½ sticks) salted butter,

room temperature

1½

cups

(301 g) granulated sugar

3

large

eggs,

room temperature

1

teaspoon

vanilla extract

1½

cups

(192 g) cake flour

⅛

cup

(30 g) buttermilk,

room temperature

2

cups

rhubarb,

diced (approximately ½-¾ pound of rhubarb)
Streusel Topping
⅓

cup

brown sugar

¼

cup

all-purpose flour

½

teaspoon

ground cinnamon

3

tablespoons

cold butter
Instructions
Muffins
Preheat oven to 325°F. Prepare a muffin pan with muffin liners.

In the bowl of a stand mixer fitted with the paddle attachment, combine cream cheese and butter until smooth, about 3 minutes.

Add sugar gradually and beat until lighter and fluffier.

Add eggs one at a time, beating well with each addition.

Add in the vanilla.

Add the flour all at once and mix until just combined.

Add in buttermilk with mixer on low and mix until just incorporated.

Remove bowl from stand mixer and scrape with a rubber spatula to get every last bit of ingredient incorporated.

Fold in the diced rhubarb.
Streusel Topping
Using a food processor, fork, or your hands, combine brown sugar, flour, cinnamon, and cold butter pieces in a bowl. (I prefer clean hands) Make sure the butter is broken down and no larger than a pea when you are done.
Assembling Muffins
Scoop approximately ¼ cup batter into each lined muffin cup.

Top with the streusel topping and bake for 30-35 minutes, or until an inserted toothpick comes out with crumbs, but not wet batter.
Did you make this recipe?
Thank you for making my recipe! You took pictures, right? Well go ahead and post them on Instagram! Be sure to mention me @iambaker and use the hashtag #YouAreBaker.