This Roasted Broccoli Cheese Soup is a family favorite! (and my kid's favorite way to eat their veggies!)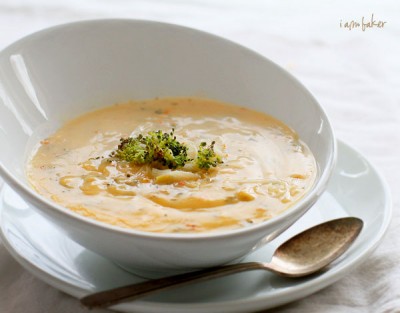 One of my favorite soups in the whole wide world is broccoli and cheese, and one of my favorite cheeses is muenster. And my very favorite way to eat broccoli is roasted.
And I kid you not, I think I have come up with the most amazing soup in the world.  I am not even going to google "roasted broccoli cheese soup" because I just don't want to know if everyone and their grandma thought it up before me.
I just want this moment to pretend  its all mine. 😂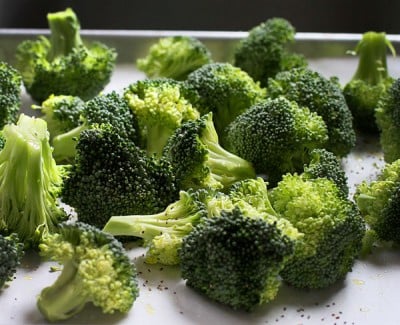 I just love how that fresh roasted broccoli gives the soup and amazing extra layer of flavor and texture! But there is something so magical about roasting it in the oven with EVOO and salt & pepper. It almost caramelizes a bit, with crispy edges yet a perfectly done center.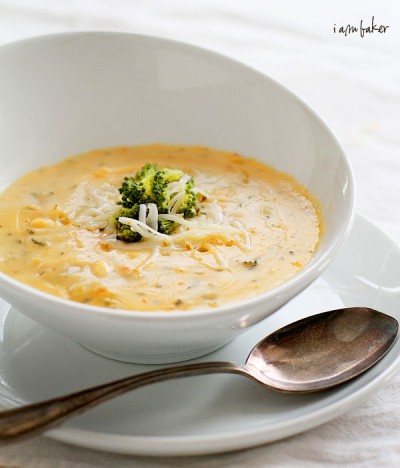 Tips, Tricks, and Variations
You can use fresh garlic in place of the spice. Just use about 2 cloves and finely mince. Add to the pot when you add the onions.
Don't want to add cornstarch? Try using an immersion blender! Simply omit the cornstarch and water and use the blender after you have added the half & half and garlic powder.
Don't have 87 kids like me? Just put leftovers in the freezer in Ziploc containers. When you are ready to eat just pop the container into the microwave!
Want a REALLY fun twist? try adding white wine (about 1/3 cup) to the pot while sauteeing the onions. This is a really sophisticated flavor!
I hope to see you try this.  Its pretty much the most amazing comfort food ever.