Use up your summer zucchini by making this super tasty, protein-packed breakfast skillet. It packs a punch with both flavor and nutrients that will keep you going throughout the day! Try my Ham and Cheese Breakfast Casserole for another satisfying breakfast! This is yet another recipe that should convince you to add a cast iron skillet to your cookware collection. Your cast-iron cookware will last for a lifetime if you properly care for it! Plus, it gets more seasoned as you use it. This recipe goes from the stovetop to the oven, and cast iron can do it all! Add Apple Fritter Bread to the table to add some sweetness to your breakfast.
Sausage and Zucchini Breakfast Skillet
I love eggs! With farm fresh eggs available to me, I use a lot of them in my baking, but confess to eating quite a few as well! Besides me, I have a family to feed, and something as tasty and satisfying as this Sausage Zucchini Breakfast Skillet is a winner! As a bonus, you can always make your own ground sausage using my Breakfast Sausage Patties recipe. And, you can always make this ahead of time and eat it the next day!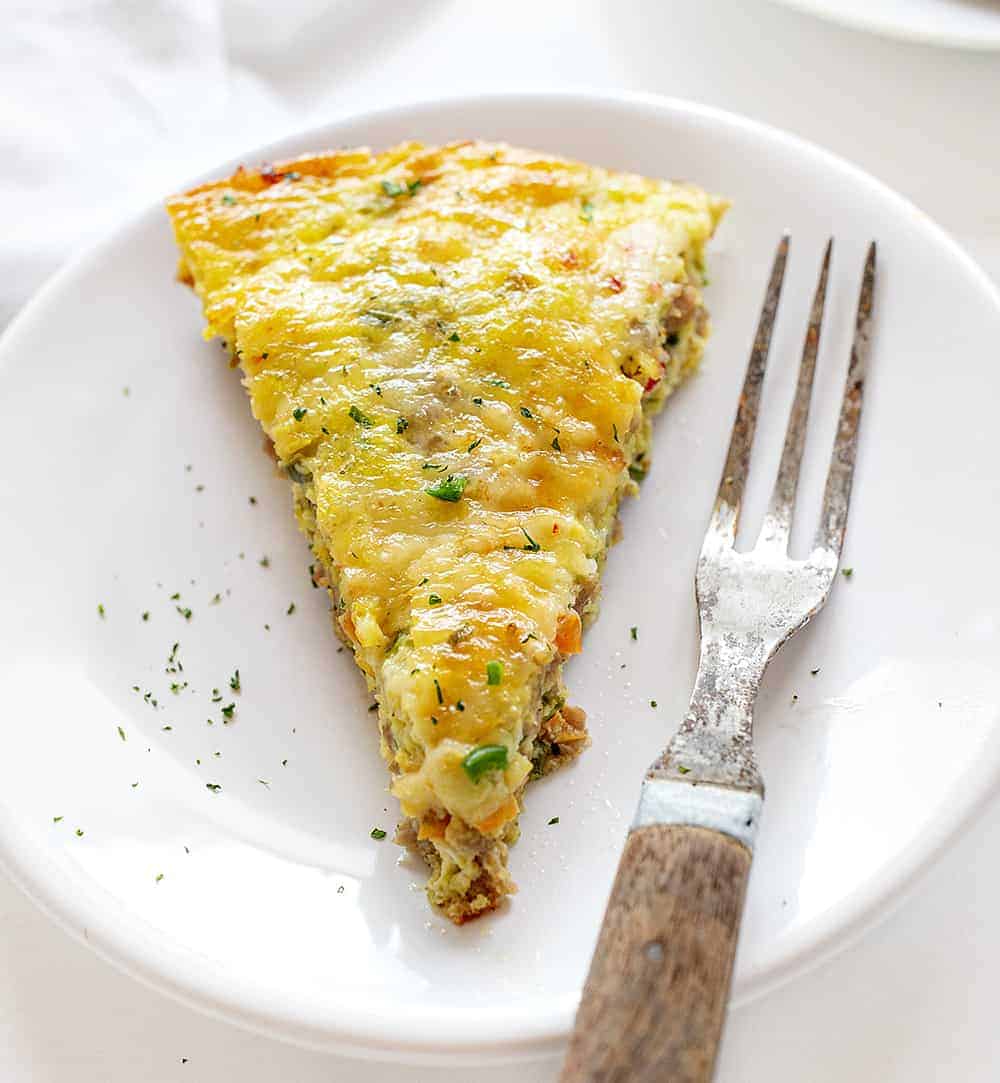 Sausage and Zucchini Breakfast Skillet Recipe
Zucchini is one of the most underrated vegetables in my humble opinion. Seriously versatile and acclimates to any recipe you use it in, not to mention they are easy to grow! And, with meals packed with protein all the rage, it doesn't get much more protein-packed than this Sausage and Zucchini Breakfast Skillet. This power breakfast, as I like to call it, is not only full of ingredients to maintain your energy until lunchtime, it is loaded with flavor!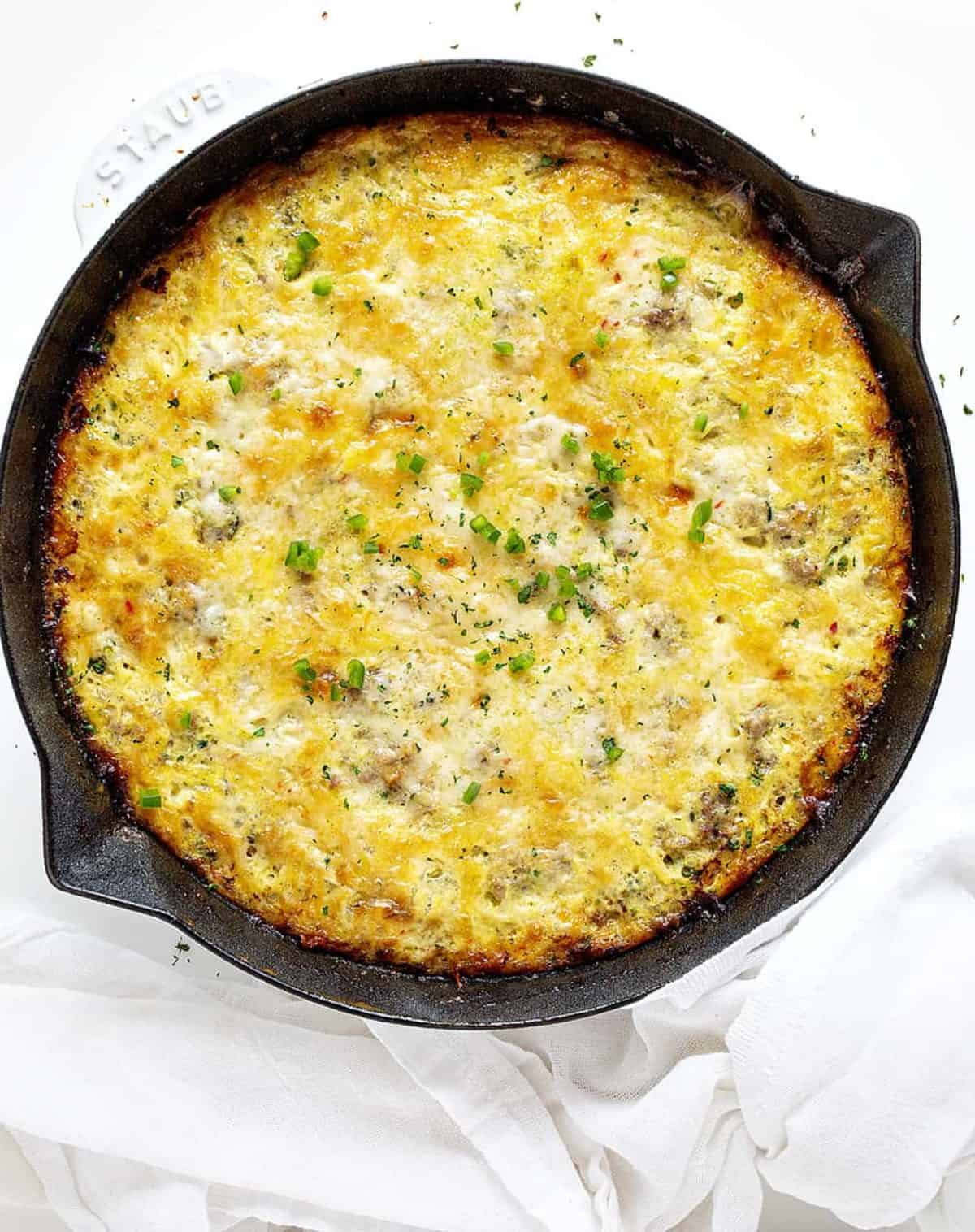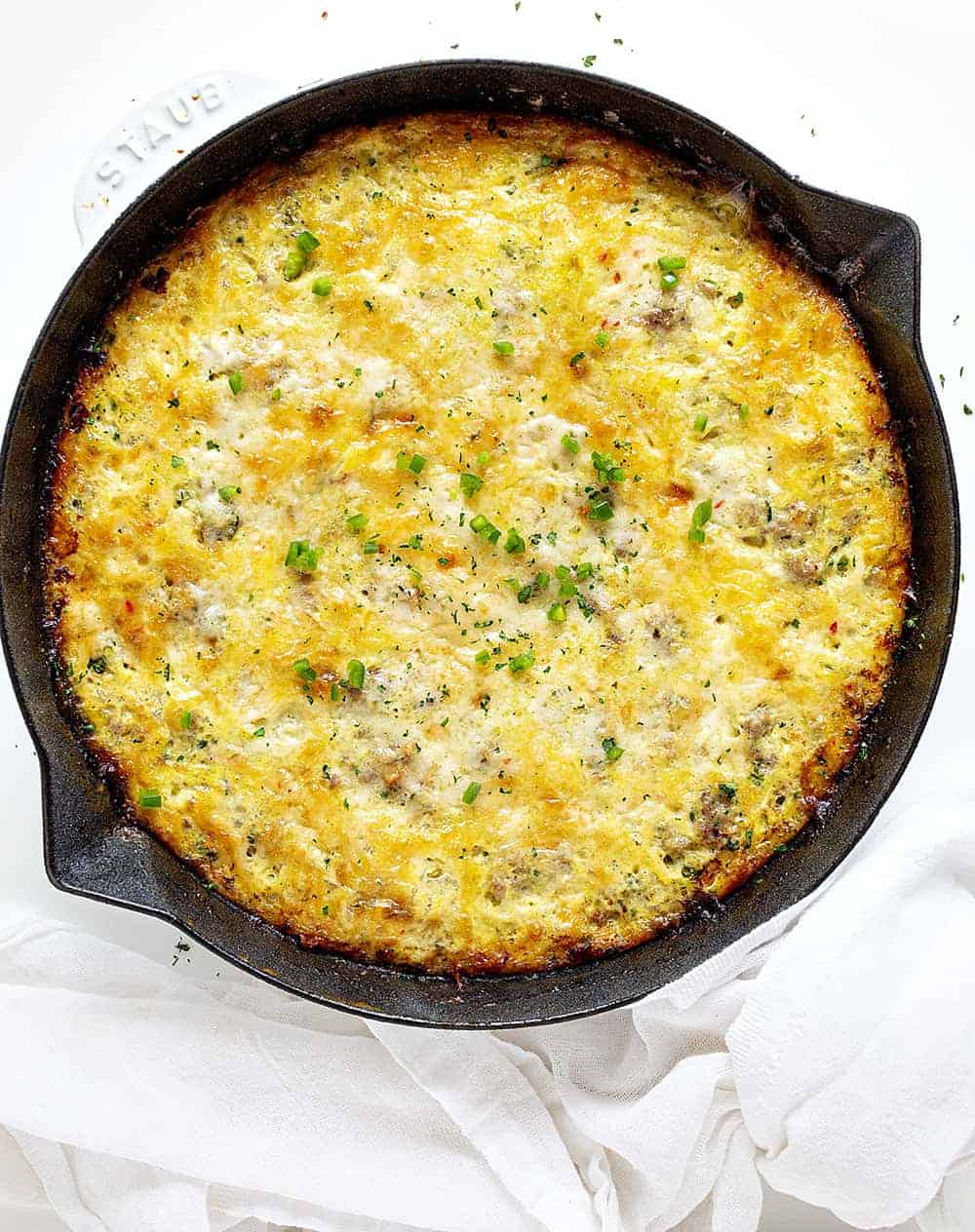 Ingredients
Butter
Onion
Jalapeno pepper
Banana pepper
Eggs
Zucchini
Pepper jack cheese
Ground sausage
Salt
Pepper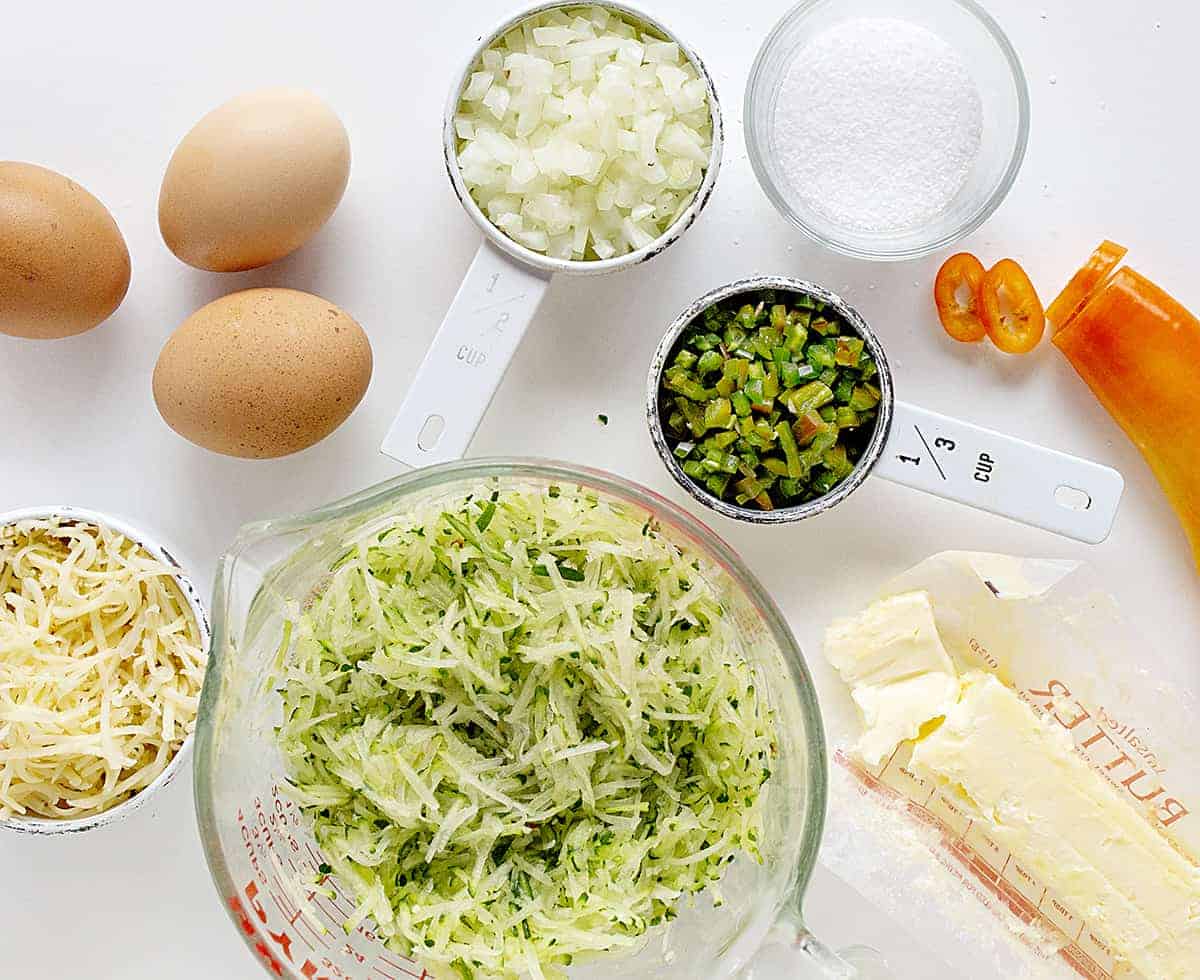 How to Prepare the Zucchini
To grate the zucchini, don't peel it or take out the seeds. Simply grate it. The only thing you have to do, besides grating it, of course, is remove any excess moisture from the grated zucchini. Gently wrap the zucchini in a paper towel (or a clean dish towel or cheesecloth) to dry it out a bit. For this recipe, if you want to add more than the recommended amount of zucchini, go for it!
➡️
How to Make Seasoned Homemade Sausage
If you choose to make your own sausage, check out my Breakfast Sausage Patties recipe! You can use this recipe to prepare your own spiced ground sausage to add to your Sausage and Zucchini Breakfast Skillet. It's really simple to make, and the sausage is full of flavor and spices.
Ingredients
Sage
Garlic powder
Salt
Black pepper
Marjoram
Brown sugar
Red pepper flakes
Cloves
Ground pork
First, mix together the spices and brown sugar in a small bowl. Then, place the ground pork in a larger bowl. Add the mixed spices to the ground pork and mix with your hands. This is the fun part! Did you know that everyone, including adults, has sensory needs? Forming the ground pork into sausage is perfect for those tactile needs. It is also quite therapeutic to be doing something with your hands. The squeeze and release action relieves stress if you have any, and if you don't have any stress, please tell me your secret!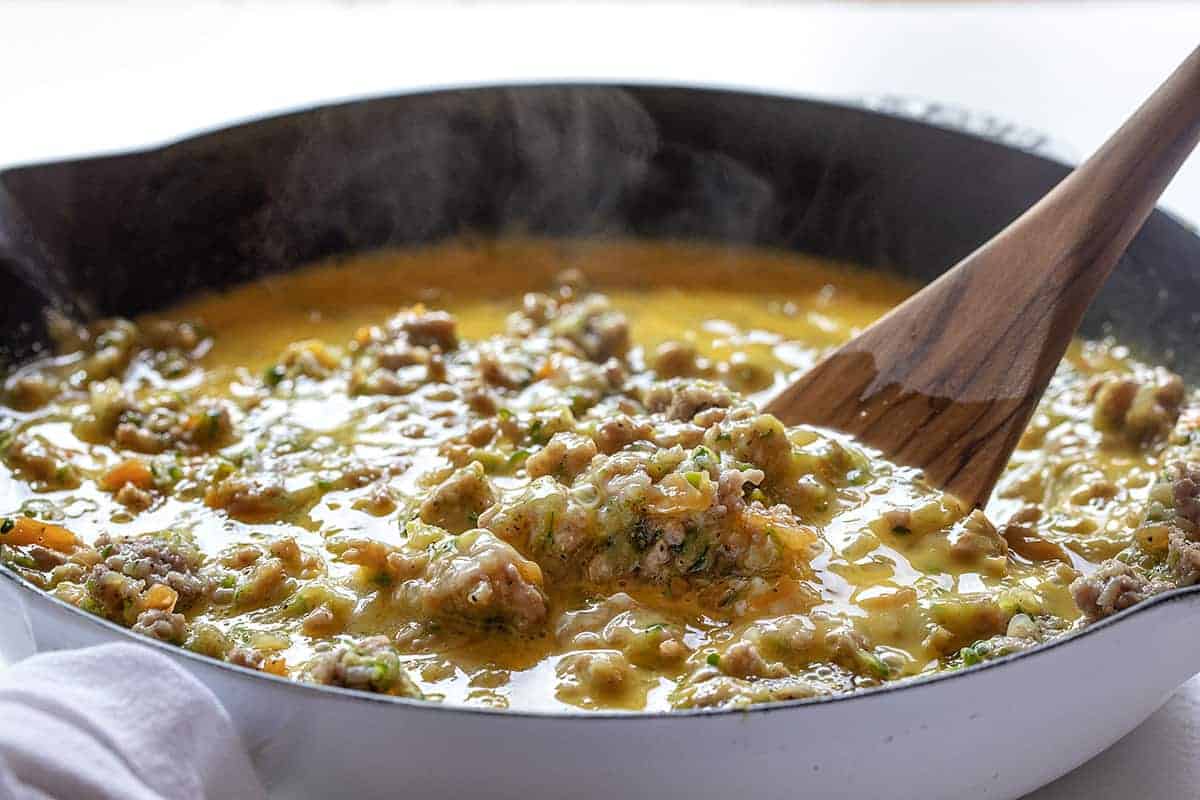 How to Make Sausage and Zucchini Breakfast Skillet
There are a few steps to complete before baking the skillet, so I am going to walk, I mean blog, you through the process. First, preheat the oven to 350°F. Next, saute the butter and onions on medium-high heat in your trusty skillet. Then, add the zucchini to the skillet and saute for a couple of minutes. Continue by adding the sausage, salt, and pepper. Cook until the sausage is browned. Finally, add the beaten eggs and mix everything together. Grate the cheese on top of the egg and sausage mixture, and bake the Sausage and Zucchini Breakfast Skillet for 35-40 minutes.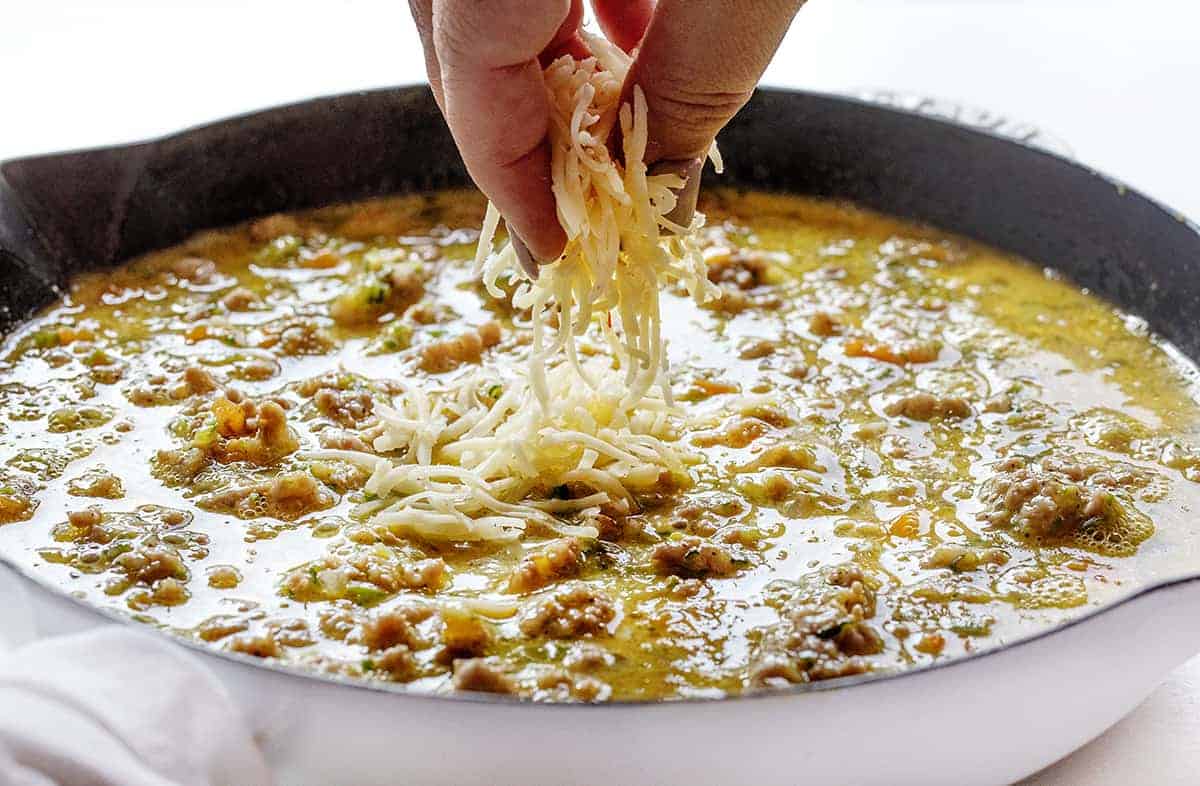 Variations to Sausage and Zucchini Breakfast Skillet
You can definitely switch up the type of sausage used in the Sausage and Zucchini Breakfast Skillet if you want to. You could use any ground meat, like chicken, turkey, or beef. Also, try a different variety of cheese and use red bell pepper instead of jalapeno for a little less kick. Although this is a meal in itself, a homemade buttermilk biscuit would be perfect with this dish!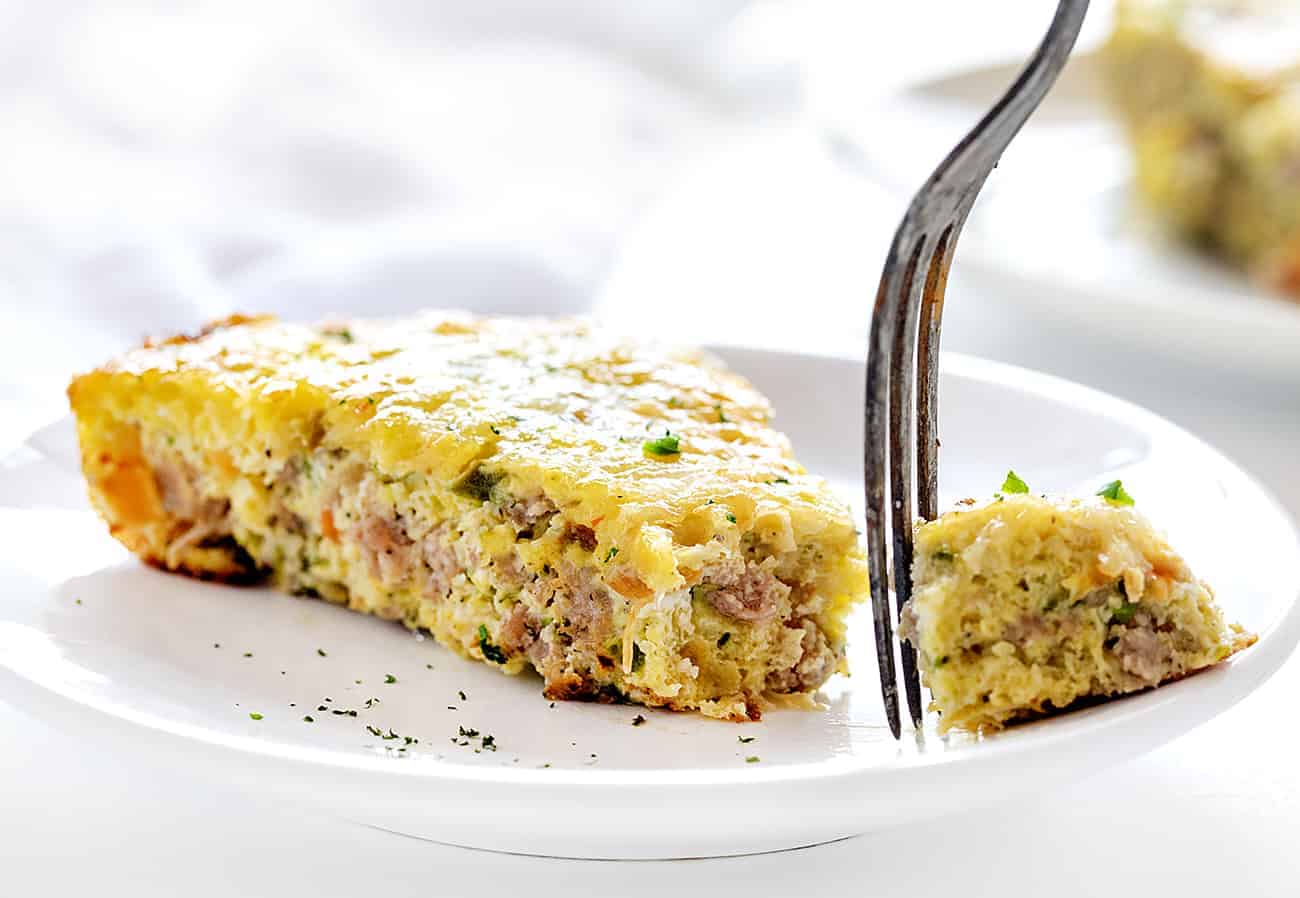 Are you Looking for More Satisfying Breakfasts?
Loaded Hash Brown Breakfast Nachos
Zucchini and Sweet Corn Quiche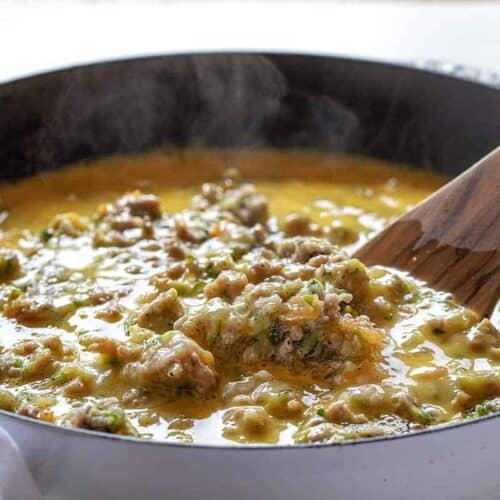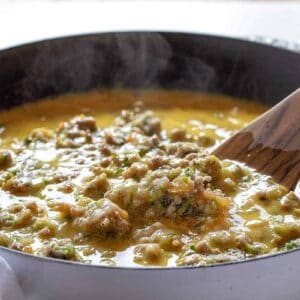 Sausage and Zucchini Breakfast Skillet
Sausage and Zucchini Breakfast Skillet is packed with protein and flavor!
Keyword:
Sausage and Zucchini Breakfast Skillet
Ingredients
1

tablespoon

butter

1/2

cup

onion,

finely chopped

1/2

cup

jalapeno pepper,

diced

1/3

cup

banana pepper

6

eggs,

beaten

2 1/2

cups

zucchini,

grated (can add more zucchini if you like!)

1

cups

pepper jack cheese,

grated

1

pound

ground sausage

1

teaspoon

salt

1

teaspoon

pepper
Instructions
In a medium-sized skillet, saute onion and peppers in butter until onion is clear.

Remove excess water from zucchini by gently wrapping in a paper towel.

Add zucchini to the pan and saute until cooked (2-3 minutes).

Add sausage, salt, and pepper. Cook until browned.

Bake uncovered 35-40 minutes.