This delicious Simple Pumpkin Pie recipe is quick, easy, and no-fail!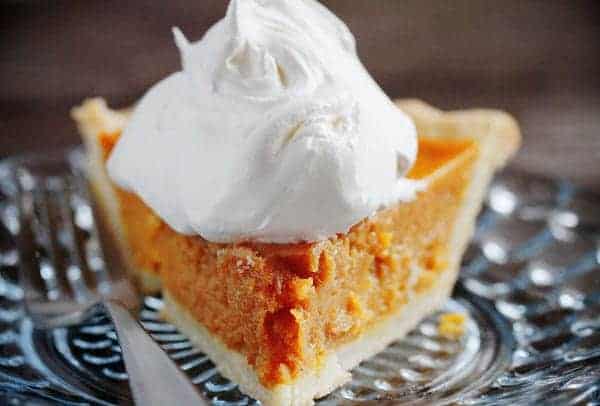 I don't know about anyone else, but I am ALWAYS scrambling the day before Thanksgiving or Christmas. Being organized is not one of my special gifts, but pulling out the winning recipe at the last minute is!
This recipe could not be easier, uses only a few ingredients, yet tastes like I have been slaving away in my kitchen. Which I HAVE by the way.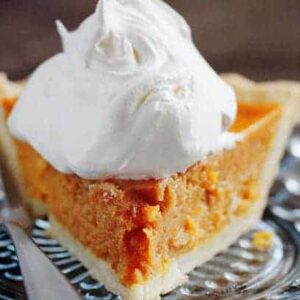 Simple Pumpkin Pie
This delicious Simple Pumpkin Pie recipe is quick, easy, and no-fail!
Keyword:
Simple Pumpkin Pie
Ingredients
2

large eggs

room temperature

1

16 ounce can pumpkin puree (not pumpkin pie filling)

1

14 ounce can sweetened condensed milk

1

tsp.

pumpkin pie spice

1

9 inch unbaked pie crust
Instructions
Preheat oven to 425 degrees F.

In a large bowl combine eggs, pumpkin puree, sweetened condensed milk, and pumpkin pie spice. Mix with hand-held mixer until combined. (You can also do this by hand.)

Spray a 9-inch pie dish with non-stick spray and carefully fit in pie crust.

Pinch edges together with fingers for a decorative edge.

Pour pumpkin mixture into the crust.

Place pie on a baking sheet and bake in the preheated oven for 15 minutes.

Reduce heat to 350 degrees F and bake until filling is set, 35 to 40 minutes.
Recipe from Allrecipes.
Tips for Success:
You can easily double the amount of pumpkin pie spice in this recipe. (You can taste as you go but be sure to add raw eggs AFTER you sample filling.)
Use a pie crust shield! I do not own anything so fancy, so I made my own. Simply cut a two-inch strip of foil and fold it lengthwise in half. Wrap it around the pie plate so that one folded edge covers over the crust edge, and the other folded edge wraps around the pie pan.
Cover your pie in wonderful, glorious WHIPPED CREAM! See my Rosette Pumpkin Pie here. (I dusted with cinnamon to make those roses POP!)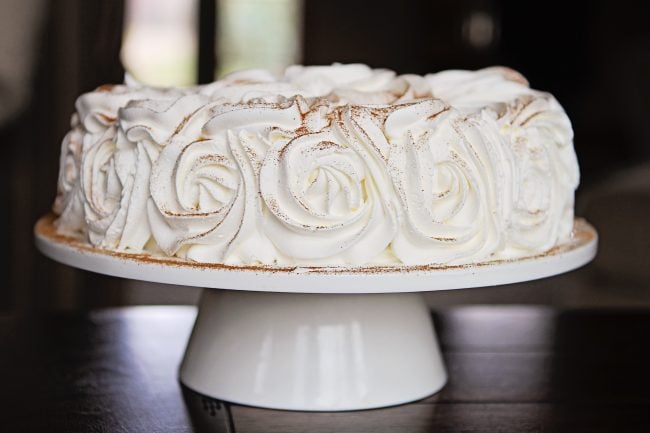 This takes 2 minutes to do and seriously knocks people's socks off! This is also the best method if your pie ends up with cracks.