Sourdough Blueberry Muffins are moist and fluffy and made with your leftover sourdough starter and fresh or frozen blueberries. The mild tangy taste from the sourdough is a delicious way to step up your blueberry muffin recipe! For another delicious blueberry treat, try my Blueberry Pie Muffins or Fresh Blueberry Fritters!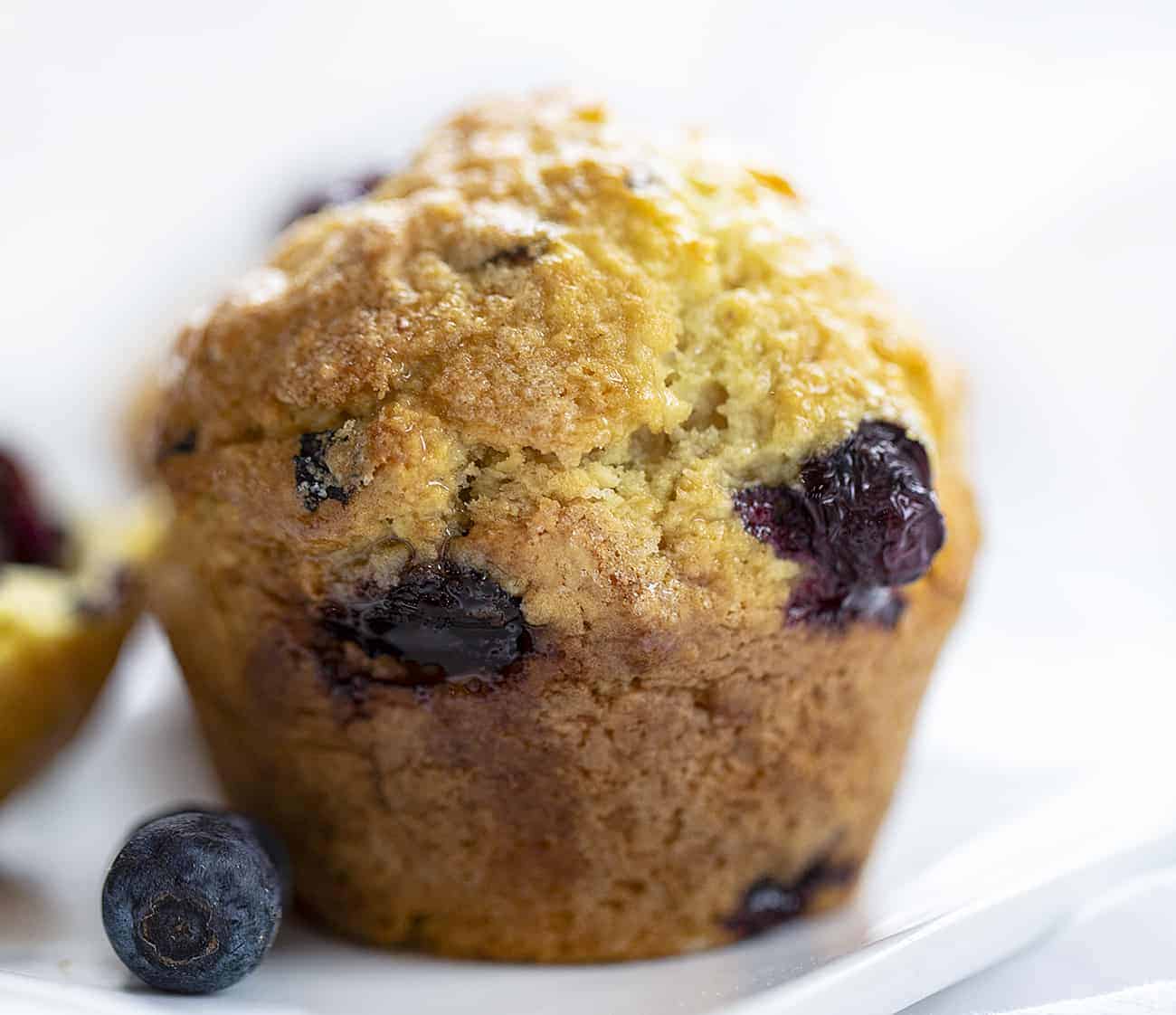 Sourdough Blueberry Muffins
There is something special about the smell of freshly baked blueberry muffins. I love it when the tops of the muffins start to puff up as they are baking. You know they are a popular treat when there is a National Blueberry Muffin Day! On July 11th, be sure to have some blueberry muffins ready to go! But, don't wait until then to make these Sourdough Blueberry Muffins. Once you have your sourdough starter going, you can perfect this recipe by making them lots of times before July! And trust me, you will want to make these as many times as you can!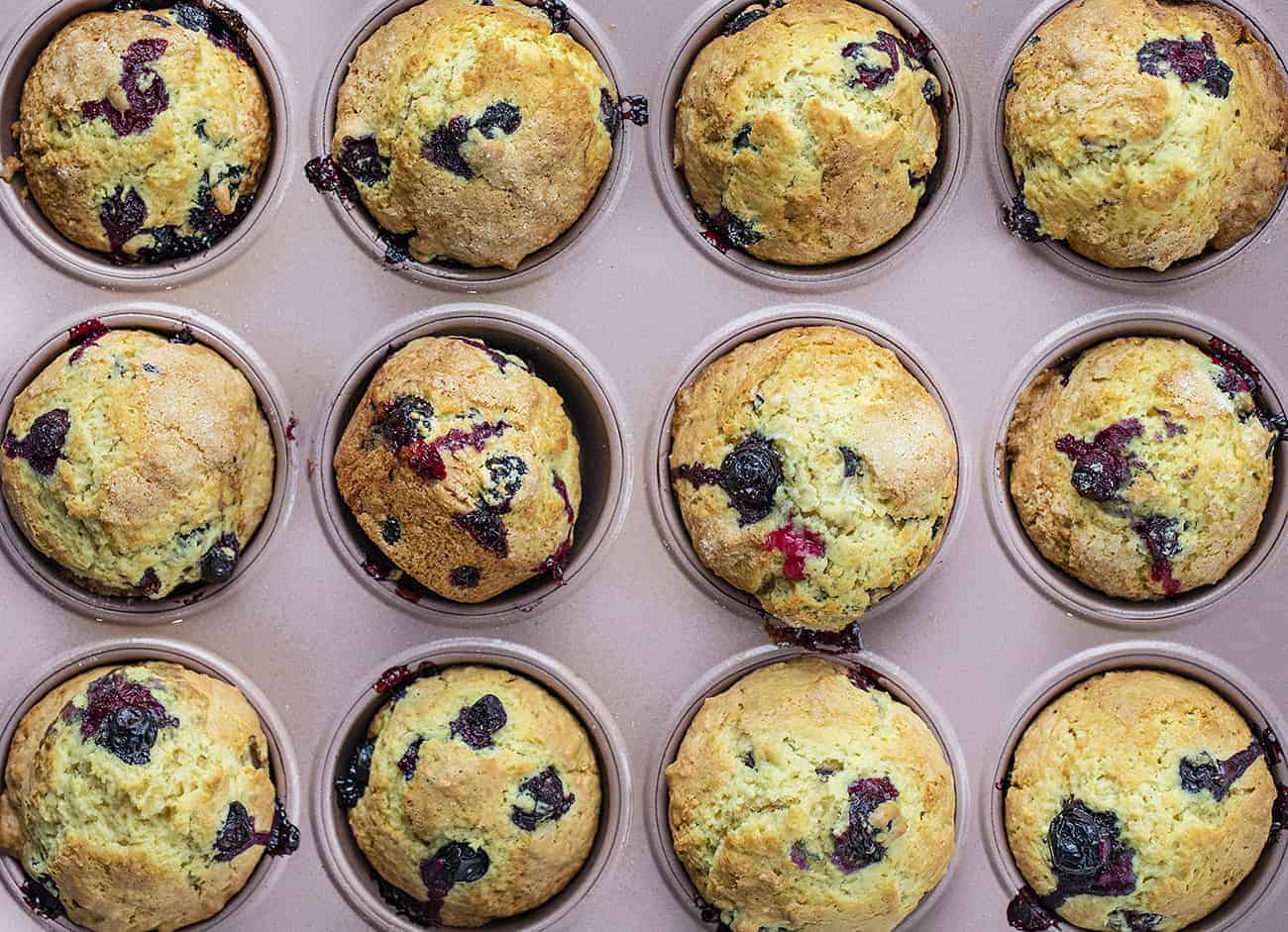 Sourdough Blueberry Muffins Recipe
As I mentioned, once you have your sourdough starter ready to go, you can use the discard or the fed starter for this recipe.
How do these blueberry sourdough muffins actually taste? I found the texture to be a bit heavier than a traditional muffin, and the flavor to be a bit different as well. Not in a bad way, I just want to warn you that if you are comparing them to a traditional blueberry muffin you will notice the difference. HOWEVER, my kids and husband said that they actually preferred this recipe to the classic. I think these are really good, solid muffins. The blueberry flavor shines through and I would recommend adding a few extra blueberries to the top when you bake them.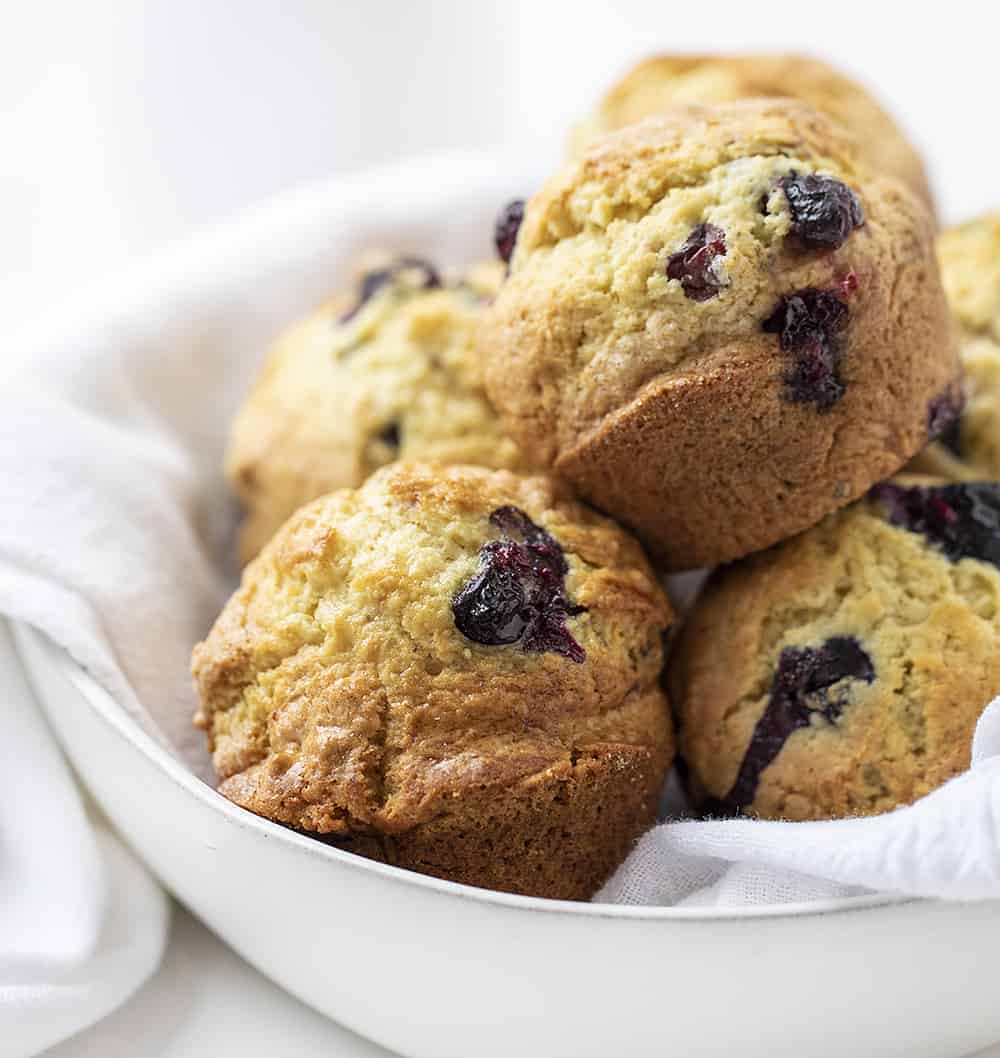 Frozen vs. Fresh Blueberries
You can use either frozen or fresh blueberries in this muffin recipe. But, those both crush easily in the batter, so you could also go with dried blueberries. The heavier the batter, the more likely your blueberries will be crushed. Any blueberries you choose to use should be added as the final ingredient since they do bleed out their color. And, make sure the frozen blueberries are added when they are frozen. All of these choices are good choices because you are using real blueberries. Be careful when you grab a muffin from the gas station. Some of those blueberry muffins don't even use real blueberries! Homemade is always best!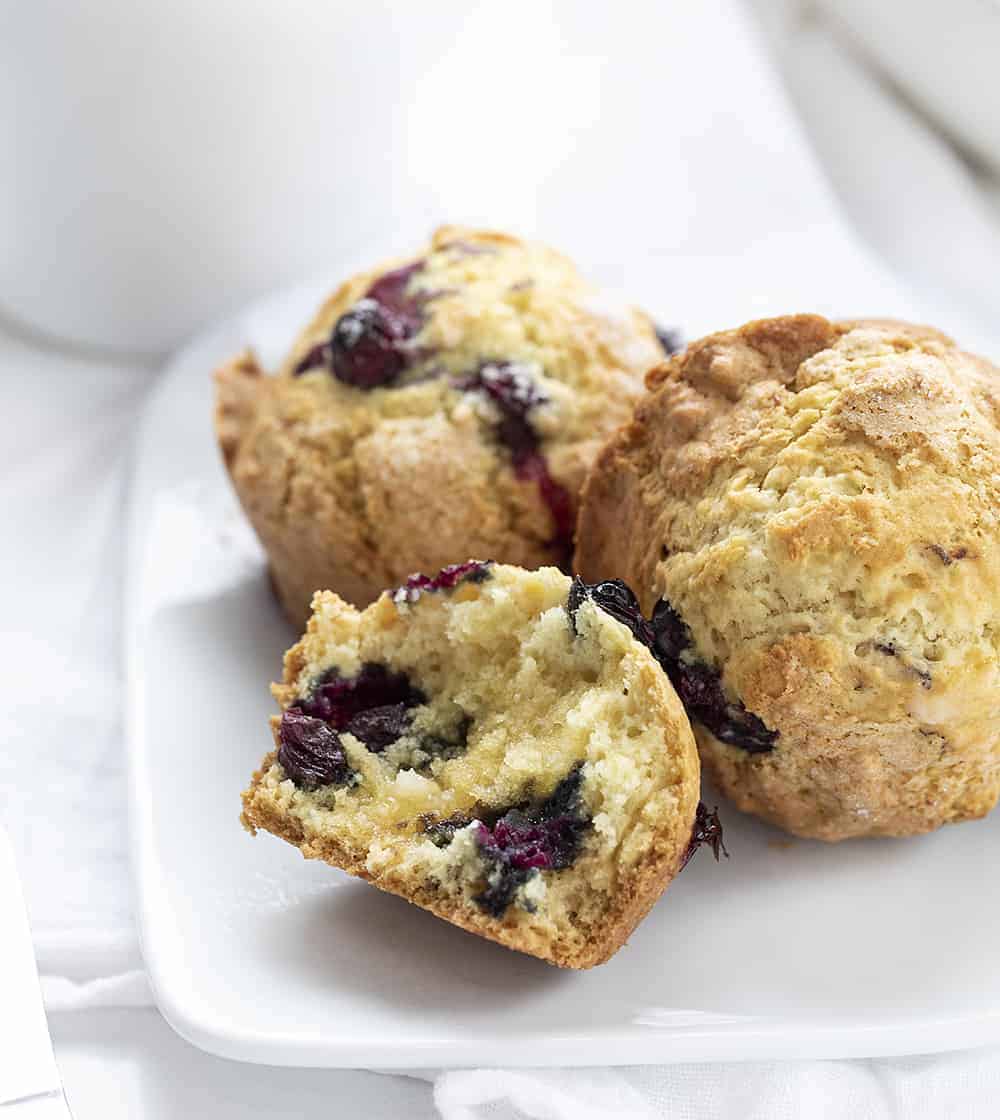 How to Store Muffins
There are a few ways to properly store muffins.
Room Temperature: Because they are best enjoyed at room temperature, this is usually the recommended way to storing. I use a larger sealable plastic bag or an airtight container to store the muffins in a single layer. Some folks recommend adding a piece of paper towel to the bottom so that it will soak up any condensation. If your muffins are properly cooled before storing, this may not be necessary. However, if I am using an airtight container, I will often add a piece of bread to the container, torn in half, and fit in between the muffins. The bread will soak up moisture as well. Best enjoyed within 2-3 days.
Refrigerator: (Refrigeration, in general, dries out baked goods faster so a typical muffin recipe shouldn't be refrigerated.) Place in a sealable plastic bag or airtight container and then place into the refrigerator. They should keep for up to 5 days. To reheat, remove from refrigerator pop into the microwave for 10 seconds or just allow muffin to come to room temperature naturally, about 15 minutes.
Freezer: Place cooled muffins into a freezer-safe sealable plastic bag or a freezer-safe airtight container and pack as closely as possible without crushing. Remove as much air as possible. Label with date and recipe name.
How to Reheat Frozen Muffins
Remove muffin from the freezer and allow to come to room temperature overnight in the refrigerator or on the counter for a couple of hours.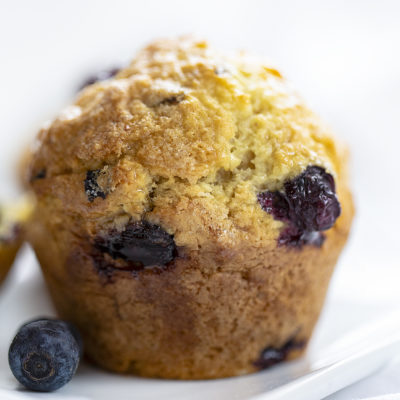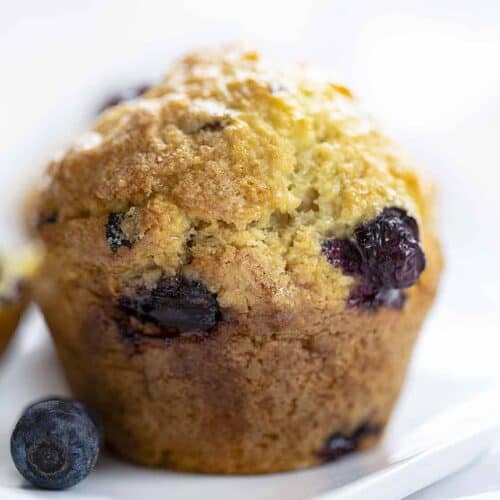 Sourdough Blueberry Muffins
Use your sourdough starter to make these moist and fluffy Sourdough Blueberry Muffins!
Ingredients
2

cups

all-purpose flour

1

teaspoon

baking soda

¾

teaspoon

salt

1

cup

sourdough starter,

discard or fed

¼

cup

milk

1

large

egg

4

tablespoons

butter,

melted (or 1/4 cup vegetable oil)

¾

cup

brown sugar

2

cups

blueberries,

fresh or frozen

Granulated or coarse sugar,

for topping (optional)
Instructions
Prepare a muffin tin with nonstick cooking spray.

Whisk flour, baking soda, and salt together in a large bowl. Set aside.

In a stand mixer, mix together the sourdough starter, milk, egg, butter, and brown sugar.

Remove bowl from mixer and fold in the flour mixture. Once mostly combined, gently add the blueberries into the batter.

Use an ice cream scoop or large spoon to divide batter equally among the prepared muffin cups. Sprinkle tops of muffins with granulated or coarse sugar (optional).

Bake until muffin tops are golden and just firm, about 25 minutes, at 425°F.

Cool muffins in muffin tin for 5 minutes, then transfer to wire rack.
Did you make this recipe?
Thank you for making my recipe! You took pictures, right? Well go ahead and post them on Instagram! Be sure to mention me @iambaker and use the hashtag #YouAreBaker.