Summer Chicken Salad… fantastic flavor and texture combine for a unique salad that is a crowd-pleaser! The base to this salad is arugula which offers a hint of pepper which just so happens to perfectly contrast with the other ingredients! If you love this salad you are going to flip for my Cheeseburger Salad and Blackberry Chicken Salad!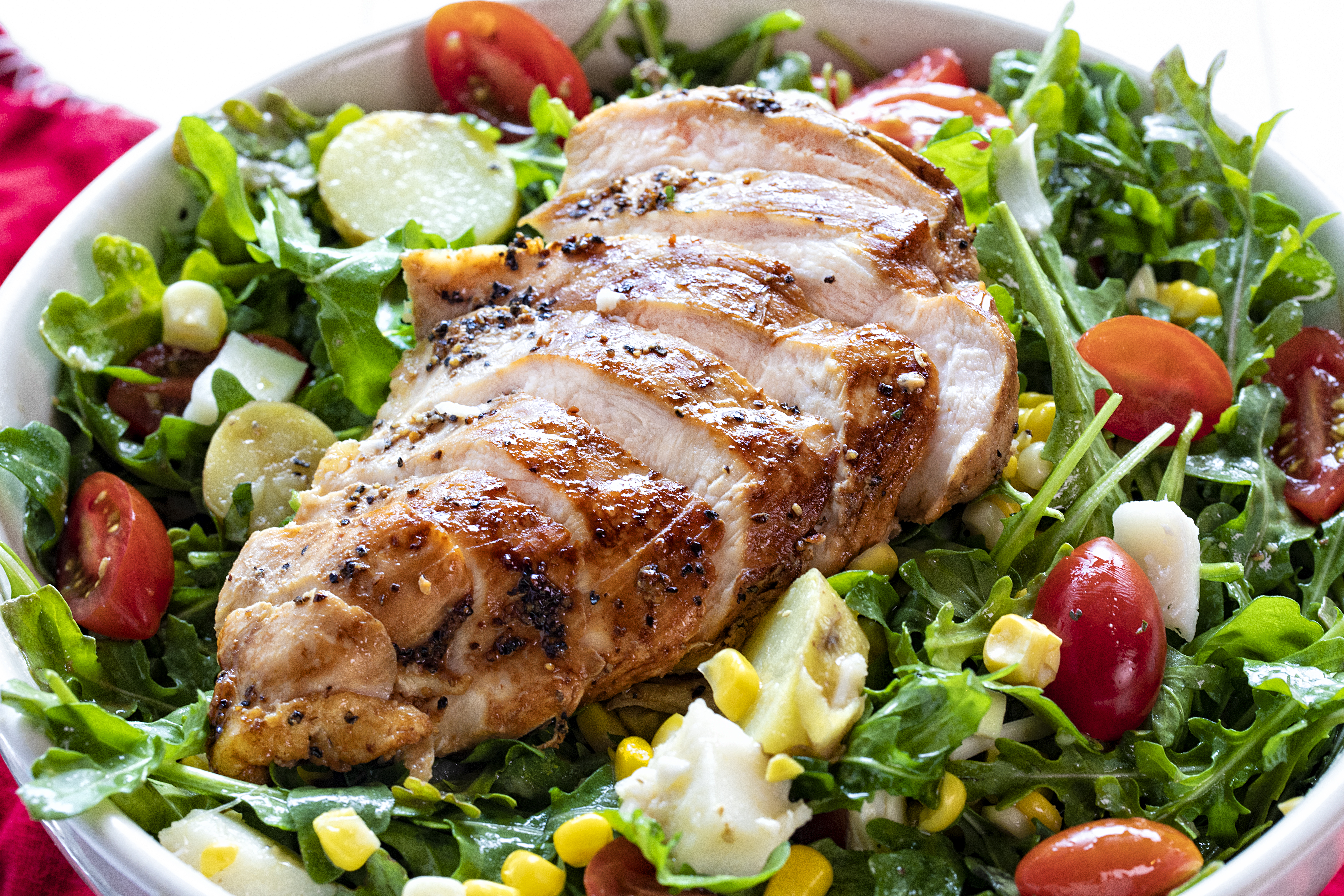 Summer Chicken Salad
What the heck is a "summer chicken salad" anyway? It is basically a salad that utilizes chicken (pan-fried, grilled, baked, or smoked) and fresh-from-the-garden ingredients. It is a salad that fills you up, but not with heavy croutons or carbs. It is a salad that you can make for your family or serve at a BBQ!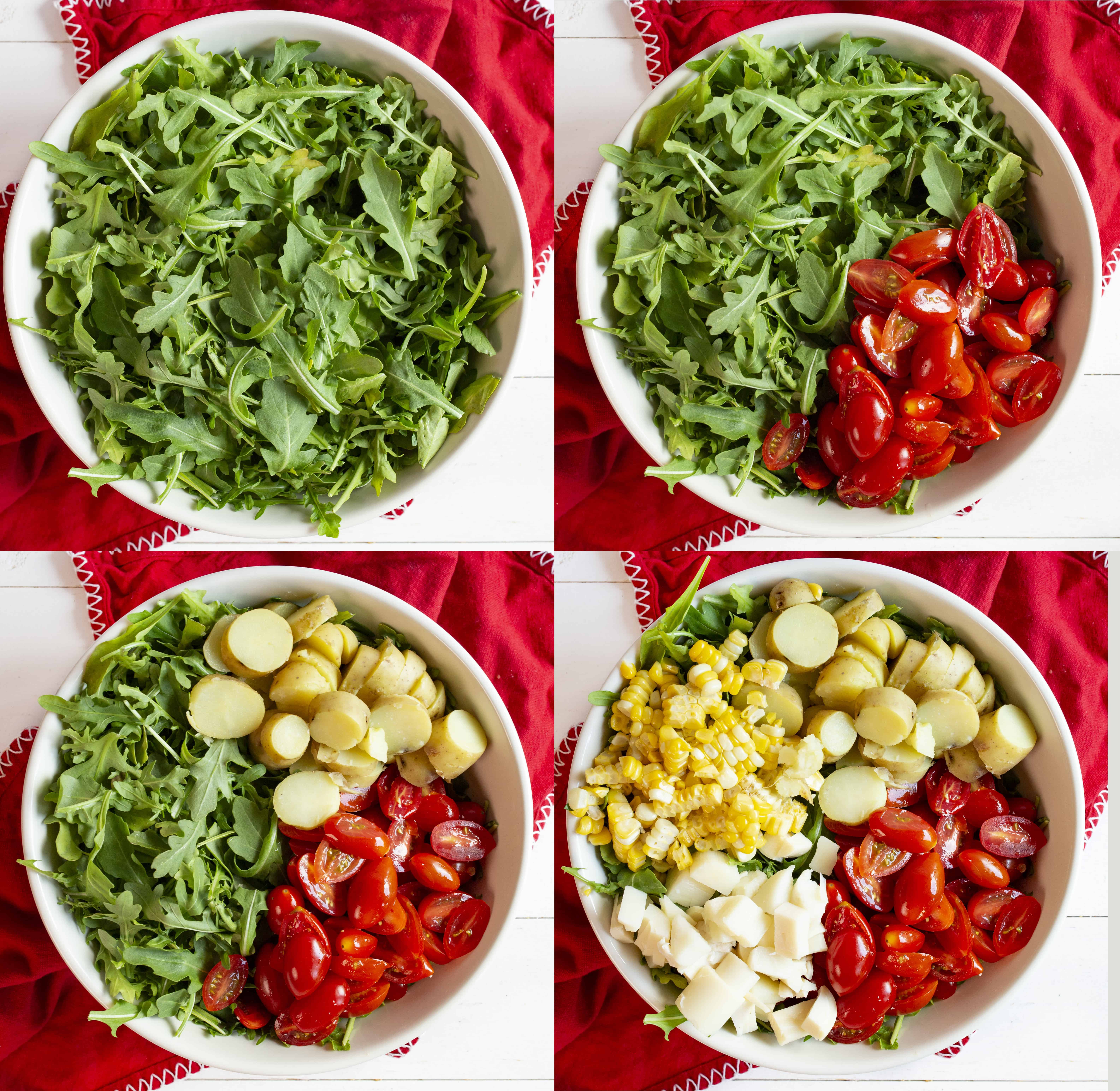 How to Make a Summer Chicken Salad
Let's talk about the base ingredients.
Arugula – Arugula is a vegetable that unique "peppery" taste. It is best served in summer with a vinaigrette dressing. I don't recommend swapping out other salad greens in this recipe specifically.
Tomatoes – Plum or cherry tomatoes work best in this recipe. They are a sweet compliment to the other flavors and when it comes to tomatoes, more is more! If you only have a vine or beefsteak tomato, try to remove the seeds and only chop up the sturdy flesh of the tomato.
Potatoes – Fingerling potatoes to be more specific. Fingerlings, when harvested at maturity, have time to develop more complexity of flavor that some folks describe as "nutty". They come in a variety of colors, including yellow, orange, red, blue/purple, and of course white. They are the perfect addition to this salad not only for flavor but for size.
Fresh Corn – Utilizing the fresh corn from corn on the cob is a great idea for this salad. If you don't happen to have fresh corn on the cob, canned corn or frozen corn will also work. Just be sure to thaw the frozen corn fully.
Hearts of Palm – If you are anything like me, you have not eaten hearts of palm in a salad and may have some reservations! They are similar to artichokes and almost "nutty" in flavor with a slightly creamy center. There is a lot of subtle "nutty" components in this recipe and rest assured, they work very well together!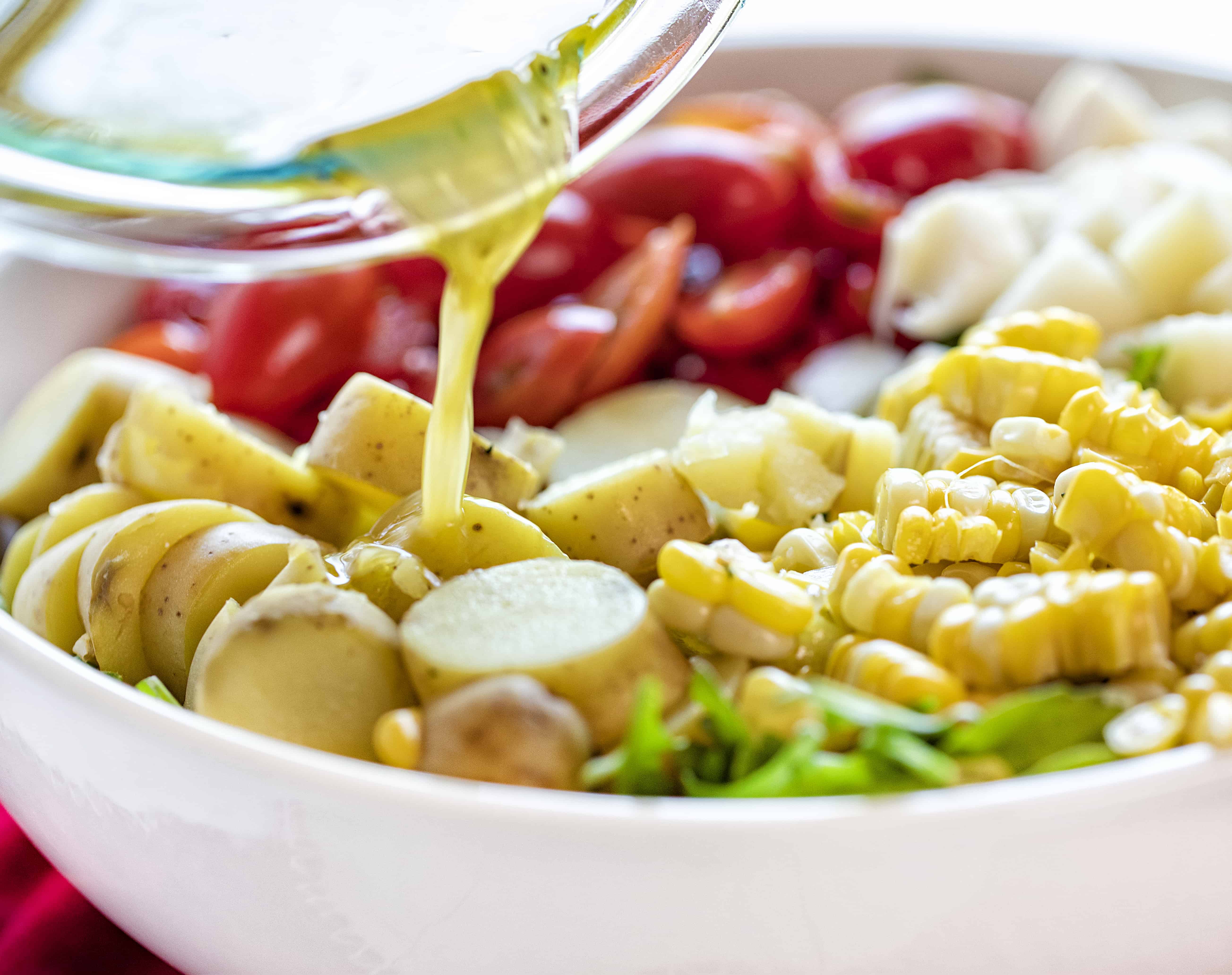 How to Make Vinaigrette
As I mentioned above, I highly recommend using vinaigrette when arugula is the base for a salad. They complement and enhance each other beautifully and create a wonderful complexity of flavor that you will come to crave! For this homemade vinaigrette you will need:
Lemon
Red Wine Vinegar
Dijon Mustard
Oliva Oil
Salt & Pepper to taste
In a small bowl, add all of the ingredients except for the salt & pepper. Whisk well to combine and then do a taste test. It will be bitter, of course, but you should definitely pick up the mustard and red wine vinegar flavors. If you want to enhance those flavors add salt. If you want to add another layer of flavor, add in some pepper. A pinch of each should do!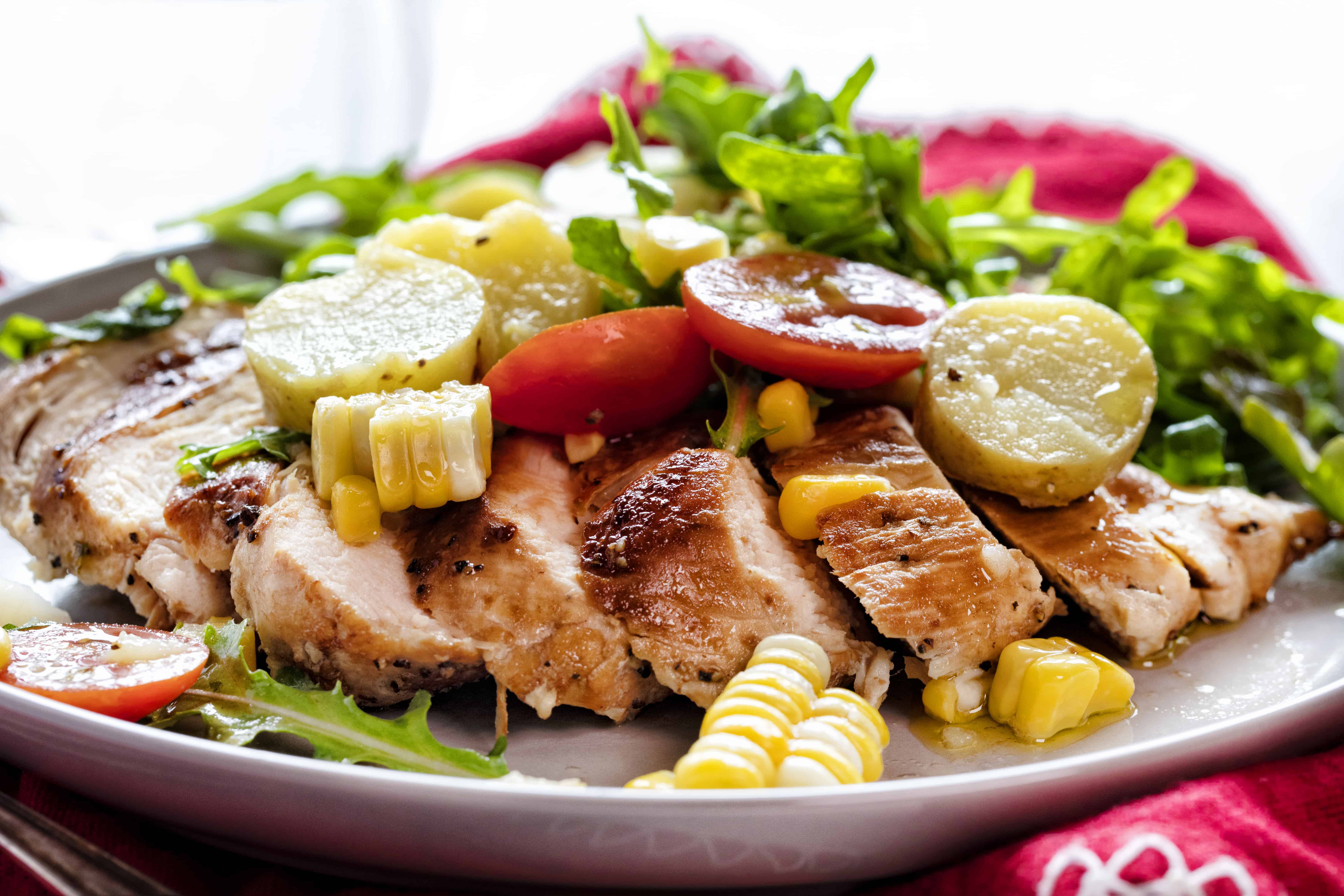 Grilled Chicken for Summer Salad
For the chicken, you only need a few simple ingredients. Olive oil, lemon juice, and salt & pepper. You may be thinking that the chicken will not be seasoned enough, but when it is combined with this flavor-loaded salad, it is perfect!
Simply heat the olive oil and lemon juice in a skillet. Sprinkle salt & pepper over both sides of the chicken and then place them into a heated skillet. Cook the chicken for about 4 minutes on each side, or until the internal temperature reaches 165°F. Set aside until you are ready to assemble the salad. When you are served to serve, slice the chicken on the diagonal against the grain.
The chicken can be served hot, warm, or cold on this salad. I have tried them all slightly prefer hot, but truly enjoyed them all.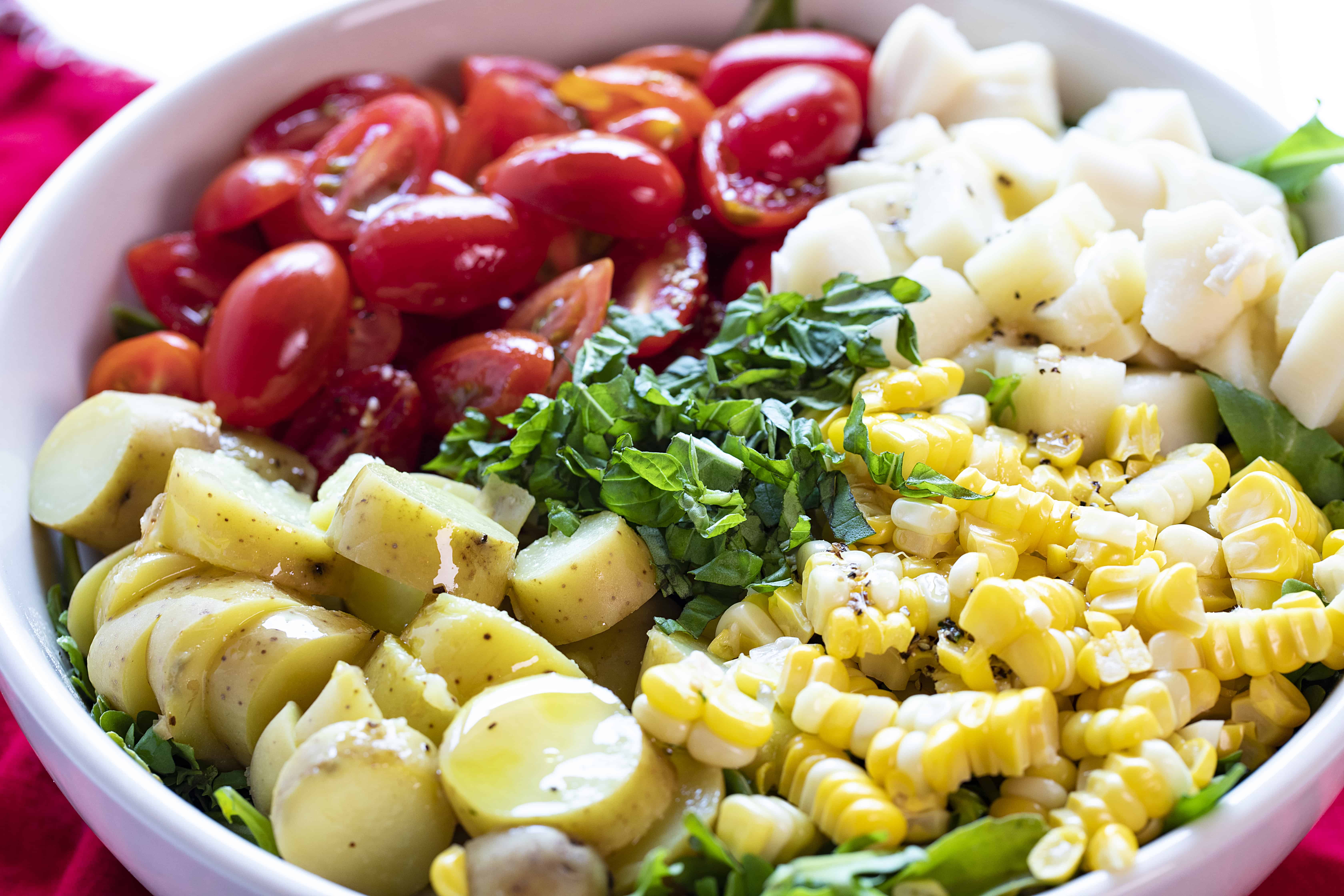 How to Assemble the Perfect Summer Chicken Salad
In a large bowl, place a bed of arugula. (I use about 3 cups, but you can easily use the entire container of salad.) Add the chopped tomatoes, cooked potatoes, corn, hearts of palm, and chopped basil. Cover the ingredients with the vinaigrette and then toss, making sure each ingredient is fully coated with the dressing.
To Serve Summer Chicken Salad
There are two ways to serve this salad. You can either place the sliced chicken directly on top of the tossed salad, or you can serve the chicken on individual plates and then place a hearty portion of the salad directly on top of the chicken. If you opt to place the chicken directly on top of the salad, you make want to cut the chicken a little thinner, making sure they are bite-sized.
No matter how you serve it, this salad is one folks will enjoy!
Love Salads? Check Out These Winning Recipes:
Grilled Chicken Cobb Salad Recipe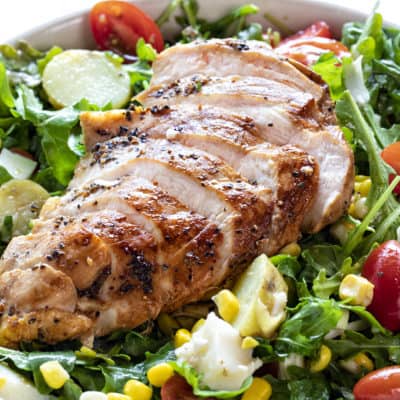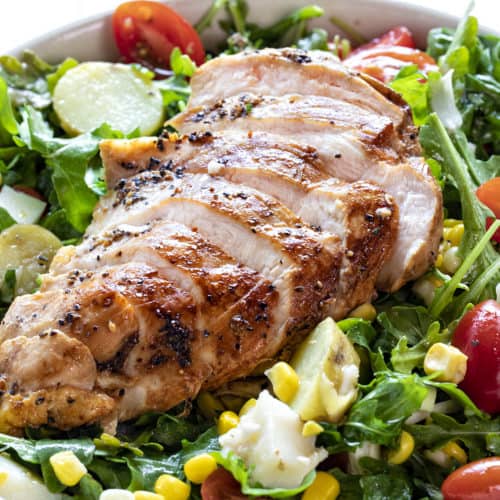 Summer Chicken Salad
A beautiful summer salad that is loaded with texture and flavor!
Ingredients
Salad
5 to 6

fingerling potatoes,

about 1/3 pound

3/4

cup

canned sweet corn

1/2

cup

hearts of palm,

sliced

1

package

(10.5 ounce) cherry tomatoes,

sliced lengthwise

2

large handfuls arugula, (about 3 cups)

washed and dried

1

tablespoon

basil leaves,

roughly chopped
Vinaigrette
1/2

lemon, juiced (about 2 tablespoons)

2

tablespoons

red wine vinegar

1

teaspoon

dijon mustard

1/2

cup

olive oil

Salt and freshly ground black pepper,

to taste
Chicken
4

skinless boneless chicken breasts

1/4

cup

olive oil

1/2

lemon, juiced (about 2 tablespoons)

1/2

teaspoon

salt

1/2

teaspoon

fresh ground black pepper
Instructions
Potatoes and Corn
Bring a small pot of salted water to boil. Add the unpeeled potatoes to the pot and cook for 10-12 minutes, or until fork tender. Remove, cool, and slice into 1/4-inch rounds. Set aside.

Using the microwave, cook the ear of corn on high for 3 minutes. Allow to cool in the microwave for an additional 5 minutes. Cut the end of the ear of corn off and carefully slip off the husk and silk. Use an oven mitt if the ear is still too hot. Cut the kernels off the cob.

Add the kernels with the sliced potatoes, hearts of palm, sliced tomatoes, arugula, and basil. Set aside.
Vinaigrette
Combine the lemon juice, vinegar, mustard, and olive oil in a bowl and whisk to combine. Season with salt and pepper. Set aside.
Chicken
Season both sides of chicken breasts with salt and pepper.

Heat the oil and lemon juice in a very large skillet over high heat. Add the chicken and cook for about 4 minutes on each side, flipping carefully with tongs, until the chicken cooks through (internal temperature of 165°F). Remove from heat. Slice.

To serve, toss the salad with the vinaigrette. Place one chicken breast on each plate and top with the salad.
Did you make this recipe?
Thank you for making my recipe! You took pictures, right? Well go ahead and post them on Instagram! Be sure to mention me @iambaker and use the hashtag #YouAreBaker.