With the perfect blend of spices and smooth texture, Sweet Potato Pie just might be your go-to pie this Thanksgiving. And yes, I do mean it may beat out the pumpkin pie! But, if you want the pumpkin pie, too, give my Pumpkin Slab Pie a try!
Sweet Potato Pie
Sweet Potato Pie has a lot of history to it. Recipes for this creamy and comforting pie have been around since the 1800s. George Washington Carver even had a recipe included in his 100 ways to use sweet potatoes. I can see why! With a flaky crust and perfectly spiced sweet potatoes, the pie just melts in your mouth. After my last bite, I was hoping there was more on my plate to enjoy. In fact, I did help myself to another piece because it is just that good!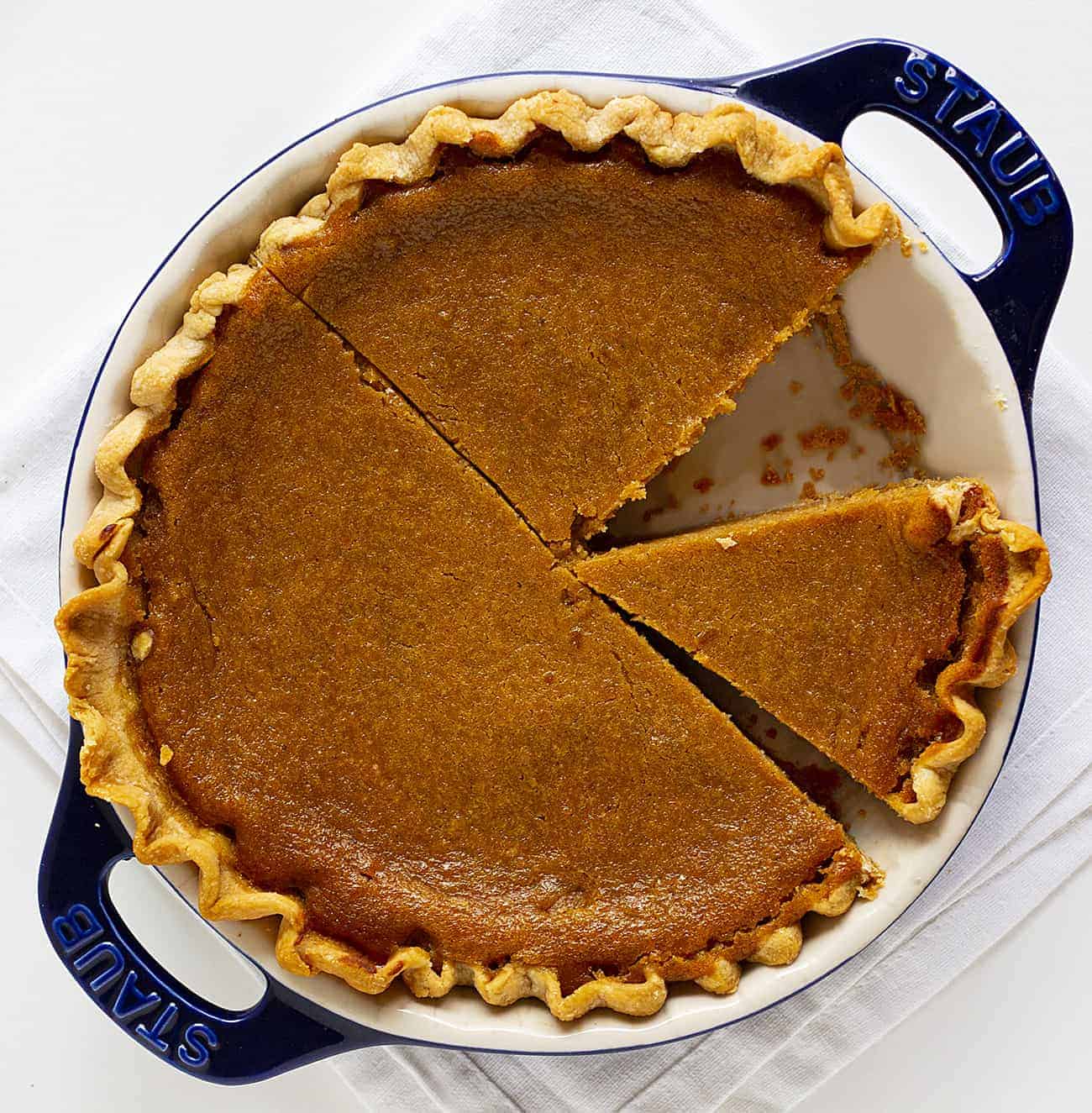 How to Make Sweet Potato Pie
It's really simple to make Sweet Potato Pie. It just takes some time to bake it. It's simply a matter of mixing the pie ingredients together to make this delicious dessert! Before you begin, be sure to preheat the oven to 350°F.
Put an unbaked pie crust in a pie pan and cinch the edge of the crust. (Just use a fork to crimp around the crust if you don't feel like doing any fancy scalloping.) I love this Pie Crust Recipe.
Bake the crust for 10 minutes and remove it from the oven to cool while you mix the pie ingredients.
Combine all the pie ingredients together, mixing with a hand mixer for about 5-6 minutes.
Pour the sweet potato mixture into the pie crust that was cooling down and cover it with tin foil. Bake this for about 50 minutes, followed by another 20-30 minutes without the tin foil.
Don't worry if the pie is all puffed up–it will settle as it cools.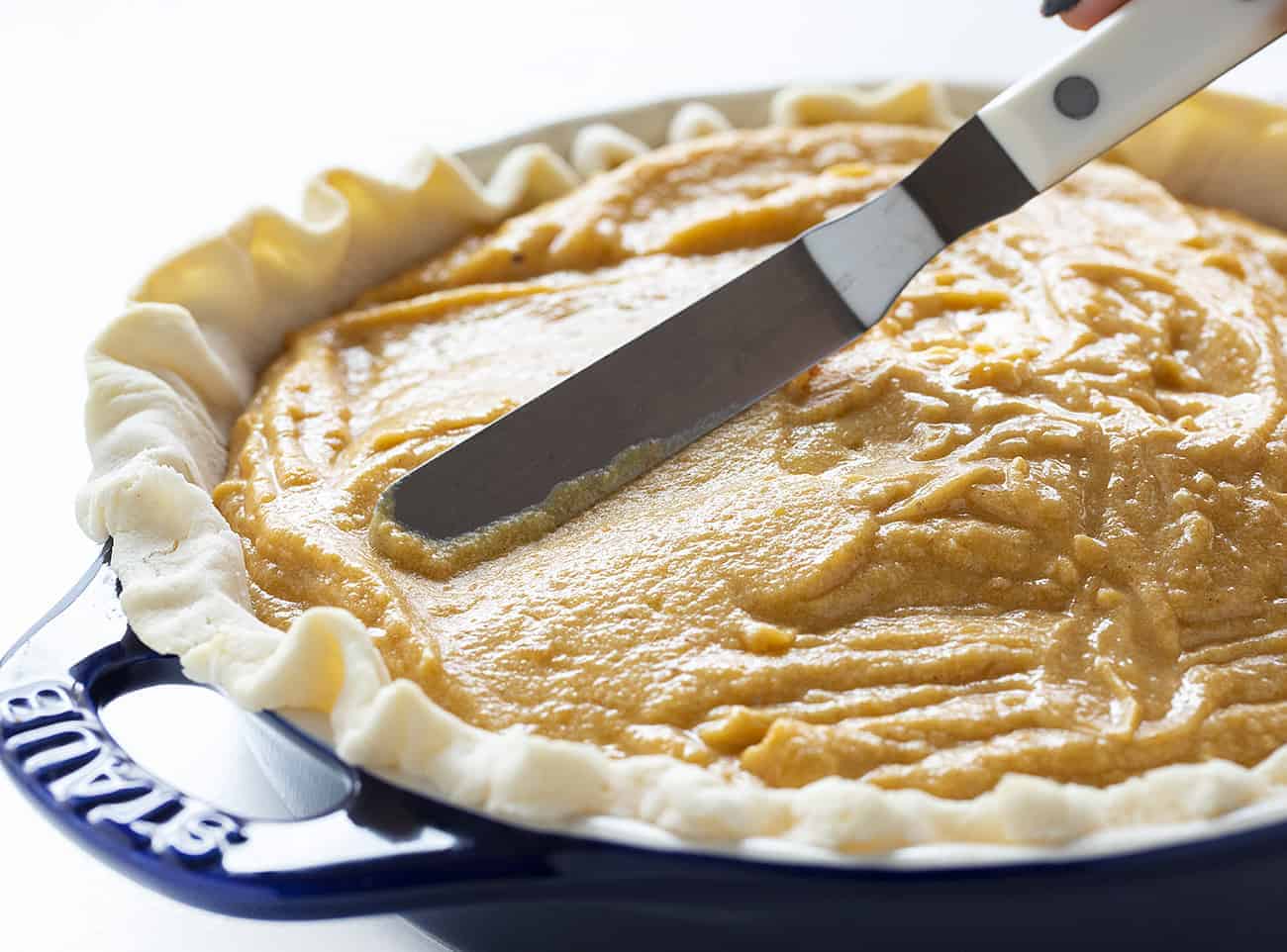 Can I Freeze a Sweet Potato Pie?
Definitely! If you are planning to make Sweet Potato Pie for a holiday dinner, I understand how busy it is. So, having a few things made ahead of time can really take off some of the stress! The first thing I will emphasize is to allow the pie to cool completely, and I do mean completely (like for 8 hours or so) before freezing it. Then, wrap it in plastic wrap, maybe even a couple of layers of it, and seal it in a freezer bag. The nice thing is that your frozen pie will last up to 3 months!
To reheat the Sweet Potato Pie so it's ready to serve, there are a couple of ways you can do this.
Remove the pie from the freezer, making sure to wipe off any frost that may be on it. Then, put it on a baking sheet to bake for 40-70 minutes at 300°F. This time is for a 10-inch pie, but times are less if you are reheating a smaller pie. To check, put a knife in the center, pull it out and check if the pie has warmed up. That's it!
Another option is to take the frozen pie out ahead of time and let it thaw for 4-5 hours with the plastic wrap on. Remove the plastic wrap when you are ready to bake it. Any size pie will then take about 30 minutes at 300°F.
Top the pie with whipped cream or ice cream for a traditional topping. But, don't forget about mini marshmallows and maybe a little maple syrup to sweeten it up even more!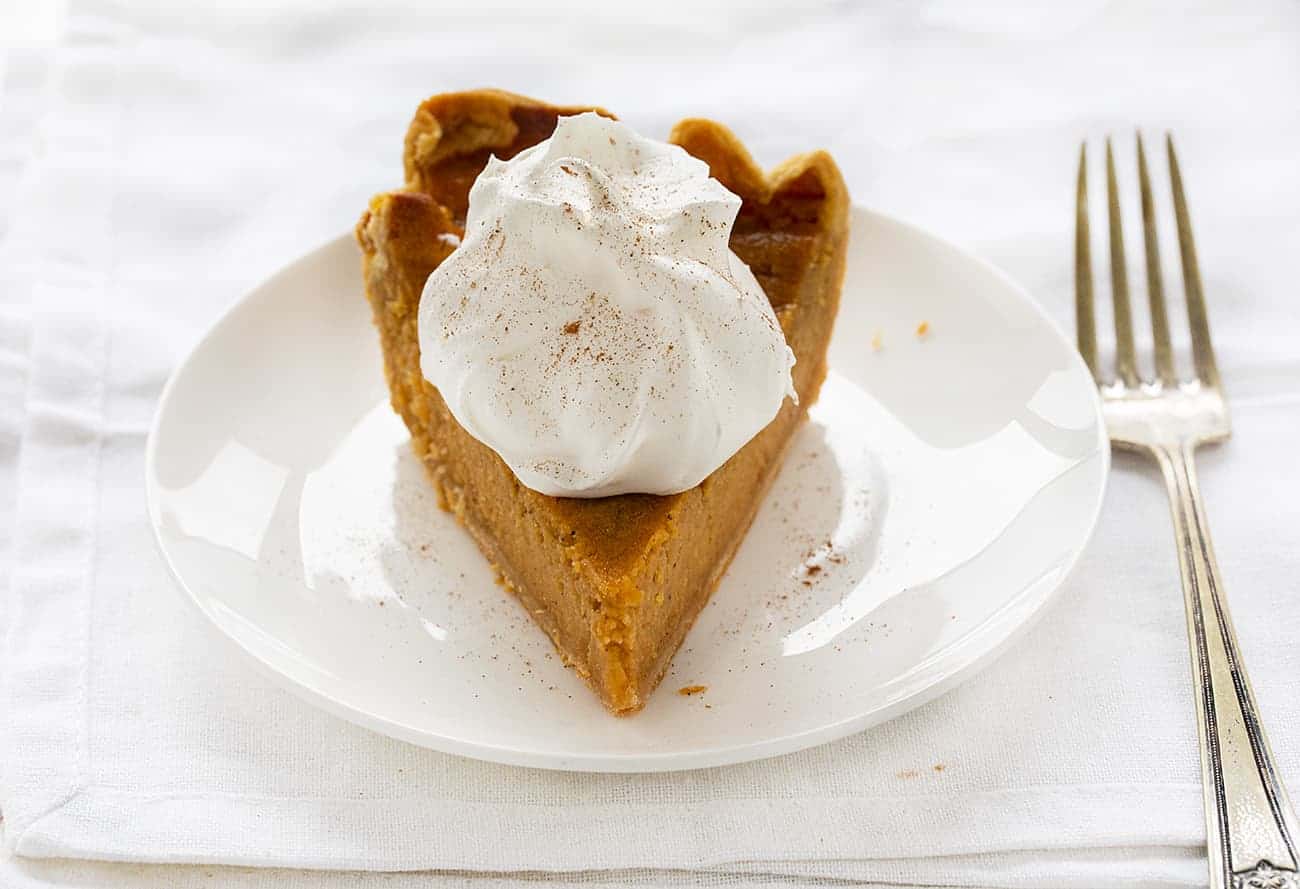 Looking for More Dessert Recipes?
You can never have too many desserts during the holiday season (or any time for that matter)!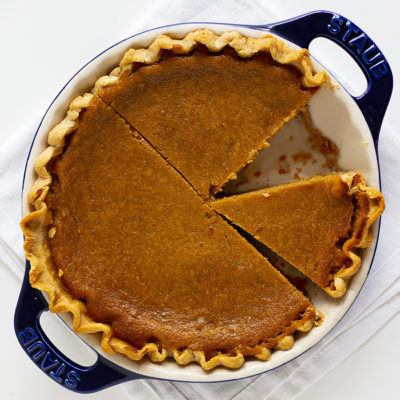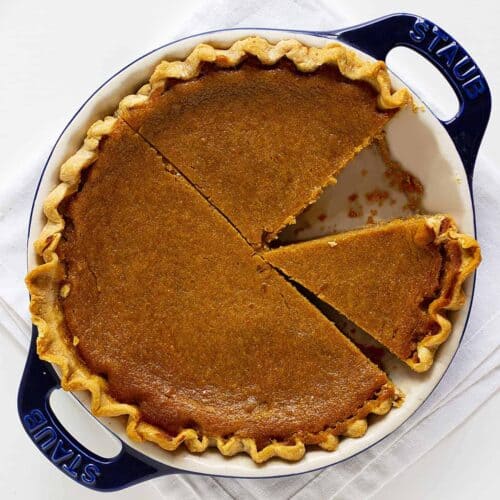 Sweet Potato Pie
With the perfect blend of spices and a lovely, creamy texture, Sweet Potato Pie is a perfect dessert for your holiday feasts!
Ingredients
1

9-inch pie crust,

unbaked

1

can

(29 ounces) sweet potatoes,

packed in syrup and drained

1/2

cup

butter,

melted

1/2

cup

(100g) granulated sugar

1/2

cup

(100g) brown sugar

1/2

cup

(126g) evaporated milk

2

large

eggs,

room temperature

1/2

teaspoon

ground nutmeg

1/2

teaspoon

ground cinnamon

1

teaspoon

vanilla extract
Instructions
Preheat oven to 350°F.

Place unbaked pie crust in a 9-inch pie pan.

Cinch the edge of your pie crust to create your desired shape.

Place the pie crust in the oven and bake for 10 minutes. Remove from the oven and cool while you prepare the filling.

In a large bowl, combine sweet potato, melted butter, granulated sugar, brown sugar, evaporated milk, eggs, nutmeg, cinnamon, and vanilla.

Using a hand mixer, beat all ingredients together on medium speed until smooth (5-6 minutes)

Pour filling into the prebaked pie crust.

Bake for 50 minutes, remove from oven and remove foil, and then bake for another 20-30 minutes or until a sharp knife inserted in the center comes out clean.
Did you make this recipe?
Thank you for making my recipe! You took pictures, right? Well go ahead and post them on Instagram! Be sure to mention me @iambaker and use the hashtag #YouAreBaker.