This recipe was sent by a reader and the second it hit my inbox, I knew I had to try it! We were not disappointed! A layer of creamy pumpkin, yellow cake, pecans, and a caramel drizzle all come together so beautifully! One of the best parts about this dessert is how EASY it is. You can whip it up in minutes and be the star of your get together! If you love the ease and taste of dump cakes, try my caramel apple pie dump cake, peach dump cake, or my popular cherry dump cake!
Pumpkin Pecan Dump Cake
Pumpkin spice and flavoring are in everything around here at this time of year. Plus, with Thanksgiving right around the corner, you know everyone is preparing their pumpkin pies! But, I understand how crazy holiday meals can be, and making a homemade pie may not fit in your schedule. With dump cakes, you can have a wonderful dessert that doesn't have to take all day. This Pumpkin Pecan Dump Cake lets you put all the ingredients in a baking pan in a matter of minutes and then it's the oven that does all the work! This would be a great dessert option for Thanksgiving, or any time of year if you ask me!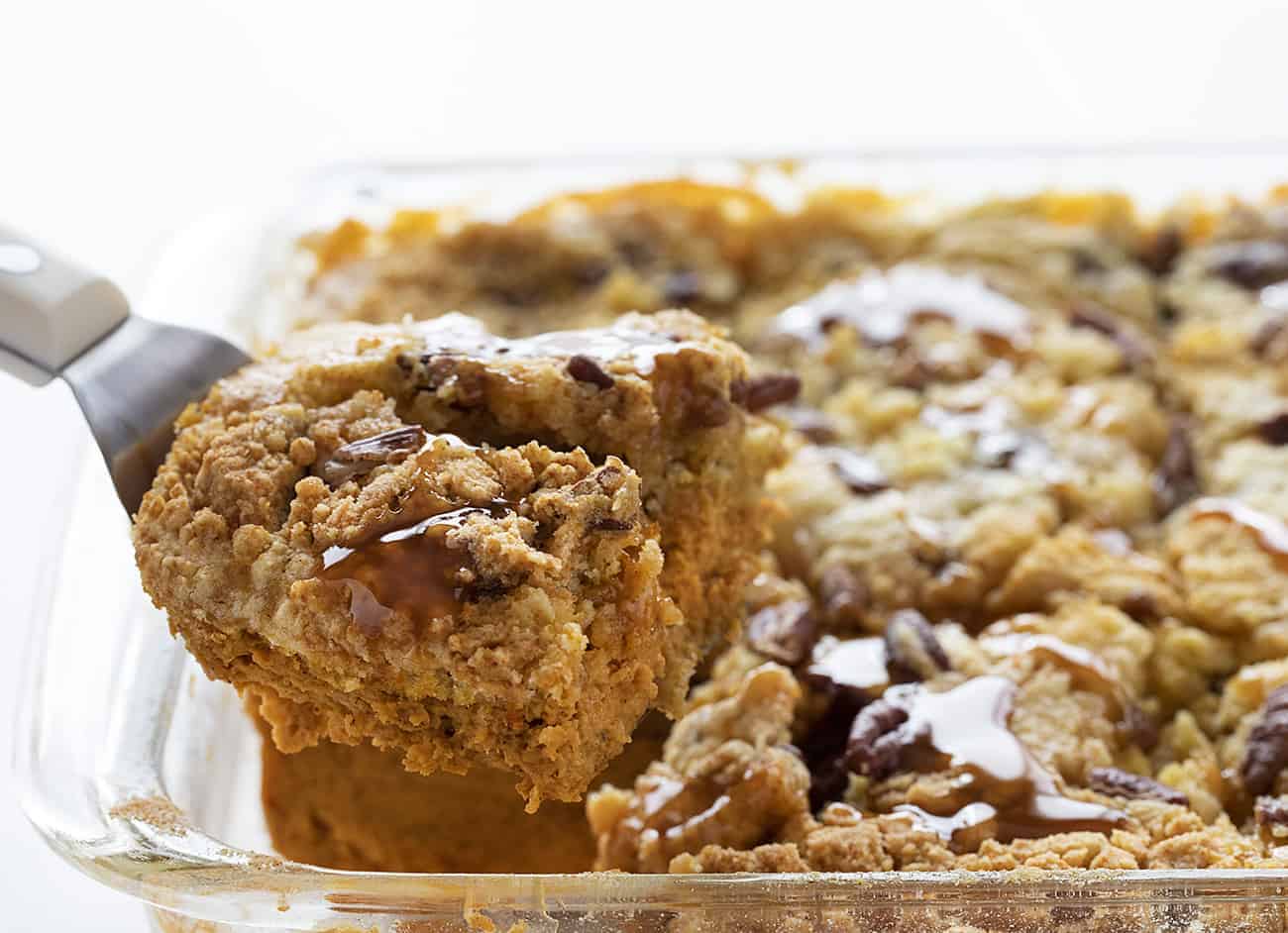 How to Make Pumpkin Pecan Dump Cake
Just like other dump cakes, this Pumpkin Pecan Dump Cake is so easy to make, but it tastes much more complicated! It's such a perfect fall treat and would be a sweet option for another holiday dessert. You might have noticed that I used homemade pumpkin pie spice in this recipe. Homemade spices pack more of a punch than spices that are store-bought. I recommend you double the amount of spice in the recipe if you are using a store-bought spice. For example, in this recipe, I used 2 teaspoons homemade pumpkin pie spice which equals 4 teaspoons store-bought spice.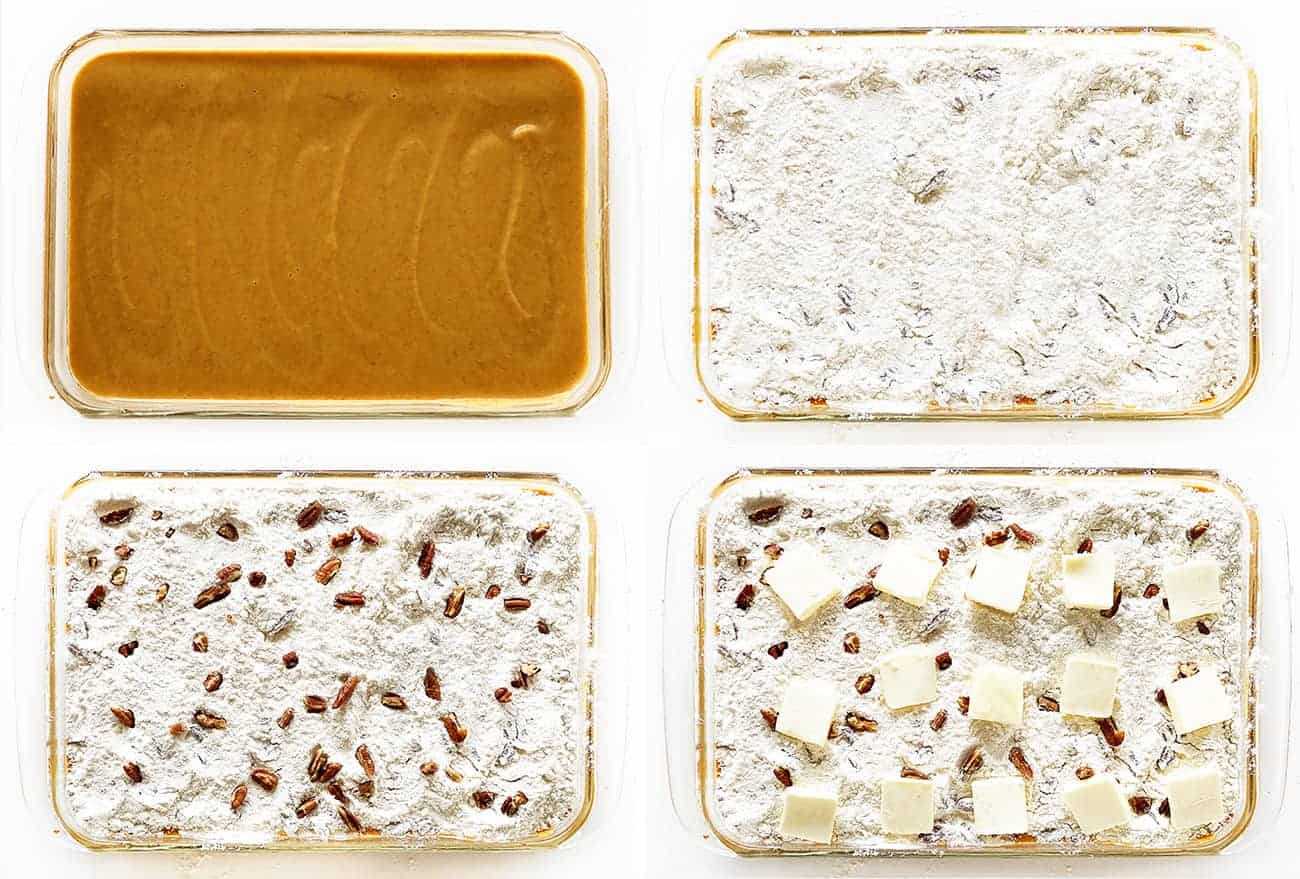 Layers of the Pumpkin Pecan Dump Cake
Once you have your layers put together in your baking pan, your work is done! Preheat the oven to 350°F while you combine the pumpkin puree, homemade pumpkin spice, sugar, and eggs. (Out of eggs? No problem. Try one of my Egg Substitutes for this recipe!) Mix these ingredients together and spread it on the bottom of your greased pan. Next, sprinkle the cake mix and chopped pecans all over the pumpkin mixture. Then, evenly place about 16 pads of butter on top of everything. Cover the baking pan with tin foil and bake for about an hour. The Pumpkin Pecan Dump Cake will be golden brown and bubbling. It's now ready for some caramel drizzle!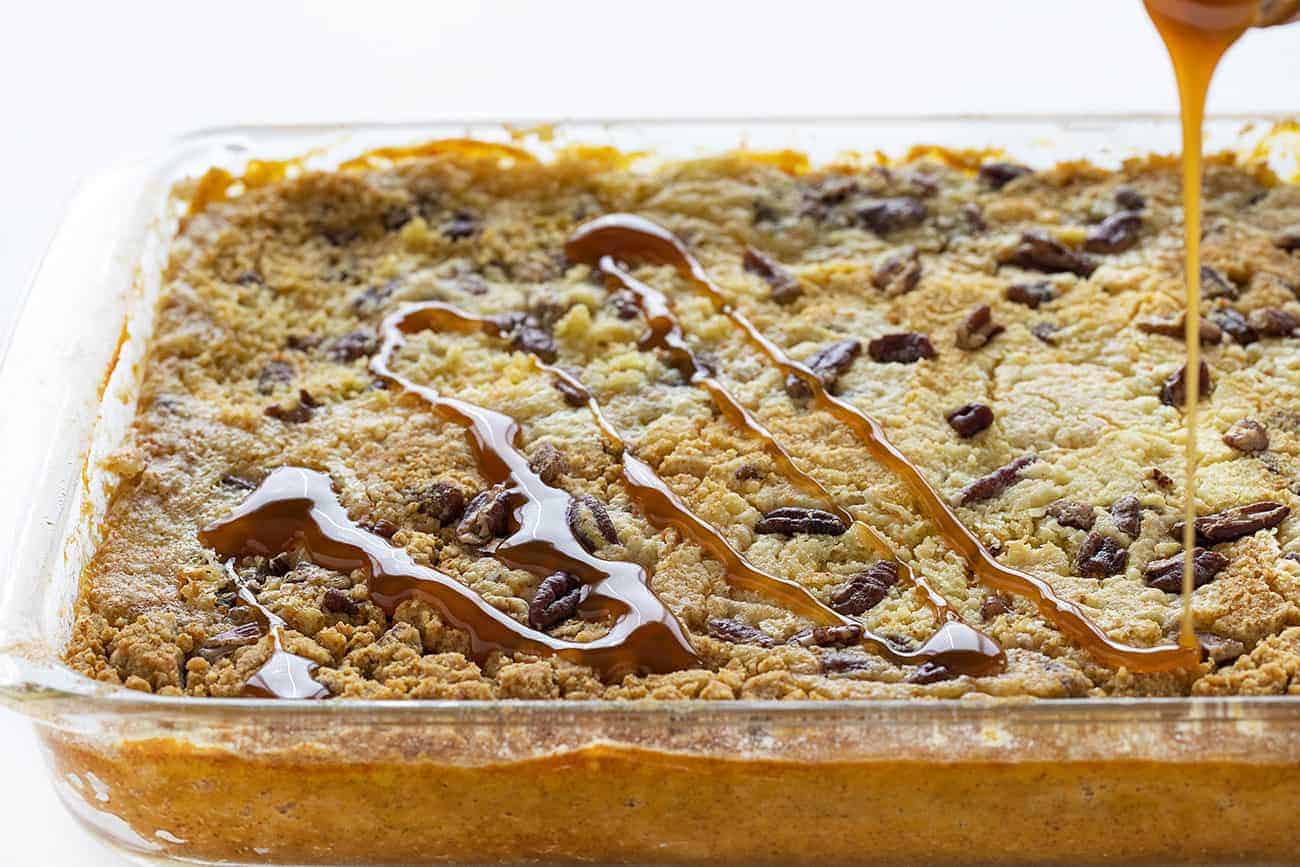 How to Make Caramel Sauce
The caramel sauce has 2 ingredients; caramels and evaporated milk. I have also used half & half, heavy whipping cream, and whole milk in place of the evaporated milk and found them to work just as well. Simply place caramels and evaporated milk into a saucepan over medium heat and stir until the caramels are melted and the evaporated milk is incorporated. This takes anywhere from 5-10 minutes. Once the sauce is creamy and smooth remove it from the heat.
From-Scratch Caramel Sauce
If you want to make the sauce completely from scratch here is an easy recipe.
Ingredients
1 cup brown sugar
4 tablespoons butter
1/4 cup whole milk
1 teaspoon vanilla extract (optional)
Instructions
Bring brown sugar, butter, and milk to a gentle boil (medium to medium-high heat) and cook until thickened, about 1- 2 minutes. Remove from heat; add vanilla extract, and drizzle it over the Pumpkin Pecan Dump Cake. Keep reading for other topping ideas, including homemade whipped cream!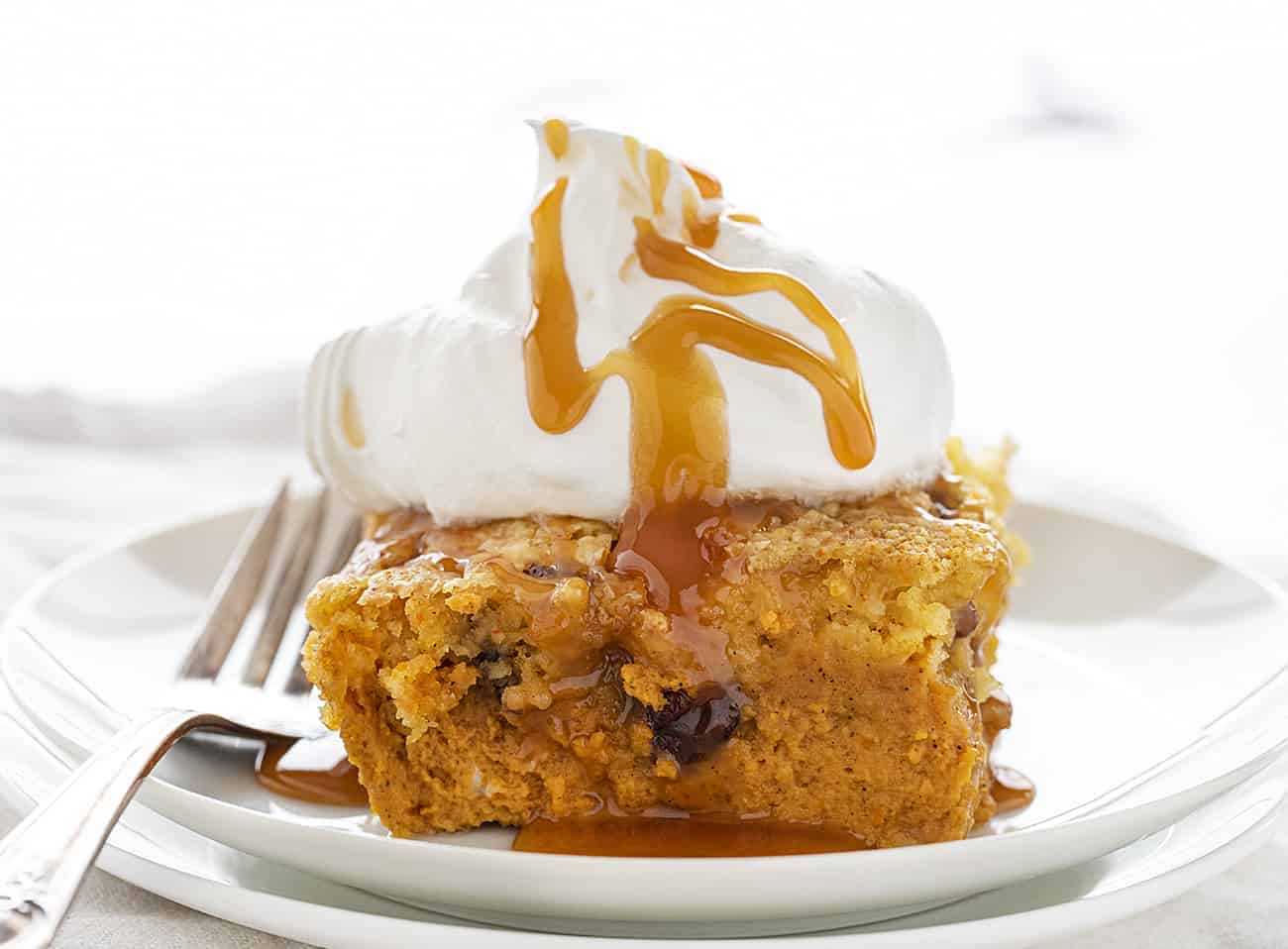 More Topping Ideas for Pumpkin Pecan Dump Cake
The basic topping choices for a pumpkin pecan dump cake are ice cream or whipped cream. Within those two categories, there are a few variations that can really take this dump cake to a whole new level. For the ice cream, we almost always have vanilla or vanilla bean as a staple in our freezer. The vanilla ice cream is a perfect complement to the buttery, cakey, peach flavors in the dump cake. Whipped cream is another option.
Homemade Whipped Cream
Making your own whipped cream is probably one of the top recommendations that I will ever give you when discussing homemade desserts. To do that, you need heavy whipping cream and confectioners sugar. Essentially, from here you just pour the whipping cream into a bowl and whip until peaks start to form. I would recommend using a hand mixer or a stand mixer unless you are really focusing on those arm muscles. Slowly add in the sugar and serve. Super simple. You can put a few other fun twists on this by adding in cinnamon into the whipped cream. You can do this with store-bought whipped cream too. The same method applies here, you just add spices to the pre-made version. Now, don't forget to add more caramel drizzle onto your pumpkin pecan dump cake!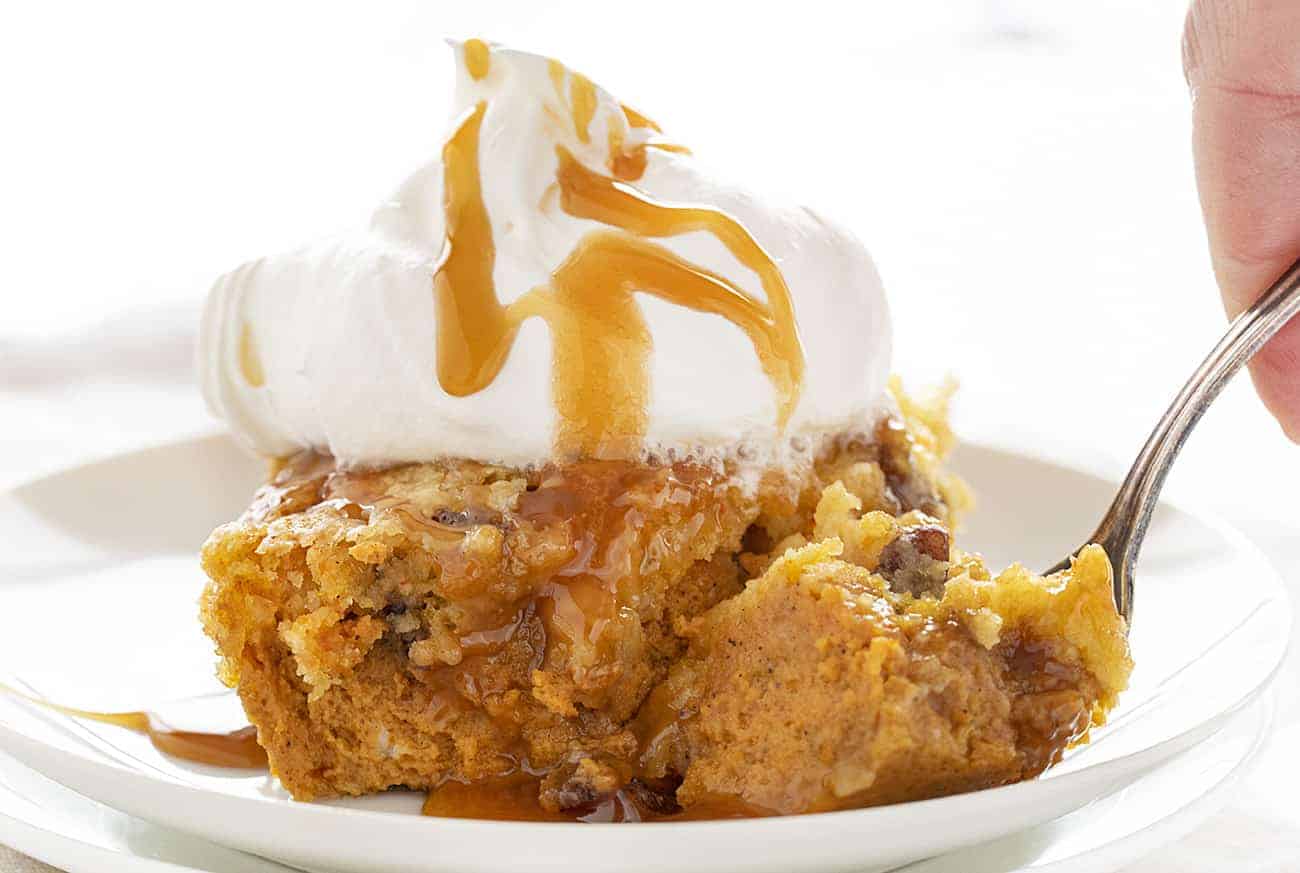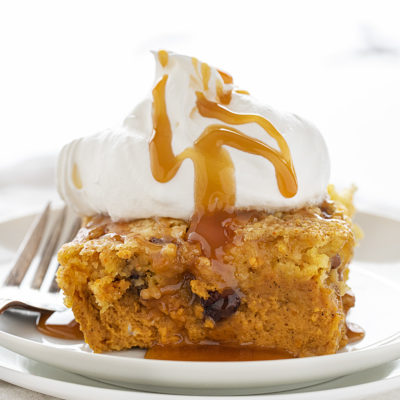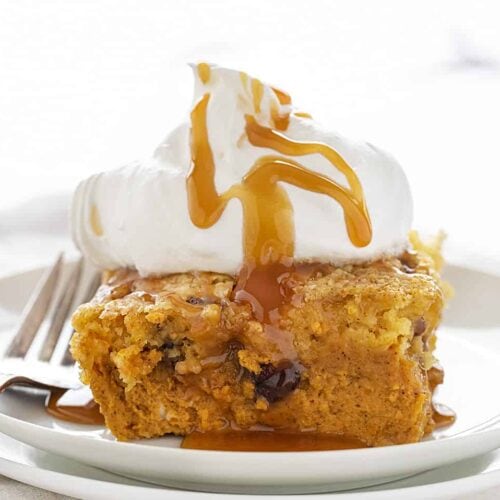 PUMPKIN PECAN DUMP CAKE
Pumpkin Pecan Dump Cake is as easy as it is delicious, layered with pumpkin, cake mix, pecans, and drizzled with caramel!
Ingredients
1

can

(30 ounces) pumpkin puree

1

can

(16 ounces) evaporated milk

2

teaspoons

homemade pumpkin pie spice

1

cup

(200g) granulated sugar

4

large

eggs,

room temperature

1

box

(15.25 ounces) yellow cake mix

1

cup

chopped pecans

1

cup

(2 sticks or 226g) butter
Instructions
Preheat oven to 350°F.

In a large bowl, add the pumpkin puree, evaporated milk, homemade pumpkin spice, sugar, and eggs. Mix together and spread it evenly over the bottom of the pan.

Pour mixture into a greased 9x13 baking dish.

Sprinkle the cake mix and chopped pecans over the top, being careful to cover all of the pumpkin mixture.

Slice the butter into small pads (about 16) and spread them out evenly over the top of the cake mixture.

Cover dish with foil and bake for 1 hour or until the topping is golden brown and the pumpkin mixture is bubbling.
Did you make this recipe?
Thank you for making my recipe! You took pictures, right? Well go ahead and post them on Instagram! Be sure to mention me @iambaker and use the hashtag #YouAreBaker.
Looking for More Sweet and Nutty Desserts?