Hi-ho, hi-ho, it's to the garden I go!
And come back with loads of zucchini.  And then bake with it.  It's in my blood people.
Finding new ways to use all the zucchini has proved to be much more fun than I thought!  I mean, eating cake everyday isn't such a bad gig in life.
Add in blueberries and buttercream and you can officially chalk me up as satisfied.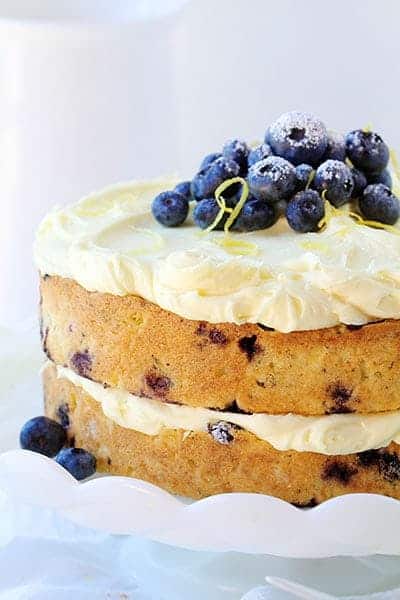 I found this recipe over at allrecipes.com and it is officially labeled as Blueberry Zucchini Bread.  I studied the ingredients and thought, there is no way I can pass this off as bread!  Why not just make it in an 8-inch round cake pan and see how it goes.
It went.
Right into my belly.
This cake is moist!  Like amazingly so.  I popped my cake into the freezer right after baking only because I wanted a nice clean cut.  But I do recommend eating when it is still warm and the zucchini bits are lounging around the bursting blueberries in a delightful way.
Because this recipe is technically designed as a bread, this cake is pretty dense.  Densely packed with deliciousness that is. 😉
I am in full-on cheesy mode today.
blueberry zucchini cake with lemon buttercream
Ingredients
3 eggs, lightly beaten
1 cup vegetable oil
3 teaspoons vanilla extract
2 1/4 cups white sugar
2 cups finely shredded and drained zucchini
3 cups all-purpose flour
1 teaspoon salt
1 teaspoon baking powder
1/4 teaspoon baking soda
1 pint fresh blueberries (you can reserve a few for garnish if so desired)

Lemon Buttercream

1 cup butter, room temperature
3 1/2 cups confectioners' sugar
1 lemon, juice and zest of (about 2 tablespoons)
1 teaspoon vanilla extract
1/8 teaspoon salt
Instructions
Preheat oven to 350 degrees F. Prepare two 8-inch round cake pans.
Grate a large zucchini (or two small zucchini) and place in a clean dish towel. Squeeze until most of the liquid comes out. You will want to have 2 total cups of shredded zucchini after it has been drained. Set aside.
In a large bowl and using a hand mixer, beat together the eggs, oil, vanilla, and sugar. Fold in the zucchini.
Slowly add in the flour, salt, baking powder, and baking soda. Gently fold in the blueberries. Divide batter evenly between prepared cake pans.
Bake 35-40 minutes in the preheated oven, or until a knife inserted in the center of a cake comes out clean. Cool 20 minutes in pans, then turn out onto wire racks to cool completely.

Lemon Buttercream

Combine butter, sugar and salt and beat till well combined.
Add lemon juice and vanilla and continue to beat for another 3 to 5 minute or until creamy.
Fold in zest*.
*If you are piping this buttercream, I recommend leaving out the zest.
http://iambaker.net/blueberry-zucchini-cake-with-lemon-buttercream/
http://iambaker.net
Cake recipe adapted from allrecipes.com and frosting recipe from food.com.
I would really love to try this cake with raspberries, as my love for blueberries has inadvertently excluded all other fruit on my little baking blog.  Maybe even a berry medley!  Oh yeah.  Definitely.
Off to bake!
*****
If you like this cake be sure to check out my other amazing Zucchini Recipes!
Like these Double Chocolate Zucchini Cupcakes. Seriously the best chocolate cupcakes, ever!