It occurred to me that there are three things I have not done.
1. Updated the Best Chocolate Cake recipe.
2. Shared the perfect Chocolate Buttercream recipe.
3. Made a Chocolate Rose Cake.
Well, I will remedy those three issues all in one post!
I have made no less than 56, 743 rose cakes in the last 2 years and NOT ONE has been all chocolate!
What to the what?  Insanity.
This best ever chocolate cake recipe was originally published on my blog in 2010 and is from The Barefoot Contessa who adapted it from Hershey's.
The Perfect Chocolate Cake
Ingredients
1 3/4 cups all-purpose flour
2 cups sugar
3/4 cups good unsweetened cocoa powder
2 teaspoons baking soda
1 teaspoon baking powder
1 teaspoon kosher salt
1 cup buttermilk
1/2 cup vegetable oil
2 extra-large eggs, at room temperature
2 teaspoons pure vanilla extract
1 cup freshly brewed hot coffee (I use decaf)
Instructions
Sift the flour, sugar, cocoa, baking soda, baking powder, and salt into the bowl and mix until combined.
In another bowl, combine the buttermilk, oil, eggs, and vanilla.
With the mixer on low speed, slowly add the wet ingredients to the dry. With mixer still on low, add the coffee and stir just to combine, scraping the bottom of the bowl with a rubber spatula. Pour the batter into the prepared pans and bake for 35 to 40 minutes at 350, until a cake tester comes out clean.
Cool in the pans for 30 minutes, then turn them out onto a cooling rack and cool completely.
(I prepared my cakes in two 8in round cake pans then divided each layer after they had cooled to create four layers)
http://iambaker.net/the-perfect-chocolate-cake/
http://iambaker.net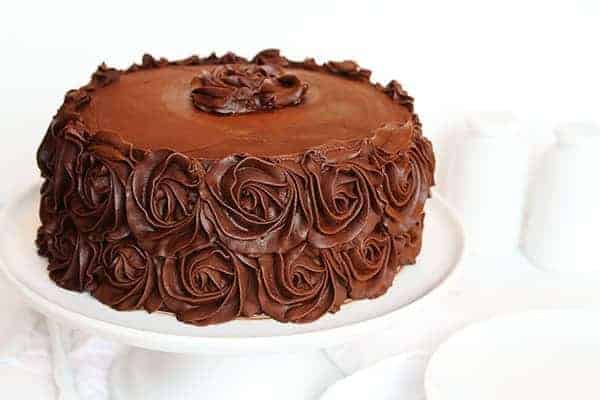 The Perfect Chocolate Buttercream Frosting
Ingredients
2 cups unsalted butter (4 sticks) at room temp.
7½ cups powdered sugar (or one 2lb bag)
1 cup good quality cocoa powder
1 teaspoon table salt
1 tablespoon vanilla extract
1/2 cup whole milk or heavy cream
Instructions
***THIS RECIPE IS FOR A CHOCOLATE BUTTERCREAM ROSE CAKE. You may need to halve this recipe if you are not making buttercream roses!***
Place room temperature butter and vanilla into a stand mixer and beat at medium-high for about three minutes. You want it to appear lighter and fluffier.
While butter is in mixer add powdered sugar, cocoa, and salt to a bowl and mix with a whisk. (sift)
With mixer off, add in one cup of the powdered sugar and cocoa mixture. Turn mixer on to low and then slowly add in remaining powdered sugar mixture, one cup at a time.
With mixer still on low, add in milk. Turn mixer to medium high and blend for at least two minutes.
Frosting will appear very light, but it will darken as it sets.
http://iambaker.net/the-perfect-chocolate-cake/
http://iambaker.net
Recipe adapted from Savory Sweet Life.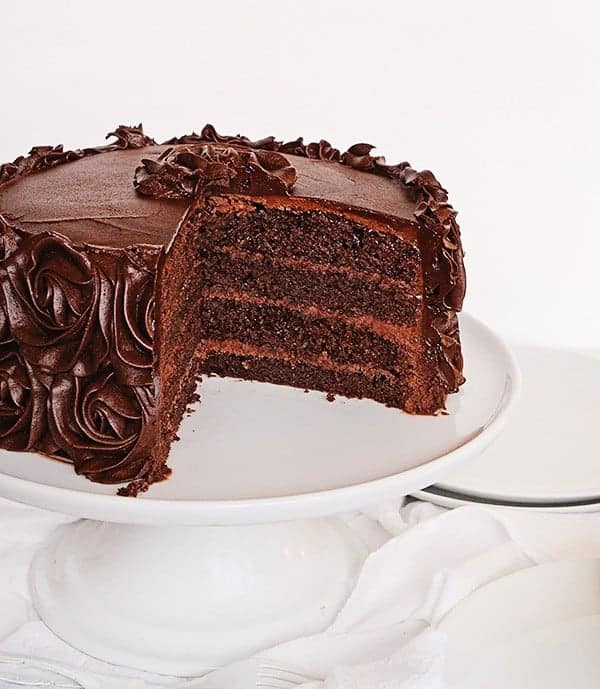 This is one of the best chocolate cake recipes I have ever had the pleasure of eating.  Its moist and fudgey but still has a light cake crumb.  Its got a depth of flavor (which I would attribute to the coffee) and a distinct rich deep chocolate essence.
If you are planing on making a chocolate rose cake as well, here are some posts to help you along.
Original Rose Cake – Photograph Tutorial
The Perfect Birthday Rose Cake
Neapolitan Rose Cake (one of my favorite cakes of all time!)
Next time you want the Perfect Chocolate Cake, you simply must make this one.
You won't be sorry!
Once you get your chocolate fix be sure to try the Perfect White Cake!