Today I share with you a little secret.  Prior to this recipe, I have never made a trifle.
Let me get even more real.  Prior to this recipe I had never even eaten a trifle.  (what was wrong with me?!?)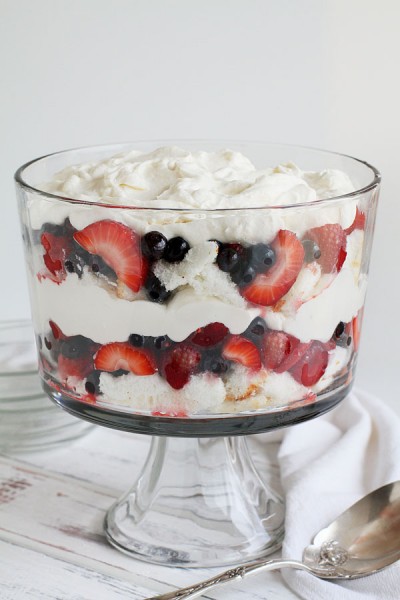 MY LATEST VIDEOS
I was able to try out an amazing recipe, and boy am I glad I did.  The combination of rich angel food cake and fresh berries and the most awesome whipped topping known to man has changed me.
I now heart trifles.
But let me stop jabbering and share this delectable recipe with you!
Easy Very Berry Trifle
Makes 12 servings.
Prep Time: 25 minutes
Refrigerate: 2 hours
2 cups halved or sliced strawberries
2 cups blueberries
1 cup raspberries
3/4 cup confectioners' sugar, divided
1 1/2 cups heavy cream
1/4 cup sour cream
4 cups angel food cake cubes
 1. Toss berries, 1/4 cup of the sugar and 2 teaspoons of the vanilla in large bowl. Set aside. Beat cream, remaining 1/2 cup sugar, remaining 1 teaspoon vanilla and orange extract in large bowl with electric mixer until soft peaks form. Gently stir in sour cream.
2. Layer 2 cups angel food cake cubes, and 1/2 each of the berry mixture and whipped cream mixture in 2-quart glass serving bowl. Repeat layers. Cover.
3. Refrigerate at least 2 hours or until ready to serve. Garnish with additional berries, if desired
What is the best thing about this Very Berry Trifle?  That orange infused whipped topping.  Seriously, I would never have thought of using  Orange Extract, but it is nothing short of scrumptious.  I am now trying to incorporate that whipped delight into everything I make!!