Apple Nachos with Peanut Butter… the perfect after school snack!  Thinly sliced Fuji apples are smothered in a warm peanut butter sauce and topped with sweetened granola and peanuts for a treat your kids will love!  If you like this recipe, you should also check out my and easiest snack ever.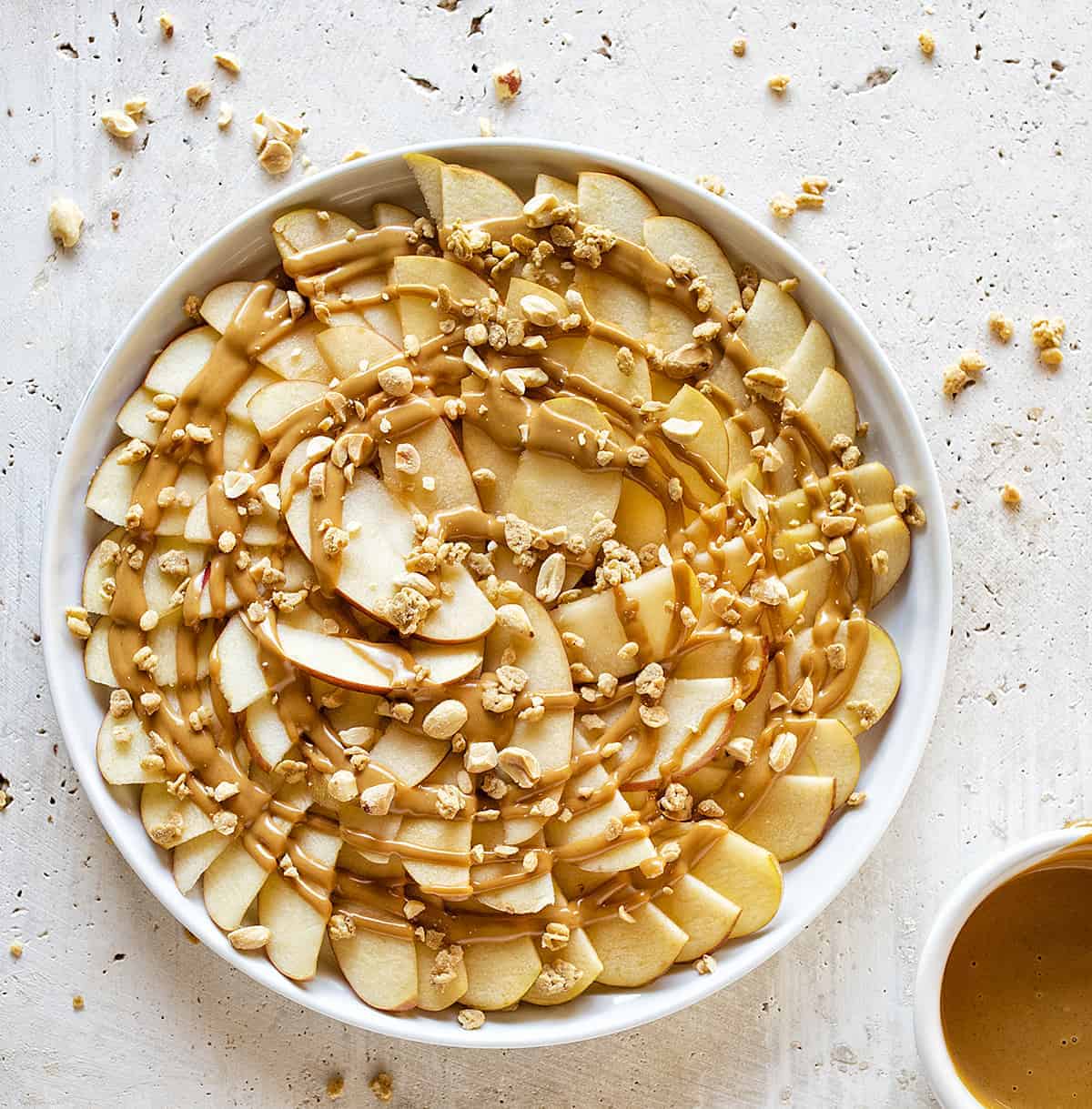 Easy Apple Nachos
Let's face the fact that being a mom also means that you are constantly being chased by hungry children asking for snacks.  It's part of the gig and it is an all-day, every-day, never-ending endeavor.  Snacks need to be filling, they need to be not too messy, and they need to taste good.  These apple nachos with peanut butter are a great way to get the kids to come to the table and eat something that will hopefully fill them up for a few minutes, and you'll feel good about it because you will know you are giving them something healthy.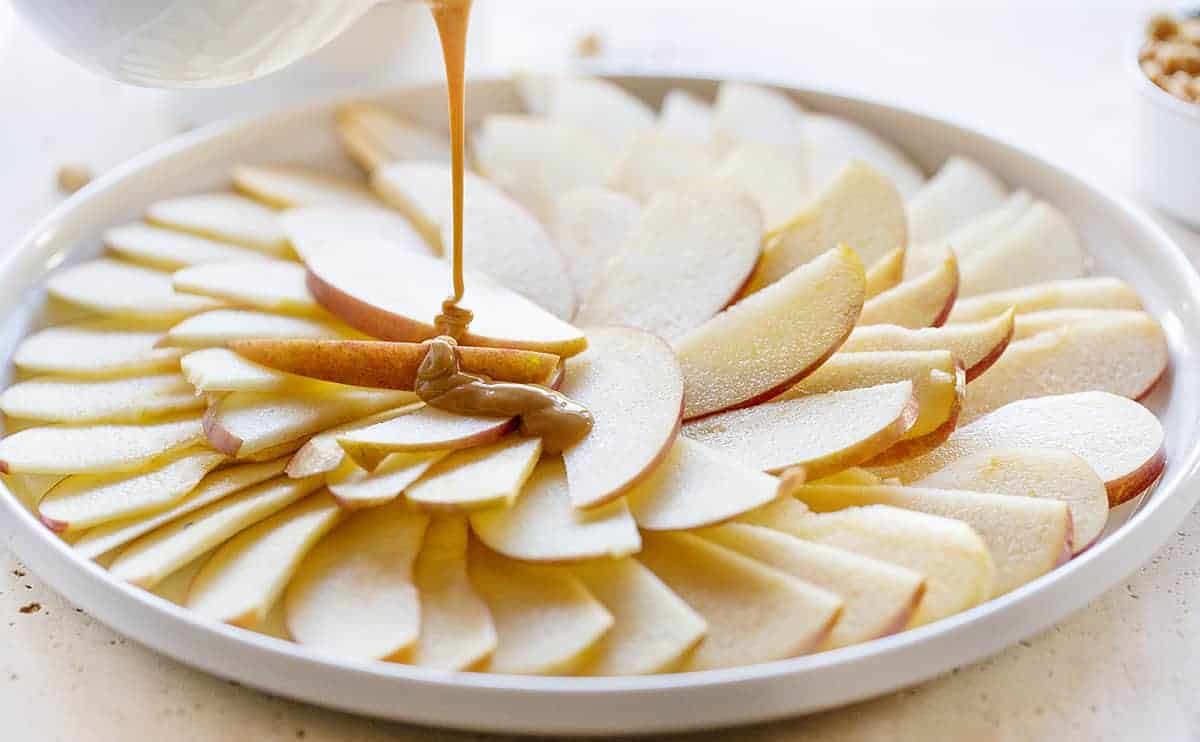 Best Way to Cut Apples
One of the coolest things about this recipe is how far you can stretch an apple.  This apple nacho recipe only calls for two fuji apples.  The trick to getting two apples to last longer is how you slice it.
Start by using a knife to cut your apple into quarters.  Remove any seeds, stems, or hard pieces.  Then using a mandolin slicer, slowly run the flat side of the apple over the blade.  Be careful to protect your hand and fingers.  Most mandolins come with a handle that is meant for keeping your hands out of the way.  If yours has one, you should use it (speaking from experience).
If you don't have access to a mandolin, you can use a sharp knife to cut the slices thin as well.  Starting on the flat edge and working your way around until you reach the end.  This just takes a steady hand and a cutting board.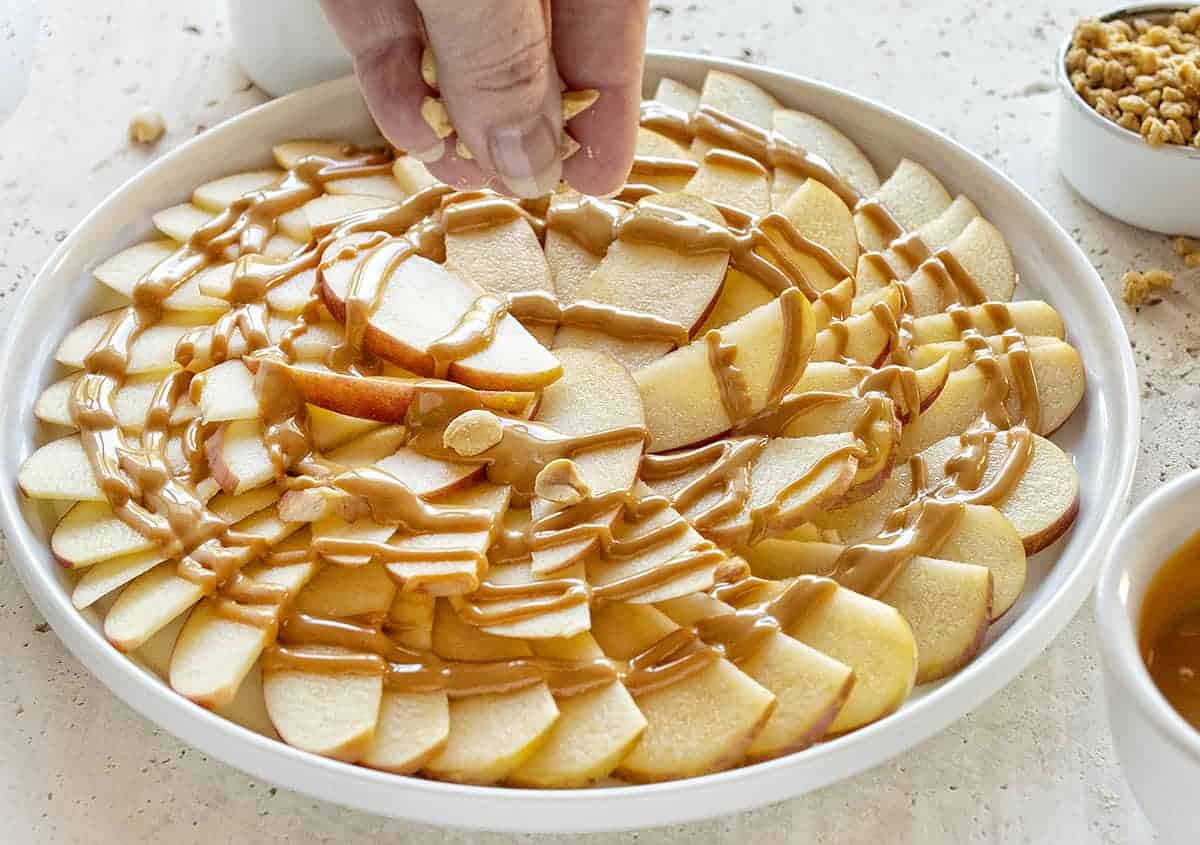 The Best Toppings for Apple Nachos
You can use any number of toppings on your apple nachos.  I was trying to keep it relatively healthy so I went with:
melted peanut butter
crushed peanuts
peanut butter granola
Other (not so healthy) toppings you could include are:
caramel
melted almond butter
chocolate chips
melted chocolate
other granola variations like honey or cinnamon
cinnamon and sugar
dried fruits like cranberries or raisins
sprinkles
crushed cookies or candies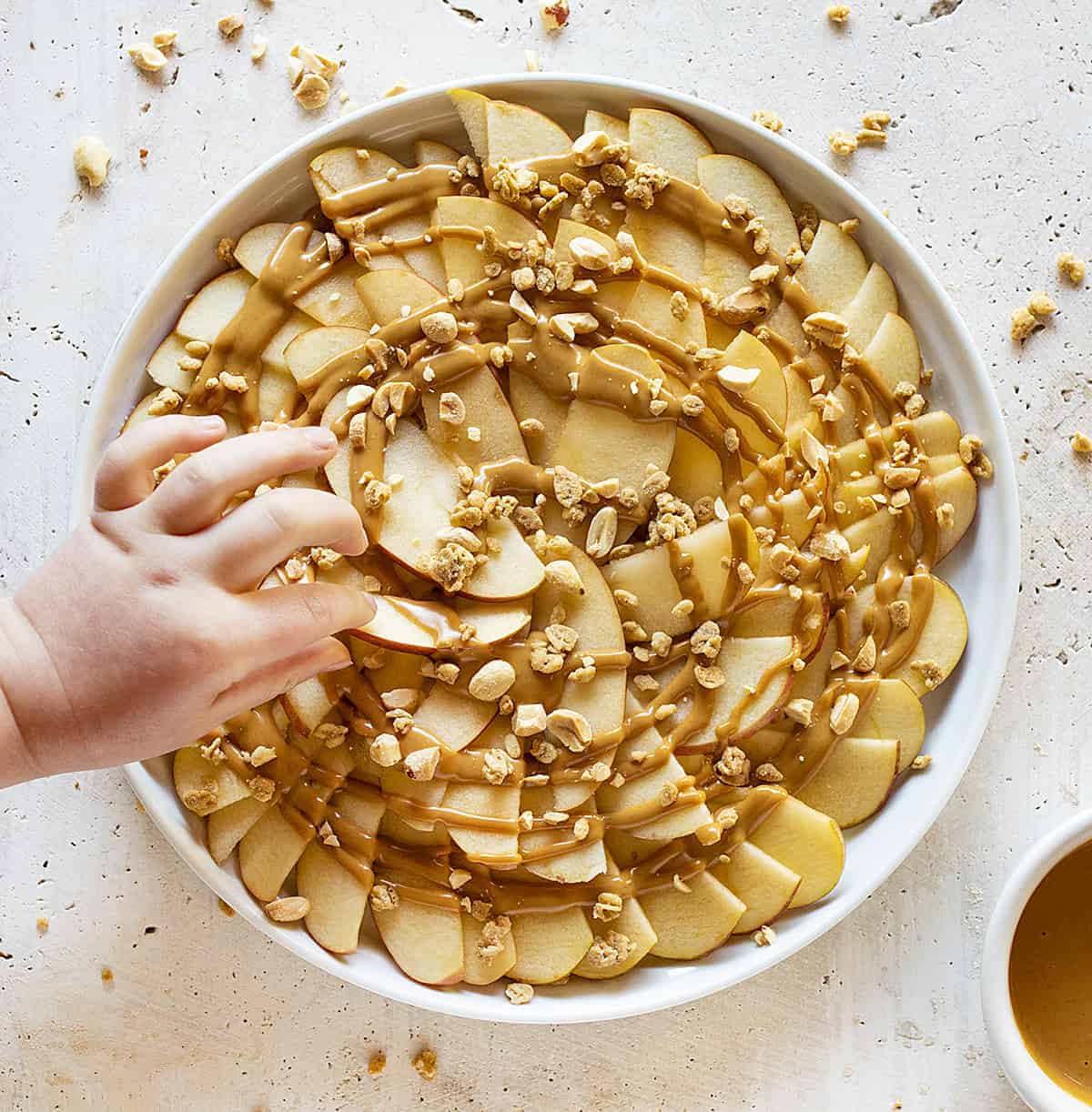 How to Assemble Apple Nachos
The assembly in apple nachos is an art, so that means you get to be the artist.  I will leave the final creative direction up to you, but this is how I did it.
start by laying out the apples in a pinwheel formation, starting with the outer layer and working your way to the inside.
drizzle with melted peanut butter, but leave some extra in the bowl for dipping.
sprinkle granola and peanuts on top of the peanut butter.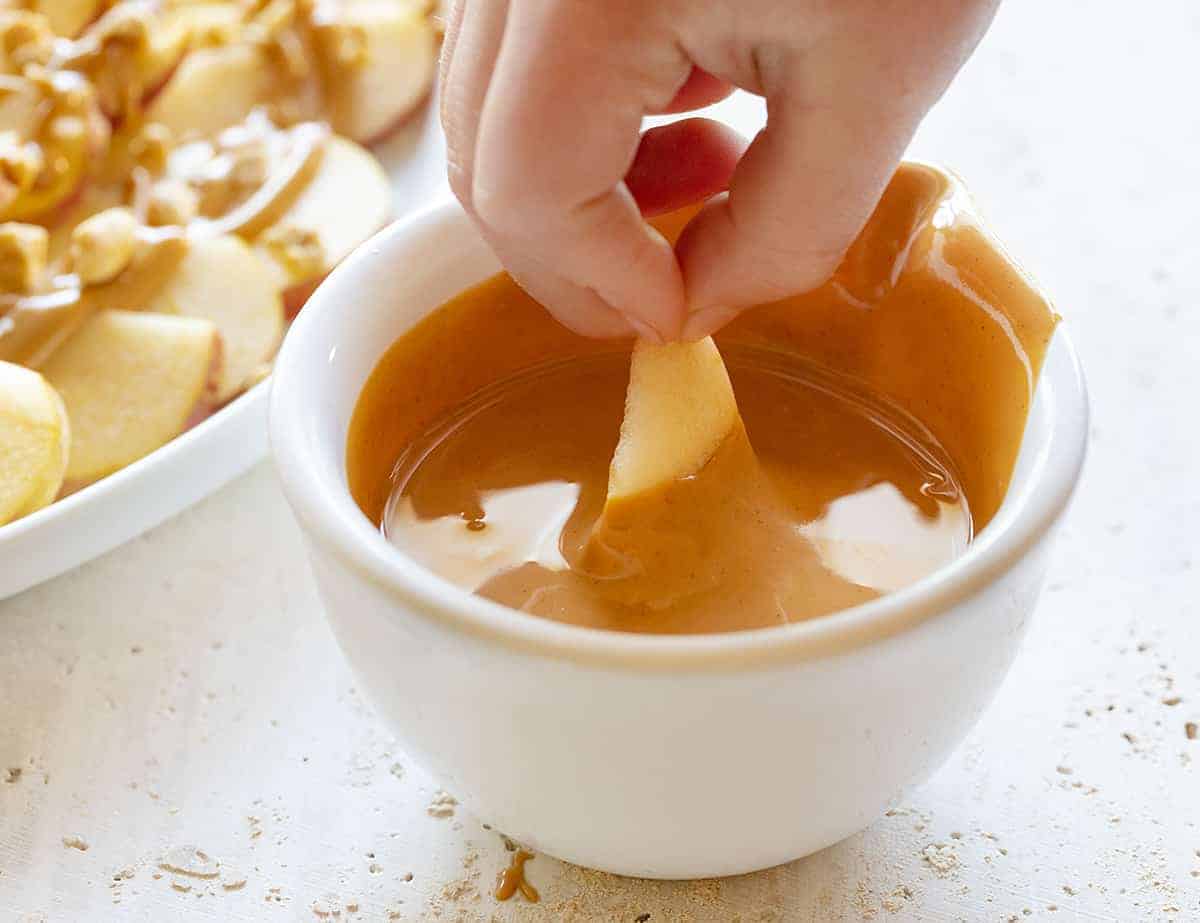 Peanut Butter Sauce
Not only is the melted peanut butter great on the apple nachos but it is also great for dipping! The best part? It is literally just heated up peanut butter. No extra frills needed.  You can also use crunchy peanut butter if that is what you have on hand.
Looking for More Delicious After Schools Snacks?
Check out some of my kid's favorites:
Rainbow Fruit Salad with Honey Lime Dressing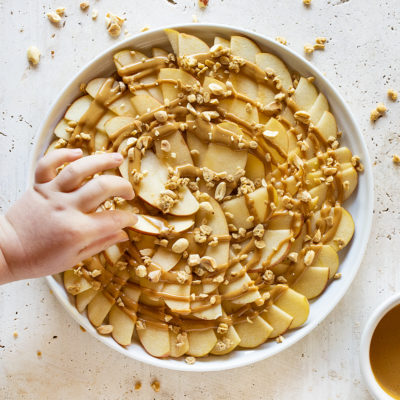 Apple Nachos with Peanut Butter
Apple Nachos with Peanut Butter... the perfect after school snack!  Thinly sliced Fuji apples are smothered in a warm peanut butter sauce and topped with sweetened granola and peanuts for a treat your kids will love!
Ingredients
2

apples,

cut into thin slices

1/3

creamy peanut butter,

melted

1/4

cup

peanut butter granola

1/4

cup

peanut

cut into small pieces
Instructions
Arrange apple slices on a plate.

Drizzle melted peanut butter over apple slices with a spoon, top with granola, and crushed peanuts.
 Use remaining peanut butter for dipping.
Did you make this recipe?
Thank you for making my recipe! You took pictures, right? Well go ahead and post them on Instagram! Be sure to mention me @iambaker and use the hashtag #YouAreBaker.