On a dark and bitterly cold morning, where the only light that filters through the darkness is the soft blue light of an auto-set coffee maker and the only sound I hear is the hum of the furnace, I feel compelled to fill the void.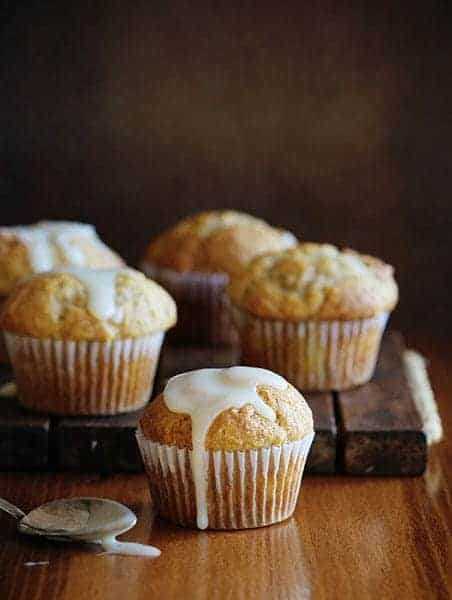 As I brew my first cup I think of the little ones sleeping peacefully (and hopefully dreaming magnificent awesome dreams) in their beds and that soon I will need to disturb that slumber. Somehow the idea of them waking up to the comforting aroma of banana bread muffins seems to make the transition from sleep to being awake so much more tolerable.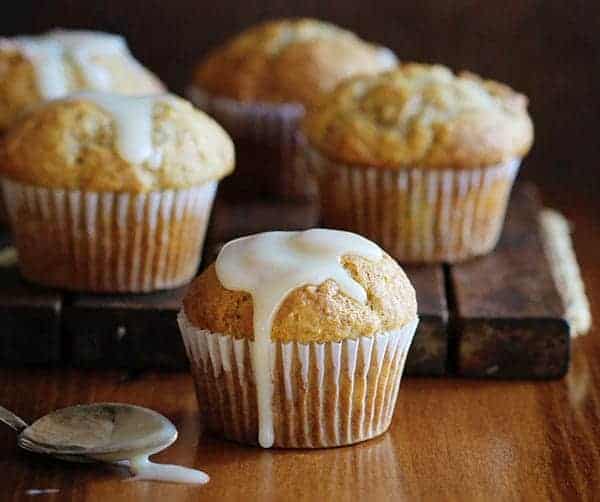 Truth be told, the kids have no use for the sweet caramel glaze that drizzles down the sides of these muffins. They are simplistic and raw in their preferences, wanting the pure sweet banana flavor and a subtle hint of cinnamon. They see the unwrapping as an event in itself, and I often see piles of cupcake wrappers stacked in front of them, a testament to who can eat the most. No matter who wins, bellies are full, smiles are seen and days begin on a joyful note.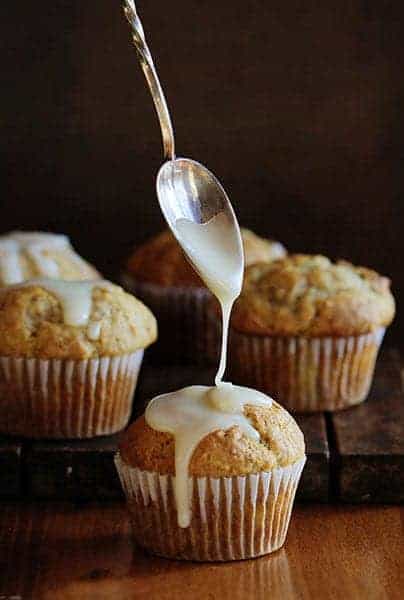 That glaze is all for me. I can't help but love the velvety richness and sweetness it adds to the banana muffin. My sweet tooth is deep in its roots, but the mental satisfaction of indulging in frosting for breakfast is even sweeter.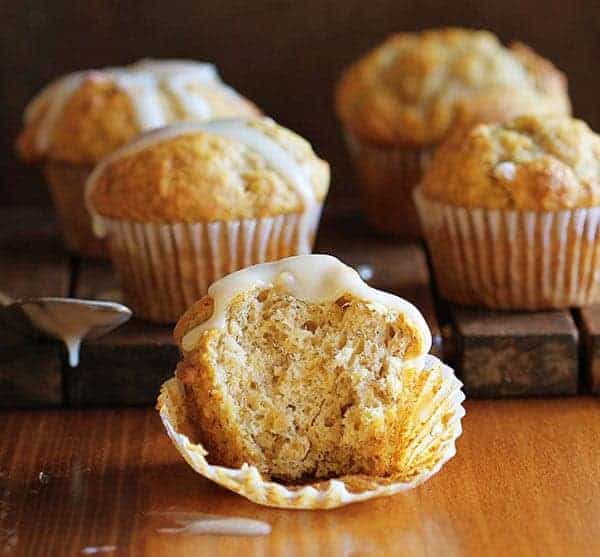 Tips for Success
Did you catch my secret ingredient in that glaze? CARAMEL!! It is the perfect complement to a banana muffin!
I prefer a coarse mash of the banana in this recipe, especially since it allows for one less bowl to be dirtied! If you do not want banana chunks you can use a hand-held mixer or stand mixer to get a smooth consistency.
If you happen to prefer using brown sugar to get the extra rich depth of flavor you can very easily swap out for the white sugar.
These muffins rise beautifully and still appear slightly wet in the center just moments before they are done. I like to remove them at the moment because I prefer a slightly underdone muffin. No matter how you prefer yours, keeping a close eye on them in the last couple of minutes of baking is recommended. There are few worse things than a dry banana muffin!
Adding nuts or chocolate chips is an excellent way to jazz up these muffins! I have added blueberry and white chocolate morsels with success. Be warned, though, any addition of chocolate makes these muffins taste more like a cupcake!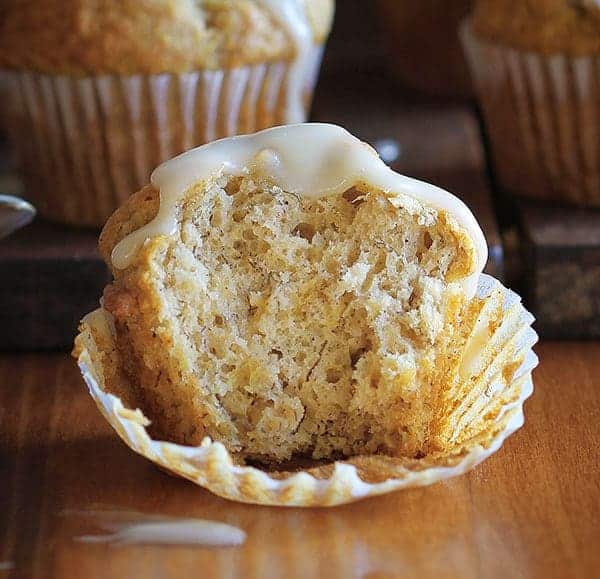 How to Store Muffins
There are a few ways to properly store muffins.
Room Temperature: Because they are best enjoyed at room temperature, this is usually the recommended way to storing. I use a larger sealable plastic bag or an airtight container to store the muffins in a single layer. Some folks recommend adding a piece of paper towel to the bottom so that it will soak up any condensation. If your muffins are properly cooled before storing, this may not be necessary. However, if I am using an airtight container, I will often add a piece of bread to the container, torn in half, and fit in between the muffins. The bread will soak up moisture as well. Best enjoyed within 2-3 days.
Refrigerator: These muffins have cream cheese in them so folks will naturally want to refrigerate, which is the right thing to do in this case. (Refrigeration, in general, dries out baked goods faster so a typical muffin recipe shouldn't be refrigerated.) Place in a sealable plastic bag or airtight container and then place into the refrigerator. They should keep for up to 5 days. To reheat, remove from refrigerator pop into the microwave for 10 seconds or just allow muffin to come to room temperature naturally, about 15 minutes.
Freezer: Place cooled muffins into a freezer-safe sealable plastic bag or a freezer-safe airtight container and pack as closely as possible without crushing. Remove as much air as possible. Label with date and recipe name.
How to Reheat Frozen Muffins
Remove muffin from the freezer and allow to come to room temperature overnight in the refrigerator or on the counter for a couple of hours.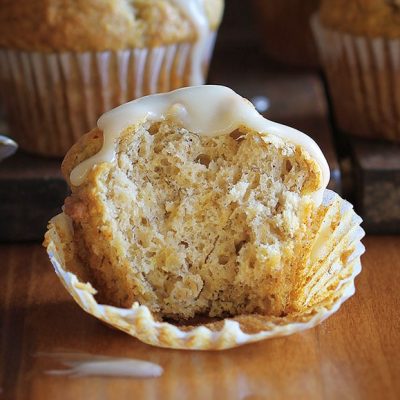 Banana Muffins with Vanilla Glaze
On a dark and bitterly cold morning, where the only light that filters through the darkness is the soft blue light of an auto-set coffee maker and the only sound I hear is the hum of the furnace, I feel compelled to fill the void.
Ingredients
5

ripe

bananas

⅔

cup

melted butter

1

cup

granulated sugar,

if you prefer a sweeter muffin you can add ½ cup more

2

large

eggs

2

teaspoons

vanilla extract

3

cups

all-purpose flour

2

teaspoons

baking soda

½

teaspoon

baking powder

1

teaspoon

cinnamon

pinch

kosher salt
Vanilla Glaze
1

tablespoon

unsalted butter,

melted

½

cup

confectioners' sugar

1

teaspoon

vanilla extract

1

tablespoon

caramel

1

teaspoon

whole milk,

(if needed)
Instructions
Preheat oven 350°F, and prepare two 12-cup muffin pans with cupcake liners.

Melt butter in microwave and allow to cool for a couple minutes.

In a large mixing bowl, mash the ripe bananas with a fork until smooth.

Stir the melted butter into the mashed bananas.

Stir in the sugar, eggs, and vanilla extract. Blend all ingredients until well incorporated.

Gently fold in the flour, baking soda, baking powder, cinnamon and salt.

Pour the batter into your prepared muffins pans. Bake for 13-16 minutes or until inserted toothpick is removed without crumbs.
Vanilla Glaze
Melt butter in a bowl. Add in confectioners sugar, vanilla, and caramel. Whisk (can also stir with a fork) until combined. If glaze is too thick, can add milk to create a runnier consistency

Drizzle glaze over cooled muffins.
Did you make this recipe?
Thank you for making my recipe! You took pictures, right? Well go ahead and post them on Instagram! Be sure to mention me @iambaker and use the hashtag #YouAreBaker.
Based on Simply Recipe's Banana Banana Bread.