Banana Zucchini Muffins are a great way to use up that last bit of zucchini as we enter into the Fall months. These are really the best Banana Zucchini Muffins ever! While these are the best Banana Zucchini Muffins ever, I also have a Best Zucchini Bread recipe you should try!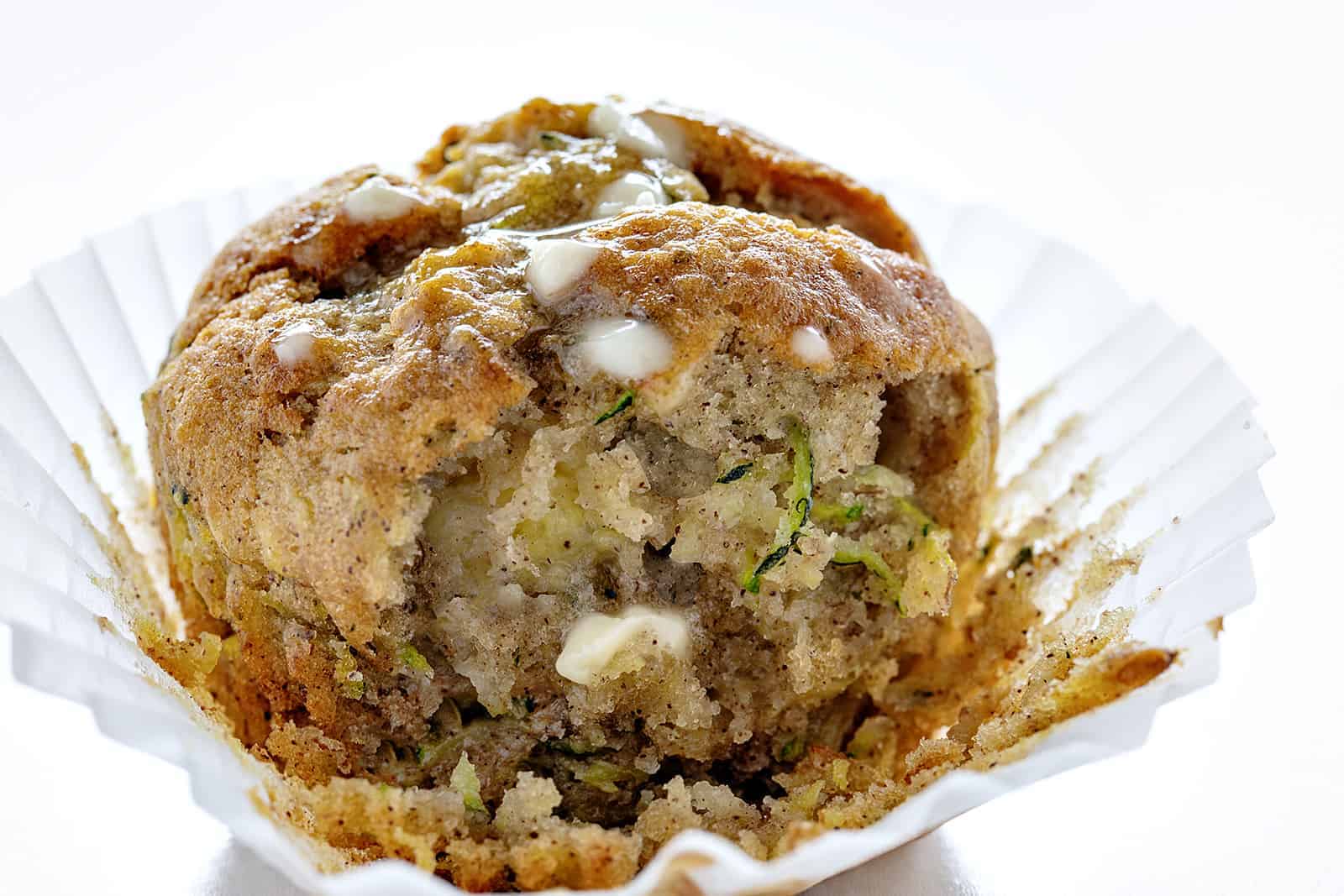 Banana Zucchini Muffins
I love the fall season, and there is nothing better than enjoying a cup of coffee or tea with a muffin on a cool, crisp morning. These Banana Zucchini Muffins are extra large in size, which gives you an excuse to enjoy your morning a little longer! Plus, they really are so moist and delicious, you will want to savor it as long as possible!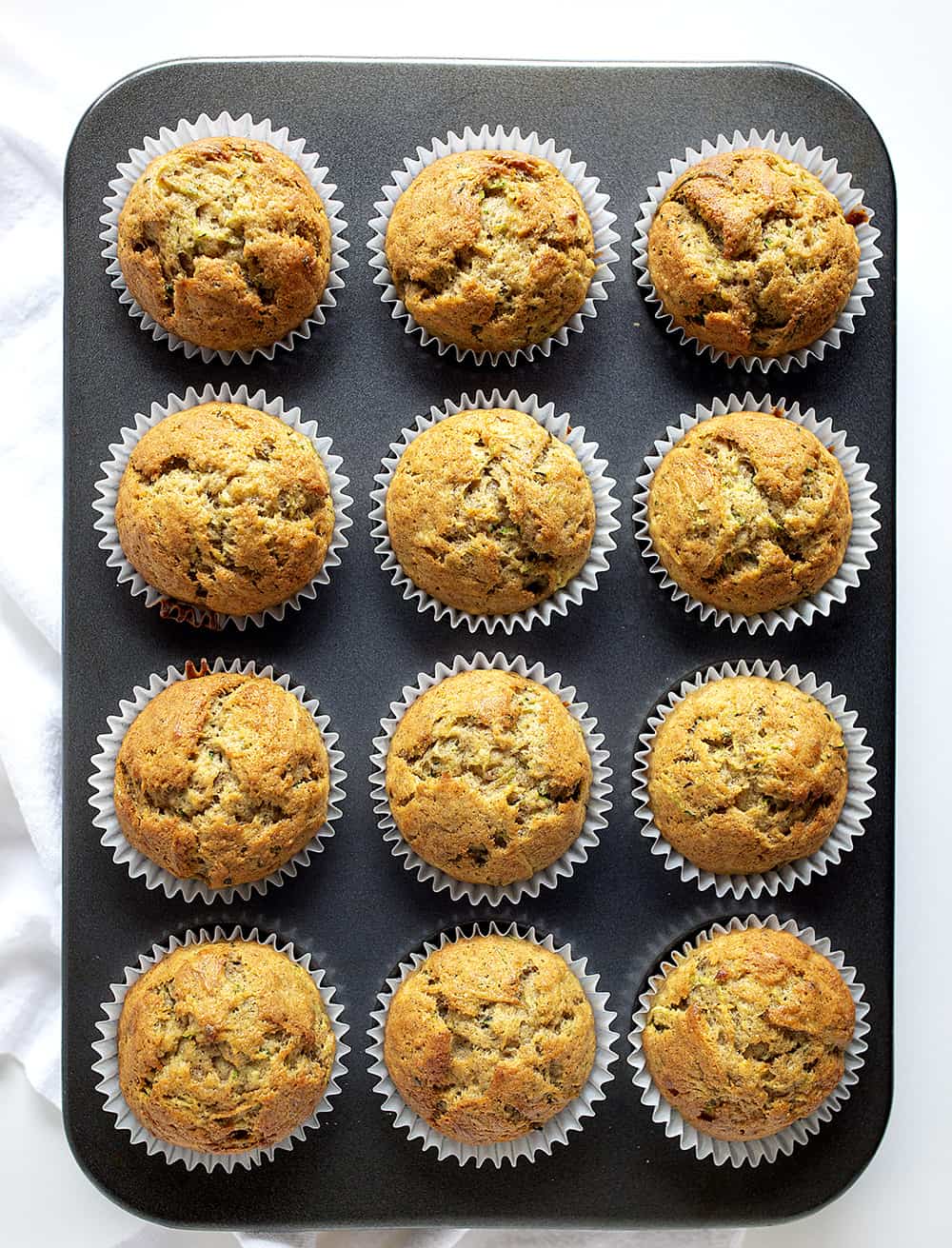 Banana Zucchini Muffin Recipe
This Banana Zucchini Muffins recipe is similar to my Zucchini Banana Layer Cake with Whipped Cream Cheese Frosting (Say that one eight times fast…). You will notice there is no frosting on these muffins-they are perfect as it. And, they really are pretty simple to make!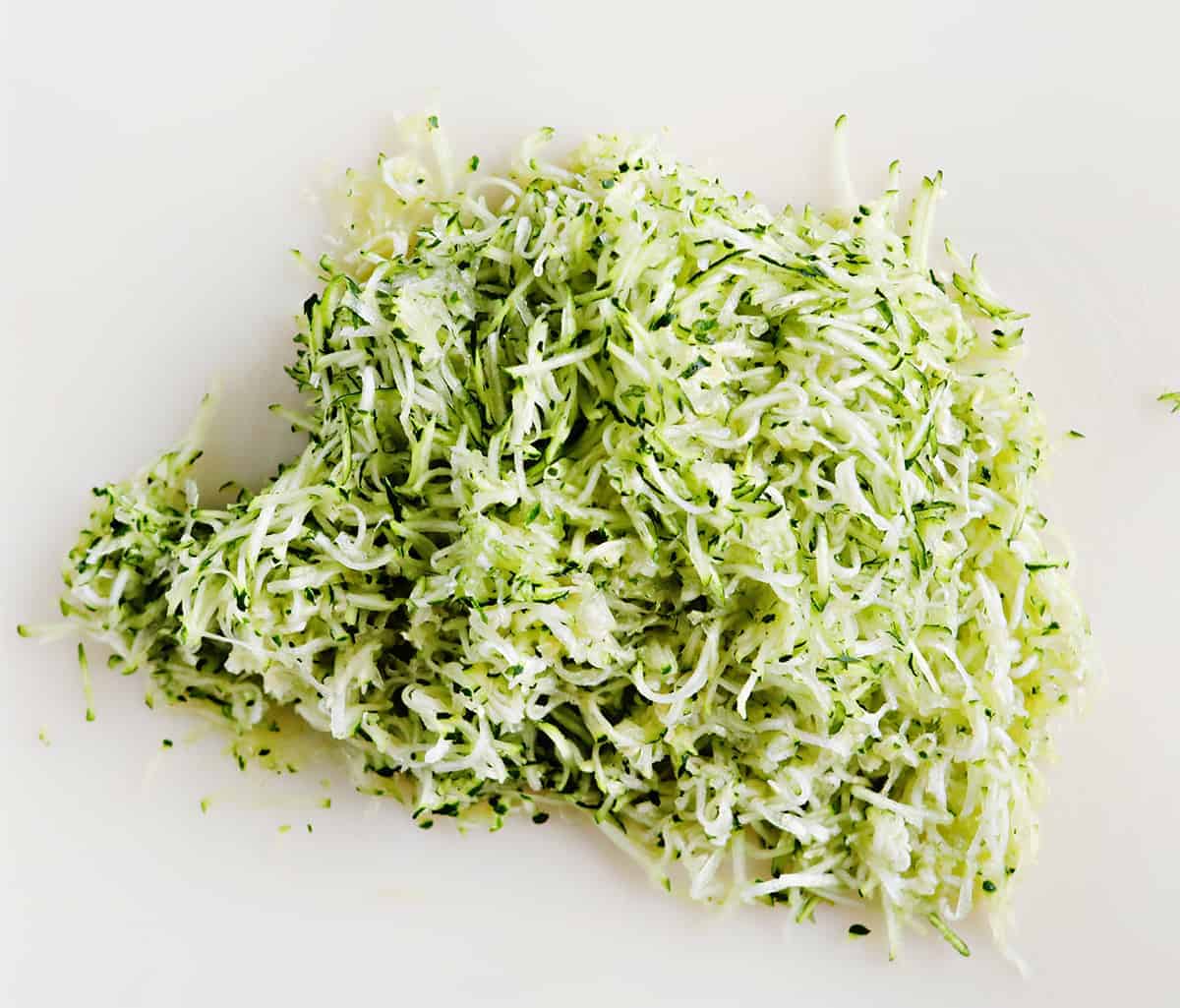 The Secret to Baking with Zucchini
I can't seem to give up the zucchini season quite yet. They are such a wonderful vegetable to use in baking, and I think more people are finally jumping on the 'zucchini in baking' bandwagon.
You would never know there's zucchini in these muffins if it wasn't for the green bits. I know some people aren't anxious to eat desserts with zucchini in it, but this is a must-try. There is no noticeable flavor and it adds something fantastic to the final product. There are a couple of tricks to making the most of your zucchini in your recipe:
Use the fine side of your grater for smaller-sized shredded zucchini. If you use the larger side, the coarser pieces will have a slightly more noticeable flavor and texture in a finished cake or bread recipe. (Farm kids tend to want that!)
Some recipes ask that the zucchini is pressed well with a clean towel to soak up excess moisture or to prevent whatever you are baking from getting too soggy. Pay close attention to the recipe that you are making with zucchini as the level of moisture they provide is important.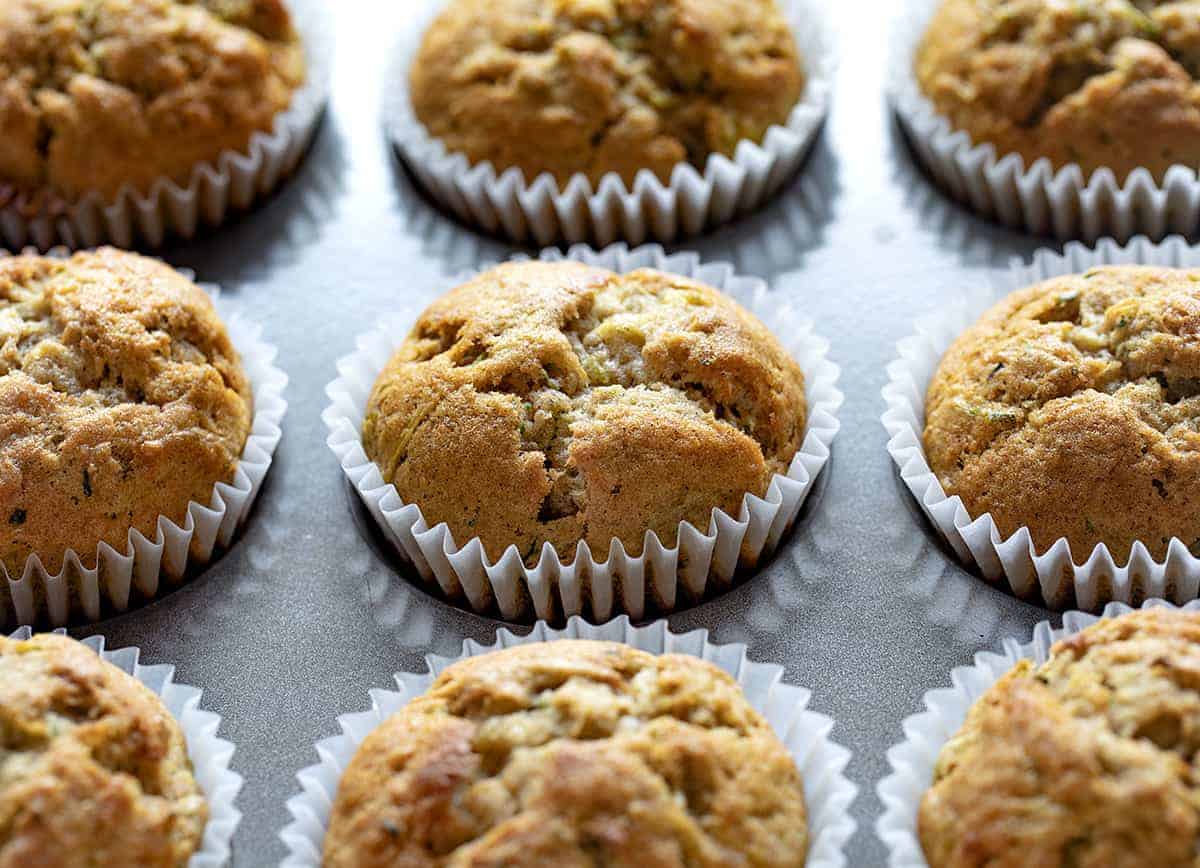 How to Freeze & Thaw Zucchini Muffins
You will want to make sure you allow the muffins to cool completely. Just wrap the Banana Zucchini Muffins tightly with aluminum foil or plastic freezer wrap and place them in a heavy-duty freezer bag. If you prefer not to use foil directly on your muffins, wrap tightly with parchment paper, then place that into a sealable plastic bag. Be sure to label it with the date.
To thaw muffins, take them out of the freezer and set them on the counter. Allow them to reach room temperature before you take them out of their packaging. They will re-absorb some of their moisture this way.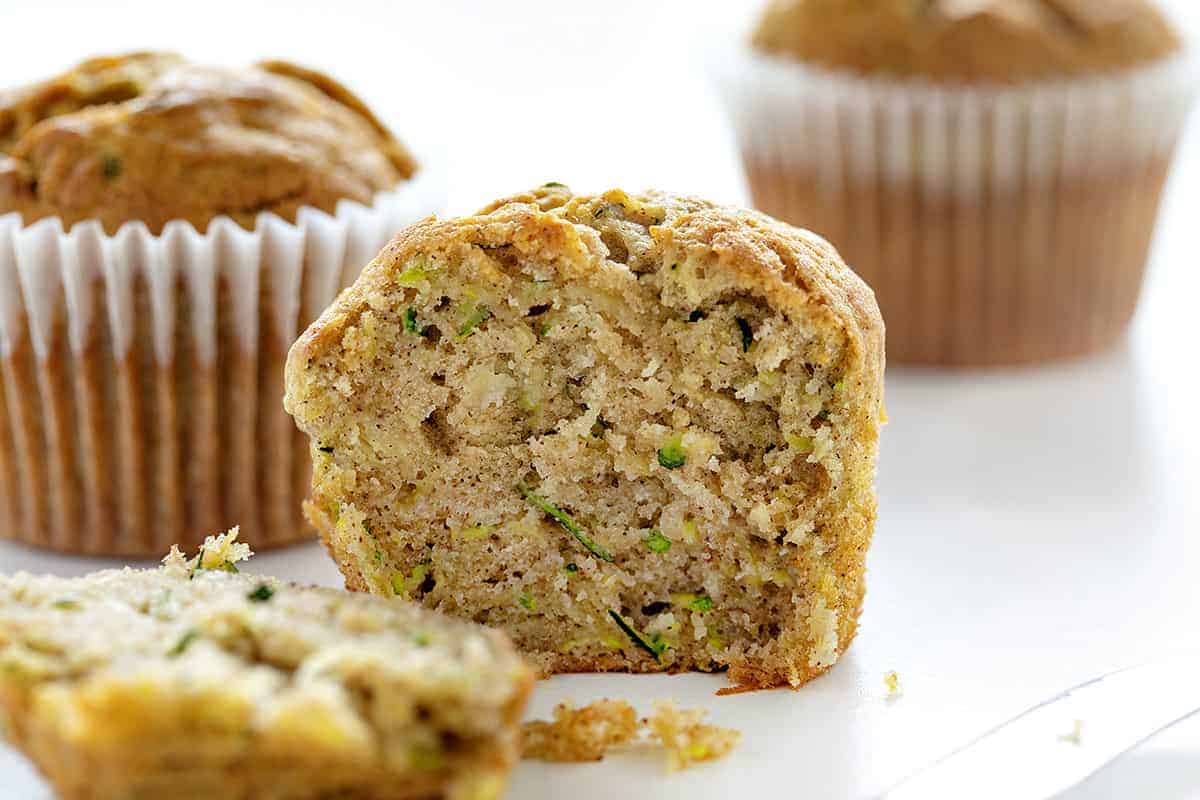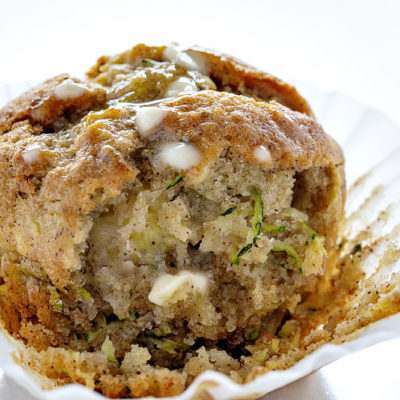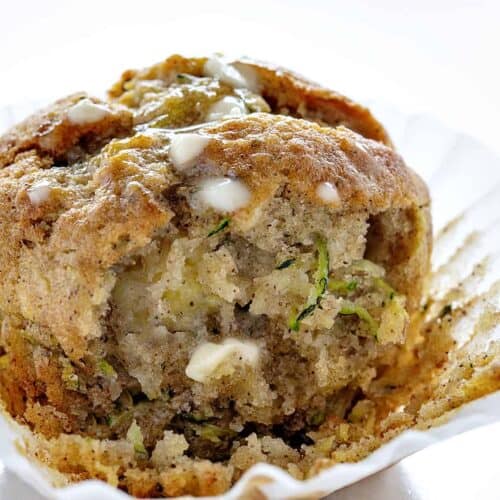 Banana Zucchini Muffins
There is something utterly refreshing about walking out to the garden and choosing a vegetable that I can turn into a muffin! These are the BEST Banana Zucchini muffins I have ever tried!
Ingredients
Banana Zucchini Muffins
2

cups

shredded zucchini,

about 1½ medium zucchini

2

cups

(256 g) all-purpose flour

½

teaspoon

baking soda

1

teaspoon

baking powder

2

teaspoons

ground cinnamon

½

teaspoon

salt

1

cup

(200 g) granulated sugar

2

eggs,

room temperature

1

cup

(218 g) vegetable oil

2

teaspoons

vanilla extract

2

ripe bananas

(about 1 cup mashed)
Instructions
Preheat oven to 350°F and prepare a muffin pan with liners.

Rinse the zucchini and trim off the ends. Use a fine grater to shred the zucchini. Gently wrap the shredded zucchini in a paper towel or a clean towel and squeeze out any excess water. Set aside. (I prefer to not peel the green skin off on my zucchini, but you certainly can. If you have a very large zucchini, remove any seeds prior to the grating.)

In a large bowl sift together the flour, baking soda, baking powder, cinnamon, and salt.

In a separate large bowl, add the bananas. Use a fork to mash. Add in the sugar, eggs, oil, and vanilla. Stir well (I often just use my fork) until fully combined.

Add the dry ingredients, and stir until just combined.

Add in the shredded zucchini and stir until incorporated.

Add ⅓ cup of batter to each cupcake liner.

Bake for 22-26 minutes, or until an inserted toothpick is removed with some crumbs, but not wet batter. Tops should be rounded and golden brown.
Did you make this recipe?
Thank you for making my recipe! You took pictures, right? Well go ahead and post them on Instagram! Be sure to mention me @iambaker and use the hashtag #YouAreBaker.