I have developed a newfound respect for all things U.K. lately, but most especially when it comes to food. The food traditions there date back much further than in the U.S., and it is fascinating to me how these recipes have been passed down for hundreds of years. For instance, this amazing Banoffee Pie!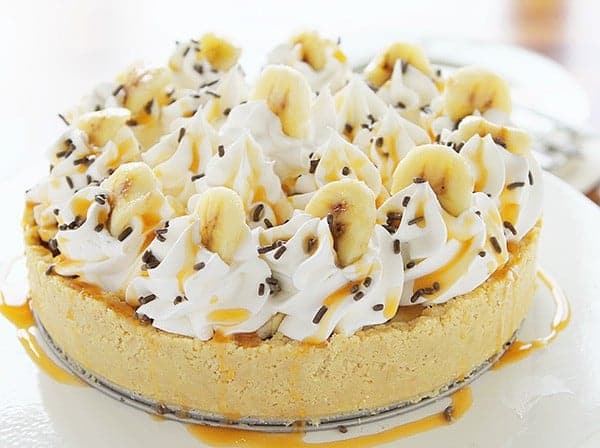 Banoffee Pie
What is banoffee exactly?
A Banana + Toffee Pie! I had heard of a Banoffee Pie but never experienced one. In my research, I would compare this pie to an American Apple pie in terms of adaptations. There are vast variations, modifications, and differences in recipes. Each family seems to have a preferred style and texture that often varies from the next!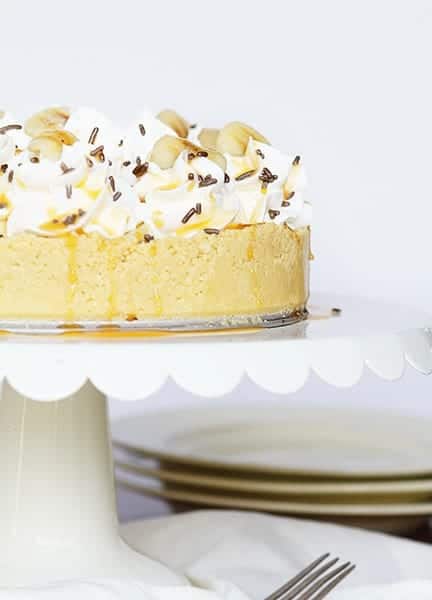 Using a traditional base recipe, I simply modernized the look a bit by adding a (very American!) whipped cream swirl with sprinkles on top then drizzled with more caramel.
The whipped cream and sprinkles are options, of course!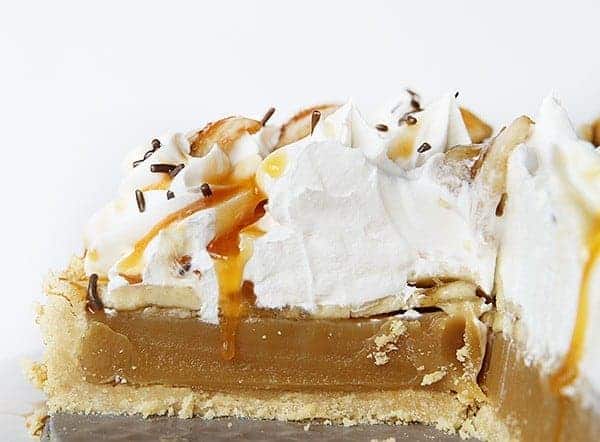 Banoffee Pie Crust
I deviated from tradition and used a shortbread crust. It really is an amazing switch up and I encourage you to try it next time you make a Banoffee Pie! You can make your shortbread cookies from scratch or purchase them. (I happen to love Walkers shortbread cookies.)
The final result of this dessert is nothing short of amazing.  That rich buttery toffee filling paired with the buttery shortbread crust then covered in the light and airy whipped topping is phenomenal.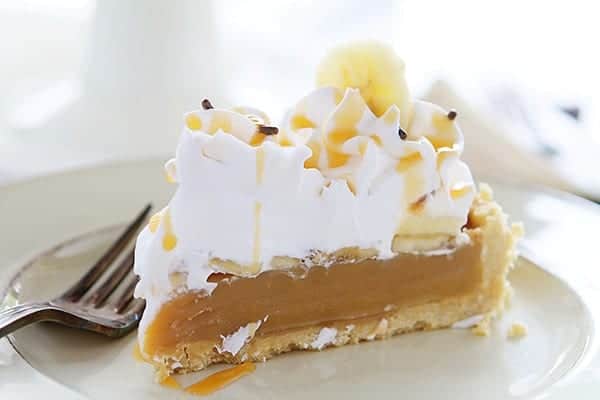 I can completely understand why this dessert is so popular and has been for so long!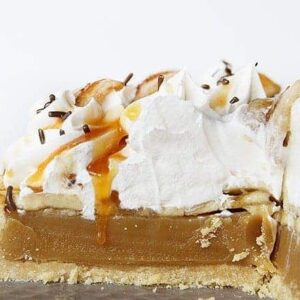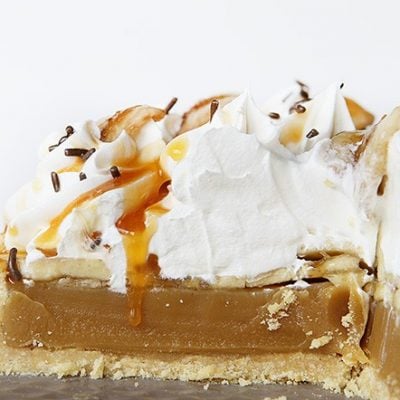 Banoffee Pie
Ingredients
Shortbread Crust
12

oz

fine shortbread crumbs

4

tbsp.

melted salted butter
Filling
1

c

(226g) butter

1/2

c

(100g) granulated sugar

14

ounce

can sweetened condensed milk

2

bananas
Whipped Cream
2

c

(476g) heavy whipping cream

2

tbsp.

confectioners sugar
Instructions
Prepare 8-inch springform pan.
Shortbread Crust
In a bowl, combine shortbread crumbs and 4 tbsps melted butter with a fork. Press mixture into springform pan.
Filling
In a medium saucepan, melt butter and sugar over a low heat, stirring all the time until the sugar has dissolved.

Add the condensed milk and bring to a rapid boil for about a minute, stirring all the time for a thick golden caramel. (It took about 6 minutes for the mixture to come to a boil.) Spread the caramel over the shortbread crust, cool and then chill for about 1 hour or until firm.

After pie has chilled, you can add the bananas. Slice bananas into 1/4-inch slices and place over the top of the pie. This can be done in concentric circles or just piled on, as the bananas will be covered with whipped cream.
Whipped Cream
In a stand mixer with whisk attachment, whip cream until stiff peaks are just about to form. (about 1 1/2 minutes) Beat in confectioners sugar until peaks form. Make sure not to over-beat.

Place whipped cream in pastry bag and pipe out swirls onto the chilled pie, then cover in chocolate jimmies. (sprinkles)

Drizzle with caramel sauce if desired.