Buffalo Cheese Curds are cheese curds that are breaded in a buffalo-flavored batter using my homemade buffalo sauce and fried to a crisp golden brown. With just the right amount of kick to them, this ooey-gooey appetizer can be enjoyed just as they are or dipped in blue cheese dressing or my homemade ranch dressing.
Buffalo Cheese Curds
Cheese curds are little pieces of curdled milk that didn't make it into the cheese wheel. They are separated from the whey and cut up to eat fresh. Cheese curds are also known as squeaky cheese because of the rubbery texture. In fact, real cheese curds should squeak when you bite into them. That's how you know you have the real deal!
Deep-fried cheese curds are a staple in the midwest, and you can find them at most bars and definitely at state fairs! These Buffalo Cheese Curds use fresh cheese curds and are coated with a batter that has added buffalo sauce for that spicy kick. For a traditional cheese curd without the kick, try my original Cheese Curds recipe.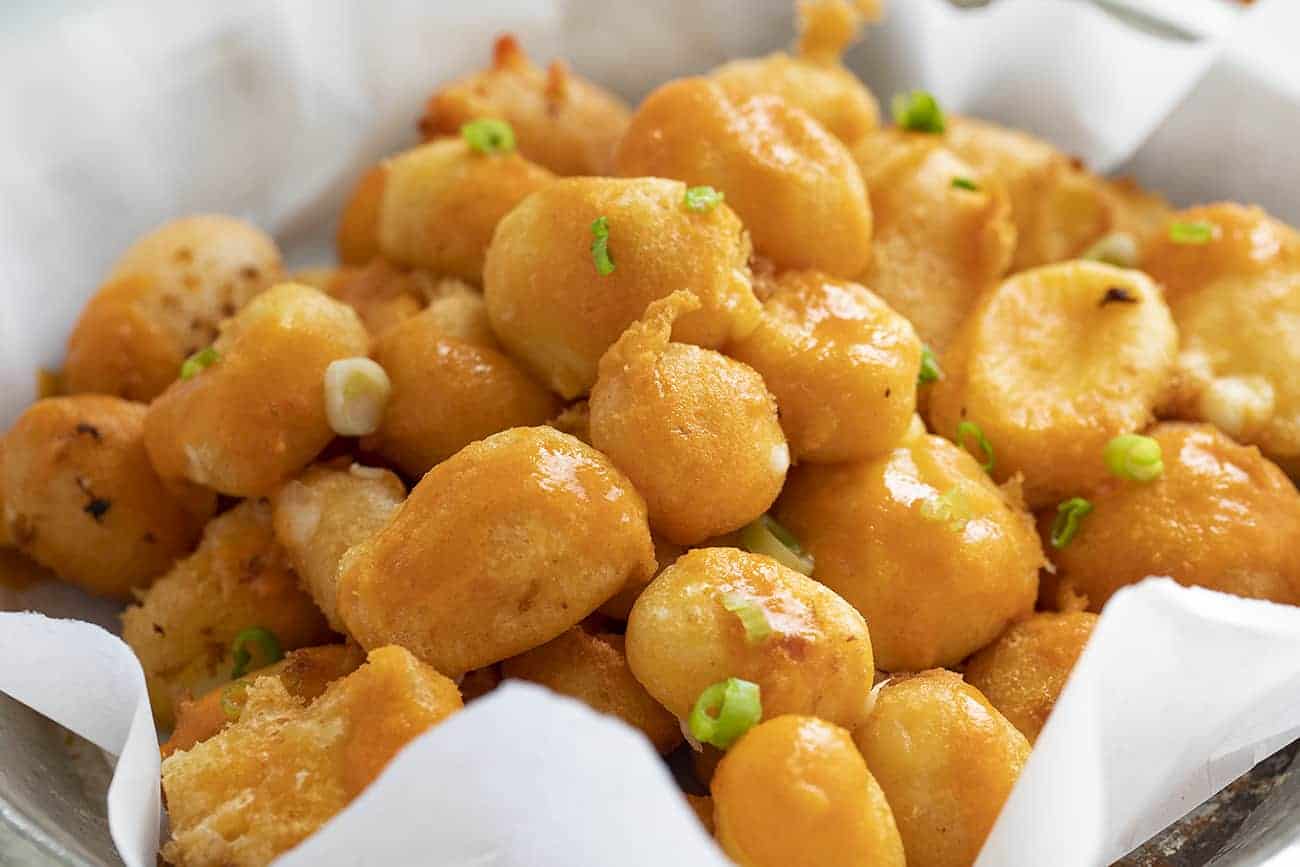 Buffalo Cheese Curds Recipe
After many attempts to get that perfect amount of buffalo flavor into the batter for these cheese curds, I finally got it right. I do have to admit, however, that I did not mind taste-testing any of the samples…
Ingredients (full recipe below)
White cheddar cheese curds–Most cheese curds are made from cheddar cheese.
Dressing (for dipping)–There always seems to be an argument as to which dressing to use for dipping

buffalo wings

or, in this case, buffalo cheese curds. I prefer blue cheese dressing, all the way, but some prefer

ranch dressing

. The buffalo cheese curds are also delicious as-is!
Cheese vs. Cheese Curds
What is the difference between cheese and cheese curds, you may wonder? Well, if you are not from the midwest, where cheese curds are almost a staple at fairs and bars, it is understandable you may be wondering about the difference.
When milk is heated up, it curdles. This takes place about halfway through the milk to the cheese process. The curds are the pieces of cheddar cheese (white or orange) that don't make it into the mold and allowed to age and form (which are the flavorful blocks of cheese you buy at the grocery store). A little salt is added to the curds to make it a squeaky snack. Because of this, cheese curds are only fresh for about a day and can be hard to find other than cheese factories.
Besides being popular in the midwest, you can find them mass-produced in Quebec, where they are a part of their popular Poutine dish. In fact, I used my cheese curd recipe for my Bacon Poutine recipe.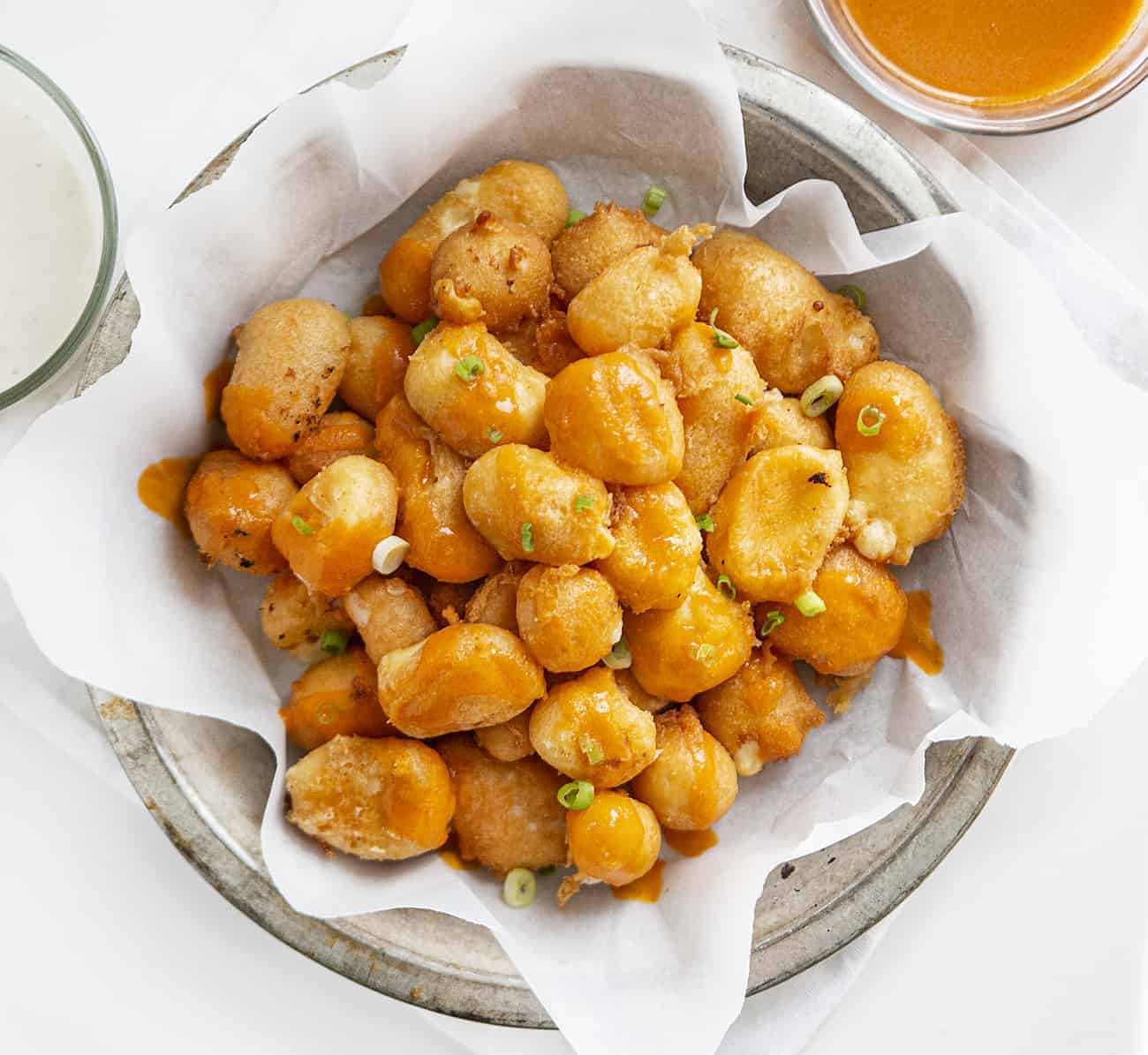 Heating the Oil
To make Buffalo Cheese Curds, you need to heat up the oil and prepare the buffalo-flavored batter. Fill a heavy bottom pot with about 2 inches of oil. Heat up the oil to 425°F, checking the temperature with a candy thermometer. If you don't have a candy thermometer, I have a few tricks you can use to check if the oil is hot enough:
One method to test the oil temperature is to put the handle of a wooden spoon into the hot oil. The oil will bubble steadily if it's ready to go. If you are seeing the oil bubbling like crazy, it's too hot and needs to cool down a bit. If there are only a few to no bubbles, it's not hot enough.
Another method is using a 1-inch square of bread. Carefully put the bread into the oil and if it browns in 60 seconds, the oil is ready.
My favorite method is the popcorn test. Put a kernel of popcorn into the pan of oil as soon as you begin heating up the oil. As soon as that kernel pops, the oil is ready!
If you have any leftover oil after frying, check out my How to Clarify Used Cooking Oil so it doesn't have to go to waste.
While the oil is heating up, get the batter ready. To prepare the batter, whisk together the flour, salt, and baking powder in a large bowl. Add the eggs, milk, and buffalo sauce, whisking all the ingredients together. You can always add more milk to the batter to reach your desired consistency.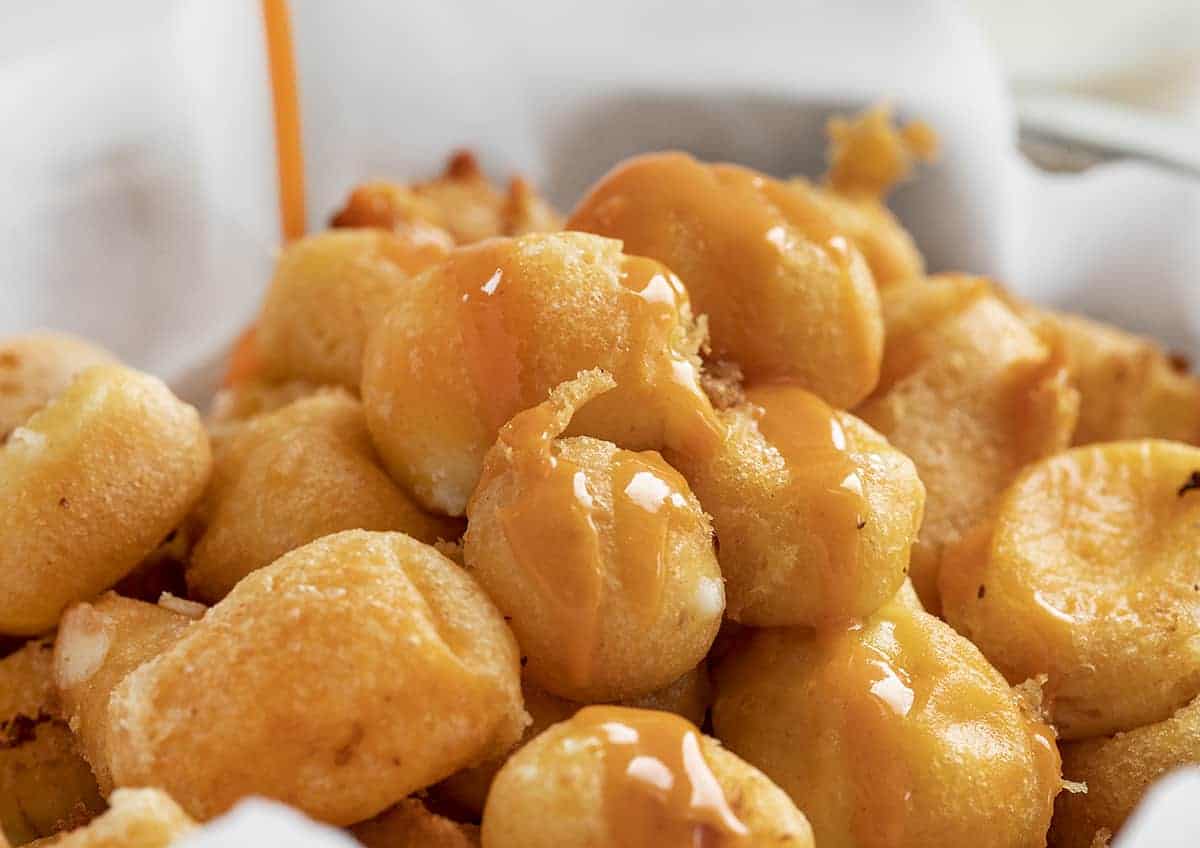 Frying Buffalo Cheese Curds
Once you have the oil hot enough and the batter prepared, it's time to deep-fry the cheese curds and enjoy them!
To fry the cheese curds, dip 5-6 cheese curds into the batter. Then, carefully drop them into the hot oil. Cook them for 1-2 minutes, or until they are a nice golden brown.
Use a slotted spoon to remove the cheese curds and place them on a paper towel.
Continue frying the rest of the cheese curds, but make sure the oil is still the right temperature. Each time you fry a group of cheese curds, the oil will cool down a bit, so just be aware of that. The cheese curds will not be as crispy if your oil is not hot enough.
Enjoy them plain or dipped in your favorite dipping sauce or dressing.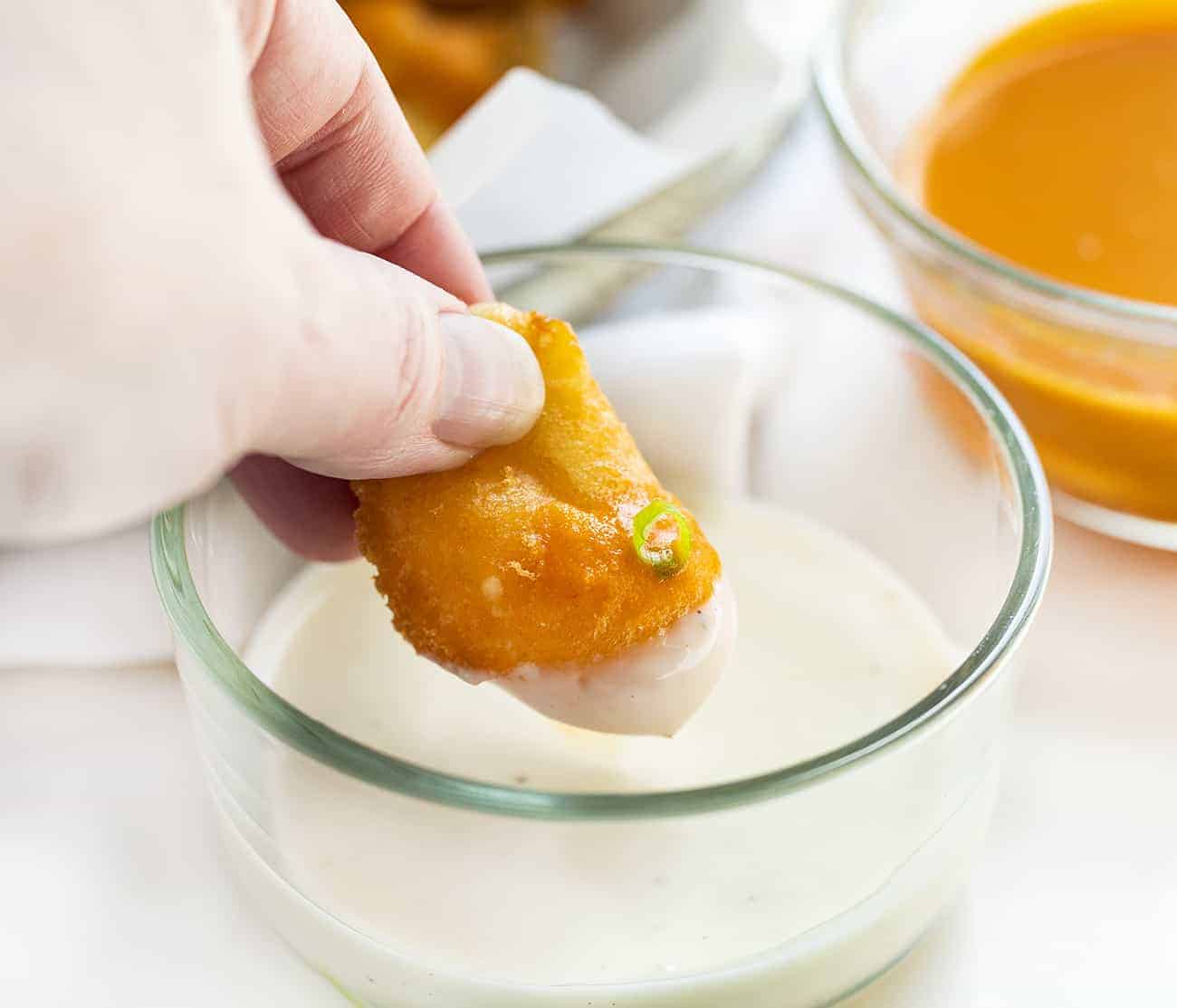 How to Make Buffalo Sauce
To make your own homemade buffalo sauce, you will need:
2/3 cup hot sauce
1/2 cup unsalted butter
1 1/2 tablespoons white vinegar
1/4 teaspoon Worchestershire sauce
1/4 teaspoon cayenne pepper
1/8 teaspoon garlic powder
Salt, to taste
To make the buffalo sauce, combine the hot sauce, butter, white vinegar, Worcestershire sauce, cayenne pepper, garlic powder, and salt into a saucepan over medium heat. Whisk everything together and bring it to a simmer and then remove it from the heat source. The butter acts as a thickening agent, as the sauce cools, it will thicken up a bit. It also tames the heat, so add some additional cayenne pepper if you want to heat it back up a bit.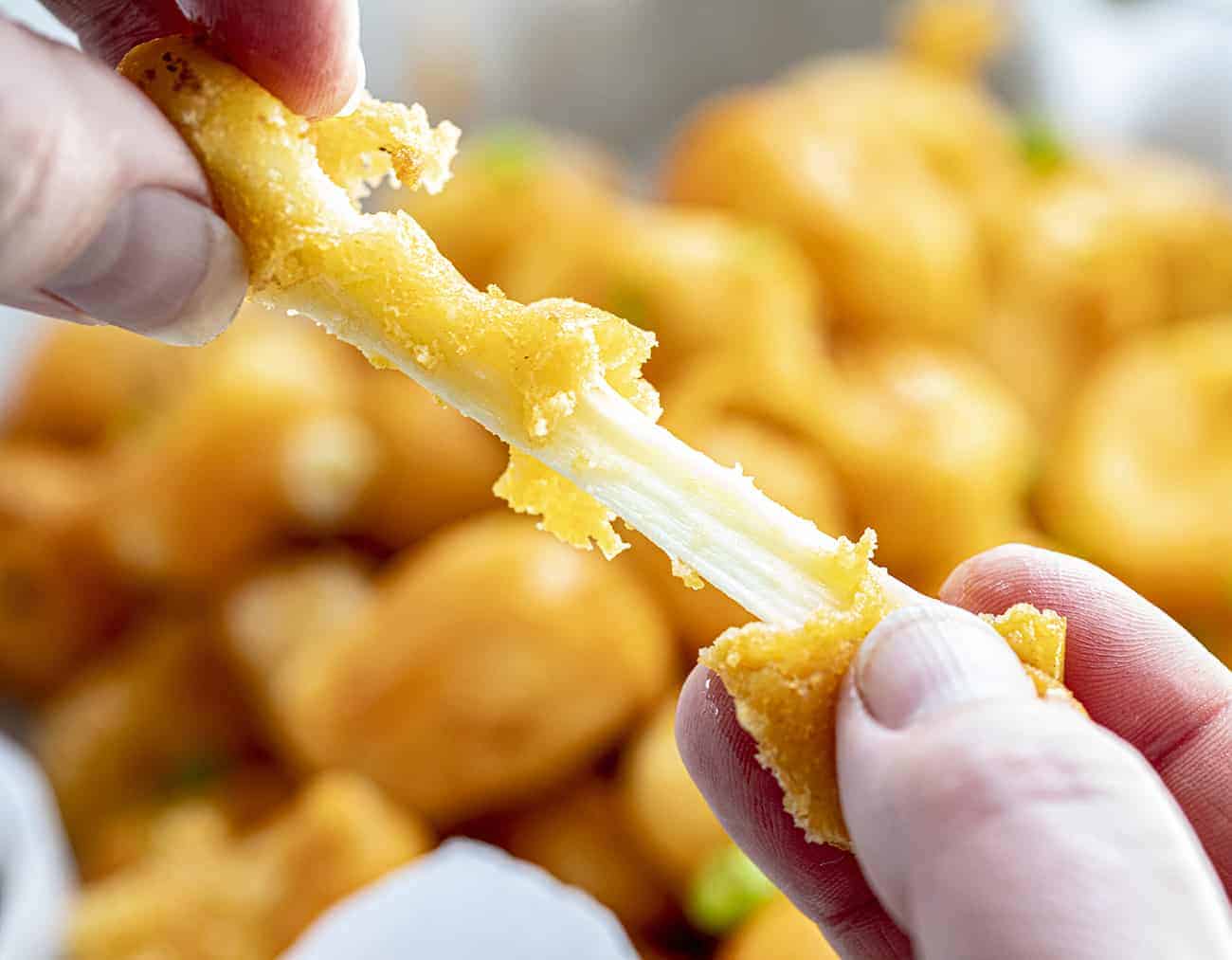 Can I Make Buffalo Cheese Curds in the Air Fryer?
Yes! It is easy to make these cheese curds in an air fryer. There are even a few variations when making them. In all three variations, cook the cheese curds in the air fryer for 4-6 minutes at 350°F. I recommend lining the basket of your air fryer with aluminum foil and spraying it with nonstick cooking spray. This makes for easy clean-up since the cheese might ooze out while cooking.
In the first method, mix together the buffalo sauce batter as it is written in the instructions. Dip the cheese curds into the batter and place them onto the lined basket of the air fryer to cook. That's it!
A second method for making cheese curds in the air fryer is to dip the cheese curds into the buffalo batter, like in the first method. But then, before placing them into the basket of the air fryer, roll each battered curd into breadcrumbs. Then, air fry as instructed above.
Finally, a third way is to dip the curds in the batter and then roll them into panko crumbs before placing them in the air fryer. This will give the texture a little more crunch.
Whatever method you use, you will be happy with the ooey-gooeyness of the curds. No, they will not be quite as crispy as when frying in oil, but it saves time and mess by making this appetizer in an air fryer.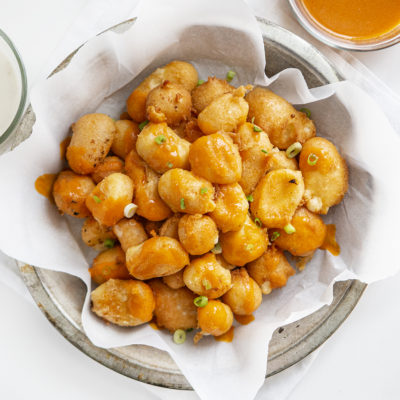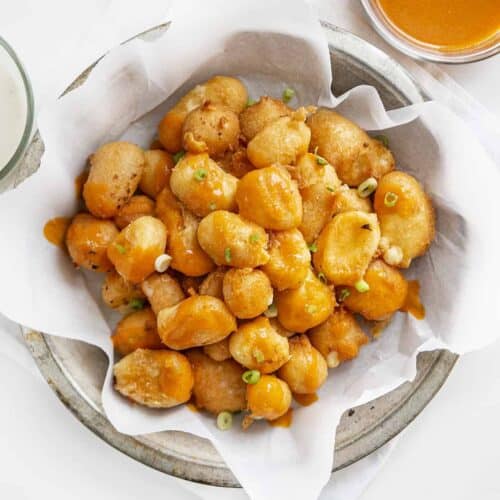 Buffalo Cheese Curds
Give your classic cheese curds a spicy kick by making these Buffalo Cheese Curds.
Ingredients
1

pound

white cheddar cheese curds,

room temperature

1

quart

vegetable oil

1

cup

(125 g) flour

½

teaspoon

kosher salt

1½

teaspoons

baking powder

2

large

eggs,

room temperature

¼

cup

whole milk,

plus more if needed

1

cup

buffalo sauce,

plus more for drizzling

ranch dressing,

or blue cheese dressing, for dipping
Instructions
In a large heavy bottom pot, pour at least 2 inches of oil. Heat to 425°F.

In a large bowl, whisk together flour, salt, and baking powder.

Add eggs, milk, and buffalo sauce and whisk to combine. Add more milk to reach your desired batter consistency.

Dip 5-6 cheese curds into the mixture and carefully drop them into the hot oil. Cook them for 1-2 minutes, or until a crispy golden brown.

Using a slotted spoon, remove the cooked cheese curds from the oil and place on a paper towel.

Repeat with remaining cheese curds.

Drizzle with remaining buffalo sauce and serve hot with Ranch or Blue cheese dressing for dipping.
Did you make this recipe?
Thank you for making my recipe! You took pictures, right? Well go ahead and post them on Instagram! Be sure to mention me @iambaker and use the hashtag #YouAreBaker.