Two Ingredient Chocolate Mousse gives you a really intense chocolate flavor in a thick and creamy mousse, topped with fluffy whipped cream. For another decadent dessert, try my White Chocolate Mousse.
Two Ingredient Chocolate Mousse
Did you know that there are two official calendar days dedicated to chocolate mousse? Both April 3rd and May 2nd are considered Chocolate Mousse Day. But, don't wait until one of those days to whip up this decadent dessert. Two Ingredient Chocolate Mousse is so easy to make and you can use whatever type of chocolate that is your favorite.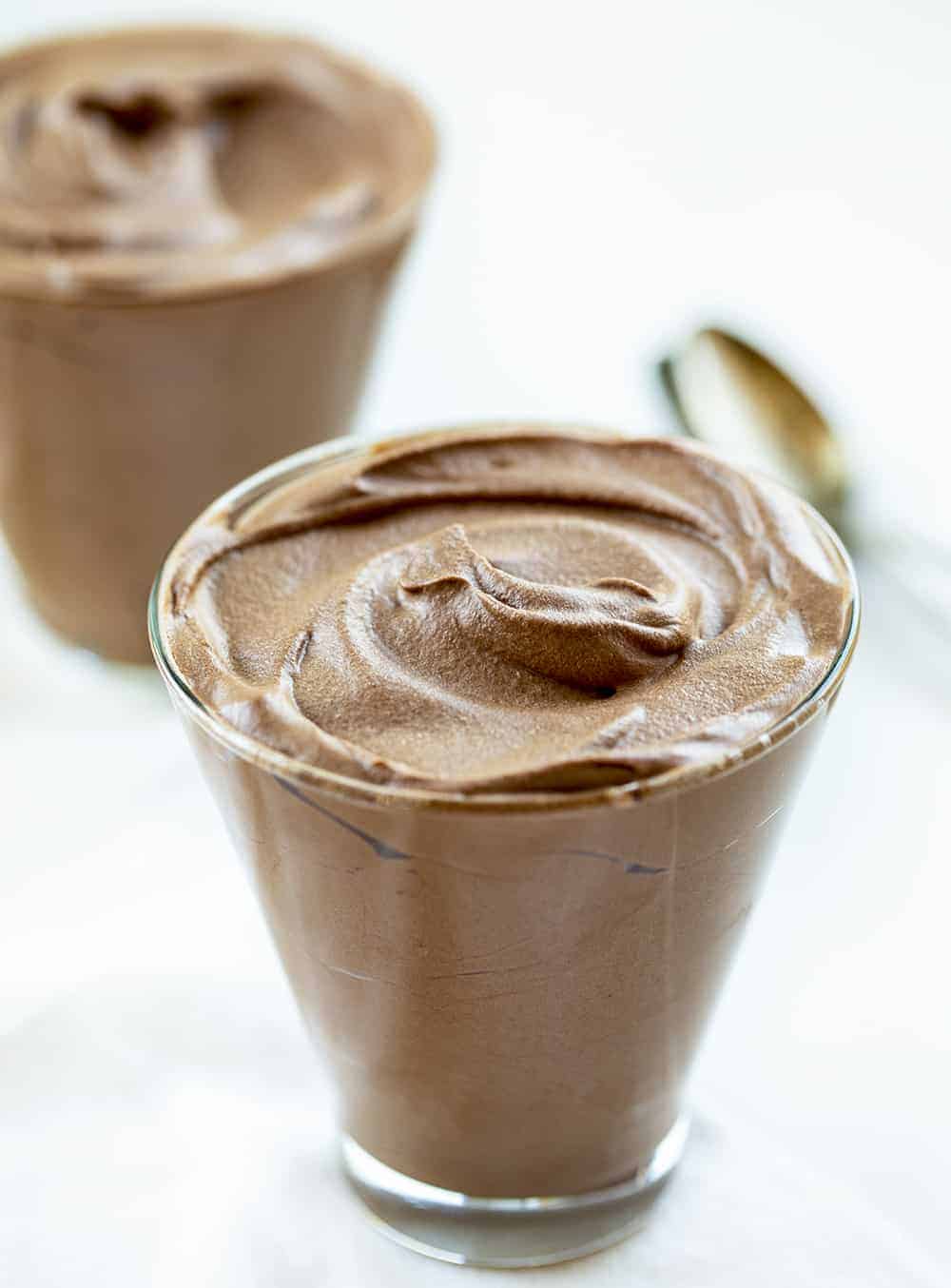 Two Ingredient Chocolate Mousse Recipe
It is up to you what kind of chocolate you use in this recipe. I prefer semi-sweet chocolate, but with any chocolate you choose, make sure it is high-quality chocolate for the best results. The chocolate you choose determines the flavor of the dessert.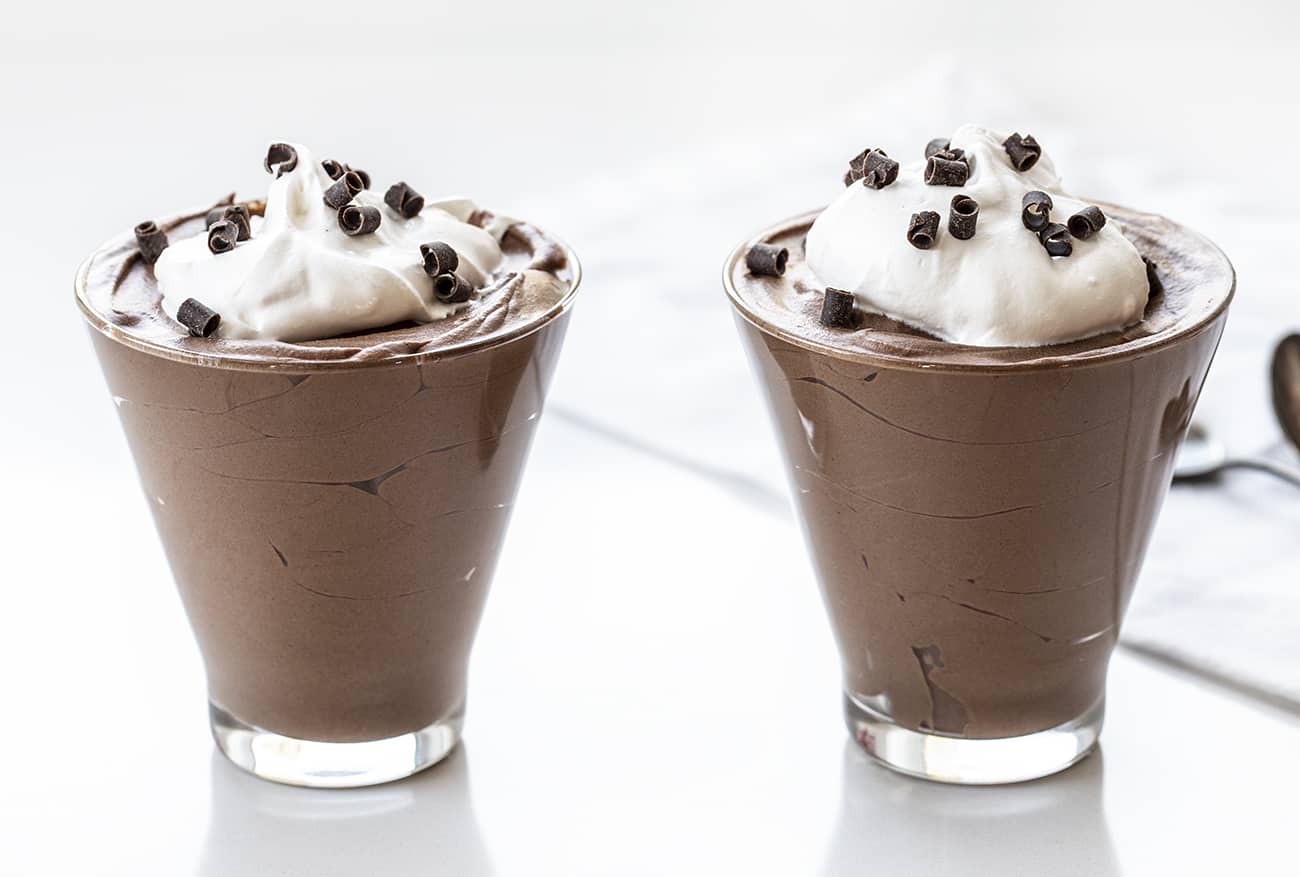 How to Make Two Ingredient Chocolate Mousse
Melt the Chocolate
The first step in making Two Ingredient Chocolate Mousse is to melt the chocolate pieces. To melt the chocolate, heat up 1/2 cup of the cream in the microwave. I heated it up for about 50 seconds, but you may need to heat it up for a bit longer, depending on the power of your microwave. Add the chocolate to the warm cream and stir until the chocolate is melted. This can take up to two minutes, so be patient. Set that aside while you beat the remaining cream. 
Whip the Cream
In a medium bowl, pour in the remaining cup of cold cream. Using a hand-held or stand mixer, beat the cream until soft peaks form. When a recipe calls for the cream to form 'soft peaks', it just means that the peaks barely hold their shape. The peaks flop over immediately when the beaters are lifted.
Once the soft peaks have formed, take half of the beaten cream and store it in the refrigerator to use as your whipped topping later! Continue beating the rest of the cream until you have 'stiff peaks'. Stiff peaks are sharp peaks that can stand on their own even after the beater has been removed. (If a recipe ever asks for 'medium peaks', that means that the peaks will stand pretty much on their own, but with a slight curl at the top.)
Fold Together
Once your whipped cream has peaked, add half to the chocolate mixture, gently folding it in. Then, add in the rest of the cream to the chocolate.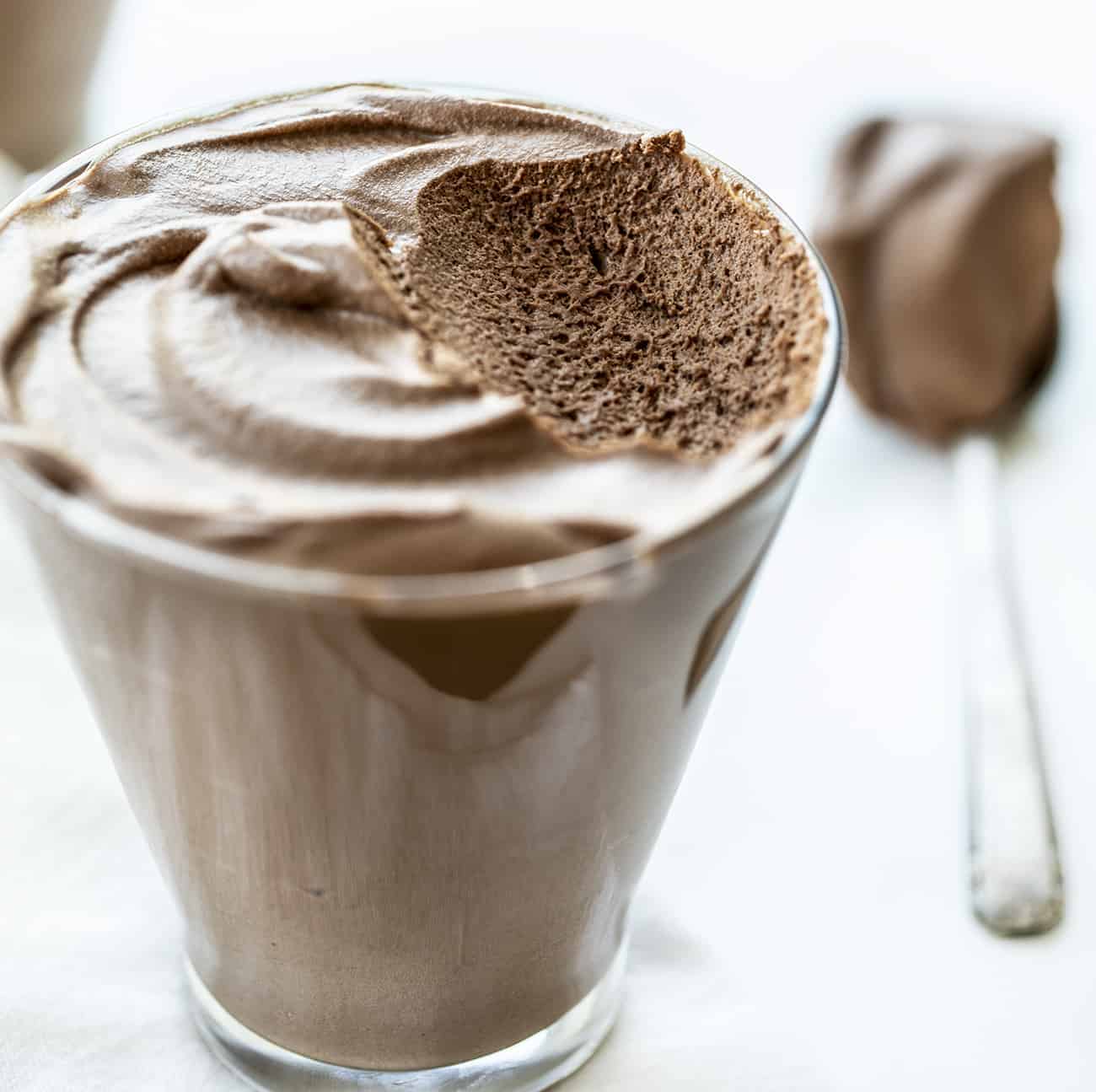 How to Serve Two Ingredient Chocolate Mousse
Once you have everything whipped and mixed together, divide the mousse into four serving glasses. I used lowball glasses, but ramekins, espresso cups, martini glasses, or any cute small bowls work just as well. Let the mousse chill for at least an hour (or even overnight) before serving. Top the chilled mousse with whipped cream or any toppings of your choice.
I added some shaved chocolate curls to my mousse just for that added flare😀. (See how I make my own Mini Chocolate Curls here)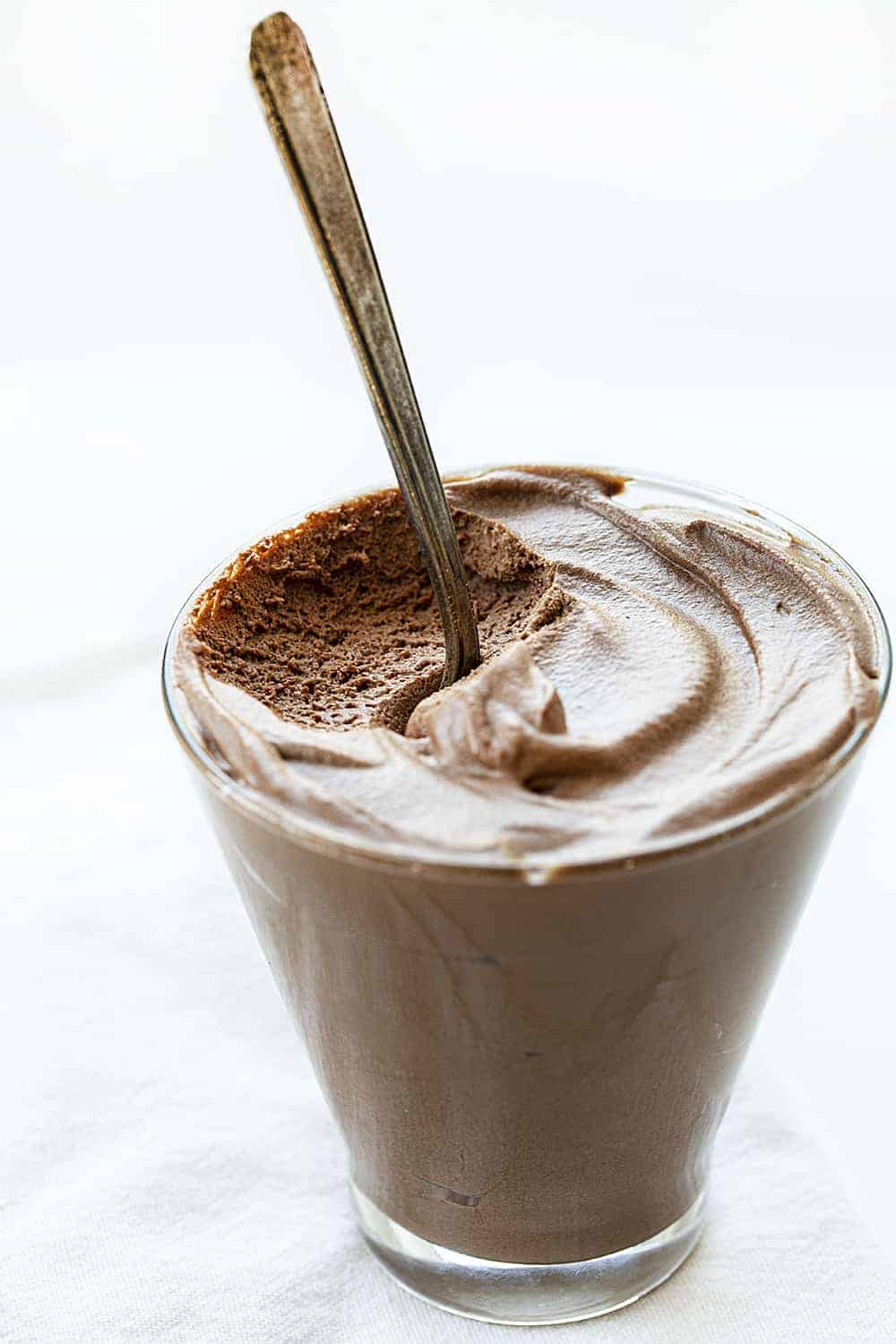 How to Store Mousse
Cover the remaining mousse with plastic wrap. Make sure it touches the top of the mousse in the container, this will prevent a film from forming. It will keep in the fridge for 4-5 days.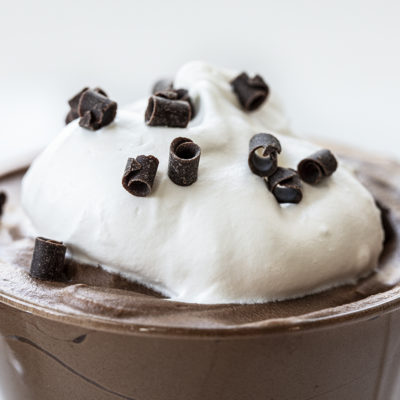 Two Ingredient Chocolate Mousse
Whip up this chocolatey, decadent dessert in a few minutes with just two ingredients!
Ingredients
1½

cups

heavy cream,

cold and divided

1

cup

chocolate chips,

semi-sweet (or your preference)
Instructions
In a microwave-safe bowl, heat 1/2 cup of the heavy cream for 50 seconds (depending on microwave strength).

Add the chocolate chips to the cream and stir until the chocolate has melted. This will take 1-2 minutes. Set aside to cool.

Pour the remaining 1 cup of heavy cream into a medium bowl. Using a hand-held or stand mixer, beat until soft peaks form. (Optional: Store half the soft whipped cream into a small bowl and refrigerate it to use as a topping for the mousse.) Continue whipping the cream until stiff peaks form.

Slowly fold in half the whipped cream into the chocolate mixture with a large spatula. Gently fold in the rest of the whipped cream.

Divide the mixture between 4 ramekins or cocktail glasses (I used lowball glasses). Refrigerate for at least one hour, (up to overnight), before serving. Top with the reserved whip cream or cool whip and chocolate shavings.
Did you make this recipe?
Thank you for making my recipe! You took pictures, right? Well go ahead and post them on Instagram! Be sure to mention me @iambaker and use the hashtag #YouAreBaker.