French Silk Pie is a creamy, chocolatey decadent dessert topped with homemade whipped cream and chocolate shavings. There is no need to buy one pre-made after you give this recipe a shot! If you love chocolate desserts, check out my Zucchini Double Chocolate Cake or my French Silk Brownies.
Note to readers: This French Silk Pie contains raw eggs. And though getting sick from eating raw egg products—particularly if you're very careful to use very fresh eggs that have been adequately refrigerated and that weren't cracked in the carton—is relatively unlikely, folks who are pregnant or have compromised immune systems might want to avoid it. You can also opt for pasteurized eggs.
French Silk Pie
Why buy a French Silk Pie when you can make your own? With a ready to bake pie crust, the process isn't too overwhelming and complicated, and it is all topped off with homemade whipped cream. Of course, you can always bake your own pie crust if you want the pie to be entirely homemade. I have a Never Fail Pie Crust that would work great for this pie. Either way, you will have a pie that looks and tastes like it came from your favorite restaurant.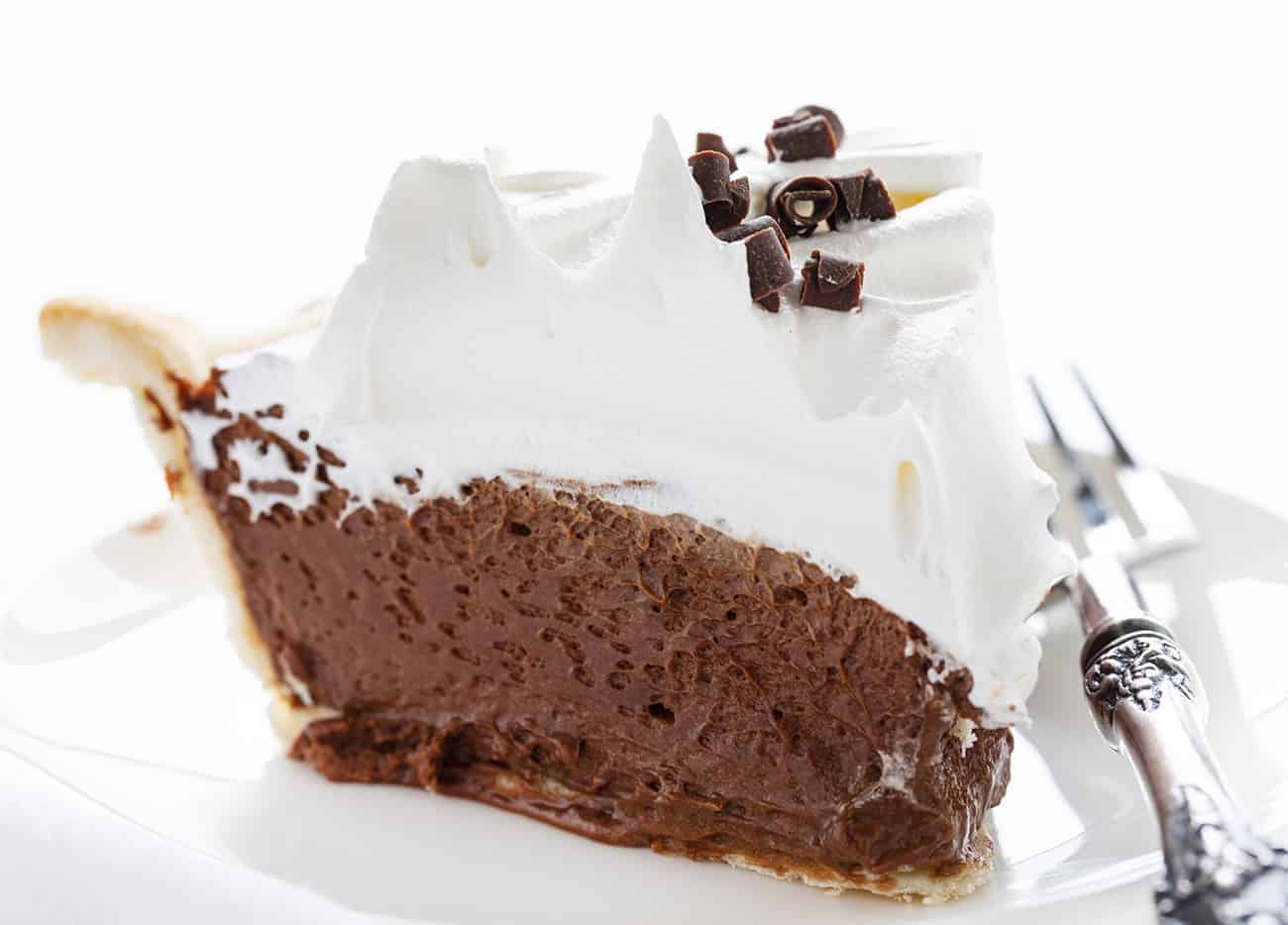 How to Make French Silk Filling
It's all about the French silk filling in a French Silk Pie, and this is the same filling I used for my French Silk Cake Roll. It is the recipe my grandma shared with me a few years ago. Come to find out it's from an old Martha Stewart magazine!
Here are the ingredients:
dark chocolate– I opted for a high percentage of cacao in my chocolate, 65%. You can use any dark chocolate you prefer. I don't recommend milk chocolate as the final result was not as rich and flavorful.
butter– I use unsalted butter as I wanted it to be fresh and I also wanted to control the salt in my recipe
granulated sugar – I have also used ultra-fine granulated sugar with success, but it is not necessary
vanilla extract – good quality is a must!
dark cocoa powder – I used Hershey's extra dark cocoa, but Dutch-process will also work great
eggs – I like my eggs at room temperature and use large eggs
Start by melting the chocolate. You can use a double-broiler or the microwave. You want the chocolate to be melted and slightly cooled for this recipe, so I always start with this step.
Add the butter and sugar to your stand mixer and blend on high for about 1 minute, using the paddle attachment. The butter and sugar should be light and fluffy.
With your mixer on low, drizzle in the melted chocolate. Allow the ingredients to fully incorporate.
Add in the vanilla and cocoa powder. Mix until incorporated. Finally, add in the eggs. Let mix on low for a moment, then turn the mixer to high and mix for 10 minutes. The mixture should turn lighter, increase in volume, and be very smooth.
It takes a little time, but this method is totally worth it! Creamy chocolatey perfection!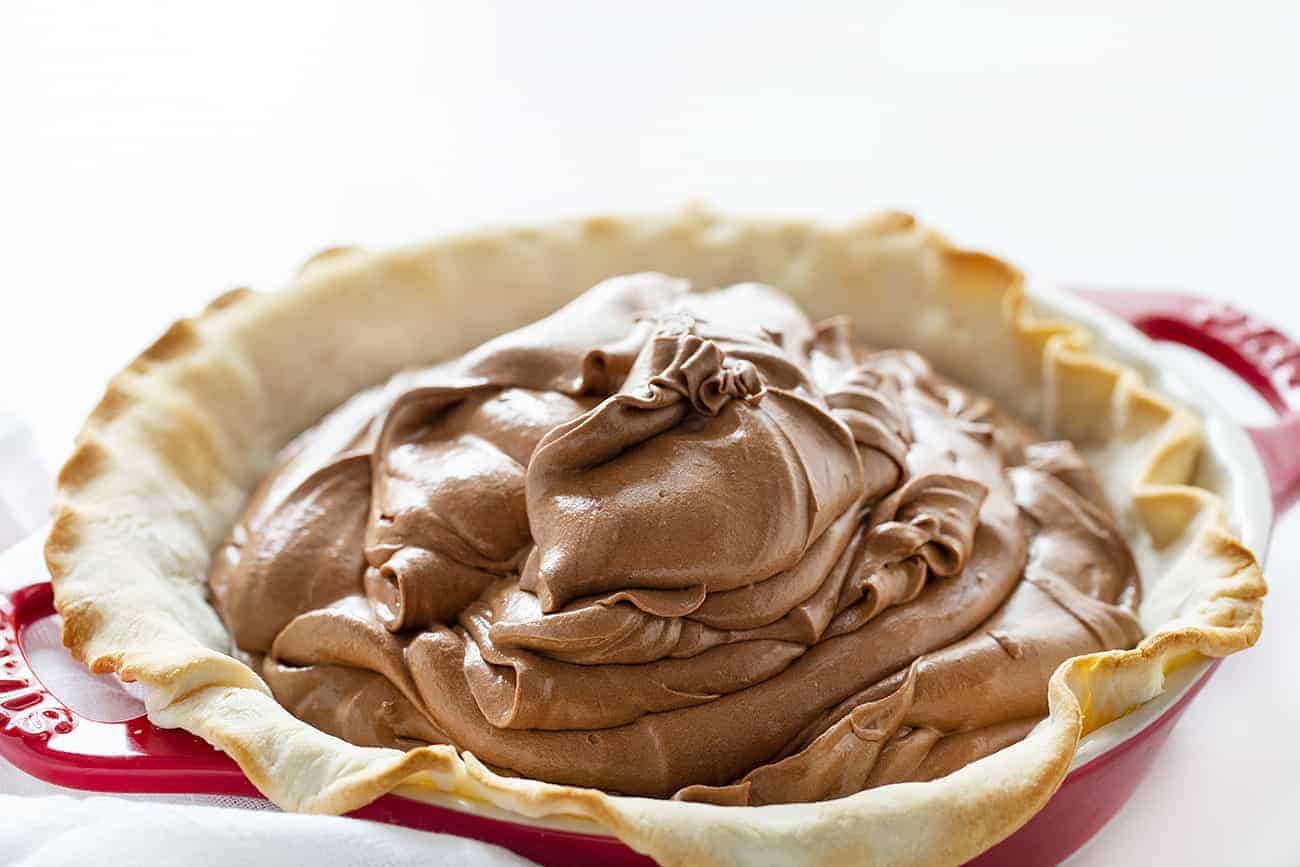 How to Make Whipped Topping & Chocolate Shavings
Making whipped topping from scratch is easy peasy! I love how wonderfully pure and smooth it is, but if you want to save a step (and a few dishes that need to be cleaned!) in this recipe, feel free to buy store-bought.
To make the whipped topping, add 1 cup heavy whipping cream to your stand mixer or use a hand-held mixer and a large bowl. (Heavy whipping cream can splatter quite a bit!) Mix on high for a few minutes or until soft peaks occur. Add in 1/4 cup confectioner's sugar and mix for another minute or until there are firm peaks.
To get chocolate shavings, heat a chocolate bar (I like dark chocolate, you can use whatever you would like) in the microwave for up to 30 seconds and then use a potato peeler to get little chocolate curls. My curls sat for about an hour so relaxed significantly and didn't hold their curl shape and some broke. My chocolate wasn't quite warm enough! This happens to me often so I just roll with it. 😉 One day I will take the time to perfect those sweet little curls!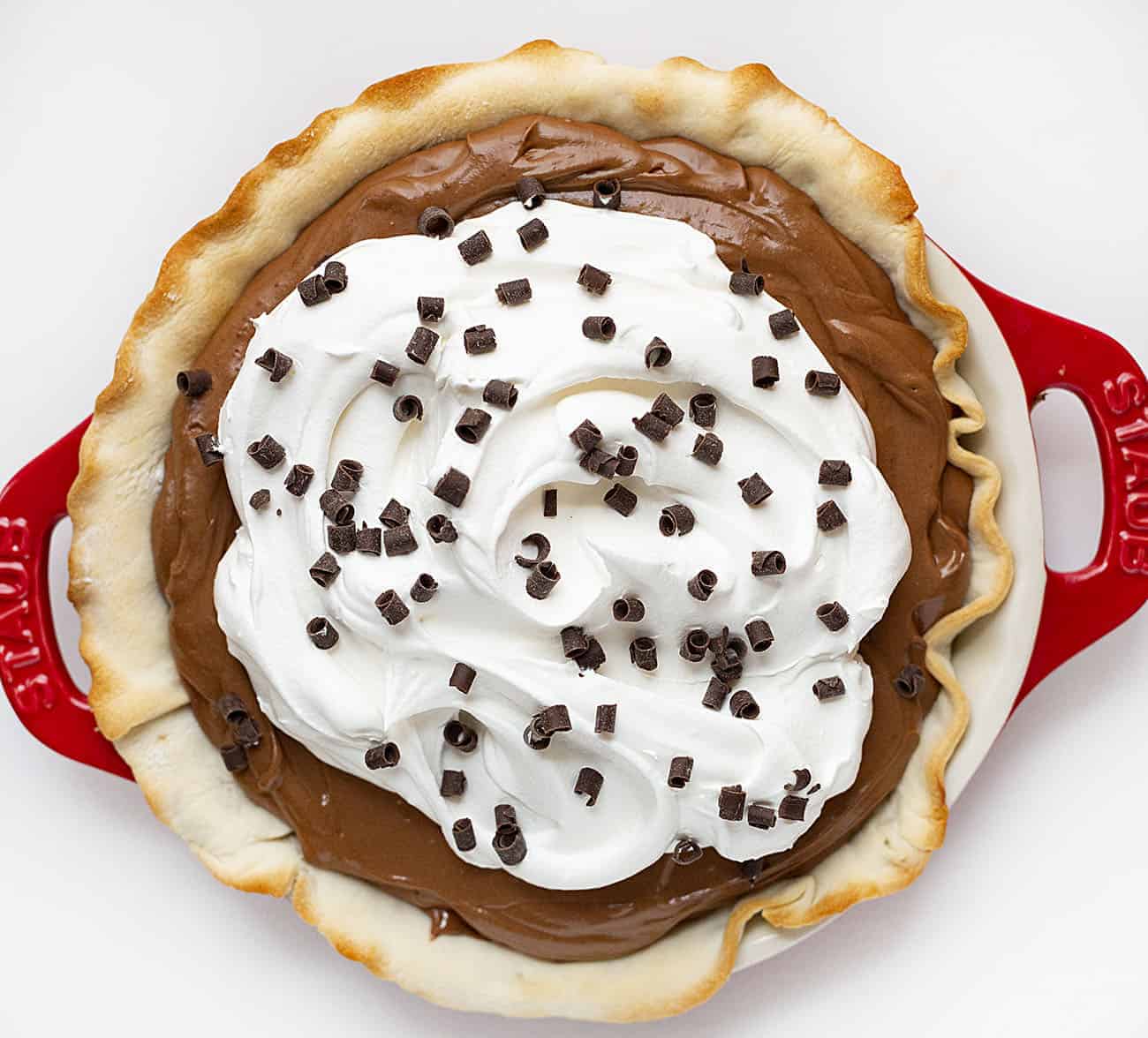 Assembling French Silk Pie
The only baking you are doing for this recipe is the pie crust, whether you are using a store-bought crust or a homemade crust. After you have baked the crust, be sure to let it cool before filling it with the good stuff–the french silk filling, whipped topping, and chocolate shavings! First, smooth out the filling into the pie crust, followed by the whipped cream and chocolate shavings. Now, for the hardest part…waiting for the pie to cool! Yes, you do need to refrigerate this pie for at least four hours before serving. If you can let it refrigerate overnight, that is even better, but I understand the impatience here…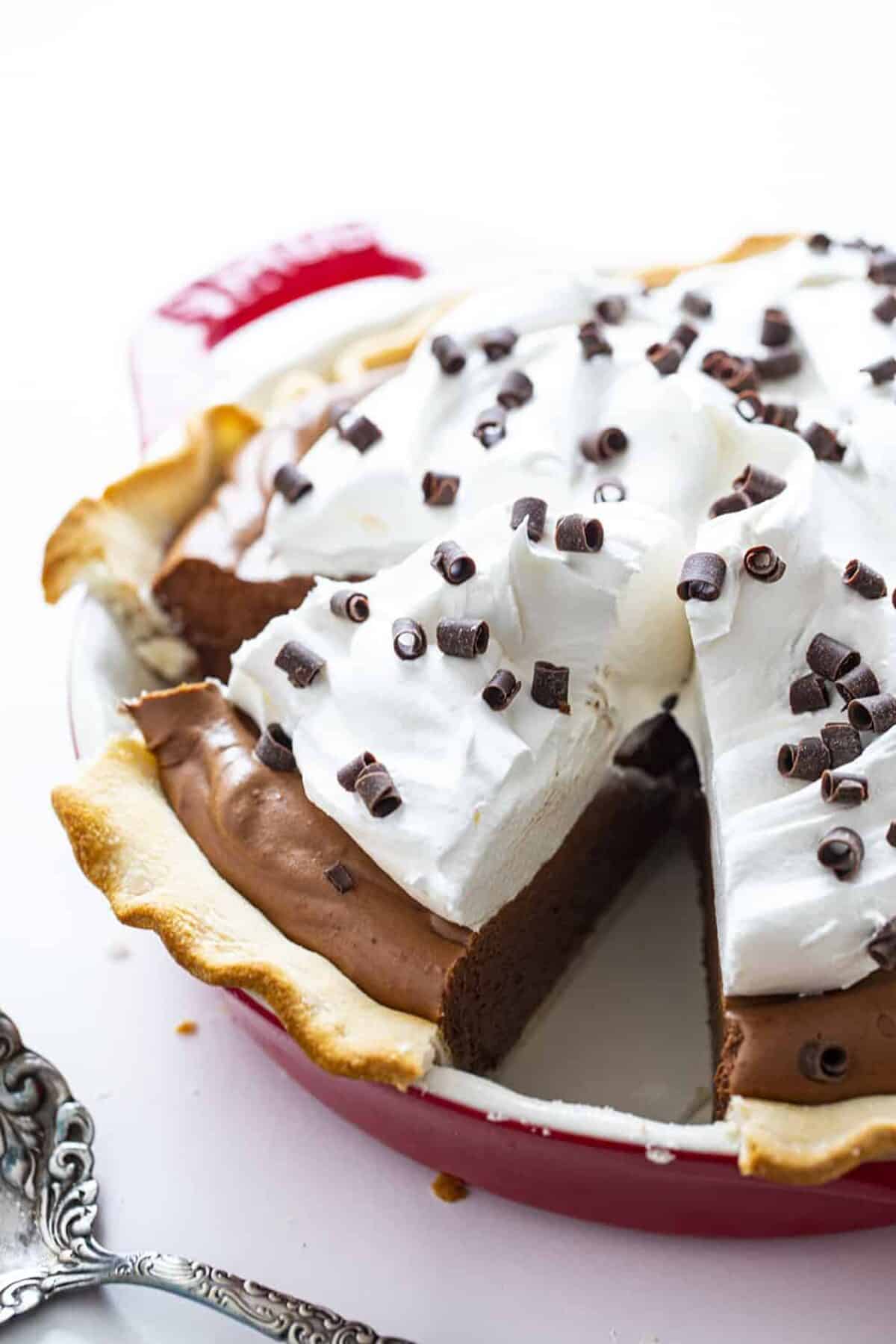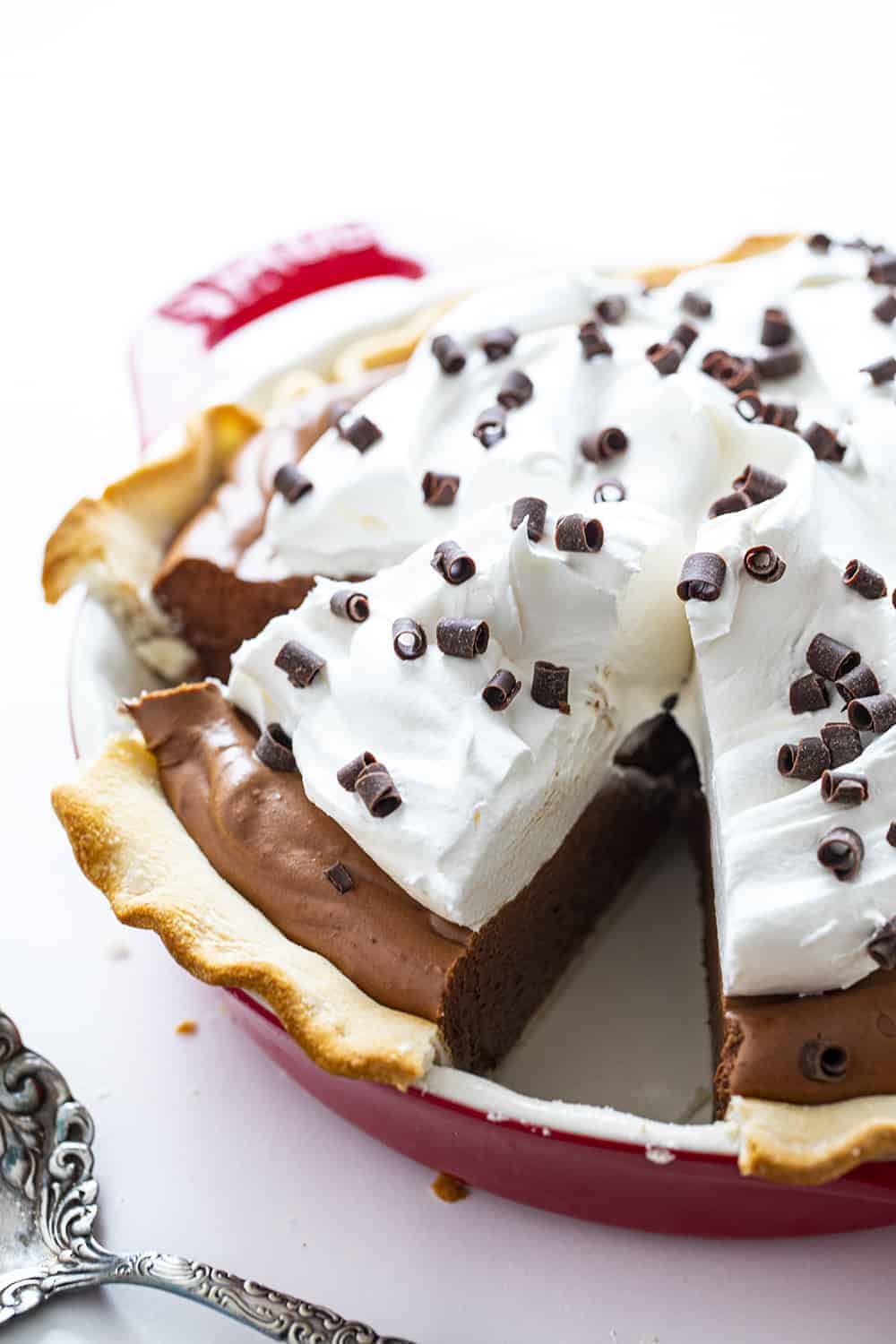 Can I Freeze French Silk Pie?
Yes, you can freeze French Silk Pie. It actually lasts up to three months in the freezer. Just be sure to take it out and refrigerate it for a few hours before serving it. And, always keep the pie in the refrigerator when storing it, if there happens to be any left! An unfrozen pie should last about 3 days when refrigerated. Do not keep the pie at room temperature for more than a couple of hours. But, really, I don't think you will need to worry about that since it will be gone before you know it!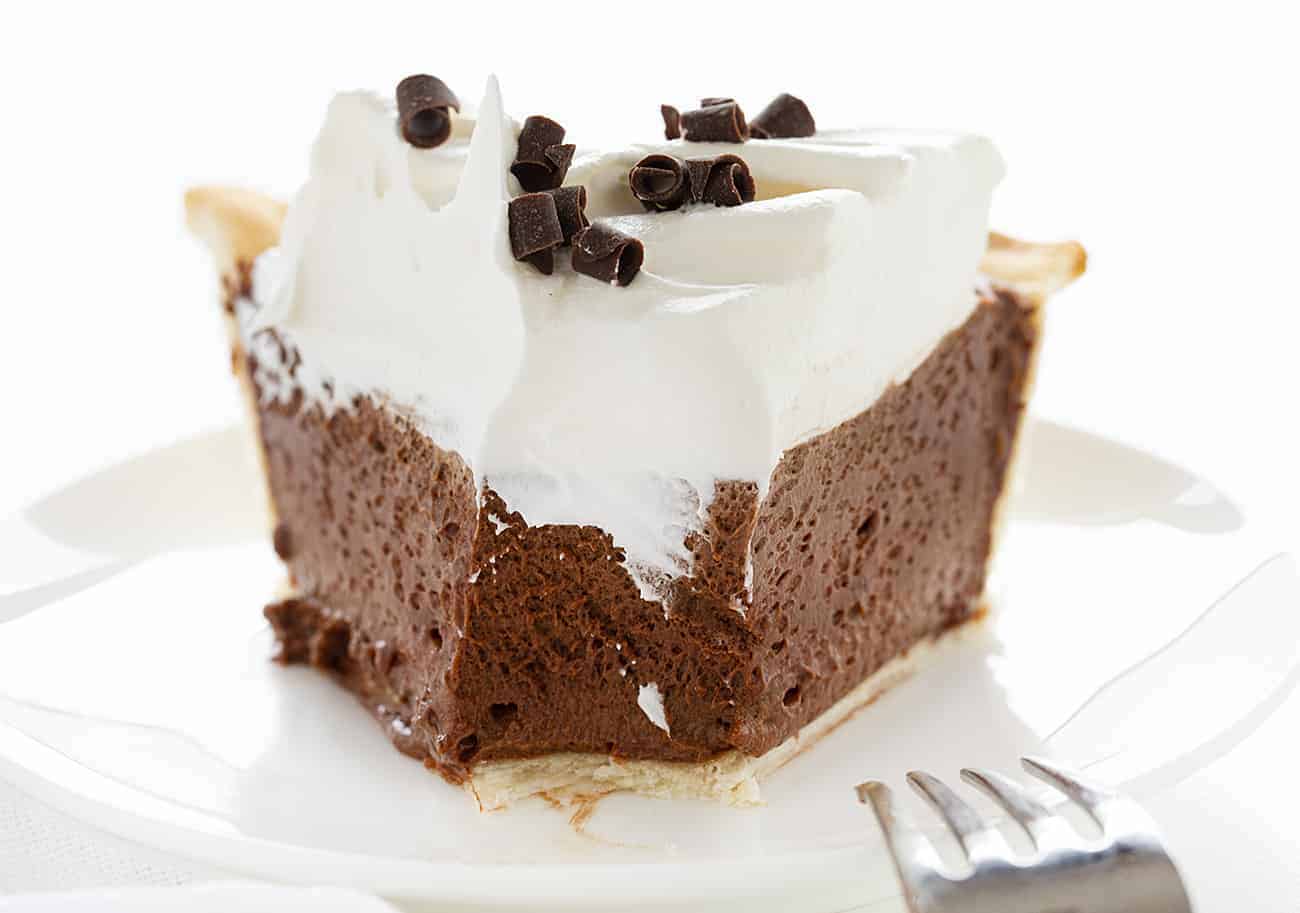 Looking for More Chocolate Desserts?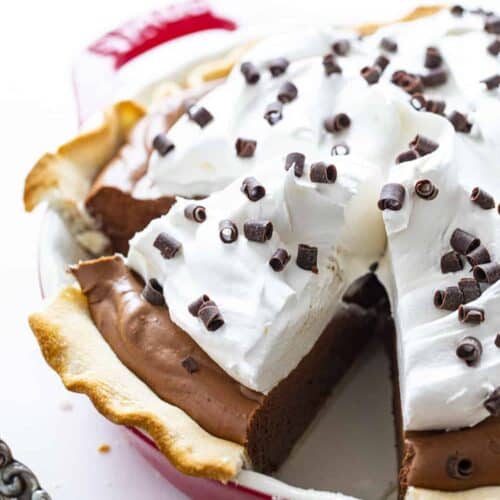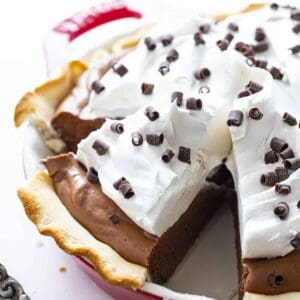 French Silk Pie
With a creamy and decadent chocolate filling, this French Silk Pie is topped with a homemade whipped topping and chocolate shavings.
Keyword:
French Silk Brownies, French Silk Cake Roll, French Silk Pie
Ingredients
FRENCH SILK PIE
4.4

ounces

dark chocolate,

melted and cooled

1

cup

(2 sticks or 226g) butter room temperature

1 1/2

cups

(300g) granulated sugar

2

teaspoons

vanilla extract

3

tablespoons

cocoa powder

4

large

eggs,

room temperature

1/4

cup

chocolate shavings

1

uncooked

pie crust
WHIPPED TOPPING
1

cup

(238g) heavy whipping cream

1/4

cup

(31g) confectioners sugar
Instructions
PIE CRUST
Preheat the oven to 450°F.

Place the room-temperature, uncooked pie crust in a 9-inch pie pan.

Cinch the edge of the pie crust to make your desired shape.

With a fork, prick the pie crust throughout the bottom and sides.

Bake for about 12 minutes, letting it cool before filling.
FRENCH SILK FILLING
Chop dark chocolate and microwave in 30-second increments until melted. (about 1 1/2 minutes total) Set aside.

In the bowl of a stand mixer fitted with the paddle attachment, add the butter and sugar. Turn mixer on high for 1 minute. Butter and sugar should be lighter and fluffy.

With the mixer on low, pour in the melted (and slightly cooled) chocolate. Allow ingredients to combine for 30 seconds then turn the mixer off and scrape down the sides.

Add vanilla and cocoa powder. Mix for about 30 seconds.

Add in 4 eggs and turn the mixer on high for 10 minutes. The filling should lighten, increase in volume, and appear very smooth and shiny. (The filling will darken after assembly.)
WHIPPED TOPPING
In a large bowl or in the bowl of a stand mixer, pour the heavy whipping cream. Whip (or use the whisk attachment on a hand-held mixer) for about 2 minutes, or until soft peaks occur.

Add in confectioners sugar and whip until there are firm peaks. (Lift the whisk attachment out and make sure the whipped topping holds its shape.)
ASSEMBLING
When the pie crust is cooled to room temperature, pour the French silk topping over the top. Smooth out the filling.

Spread the whipped topping over the top of the filling, smoothing it out.

Top with chocolate shavings and refrigerate the pie for at least 4 hours, overnight if possible.