Gingerbread Man Cookie is a cut-out cookie full of ginger, cinnamon, and molasses flavor, decorated as creatively as you like! Try my Soft Ginger Cookie for another delicious spiced cookie.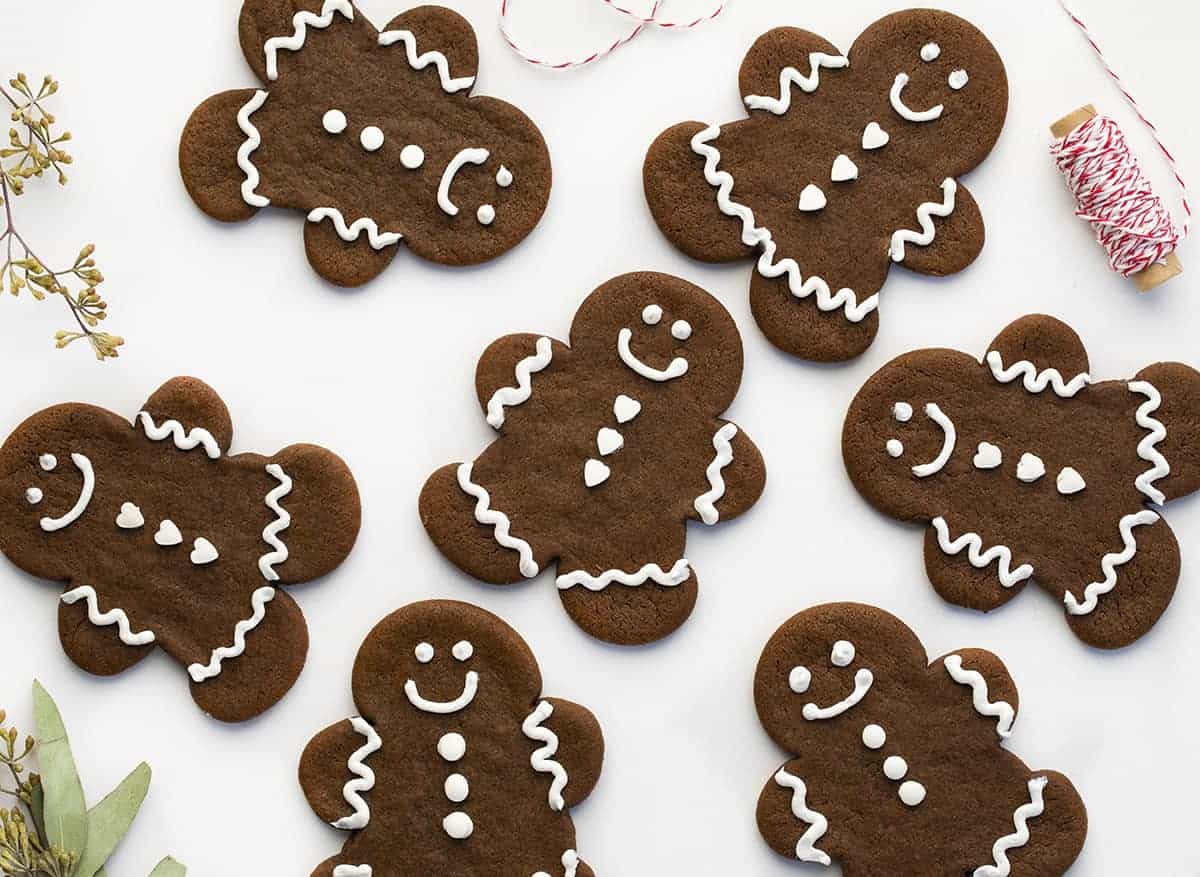 Gingerbread Man Cookie
Gingerbread Men Cookies are holiday classic cookies that are as fun to decorate as they are tasty to eat. These cut-out cookies may have originated when Queen Elizabeth I held her fancy dinners. She actually had her royal gingerbread maker make gingerbread men that represented members of her court. Whichever way you decide to decorate the cookies, be creative and have fun!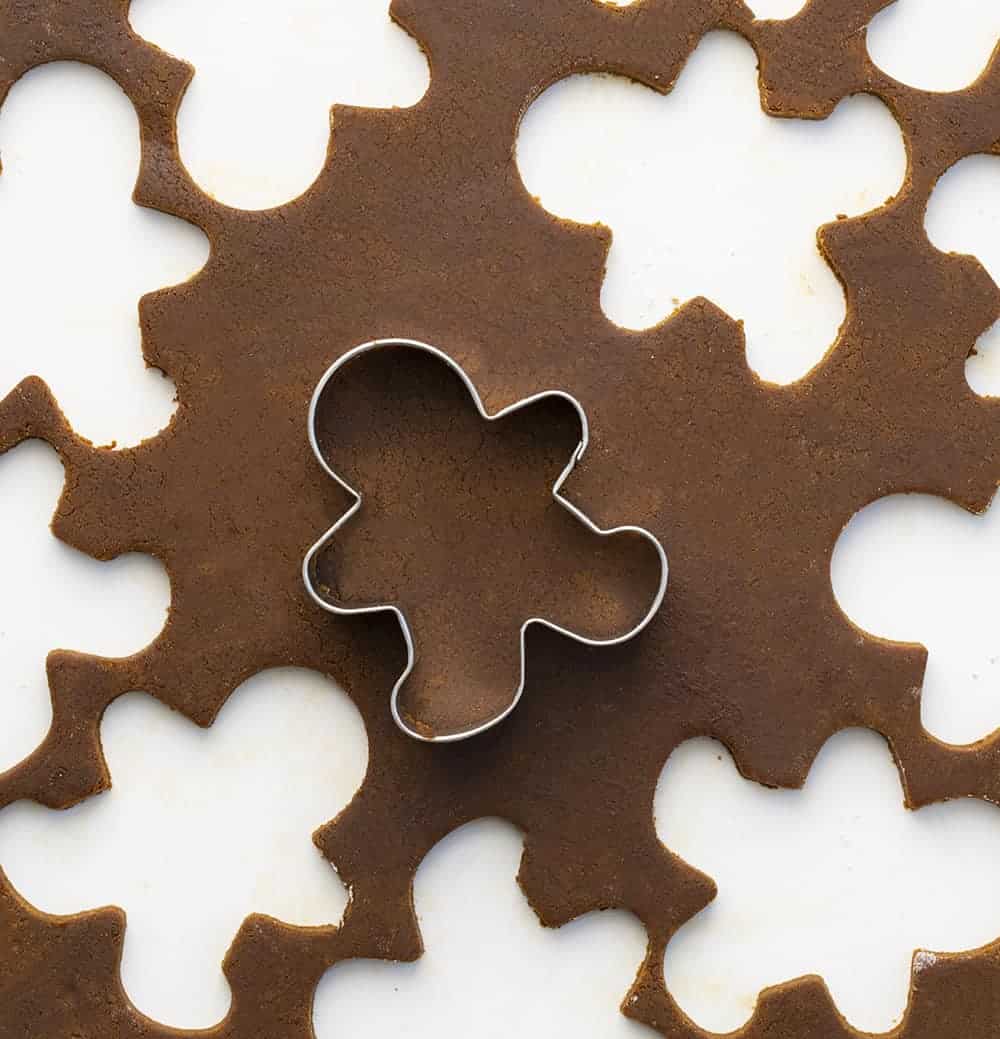 Gingerbread Man Cookie Ingredients
Before you can roll out and cut the dough, it does need to chill for at least 4 hours, so plan accordingly. There are a few ingredients that are a must when making gingerbread man cookies; ginger, cloves, and molasses.
Molasses: The molasses in the cake is unsulphured molasses. Unsulphured molasses (regular molasses) is richer, thicker, and sweeter than sulphured. It is made with fewer preservatives because it is made with more mature sugarcane. Sulphured molasses has added sulfur dioxide to the younger sugarcane, so that can alter the flavor of the recipe.
There is also a variety of molasses called blackstrap. Do not substitute molasses in a recipe (including this one) for blackstrap unless the recipe is very specific about using it.
Room Temperature Ingredients: For best results, have all ingredients (especially butter, eggs, and milk) at room temperature. To be specific, room temperature ingredients should be 65-70°F.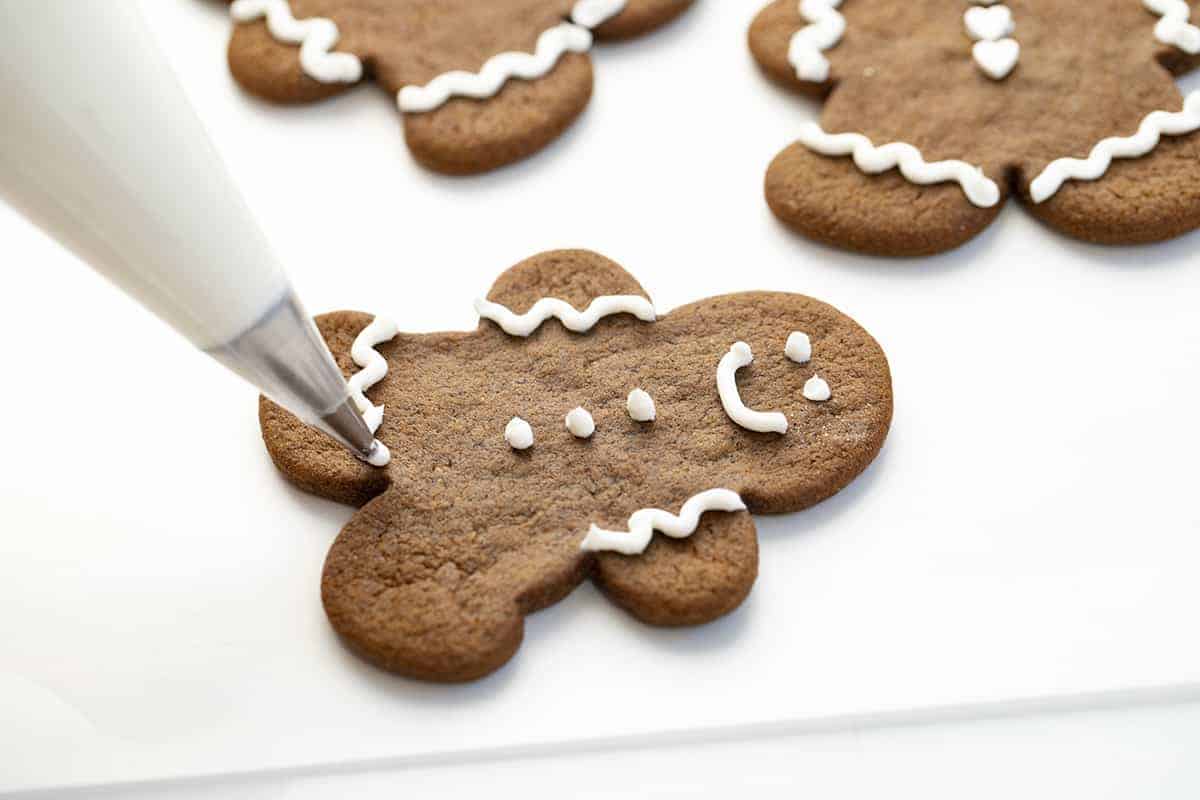 Decorating Gingerbread Man Cookies
The gingerbread men cookies I made were decorated with my buttercream frosting recipe and some added sprinkles. You could also use a glaze, icing, candies, and colorful sugars to add more flair to each cookie. That's the fun part about this classic holiday cookie–the fun you and the family can have while dressing and designing the gingerbread men!
PRO TIP: Do NOT decorate these cookies until you are ready to serve them. These cookies will remain soft if stored properly, but once decorated it is hard to store them without smashing the decorations.
How to Keep Cookies Soft
To store the cookies (before decorating) I add parchment or wax paper to a rectangular storage container. I place the cookies in a single layer, then cover them with another piece of parchment. Repeat once more. I then place a couple of pieces of BREAD on top of the top layer of parchment. The bread will stale, but the cookies will NOT!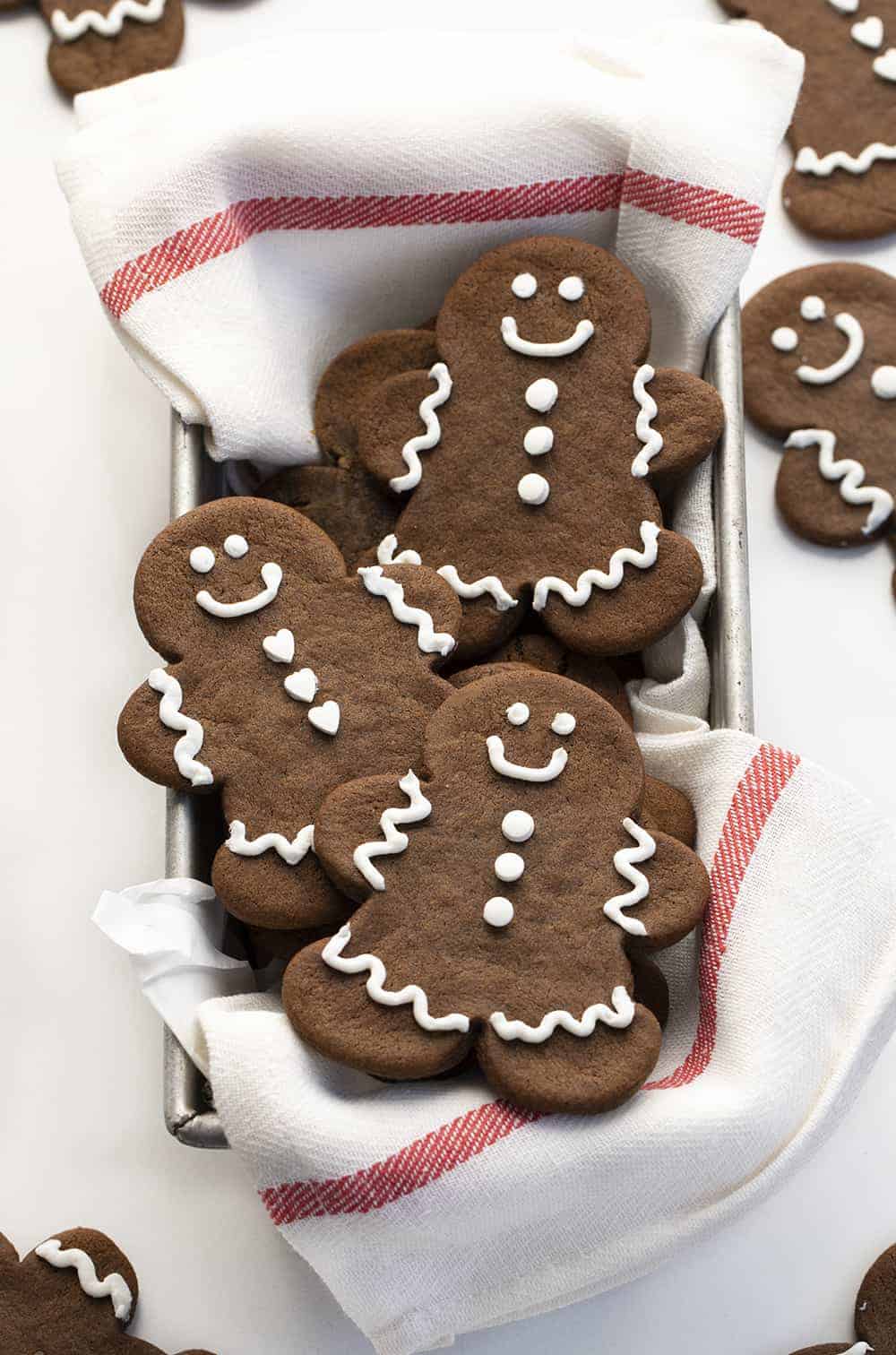 Can I Freeze Gingerbread Man Cookies?
Yes! Gingerbread cookies are perfect for freezing after being baked or freezing the dough to be baked later.
Freezing Baked Cookies:
After the cookies have completely cooled (and before any decorating), place the cookies on a parchment-lined baking sheet. Freeze the cookies until they are solid. Then, transfer the cookies to a sealed, freezer-safe container. Label and date the bag; they will last up to three months. When ready to decorate, remove them from the freezer and let them thaw at room temperature (about an hour) before decorating.
Freezing Cookie Dough:
You can freeze the unrolled and uncut cookie dough by tightly wrapping the dough disc and thawing it when ready to roll, cut, and bake. You can also roll and cut out the gingerbread man cookies before freezing.
If you roll and cut out the cookies before freezing, lay the cookies on a parchment-lined baking sheet and place them in the freezer until the dough hardens. Then, transfer the cookies into freezer-safe containers. When ready to bake, simply bake them from frozen.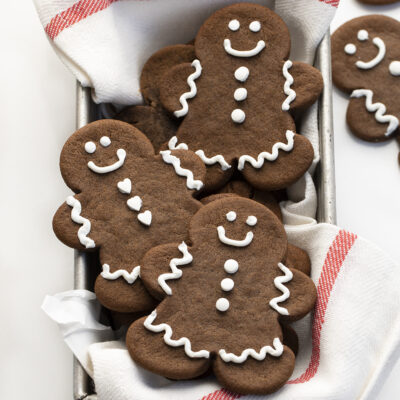 Gingerbread Man Cookie
Gingerbread Man Cookie is a cut-out cookie full of ginger, cinnamon, and molasses flavor, decorated as creatively as you like!
Ingredients
3

cups

(375 g) all-purpose flour

2

teaspoons

ground ginger

1

teaspoon

baking soda

1

teaspoon

ground cinnamon

½

teaspoon

ground cloves

¼

teaspoon

kosher salt

¾

cup

(170 g) unsalted butter,

softened

1

cup

(200 g) light brown sugar,

packed

1

large

egg,

room temperature

½

cup

(168.5 g) molasses
Instructions
In a sifter, add the flour, ginger, baking soda, cinnamon, cloves, and salt. Sift into a bowl and set aside.

In a large bowl, using a hand mixer, cream the butter and brown sugar until light and fluffy, being careful not to overmix.

Beat in the egg. Then, stir in the molasses.

Slowly add the sifted ingredients to the molasses mixture.

Press the dough into a disc and wrap it tightly with plastic wrap. Chill dough in the refrigerator for 4 hours, or up to overnight. (If you do chill the dough overnight, you may have to set the dough out for 30 minutes before rolling it out. You may also have to add a teaspoon of water to the dough if it looks too dry or crumbly.)

When ready, preheat the oven to 350°F. Line a baking sheet with parchment paper.

Roll out the dough to 1/4-inch thickness on a lightly floured surface.

Use a 3-inch gingerbread man cookie cutter to cut out shapes.

Place on the lined baking sheet, leaving about 1-inch between each cookie.

Bake 8-10 minutes, or just until browned (but not cracked).

Let cool completely before decorating.
Did you make this recipe?
Thank you for making my recipe! You took pictures, right? Well go ahead and post them on Instagram! Be sure to mention me @iambaker and use the hashtag #YouAreBaker.