If you have a lemon lover in your life, this is the cake to make for them!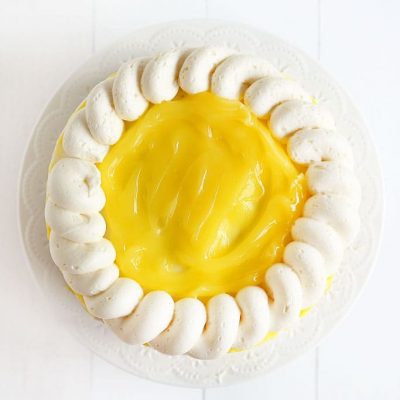 Lemon Cake with Lemon Curd
If you have a lemon lover in your life, this is the cake to make for them!
Ingredients
Cake
2

c

all-purpose flour

2

tsp.

baking powder

1

tsp.

salt

1/2

c

butter

room temperature

1 1/4

c

granulated sugar

3

large eggs

room temperature

1

tsp.

vanilla extract

1

tsp.

lemon extract

1/2

c

fresh lemon juice

1

c

whole milk

room temperature
Lemon Curd
3

lemons

1/4

c

butter

room temperature

1

c

granulated sugar

2

large eggs

room temperature
Instructions
Cake
Preheat oven to 350 degrees F. Prepare two 8-inch round pans. (Spray with baking spray, grease with butter and flour, or use GOOP)

Sift together the flour, baking powder, and salt in a medium bowl and set aside.

In the bowl of a stand mixer fitted with paddle attachment, cream together the butter and sugar until light and fluffy, about 5 minutes.

With the mixer now on low, beat in the eggs one at a time, then add in the vanilla, lemon extract, and lemon juice.

(With mixer still on low) Add in the flour mixture alternately with the milk, mixing just until incorporated. (about 30 seconds)

Pour batter into prepared pans.

Bake in the preheated oven for 24-30 minutes, or until a toothpick inserted into the center of the cake comes out clean. Allow to cool in pans on wire racks for 10 minutes then invert onto wire racks to cool completely.
Lemon Curd
Grate zest from lemons to equal 1 tablespoon.

Cut lemons in half; squeeze juice into a measuring cup to equal 1/2 cup.

In the bowl of stand mixer (or using a hand-held mixer) beat butter and sugar at medium speed until blended. (about 2 minutes)

Add eggs, 1 at a time, beating until just blended after each addition.

Gradually add lemon juice to butter mixture, beating at low speed just until blended after each addition.

Remove bowl from mixer and stir in zest by hand. Mixture will look curdled.

Transfer mixture to a heavy 4-qt. saucepan.

Cook over medium-low heat, whisking constantly, 14 to 16 minutes. Remove from heat and allow saucepan to cool for about five minutes.

Set plastic wrap directly on warm curd (to prevent a film from forming), and chill 4 hours or until firm.

Store in an airtight container in refrigerator up to 2 weeks.
Did you make this recipe?
Thank you for making my recipe! You took pictures, right? Well go ahead and post them on Instagram! Be sure to mention me @iambaker and use the hashtag #YouAreBaker.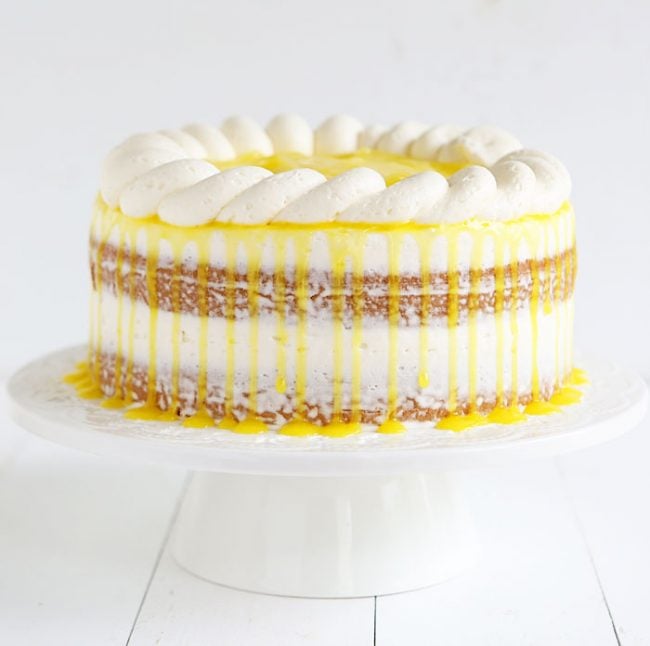 Lemon Cake with Lemon Curd
To make this cake you will need:
Lemon cake recipe (below)
Lemon Curd recipe (below)
cake stand
rotating cake stand (see how to pick the perfect cake stand here)
small offset spatula
bench scraper
plastic disposable pastry bags
9FT decorating tip (see my tips here)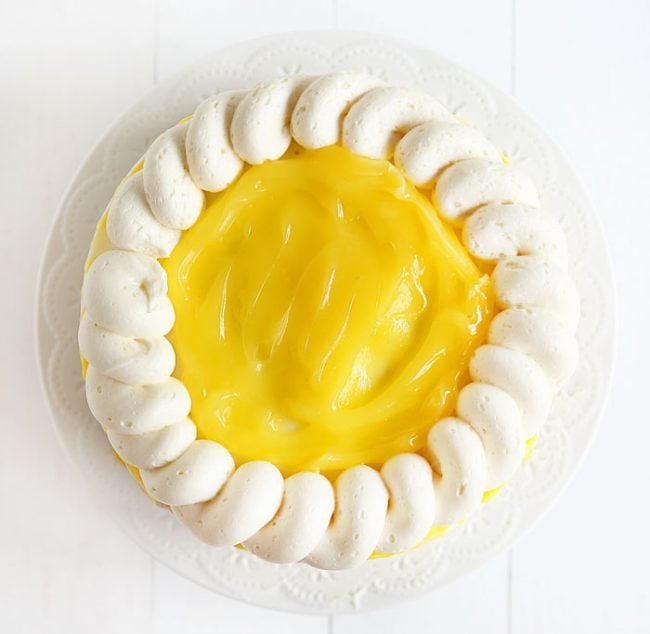 The lemon curd takes about 4 hours to set so you will want to prepare that first. You can also purchase lemon pie filling to use in between the layers of cake. You are only using about 3/4 cup total of curd.
Bake cakes in 8-inch pans and cool. I made a little video of me assembling this cake where I did not level them, but you can certainly level your cakes when they are cooled.
Prepare buttercream and then put buttercream into plastic disposable pastry bags. (I store my frosting right in the pastry bags.) You want to make sure your frosting has a stiff consistency so that you can easily pipe it out. Add more or less sugar to reach your desired consistency.
Set one layer of cake on cake stand. Cut off the tip from a pastry bag and pipe out a ring of buttercream around the edge of the cake.
Drop 1/2 cup to 3/4 cup up lemon curd on the cake and smooth out.
Place the other layer of cake on top.
Cover with a thin layer of lemon buttercream. Use small offset spatula to smooth out. If you want a more crisp finish, use a bench scraper to smooth out frosting. This works best if you have a rotating cake stand.
Take 2 tablespoons of lemon curd and add 2 tablespoons of water. You want the consistency to be runnier than the but not as runny as water. Place in a plastic pastry bag and cut off a VERY small tip, like 1/8 of an inch. Drip the runny lemon curd around the edge of the cake.
In a plastic pastry bag fitted with a 9FT tip and lemon buttercream, pipe out circles on top of the cake.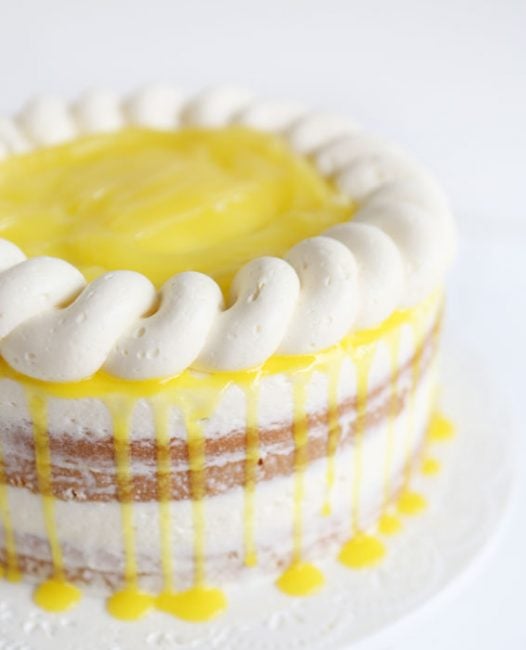 You can see a VIDEO of how I made this cake here. I also have a video of my using this rope technique on a cupcake here.
Fill in the top with lemon curd and smooth with offset spatula. Chill cake until ready to eat.
Recipe slightly adapted from All Recipes.