If you have a lemon lover in your life, this is the cake to make for them!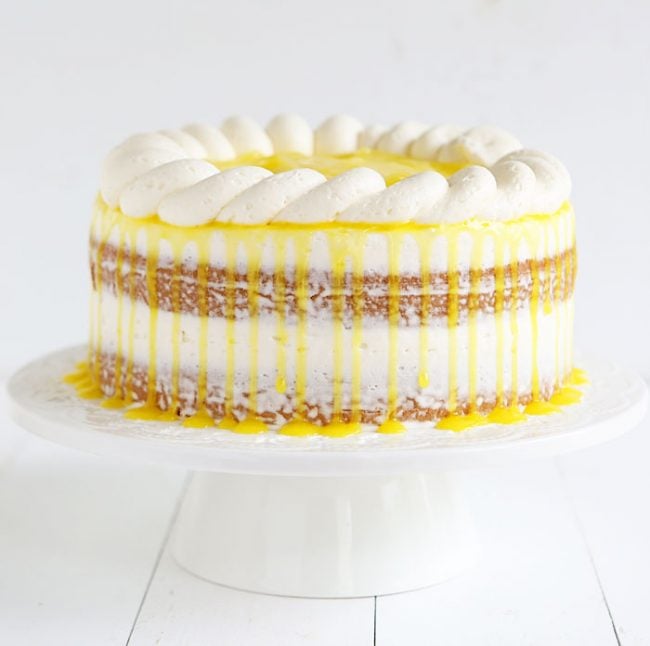 To make this cake you will need:
Lemon cake recipe (below)
Lemon Curd recipe (below)
cake stand
rotating cake stand (see how to pick the perfect cake stand here)
small offset spatula
bench scraper
plastic disposable pastry bags
9FT decorating tip (see my tips here)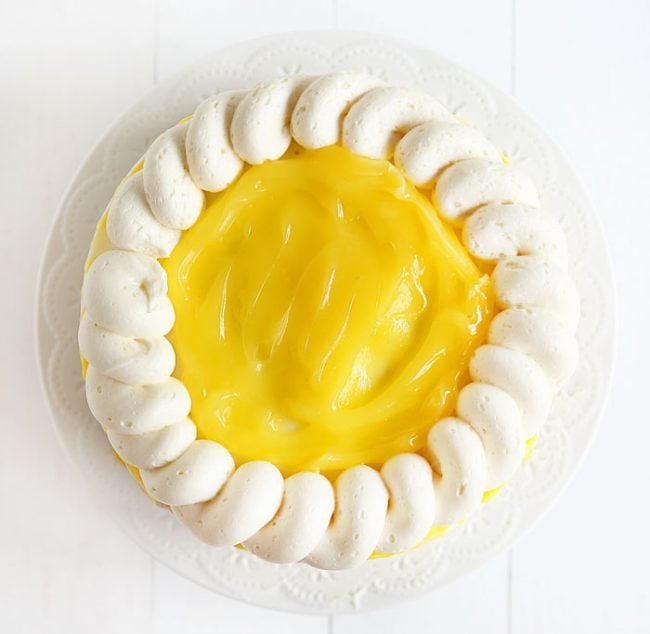 The lemon curd takes about 4 hours to set so you will want to prepare that first. You can also purchase lemon pie filling to use in between the layers of cake. You are only using about 3/4 cup total of curd.
Bake cakes in 8-inch pans and cool. I made a little video of me assembling this cake where I did not level them, but you can certainly level your cakes when they are cooled.
Prepare buttercream and then put buttercream into plastic disposable pastry bags. (I store my frosting right in the pastry bags.) You want to make sure your frosting has a stiff consistency so that you can easily pipe it out. Add more or less sugar to reach your desired consistency.
Set one layer of cake on cake stand. Cut off the tip from a pastry bag and pipe out a ring of buttercream around the edge of the cake.
Drop 1/2 cup to 3/4 cup up lemon curd on the cake and smooth out.
Place the other layer of cake on top.
Cover with a thin layer of lemon buttercream. Use small offset spatula to smooth out. If you want a more crisp finish, use a bench scraper to smooth out frosting. This works best if you have a rotating cake stand.
Take 2 tablespoons of lemon curd and add 2 tablespoons of water. You want the consistency to be runnier than the but not as runny as water. Place in a plastic pastry bag and cut off a VERY small tip, like 1/8 of an inch. Drip the runny lemon curd around the edge of the cake.
In a plastic pastry bag fitted with a 9FT tip and lemon buttercream, pipe out circles on top of the cake.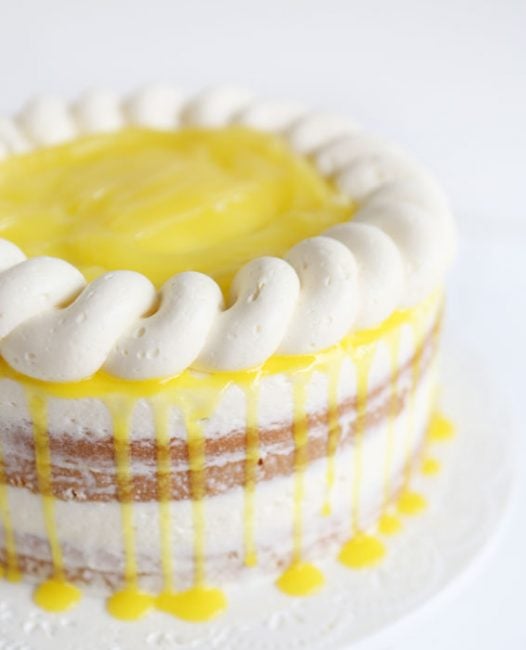 You can see a VIDEO of how I made this cake here. I also have a video of my using this rope technique on a cupcake here.
Fill in the top with lemon curd and smooth with offset spatula. Chill cake until ready to eat.
Recipe slightly adapted from All Recipes.