Adorable Monster Cupcakes using plant, seed, and vegetable-based food colors that are as easy as they are delicious! These colorful cupcakes will be a hit at your next party, and they are perfect for Halloween! For more cupcake recipes, try my Pumpkin Buttercream Cupcakes with Chocolate Halloween Toppers and my Chocolate Pumpkin Cupcakes with Pumpkin Whipped Cream!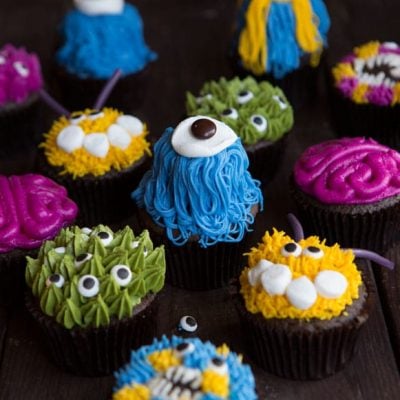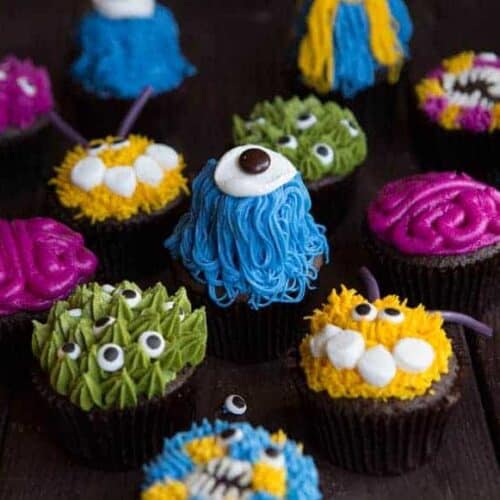 Monster Cupcakes
Adorable Monster Cupcakes using plant, seed, and vegetable-based food colors that are as easy as they are delicious!
Ingredients
CHOCOLATE CUPCAKES
1/2

cup

(113g) 1 stick unsalted butter

2

ounces

semi-sweet baking chocolate

2

large eggs at room temperature

3/4

cup

(150g) granulated sugar

2

teaspoons

vanilla extract

1/2

cup

(115g) sour cream room temperature

1/2

cup

(42g) unsweetened cocoa powder

3/4

cup

(95g) all-purpose flour

1/2

teaspoon

baking soda

1

teaspoon

baking powder

1/4

teaspoon

salt
MONSTER BUTTERCREAM
1

cup

(227) unsalted butter

1

two-pound bag powder sugar about 7-8 cups

1

tablespoon

McCormick® Pure Vanilla Extract

4

tablespoons

milk

1

dash salt

1

pkg McCormick Color from Nature Food Color
Instructions
CHOCOLATE CUPCAKES
Preheat the oven to 350F degrees. This recipe makes 12-14 cupcakes, so prepare one pan (or maybe two) with cupcake liners.

Melt the butter and chocolate together in the microwave. Microwave in 30-second increments, stirring in between each time. Set aside.

In the bowl of a stand mixer with the whisk attachment, add the eggs, sugar, vanilla, and sour cream and whisk on medium speed until smooth. (about 1 minute)

In a medium-sized bowl, sift the cocoa powder, flour, baking soda, baking powder, and salt together until thoroughly combined.

Add the cooled butter/chocolate to the stand mixer and whisk until smooth, about 30 seconds.

Slowly add in the flour mixture, about 1/4 cup at a time with the stand mixer on low.

As soon as you are done adding the flour turn the mixer off. (You do not want to over-mix!)

The batter will be very thick.

Fill the cupcake liners 2/3 of the way full with batter. Bake for 15-18 minutes. The center of the cupcake should spring back up if gently pressed.
MONSTER BUTTERCREAM
Put room temperature butter, vanilla, and salt into mixer. Add in powder sugar one cup at a time, alternating with the milk until you have used it all.

If your frosting is too thick you can certainly add more milk.

Equally divide buttercream into four bowls.

BLUE: Add 1 1/2 teaspoons of Sky Blue food color packet to bowl.

PINK: Add 1 1/2 teaspoons of the Berry food color packet to bowl.

YELLOW: Add 1 1/2 teaspoons of the Sunflower food color packet to bowl.

GREEN: Add 1 teaspoon Sky Blue and 1 teaspoon Sunflower to make green.

Gently stir to combine
Did you make this recipe?
Thank you for making my recipe! You took pictures, right? Well go ahead and post them on Instagram! Be sure to mention me @iambaker and use the hashtag #YouAreBaker.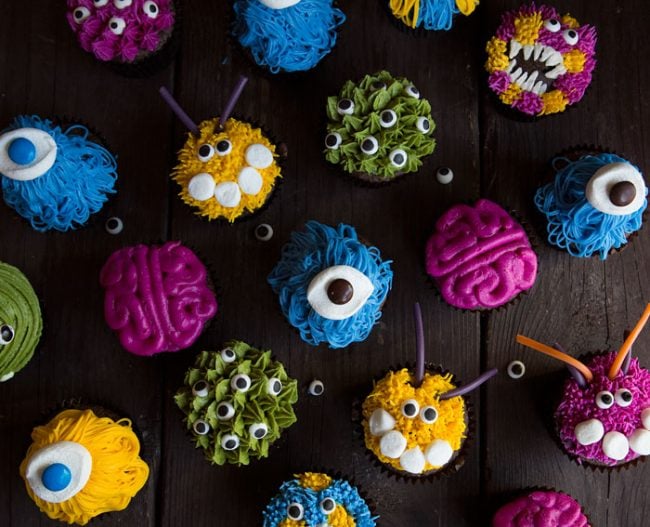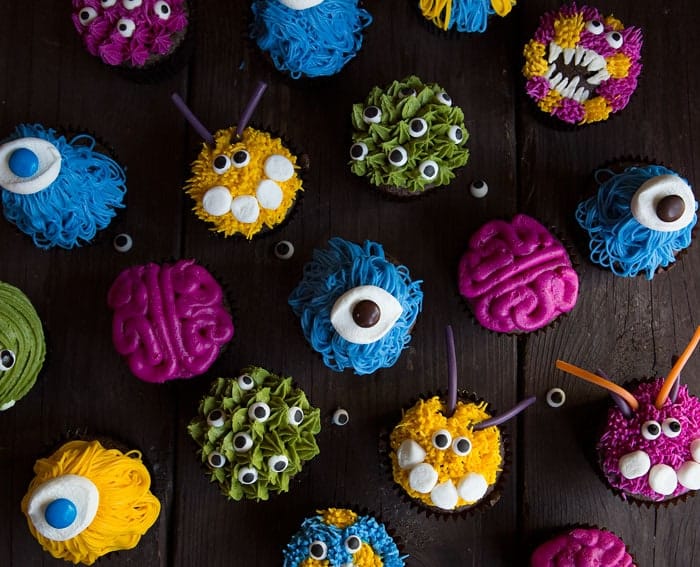 Monster Cupcakes
There is no reason to be afraid of these Monster Cupcakes! In fact, it may be hard to get anyone to eat them because of how colorful and cute they are!!! However, once you tell them that they are made with my Ultimate Chocolate Cupcakes, I think they will come around to eating more than one! Being creative with food is so much fun, and it's something the entire family can enjoy together!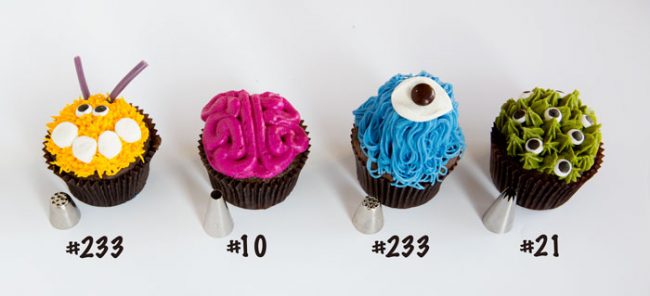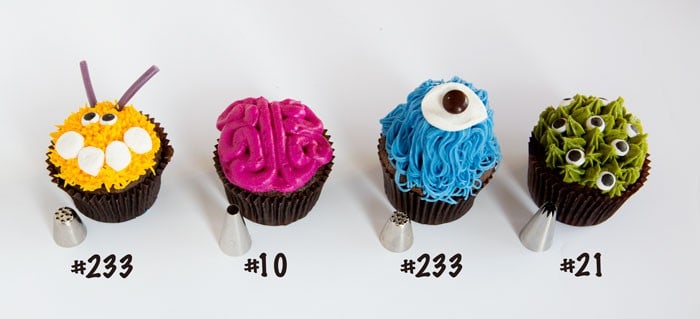 Monster Cupcakes Recipe
You guys. YOU GUYS!! (This is worth yelling about!)
I have been looking for years for a food color without artificial dyes that produces beautiful and vibrant color. This new product from McCormick is it! It is made with ingredients from nature like plants, vegetables, and seeds. We can finally achieve a bright color with a convenient product!
To make these cupcakes you will need to first make my Ultimate Chocolate Cupcakes. Then, it's all about the Monster buttercream and 'accessories'.
Chocolate Cupcakes Ingredients
Unsalted butter
Semi-sweet chocolate
Eggs
Sugar
Vanilla Extract
Sour cream
Cocoa powder
Flour
Baking soda
Baking powder
Salt
Monster Buttercream Ingredients
Unsalted butter
Powdered sugar
Vanilla extract
Milk
Salt
McCormick Nature from Color Food Color
Monster Features Ingredients
Marshmallows, large and small
Pull and peel licorice
Candy eyes
Mini candy-coated chocolate pieces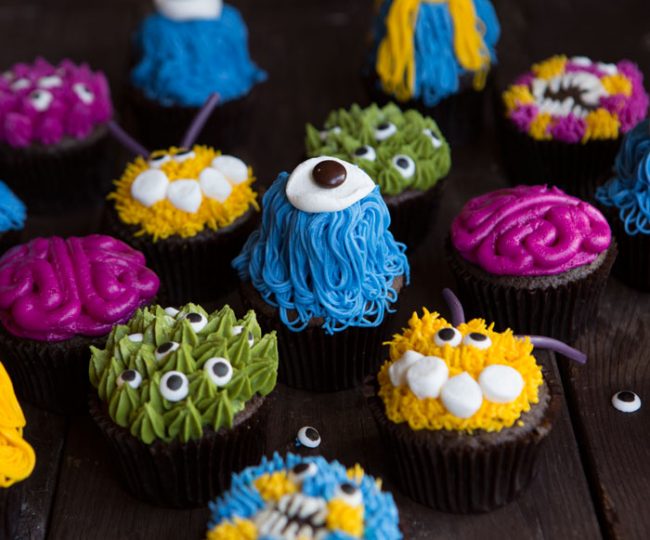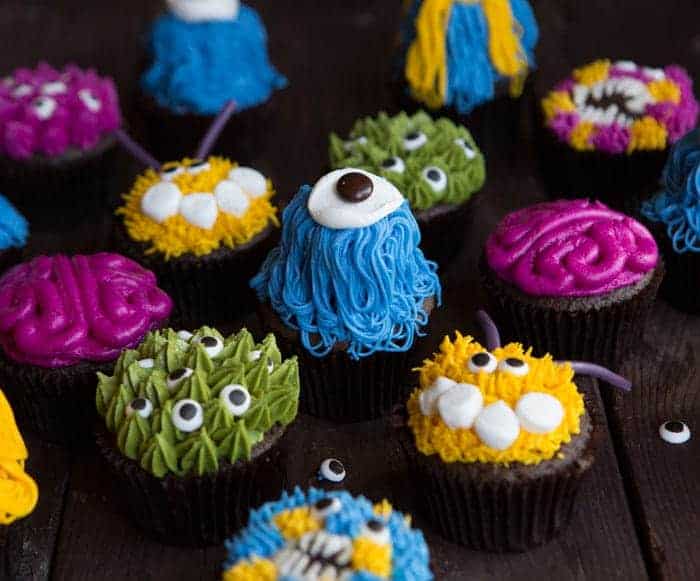 How to Make Monster Cupcakes
As soon as you have baked your Chocolate Cupcakes and prepared the Monster Buttercream, it's time to start decorating! I have given directions as to how I decorated a few of the Monster Cupcakes. The numbers are referring to the decorator's tip that I used for each one. If you are like me and sometimes 'misplace' your decorating tips, I have some organizational advice for you here.
See a video on how I made these cupcakes here:
Decorating the Monster Cupcakes
Green-Eyed Monster
Fit pastry bag with #21 tip and green frosting. Starting at the center of the cupcake, hold tip near the top and apply pressure. Build a small base of frosting then quickly pull away. You should have a star "spike" of frosting. Repeat over the entire surface of the cupcake. Add 7-9 candy eyes over the top of frosting.
Zombie Brain
Fit pastry bag with #10 tip and pink frosting. Pipe out a dollop of frosting onto the cupcake and then smooth out with a kitchen knife. Starting just to the right of the center of the cupcake, pipe a line from top to bottom. Then start to wiggle the tip back up towards the top moving back and forth and making sure the frosting touches on the sides. Repeat on the left side of the cupcake.
Yellow Centipede Monster
Fit pastry bag with #233 tip and yellow frosting. Using short, quick action while applying pressure, add small dollops of "fur" to the cupcake. Do this over the entire surface of the cupcake. Cut two small marshmallows in half and then fit the four pieces (cut side down) in a smile on the cupcake. Add two eyes and stick a 1-2 inch piece of pull and peel rope licorice into the top of the cupcake above the eyes.
Blue Cyclops
Fit pastry bag with #233 tip and blue frosting. Cut the upper third off of a large marshmallow and place the larger piece on the cupcake. Apply pressure to the pastry bag and start moving out and away from the center of the marshmallow while applying pressure. This will create small loops of blue frosting. Continue this around the entire cupcake. Place the smaller piece of marshmallow on top of the frosting, cut side up. Set an M&M in the center of the marshmallow.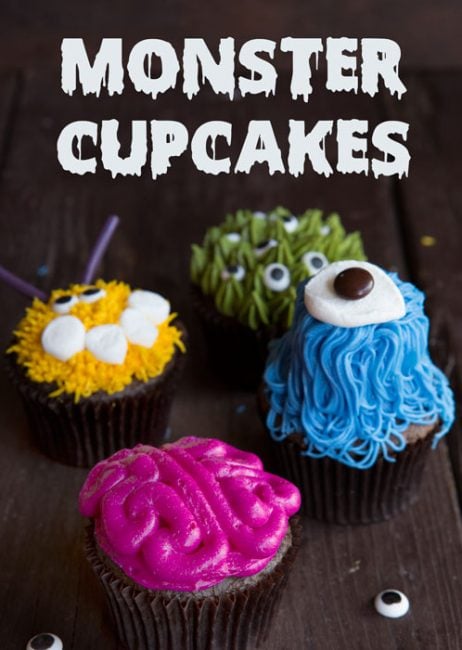 Looking for More Cupcake Ideas?
I am fortunate to be able to work with brands that I use and love. Thankful to McCormick for partnering with me!