The Pecan Buttermilk Cake is making a comeback! Using all brown sugar and drizzling the hot cake with an amazing butter-pecan sauce is going to make your eyes roll up in your head. Amazing! Be sure to check out my Almond Pecan Sheet Cake and Buttermilk Biscuits!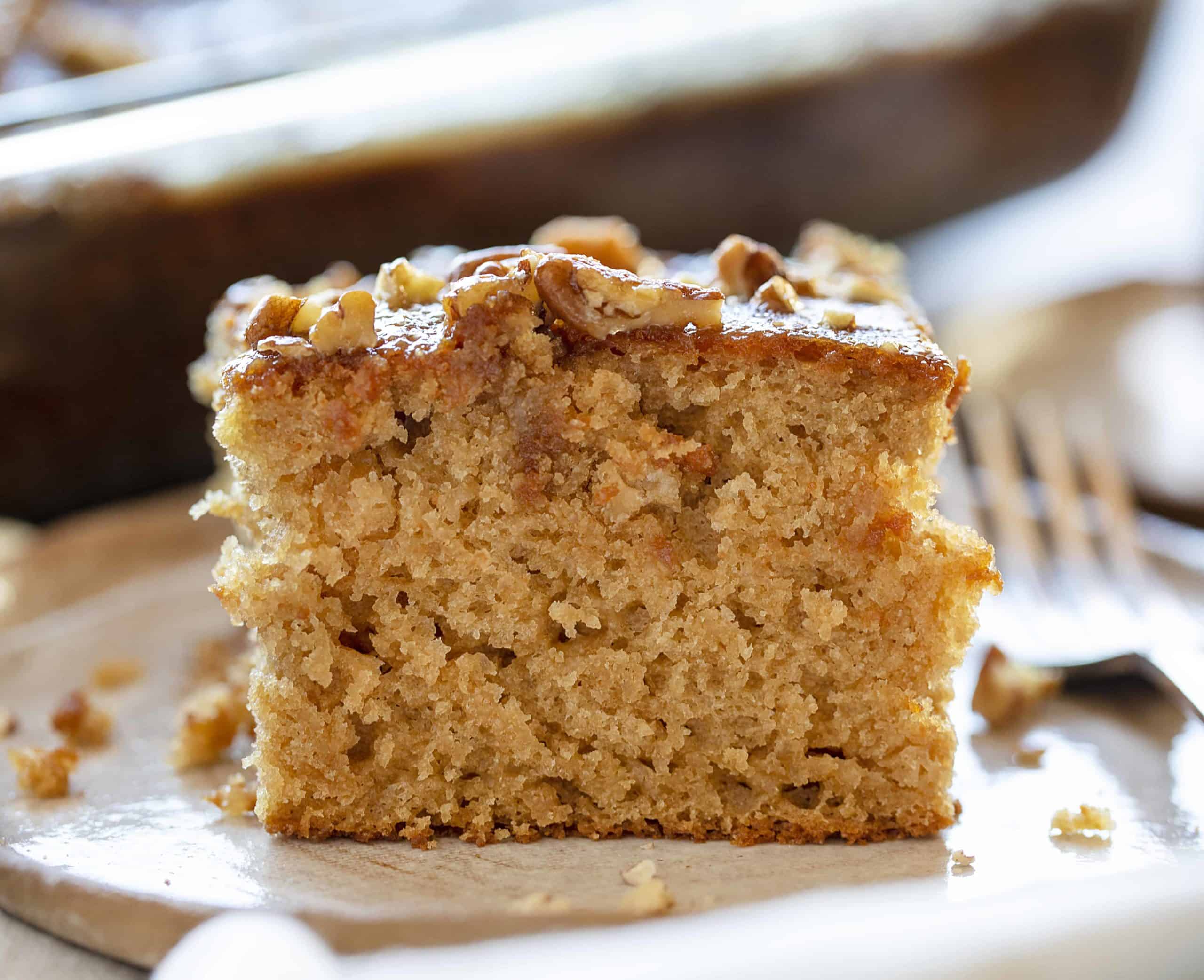 Pecan Buttermilk Cake
This cake has a deep, rich flavor that comes from using all brown sugar in the cake recipe. It is topped with the dreamiest pecan sugar glaze that really makes your toes curl! When I found this recipe in my Great-Grandma's recipe box, I was thrilled, to say the least.
It's one of those cakes that you think about days after you ate it and then you long for the next time it will grace your table!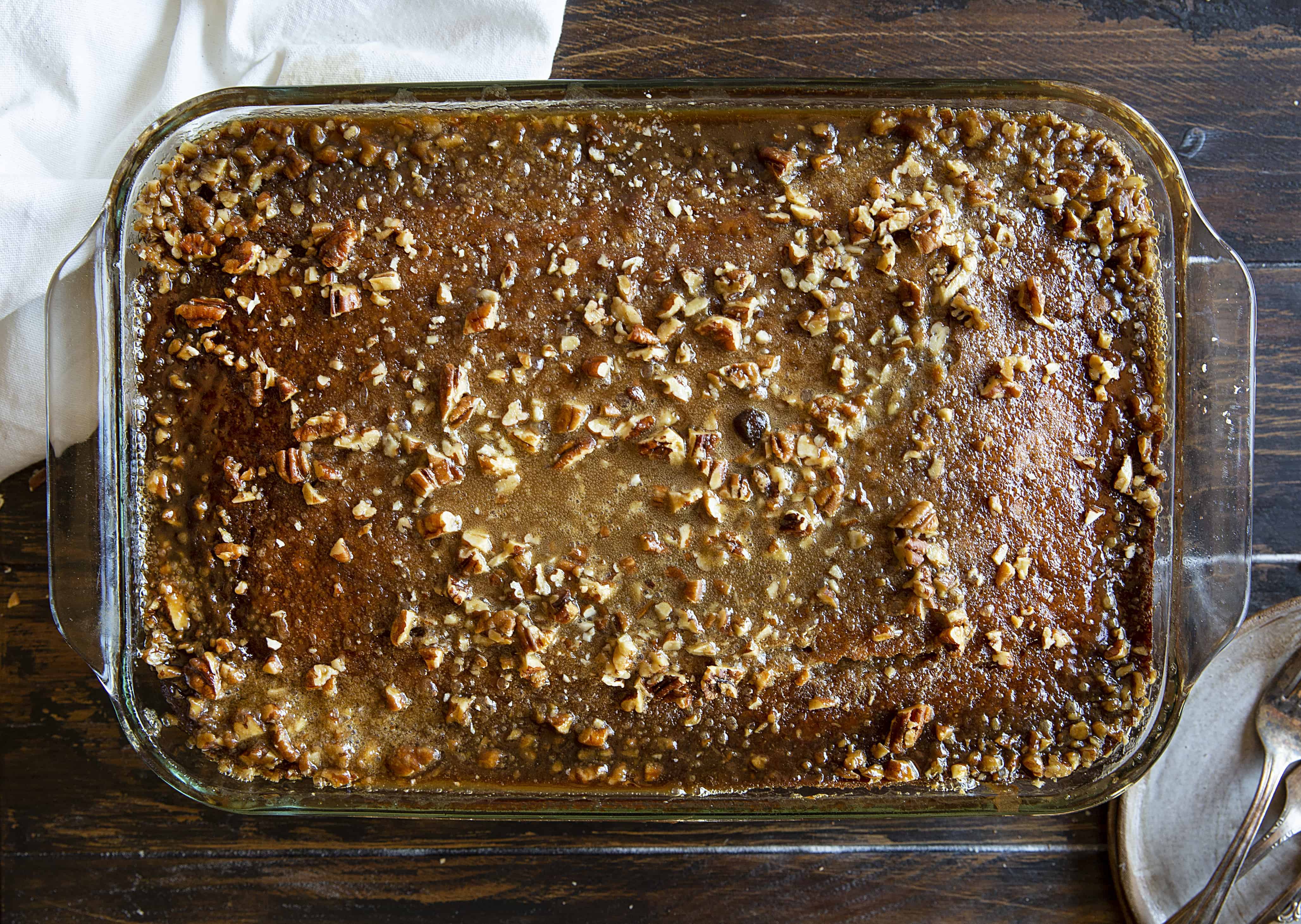 How to Make Buttermilk Cake
The ingredients are simple:
butter
brown sugar
eggs
vanilla
flour
baking soda
salt
Start by beating the butter with brown sugar. (No granulated sugar in this recipe!!) Then add in your room temperature eggs, buttermilk, and vanilla. Finally, add in the dry ingredients. Pour into a prepared (either pan release or GOOP) pan and put it in the oven for 30 minutes. That cake will actually bake for 40 minutes, but we add something pretty special to it 10 minutes before it's done baking!
If you have ever wondered How to Make Buttermilk, check out my easy recipe. It works beautifully in this buttermilk cake recipe!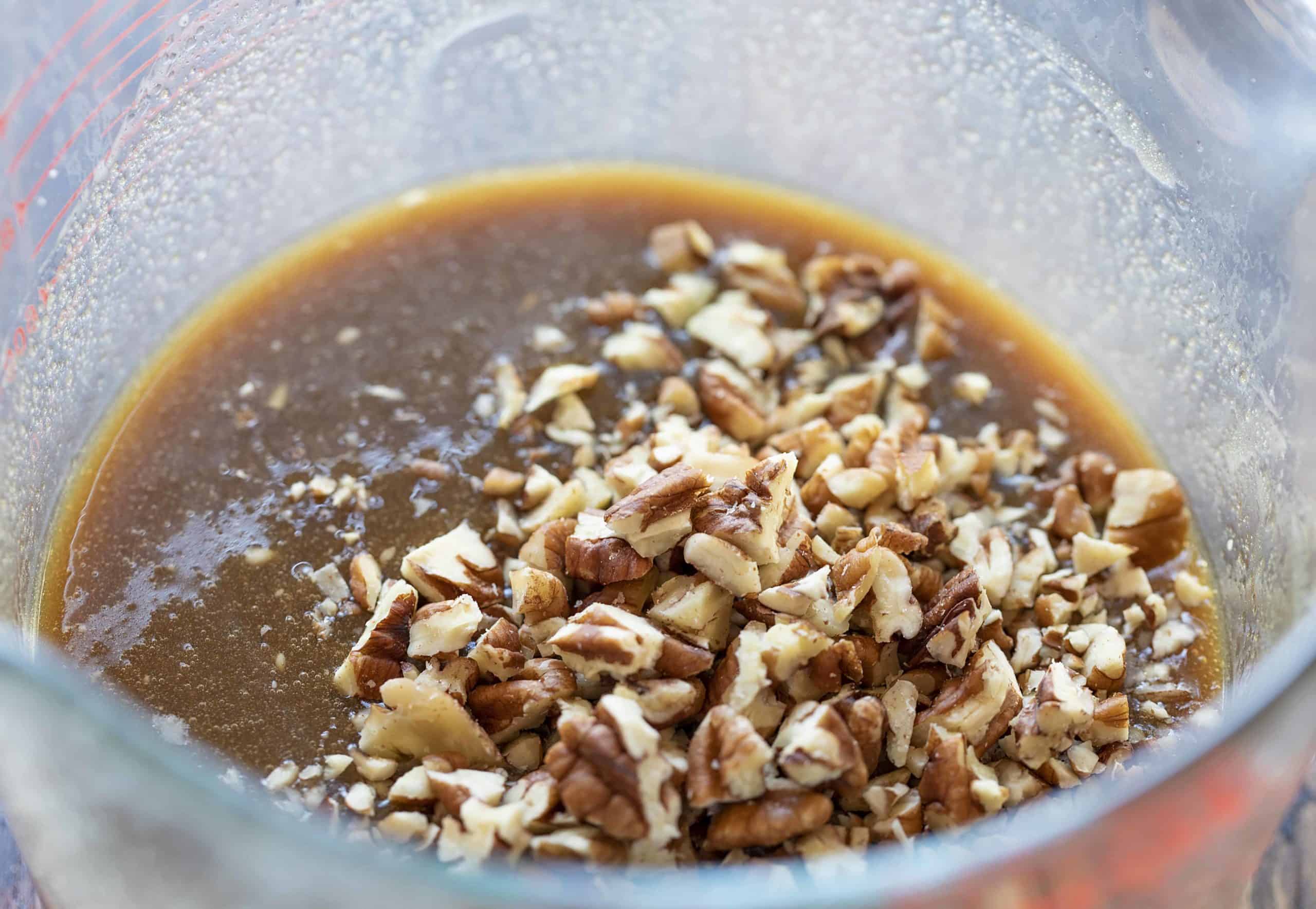 Pecan Glaze
Wow was this fun to make! Watching the butter and sugar come together and smelling the sweet caramel aroma and then chopping the pecans… it was just magical!
After the cake had baked for about 20 minutes, I started to make this delectable pecan glaze. Simply melt butter, brown sugar, buttermilk, salt, and chopped pecans. When the oven buzzer went off at 30 minutes, I opened the oven door, pulled the cake out as far as I could, and poured over the pecan glaze. I went slow because I wanted it to soak into every nook & cranny of this cake!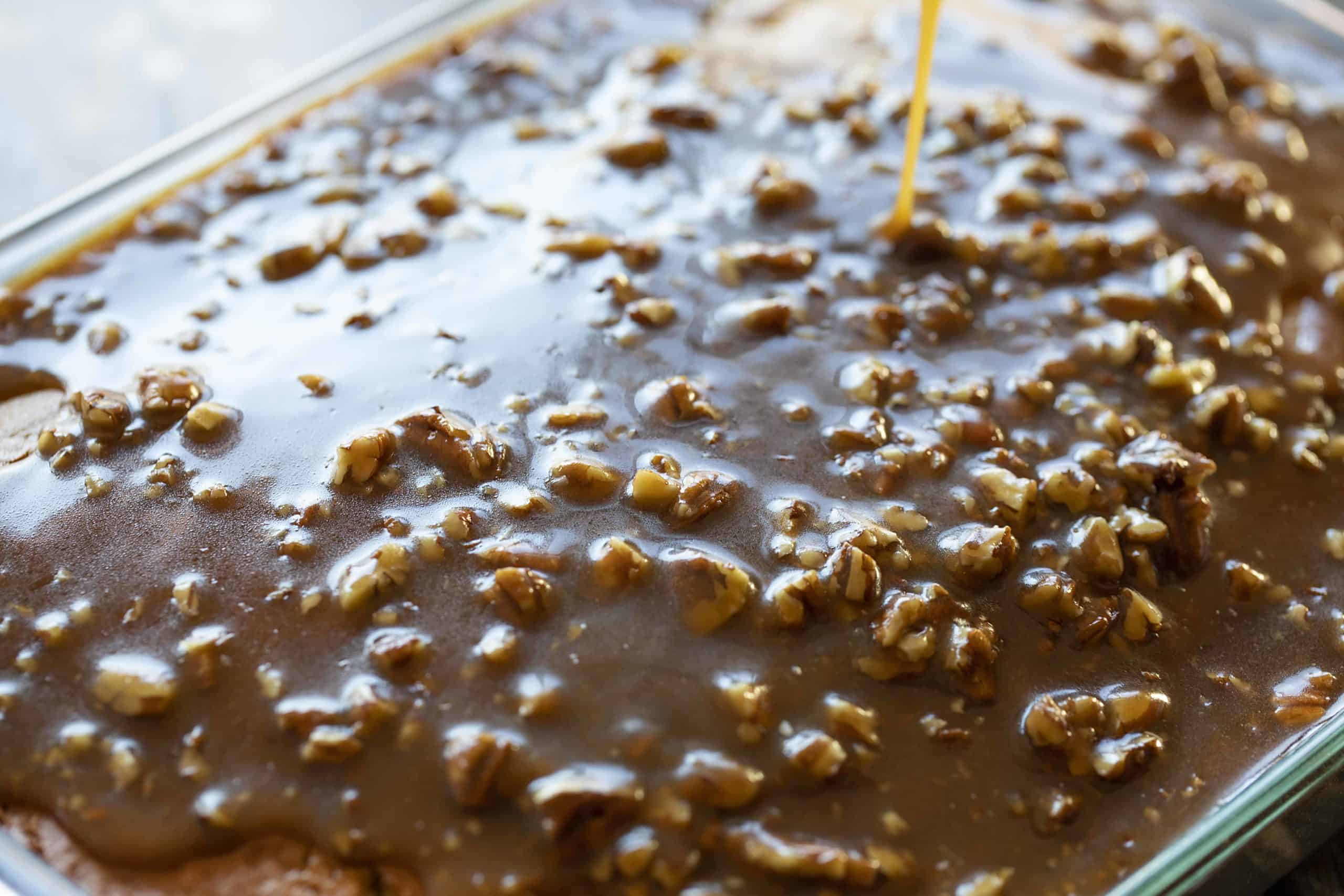 I poured every last bit over the cake and then I put the cake back in the oven to bake for another ten minutes.
While the cake finishes baking it will soak up most of the pecan glaze. I had thought I would prefer it to see in an ooey gooey puddle of deliciousness on top, but I ended up really loving how every single bite of the cake was infused with the brown sugar-butter glaze.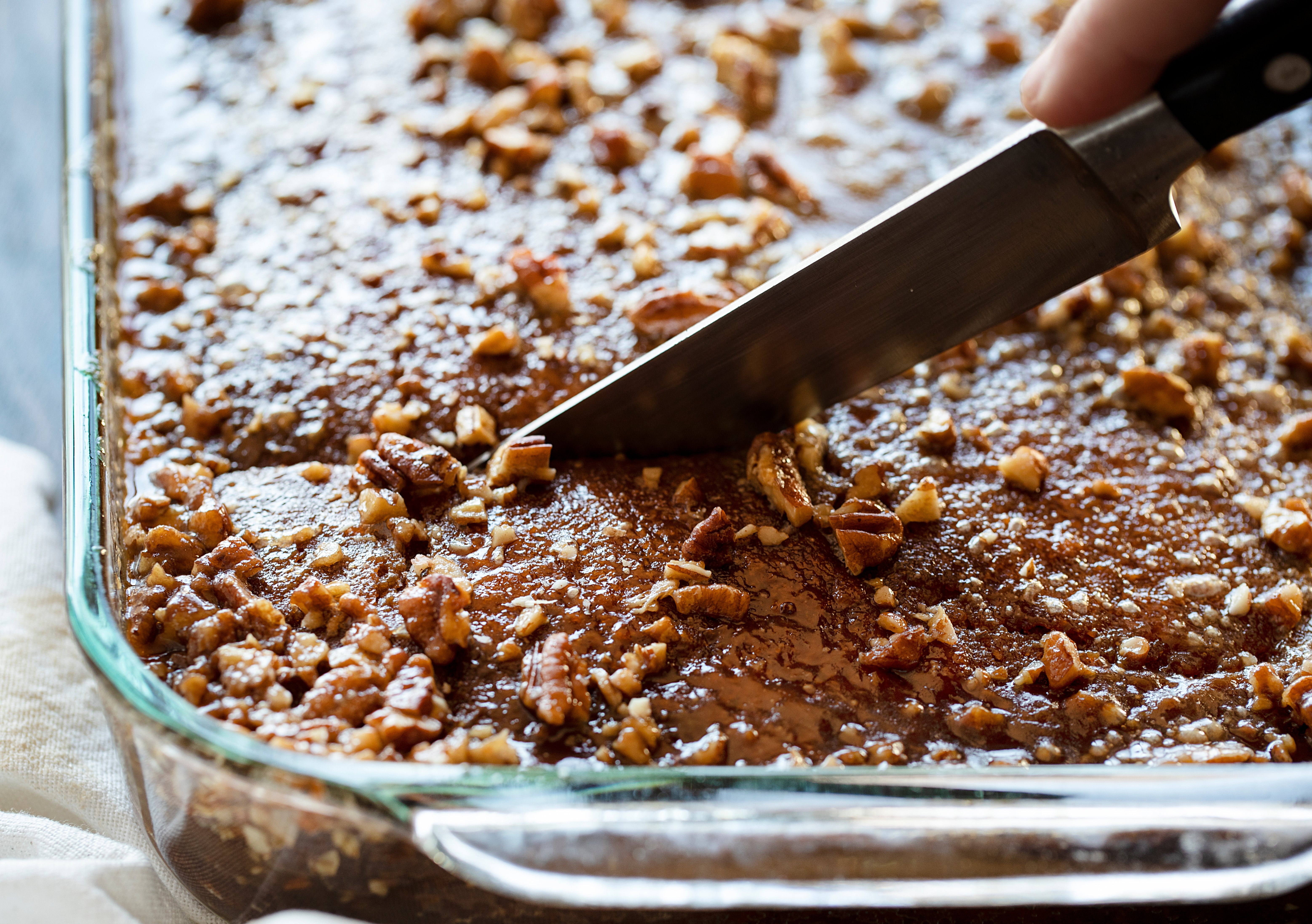 How to Serve Pecan Buttermilk Cake
After testing the cake warm and cold we all decided that fresh-from-the-oven warm was the best way to indulge in this cake.
A couple of the kids requested homemade whipped topping on theirs, one asked for vanilla ice cream, but most of us agreed that it was sweet enough on its own! This cake has a distinct flavor because of the brown sugar added and really reminded me of farmhouse visits to grandma when I was a child.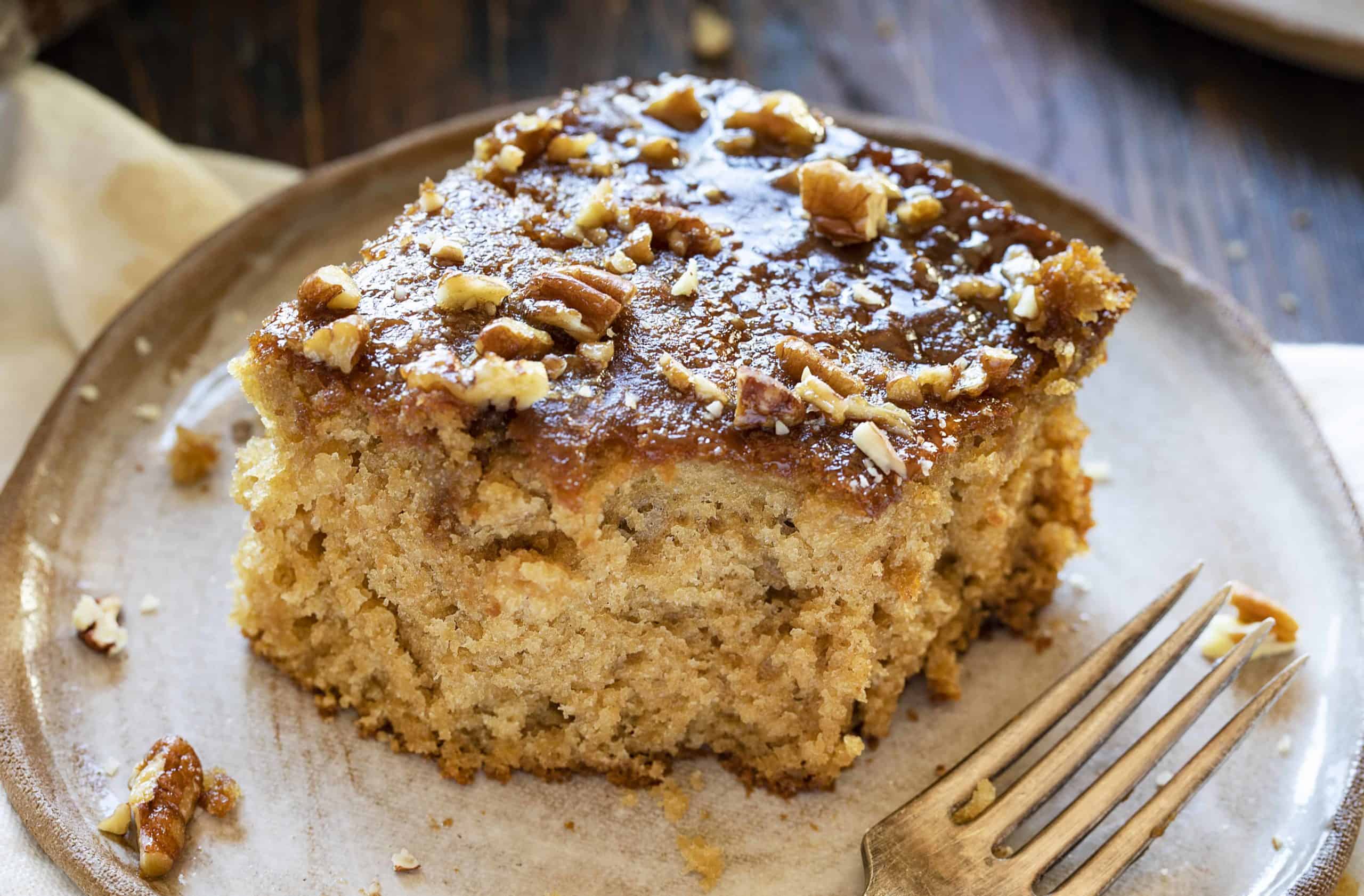 Can you freeze Pecan Buttermilk Cake?
You can certainly freeze the buttermilk cake, but I do recommend waiting until it thaws to add the pecan glaze.
This buttermilk cake will freeze well if it placed in the freezer the same day you make it. Make sure that it is completely cool before preparing it for the freezer.
Heres what I do:
Allow the cake to cool in the pan fully. Place a layer of plastic on top of the cake and then place a cutting board or cooling rack on top. Flip the cake over. Wrap the plastic up over the edges of the cake and then add another large piece and wrap it again as tightly as possible without crushing the cake. Make sure that none of the cake is exposed in the freezer as this can cause freezer burn. Now wrap it in a layer of foil. Label and date the cake. The cake will freeze well for 1 month and should be fine for up to 3 months.
To thaw the cake, remove from the freezer and set on the counter. After about 30 minutes, remove the foil and remove the bottom piece of plastic wrap. Place on a serving platter and flip the cake over so that it is now right-side up. It should thaw completely after 2-3 hours at room temperature. Prepare your Pecan Glaze and serve!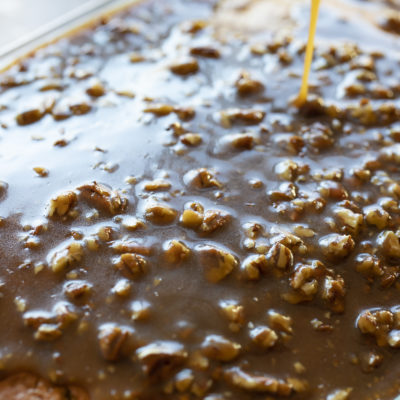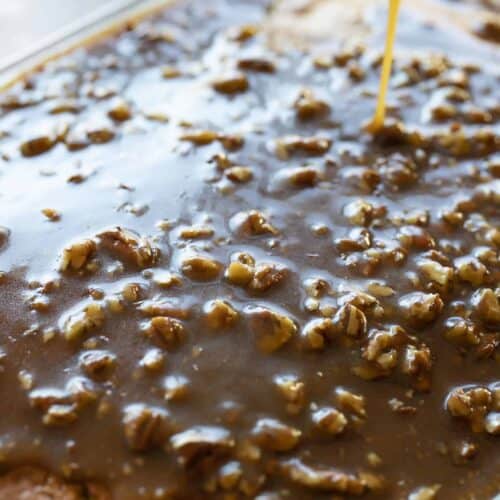 Pecan Buttermilk Cake
This old-fashioned cake is making a comeback! Rich buttermilk cake topped with a buttery pecan glaze. It's perfection!
Ingredients
BUTTERMILK CAKE
1/2

cup

(1 stick or 113g) butter,

room temperature

2

cups

(400g) light brown sugar

2

large eggs,

room temperature

2

cups

(480g) buttermilk

2

teaspoons

vanilla extract

3

cups

(375g) all-purpose flour

2

teaspoons

baking soda

1

teaspoon

salt
PECAN GLAZE
6

tablespoons

butter,

melted

1

cup

(200g) light brown sugar

1/4

cup

(61g) buttermilk

1/8

teaspoon

salt

1

cup

pecans

roughly chopped
Instructions
BUTTERMILK CAKE
Preheat the oven to 350°F. Prepare a 9x13 baking dish. (I used GOOP, click the recipe in the Notes)

In a large bowl, beat the butter and brown sugar together with a hand-held mixer until smooth.

Add the eggs one at a time, incorporating them into the butter mixture fully. Scrape the sides of the bowl if needed.

Pour in the buttermilk and vanilla extract. Mix until combined. (Make sure there are no lumps)

Add the flour, baking soda, and salt to the wet ingredients. Stir by hand with a spatula until ingredients are incorporated.

Pour the batter into the prepared pan.

Bake the cake for 30 minutes. Ten minutes before the cake is done, prepare the topping.
PECAN GLAZE
Stir the butter and brown sugar together in a small bowl. (I used a 2 cup measuring cup) Add the buttermilk, chopped pecans, and salt. You should easily be able to pour the glaze.

When you take the cake out of the oven, immediately pour the pecan glaze all over the cake. Then return it to the oven for 10 more minutes.

When the cake is done, the glaze should be bubbling and appear runny and seeping into every nook and cranny of the cake.

Serve warm.

(If you prefer to serve at room temperature, the glaze will have hardened a bit.)
Did you make this recipe?
Thank you for making my recipe! You took pictures, right? Well go ahead and post them on Instagram! Be sure to mention me @iambaker and use the hashtag #YouAreBaker.
Love recipes with Buttermilk? Try these fun options:
Chocolate Bundt Cake with Cream Cheese Filling