Is there anything better than an easy and delicious Pecan Pie?!? This pie is perfect for the holidays to grace the center of your dining room table! (VIDEO below!) I love serving this pecan pie with a Pumpkin Cheesecake or this Caramel Apple Pie when we have a crowd coming over!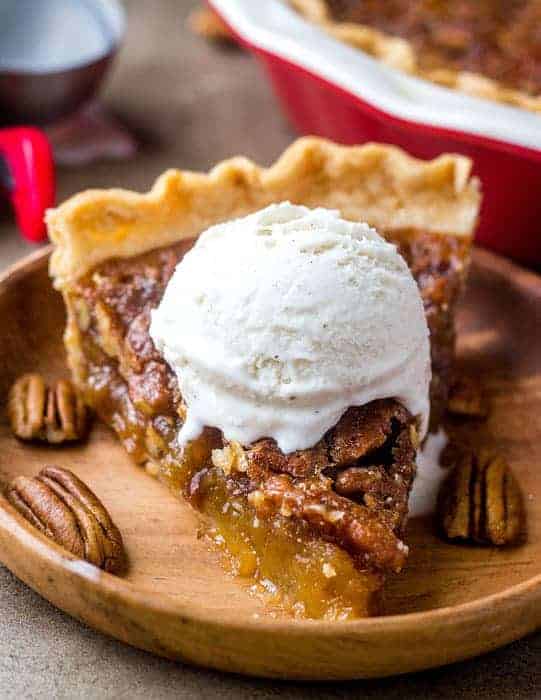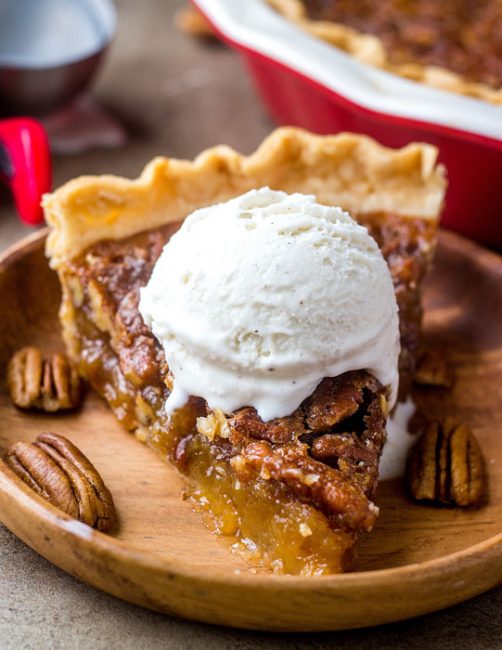 Pecan Pie Recipe
Nothing is more classic and true to your grandma's roots than a good old Pecan Pie. This recipe is from The Pioneer Woman and needed very little tweaking. (you know how much food bloggers like to tweak!) But after making quite a few different recipes this one stands head and shoulders above the rest.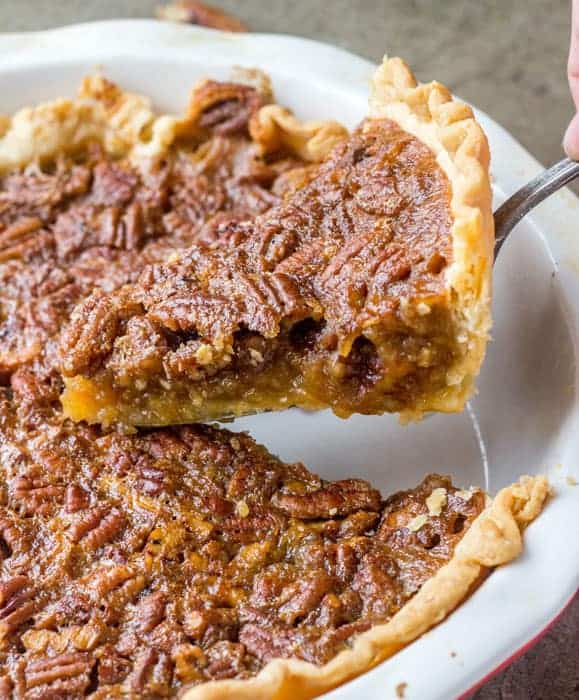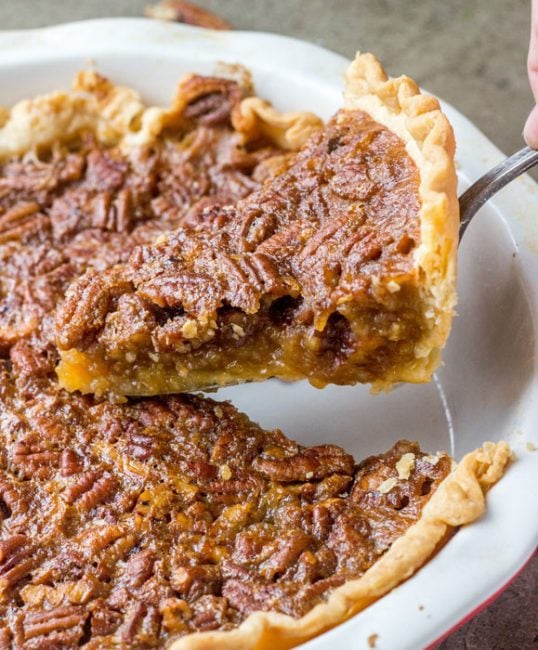 Easy Pecan Pie Recipe
This pecan pie recipe impressed me from beginning to end. The crispy topping, the chunky pecans, the gooey center and oh, of course, the flaky crust. You cannot go wrong with this recipe! However, we all grew up with a different version so I thought I would share those variations!
This recipe calls for 1 cup of pecans but I have heard folks adding as much as 3 cups. Their tip: Add about 2 cups and then another cup to pat down on top of the mix just before baking, usually about 55 minutes. Before removing the baked pie from the oven, turn on the broiler and toast the top. Allow it to cool for about 30 minutes then cut and enjoy.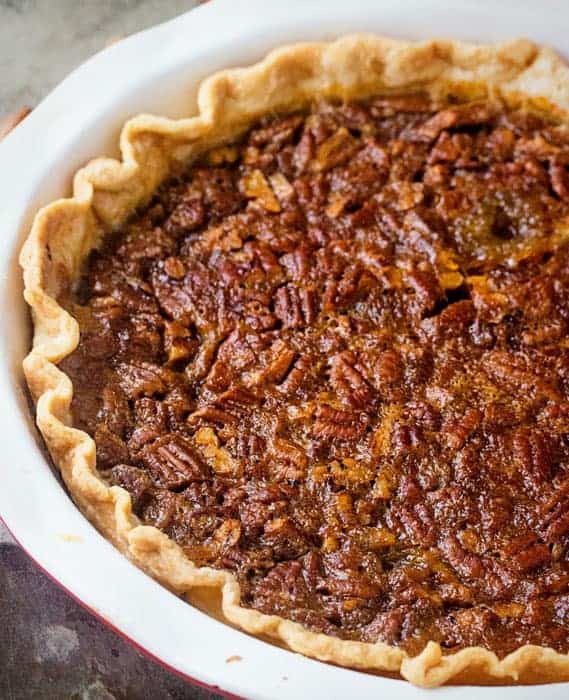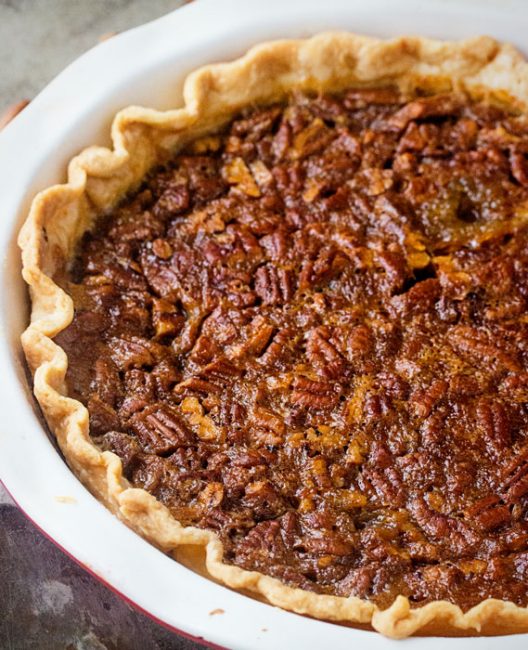 Tips for Baking Pecan Pie
Spray your foil with non-stick spray before gently covering the pie so it doesn't stick when you go to remove it.
Don't over mix the eggs, beat them until just broken up.
Don't skip the foil! No one wants burnt pecan pie and the foil will protect your filling and pecans from turning black.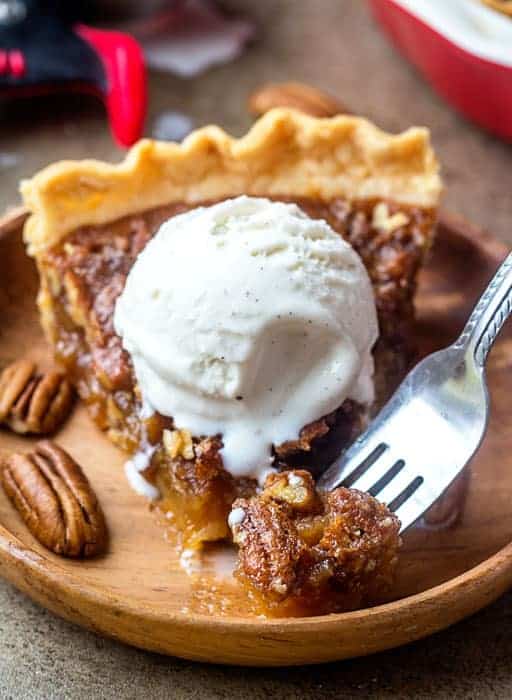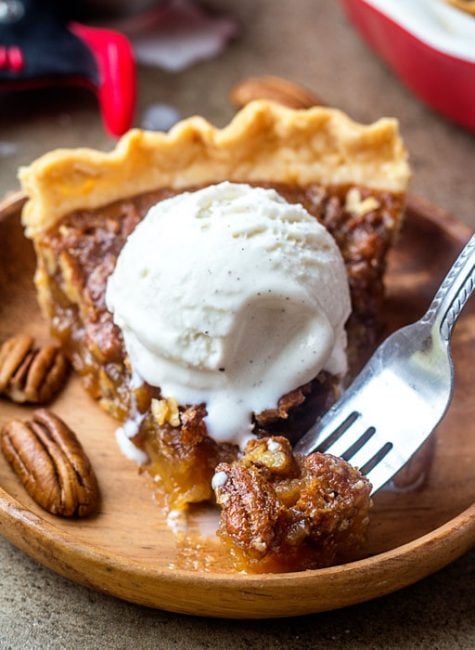 Pecan Pie Recipe Variations
Chocolate Pecan Pie: Try adding a cup of semi-sweet chocolate for an extra sweet twist! Another fun addition? A teaspoon of cinnamon to the filling OR the crust!
Fancy Pecan Pie: For a new variation, add about 1 cup of pecans to the food processor and pulse until very fine. Sprinkle on the pie when it is done baking. (Just don't serve this version to a true Southerner, I heard it is a deal-breaker!
We like to top it with ice cream around here, it gives it a delicious texture and flavor contrast the delights your taste buds!
Do you love fall desserts? Try my BEST Apple Crisp!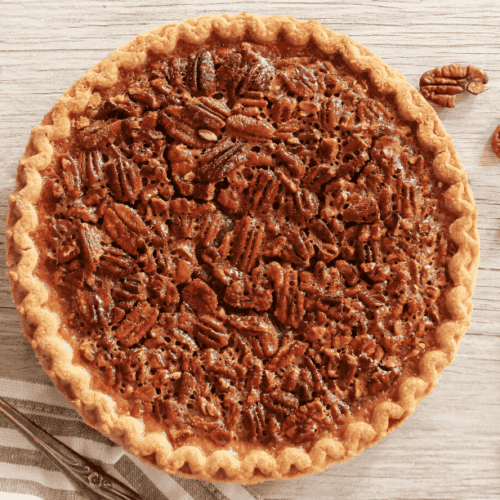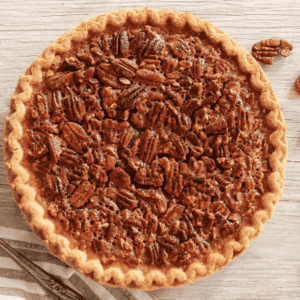 Pecan Pie
This is the BEST Pecan Pie you will ever make... just read the reviews!
Keyword:
pecan pie recipe
Ingredients
Crust
1 1/2

cups

(192g) all-purpose flour

1/2

teaspoon

salt

4

tablespoons

shortening

5

tablespoons

(71g) unsalted butter

3-5

tablespoons

ice-cold water

2

teaspoons

white vinegar
Filling
1

cup

(200g) granulated sugar

3

tablespoons

brown sugar

1

cup

(340g) light corn syrup

1/3

cup

(75g) melted butter

1

teaspoon

vanilla

3

large

eggs,

room temperature and beaten

1

cup

chopped pecans
Instructions
Crust
Preheat your oven to 350°F.

In a bowl whisk together your flour and salt.

Add in your shortening and butter and mix together using a pastry blender until crumbs appear.

Add in your water and vinegar and stir around and make into a ball.

Roll out dough into a large circle and place into a 9" deep dish pie plate, cutting away any excess crust, place in refrigerator.
Filling
In a medium bowl mix together your granulated sugar, brown sugar, corn syrup, butter, vanilla and eggs and whisk until blended well.

Add your chopped pecans into bottom of your prepared pie crust.

Pour your filling mixture over the top.

Cover your pie with tin foil and bake in preheated oven for about 30 minutes.

Remove the foil and bake for an additional 20 minutes if needed until center is set and not overly jiggly.

Place pie on the counter or in the refrigerator to cool for several hours before serving.
Recipe Video
[brid autoplay="true" video="385365" player="16518" title="Pecan Pie" description="pecan pie, pie, pecan, homemade" duration="83" uploaddate="2019-02-27 10:23:44" thumbnailurl="//cdn.brid.tv/live/partners/13014/thumb/385365_t_1551262962.png"]