This Preposterous Chicken Salad is simply crazy.  I couldn't think of a more fitting name, but it works!  A bed of lettuce, moist shredded chicken, red grapes, green onions, cashews, and cherry tomatoes, lightly tossed in a seasoned mayo dressing.  I know this sounds insane, but the flavors and the different textures compliment each other so well!
If you are on the hunt for amazing salad recipes, make sure to check out my summer chicken salad and my favorite cheeseburger salad!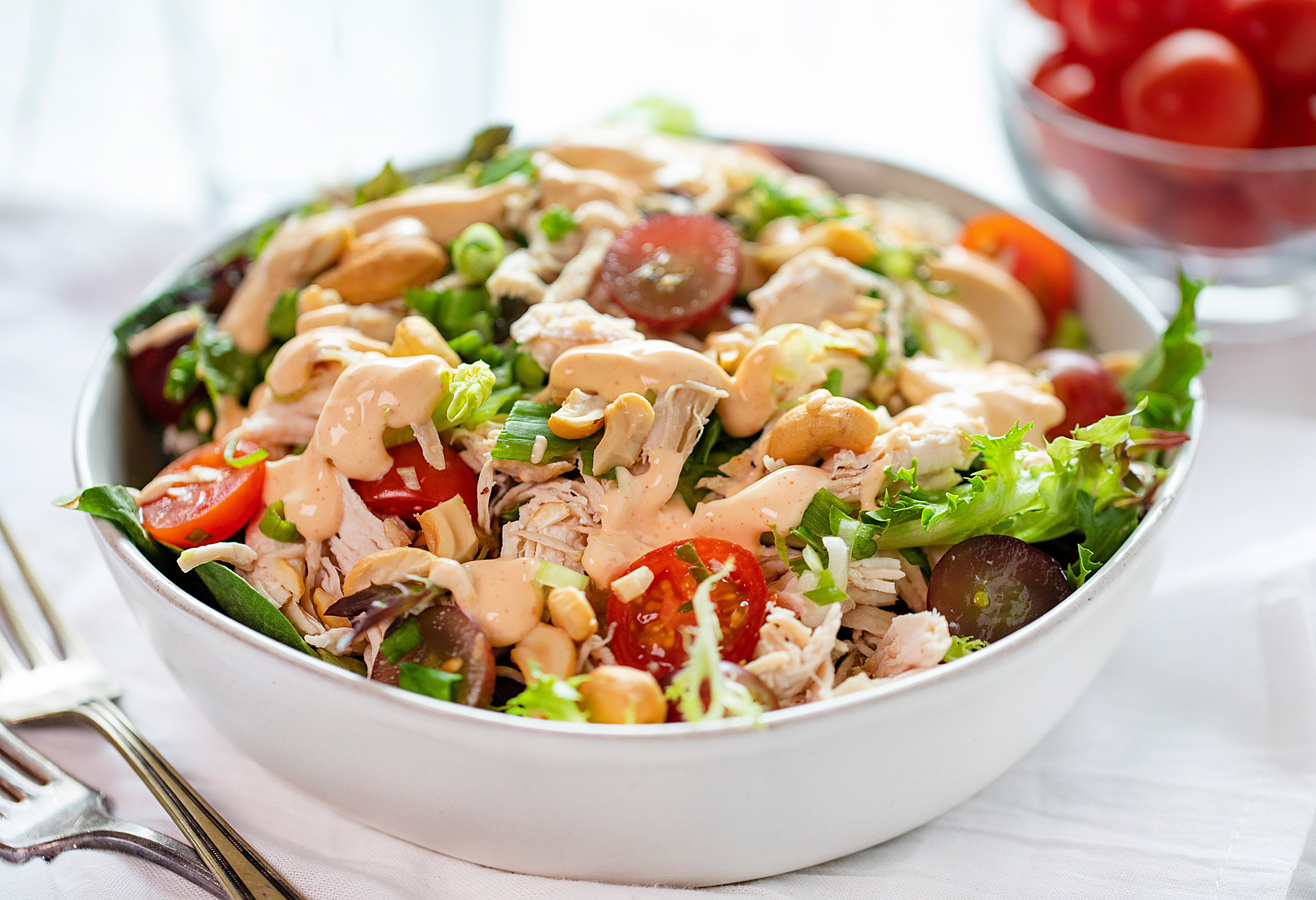 Preposterous Chicken Salad
So, why the name "preposterous" chicken salad? Because this is basically chicken salad on a chicken salad. Chicken salad (chicken, grapes, cashews, onions, mayo mixture) on a bed of lettuce. After whipping up my chicken salad I wondered how it would taste with lettuce and the mayo mixture as dressing. So I deconstructed the salad, and when mixed together in different quantities and you get something completely different and amazing!
I wasn't sure if it was going to work, but it does!  This is like my dream summer salad.  Moist and lightly seasoned chicken, crisp lettuce and tomatoes, and red grapes pull together perfectly for this amazingly light and fresh salad!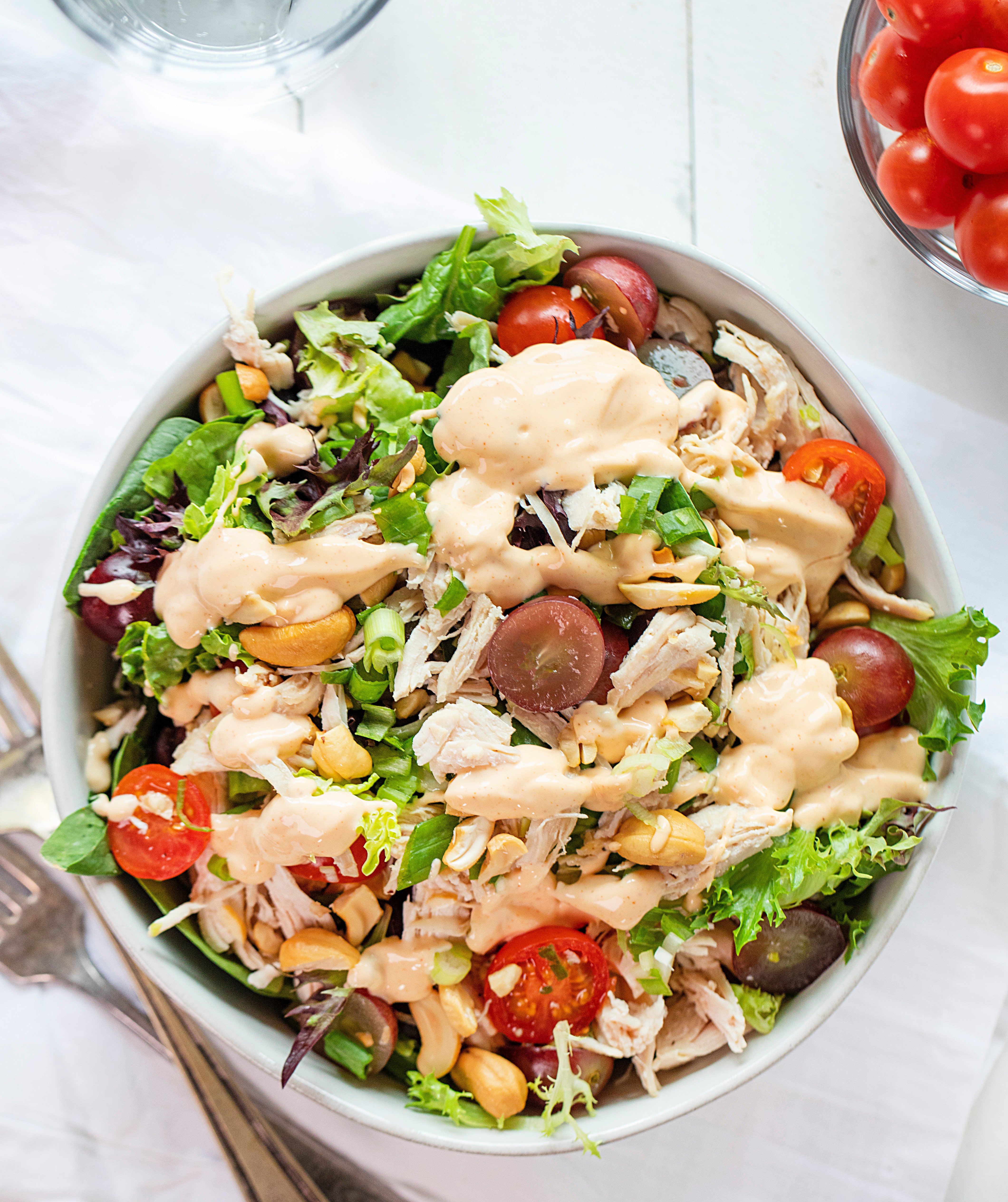 How to Make Chicken Salad
As most salads go, the bulk of the work comes from cleaning, drying, and chopping the ingredients.  However, we made our own salad dressing for this recipe, so let's start by assembling that.  The dressing gets better the longer the flavors have to marinate so I would suggest letting it chill for about 30 minutes before serving.
How to Make the Dressing
Start by gathering your ingredients:
Mayonnaise – for this recipe we use mayonnaise and not miracle whip.  You could substitute miracle whip if you like the sweeter aftertaste, but we were going to for salty since this recipe has grapes which have their own sweetness to them.
Celery Salt – Some people prefer the real crunch of diced celery.  For this dressing, I was shooting for creamy so I went with a salt.  You could also substitute celery seed here as well.  If you want to add in real celery, go for it, but I would also add the celery salt for flavor.
Paprika – I went with a run of the mill regular paprika, but you could also substitute smoked paprika if you like that flavor more.
Milk – In this recipe, milk is simply used to thin down the dressing.  If you think it is too thick, add milk about 1 tablespoon at a time until it is at your desired consistency.
In a medium bowl, combine the first three ingredients and whisk together until they are completely incorporated.  If necessary, use milk 1 tablespoon at a time to thin down the mixture.  Cover and set in the refrigerator to chill while you prepare the rest of the salad.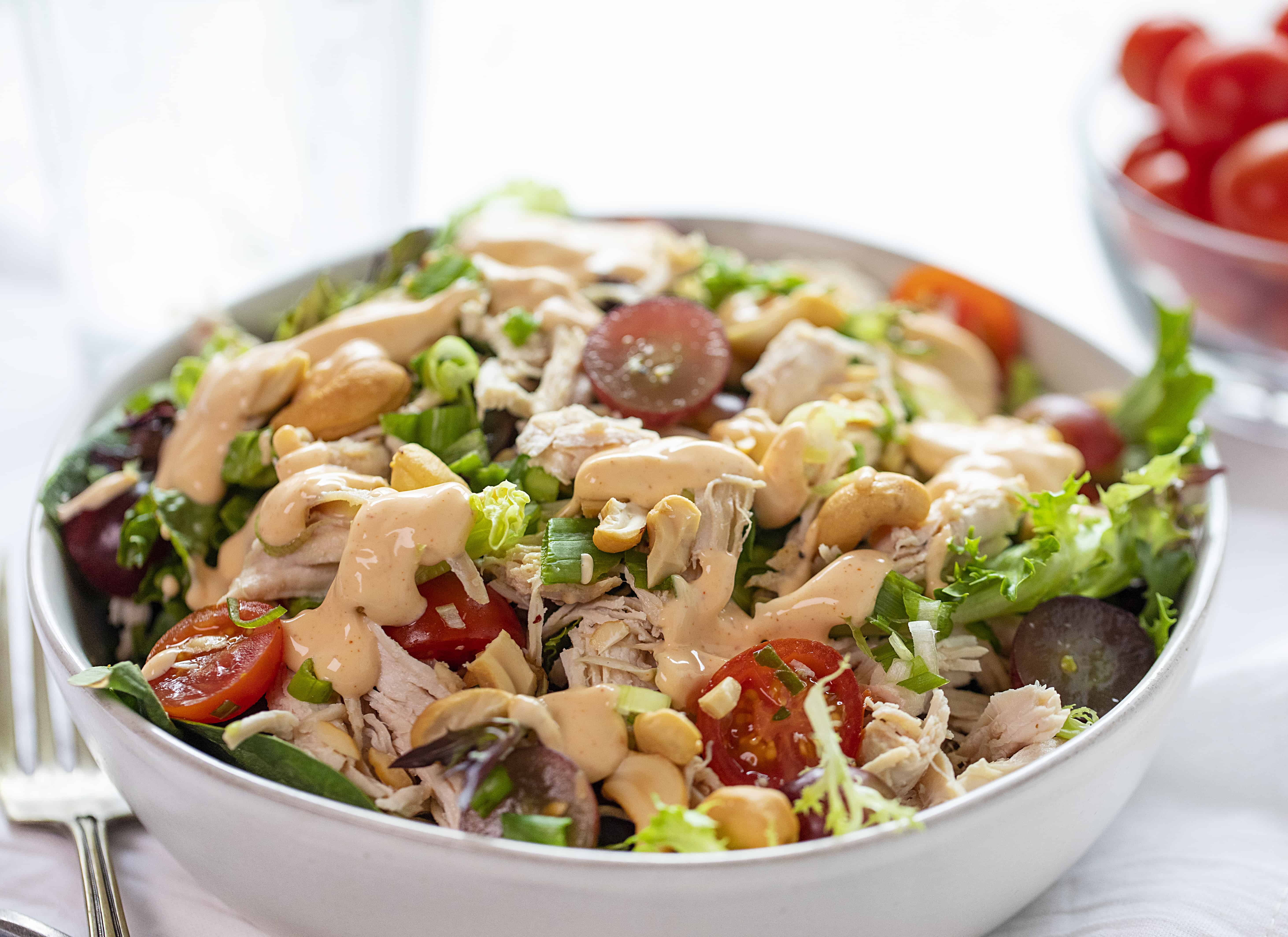 How to Assemble the Salad
The only prep work necessary for this salad recipe is the chicken and the chopping. I like to use my shredded chicken recipe.  This is such an easy way to get perfectly moist, lightly seasoned chicken.  I make a big batch at the beginning of the week and then use it in other recipes like Buffalo Chicken Wraps or BBQ Chicken Grilled Cheese Sandwiches.
Once you have the chicken ready, grab 4 -6 medium sized bowls. In each bowl, equally divide the lettuce, shredded chicken, grapes, green onions, cashews, and tomatoes. Top with salad dressing and serve immediately. Or you can grab one big bowl and let your family serve themselves. 🙂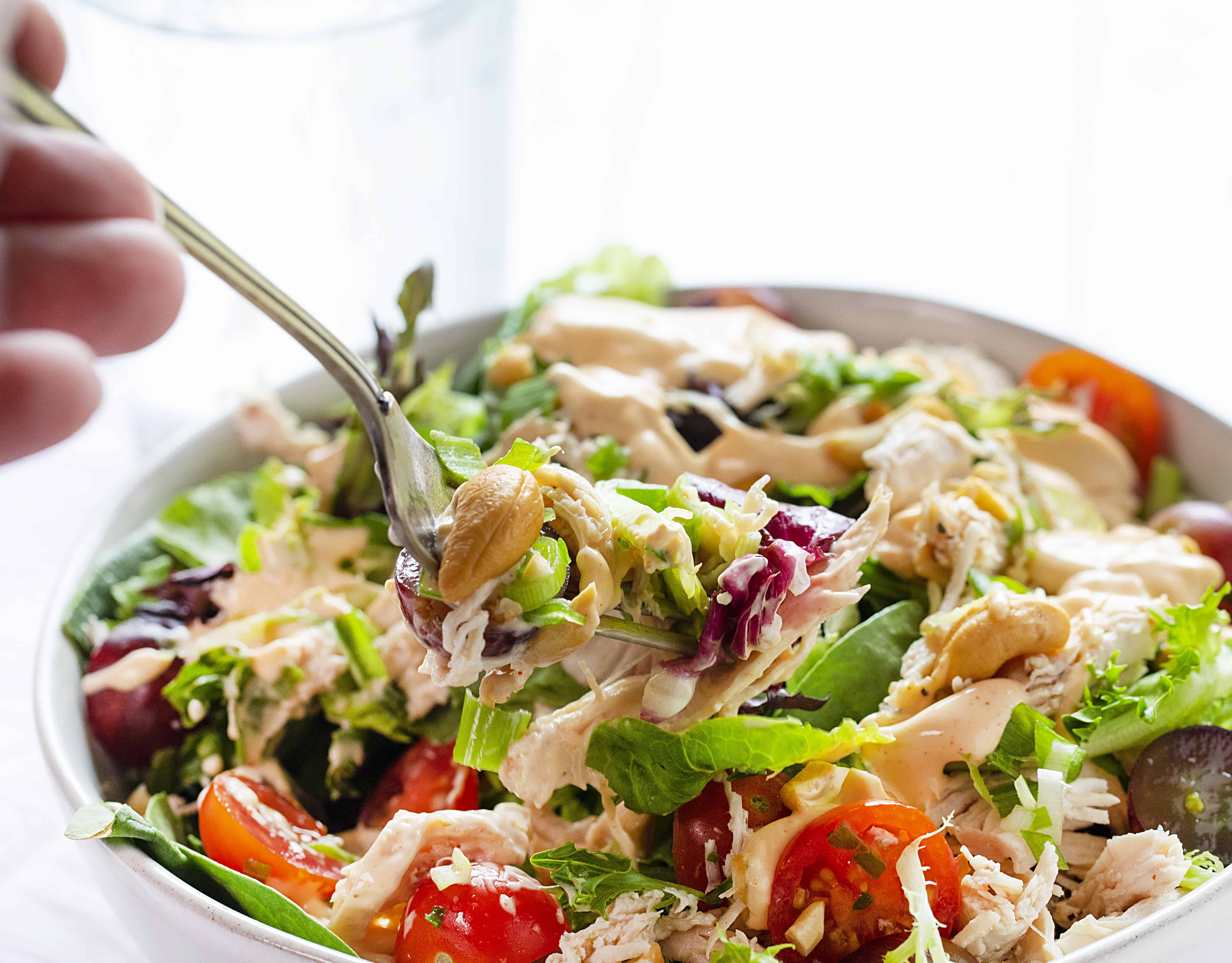 Looking for More Salad Recipes?
Make sure to check out some of my favorites!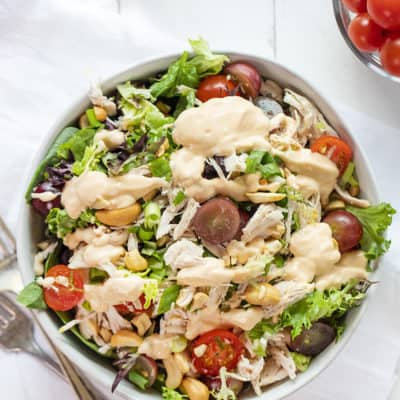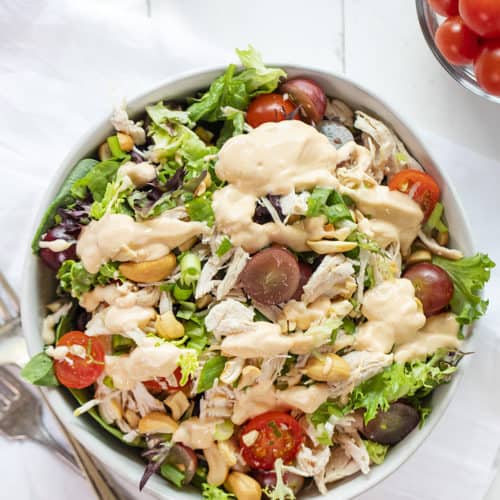 Preposterous Chicken Salad
This Preposterous Chicken Salad is simply crazy.  I couldn't think of a more fitting name, but it all works! 
Ingredients
Dressing
1

cup

mayonnaise

3/4

teaspoon

celery salt

3/4

teaspoon

paprika

2

tablespoons

milk,

to thin out if necessary
Salad
3-4

cups

lettuce mix

3

cups

cooked shredded chicken

2

cup

red grapes,

halved

1/2

cup

green onions,

diced

1

cup

salted cashews

1

cup

cherry tomatoes,

halved
Instructions
Dressing
Mix together mayonnaise, celery salt, paprika. If the mixture is too thick, add milk as needed. Set aside. (Can be stored airtight in the refrigerator for up to 2 weeks.)
Salad
In a bowl, divide lettuce, chicken, grapes, green onions, cashews, and tomatoes. Toss to combine until everything is well incorporated.
Did you make this recipe?
Thank you for making my recipe! You took pictures, right? Well go ahead and post them on Instagram! Be sure to mention me @iambaker and use the hashtag #YouAreBaker.