Pumpkin Hand Pies are mini pumpkin pies made with homemade pie crusts filled with pumpkin pie filling for the perfect pumpkin spice season, I mean Fall, treat. If you love everything pumpkin, I also have a Perfect Pumpkin Pie you will love!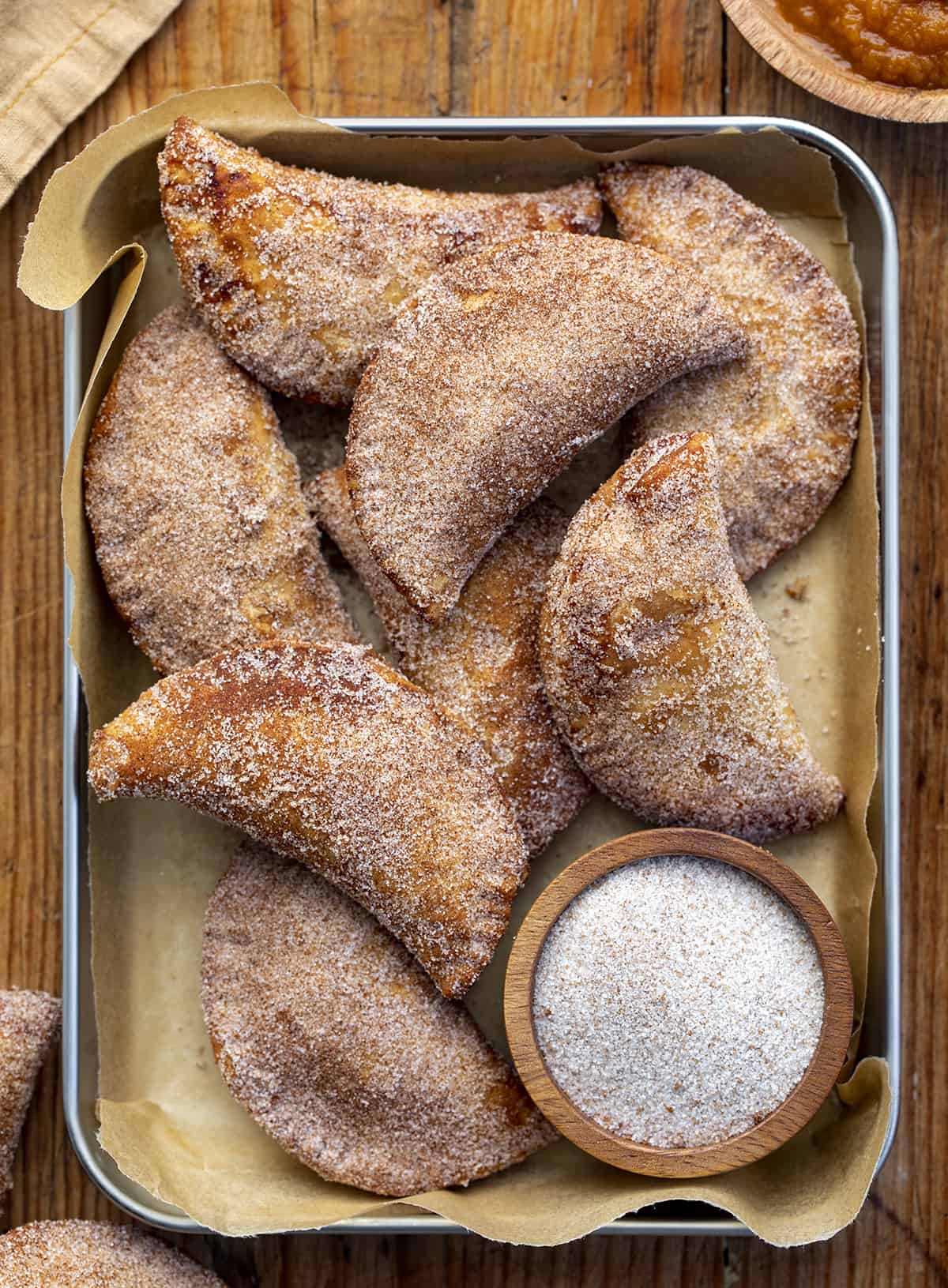 Pumpkin Hand Pies
I love the idea of a mini pie right at your fingertips. And with the fall season quickly approaching (I mean, where did the summer go?), it's time to share all things pumpkin! These pumpkin hand pies are a wonderful alternative to a whole pumpkin pie. And, to top them off, literally, I have a cinnamon and sugar mixture the hand pies can dip into.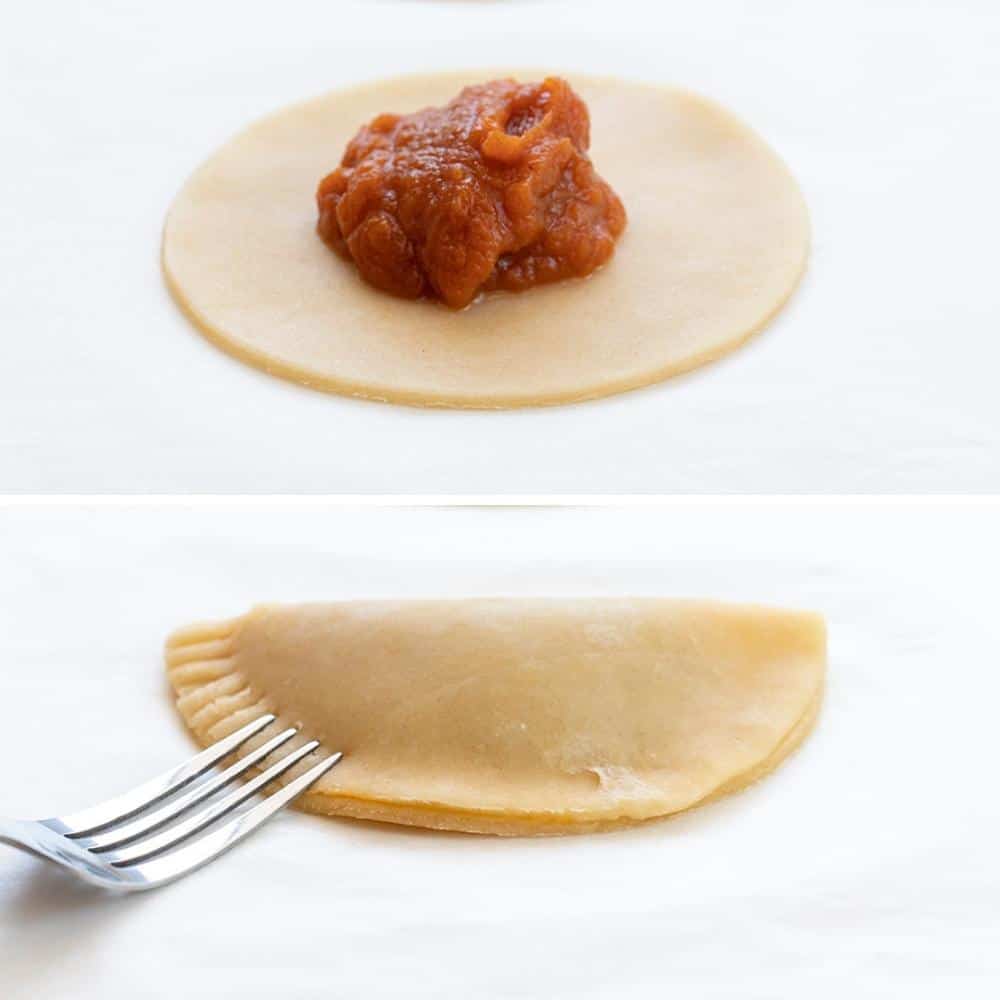 Ingredients
Pie Crust: If you look at the recipe, you will notice you need 1 homemade pie crust. This is the exact amount needed for this hand pie recipe, and it just so happens to make enough for two round crusts (for a pie that has a top and bottom layer). The store-bought equivalent may be more than 1 box, as each box contains two thin crusts and will only yield 8-10 circles. You can buy two boxes of store-bought pie crust or you can cut this hand pie recipe in half.
Oil: Canola or vegetable oil is best for frying. If you have any oil left over, check out my How to Clarify Used Oil so it doesn't go to waste. (There is oven and air fryer instructions below.)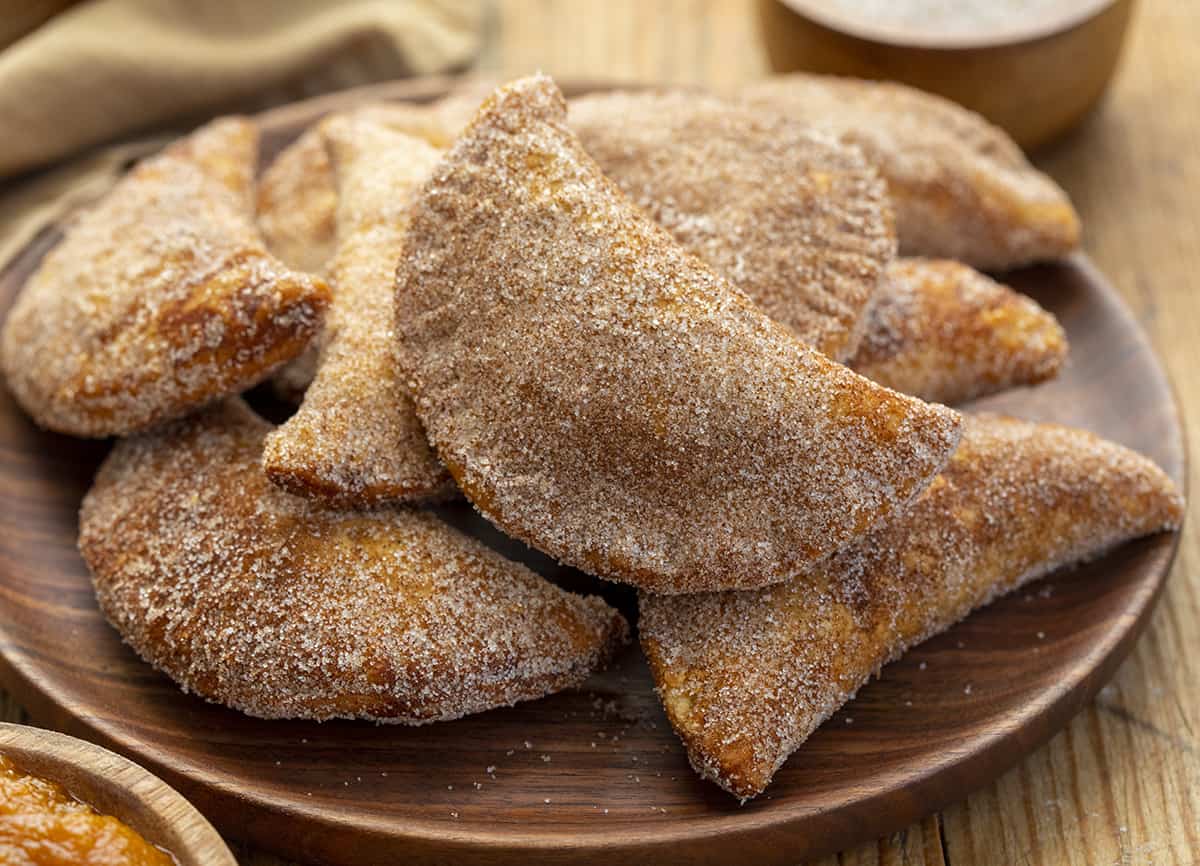 Pumpkin Puree vs. Pumpkin Pie Filling
Pumpkin puree, also called 100% Pure Pumpkin, is cooked pumpkin that is blended or mashed into a smooth texture. There should be no seasoning, spice, flavoring, or sugar added. Pumpkin Pie Filling has spices and sweeteners added. This recipe calls for Pumpkin Pie Filling.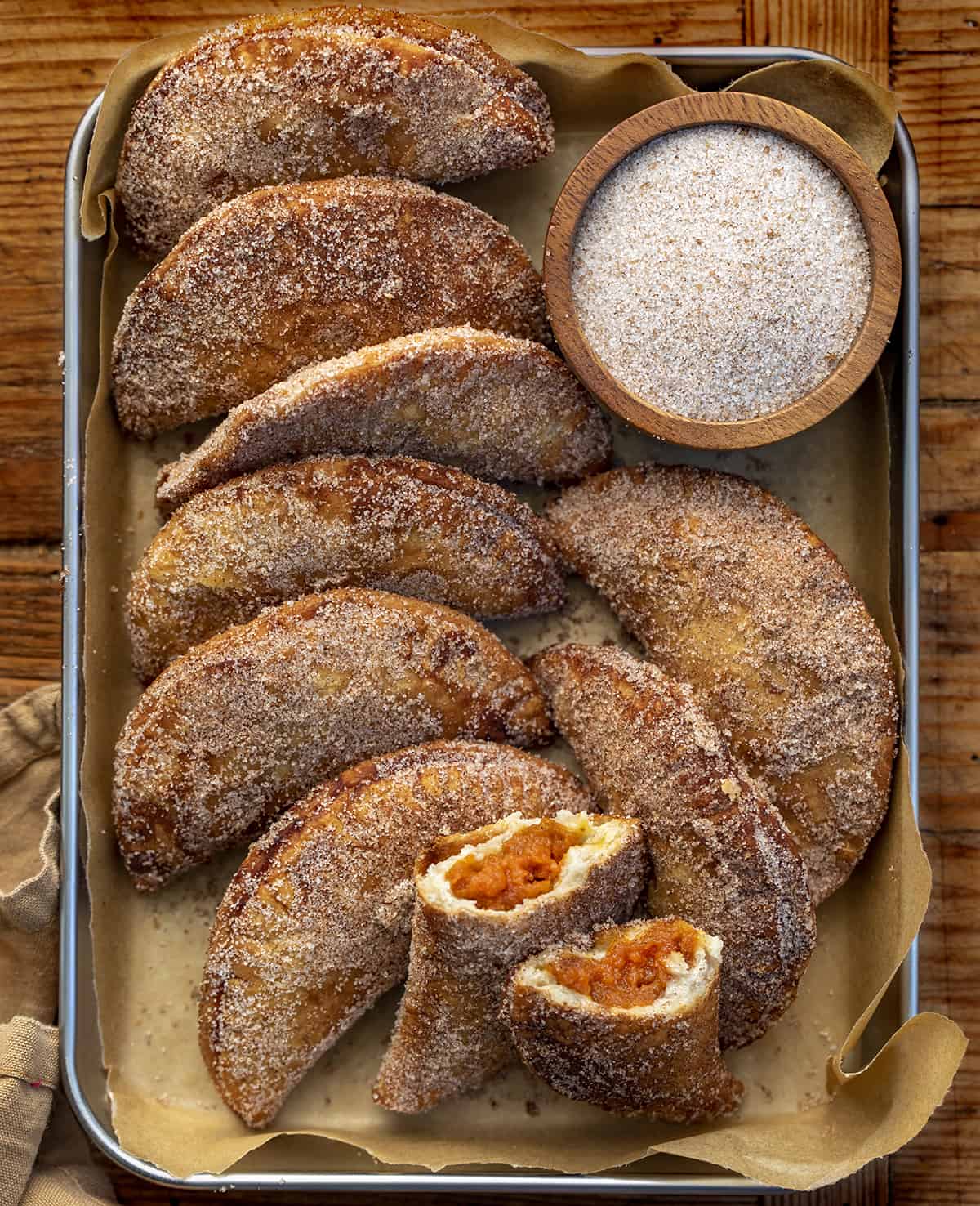 How to Bake Pumpkin Hand Pies in the Oven
If you would rather not fry the hand pies in oil, you can bake them in the oven. To bake, line a baking sheet with parchment paper. Place the assembled hand pies onto the lined baking sheet. Bake for 15-17 minutes, or until golden brown, at 400°F.
Air Fryer Hand Pies
Another option amazing when making these hand pies is to make them in the air fryer. To do this, assemble the pies as instructed. Then, place them into the basket of the air fryer and spray the tops with cooking spray. Air fry for 6-8 minutes at 360°F.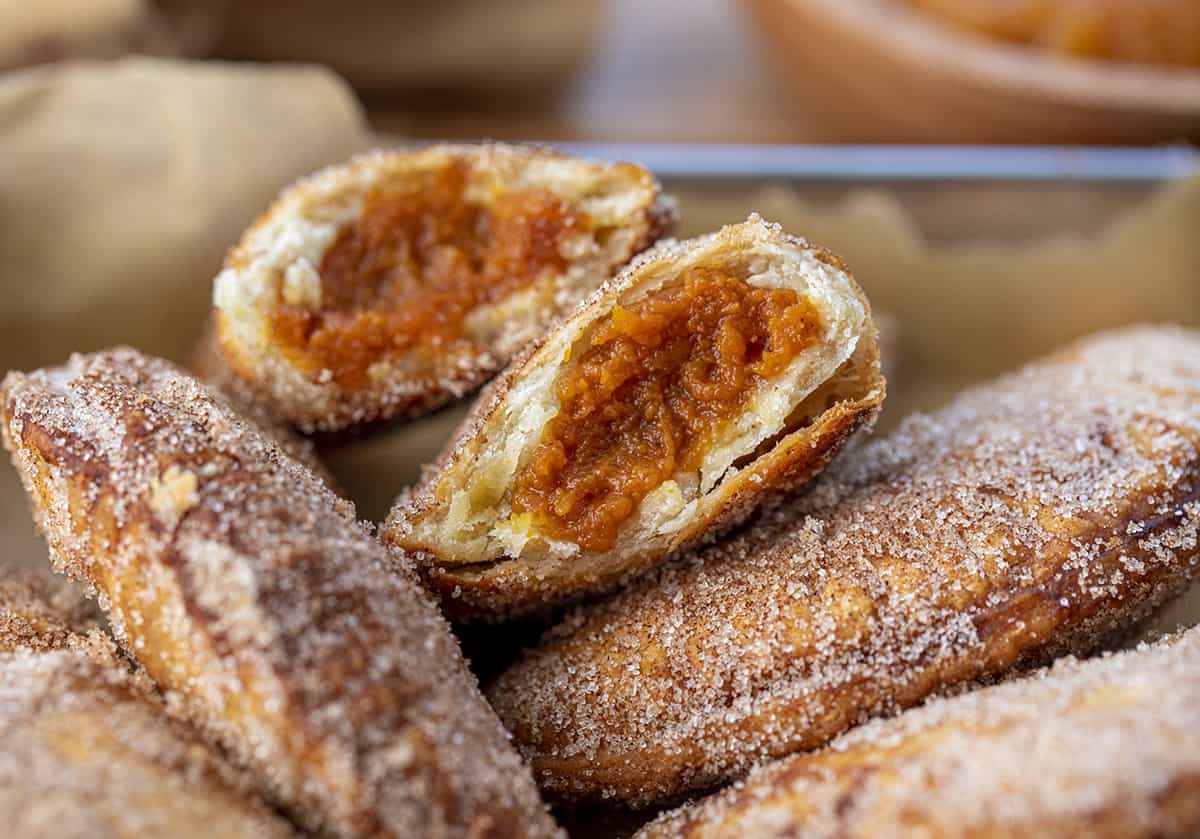 Can I Make Pumpkin Hand Pies Ahead of Time?
Yes! Once you get the hand pies assembled, it's easy to store them in the freezer until you are ready to fry or bake them. Once assembled, place the hand pies onto a parchment paper-lined baking sheet. Transfer the pies into the freezer for a couple of hours, or until frozen. Once frozen, store them in a freezer-safe container for up to 3 months. Be sure to label and date the packaging.
How to Store
Store the cooked pumpkin hand pies in the refrigerator, loosely covered, for 2-3 days.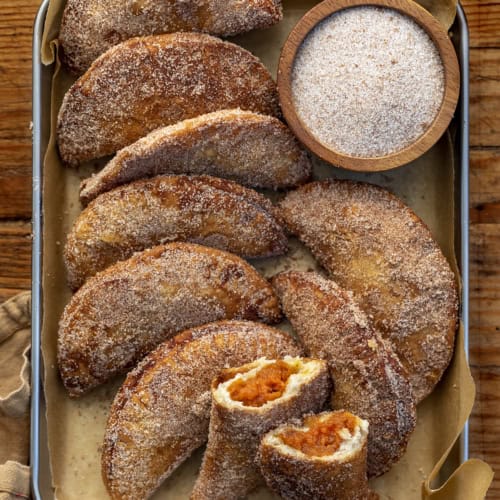 Pumpkin Hand Pies
Pumpkin Hand Pies are mini pumpkin pies made with homemade pie crusts filled with pumpkin pie filling for the perfect pumpkin spice season, I mean Fall, treat.
Ingredients
Cinnamon Sugar Topping
¾

cup

(150 g) granulated sugar

1

tablespoon

cinnamon
Instructions
Pumpkin Hand Pies
Roll out the pie crust(s) to ⅛-inch thick. Use a cookie cutter to cut the crust into 4-5-inch rounds. (You should get 26-28 pie crust rounds.)

Add 1 heaping tablespoon of pumpkin pie filling to each round.

Fold each mini pie crust into a half-moon shape. Use water to wet the edges of the crust to help seal each crust. Crimp with a fork.
Cinnamon Sugar Topping
In a small bowl combine sugar and cinnamon. Set aside.
Frying
In a medium pot over medium heat, add 2-3 inches of oil. Heat the oil until it reaches a temperature of 375°F.

Place 2-3 hand pies into the pan. Fry until golden brown (3-4 minutes). Transfer to a paper towel-lined cooling rack. (Before adding each batch of hand pies, make sure the temperature of the oil is at 375°F; it may cool down after each batch.)

While the hand pies are still warm, dip them in the cinnamon sugar mixture. Serve warm or cold.
Notes
Homemade Pie Crust recipe. This recipe is the exact amount needed for this pumpkin hand pie recipe. 
If using store-bought you may want to buy 2 boxes as they are thinner and smaller. 
Did you make this recipe?
Thank you for making my recipe! You took pictures, right? Well go ahead and post them on Instagram! Be sure to mention me @iambaker and use the hashtag #YouAreBaker.