My little girl turned five this past week.  Five!  In the midst of extensive Christmas baking, I took a break from all this green and red and peppermint and made a perfectly perfect girly girl cake.
With Audrey's help of course!  The last couple years I have let her "design" her cake;  she tells me what colors and themes she wants and I do my best to make it happen.
Like this Rose Cake.  And this Neapolitan Cake.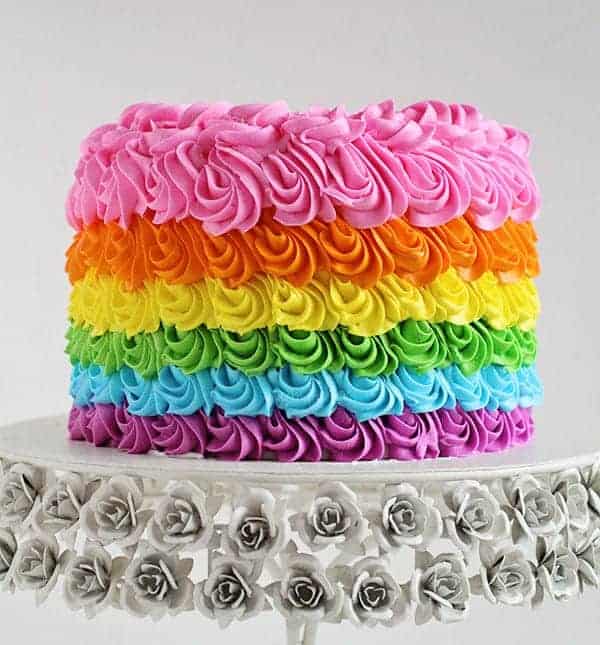 Her requests were pretty simple:
1. Lots of flowers
2. Every color in the rainbow.
3. Lots of frosting. (but no chocolate cake because her brother doesn't like chocolate and she is very thoughtful like that)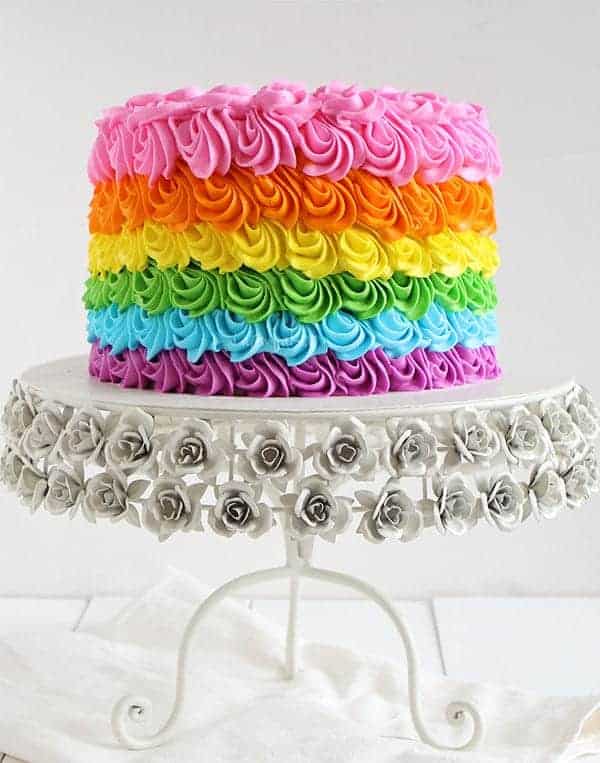 I even let her pick the cake stand, which just happens to be one of my all time favorites.  I found it in a specialty shop near our new home.  The owner of the shop did not want to let it go!  Even though there was a price tag on it, they had been using it for display for so long it had become part of the ambiance.  I tried so hard to not show my desperation, but in my head I was screaming, "I HAVE TO HAVE THAT CAKE STAND!"
I think her soul heard my souls cries.
Do you think I am being too dramatic?  Let's see… what do most women love?
Ah yes.  Shoes.  Pretend I was talking about a pair of Jimmy Choo's.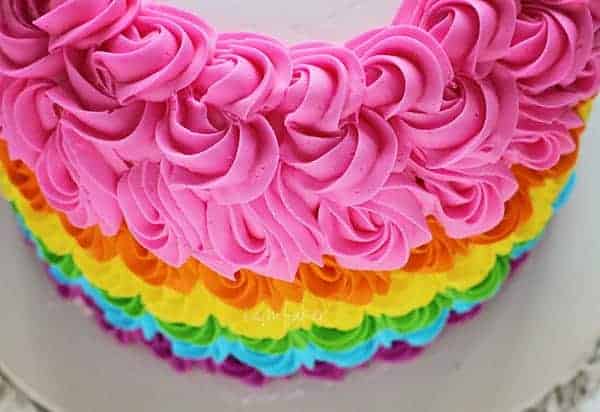 Back to the cake.  Audrey did request a Rosette Cake, but… and this is hard for me to admit… sometimes I get tired of making that cake!  So I asked her if it would be ok to change things up a little tiny bit.
She refused.
I asked sweetly.  She said no.  She crossed her arms and stood up tall and looked me in the eye.
"I promise I will still try to make it pretty!" I pleaded.
"Oh sure mom!  Whatever you want." And she happily flounced away in her princess dress.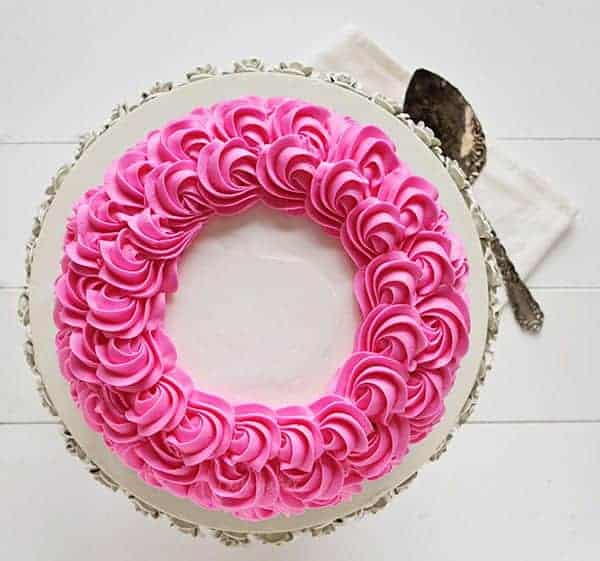 So this is my "compromise".  I didn't make the full on rosette shape, but still tried to make it "flowery".  And it has every color in the rainbow.  Except Indigo.
Cause like, I prefer my rainbows with six colors ok?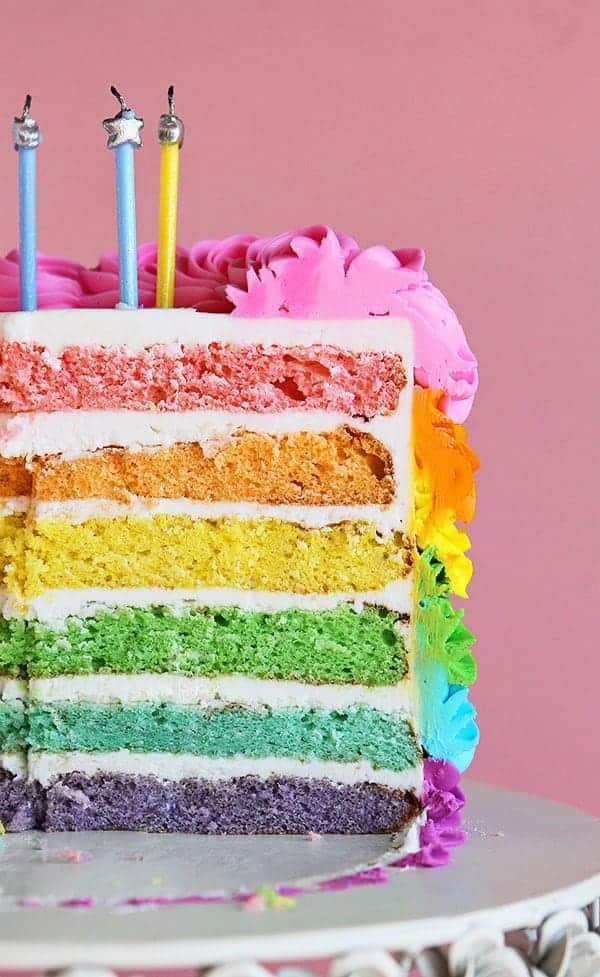 Audrey loved her cake and loved being a princess for a whole day.
She loved the attention and the gifts.
But most of all, I hope she loved the love.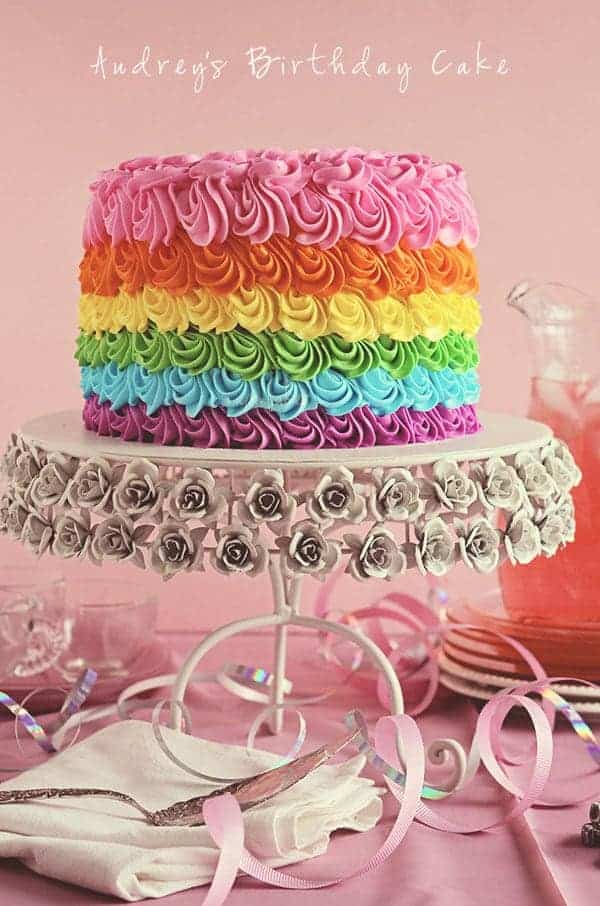 Happy Birthday Sweety!
Here is a recipe for How to Make a Rainbow Cake.
I shared a picture of Audrey blowing out the candles on this cake on my Instagram account.  I am iambaker.