Easy Chocolate Pie is one of my favorite go-to desserts! Only 4 ingredients separate you from this decadent dessert! We love this easy peasy dessert over the holiday and often make it in addition to Apple Crisp and Snickerdoodles!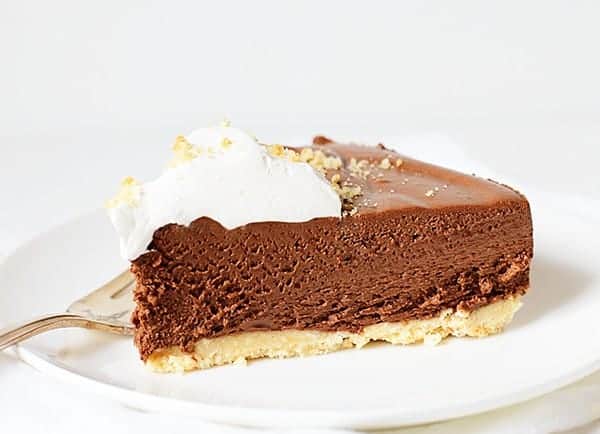 How to Make Chocolate Pie
Heat chocolate and heavy cream until smooth and creamy and then add the sugar and vanilla. (I like McCormick Vanilla in this recipe) Stir well. Pour into prepared shortbread pie crust then finish with homemade whipped cream. You can certainly heat the chocolate using the double broiler method vs. the microwave. (Video below)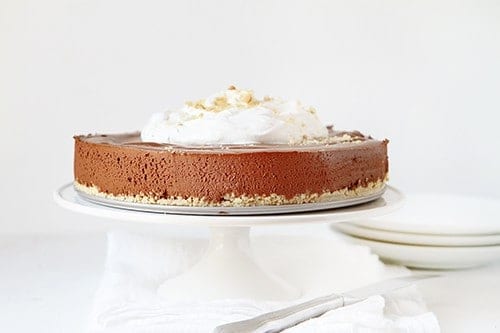 Tips for Chocolate Pie
Be sure to let the pie chill for the recommended time. It really helps the flavors infuse and create a creamy consistency.
When you have so few ingredients in a recipe it's a good idea to be sure you are using the best quality ingredients you can! I like a good semi-sweet chocolate because we are adding sugar to it, sweetening it, and the chocolate flavor really does shine. You can also use milk chocolate, but taste as you go. (If too sweet and a pinch of salt)
You can also make this chocolate pie recipe into mini-truffle tarts! Press spoonfuls of your shortbread crust into mini-muffin tins then bake for about 12 minutes and then fill with the chocolate pie filling when the crust had cooled. The perfect bite-size appetizer for parties! (Why would I cook the appetizers and not the pie? You need to be able to remove the mini tarts from the pan and baking solidifies the crusts. If your homemade crust is very crumbly you can add a bit of melted butter.)
Try using an oreo base crust for a chocolate flavor explosion!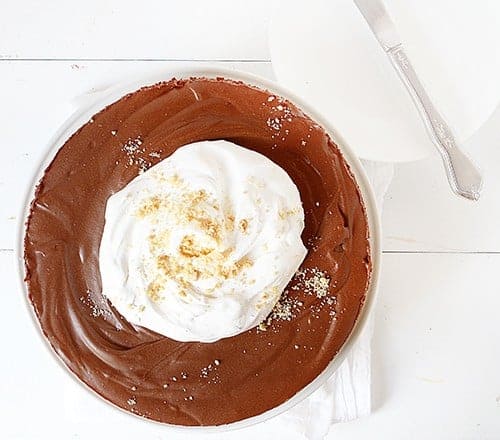 When I offered this dessert to my husband, he said it was "too rich" and "too chocolatey" and I was all, "Who are you? We don't say such things in this house!"
And he was all, "Are there any Strawberry Shortcake Cups left?"
And I said, "Shame on you! This is CHOCOLATE!"
And he looked at me in disbelief. "I don't LIKE chocolate."
I cried, "I feel like I don't even KNOW YOU!"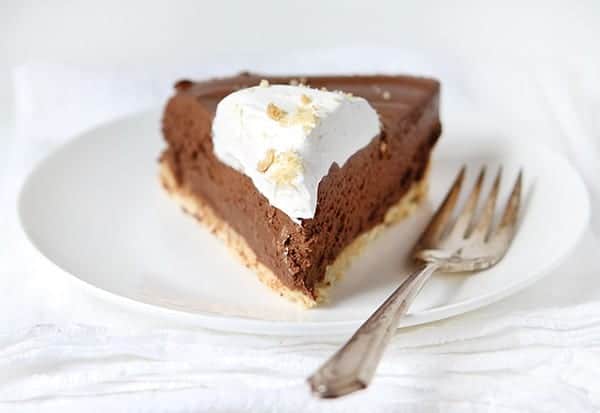 And with that, a part of me died.
But then I realized that there is more for me so WOO HOO!
Game on.
If you want to make your shortbread crust from scratch you can use this shortbread cookie crust recipe, and I do recommend using Walkers. There is just no comparison in rich buttery flavor.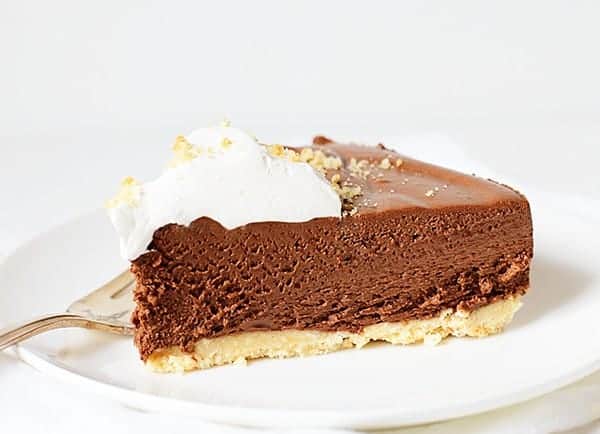 Did I mention that I got this whole Chocolate Pie to myself? And it was still gone in 2 days. **shame spiral**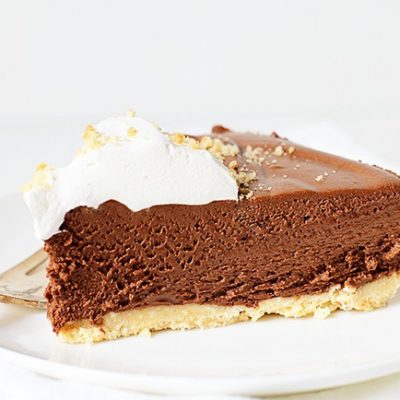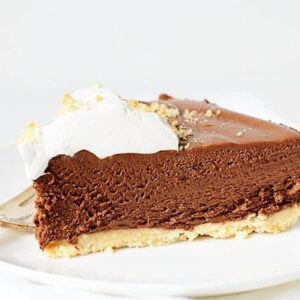 Chocolate Pie
Easy Chocolate Pie is one of my favorite go-to desserts! Only 4 ingredients separate you from this decadent dessert!
Ingredients
12

oz

semisweet chocolate chips

1 1/2

cups

heavy whipping cream

1/4

cup

sifted confectioners' sugar

1

tbsp.

vanilla extract

1

9 inch prepared shortbread pie crust

Optional: Whipped cream for top of pie and extra shortbread cookies to sprinkle.
Instructions
In microwave dish combine chocolate chips and 3/4 cup of the heavy cream.

Microwave on high for 1 to 2 minutes, stirring every 30 seconds until smooth.

Cool to room temperature.

Stir in sugar & vanilla. Set aside.

In a stand mixer, beat the remaining cream until soft peaks form (3-5 minutes). Remove bowl from stand mixer and fold in chocolate mixture, 1/3 at a time. Carefully spoon into crust.

Refrigerate at least 8 hours before serving
Recipe Video