Hi everyone! I'm Rachel from Rachel Cooks.
I'm so excited/honored/nervous/thrilled/intimidated to be filling in for Amanda today. I mean…how insanely talented is she? And she does it all with five kids. Whaaaaaaa? I can barely hold things together and I only have two children.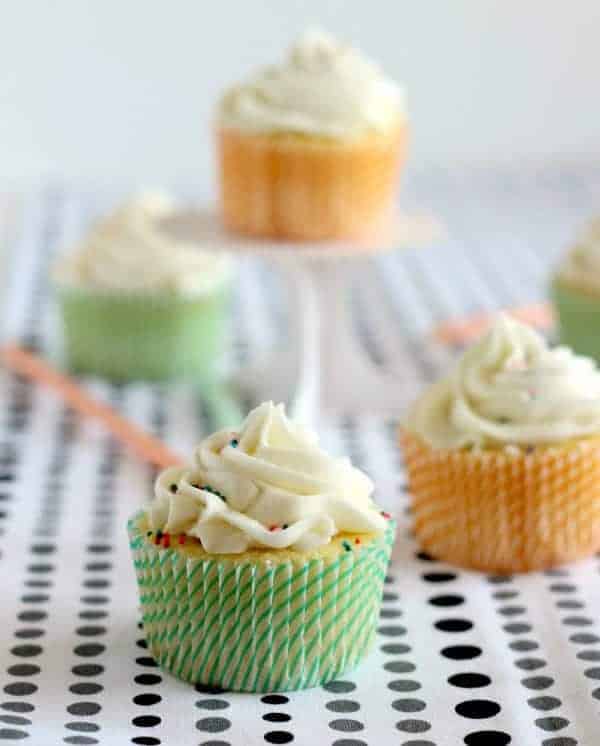 Anyways, my blog is all about family friendly cooking. I focus on easy to prepare meals that the whole family will love. Because not everyone is a super mom like Amanda.
I feature everything from dinners for the slow cooker to salads, snacks and desserts. I'm also all about balance. I'm not a vegan (how do people live without cheese?). I'm not gluten-free. I don't buy ALL organic and local (gasp!). But, I do my best.Don't we all?
I try to use mostly whole grains but come on…what's a cupcake with whole wheat flour going to taste like? I try to not use too much butter…but…umm…hello! I NEED butter for my popcorn.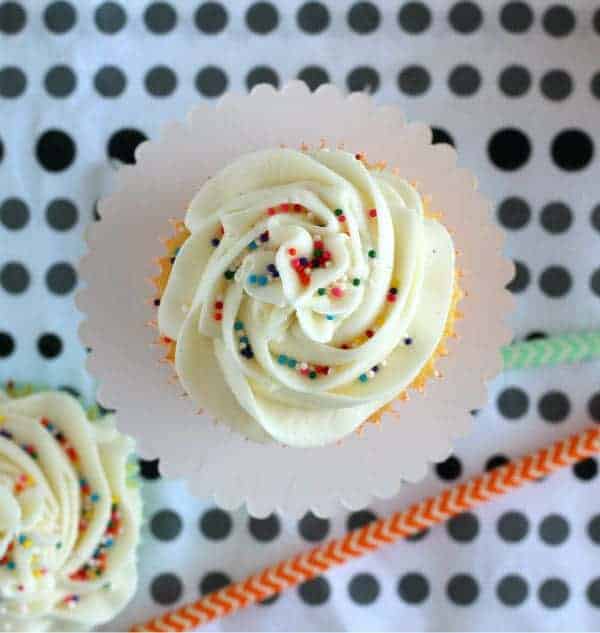 You get the point. I enjoy food — all of it. Especially the fun hidden surprise in these cupcakes. My 2-year-old daughter loved these as well, but whats not to love about cupcakes, buttercream and M&Ms? If you serve them at a party, all your guests will be so surprised when the bite into these.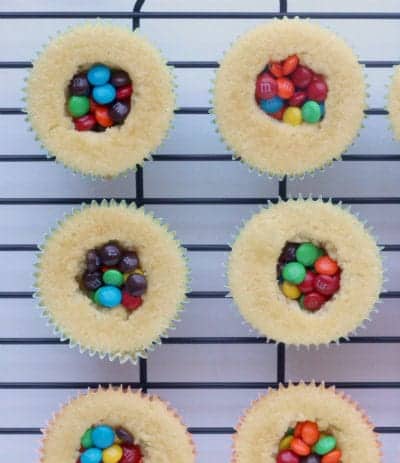 When thinking of Amanda and what I wanted to share on her site, I immediately thought of her "surprise inside" cakes (and her upcoming book) which are amazing, gorgeous and so creative. I was inspired by her creativity and pushed to come up with my own "surprise inside" creation. These vanilla cupcakes are a cinch to make (if I can do it, you can do it!) and they are so, so fun!
Vanilla Cupcakes (with a surprise inside!)
(Every recipe I share on my site is followed by "Verdict, Husband's take, Changes I would make, and Difficulty" to give you a little more information about the recipe, I'll do the same here!)
Verdict: Simple to make and fun to eat! Win-win.
Husband's take: He loved these! Again, whats not to love?
Changes I would make: None are necessary but you could experiment with different types of candy in there cupcakes. Also, if you're new to baking you could definitely use a boxed mix and premade frosting if you wanted to really throw these together quickly.
Difficulty: Easy!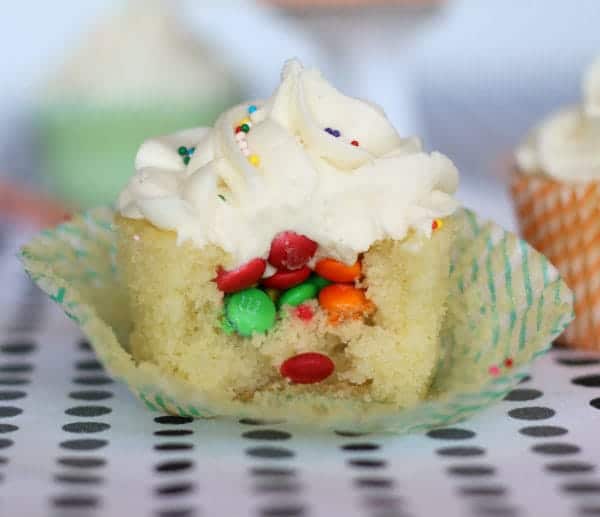 I'd love for you to stop by Rachel Cooks and say hi some time! You can also find me on Twitter,Facebook, Google+, Pinterest, and Instagram. Or you can subscribe to my emails and never miss a recipe!
Thanks for having me, Amanda…and thanks for inspiring me to create this fun recipe!
*****
Isnt Rachel amazing?  She is an inspiration to me and so many others.  Thank you so much sweety!  This recipe is so fun!