Making this Dong Dong Cake was a recreation of my favorite childhood treat! Rich chocolate cake, creamy filling and a heavenly chocolate coating on the outside.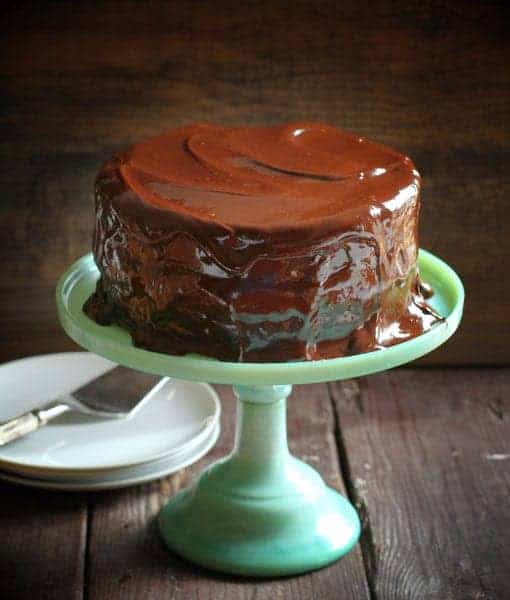 Ding Dong Cake
What is a Ding Dong? It is a treat that we were often given as kids.  Basically a chocolate whoopie pie with a glorious cream filling. I have modified it to be a cake and it's heavenly!
This cake is one of those cakes that works perfectly as one. The ganache on its own is a bit bitter (when using semi-sweet chocolate), the filling is light and wonderful but does not stand alone like a pudding or sweet frosting, and the cake is just chocolate perfection. But these three elements work together in perfect harmony to create a cake that you will never forget.

MY LATEST VIDEOS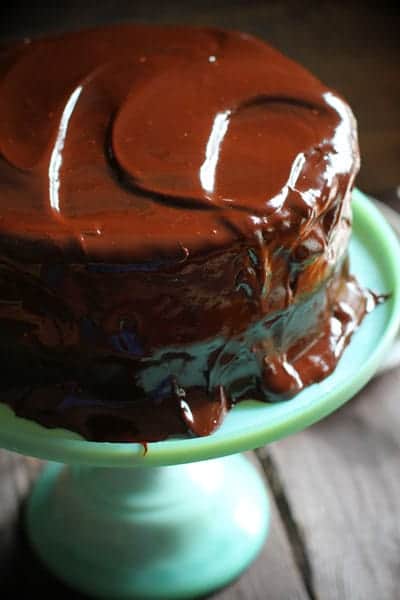 Ding Dong Cake Filling
Some of you experienced bakers recognized this filling immediately! It's also known as an Ermine frosting. This frosting has a few extra steps compared to a traditional American buttercream, but the result is well worth it. Subtle and creamy, it is the PERFECT filling for this beyond rich cake.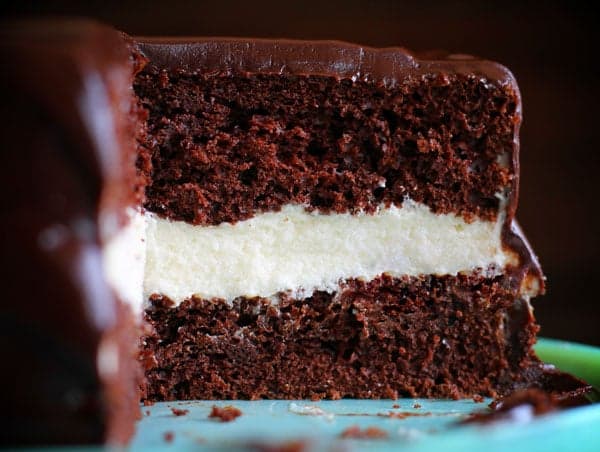 This is a fantastic Ding Dong Cake and a lovely way to celebrate with friends and family!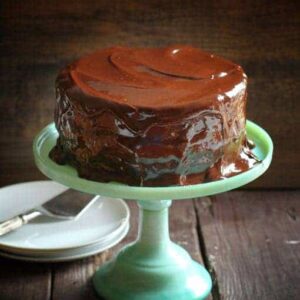 Ding Dong Cake
Ingredients
Chocolate Cake
1 3/4

c

(210g) all-purpose flour

2

c

(400g) granulated sugar

3/4

c

(90g) good unsweetened cocoa powder

2

tsp.

baking soda

1

tsp.

baking powder

1

tsp.

kosher salt

1

c

(240g) buttermilk

room temperature

1/2

c

(112g) vegetable oil

2

extra-large eggs

room temperature

2

tsp.

McCormick pure vanilla extract

1

c

237g freshly brewed hot coffee (I use decaf)
Filling
5

tbsp.

all-purpose flour

1

c

whole milk

1

tsp.

vanilla

1

c

(226g) butter

1

c

(225g) granulated sugar
Ganache
16

oz

semi-sweet chocolate

chopped fine (can use milk chocolate)

16

oz

(2 cups) heavy cream

room temperature
Instructions
Chocolate Cake
Sift the flour, sugar, cocoa, baking soda, baking powder, and salt into the bowl and mix until combined.

In another bowl, combine the buttermilk, oil, eggs, and vanilla.

In the bowl of a stand mixer on low speed, slowly add the wet ingredients to the dry. With mixer still on low, add the coffee and stir just to combine, scraping the bottom of the bowl with a rubber spatula. Pour the batter into two 8-inch round prepared pans and bake for 30 to 40 minutes at 350°F, until a cake tester or toothpick comes out mostly clean (not wet).

Cool in the pans for 30 minutes, then turn them out onto a cooling rack and cool completely.
Filling
Pour cold milk into a small saucepan. Before turning on the heat, whisk in flour so no lumps remain.

Turn heat on to medium-low and heat until mixture is thick, like a roux, stirring the whole time.

Remove from heat, stir in vanilla and let cool completely.

Cream together butter and sugar on medium-high speed, until fluffy, about 8 minutes.

Add in the milk mixture and beat again until mixture resembles a whipped cream. Chill for at least 30 minutes before assembling cake.
Ganache
Heat the heavy cream in a quart-sized, microwavable container and microwave for 3 to 4 minutes on high, or until it just begins to simmer. Be careful not to allow the cream to boil over. Pour the cream over the chopped chocolate and let stand for at least 2 minutes so that it can thicken.

When ready to pour over chilled cake, whisk the ganache until smooth and then pour. You may have some ganache left over.
The chocolate cake in this recipe is my Perfect Chocolate Cake. The batter is very runny and it is designed to be made in two 8-inch round cake pans. A few of you have commented that when you made this Ding Dong Cake the batter spilled over, and I have never been able to replicate that in my kitchen. If you prefer you can use 9-inch round cake pans but the layers will not be as thick as you see in my pictures.
I just want you to know that I absolutely read comments and try to address all concerns! The majority has had no issues with the recipe and therefore I am not making any changes to it at this time.