A rich, delicious, mouth-watering Chocolate Pound Cake is one of my favorite things in the world. I love this recipe because those glorious chocolate crumbs seem to melt into your mouth. It's like the cake version of velvet! If you love pound cakes, you simply must try my Cream Cheese Pound Cake!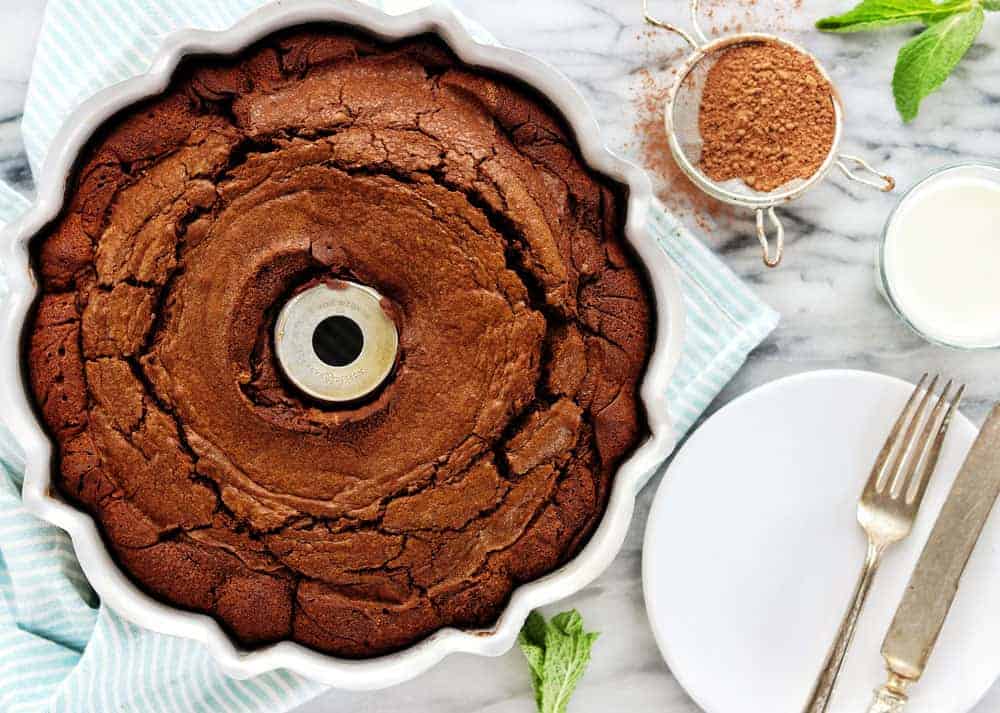 Chocolate Pound Cake
This chocolate pound cake recipe comes from one of my favorite go-to cookbooks, the Church of the Holy Spirit Cookbook. My mom gave it to me as a gift many years ago and I have treasured it! So many wonderful recipes handed down through generations. And you know I am a sucker for any recipe that "grandma" says is good!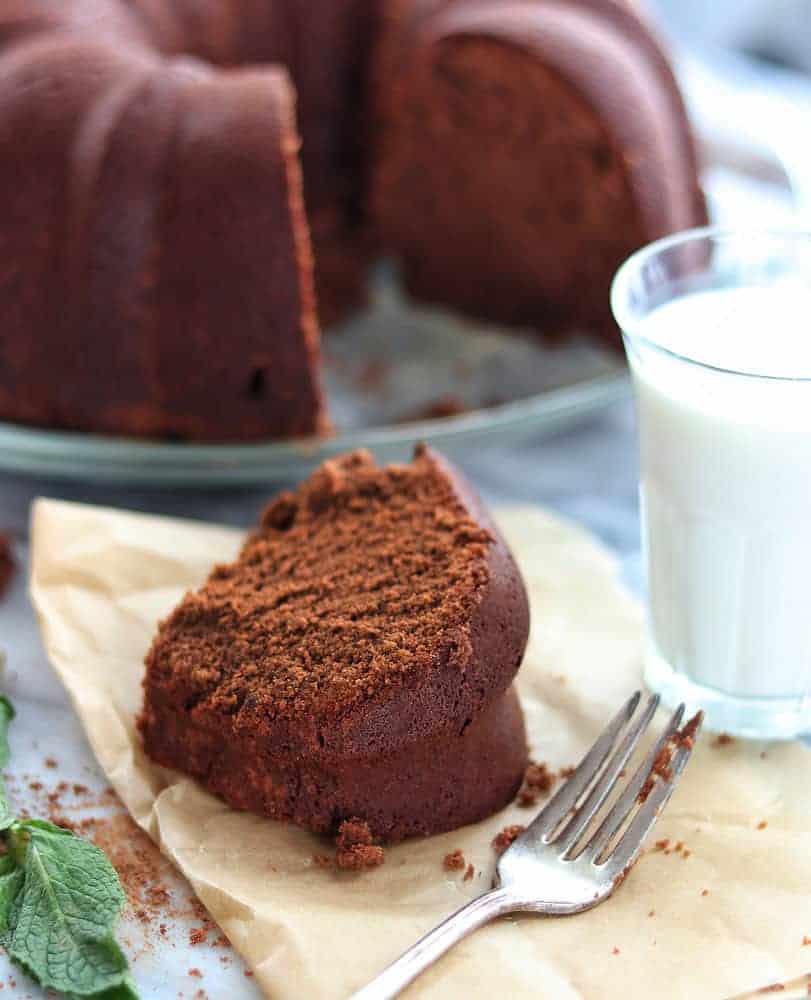 How to Make Chocolate Pound Cake
I can't stress enough that this chocolate pound cake needs to be made with room temperature ingredients. This will ensure easier mixing and helps achieve that perfect crumb. Make sure each ingredient is incorporated before moving on to the next. If you want to remove it from the stand mixer right after adding the flour and mix by hand that is just fine but make sure your flour is doubled sifted.
What is double sifting? Well, as flour sets it becomes more compacted or settles. Double sifting not only breaks up clumps, but it adds air to the flour which helps produce a lighter cake. Sift your flour, sift it again, and then measuring to ensure an exact measurement. In addition, if you are baking at a higher altitude, be sure to check out my High Altitude Baking Tips.
As far as baking temperature and time, that is something you will want to keep a close eye on. If you happen to have any hot spots in your oven you may want to turn the cake halfway through baking. The crust should be firm, not burnt. This means that 325°F is the highest you should go, but the length of baking might be shorter or longer depending on your oven. All ovens are different, so be sure to closely watch the cake the first time you make it.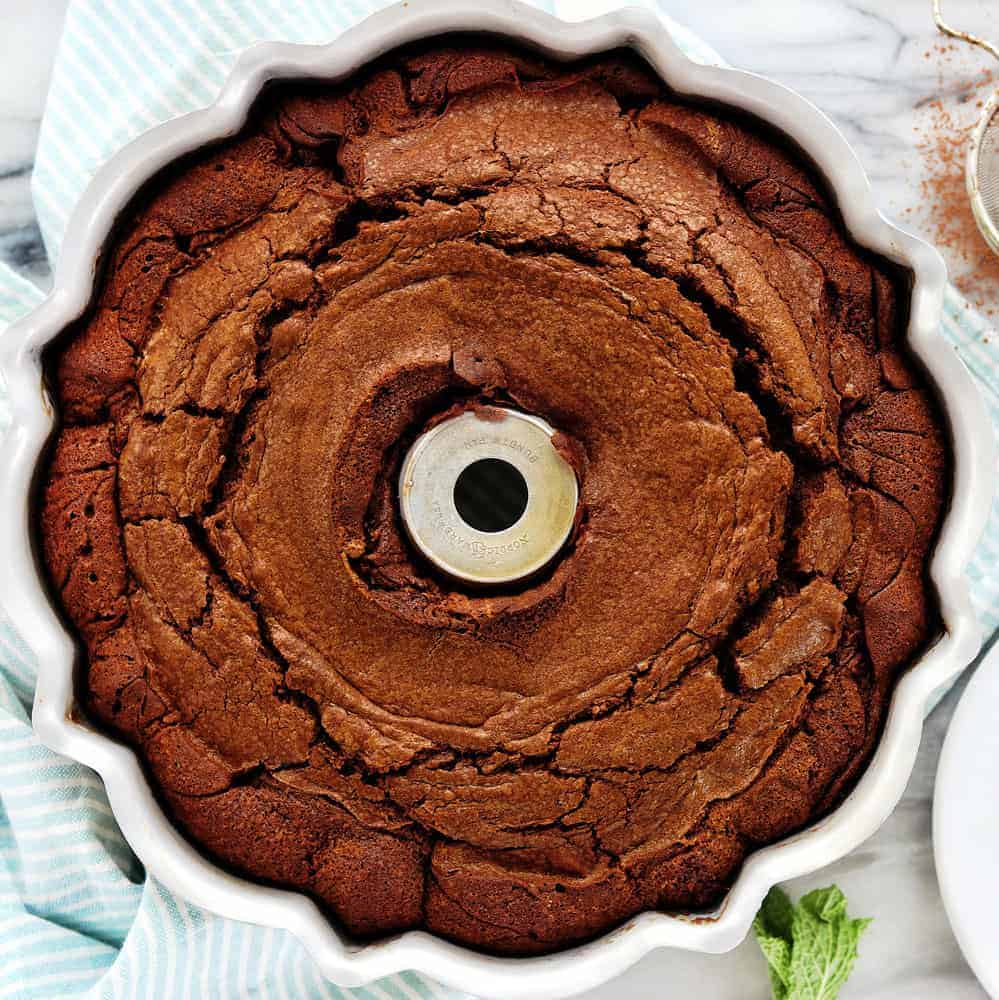 How to Prepare a Bundt Pan
By far my favorite way to prepare a bundt pan is with GOOP (as grandma calls it) or Pan Release. The recipe is simple and you can easily keep it in on hand. I spread a generous coat around the bundt pan with a pastry brush. One important aspect of using Goop is when to remove the bundt cake. I will let the cake set in the pan for about 5 minutes, then invert onto a cooling rack. When allowed to cool to room temperature in the pan, I have found that it doesn't release as beautifully.
You can also use the traditional butter + flour method, which is buttering the pan generously then adding about a 1/4 cup cocoa powder. (Only for chocolate cakes!, otherwise, use flour) Slowly turn the pan around and around making sure the cocoa powder covers every nook and cranny. Tip if over a garbage and shake out the excess.
You can also use bakers spray, which is an aerosol pan release. I prefer the "bakers" version (says it contains flour) as it seems to work best on cakes.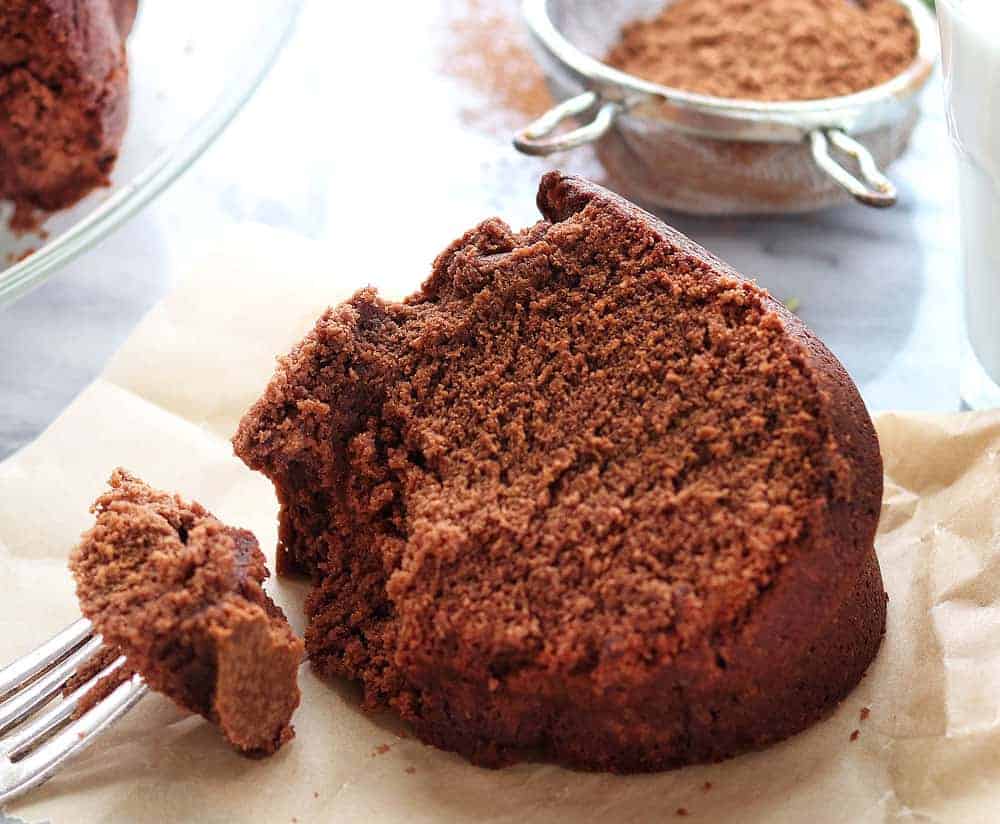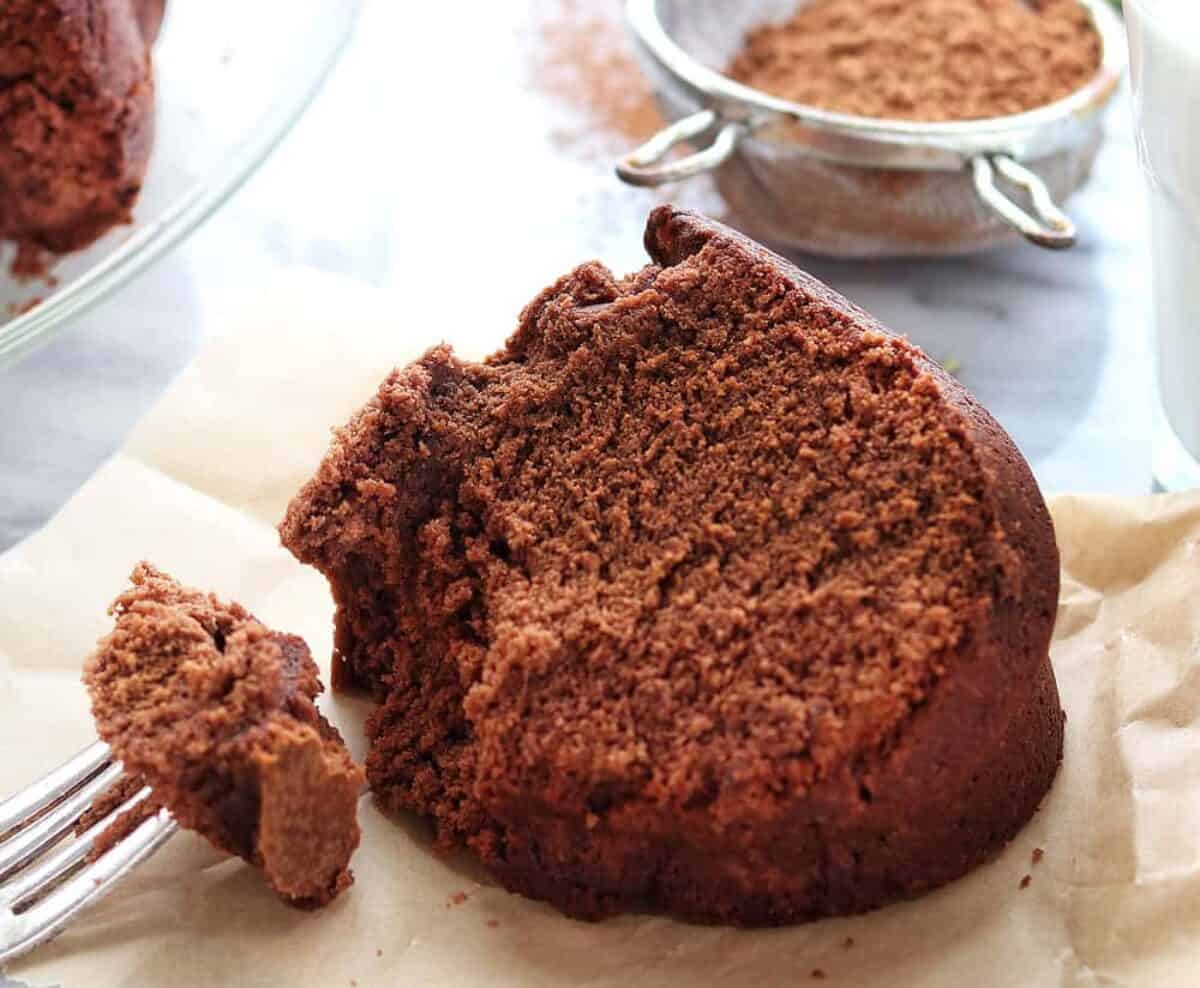 How to Know When Your Pound Cake is Done Baking
This can be tricky, but it super important as you don't want to overbake it. The outside of the cake should appear firm and done, but should not be burnt. I know folks always recommend making sure your oven is calibrated (heck, even I recommend that in most cake recipes) but the truth is few of us actually do that. What we do know is the general hotness of our ovens. For instance, when you are baking a casserole or cupcakes do you notice that the back edge is crispy and the front is still a bit raw? Then simply rotate your pound cake about 40 minutes into baking. Or do you notice that the top gets brown quickly but the bottom isn't baked? Place your pound cake on the lowest rack in your oven.
My favorite method of testing involves a long skewer, but you can also use a toothpick. Around the 55min mark, insert the skewer (or toothpick) and then remove it. (Be careful, I have more burns on my hands than I care to admit.) If you see a few crumbs that is GOOD, your pound cake is done baking. Wet batter on the skewer means it needs to bake longer. If you happen to notice that the top is browned but your pound cake still needs to bake, you can gently cover it with a foil tent to make sure it will not brown anymore
.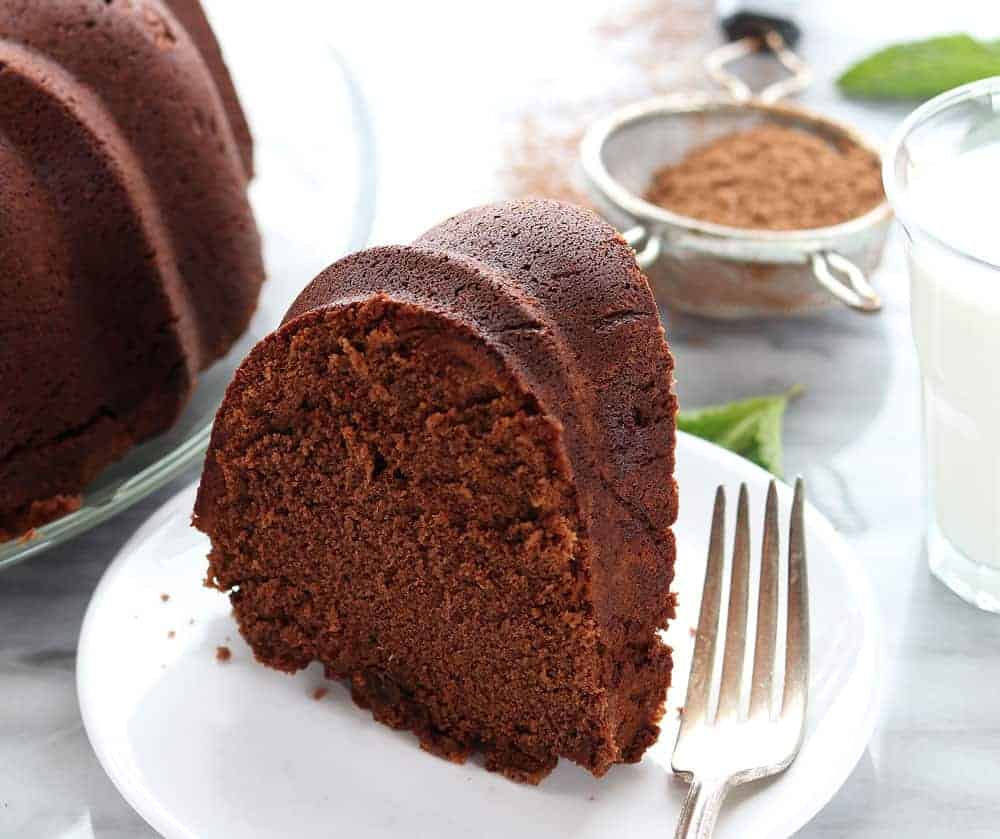 How to Serve a Pound Cake
Pound cake can be served warm, room temperature, and is even delicious served cold. No matter what you do with this Chocolate Pound Cake, I know you love it! I happen to love this cake all on its own, but here are a few ways to jazz it up:
I have a feeling this is going to be your new go-to Chocolate Pound Cake recipe! <3
Love pound cakes? Don't miss these winners: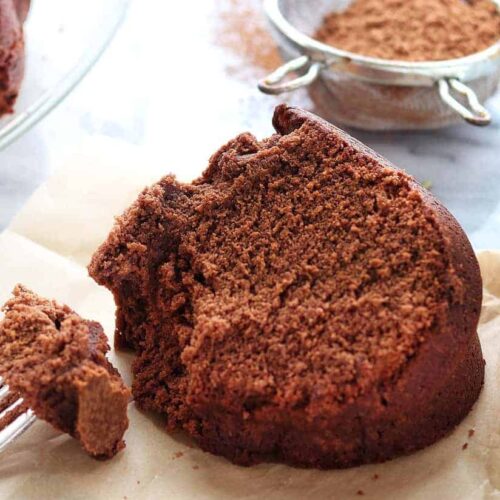 Chocolate Pound Cake
Melt-in-your-mouth chocolate cake! It has the texture of velvet and the flavor or rich milk chocolate!
Ingredients
1

cup

(2 sticks or 226g) salted butter,

softened

8

ounces

cream cheese,

softened

3

cups

(600g) granulated sugar

6

large eggs,

room temperature

1

teaspoon

vanilla extract

2 1/4

cups

(281g) cake flour

1

teaspoon

baking powder

3/4

cups

(64 g) cocoa
Instructions
Preheat oven to 325 ° F. Grease a 10-inch bundt pan.

In a medium mixing bowl, cream together butter, cream cheese, and sugar.

Add eggs one at a time, beating well after each egg. Add vanilla.

In a separate bowl, combine and sift flour, baking powder, and cocoa.

Add about half of the flour mixture to the butter mixture and beat well. Add remaining flour mixture and beat well (about 2 minutes). You can also do this in your stand mixer with the paddle attachment.

Pour into pan and bake for 1 hour and 15 minutes or until done. Use a toothpick to test at 55 minutes. If the toothpick is removed *mostly* clean, the cake is done.
Did you make this recipe?
Thank you for making my recipe! You took pictures, right? Well go ahead and post them on Instagram! Be sure to mention me @iambaker and use the hashtag #YouAreBaker.