If you've never added zucchini to your baked goods drop everything you are doing and do it now! These Zucchini Brownies are unbelievably moist and rich. A chocolate lovers dream! Be sure to try my Zucchini Cake and Chocolate Zucchini Cake! (and if you want a zucchini-less brownie recipe, try this one!!)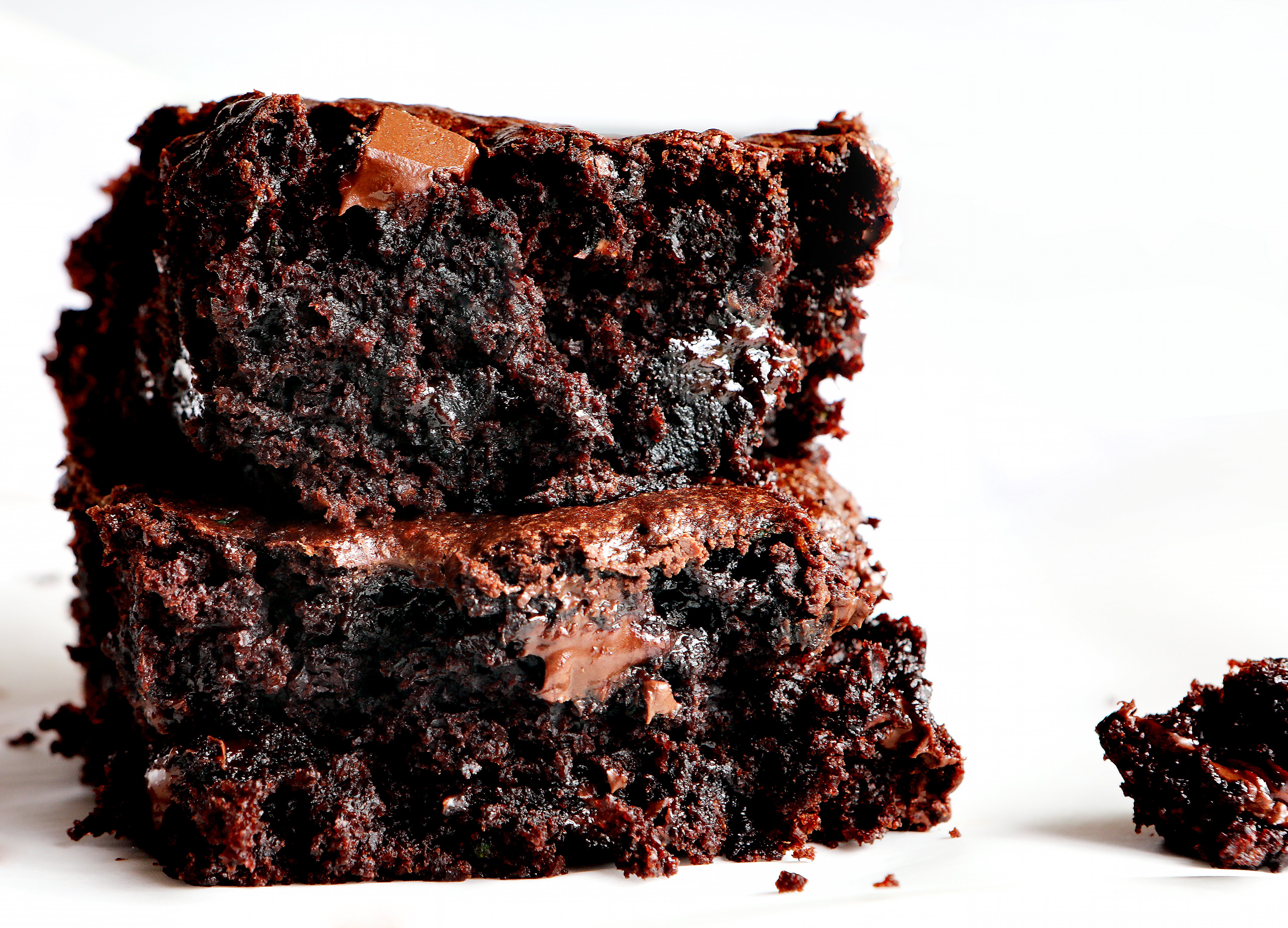 Zucchini Brownies
When I first made these Zucchini Brownies in 2012 I declared that I would never need another brownie recipe. They are the BEST brownie I have ever eaten, hands down. But, zucchini is very much a seasonal product, so having a great brownie recipe that doesn't have zucchini is important. Every summer I am reminded just how magical zucchini is in baked goods and these become my favorite again!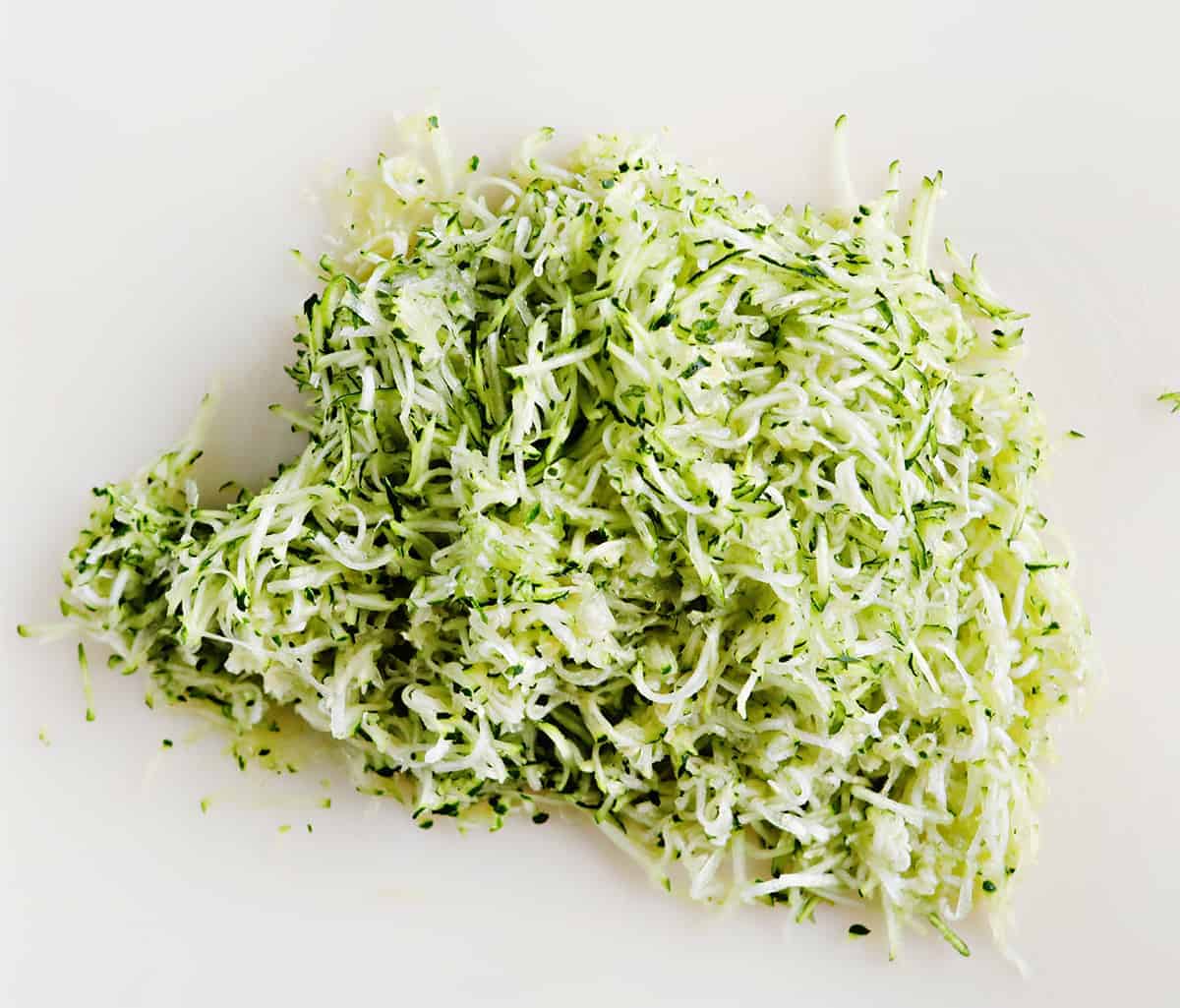 The Secret to Baking with Zucchini
Size matters. A large zucchini will be drier. A small zucchini with have more moisture. Certain recipes work best with different sizes. For instance, I tend to use a medium to small with this recipe because I want the moisture the zucchini brings, but I use a large zucchini for my Double Chocolate Zucchini Cupcakes.
Use the fine side of your grater. Coarser pieces will have a slightly more noticeable flavor and texture in a finished cake or bread recipe. (Farm kids tend to want that!)
Some recipes ask that the zucchini is pressed well with a clean towel to soak up excess moisture or to prevent whatever your baking from getting too soggy. Pay close attention to the recipe that you are making with zucchini as the level of moisture they provide is important. For instance, in this recipe, the zucchini is the main source of moisture and should NOT be drained!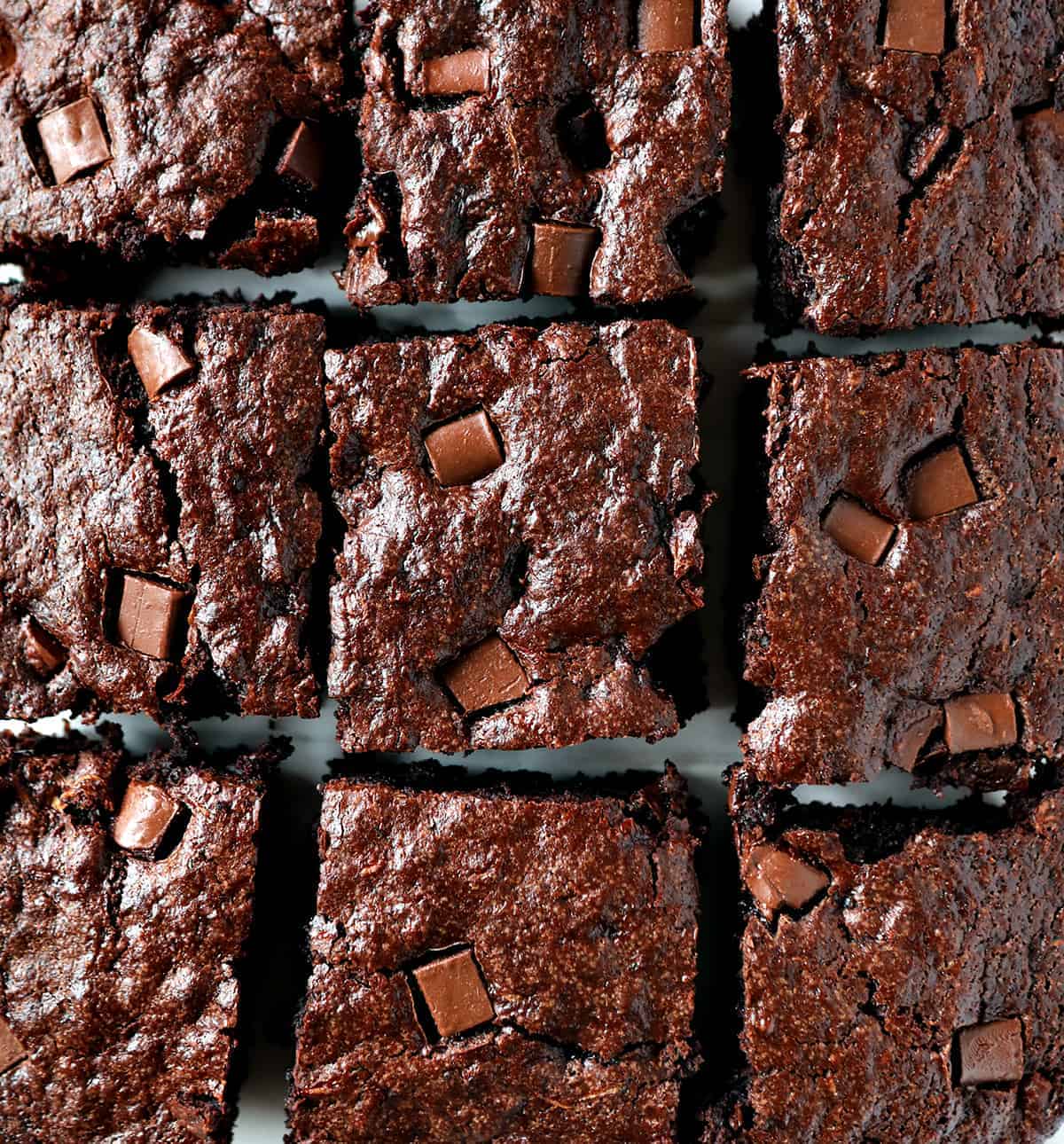 Double Chocolate Zucchini Brownies
This recipe is going to test any experienced bakers boundaries as it does not act like a normal brownie.
The batter is DRY. Extremely dry. Until you add the zucchini that is! Assemble the batter according to the recipe instructions and then let it rest for 5 minutes. Stir again and you will see how much moisture the zucchini adds!
I added semi-sweet chocolate chunks to this batch to make the double chocolate. You can add milk chocolate chips, peanut butter chips, white chocolate chips, or no chips! They are so good and so rich the extra flavor is not necessary. (But can be fun!) If you do use chocolate morsels instead of chunks, be sure to use 1 1/2 cups instead of 1 1/4. Reserve a few for the top too!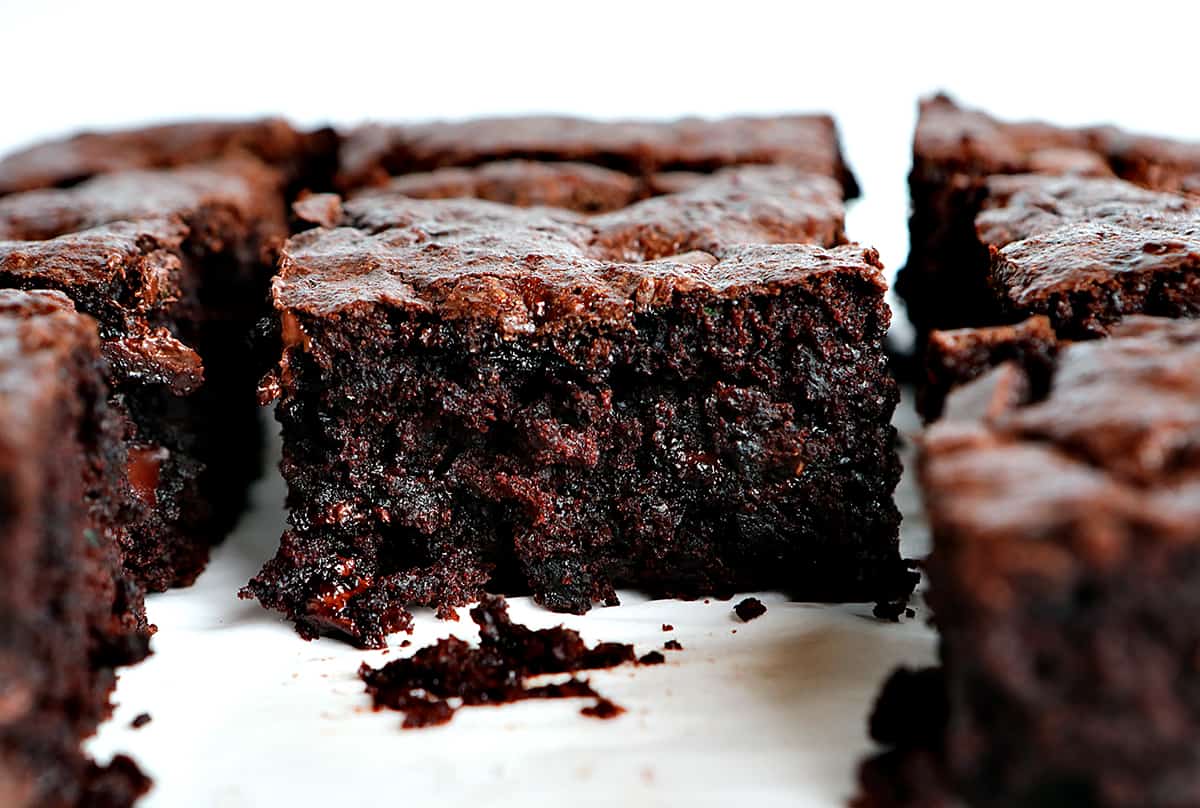 As you can see, the zucchini bits practically disappear into the glorious chocolate layers. If you don't tell people, they will never know you added a full 3 cups of this abundant vegetable!
How to Freeze Zucchini Brownies
When the brownies are completely cooled wrap with plastic wrap and then place into an airtight container, in a freezer-safe plastic storage bag, or wrap again with aluminum foil. Be sure to label them with the date.
When you are ready to enjoy the brownies again, remove them from the freezer and place them in the refrigerator overnight or on the counter. Once they reach room temperature you are ready to enjoy them.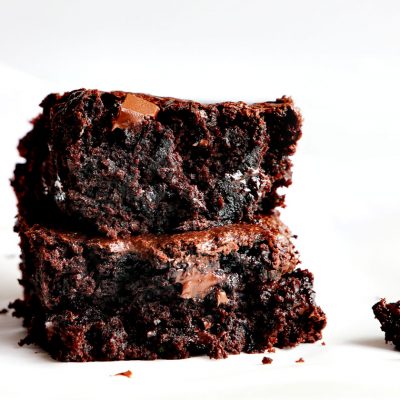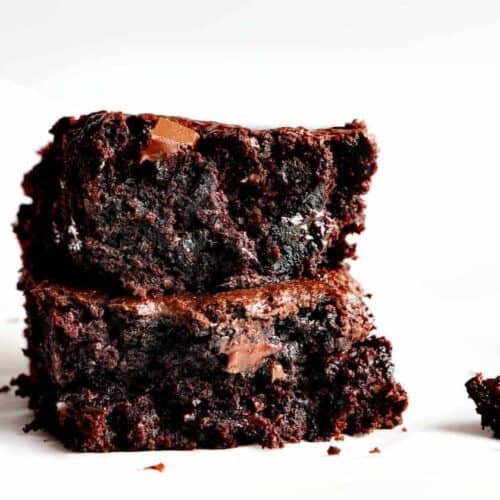 Zucchini Brownies
If you've never added zucchini to your baked goods drop everything you are doing and do it now! These Zucchini Brownies are unbelievably moist and rich. A chocolate lovers dream!
Ingredients
½

cup

(112 g) vegetable oil

1 ½

cups

(300 g) granulated sugar

1

tablespoon

vanilla extract

2

cups

(256 g) all-purpose flour

½

cup

(64 g) unsweetened cocoa powder

1 ½

teaspoon

baking soda

1

teaspoon

kosher salt

3

cups

finely shredded zucchini

DO NOT DRAIN

1 ¼

cups

semi-sweet chocolate chunks
Instructions
Preheat oven to 350°F and prepare a 9×13 pan with butter (or use baking spray) and line with parchment paper. (Allow parchment paper to go up the sides for easy removal.)

In a large bowl combine oil, sugar, and vanilla until fully incorporated.

Add flour, cocoa, baking soda, and salt. Mix until combined. Batter will be very dry.

Fold in zucchini by hand. Allow batter to rest for 5 minutes.

Add in chocolate chunks and stir again. Batter should appear more wet. (if not, let it rest for 5 more minutes and stir again)

Spread brownie mixture into the pan and bake for 25-35 minutes. Brownies are done with an inserted toothpick is removed with crumbs. There should not be wet batter on the toothpick.
Video
Did you make this recipe?
Thank you for making my recipe! You took pictures, right? Well go ahead and post them on Instagram! Be sure to mention me @iambaker and use the hashtag #YouAreBaker.
Eggless Brownies
You will notice that there are no eggs or butter added to this recipe. They are absolutely not needed! These Zucchini Brownies bake up beautifully (almost cake-like) and do not need the added air and flavor that eggs usually add. This is a great recipe for vegan friends!
Another bonus? This recipe can be made in 1 bowl!