When I saw these pancakes on Recipe girl, I was kinda sorta totally in love.
I really want you to check out her recipe for Cinnamon Roll Pancakes… its perfection.  The only thing I did different was add the toppings after the pancakes were done. (Which I think might have even been her original recipe as well!)
She also has a picture tutorial which is really helpful if you are anything like me and totally able to screw up even the easiest of recipes.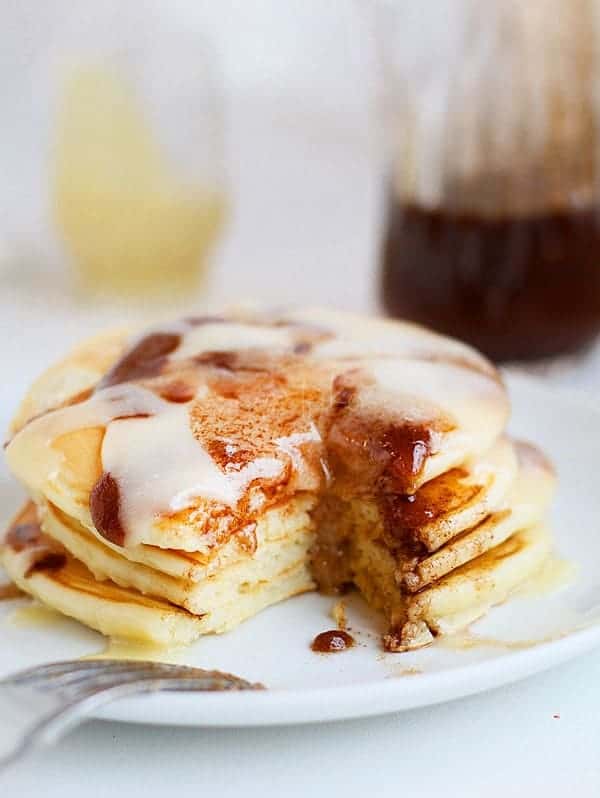 For the pancakes I used one of my favorite recipes.
Ingredients
Pancakes

1 cup all-purpose flour
2 teaspoons baking powder
1/2 teaspoon salt
1/2 teaspoon cinnamon
1 cup milk
1 large egg
1 teaspoon vanilla extract
1 tablespoon vegetable oil

Cinnamon Filling

1/2 stick unsalted butter, room temperature
1/4 cup plus 2 tablespoons brown sugar
1 1/2 teaspoons ground cinnamon
Instructions
Cinnamon Filling

In a medium bowl, stir together the butter, brown sugar, and cinnamon and place into a pastry bag or plastic baggie. Set aside.

Pancakes

In a medium bowl, whisk together the flour, baking powder, cinnamon and salt. Whisk in the milk, egg, vanilla extract, and oil, until incorporated.
Heat skillet over medium heat, and spray it with nonstick spray.
Using a 1/8-1/4 size measuring cup, pour batter onto skillet. Spread the batter out more if necessary, to about 4-inch diameters.
Reduce the heat to medium-low.
When your pancake begins to form bubbles around the edges, pipe the filling. Starting at the center of the pancake, squeeze the filling on top of the pancake batter in a swirl, just as you see in a regular cinnamon roll.
Cook the pancake 2 to 3 minutes, or until the bubbles begin popping on top of the pancake and it's golden brown on the bottom.
Gently but quickly flip over pancake. Cook an additional 2 to 3 minutes (with temperature still on medium low), until the other side is golden as well.
Wipe out the pan with a paper towel, and repeat with the remaining pancake batter and cinnamon filling.
Serve pancakes topped with a drizzle of glaze.
http://iambaker.net/buttermilk-pancakes-with-a-twist/
http://iambaker.net
Let me tell you.  These are sweet.  So sweet.  I happen to LOVE sweet, so this is a great way for me to start my day.  Hubby could do without the cream cheese glaze, my kids wanted extra extra helpings of it.
I had some left over, so I popped it in the fridge.  Two weeks later we made Cinnamon Roll Waffles and the toppings were just as fabulous!