Piping out a chick in buttercream could not be easier. Or fun. Or delicious! Well, if you like a 1:1 cupcake to frosting ratio. Ok, so maybe it's more like 1:2. Stop judging me. (Don't miss my other fun Cupcakes!)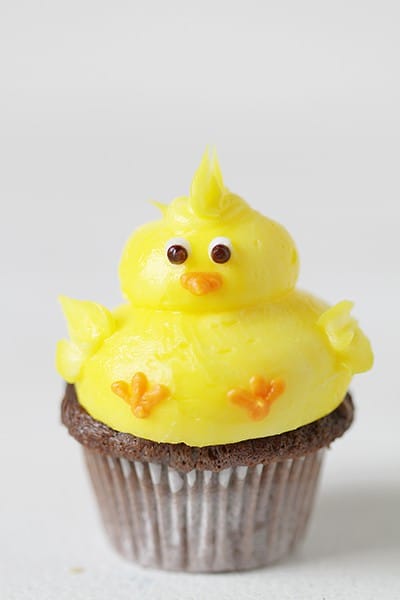 .
These chicks were inspired by real life… my real life! We currently have 7 layer chickens, 1 big bad rooster, 3 adult guinea hens, and more chicks and guinea hen babies than I can count! (If I had to count I could say 45 chicks and 10 guinea babies.)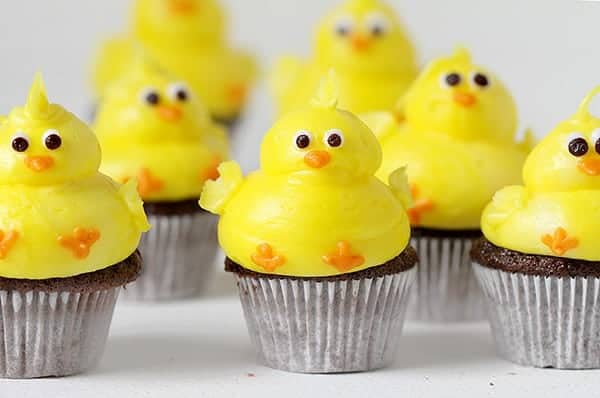 We lovelovelove our homesteading life and love raising chickens and I LOVE having fresh eggs every single day!! (Remember this homemade angel food cake? I needed them!)
Here is a little video on how I did it:
Tips and tricks:
I used a
9PT tip for the yellow body of the chick
#4 tip for the white of the eyes
#3 tip for the dark of the eyes
#2 tip for the orange beak
#68 tip for the wings, top, and tail
For the buttercream I used this Whipped Buttercream recipe. Just tint some yellow, some orange, some brown (with food coloring) and leave some white. You only need a very small amount for the white, brown, and orange. For instance, maybe 1/4 cup of each would cover 24 mini cupcakes.
These are mini cupcakes, or cuppies. I made this Homemade Chocolate Cake Mix recipe.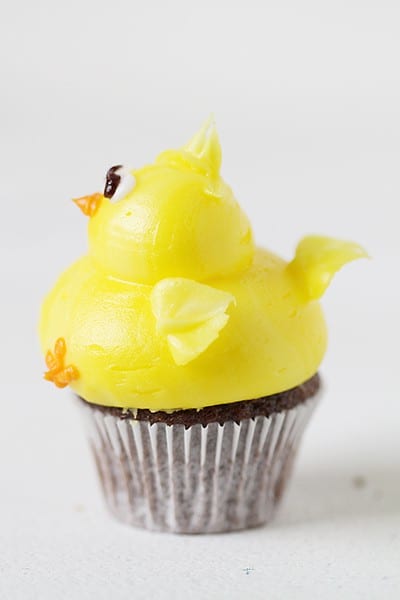 Before the internet attacks me for the amount of frosting on these… I know. I know! I get it. It's absolutely atrocious and awful and how dare I and shame shame shame on me.
And yes, I am fully aware that theses are not anatomically correct. There should be no white around the eyes and nothing on his head and their legs are not wee wittle stumps.
Now that the shame is out of the way, can we just agree that they are a little bit cute and a lot fun and just smile?