In all the times I have made this fabulous version of french toast, I have never once made it for breakfast.  My kids adore it (and all the pumpkin treats that fall brings) but they always seem to request it for dinner.
Which is fine with me!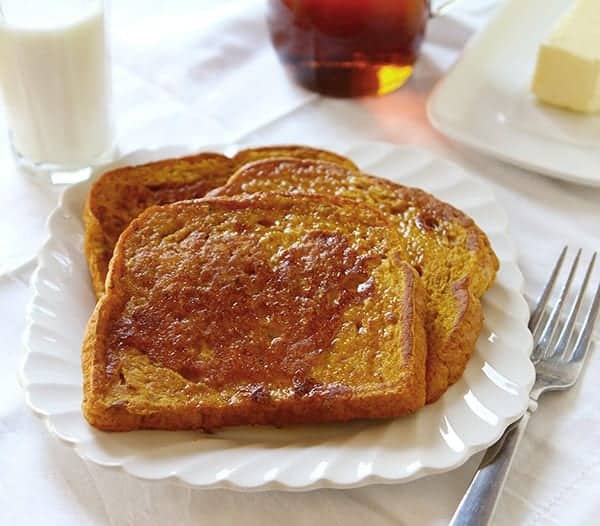 My husband's brother shared some freshly made maple syrup and that is what we used on the french toast.  If you can ever splurge and use real maple syrup (no high fructose corn syrup allowed) I recommend it.

MY LATEST VIDEOS
I also use a 12 grain bread in this recipe.  The main reason being that it is what we prefer to keep in the house.  But I also like how well it stands up to the pumpkin seasoning and that the small grains add some texture to the egg soaked bread.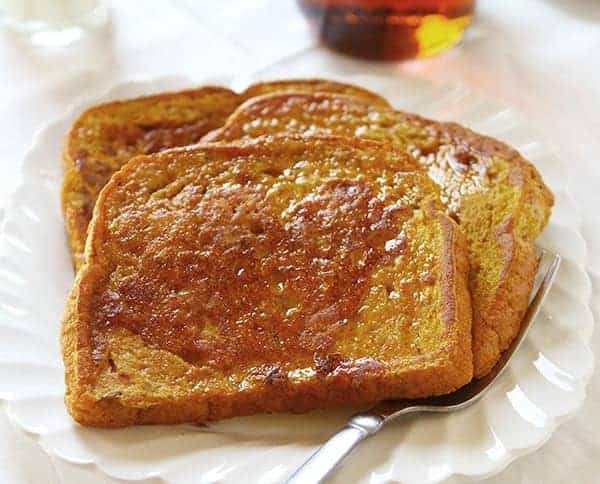 Adapted from 5 Dollar Dinners.
Want to know a GREAT tip for any French Toast?
Once you are done frying it, transfer to a baking sheet and bake until puffed, 8 to 10 minutes at 350 degrees. Not only does this add some life to your toast, but it also keeps it warm as you are preparing for the whole family!
This has been a lifesaver with my family of seven!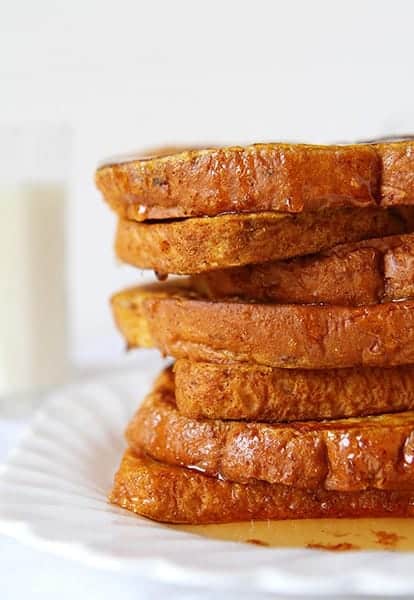 If you prefer you can use all whole milk or even skim milk.  After we started drinking raw milk a few years ago, I feel like I am drinking water when I drink skim.  That is totally a matter of preference and you are welcome to make an adjustment that fits your likes.
We are a "one loaf" family, meaning that we can can easily polish off an entire loaf in one meal.  This recipe is designed to accommodate that!  If you need to halve the recipe it can be done with success.